Choosing the web host is tricky enough. But selecting ecommerce hosting for an online store might be even trickier. The competition is tough, so nothing less than a top-notch and safe user experience will do. All decent providers should guarantee excellent uptime, loading speed, and back-ups. Nonetheless, e commerce web hosts are also responsible for security, accepting credit card payments, etc.
We've analyzed ecommerce website hosting and pointed out the main factors to pay attention to. Besides, you can read the descriptions of the main types of web hosts in this article. And to make your life even more comfortable, we've compiled a list of the best ecommerce hosting sites. Have a look at them and take your pick!
5 Best Ecommerce Hosting Providers
How to Choose the Best Ecommerce Hosting?
Here are the main factors you should regard to choose the best web hosting for ecommerce.
H3 Factor 1. Uptime
You won't sell anything if your website is inaccessible. Your website ranking suffers as well as your customers' experience. Amazon would lose $220k per minute of downtime; for Walmart, it'll cost $40k. Undoubtedly, the damage to your business might be less daunting. But still, each time your provider fails, your business loses money. The best web hosting ecommerce needs should be as reliable as possible. To check if your website is down, you can use our Website Down tool.
Factor 2. Loading speed
The users are impatient. Almost half of the consumers want a website to load in 2 seconds or less. And 40% will abandon a web page that takes more than 3 seconds to load! As well as uptime, the loading speed influences your website ranking. The best ecommerce hosting sites will manage the traffic volume you expect.
Using caching and Content Delivery Network can make your page faster. Caching is storing page data as an HTML for future user sessions. A Content Delivery Network (CDN) is a servers' group, holding the website's resources (for instance, media files). They are situated across different locations and work together to reduce the load time. Find out the speed of your site using our Website Speed Test.
Factor 3. Security
The best hosting for ecommerce should include all features to make the shopping safe. In case some of them are missing, the users might get a warning. For example, if your web page isn't encrypted with HTTPS, it will be marked as "not secure" by Chrome. Such notification may make the customer think twice before buying anything. By the way, you may check if the website is listed as suspicious with the help of our Website Safety tool.
Another essential feature is SSL (Secure Socket Layer) certificates. Those are small files, used to encrypt the data transfers between your computer and a site's server. If you think that adding an SSL certificate is expensive or complicated, some of the best ecommerce hosting sites might provide you with encryption.
The Different Types of Best Ecommerce Hosting SaaS Hosting
Software-as-a-service (SaaS) hosting is the cloud-based hosting. It provides access to third-party, cloud-based software. You can use it as long as you have an internet connection (and pay a monthly fee). Your host manages servers, applications, storage, data, runtime, and networking. It's the best hosting for ecommerce website if you want to take the burden of IT issues off your shoulders.
As a rule, the provided software includes hosting infrastructure and shopping carts. Besides, you get software licenses and apps to conduct financial operations and compile reports.
Self-Hosting
In this case, you host your site on your own servers. It means that your opportunities are limited only by the IT expertise of your team and your budget. At the same time, any hardware malfunctions or software glitches are also your problem. It might be a good option for large corporations, but hardly the best web hosting for small business ecommerce.
Other Cloud Hosting Options
IaaS (Infrastructure-as-a-service) usually operates via a pay-as-you-use structure. It allows you to scale up. Managing the runtime, applications, middleware, and data is up to you. The host's responsibilities are taking care of the servers, virtualization, and networking. Thus, you control the infrastructure. But you need to have a clear understanding of the e-commerce features you need to choose the right options.
PaaS (platform-as-a-service) provides users with a specific platform and control panel to design applications. That's not an out-of-the-box solution. But you don't have to develop an application from scratch. It is considered the best ecommerce web hosting for developers. The client controls the applications completely, and the host manages servers, storage, and networking.
The Best Ecommerce Hosting Sites' Reviews
#1 Ipage – The Cheapest Ecommerce Hosting Site
Ipage shared hosting prices start at a whopping $1.99 a month for a 3-year contract. Nonetheless, even the most basic hosting plans provide you with enough features to get your ecommerce site up and running.
You can easily design your online shop with a template-based website builder and a free web store. Besides, WordPress, one of the most popular platforms in use, can be installed in one click. Payments via PayPal are supported. You also get integration with the chosen shopping cart (OpenCart, PrestaShop, etc.). Setup wizards will help to build a blog and photo gallery.


The provider offers its clients perks like search engine ad credits worth $200. They can use these on Google or Bing.
Other options from the hosting packages included:
Unlimited disk space
Unlimited number of websites;
Unlimited storage;
Free SSL;
Free domain for a year.
#2 Ionos – Best Web Hosting for Small Business Ecommerce
The provider offers a variety of features for low prices. A set of WooCommerce plans is available, allowing you to choose from over 300 different extensions. Unlimited package also includes CDN RailGun to speed up your site. You can have at least 25GB of SSD storage and 10 email accounts. The website will be optimized to handle up to 500 visitors a minute (Business and Unlimited Packages).
You can build your online shop with the help of IONOS's website builder. The Online Store-plan includes building a WordPress site with up to 5 000 products. The web store site will be optimized for all devices, have a shipping wizard, provide discounts and coupons, abandoned cart recovery, and 24/7 support.
$1 a month hosting fee sounds jaw-dropping. But be careful — such a low price is available only for 12 months. A 30-day money-back guarantee may be a good reason to give this hosting company a try.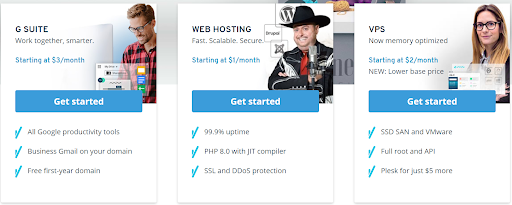 The hosting packages also offer:
Free Wildcard SSL;
Free domain for a year;
Site Scan malware protection.
Ready to choose your plan? — Go to Ionos hosting
Want to read some more information — Go to
Ionos review
#3 A2 Hosting – Best All-around Ecommerce Hosting Provider
A2 Hosting offers ecommerce-specific plans for all of its hosting types. Thus, whether you want shared hosting, VPS, or dedicated server, your business always gets an offer tailored to an online store's needs.
The provider promises up to 20X faster page loading. And the latest tests show that such claims have some grounds. A2 Hosting's average loading time is slightly more than 300 ms, which is a great result.
The packages contain more than 80 software options. What can you get? The offer includes free access to such popular ecommerce platforms as Magento, OpenCart, WooCommerce, and others. Such applications eliminate the need to code or design web pages to open an online store. Most of them offer unlimited product listings and support for multiple payment methods, shipping methods, languages, and currencies.
Currently, the cheapest shared hosting plan starts at $2.99 a month. The prices may reach as high as $141 for some dedicated server options.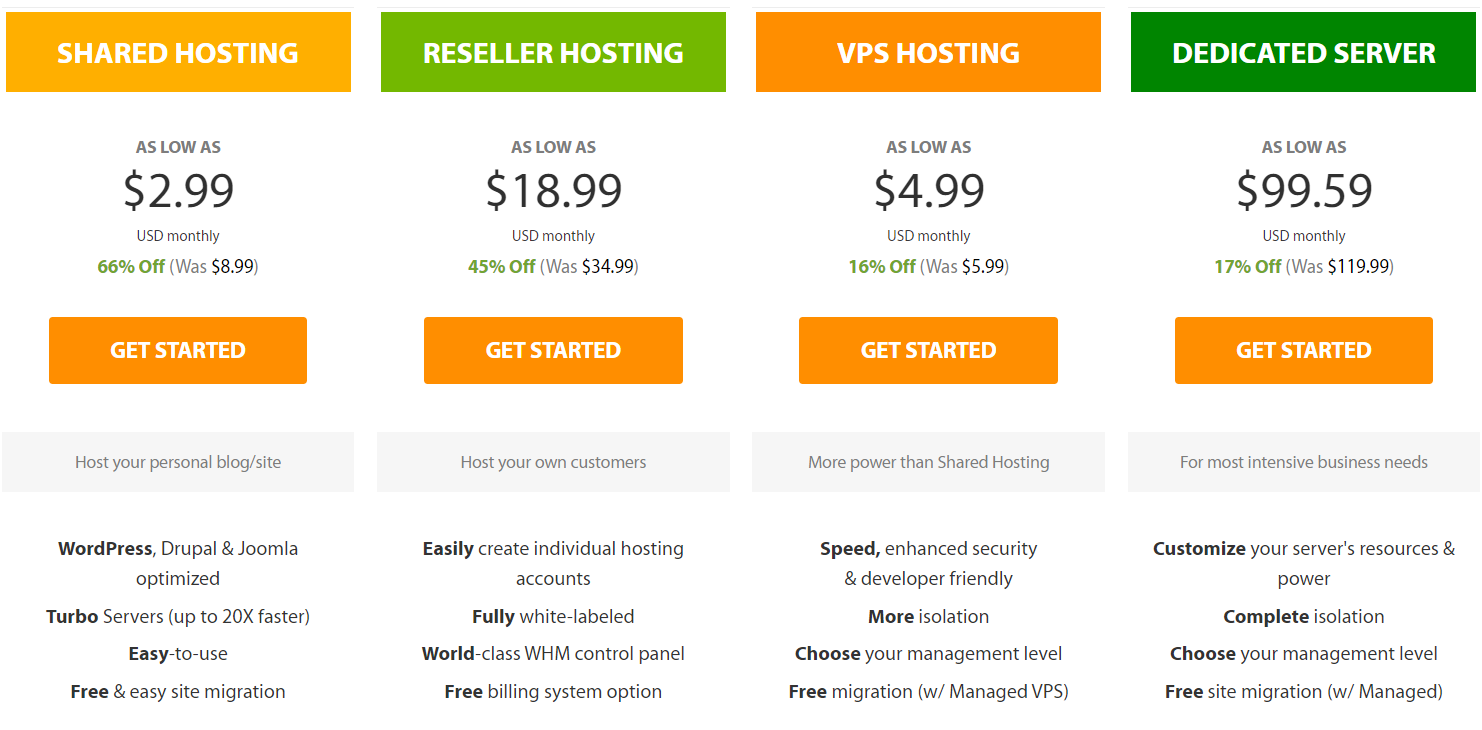 Some other features, which also place A2 Hosting on the top of the best ecommerce hosting sites, include:
free SSL,
free cart software,
choice of data center locations
#4 SiteGround – Best for Ecommerce Features
SiteGround offers a specific set of plans for WooCommerce hosting with multiple options. WooCommerce, an open-source ecommerce plugin for WordPress, is one of the most popular ecommerce platforms. The specific focus on this application makes this provider also the best hosting for WordPress ecommerce. The cheapest WooCommerce plan starts at $6.99 a month.
The provider offers a variety of ecommerce features. For instance, auto-installation of ecommerce apps simplifies the setup process. Cloudflare CDN and SuperCacher technology boost the loading speed. A staging area is available to test changes to your web store.
SiteGround also pays much attention to security. Its in-house monitoring system checks your server status every half second. Such precautions help to detect and automatically fix many issues and prevent potential troubles. Besides, the provider offers advanced spam protection free of charge.


The host also provides:
free shopping cart installation
free SSL
daily backups
automatic WordPress updates
free email
#5 Liquidweb – Best Ecommerce Hosting for Large Shops
This company is best suitable for mid-market and enterprise-level businesses. The least expensive plan starts as high as $19 a month — but vital prices come with serious offers.
Liquidweb provides fully-managed hosting, allowing you to focus on your business. It is compatible with WooCommerce and Magento. Dedicated and cloud infrastructure ensure scalability. An array of store management tools allows you to define custom order statuses and workflows, automatically suggest related products to the customers, set promotions, design coupons, get product reviews, etc.
Besides, busy stores will undoubtedly value Liquid Web's support. The team of experts is available 24/7 to answer you within a minute. Even more than that, its monitoring often detects and fixes hosting-related issues before any complaints arise.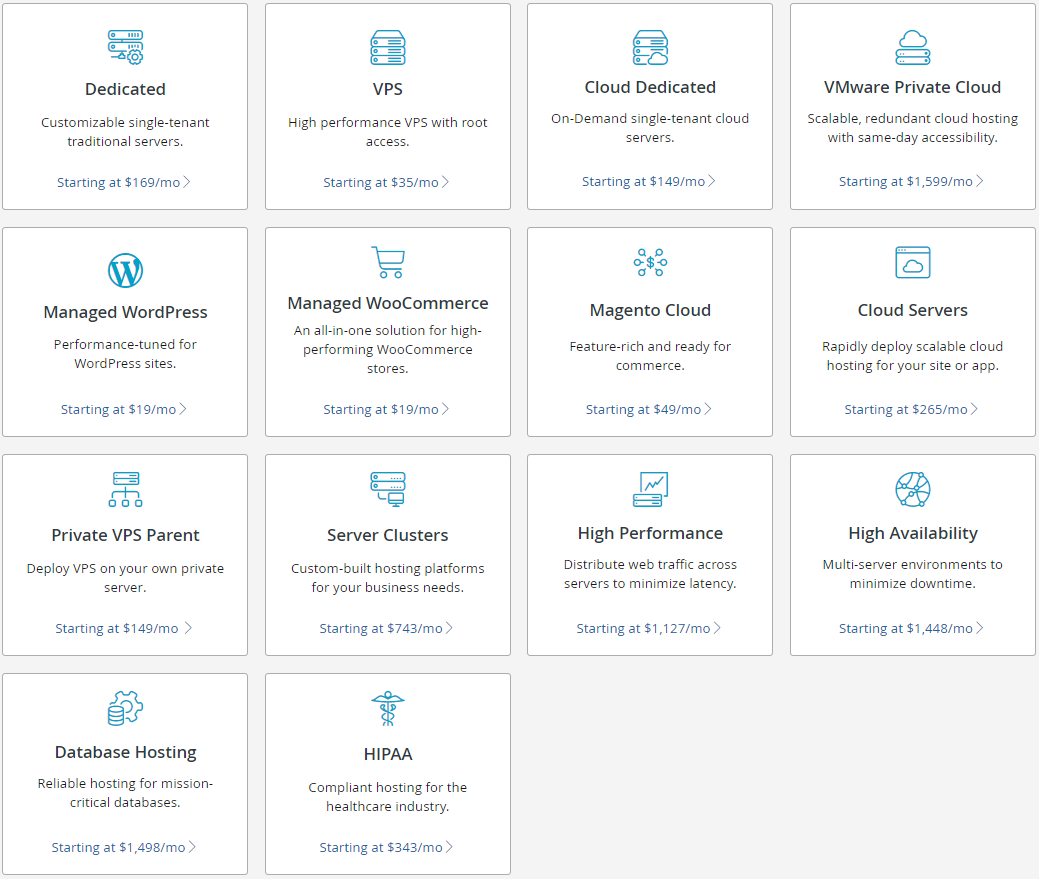 The provider also offers:
SSL certificates;
Offsite backup;
PCI compliance (which is important to receive credit card payments)
Web Hosting
Server location
Customers
Storage
Control
Pricing / mo
Trial
Ipage.com
Review
USA
1,000,000
Unlimited
vdeck, cPanel
$2.49/mo
30 Days
Ionos.com
Review
Spain, USA, France, Europe, United Kingdom, Netherlands
15000000
100 GB
Custom built
$1/mo
–
A2hosting.com
Review
USA, Netherlands, Singapore
200,000
Unlimited
cPanel
$4.90/mo
30 Days
Siteground.com
Review
USA, United Kingdom, Netherlands, Singapore
1700000
20 GB
custom
$3.95/mo
30 Days
Liquidweb.com
Review
USA, Europe, Netherlands
30,000
50 GB SSD
custom
$66.33/mo
–
Interserver.net
Review
USA
50,000
Unlimited
cPanel, Direct Admin, Plesk, Custom panel
$4.25/mo
30 Days
Inmotionhosting.com
Review
USA
320,000
Unlimited
cPanel
$4.99/mo
90 days
Netim.com
Review
Europe
30000
Unlimited
Parallels Plesk
$7.45/mo
–
Web Hosting Comparisons
We hope that reading an e-commerce hosting review from the list above will help you to make your choice. But if you are stuck between two options, have a look at our web hosting comparisons. We select two or more hosting providers and consider key aspects to point out each company' pros and cons. In the end, we suggest the top pick for specific types of websites. Have a look at some comparisons we've already performed:
Best Hosting for Ecommerce Website FAQ
Can you build your online store with your hosting provider?
Various providers are eager not only to host but to help you build your webshop. For instance, Ionos provides specific website builder plans for that purpose.
What is the best ecommerce hosting for small business?
Ionos, offering numerous packages for low prices (from $1 a month for a year), is the top option for small businesses.
What is the cheapest ecommerce hosting?
Providers often offer discounts, so you can always find some cheap ecommerce hosting. Currently, the title of the cheapest ecommerce hosting belongs to iPage. Its basic shared hosting plan will cost $1.99 a month for a 3-year contract.
What is the best ecommerce hosting for WordPress?
SiteGround offers a specific set of plans for WooCommerce, an ecommerce plugin for WordPress with multiple features.