HostMonster has been providing hosting solutions to millions of customers worldwide since 1996. It is one of the world's best-known web hosting companies that solve business problems of all sizes. The prices here are relatively low, and the level of customer service is excellent.
HostMonster's servers are located: primary at Provo, Utah, USA, secondary at Orem, Utah, USA. However, although the servers are not around the world, your users will still have guaranteed constant access to the site.
HostMonster Pros & Cons
We found a lot of excellent hostmonster hosting reviews on the web from users. That's why it became more interesting to find out all the advantages and disadvantages on our own.
Let's quickly go over the key pros and cons.
Pros
Cons

1-click WordPress install

30-day money-back guarantee

Free domain

24/7 support

Unlimited disk storage

Enhanced cPanel

Excellent security measures

Hidden costs

Expensive migration

Design

CPU throttling
Another advantage of the provider is different tariff plans that clearly set out the functionality provided. There are ones for advanced users as well as for beginners. You can take advantage of cheap rate plans and are guaranteed your money back if you are dissatisfied. It's a great way to test the service.
HostMonster in Brief
| Characteristic | Information |
| --- | --- |
| Uptime guarantee | 99.95% |
| Support options | live chat, phone |
| Hosting plans | Shared, VPS, and Dedicated Hosting |
| CMSs | WordPress, Joomla, Drupal, Moodle, Tikiwiki |
| Features | Free Drag and Drop Site Builder, Support International Domain Names, IMAP/Secure IMAP E-mail Support, cPanel Account Control Panel, FTP Access, Spam Assassin Protection. |
| Starting price | $3.95 a month |
Go to Hostmonster hosting
When You Can Use HostMonster
If you need basic quality and reliable hosting with simple hosting plans, then HostMonster is an excellent choice. The functionality of this provider provides an opportunity to solve all the essential tasks of your business. You can be fully confident in the quality of the provider's services, confirmed by the excellent performance tests and download speeds.
If you are running an e-commerce site, then HostMonster is also suitable for you. Among other features, there are several special features for online stores.
When Not to Use HostMonster
Well, there are no clear rules in the site's privacy policy about what sites are not allowed to host on these hosts. However, there are general guidelines where the hosting has the right to block your site if it engages in fraudulent activity or sells legally banned items.
As for the provider's performance and speed, these metrics will satisfy small businesses and large companies' needs. Although the servers are located only in the United States, you can use the provider's services from anywhere, and your users will access the site regardless of their location.
HostMonster Performance
The performance of this provider is awe-inspiring, according to tests and hostmonster hosting review. It is proven both by numerous positive feedbacks from users online and by our tests. Let's elaborate on the technical facts.
Dual Quad Processor Performance Servers

Customized Apache Web Server

UPS Power Backup

Multiple 10 Gigabit Ethernet Connections

24/7 Network Monitoring

Courtesy Site Backups
As you can see, these are some compelling performance facts. You can take advantage of a 30-day refund if you are not satisfied in practice with this performance. However, as we have already mentioned in this detailed hostmonster web hosting review, such performance can cover most projects' network needs.
HostMonster Speed Test Results
To make this hostmonster review as accurate as possible, we decided to check for ourselves how good this provider is. To do this, we used popular services to measure the loading speed of content on the hosting.
Here are the results:
| Test | Average Loading Time |
| --- | --- |
| GTmetrix test | 4.6 s |
| Pingdom test | 2.91 s |
| PageSpeed Insights (Google) | 3.4 s |
You can see for yourself that HostMonster's results are on par with the hosting industry leaders. It shows that hosting provides high-quality services.
HostMonster Uptime Guarantees
The provider does not list Uptime Guarantees on the official website. According to the reports, HostMonster strives to offer the best network and server uptime in the industry. The company admits that, like all providers, HostMonster encounters a downtime, which depends on the occurrence of various kinds of problems. Most problems are resolved in about 15 minutes, according to the hostmonster reviews.
However, extreme problems may require more time to resolve. In these infrequent circumstances, the server may need additional time to fix the issue. It may take several hours, or in sporadic cases, as much as 24 hours.
Our tests show that HostMonster Uptime ranges from 99.95% to 100% at various times. It is an excellent result even though there is no guarantee on the official website.
HostMonster Server Response Time
Another important indicator in assessing the quality of hosting is the download speed of the first byte to the user. We decided to measure this indicator with the help of the popular Bitcatcha service. Let's take a closer look at the results.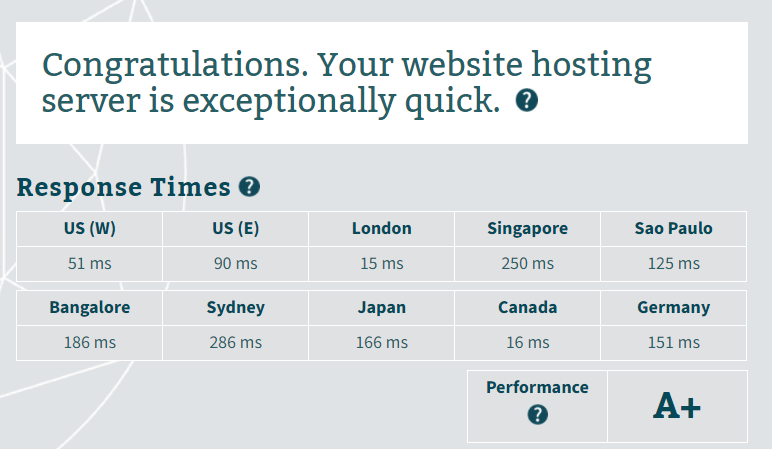 Bitcatcha compares the performance of hundreds of sites per day that meet Google's download speed requirements. This time should not exceed 200 ms. As you can see in the screenshot, the service gave HostMonster the highest A+ score. What a great job!
HostMonster Site Migration
HostMonster knowledge base provides instructions on how to perform website migration yourself. In particular, it describes how to set up FTP (File Transfer Protocol) using such a free tool as Filezilla. WordPress site migration is also described in detail.
However, transferring a website from one host to another smoothly may turn out to be a difficult task. HostMonster offers to move up to 5 websites and 20 email accounts from a single hosting account. The reviews suggest that this Website Transfer service will cost you around $150.
HostMonster Features and Pricing
HostMonster doesn't spread out to provide every possible hosting type and focuses on the three most popular kinds. The price plans here are relatively simple and straightforward, so you shouldn't have any trouble choosing the best option for your business.
Let's take a closer look at the plans Shared, Dedicated, and VPS.
Shared Hosting
Shared Hosting, the most popular type of hosting for beginners, HostMonster offers three simple plans. You can compare the conditions in the screenshot below and choose the plan that suits your project best.
As you can see, each hosting plan includes a Free SSL Certificate by default. It shows that the company is serious about the security and protection of your sites. You can choose the Basic plan to familiarize yourself with the core functionality of the service.
If you are already sure that this is the right hosting plan for you, we recommend the Plus plan. With its little differences from more expensive ones, it will be the best solution for small and medium-sized businesses. More expensive plans will be suitable for larger companies that need more power and resources.
Also, there is an option to connect particular extensions to each plan for a fee if you need that extension. For example, for just $2.99 a month, you can get SpamExperts Mail Filtering. See the screenshot below for more details:

Dedicated Hosting
This provider's dedicated servers are custom-built using the best software, such as industrial-grade Intel® Xeon processors and the latest CentOS.
HostMonster provides its customers with three simple pricing plans: Standard, Enhanced, Premium.

Benefits include advanced cPanel, instant provisioning, and advanced caching. You can consult the support team for cutting-edge advice on your business needs.
VPS hosting
HostMonster uses OpenStack and KVM cloud technologies, which provide a robust foundation for upgrading and improving customer servers. One advantage is that you don't have to wait long for your site's provisioning process. It happens very quickly. Advanced cPanel provides users with many options for managing hosting on their own.

Security Features
We've already discussed rate plans, as well as the performance capabilities of the provider. Now let's talk a little more about the security measures taken by HostMonster.
Secure Shell (SSH) Access.

Server-side includes.

Hotlink protection.

Override .htaccess support.

Free SSL certificates.
Even though scammers' ability to hack websites is growing every day, this provider is continually improving its security measures. You can rest assured that HostMonster provides you with the latest in security.
Support Team
You can be sure that the support team will come to your aid and provide you with a quality solution to your problem. Furthermore, you can contact the experts using the online chat on the official website. You can also use the phone to solve the problem.
We contacted the support team with simple questions and got comprehensive answers. It took less than 5 minutes, which is a solid response rate from the experts. HostMonster has outsourced helping users, which means you may have trouble getting in touch with direct representatives of the company.
HostMonster Important Facts
| Characteristic | Information |
| --- | --- |
| Disk Storage | unlimited |
| Free Drag and Drop Site Builder | included in each plan |
| FREE SSL Certificate | included in each plan |
| >Parked Domains | unlimited |
| Help Center/Support Ticket Scripts | included in each plan |
| Free Domain | included in each plan |
| MySQL Databases | included in each plan |
| Free Website Scripts | Message Forum, Form-mail Scripts, Social Networking Scripts, Blog Support, Mailing Lists, Image Galleries  |
Go to Hostmonster hosting
HostMonster Review: Can We Recommend It?
Yes. Sure we can! All the disadvantages of the provider pale into insignificance against the high performance and great functionality. It is an old and reliable provider that provides excellent service for your business. In any case, you won't lose anything, because the provider gives you a refund if you're not satisfied with the service.
It's an excellent option for most business tasks. Take advantage of the best choice, and be sure that your site will be on a reliable hosting.

HostMonster Alternatives
If you still can't get enough of the listed benefits and performance, we suggest you check out a few alternatives.
BlueHost — reliable and popular provider.
Inmotion — excellent web hosting for your business.
Hostwinds — the best features for dedicated hosting for low prices.
FAQs on HostMonster
What extras can I get with HostMonster?
Well, for additional costs, you can get some security and anti-spam measures.
Is HostMonster Good for E-Commerce?
Yes. It has dedicated functionality to ensure the stable operation of online stores.
Will the payment of HostMonster increase in the future?
Yes. The website states that the plans' cost will increase for the following months of using the provider's services — contact customer service for more details about the response you've selected.
What Security Features Does HostMonster Offer?
Free SSL, SiteLock lite, SSH Access, and anti-spam protection.