Real-Time Website SEO Monitoring to Reduce the Risk of Losing Google Traffic
One glance is enough to evaluate what's happening with your websites and determine whether something went wrong.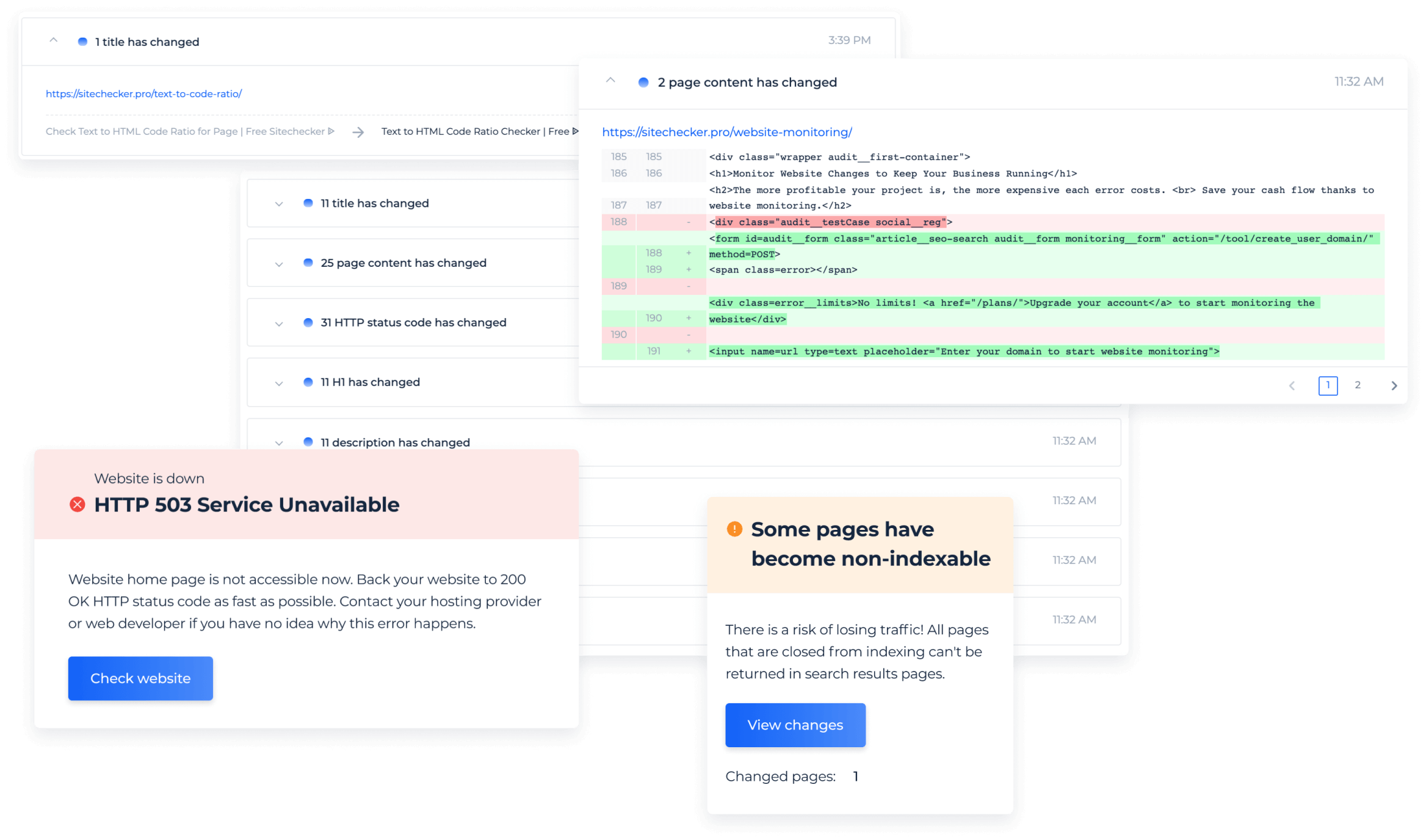 Trusted by 1000+ teams
How Sitechecker can help you
Business owners
Protect your online business from losing traffic due to the mistakes of developers, content managers, and marketers. Get notifications when anybody makes on-site changes that are dangerous for SEO.
Agencies
Demonstrate, to your customers, the updates you have made on the websites. Spend less time monitoring people who are responsible for site content management and on-page SEO.
In-house marketers
Measure the impact of site content changes on SERP visibility and conversion. Track changes on competitors' websites 24/7 to learn more about their content marketing tactics.
Why hire Sitechecker for your website monitoring
Get a quick overview of the last changes on the websites
One glance is enough to evaluate what's happening with your sites and to decide if something went wrong. Track site uptime and downtime and learn about added and deleted pages.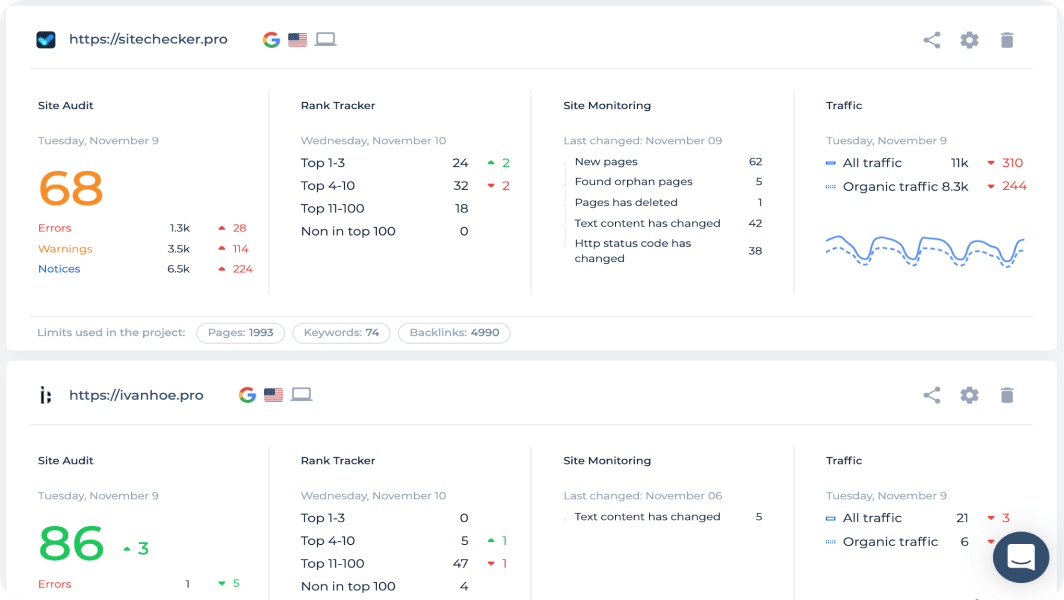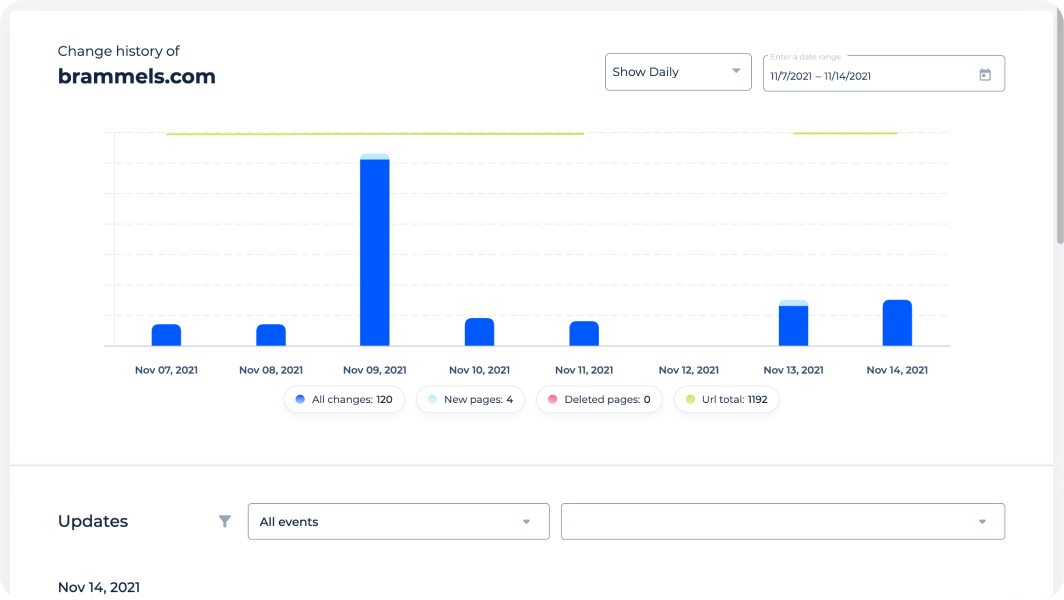 Be the first to know when there is a risk of losing Google traffic
Get alerts to your email immediately if your site is down, important landing pages become non-indexable in robots.txt and meta tag robots, or HTTP status codes changed and vice versa if wrong pages become indexable.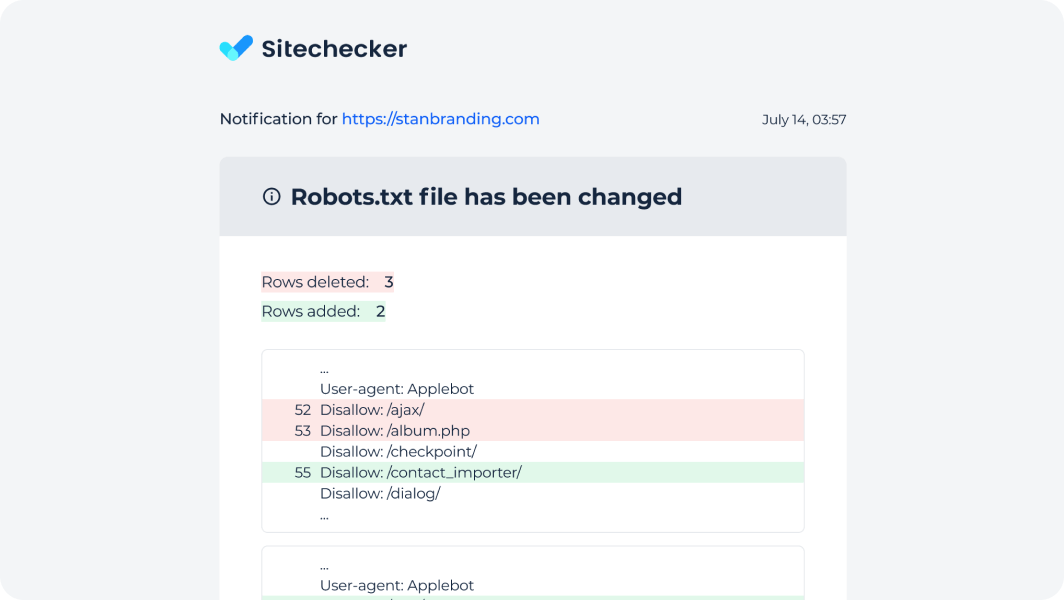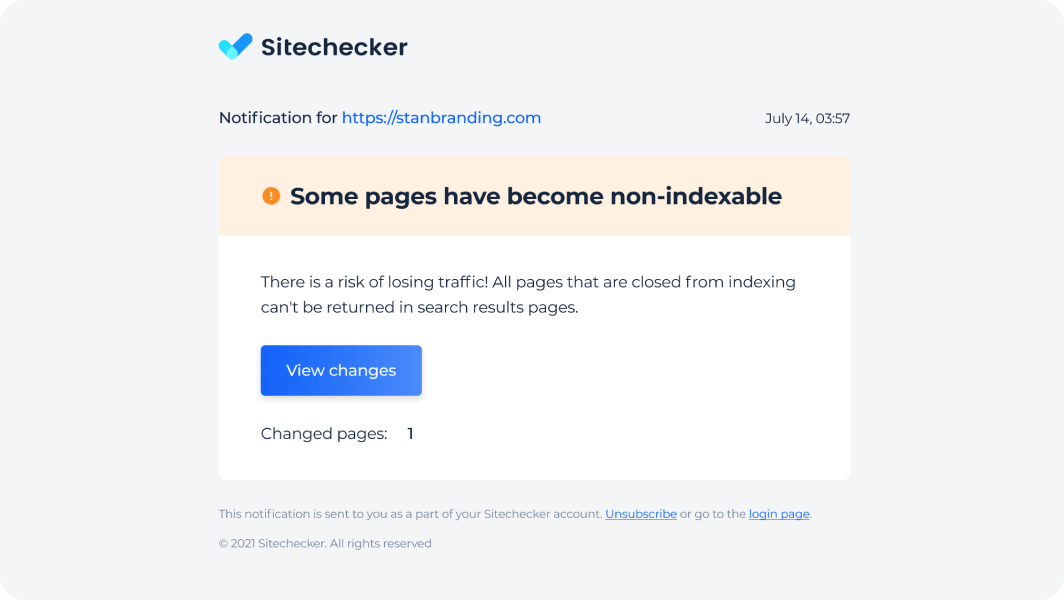 Learn about event types you never knew existed on your website
Your site can be changed by subordinates, freelancers, plugins, CMS platforms, and even hackers. You never know what is going on until you track code changes. Sitechecker will do that for you.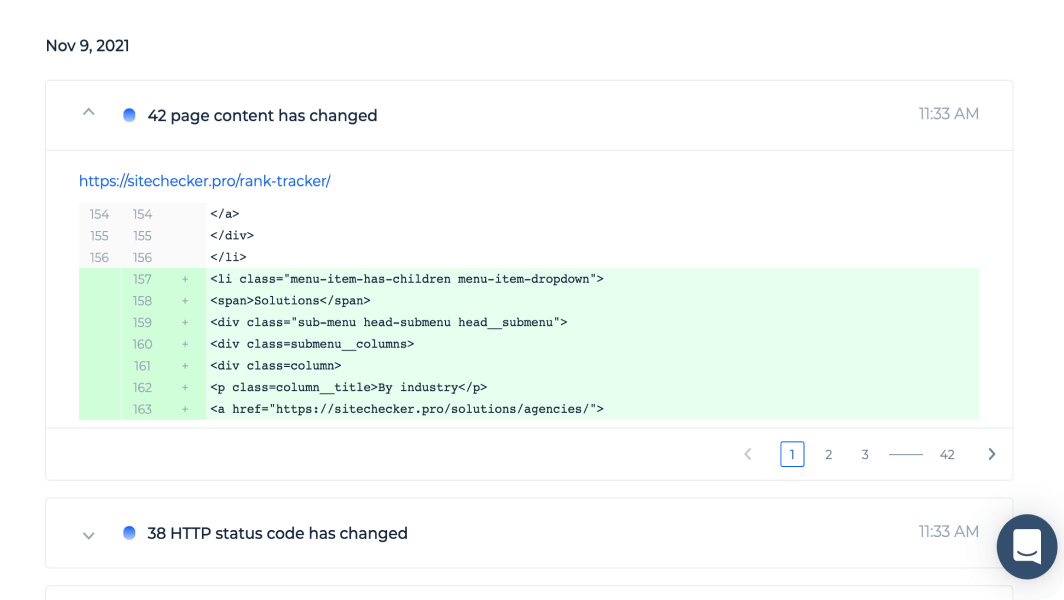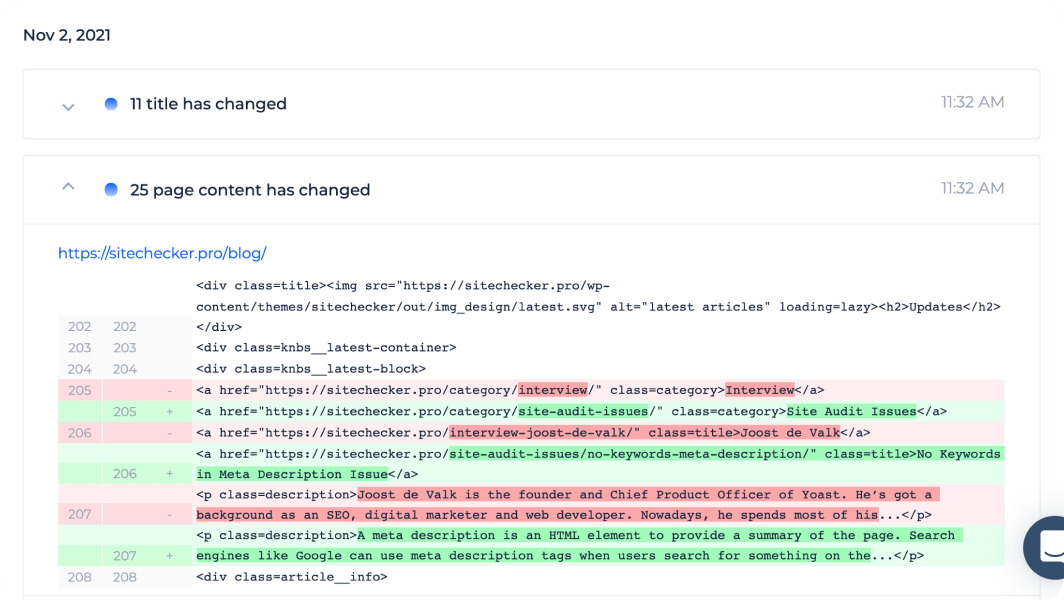 Measure the impact of website changes on its rankings
Use Rank Tracker to monitor site and page positions in SERP. Identify how specific page changes, like change of title, H1, description, or content, impacts rankings.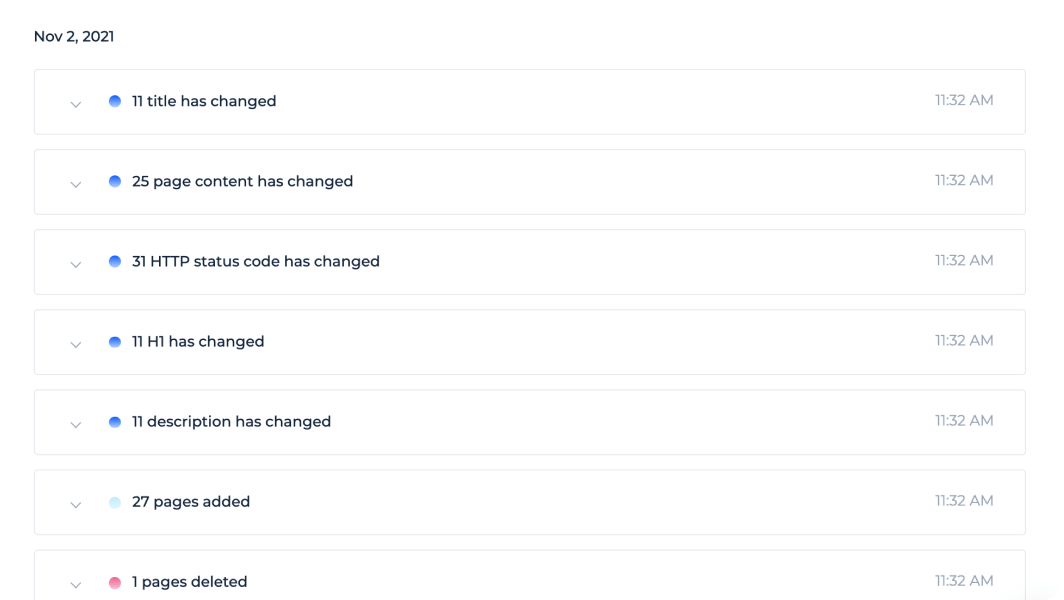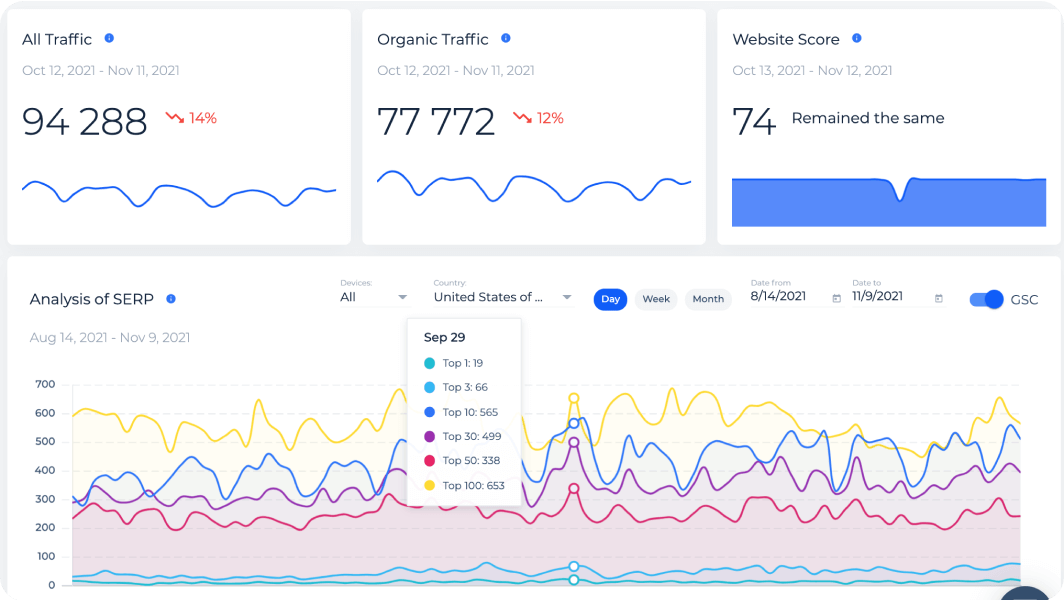 Research the history of specific events or pages
Easy-to-use filters help you analyze important events and web page changes in a few clicks.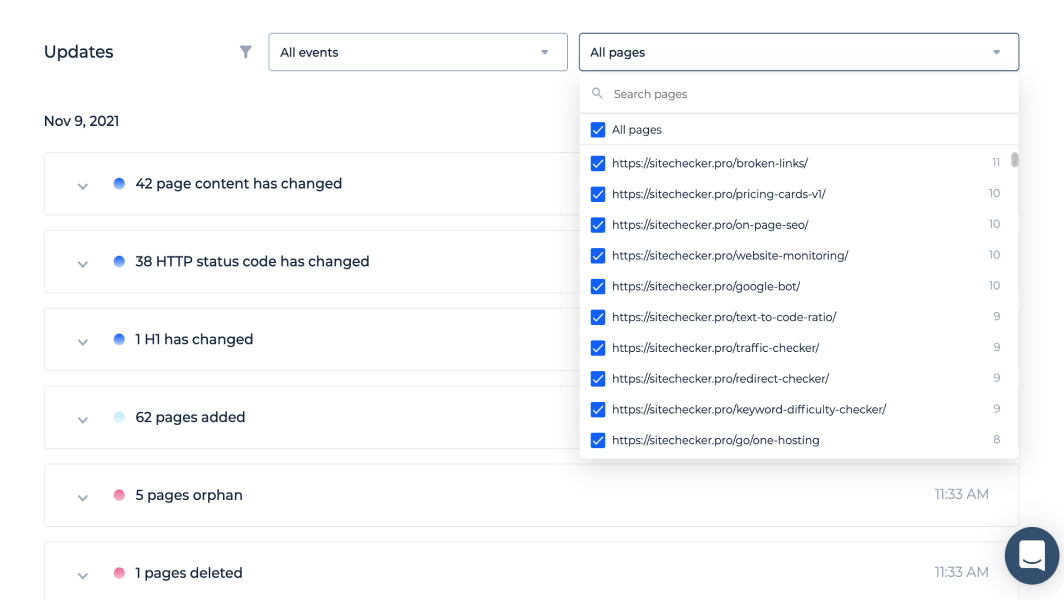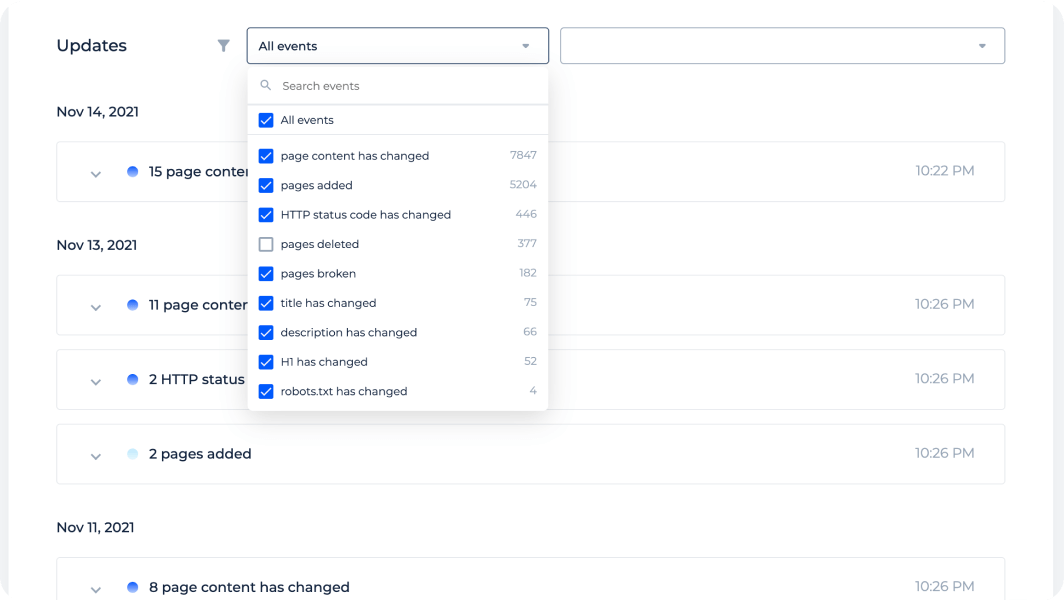 Learn more about on-page SEO and content marketing tactics that your competitors use
Track the new pages that competitors add and the pages that they delete or redirect. Find out how they change titles, descriptions, and headings and which pages they are trying to improve.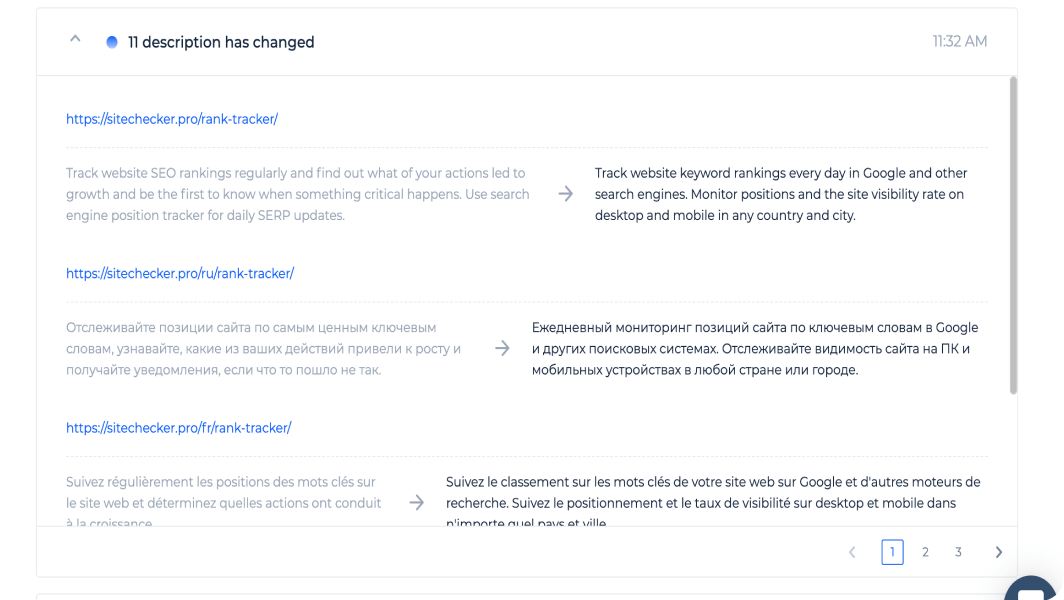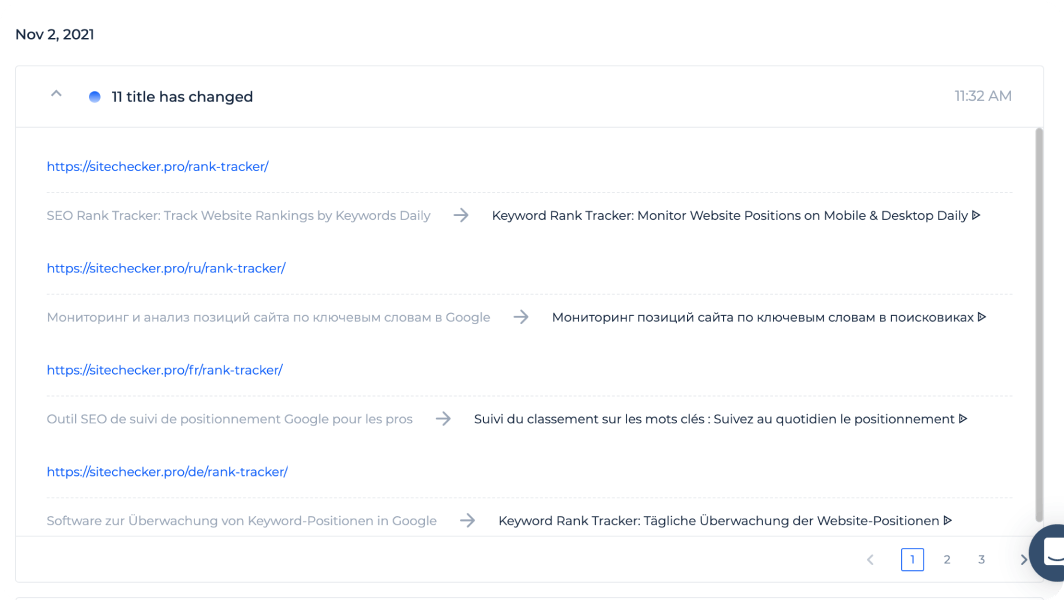 Join the 1,000+ businesses growing with Sitechecker
All of our clients are growing after we use the platform. For instance, our client Hospital Amazônia had a growth of more than 13.500 impressions from March to September.
After two months there were noticeable improvements in rankings and organic traffic. Backlink and Rank Tracker make it easy to monitor changes, but our website needed also regular SEO audits. We decided to run Sitechecker Audit once a week and it also contributed to the improvement of our results. This audit comes really handy and allows for quick and effective on-site optimization.
Before using Sitechecker our ranking was approx. #4 (mobile SERP) regarding the most important keywords. Now we are #1!
Explore customer stories
What users are saying
Data supplied as of 09/20/2023
FAQ
What is the difference between Site Audit and Site Monitoring?
Site Audit is a static summary of your website's issues. Site Monitoring is a log of all events on the website. Many of them can be identified as bad or good only by you or the expert responsible for the website.
How does Sitechecker protect me from hacking?
Sitechecker can't protect you from hacking. You should use specific methods and tools to avoid that. However, Sitechecker has a unique website content monitoring feature that allows you to quickly detect suspicious code changes and ​​reduce the risk of significant damage.
I am trying to start tracking a competitor's site for changes, but get a notification that Sitecheckerbot is blocked. How can I fix that?
Unfortunately, you can't fix that. Any website owner can block bots from crawling their website in robots.txt, .htaccess, or other methods. Sitecheckerbot follows the rules of the robots.txt file; only verified website owners can ignore them.
I am sure that a specific event didn't happen on my website. How can I recheck it?
If you think that Site Monitoring shows incorrect data, contact our support team via
chat
or email,
[email protected]
Do you have Site Monitoring API?
We do not currently have Site Monitoring API, but you can vote for this feature in our
roadmap.