What is a Website Hosting Checker Tool?
A website hosting checker is an online service that lets you find out which web hosting company is a "home" of a particular website. Why can you need such information?
to understand what web hosting company your competitors use,
check the technical contact information for security assessments,
or simply satisfy your curiosity about the website infrastructure.
Here is how a hosting checker helps:
Check the web hosting provider. This can be useful if you want to buy a website or try to track down the website's owner.
Check the nameservers: The nameservers translate the internet domain name of a website into its IP address. By checking the nameservers, you can see where the website is hosted and who is responsible for it.
Check the web server: The web server stores and delivers the files of a website to visitors. By checking it, you can see what type of web server is being used and its version.
Check the DNS provider: The DNS provider turns the domain name of a website into its IP address that machines understand. By checking the DNS provider, you can see where the website is hosted and who is responsible for it.
Check the IP address: The IP address is a unique identifier for a computer on the World Wide Web. By checking the IP address, you can see where the website is hosted and who is responsible for it.
Check the country, the region, and the city where the website is hosted. This can be useful if you want to find out where domain registration is located.
Check the domain age. This can be useful if you are trying to find out how long the website has been live.
Key Features of Website Hosting Checker Tool
A unified dashboard: The unified dashboard provides a single place to view all of your website information.
A user-friendly interface: The user-friendly interface makes it easy to use the tool, even if you are not a technical expert.
A complete SEO toolset: The checker includes a complete SEO toolset. It helps you improve the ranking of your website on search engine results pages (SERPs).
Free Web Hosting Checker Tool Usage
Our free online tool can check the web host of your competitors as well as get comprehensive information on your website.
Just pick the option that you need, "Check your competitor" or "Check your domain," and check the hosting provider.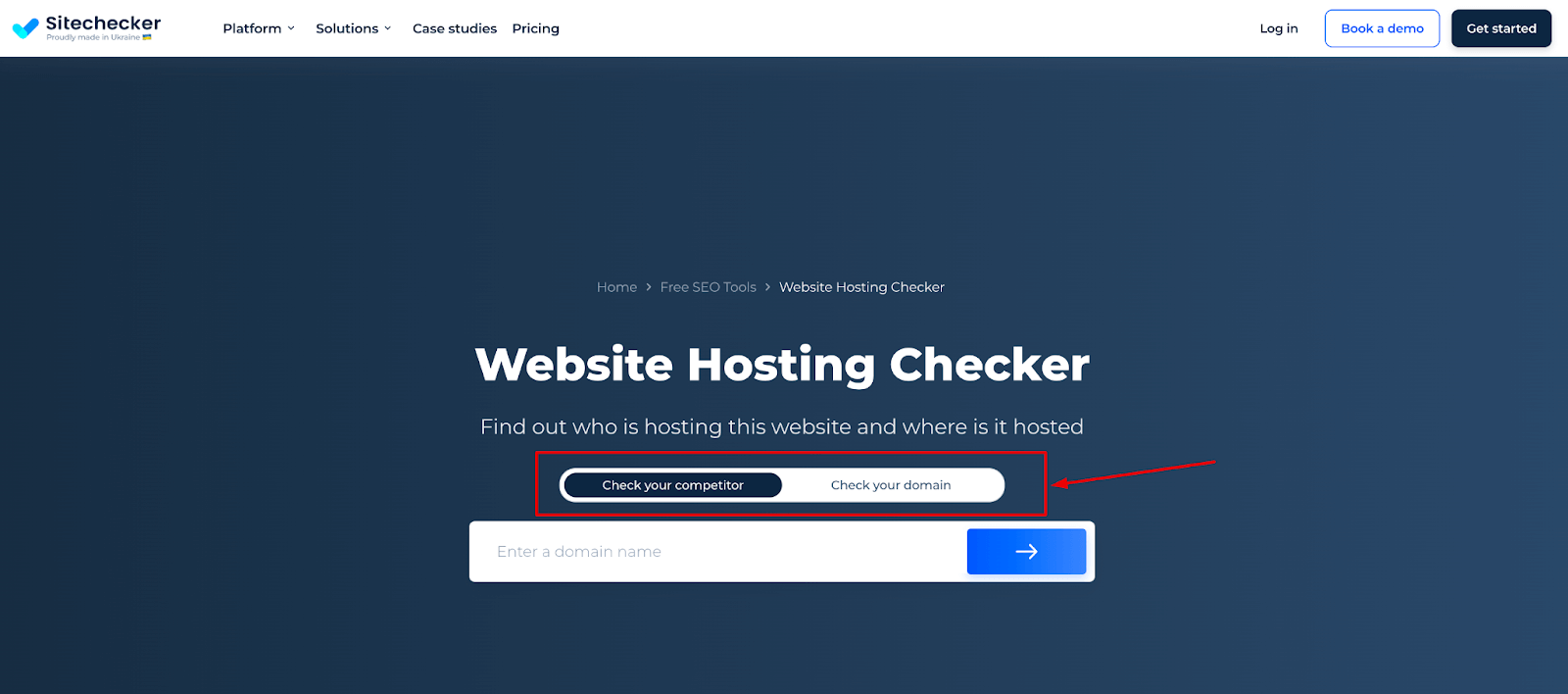 Competitor Website Check
Step 1: Insert your domain
To begin, click on the "Check your competitor" button and paste the website domain you want analyzed to get its web host provider data. Once done, press the button with the arrow to initiate the scan. For instance, in the example below, we'll scan SiteChecker.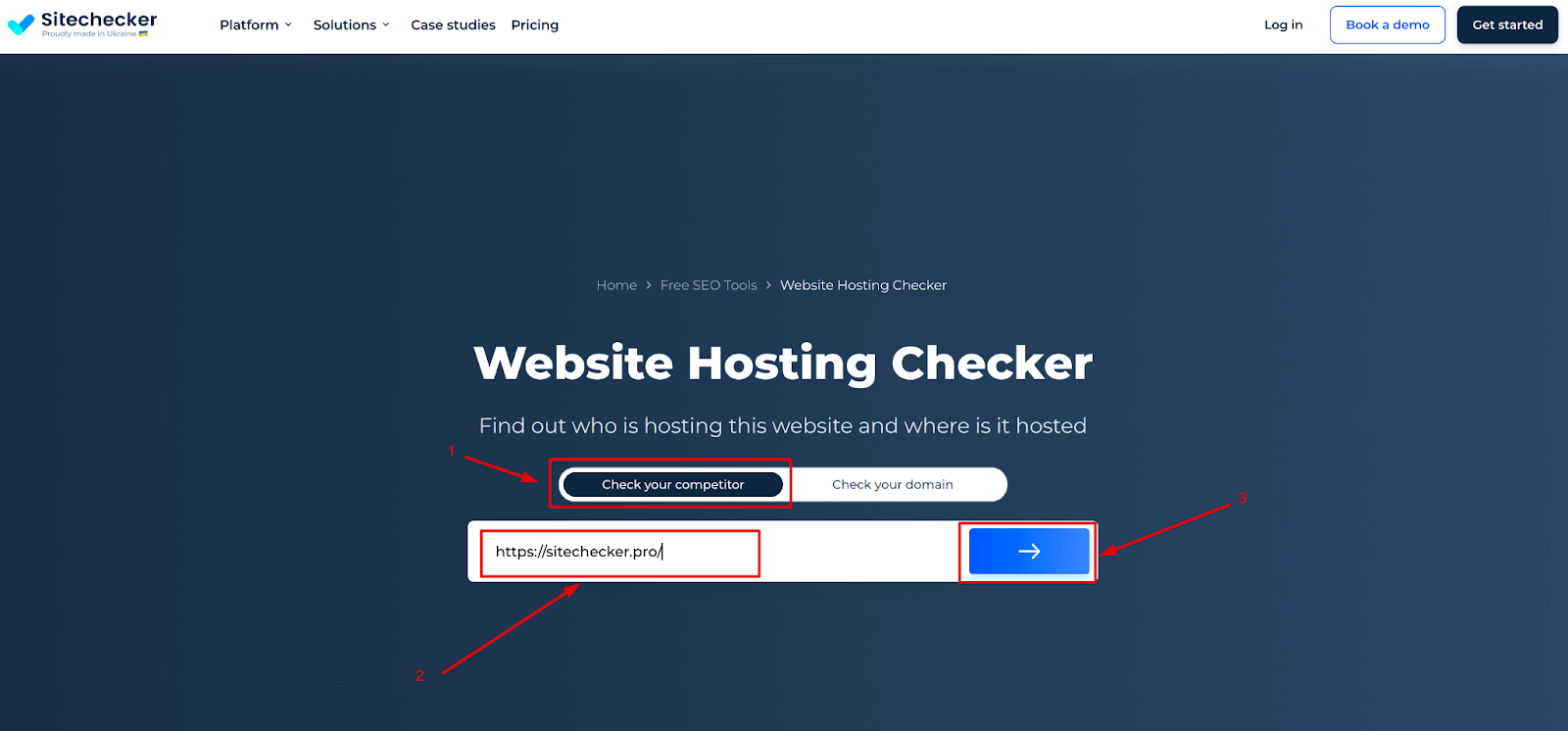 Step 2: Interpreting the Results
In a few moments, you'll get the report with the following information.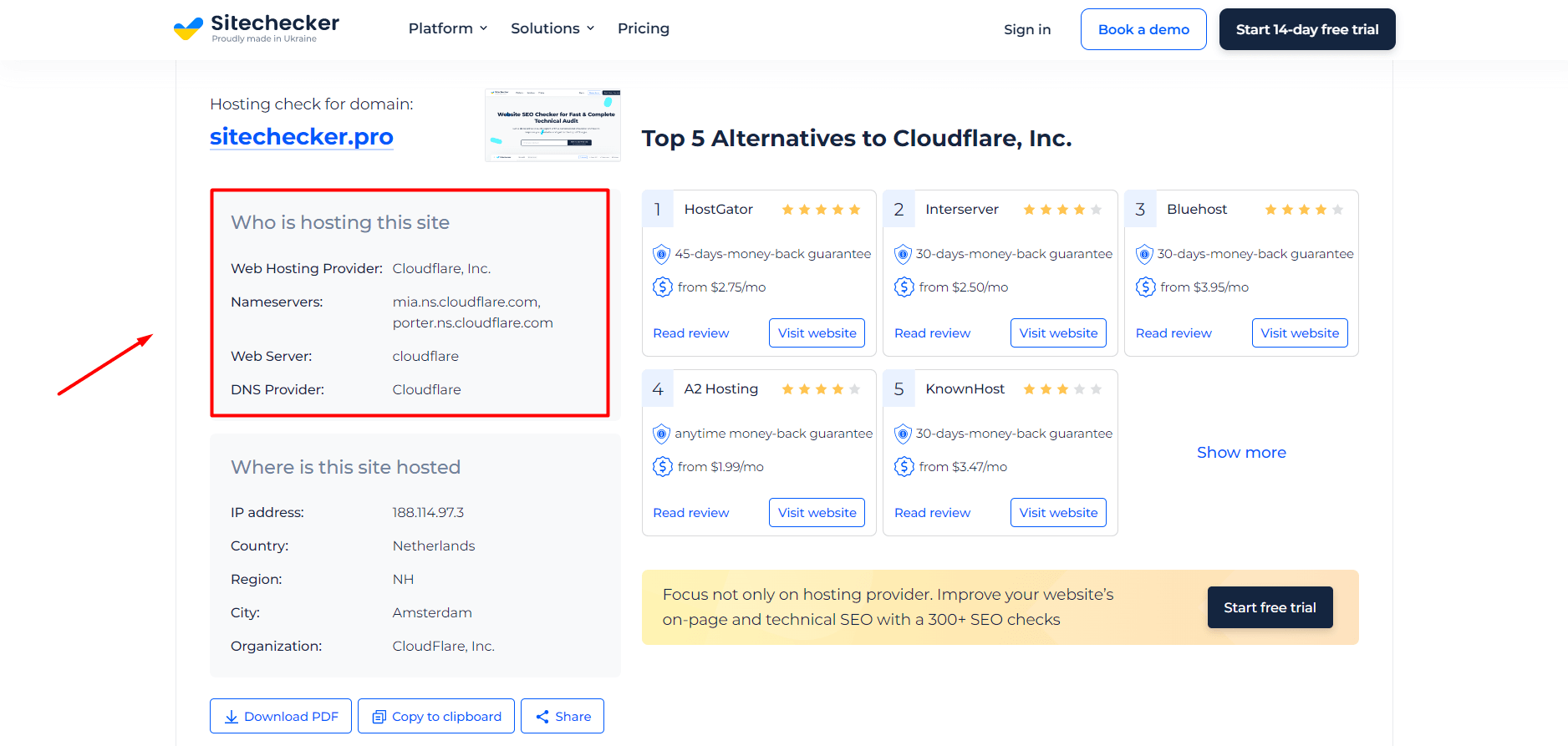 Who is hosting the site?
The first tab of our web host lookup helps you find out who hosts a website. You can see the web host company name in the first row.
The DNS provider name is at the end. The tab also includes information about a nameserver and a web server. Let's see why those two matter.
Nameservers are a fundamental part of the DNS (Domain Name System). They process queries about the location of a domain name's services. Nameservers let us type domains instead of IP addresses.
A web server is server software that fulfills users' requests on the Internet. It processes those requests over HTTP and other protocols. Its primary function is to store, handle, and deliver web pages to a client.
Where is this site hosted?
In this section, you will find out what server a website is running on, its IP address, the site's web server location (country, city, and region), and the name of the organization managing it.
You might wonder why the server location is in the host lookup tool report. The proximity of the webserver influences the loading speed. The closer the web server is to the target audience, the faster the data will transfer. Some web host providers even charge extra for choosing a specific web server location. To check where a specific IP address is, try our IP Checker.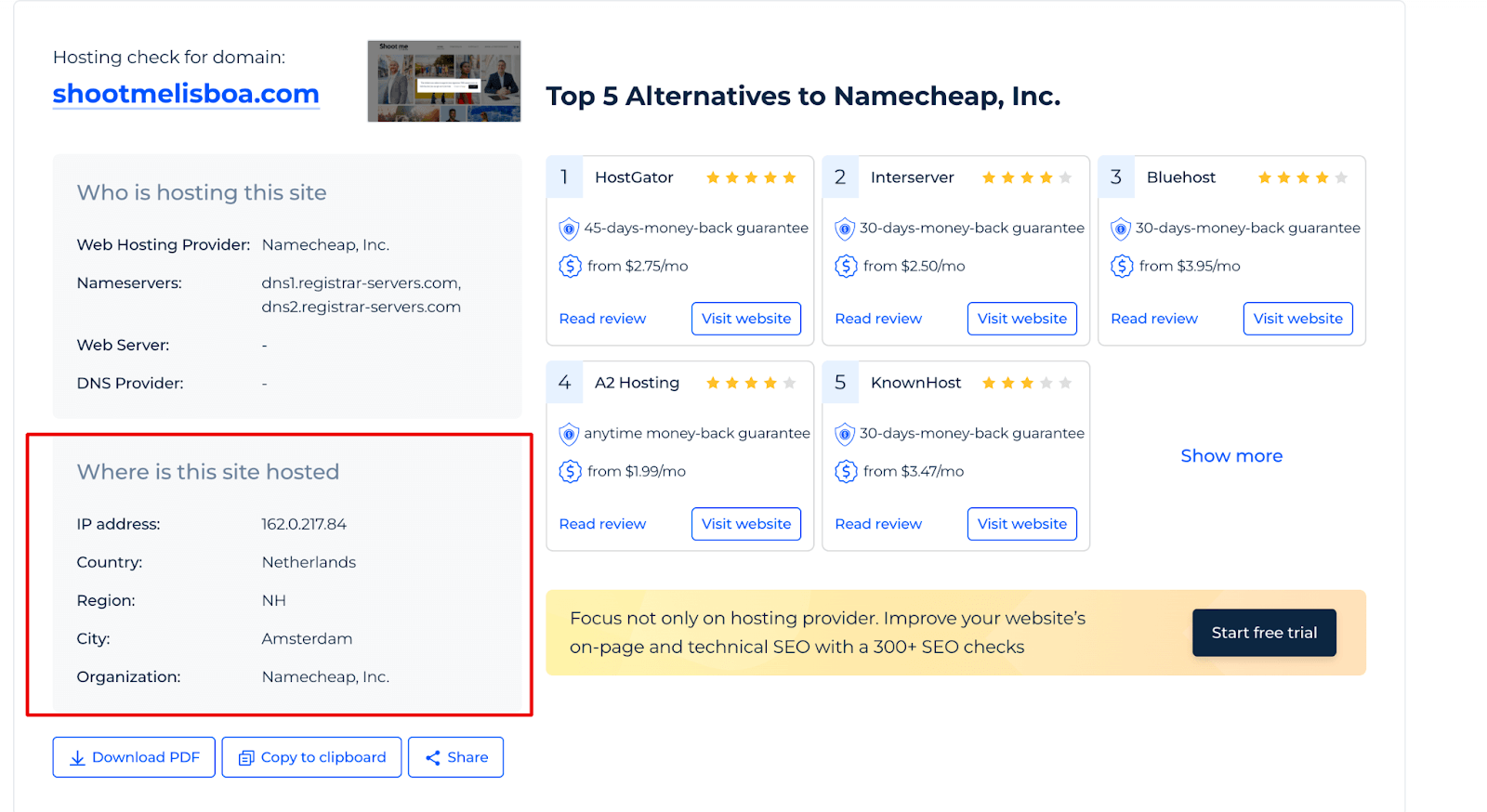 Hosting provider alternatives
On the right side of the result page, you can find a comprehensive list of providers. It includes five carefully selected alternatives with pertinent information regarding the price and money-back guarantees. Each entry has links to the review and to the rated provider page, so you can get more details before making a decision.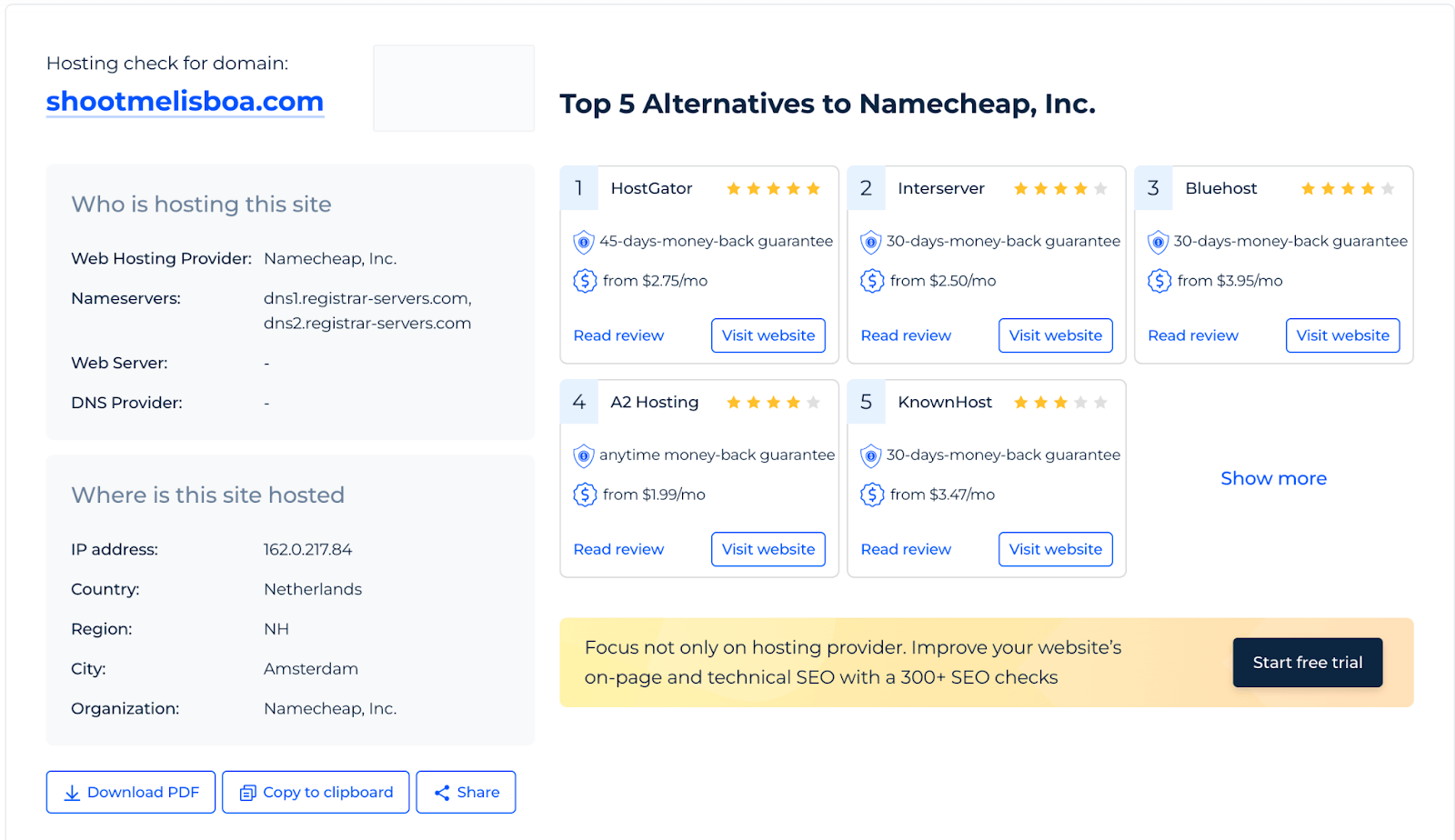 If you want to save the content of any tab of our host checker, you can do it with one click. Copy it to a clipboard to paste elsewhere, download it as a PDF file, or share it on social media.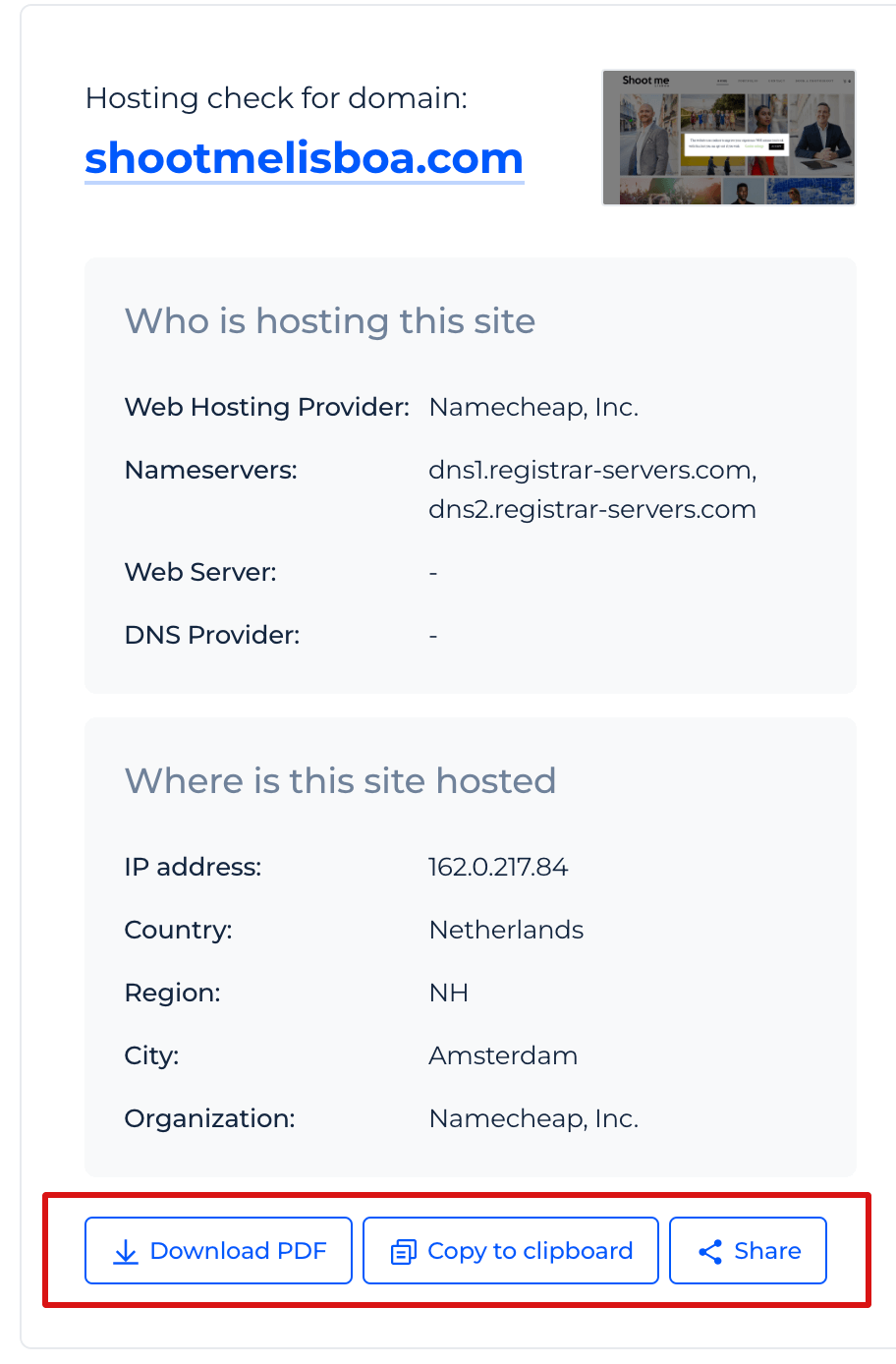 Check Host Like a Website Owner
Step 1: Insert Your Domain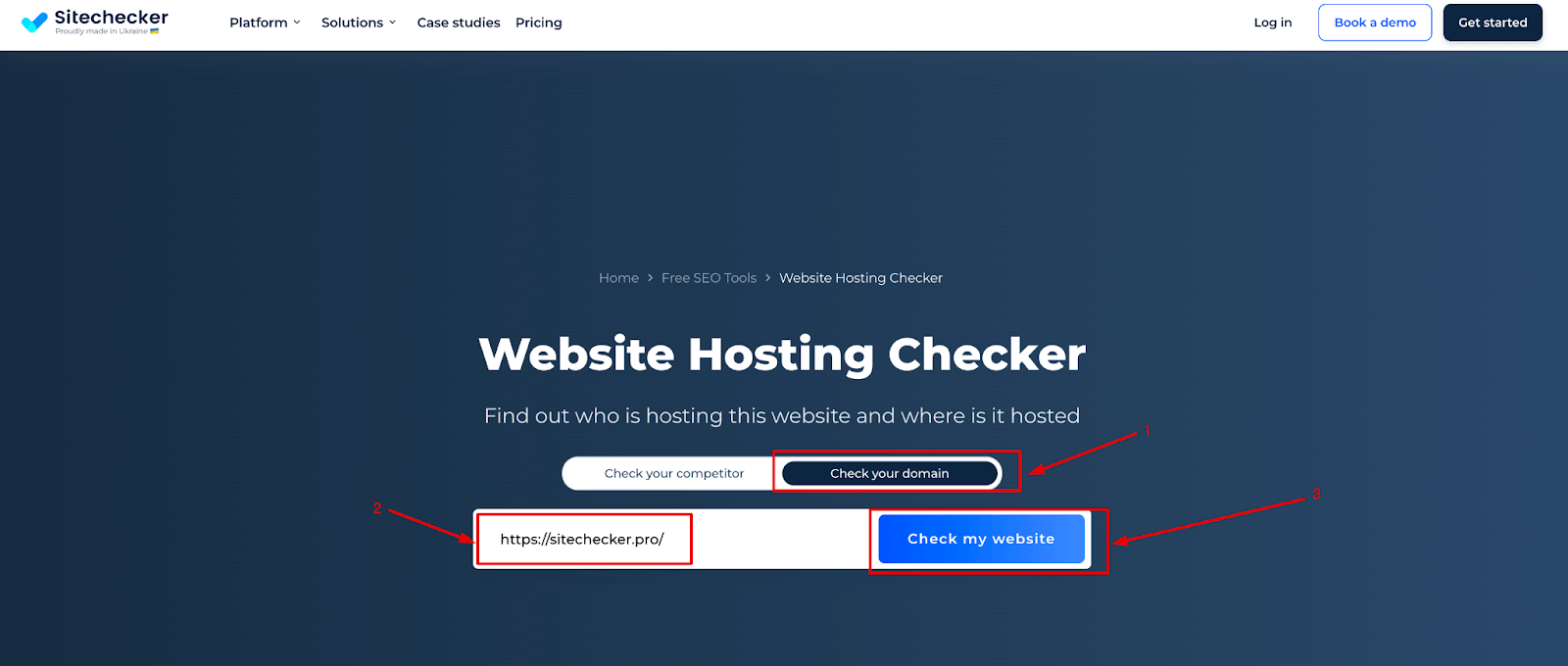 To receive results and access to Sitechecker's features for 14 days, start your FREE trial. Sign-up is easy with your email, Google, or Facebook account. No credit card is needed.
To begin, please click on the "Check your domain" button and enter the domain name of the website that you wish to analyze into the provided field. Once you have completed this step, you may sign in using your Meta or Google account for added convenience.
Step 2: Understanding the Hosting Finder Results
You will get data about domain age, including the creation date. It also provides you with information about the website, such as the domain owner and admin organization.
Here is the video with detailed instructions on how to use the website host lookup tool:
Additional Features
You can check this site information at any time on the site audit page. Also, as we crawled your website to get the data, we offer you to check the full SEO audit prepared for your website.
After you've decided on a host, it's important to evaluate the quality of the site's performance. Additionally, you can monitor the status of your website by getting notified as soon as it becomes unavailable. To do this, use such verification tools as Website Speed Test and Website Down tool. Using it together with our website host checker, you may get an idea about some providers' average loading speeds. Besides, you can monitor your website's status, getting notifications as soon as it becomes inaccessible.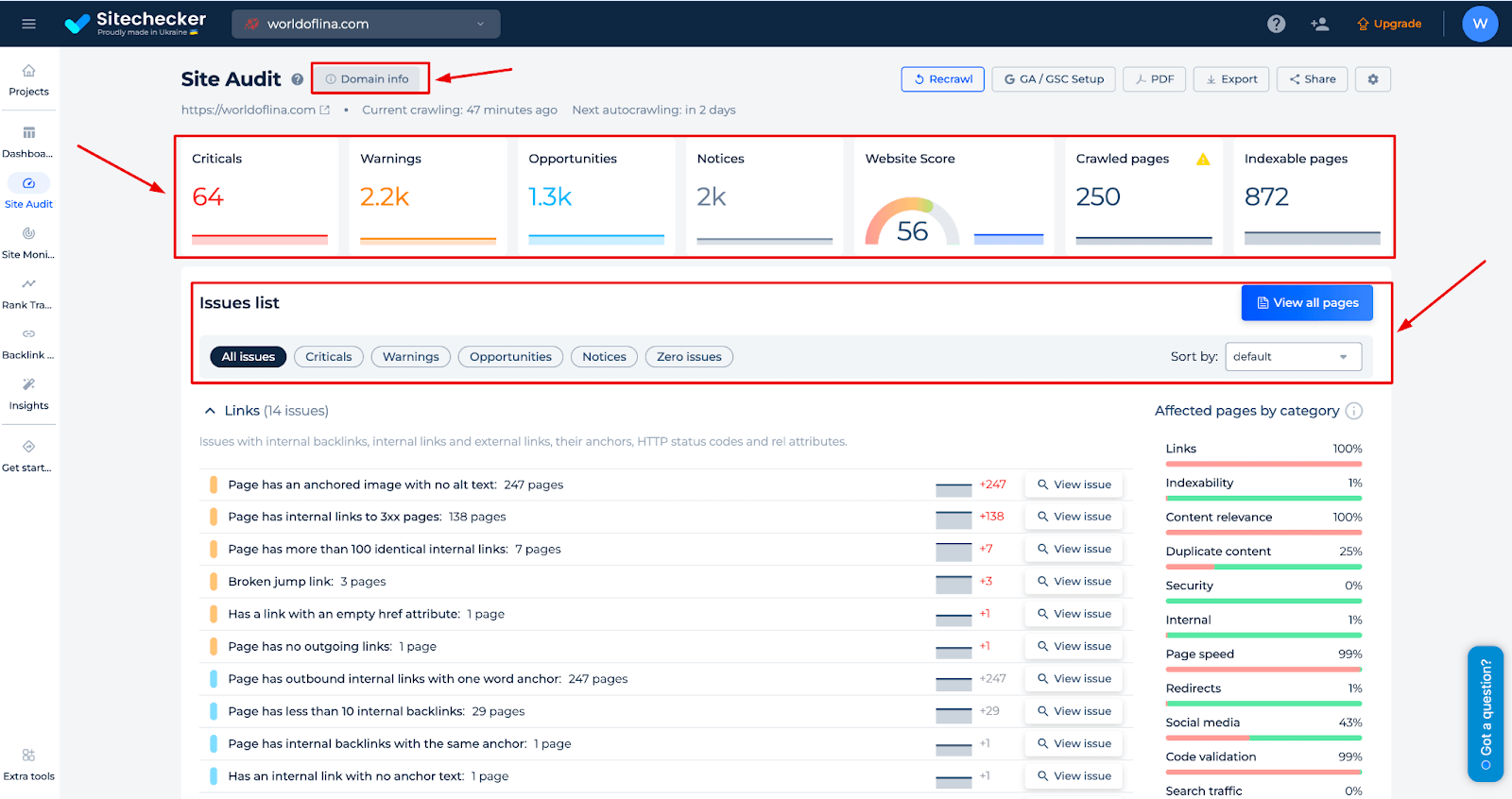 If you are looking for domain names for your online business, use our Domain Availability Checker.
How to Choose the Best Website Hosting Company For Your Website
Our hosting provider checker can help you come up with some options for your website. The offers include numerous web services. The best web hosting companies have few issues with uptime and ensure fast page loading. Besides, they provide 24/7 customer support, efficiently coping with any problems. And all that comes at a relatively reasonable price.
Final Idea
A Website Hosting Checker Tool is an online tool that helps identify the provider, nameservers, web server, DNS provider, and IP address of a website. It's useful for competitor analysis, security assessments, or general curiosity. Key features include a unified dashboard, a user-friendly interface, and a complete SEO toolset. Usage is straightforward: input a domain to check competitor hosting or your own, with results detailing data and alternatives. Additional features include SEO audits, speed tests, and status monitoring. To find a hosting provider, you can also search billing records. Besides, the hosting detector helps choose the best web hosting companies by offering research articles on various services.
FAQ
How can I tell who hosts a website?
To understand who hosts a website, you must first identify the domain owner. You can use our tool to check who owns a specific domain.
How do I find the details of a website?
The hosting provider checker tool allows you to check website data: registry domain ID, creation date, admin organization, and others.
How do you find out who is hosting a WordPress site?
Since WordPress is another option for creating sites, our host finder allows you to check the website's host as well.
Can you trace the website owner?
Sure! Checking the website via Hosting Checker allows you to find the web hosting providers and the website owner.