Favicon has become an integral part of a brand, meaning it is now a must for any website. This article explains what favicon is, why it matters, how to create and upload it properly, and how it contributes to the site's performance.
Ready to boost your expertise in this domain? Let's start!
What is a Favicon
Favicon (or favorite icon) or simply fav is a file with one or several small images related to a particular web resource. You can find a favicon in several parts of a browser: in the address bar, next to the site's name in the tab, or next to the page's name in a list of bookmarks. In some browsers, favicon is also present in history.
From the technical viewpoint, a favicon is a small icon file of 16×16 or 32×32 pixels in size and 16-bit or 24-bit in color depth. The majority of browsers support ICO, PNG, GIF, and JPEG file formats. However, in some cases, the types of animated GIFs, for instance, are also allowed.
Favicon is a logical continuation of the website design, so it should be created in the same style. In addition, it should visualize the website's main functions and, at the same time, be clear to avoid misunderstanding.
Favicon Examples
Favicons became an integral part of web design and play an important role in website creation. Some are so popular and easy to recognize that almost everyone can identify what site they belong to. Here are some examples below.

As you can see, the images are clear and visualize a particular object associated with the service the site focuses on. At the same time, they are correctly displayed and are equally represented in both web and mobile versions.
You can use an on page SEO checker, a special online tool that allows you to check and test how users see specific icons on versatile devices and in different browsers.
Why a Favicon Matters
The absolute majority of sites have such an icon. Why so? There are several reasons.
Branding
Favicon is an image that users definitely notice while browsing your website. This logo will remain in their memory, especially if they are satisfied. That is why it is very important to establish a strong connection between this logo and your website, both in terms of design and the meaningfulness of content. It should be relevant and easy to understand so that visitors immediately catch the focus of your web page. Moreover, it should be memorable so that users can easily distinguish it in the future.
As for branding, a favicon is also a valuable tool to stand out from the variety of other web resources. This is an additional competitive advantage, especially if the logo is really outstanding.
User experience
It is much easier to remember the logo than a website's full name, especially if it is long or written in a foreign language. It is more convenient for people to look for a logo in a list of bookmarks or among the tabs. This is simply more comfortable and assists in endearing site visitors.
A pleasant user experience directly impacts loyalty and greatly increases the chances of future visits or conversion. Besides, due to an easy-to-remember logo, people are more likely to spread information about your website among their friends. And this is all due to a small image.
Visibility
There is no direct connection between a favicon and SEO ranking. On the other hand, however, favicon influences behavioral factors of site visitors. This, in its turn, impacts the optimization and visibility of a web page.
Favicon is visible on your browser tabs, bookmarks, history archives, etc. This helps users save time by allowing them to identify and browse your website without difficulties. This enhances the likelihood of user interaction with your site. As a result, interactions with your website expand.
As we can see, this tiny graphic element is very important for any website with ambitions.
How to Use Website Favicon Checker Tool
Step 1: Insert your URL
The very first step is to specify the web resource to check.

Step 2: Favicon SEO checking
The online checker provides the results of an audit.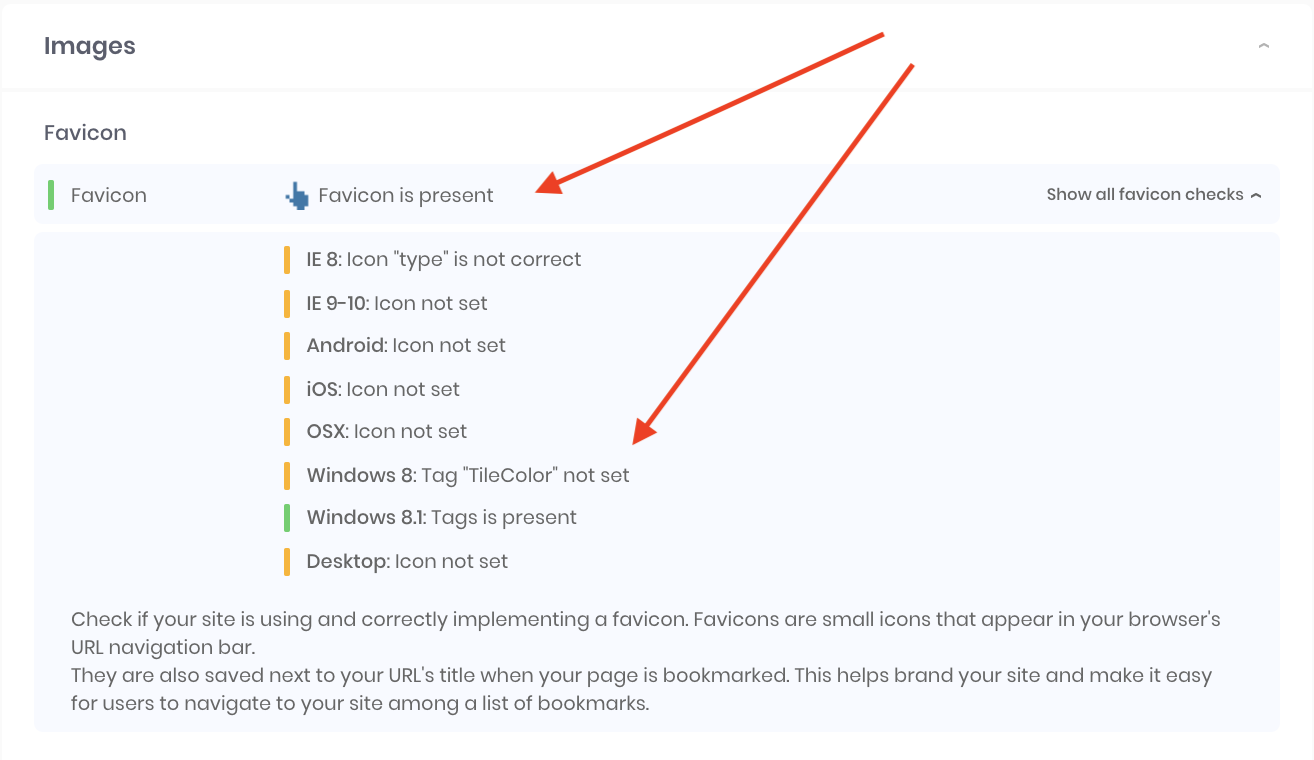 Step 3: Interpreting the Favicon Tester Results
Based on the results of the check, you can find the missing elements and implement the favicon visibility.
Cases When Favicon Checker is Needed
A favicon checker is usually needed if there is a necessity to:
Verify the icon is displayed well everywhere.
Check the image is unique.
Inspect how the logo impacts SEO performance.
Lookup for any errors in visualization.
We advise you to carry out favicon checking while creating the logo and if you plan a rebranding.
Checking favicon is important, but you should control the technical health of the site too!
Crawl your site and find out all kind of issues that can hart your users or your website SEO.
How to Create a Website Favicon
First of all, you need an image. There are two main approaches to creating an icon for a favicon. The first one is to hire a designer or design studio and generate it from scratch. The second one is to find a logo in databases with free icons.
The first option is preferable, especially if we are talking about a big company with solid views on branding and future growth. This approach also guarantees that your favicon is unique and correlates with your website in terms of design, sense, and intuitive associations. However, it requires investment.
The main advantage of the second opportunity is that it is free. At the same time, you should keep in mind that everyone has access to such databases. Consequently, there is no guarantee you will manage to find a unique favicon. The main advice here is to look through different databases to increase your chances. Hopefully, there are many such storages, for instance, Iconfinder or Freepik.
While creating or choosing an image for your fav, we strongly recommend you to follow some recommendations:
Use space wisely. Favicons are not too large, and it may be difficult to see a complicated image clearly.
Keep it simple. Favicons should be easy to remember, refresh in mind, find among the range of alternatives, and explain in words if necessary. Do not make an overloaded fav.
Foster the connection. Remember, a favicon is just a smaller version of your company's logo. It should enforce the mental associations with your website.
Support your brand. Favicon is a brief visualization of your brand. It should resemble your services.
After you pick up your future favicon image, it is time to adjust it to the technical requirements, primarily resize it properly. You can rely on special favicon generator tools, such as Fresh Favicons, The Favicon Gallery, or Delta Tango Bravo.
So, to sum up, generating a suitable logo for your favicon is not a very complicated task. Everything depends on your budget, size of the business, available time, etc. As we described above, it is possible to create a fav on your own in just 10–15 minutes.
How to Add a Favicon to the Website
It's not difficult to add a favicon to your website. You need to access the text editing tool and root folder on your website. This is necessary to adjust the HTML code of your website). Here's a simple guide on how to do it:
Upload the relevant file to your server.
Write your browser address bar to your FTP server.
Press enter button, log in and just upload the file to the root folder
Change the HTML page of your website.
Find and download the "header.php" or "index.html" file from the server.
If your site is made with HTML plain, insert the code in the head area of the "index.html" file:
<link rel="shortcut icon" type="image/x-icon" href="http://yourwebsite.com/favicon.ico">
If you are working with WordPress, insert the code in the head area of the "header.php" file:
<link rel="shortcut icon" type="image/x-icon" href="<?php bloginfo('url') ?>/favicon.ico">
This is pretty much all the instructions. Quite easy, isn't it?
FAQ
What are the benefits of favicon?
There are many of them. First of all, a favicon contributes to branding strategy as people often see this logo and associate your site with this image in the future. Second, a favicon facilitates user interaction with your web resource. It makes the site easier to find and memorize for later usage. Finally, favicons indirectly influence the SEO positions of your web page by improving the users' behavior. As we can see, a small logo assists to outperform the competitors, increase the loyalty of site users, and fosters the visibility of a website.
How to add a favicon to the website?
You need to upload the relevant file, change your website's HTML page, then find and download the "header.php" or "index.html" file from the server. More detailed instructions you can find in our guide.
How to create an icon in Photoshop?
Create a new file with canvas 64×64 pixels, insert the selected image, and change it if necessary. Then select the Image folder, go to Image Size, and change it to 16×16 pixels. Do not forget to verify your icon does not blur. When everything is ready, open the File folder and press Save as.