What is a Website Page Number Checker?
Page Counter is a tool that helps you count the number of URLs on your site. It can be useful for tracking your indexing status and identifying any technical issues. The Sitechecker website URL counter tool is easy to use and provides a variety of features.
The Website Pages Count Checker can assist you with the following
Determining the total number of all the URLs on your site.
Identifying which URLs from the XML Sitemap are indexed by Google search engines.
Detecting any errors on your own website's URLs.
Understanding how to distribute link equity effectively across your site.
Key Features of a Website Page Counter
Unified Dashboard: A unified dashboard provides a single place to view the technical health data of your website. You can view this data for specific periods, such as today, yesterday, last week, last month, and year-to-date.
User-Friendly Interface: A user-friendly interface makes it easy to use and analyze your traffic data. The dashboard is well-organized and easy to navigate.
Complete SEO Toolset: A complete SEO toolset includes a variety of instruments to help you improve your website's ranking in search engine results (SERPs). This may include tools for keyword research, link building, and technical SEO.
How to Use the Website Page Counter?
Do you ask yourself how to easily find number of HTML pages on a website? Our tool gives you the answer.
Step 1: Insert your domain
All you have to do is enter the domain name and then view all URLs on a site.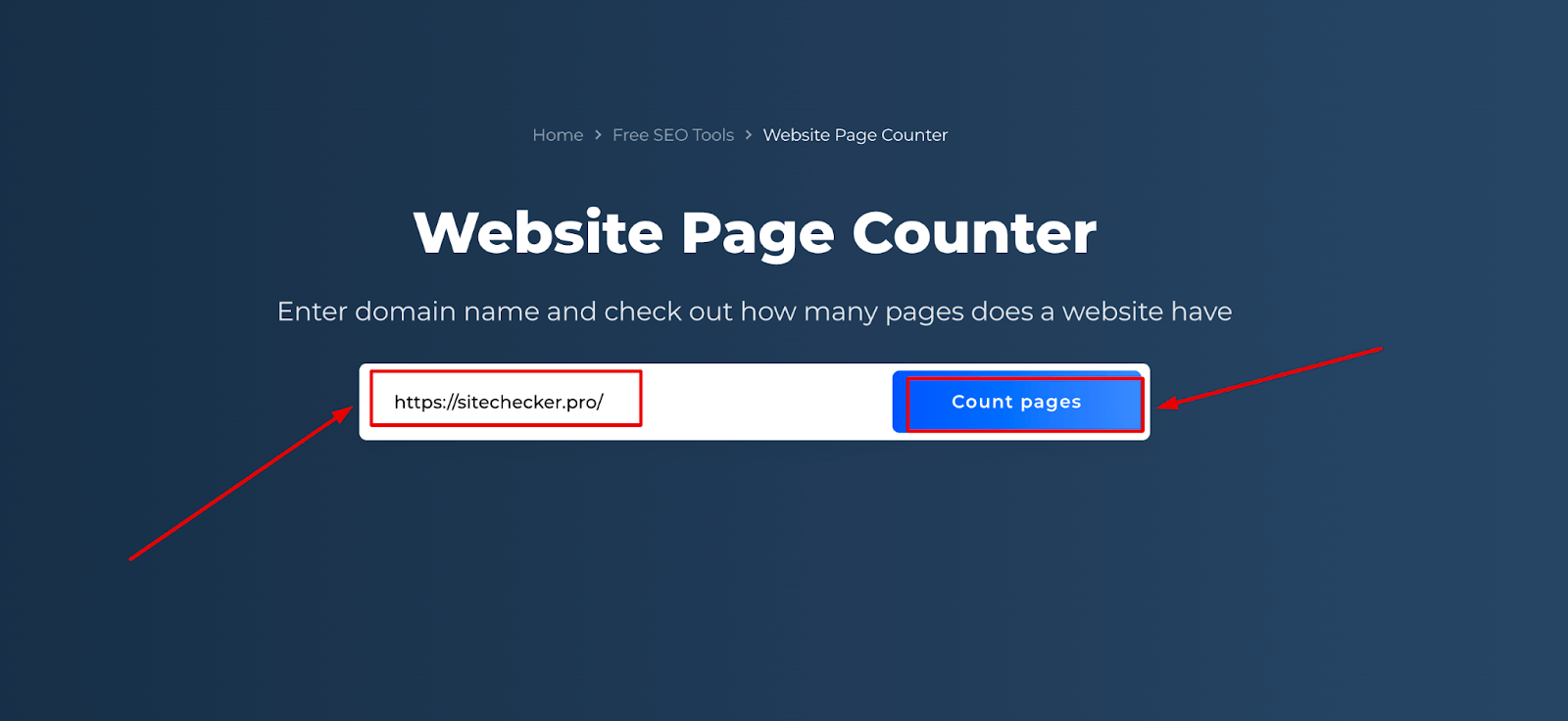 To receive results and access to Sitechecker's features for 14 days, start your FREE trial. Sign-up is easy with your email, Google, or Facebook account. No credit card is needed.
Step 2: Get the result
After crawling, you can see "how many URLs are there." This number indicates how many URLs the Google index has:

Find a list of issues found on the crawled URLs below. To check all the URLs on your site for errors, consider upgrading your tariff plan.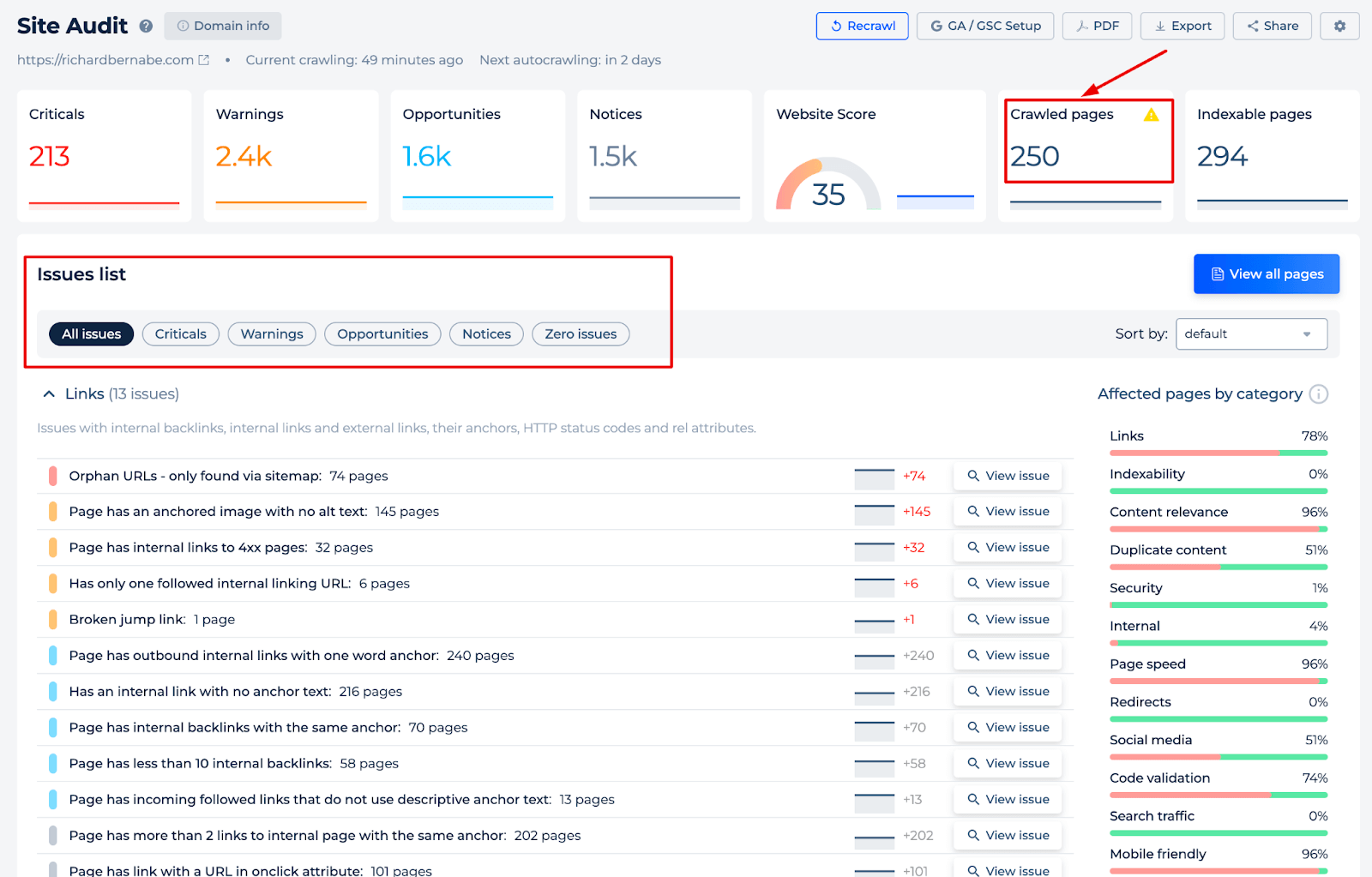 For each error identified, the list includes troubleshooting suggestions and specifies the URLs where it occurred.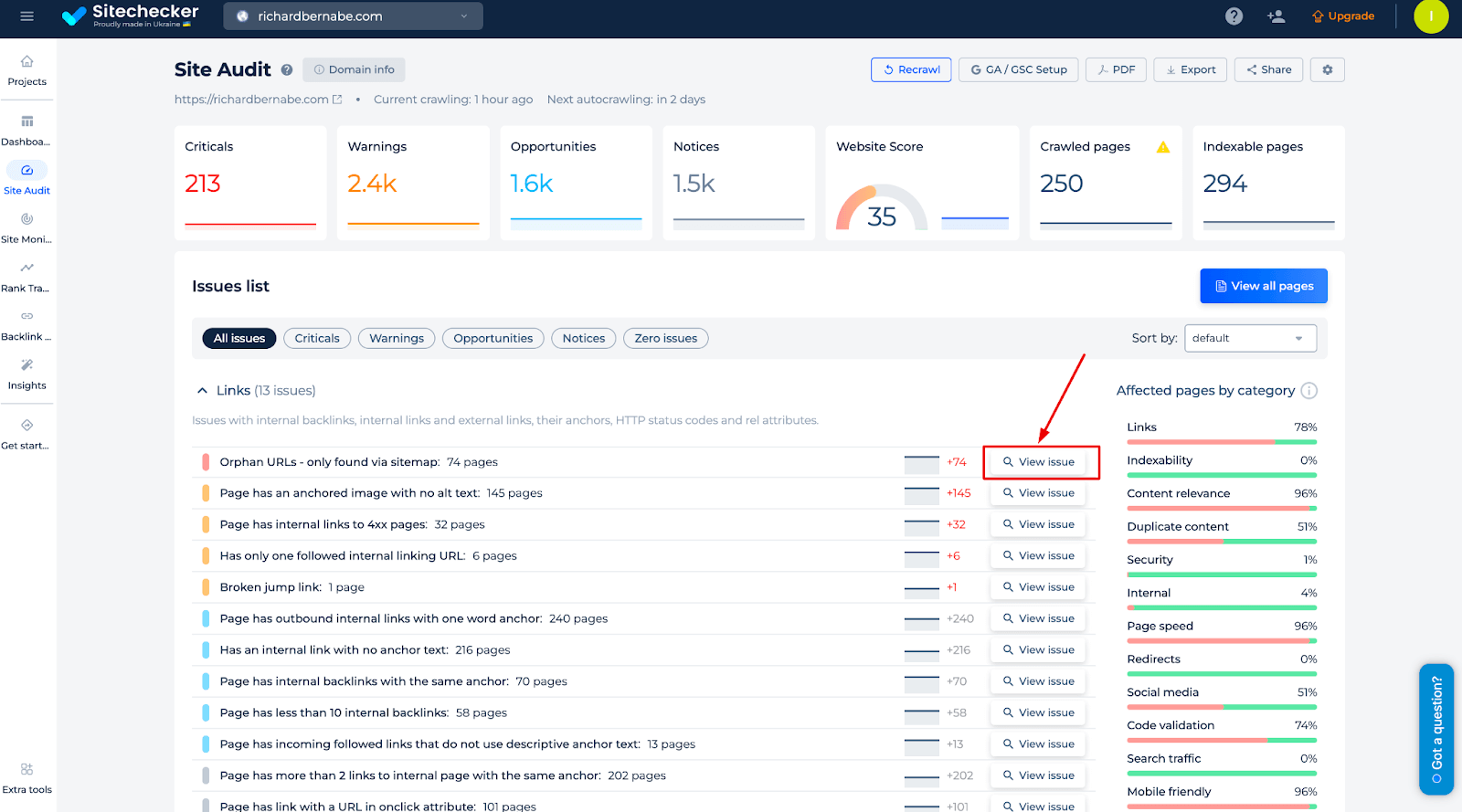 Additional Features of Web Page Counter Tool
Also, by clicking on "Crawled pages" or "View all pages," you can open the list of URLs with information about issues, status, and other kinds of URL SEO audit information.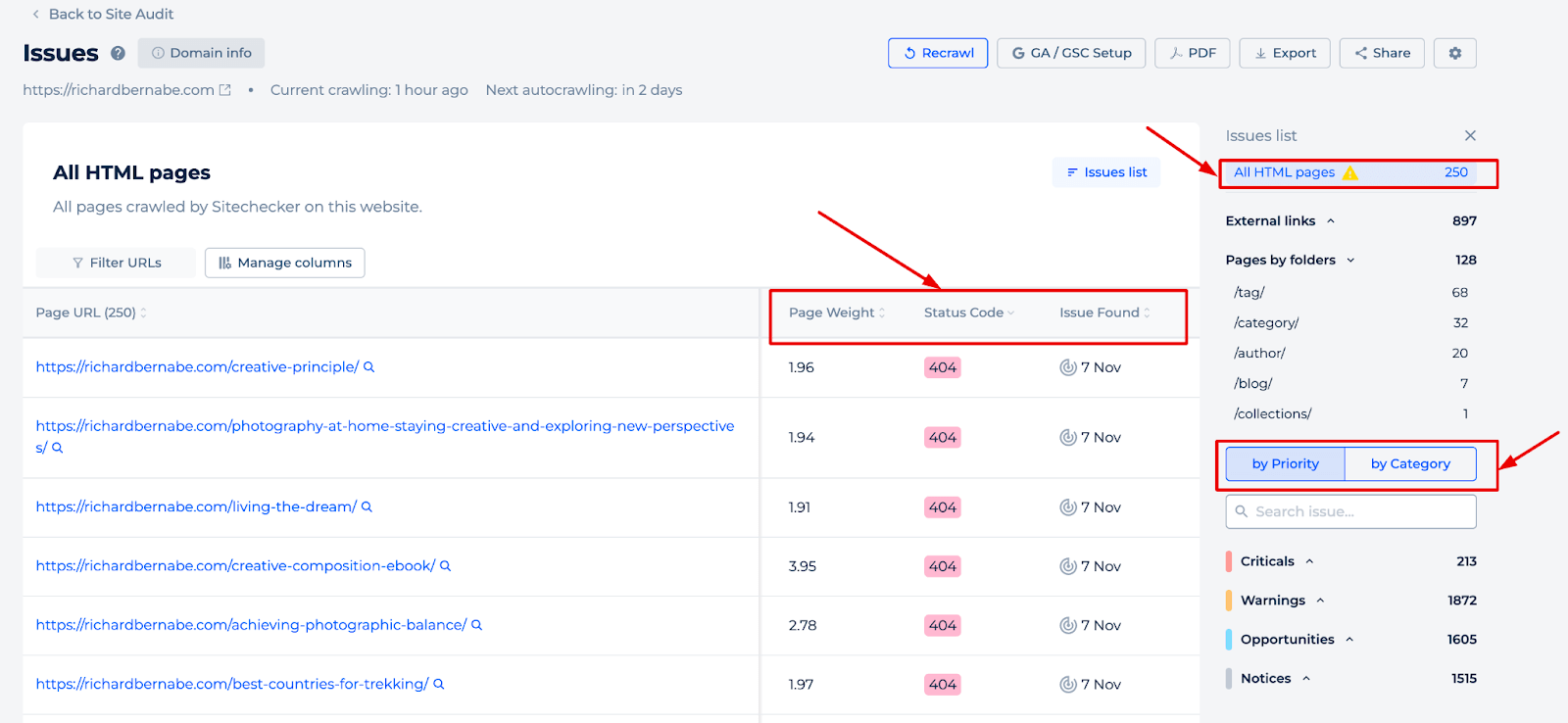 This section displays a categorized list of errors, allowing you to sort them by Priority or Category. If the site contains broken URLs or redirects, you can filter them out in the table. The page weight indicator provides insights into the efficacy of your internal linking structure.
With this information, you can swiftly address critical issues on your own website and receive guidance on optimizing your site.
Also, check out our video guide on how to use Page Counter on the SiteChecker platform:
Final Idea
The Website Post Counter is an efficient free tool offered by Sitechecker that counts your site's pages, aiding in tracking indexing and identifying technical issues. It boasts easy-to-use features such as filtering by type and crawl depth. Key benefits include the ability to ascertain your site's total URL count, identify pages indexed, check for duplicates, detect errors, and strategize link equity distribution. Its dashboard centralizes technical health data, presenting a user-friendly interface for traffic analysis and a full set of SEO tools to enhance SERP rankings.
FAQ
What is the main purpose of the Page Counter finder?
The main purpose of the Page Counter online tool is to provide a count of the total number of URLs on your site, help track which URLs are indexed by search engines, identify duplicate content, detect any errors, and offer insights for optimizing link equity distribution.
How to check how many pages a website has?
Use a Website article counter tool such as Sitechecker by entering the website's domain to get a full count of all its URLs.
How do I count URLs on a website?
Use a site count page checker by entering your domain name to automatically count the URLs.
How many URLs does a typical site have?
A typical website can have anywhere from a few URLs to hundreds, depending on its purpose and scale. Small businesses often have fewer than 20 URLs, for example, while larger sites and e-commerce sites can have hundreds to thousands of webpages.