To know the weaknesses of your site, you need to do a full site audit. During this process, you will be able to find out how many links are on your site. Every website owner needs to know how many pages their site has in order to understand if all their website URLs have made it into the search engine index. You need to know ways to check the number of webpages on your site and your competitor's site. It is easy do this with our free website page counter.
Why Do You Need to Find All Pages on a Website?
Knowing how many pages on a website, you can calculate whether they are indexed and listed in the search engine database because sometimes there can be non-indexable pages. Find all URLs on a website, and you will understand if you have a lot of duplicate webpages, which negatively affects the ranking of your site in the network. It's important to know which URLs may have errors, so you can detect them and fix them.
Errors on your site's pages significantly hinder your search engine rankings. Do regular audits and find all URLs on a domain to know the status of your site and discover weaknesses. Please check out our video guide on how to use site audit on Sitechecker platform.
Another important fact is the link weight. You need to evenly distribute link weight on your resource pages, as this will depend on your ranking in search engines. To do this, you need each link of your site and from each webpage led links to other pages. It is how the internal link weight on your site is transferred.
How to Use the Website Page Counter?
Do you ask yourself how to find, how many pages your website has? Our tool will give you the answer.
Step 1: Insert your domain and start free trial
All you have to do is enter the domain name and start a free trial, and then view all URLs on a website. Starting the trial is fast and free.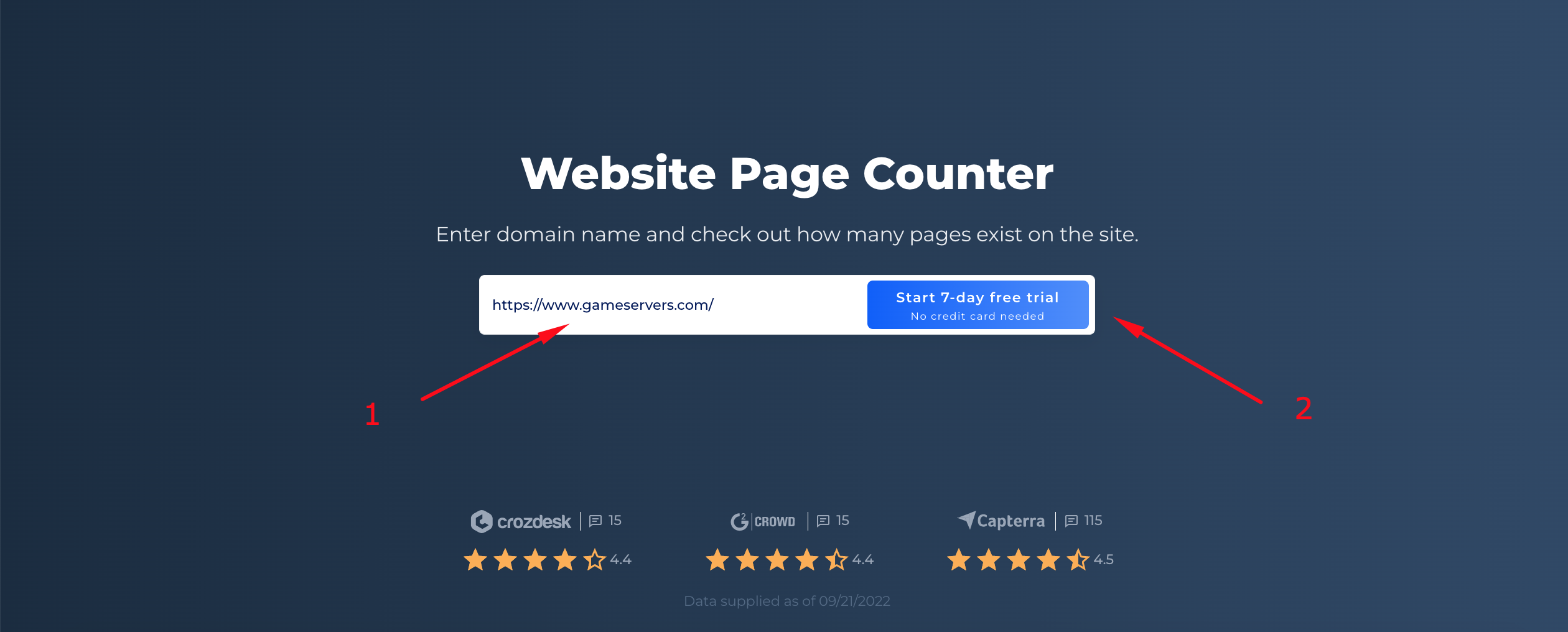 Step 2: Get result
After crawling, you can see "how many web pages are there". This number indicates how many webpages exist on your site at all. Also, you will see how many pages of the site are already in the Google index.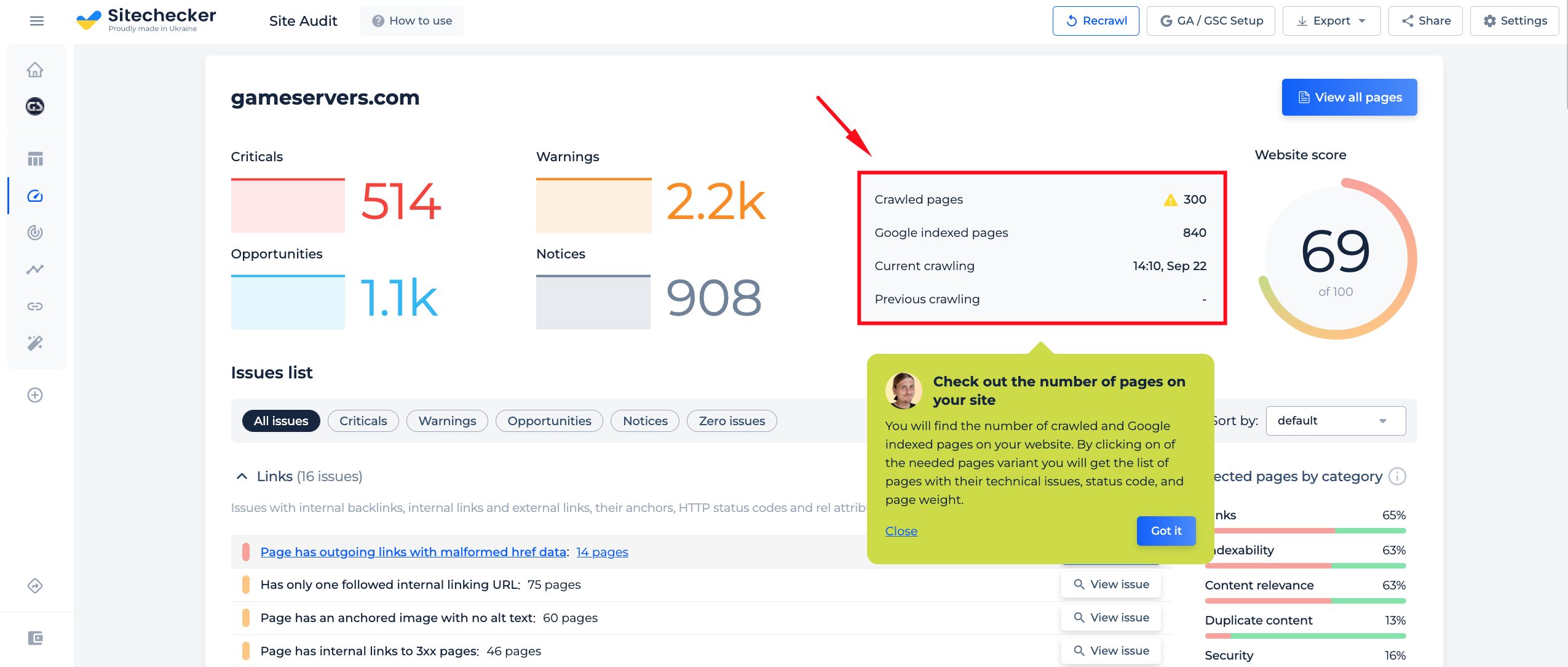 Also, by clicking on the "Crawled pages" or "Google indexed pages" you can open the list of those webpages with information about issues, status, and other kinds of those pages SEO audit information.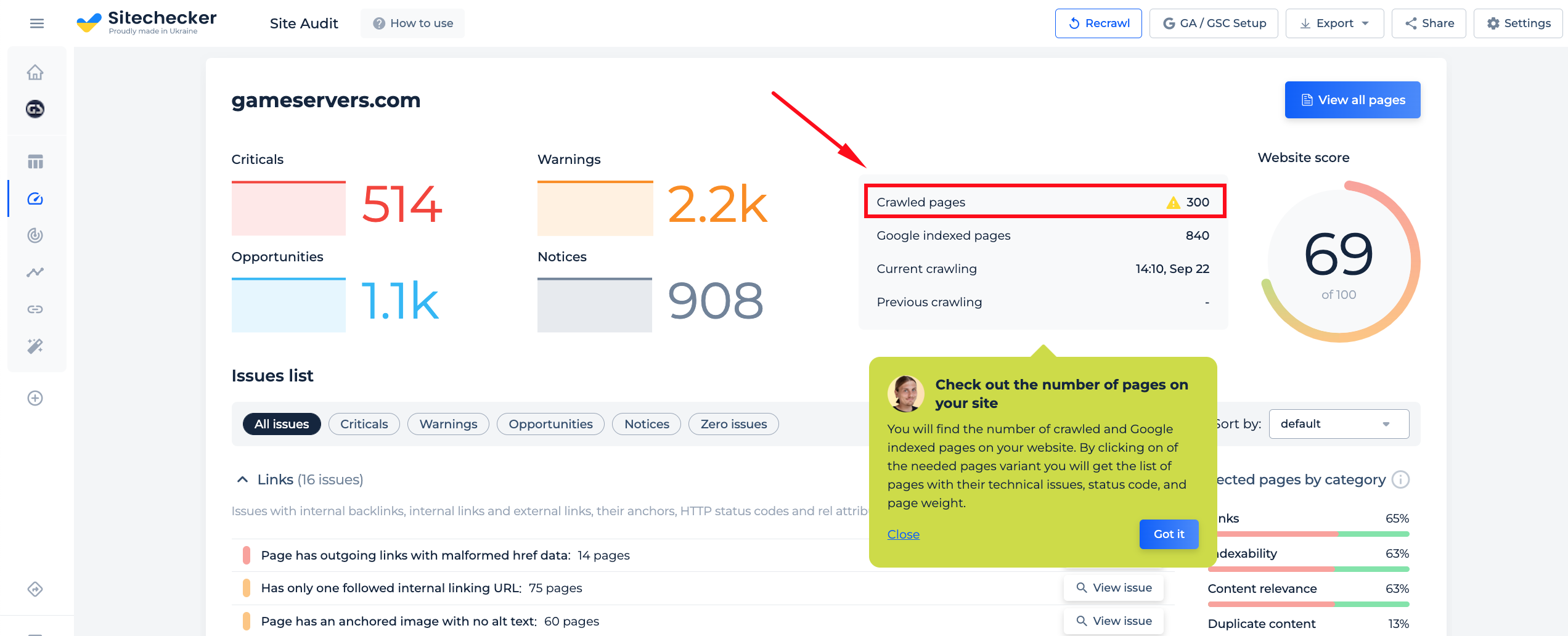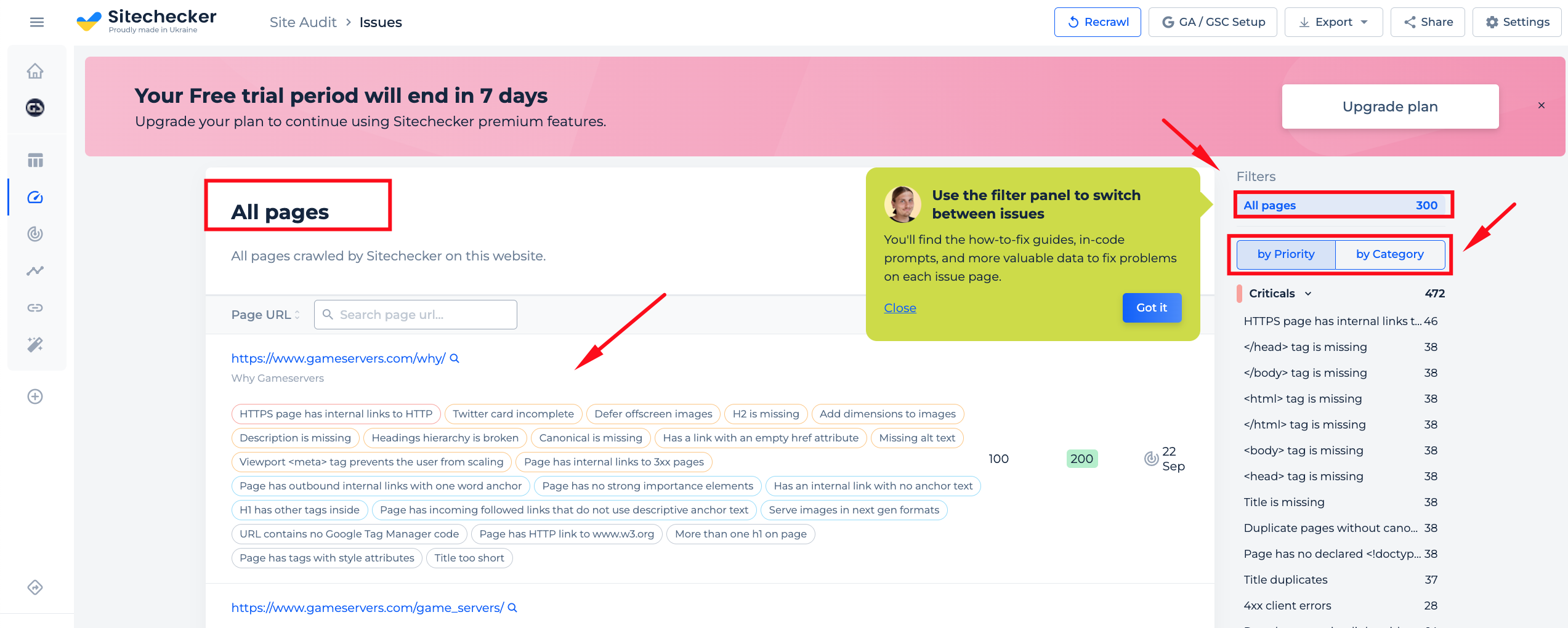 Note that search engines can index not all links on your site. If you are using the tool to find out which pages of your site got into the index, consider the crawling instructions. To give clear instructions for indexing, you need to create Robots.txt. A robots.txt file tells search engine crawlers which files the crawler can or can't request from your site. Some URLs can be disallowed in robots.txt file.
Features of Page Counter Tool
With the Google website page counter tool, you can easily find out how to find all pages on a website for free. It is a convenient way to check if the search engine network has indexed all parts of your site. This and another kind of information will be regularly renewed after crawling your site and will be able on the site audit page in your account.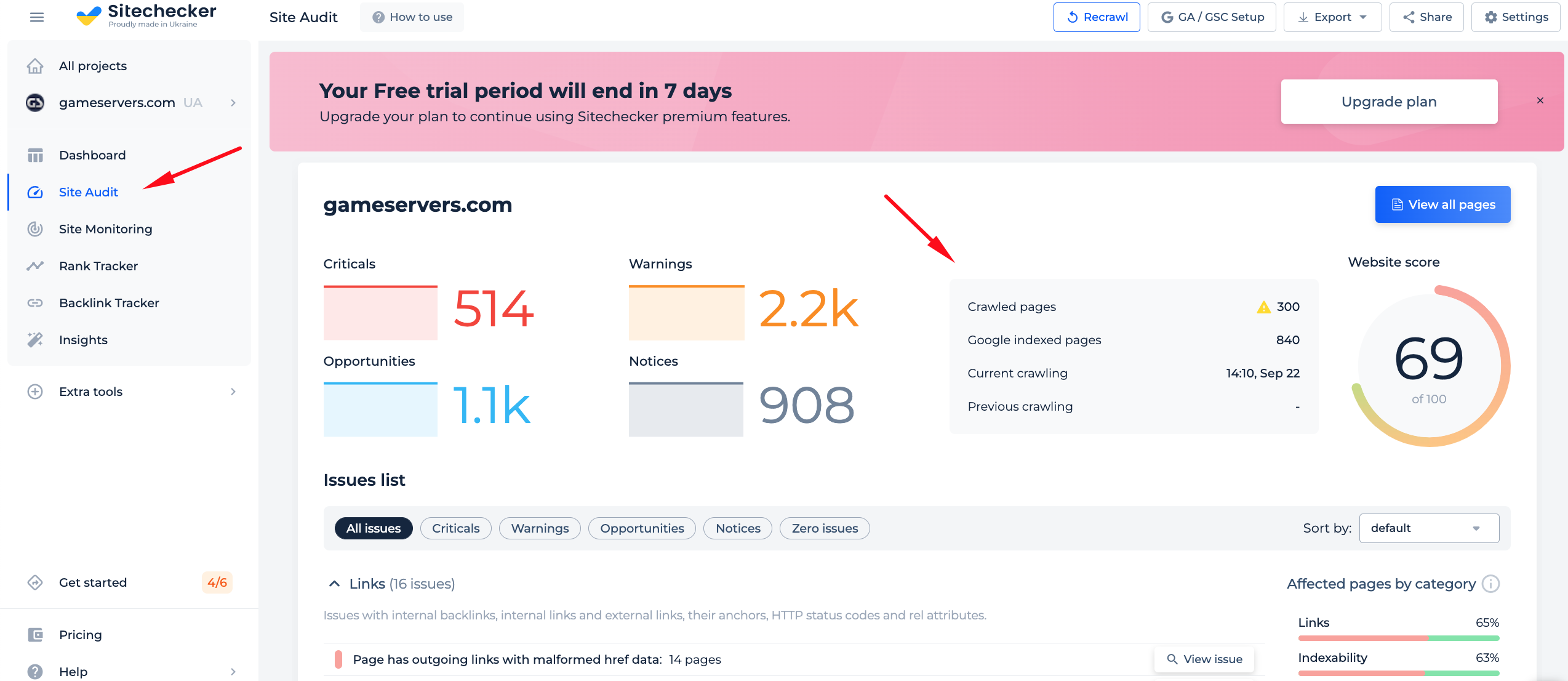 Also, you are able to find all kind of technical problems that your site have. You can view the page list, that has a specific issue and find out the instructions on how to fix them.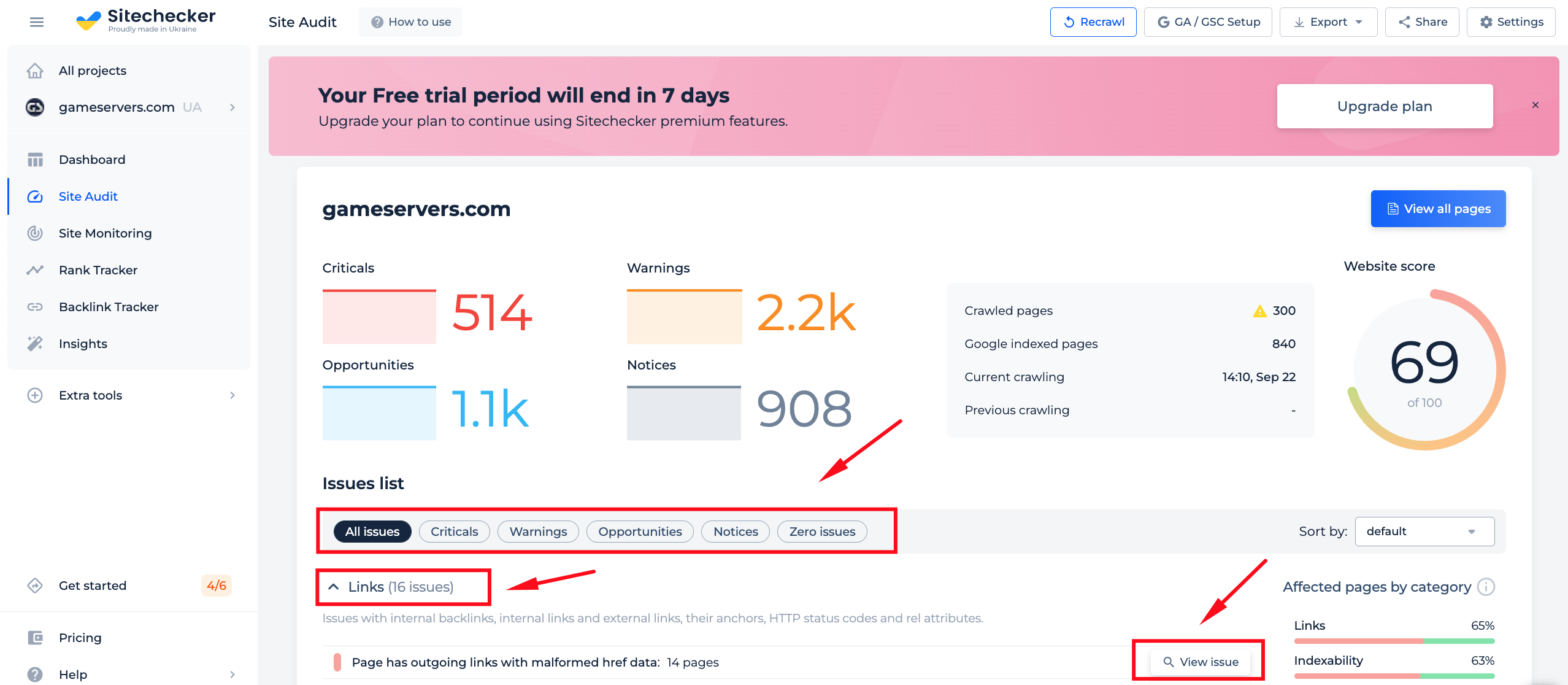 So our tool is not just about checking the count of webpages and their indexing status, but the possibility makes those pages technically correct to impact your SEO.

Find out not only the number of pages but also the presence of technical errors on them!
Make that full SEO audit to check out technical conditions of all pages on your website.
When Do You Need the Website Page Counter?
For users to access your site's pages from a search engine, your site must be indexed. During indexing, search engine robots crawl your site and add your pages to the index. This way, your site becomes indexed, and users can find you in search engine results. Find out the total number of URLs on your site with our tool.
Use the page count tool to know how to find all the pages on a website and which URLs of your site are accessible to users, and to know whether all of them are indexed. You can use the Website counter to check the number of links on your competitor's site. It is a very interesting opportunity to analyze your competitor's site for free!
Other Ways to Find Out How Many Pages a Website Has
There are other ways to find out how many links your site or your competitor's site has, in spite of the site page counter. Let's look at the most popular ways.
Look at the XML sitemap file
You should create an XML sitemap file. It is very useful when you need to know how to see all pages on a website. Use a sitemap generator to create one for you; it is a simple way. It is done automatically, and you do not need to have technical knowledge or expertise in XML sitemap creation.
Having an XML sitemap is an advantage during the ranking in search engines. If during the site audit it is found that you do not have a sitemap, then this fact will be marked as a critical error.
Using your CMS
If your site runs on a content management system (CMS), such as WordPress or WIX, you can generate a list of all your webpages from the CMS. There are many plugins on the web that can help you collect all the links on your site in one click. It's very simple and free. Just give it a try to count website pages!


Using a log
A log of all the URLs served to visitors is another way to know the number of all pages on your website. Just log into your cPanel, then find raw log files. So you can list all webpages – the most frequently visited links, the never visited, and those with the highest drop-off rates.
Using site crawling tools
Another simple and popular way to find out how many pages a website has is to use site audit tools. There are many of them, so you can choose one that your team has a subscription to. It can be either Netpeak Spider or Screaming Frog.
A free subscription to the tool is enough to know the number of all the links on your site. You won't need to buy a subscription just for this task.
Final Thoughts on Website Page Counter Tool
Well, we've figured out how to view all webpages quickly and for free. As a responsible site owner, you should understand how important it is to know all the pages of your site. Both your site and your competitors' sites.
Thanks to the free webpage counter, you can easily find out the number of all the links on your site and see which ones have made it into the search engine index. Remember, it is important to perform regular site audits to look for critical errors that interfere with your search engine promotion. See all pages on a website with our tool!
FAQ
What is the Website Crawling?
Crawling is a process that helps you and search engines to discover URLs and links that lead to other site parts.
PageRank is an algorithm used by Google Search to rank web pages in their search engine results. To match this factor, you need to take care of an even distribution of link weight on your site.
How to find out the number of pages on website?
Well. You can use the website page count tool, crawling tools, or look at the XML sitemap.