All-in-one SEO Platform for Agencies
Plans starting from $29/mo. Helping hundreds of agencies to deliver SEO services even when it isn't the main part of their business.
Trusted by 300+ agencies
You are going to love Sitecheker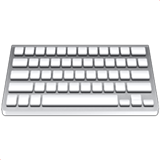 Web development agencies
Sitechecker will help you asset, improve, and monitor the SEO of websites you build without having to master it or purchase complex SEO software.

Marketing, creative, and design agencies
Sitechecker will help you deliver SEO packages and generate white-label reports to clients without being an SEO expert or hiring experienced staff.

SEO agencies and freelancers
Sitechecker will help you save money with a cost-effective all-in-one SEO toolkit including handy white-label and email reports.
Boost your client's SEO
Improve your clients' on-page and technical SEO
Deliver fast results by fixing clients' websites with best in class Site Audit and On-page SEO checker. Spot new errors instantly with handy email alerts.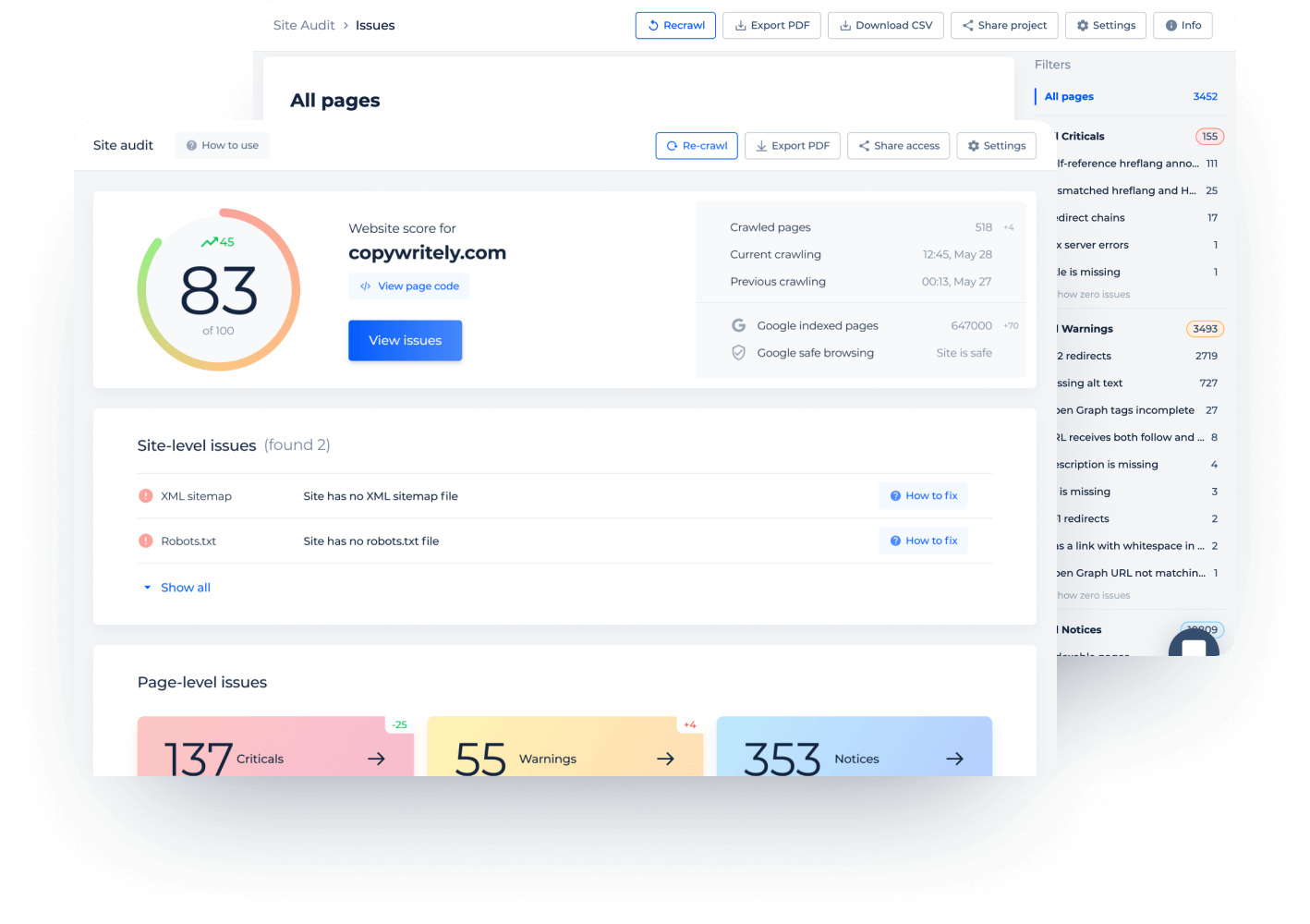 Impress clients with white-label PDF reports
Send clients easy-to-interpret white label SEO reports to show how much value you bring.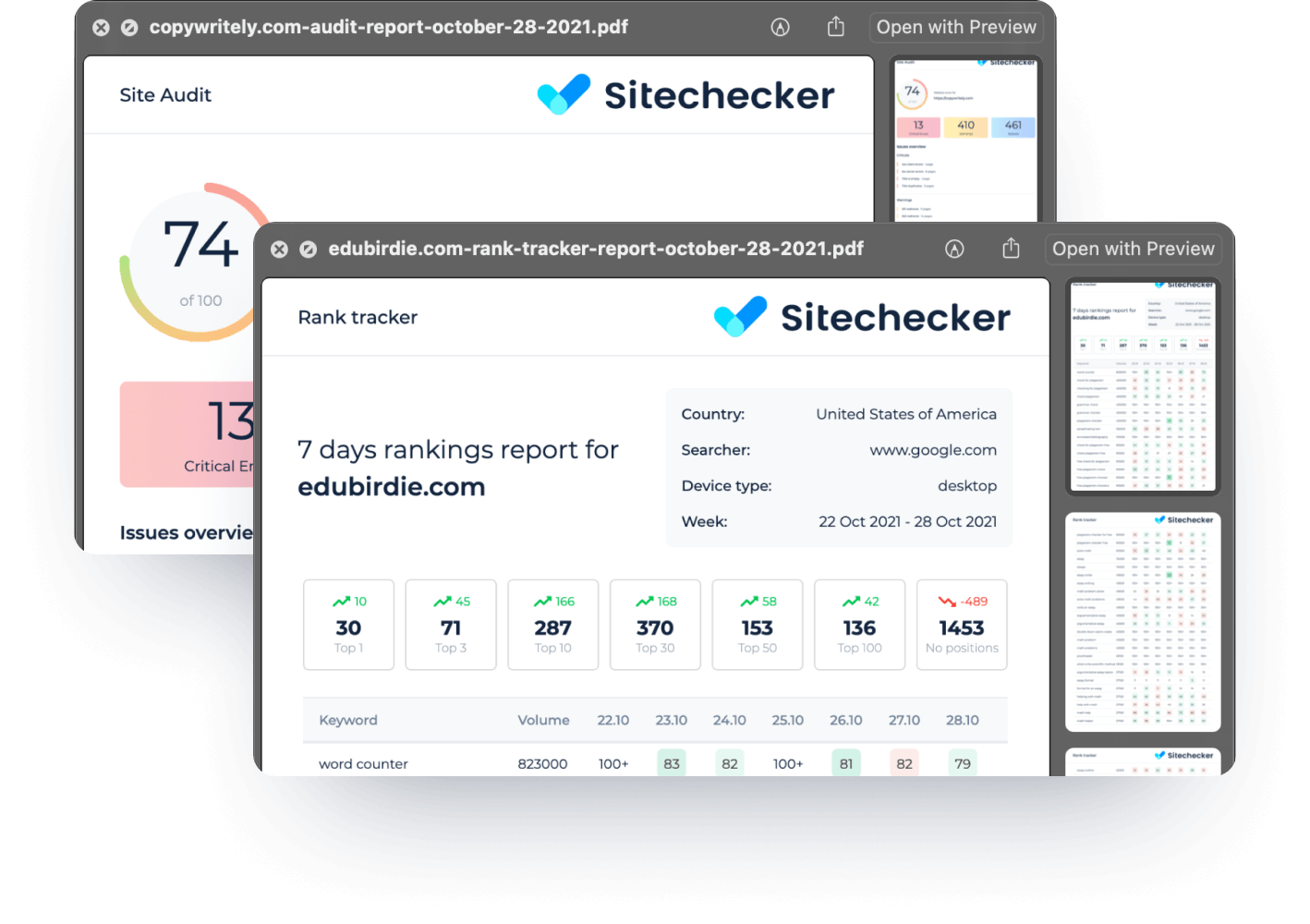 Showcase your success with accurate Rank Tracker
Track local and global results, different search engines, devices, and languages. Organize keywords with groups. Check advanced SERP statistics. Keep your eye on the ball with daily and weekly email digests.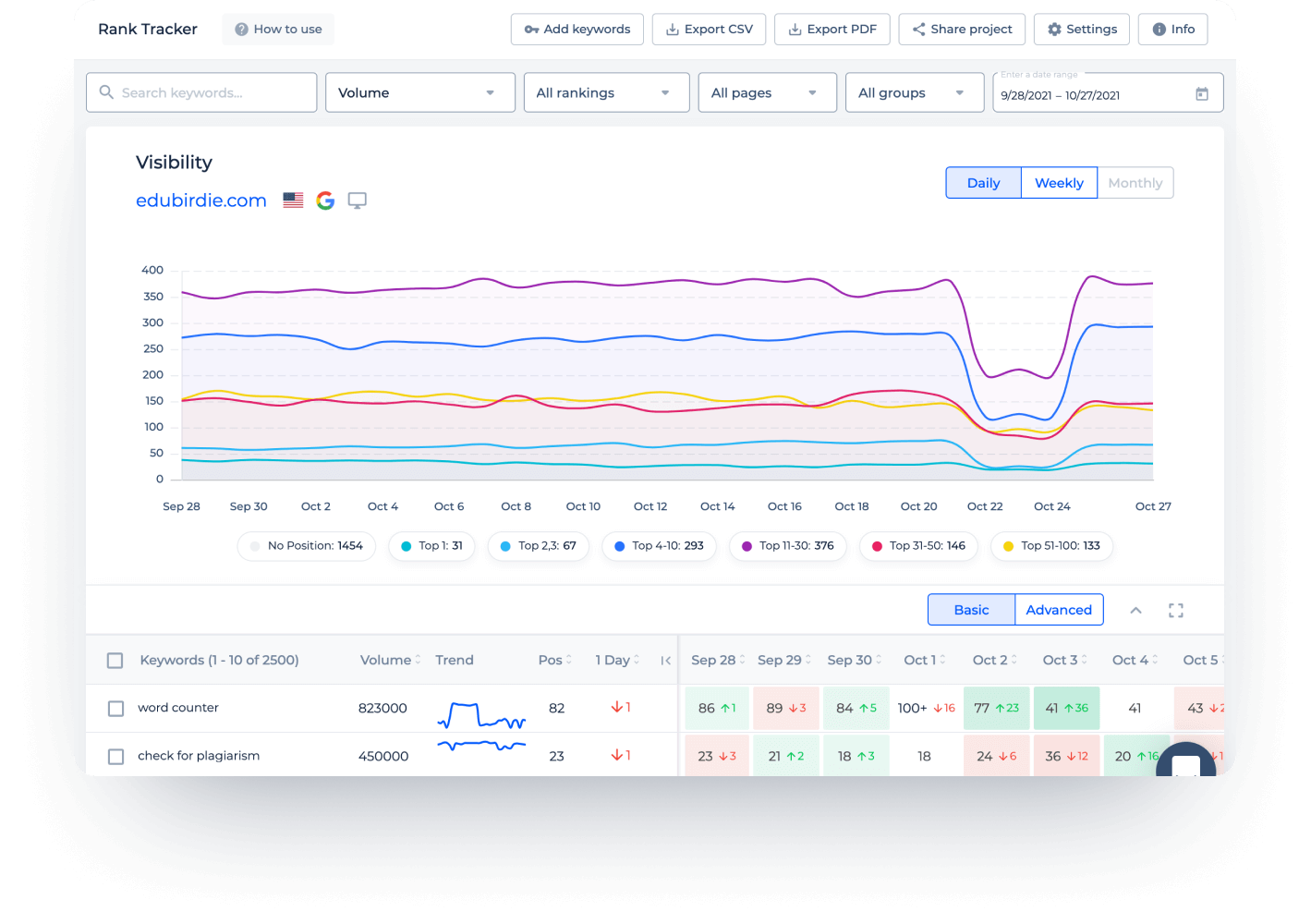 Monitor your clients' websites 24/7
Be sure that nothing falls through the cracks. Get an instant email report if something does, so you can fix it straight away. See all website changes and content history in a convenient feed.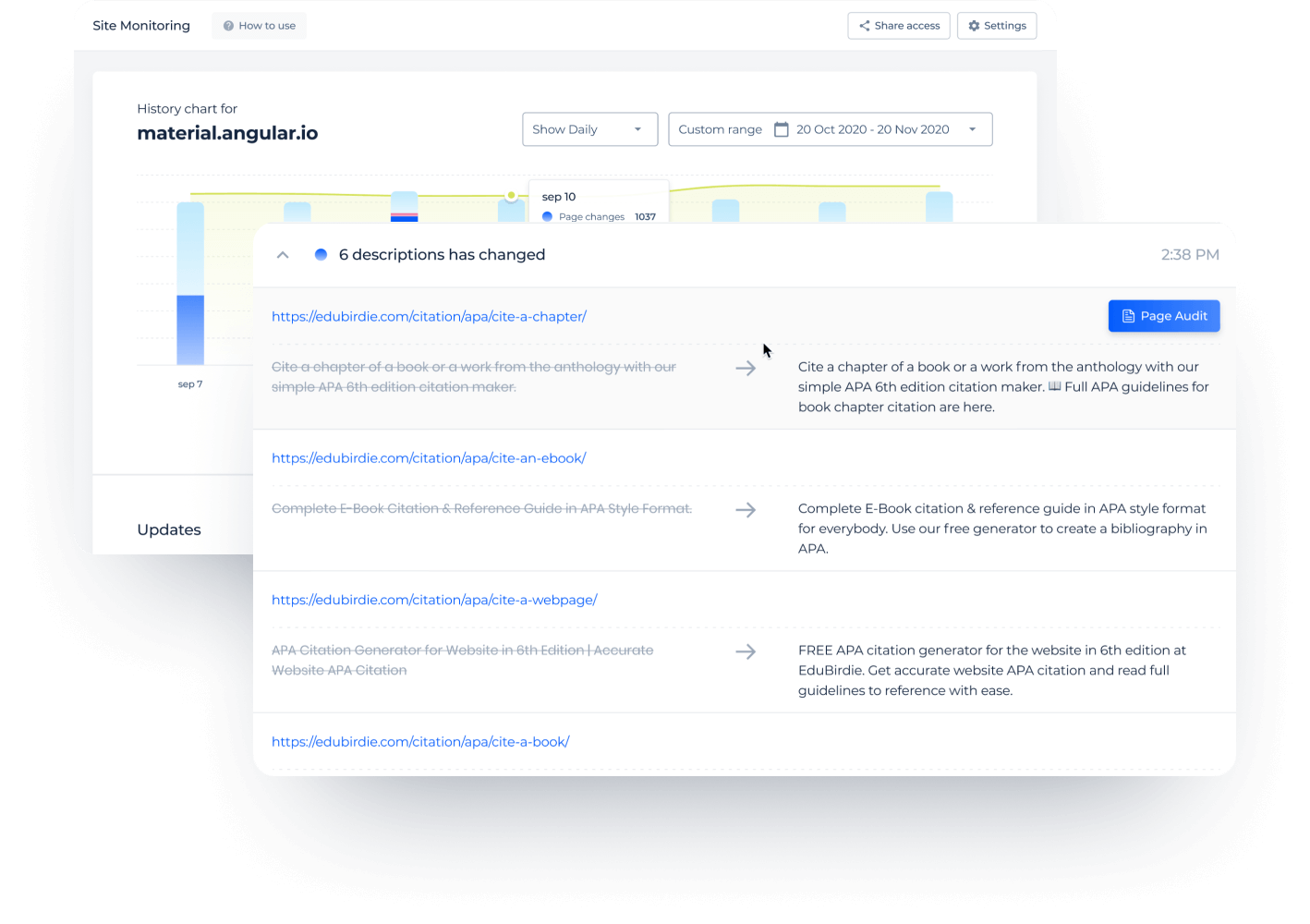 Turn data from Google Search Console and Google Analytics accounts into actions
Google Search Console and Google Analytics collects valuable data about your clients' website. But they don't tell you what to do based on this data. Sitechecker will.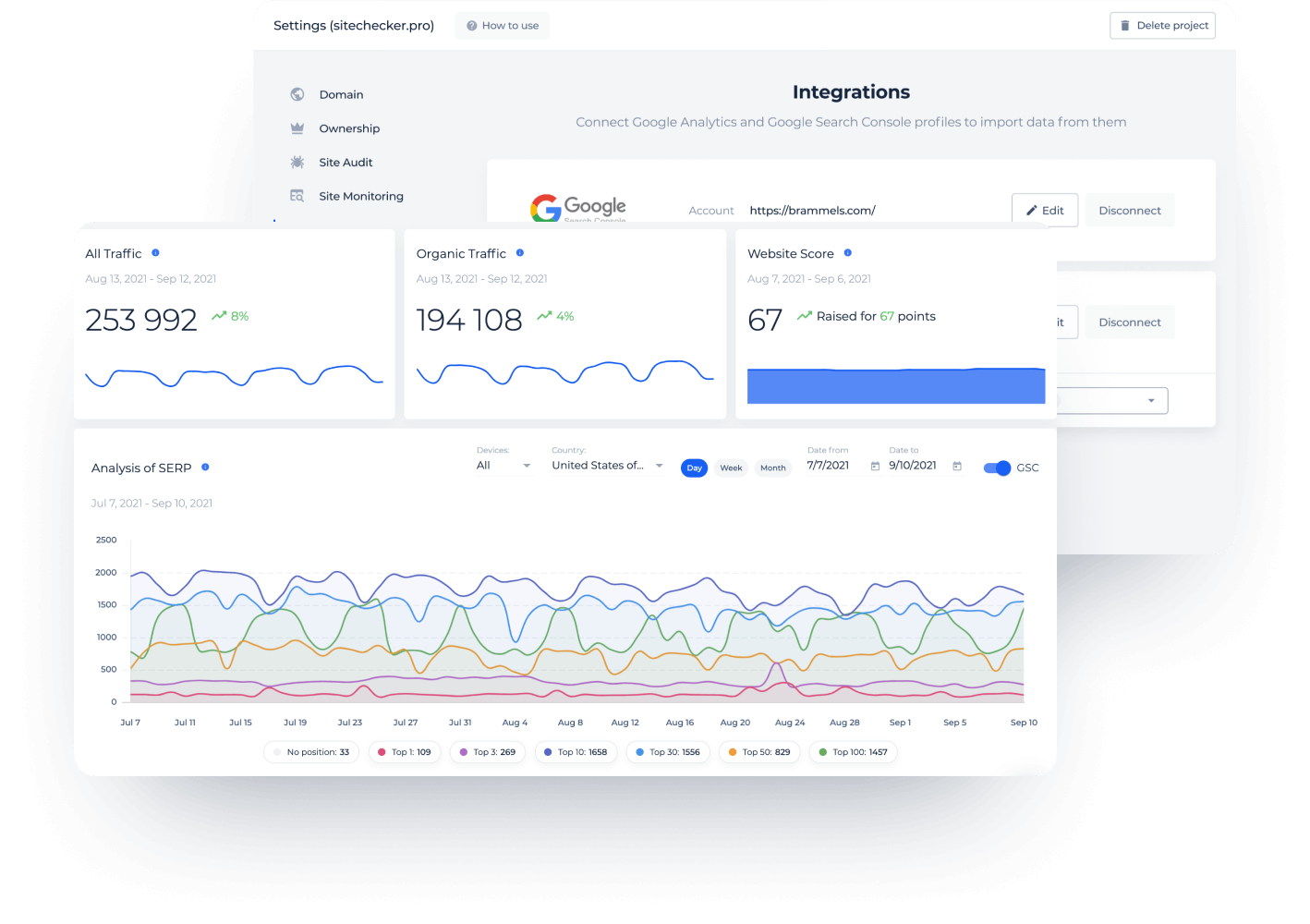 Get personalized step-by-step SEO instructions
You don't need to hire a senior SEO expert for adding search engine optimization to your list of agency services. Clear design and personalized step-by-step instructions by an SEO assistant allows anyone to deliver successful web optimization campaigns via Sitechecker.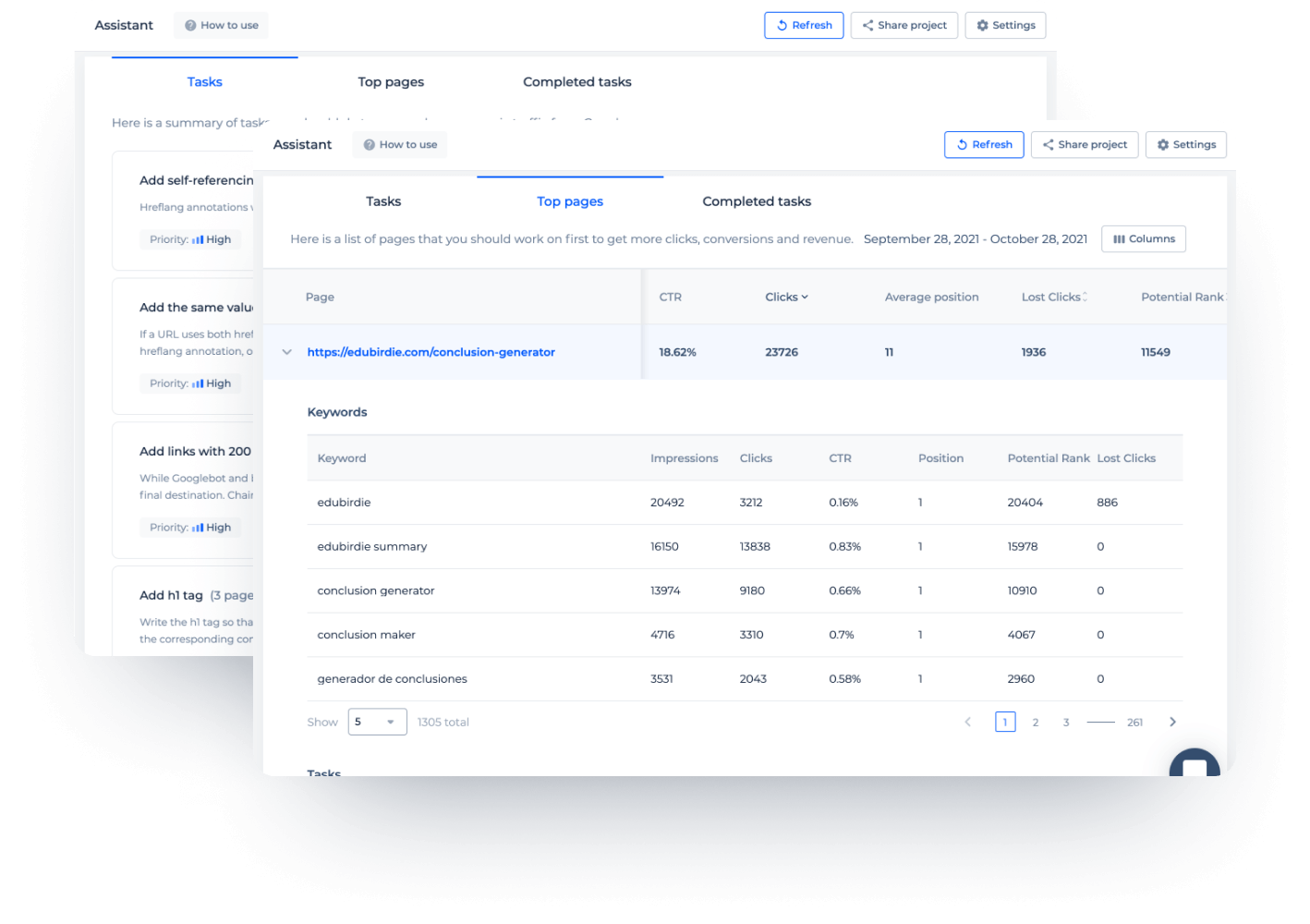 Cost-effective SEO toolkit for your agency
Join 300+ agencies growing with Sitechecker
All of our clients are growing after we use the platform. For instance, our client Hospital Amazônia had a growth of more than 13.500 impressions from March to September.
My сlient's website had several technical and speed issues that Sitechecker helped us to identify in an easy way. I was able to assign those issues to my web dev so he fixed them. After the implementation, the website started getting more leads because the speed improved significantly. As a result, +40% website traffic growth and happy client.
What users are saying
Data supplied as of 09/28/2022
Grow your agency with Sitechecker!