On Page SEO Checker
Discover why your landing pages are not ranking in Google by doing an on-page audit. Take action right away with our easy-to-apply solutions.
Trusted by 1000+ teams
What's inside your free SEO report
Issues overview
Check the webpage's health and get a score indicating how ideal your page is from the technical side. Sitechecker Page Score is calculated based on the errors divided into blocks: Critical and Warnings. The more critical errors you have, the lower the performance score will be.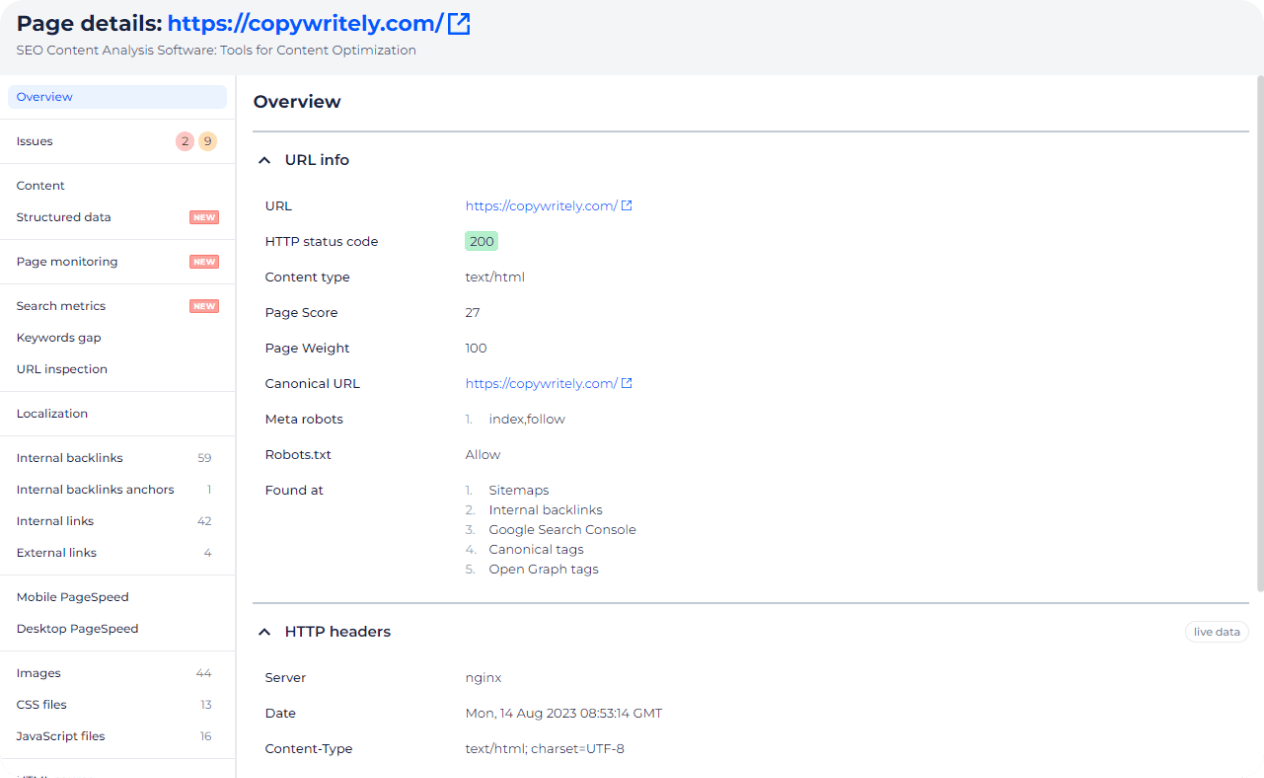 Content optimization check
To assess the quality of internal optimization, it's important to check the following factors: HTTP status code, HTML size, meta tags, H1-H6 structure, Google preview, text length, and text to code ratio. These are all the primary tasks of on-page SEO analysis.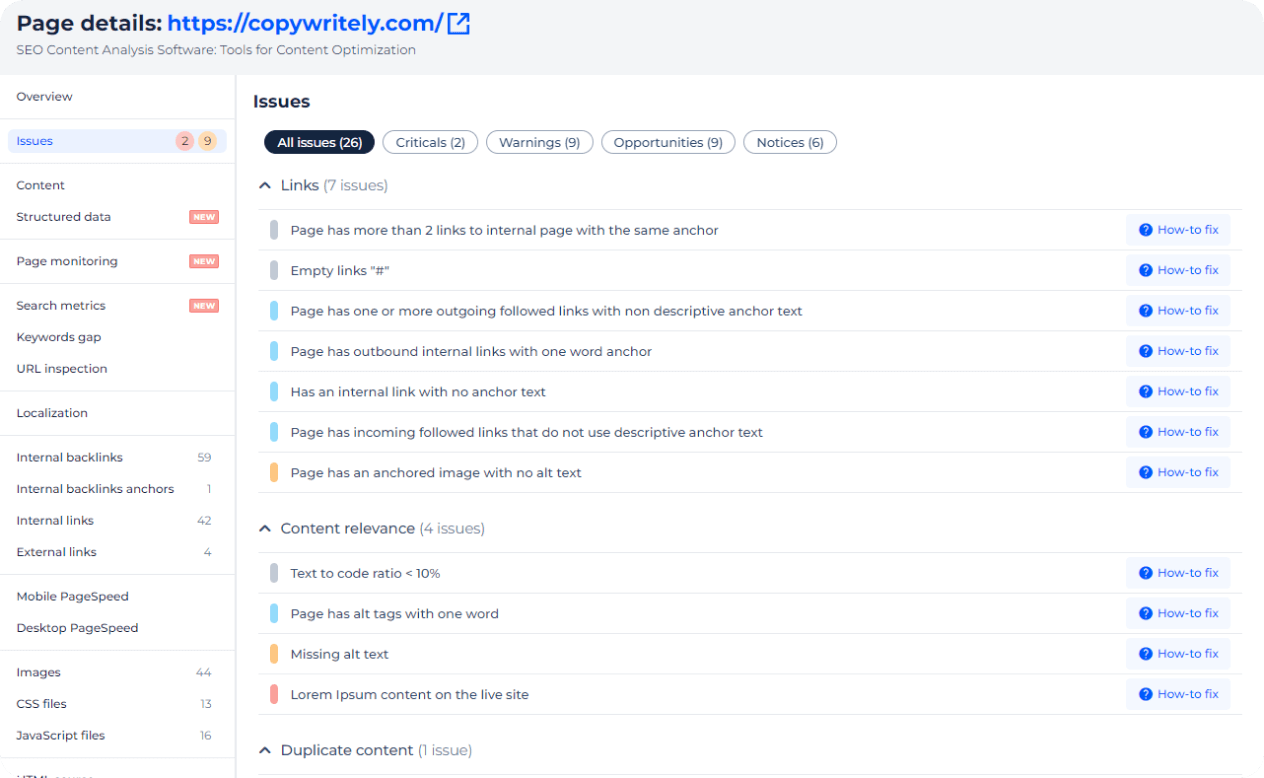 Social media cards analysis
Optimize your Open Graph and Twitter Card to increase conversion of snippets on social media. Combine your efforts and get traffic from various channels.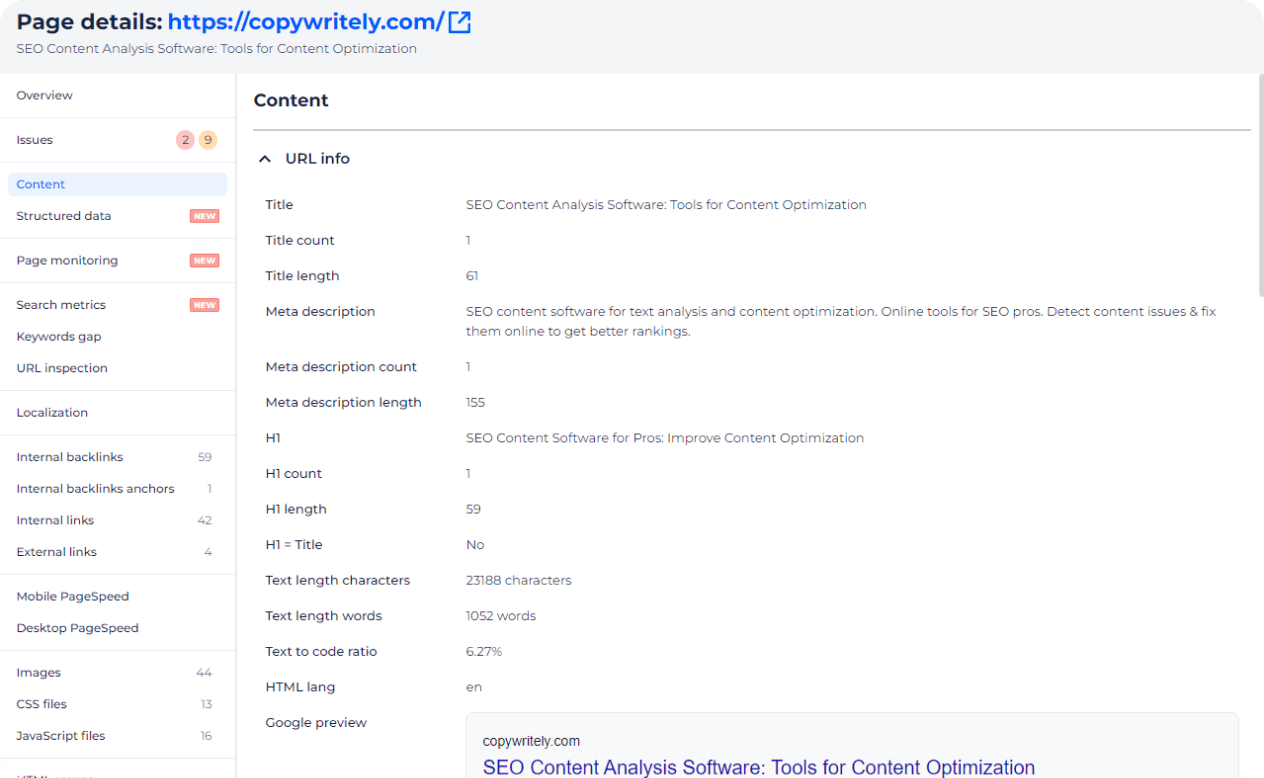 Errors with images
Check if the webpage contains big-sized images and correctly implemented favicons. Pay attention to filling in missing alt and title attributes. Increase search robots' and users' loyalty following simple SEO rules.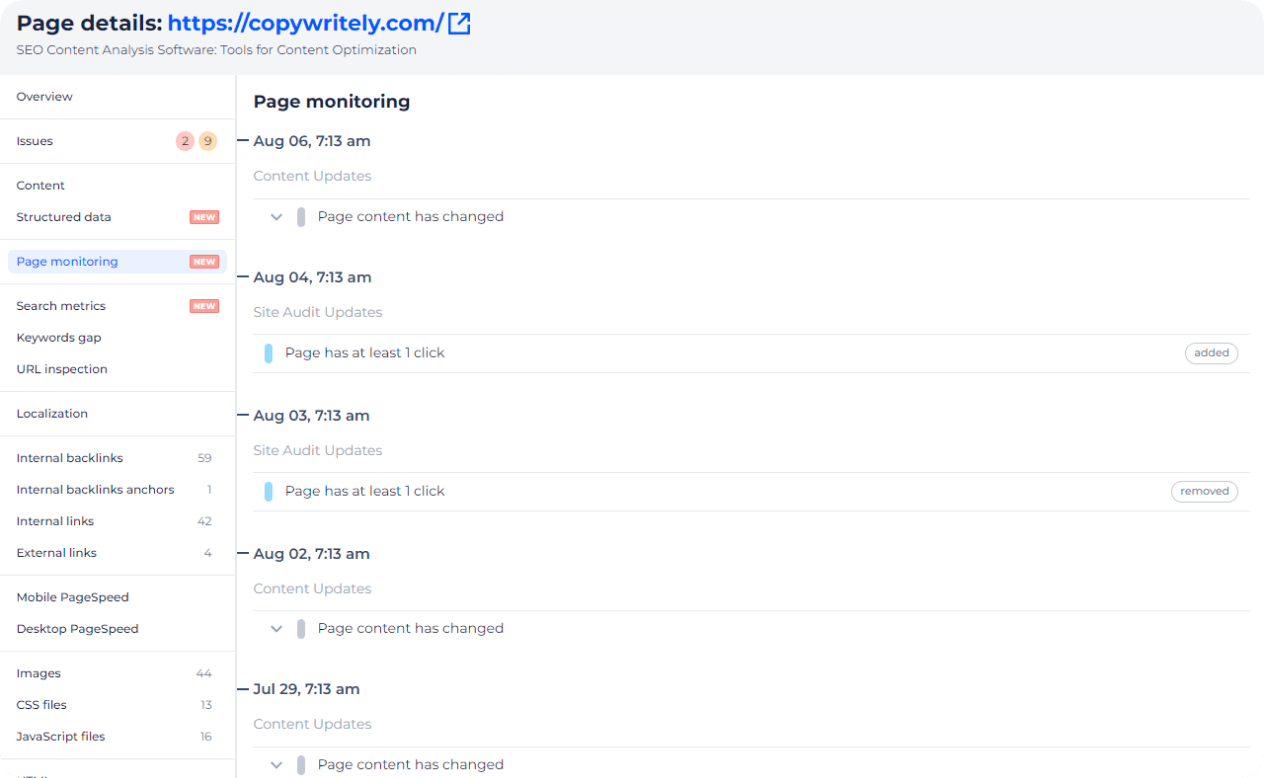 Search optimization issues
If you ignore any crawling issues from a technical SEO perspective, your page has no chance of making it to the SERP. Fix URL vulnerability to indexation issues with step-by-step instructions.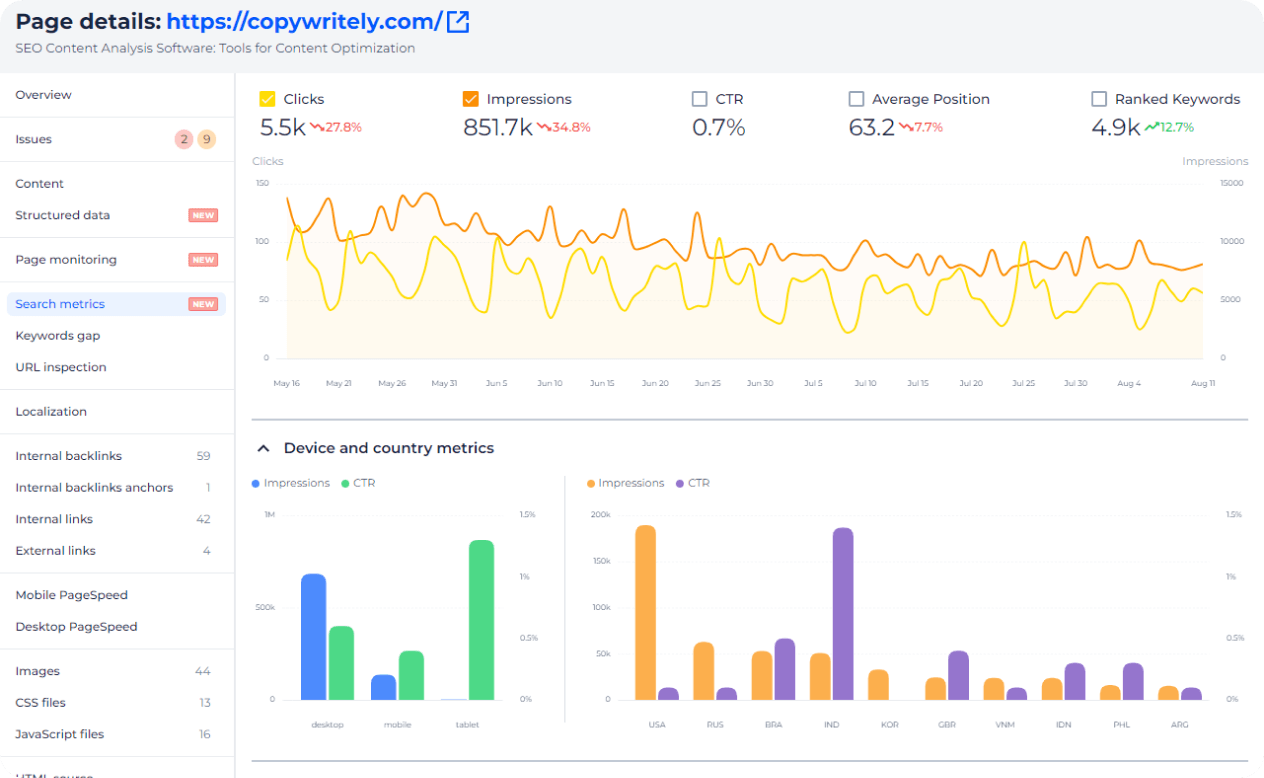 Links
Keep an eye on the number and quality of internal and external links. Find broken links and redirects and analyze link anchors.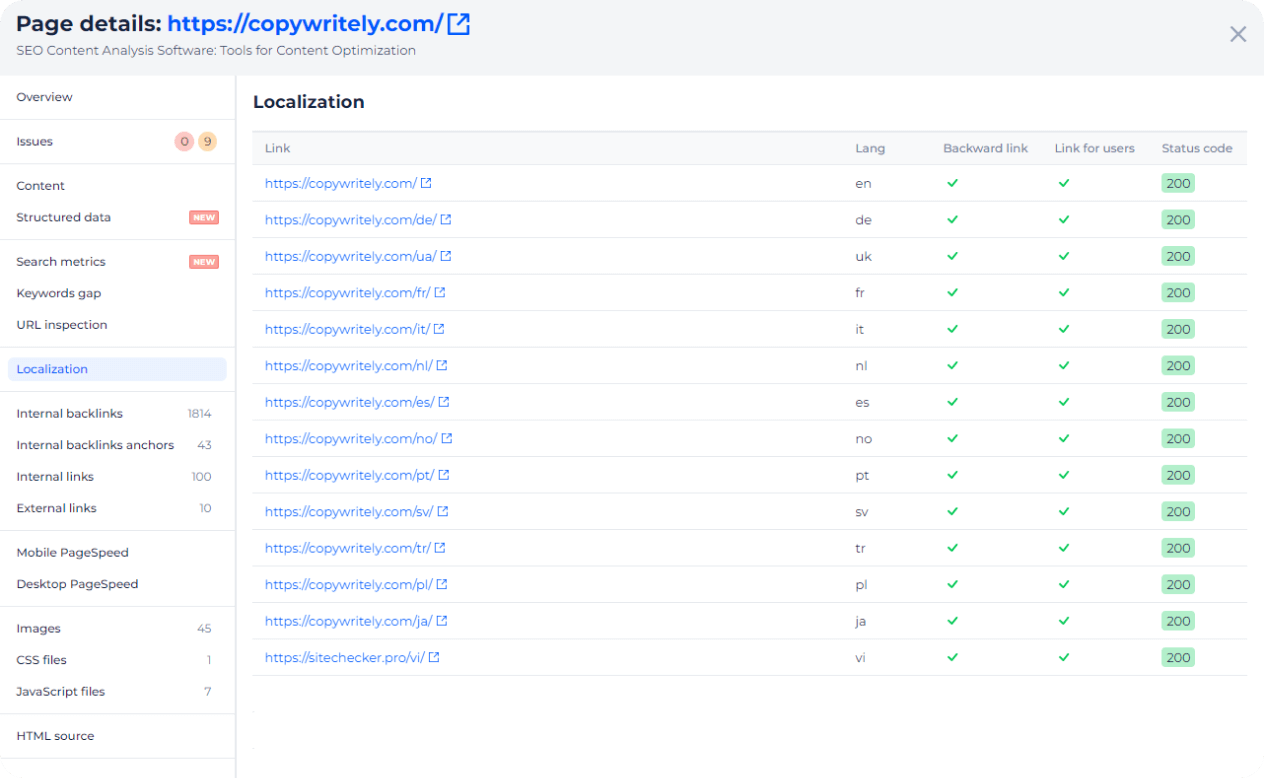 Google PageSpeed Insights
Search engines have become mobile-first, and website speed now has an impact on more than the conversion rate. Launch a speed test of web pages on mobile and desktop devices, analyze the speed of each page, and get a list of files to optimize to improve the speed.
Join the 1,000+ businesses growing with Sitechecker
All of our clients are growing after we use the platform. For instance, our client Hospital Amazônia had a growth of more than 13.500 impressions from March to September.
After two months there were noticeable improvements in rankings and organic traffic. Backlink and Rank Tracker make it easy to monitor changes, but our website needed also regular SEO audits. We decided to run Sitechecker Audit once a week and it also contributed to the improvement of our results. This audit comes really handy and allows for quick and effective on-site optimization.
Before using Sitechecker our ranking was approx. #4 (mobile SERP) regarding the most important keywords. Now we are #1!
Explore customer stories
What users are saying
Data supplied as of 05/31/2023
Frequently asked questions
What is an on-page SEO checker?
The on-page SEO checker is a free audit tool that checks any link for more than 100 SEO issues and discovers how to optimize it. Usually, people use it to improve their own top landing pages and to learn best practices regarding the top landing pages of competitors' websites.
How does an on-page SEO checker work?
Sitecheckerbot crawls entered URLs by the list of the most important technical parameters in real time. It includes the tabs of criticals, warnings, and how-to-fix guides.
How can I check my page SEO score?
If you want to check the Page Score of your or your competitor's page, you must paste the URL into the field for entering the URL and then click the button on the right side.
How is Page Score calculated?
The Page Score is calculated based on
this formula
after the checking of all parameters. It helps you understand how well-optimized your page is from the technical side.
Estimate page quality and SEO performance for any link