What is Google Indexing
Search engine indexing is the process of collecting and analyzing data in order to facilitate information search. Google index is a large database that contains billions of websites available in the global network. In short, Google indexing is the verification of a website before allowing it to appear in the search results and, consequently, adding it to the Google search.
By launching the indexing process, Google tries to understand what the page is about. Google analyzes the content of the page, then catalogs images and video files that are used on the page. A special Google crawler called "Googlebot" visits and scans the website to carry out this analysis.
Each site has a special robots.txt file that informs search engines what pages of the site it should crawl. This is vital to correctly set it up by adding special meta tags (index or noindex) that allow or prohibit indexation. To prevent any problems, we advise you to test robots.txt file in advance.
When the program crawls a page, it checks the quality of content as well as whether it is fresh, unique and relevant. It also carries out the analysis of alt tags and title tags.
After the site crawling search engine decides whether the resource follows Google's rules and guidelines; if everything is fine, the system indexes the site and shows it in search results.
How to Use Google Indexed Pages Checker
As we can see, indexation is a very important step in the life cycle of each site. It is principal for the future efficient performance of a web resource. SEO specialists regularly utilize specially designed tools — indexers, to launch tests. Obviously, the highest demand is for the Google indexed pages checker as the Google search engine holds the top one in usage.
So, how to use it properly? Here's the brief guide.
Step 1: Insert your domain and start free trial
Getting started with the process is a breeze – all you have to do is enter your domain name and you won't even need a credit card. Even better, you can sign up for a free trial without any hassle using either Google or Facebook. It's incredibly fast and efficient, so why not get started right away?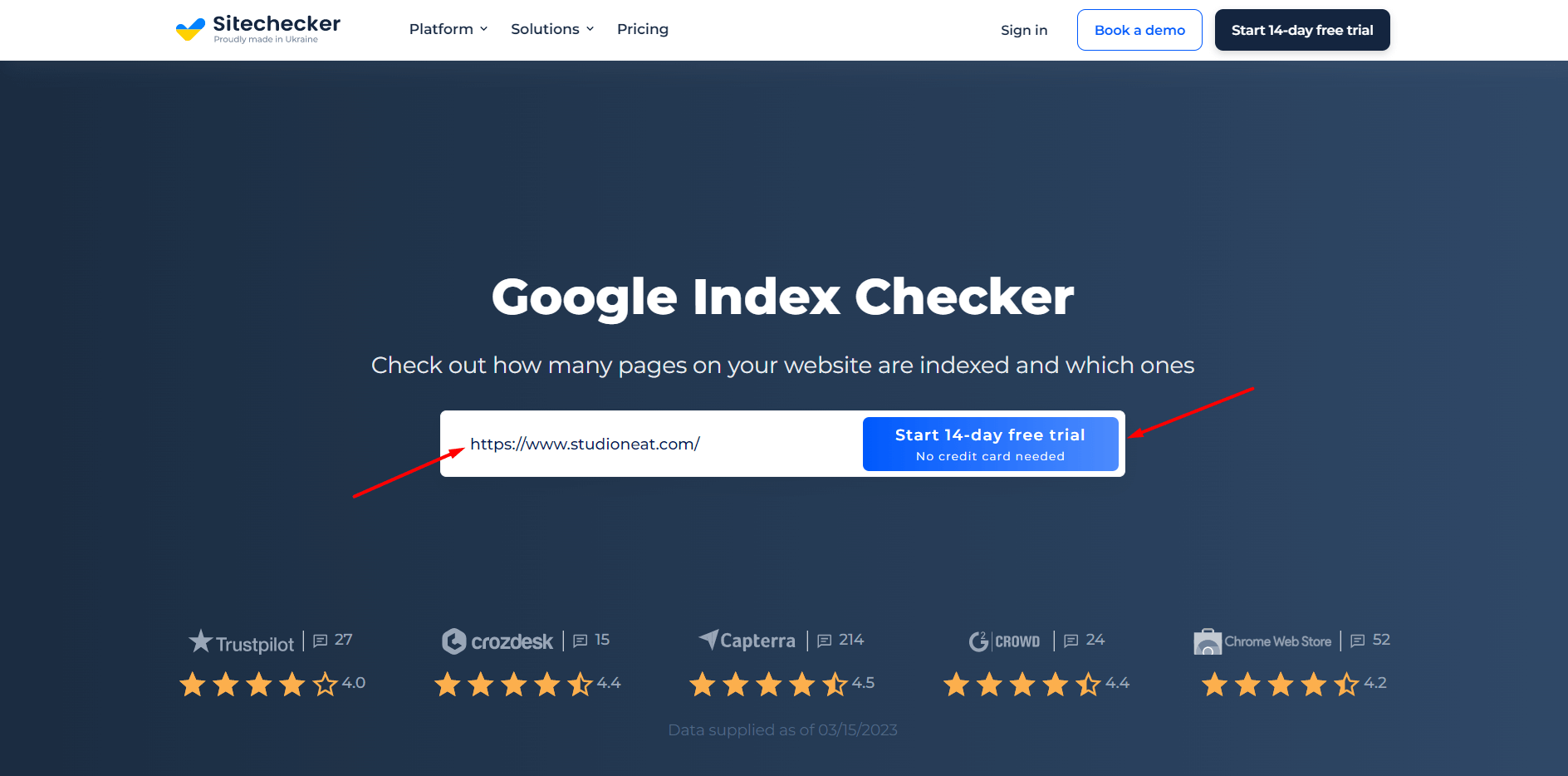 Step 2: Interpreting the Google Index Checker results
Our state-of-the-art web crawler will quickly and effectively analyze your website and you can get the results of the analysis with the number of pages being in Google Index.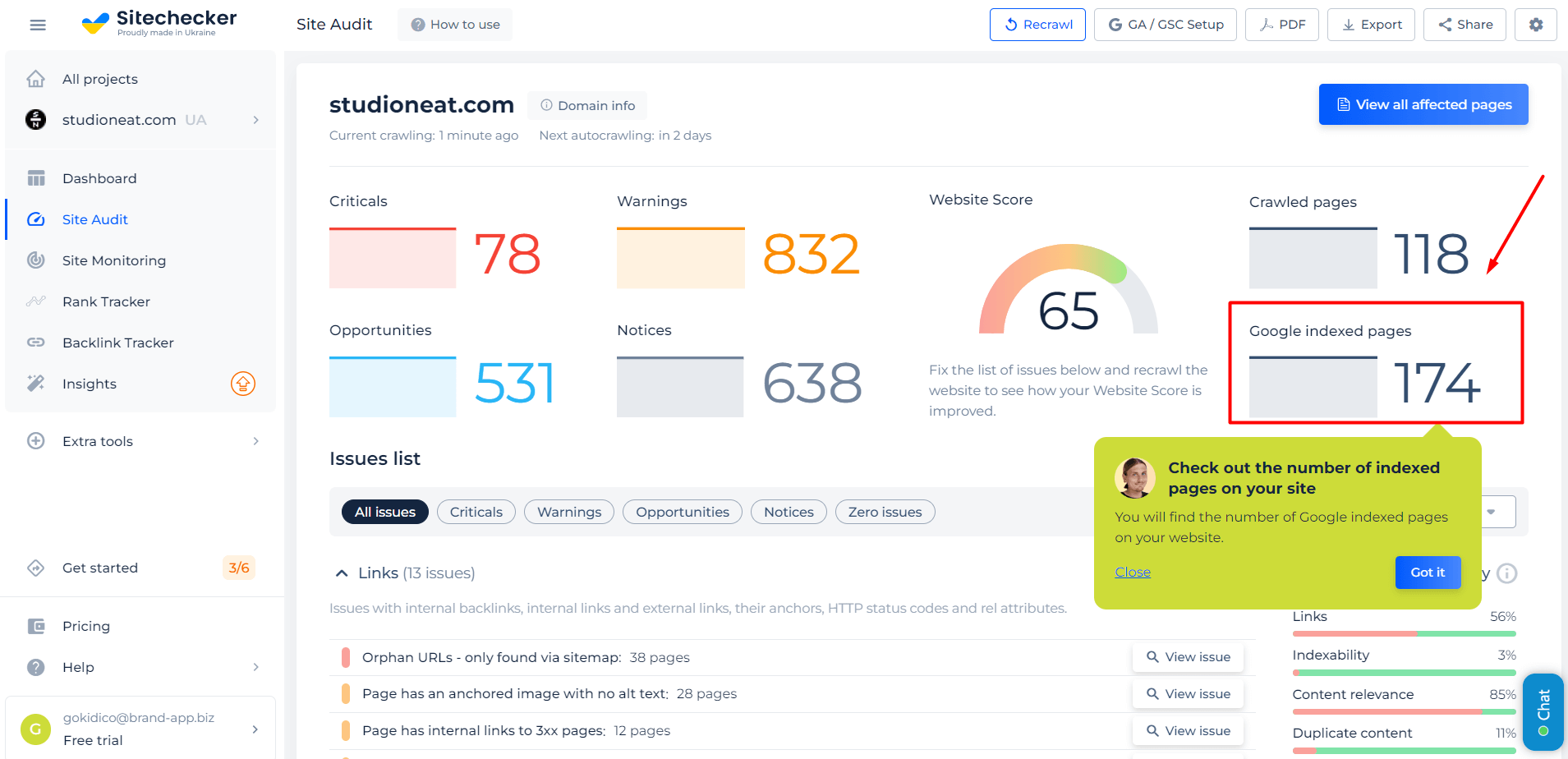 Free Google Index Status Check Special Features
When you explore your website to determine the amount of indexed pages, our Site Audit service provides a comprehensive review that looks at all aspects of your site. It takes a deep dive into your page architecture and helps to pinpoint any potential issues or roadblocks that may be present.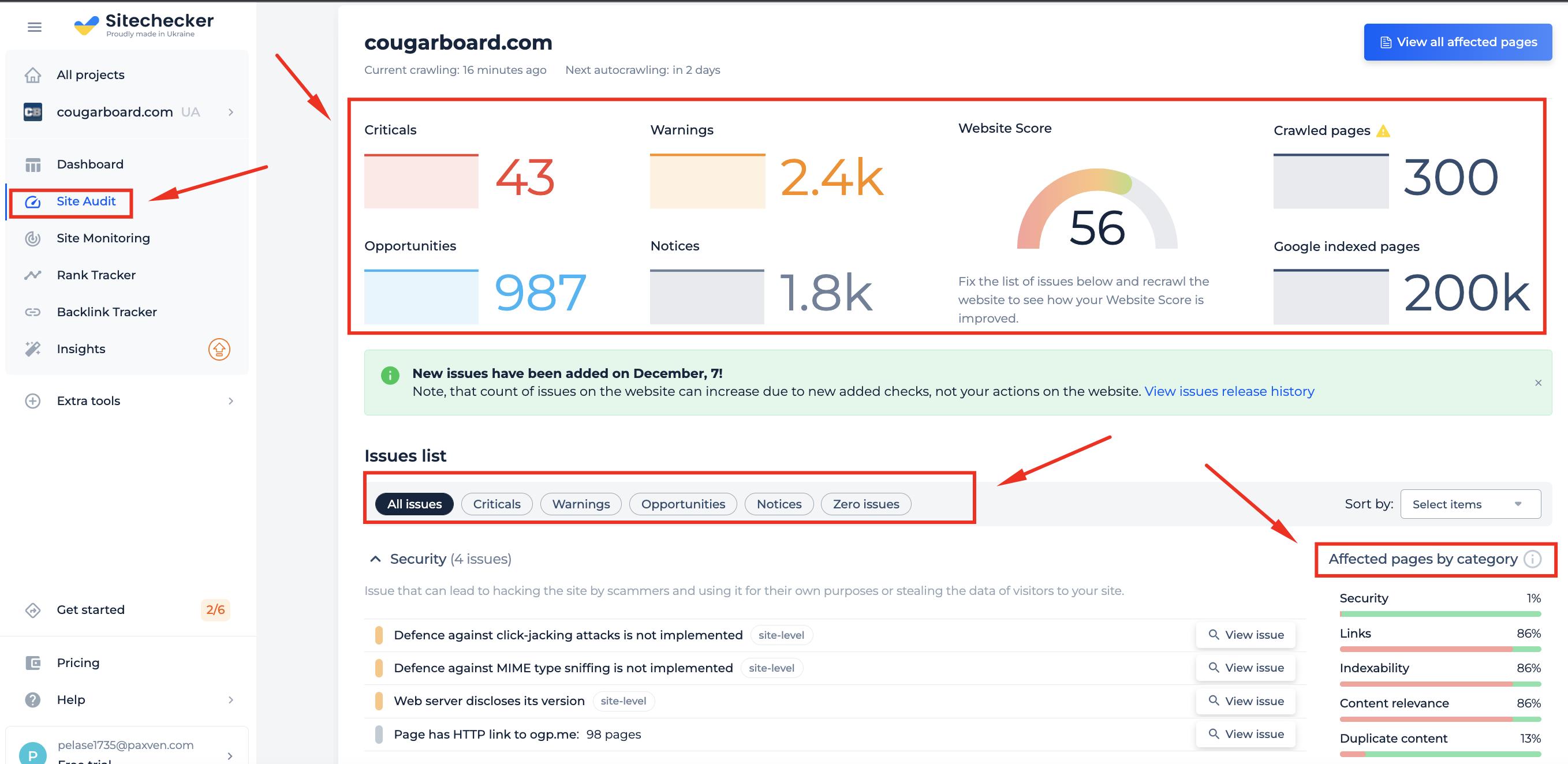 The Reasons For a Page Not to be Indexed
After the check, users can find out that some pages are not indexed. Why so? The first variant apparently is that Google has not crawled the site yet. The page is new, and Google doesn't know about its existence. People create thousands of pages every day, so this is not the biggest problem.
At the same time, the page may not be indexed after crawling. System scanned and checked the page but decided not to index it. In brief, this may happen because the page is not attractive and is of low quality. Here is the list of the most common reasons:
It loads too slowly. Reasons may differ from excess content to old servers. In any case, a long loading time makes page visitors angry and disappointed. This is definitely not a good user experience, and Google 100% doesn't want to spread such emotions among many people.
Poor quality of content. High-quality of content is a must for indexing. It should be relevant, unique, informative, properly optimized, and of the optimal length. On the one hand, this is important for SEO performance of a page. On the other hand, information is why people visit this or that page. If the content doesn't meet visitors' expectations, provides no answers to their questions, and copies existing opinions, the program questions whether such a page should be shown.
The page is not user-friendly. Engaging visitors is the goal all pages try to achieve. Google values if visitors can easily and quickly navigate through the page and find what they need.
The website is too large. We are used to the opinion that titans among software companies like Google have unlimited resources. This is definitely not true. The system can simply decide not to spend resources on this page.
There is no sitemap. A sitemap is not only the list of all pages of the web resource. This is also a fast way for Google to understand what the site is about.
Let's not also forget that the page can be prevented from indexing manually. There can be plugins which prevent Googlebot from crawling the page. In addition, there can be meta tags that are set to noindex, nofollow. These barriers are quite easy to overcome even without specific skills, so don't forget to double-check them.
The Reasons For a Domain Not to be indexed
If the whole domain is of non-indexable status, this may cause larger problems. It means that all pages of the site are out of indexation. The first reason, once again, is that the domain is new, and Google hasn't discovered it yet.
Moreover, be sure that you do have a domain name. It may sound strange, but in some cases, sites lack it. This situation can happen because you're using the incorrect URL for the content, or it's not set up correctly, for instance, on WordPress.
At the same time, Google may crawl the website and decide not to index it. Or the site was indexed previously, but the system de-indexed it later. Here are some factors that can lead to such a situation:
The site violates Google Webmaster Guidelines. The search engine shows only those sites that correspond to a certain level of quality in terms of technical characteristics, the content itself, and some moral aspects. If the web resource uses black hat SEO or buys links or, what is much worse, spreads some prohibited information, the system will immediately hide it from users.
The website is spammy. The checking service may consider that the webpage brings no added value, its content is not unique, and, on the contrary, is unhelpful, unsolicited, and usually annoying. Moreover, if the site bombards visitors with ads, the system can easily hide such webpages from SERP.
The website is not mobile-friendly. The number of mobile users is constantly growing. As a result, being mobile-friendly is a must. This is for good reason that Google introduced Mobile-First indexing not so long ago.
Issues with coding language. This is not about whether the language is up to date, popular, or easy. This is more about proper settings. As long as the settings are incorrect and cause crawling and indexing issues, the system will not consider such a site worth indexing.
These are definitely only some reasons. Whichever of them may cause some inconvenience, it is important to understand how to solve problems and index the website.
Checking google index is important, but you should control the technical health of the site too!
Conduct a full audit to find out and fix all the site level and page level issues on your website.
The Ways to Index your Web Pages in Google Quickly
There are multiple options on how to make Google notice and index your website. Here are some of the most vital.
Create sitemap
This document contains information about all the pages on the website. When the site owner adds new pages, the xml sitemap informs the search system about this and gives instructions on how to schedule the crawling. In addition, a sitemap improves navigation around the web resource.
Submit website URL to Google search engine
Simply sign in to your Google Account and select "Submit URL" in Webmaster Tools. This quick step serves as an additional signal for the system to crawl the web resource.
Update social media profiles
Another free and easy opportunity to boost a site's visibility is to connect it to social profiles in any network you consider relevant. SEO experts advise focusing on Facebook, LinkedIn, Twitter, Pinterest, and YouTube. Create respective accounts and connect them to your website.
Use external content
Links from external resources also contribute to indexing. The offsite content of high quality, be it articles, blog posts, press releases, or else, provides a great opportunity for link building.
However, it is vital to verify that you cooperate with reliable and trustworthy resources. If external links lead to materials that may be considered as spam, this will negatively affect your site's reputation. As a result, Google index checker may consider your new web resource as spammy too.
Do not also forget to consider such issues when Noindex pages receive organic traffic or the same pages being disallowed by robots.txt.
Fix technical issues
One typical reason that prevents indexing is technical problems that simply do not allow the system to launch the crawling. First of all, check that all links work properly and there is no single broken link.
Importance of Checking Google Index Status
We have already described the Google indexing process, how it works, how to foster indexing, and what issues can prevent a page or domain from indexation. Here is a brief reminder that it is vital to check Google's index status.
First of all, it is about organic traffic. If the website is not mentioned in the Google index, it doesn't receive it. As a result, site owners or SEO specialists must spend their budget to attract traffic via paid options: advertisement, partnership, external links, etc. In addition, organic traffic is considered the best for site performance.
The second reason is the general quality of web resources. If the crawled website is not indexed, it means, in most cases, there are significant problems with the site. The speed of loading may be too slow, pages can be overloaded with text, content can be irrelevant and spammy, etc. A check reveals such problems and pushes to implementation of changes and improvements. In addition, the comprehensive check allows users to identify whether there are problems with the domain in general or only with a particular page or pages.
Third, Google index checking brings added value to SEO activity. Such checks are not always about your own web resource. In case you want to partner with other sites, introduce backlinks, or order materials on external resources, a check can immediately tell whether you should work with a particular site or not.
Finally, let's not forget about your competitors. If your site is not indexed, you have no chance to compete with those whose sites are added to the Google index. The faster you do the check, the sooner you will know this.
FAQ
How do I test the Google index?
In order to check the Google index, you need to use a special online tool — Google index checker. All you need to do is insert the necessary URL, and the program will automatically carry out a test and show you the results.
How can I tell if Google has indexed my site?
To know for sure whether Google has indexed your site, you need to check it with the special online tool — Google index checker. It tests the URL and provides the answer if the site is indexed or not.
How do you check if a link is indexed or not?
At the same time, you can rely on a specialized online checking tool that checks Google indexing.
How long does it take google to index?
It may take from several days to several weeks. What period is more likely depends on your measures to foster the indexation process.
What are the other ways to check if a website is indexed by Google?
You can use the Google URL Inspection tool that provides information about Google indexed version of a specific page. Information includes AMP errors, structured data errors, and indexing issues. It also shows whether a page on your site is able to be indexed. Besides, you can track indirect indicators, whether Google indexed your site or not, for example, traffic volume.