What Is a Sitemap?
XML Sitemap Checker is a tool used to check whether a particular website has an XML sitemap. But here's the question: what is an XML sitemap, and why should we know this information?
The XML sitemap is a simple file with a wide range of commands written to cooperate with search engines robots. For example, with Googlebot, Google's web crawler. XML site map is a doorway that connects the HTML page with other search engines making it visible online.
In other words, a sitemap is a file that collects the list of all website pages to simplify the work of a search engine. If you have this map, it is easier for a search engine to analyze your website and the relation of different pages within your site.
XML Sitemap Finder: a Step-by-Step Guide
Fortunately, there's no need to manually check your website's code to understand whether it has the file that lists a website's essential pages. With the help of XML Sitemap Checker, you can look up any site to get this information.
Step 1: Insert your URL and start free trial
The first step is entering the URL of the website you need to check and start the free trial. For our example, we're scanning hostingadvice.com.

Step 2: Interpreting the sitemap tester results
The scan you perform will generate a site audit for the domain you enter. In the "Xml sitemaps" category, you can find issues that can lead to crawling of non-200 URLs or missing of pages with search traffic in XML sitemaps. Click on any issue to see affected pages, how-to fix guides and in-code prompts.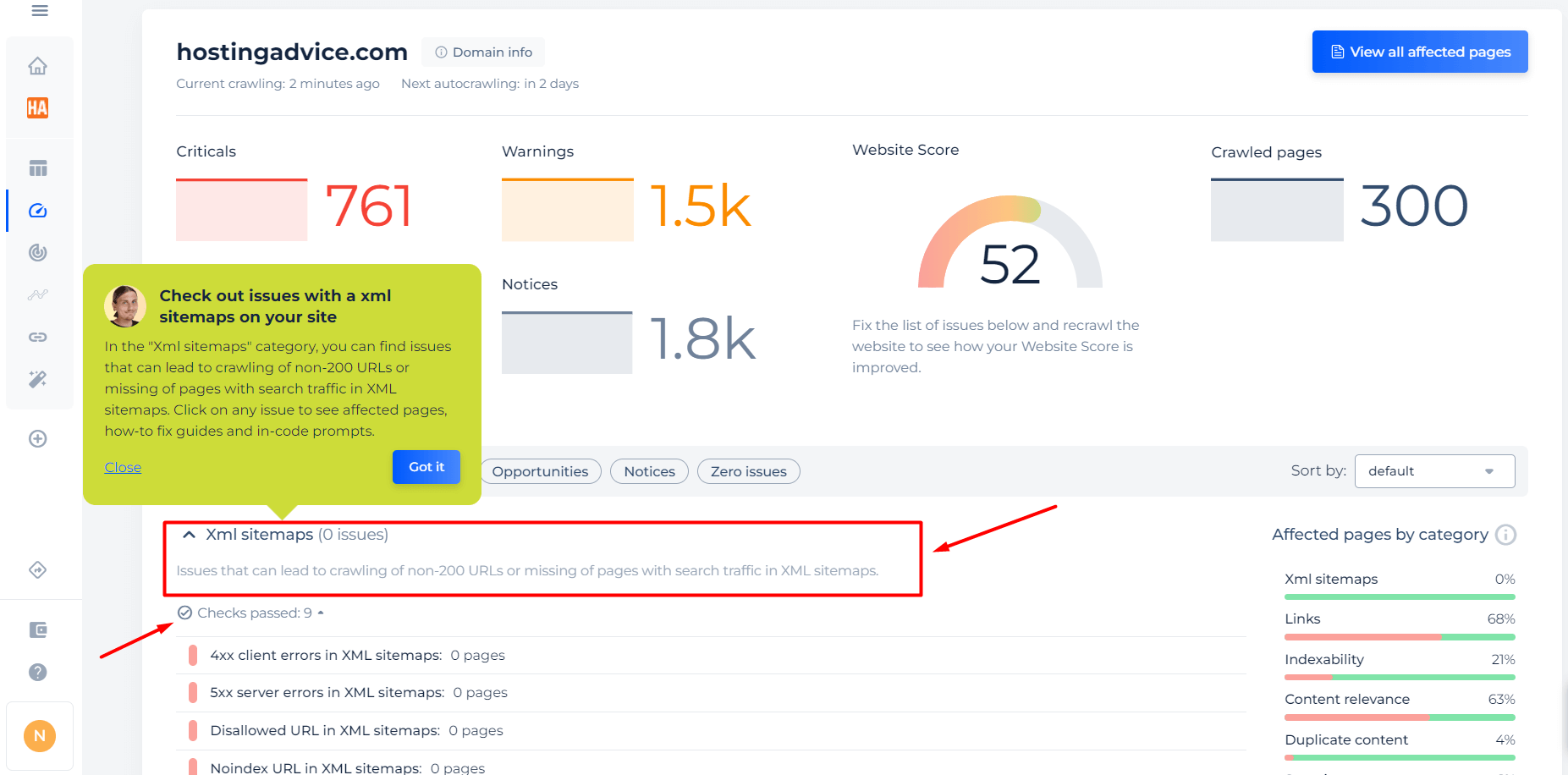 Additional features of xml sitemap checker
After site crawling, you will also receive a comprehensive website audit report highlighting any potential problems and providing instructions on how to fix them. The report is sorted by issue type or category, allowing you to efficiently address the most crucial issues for your website's success.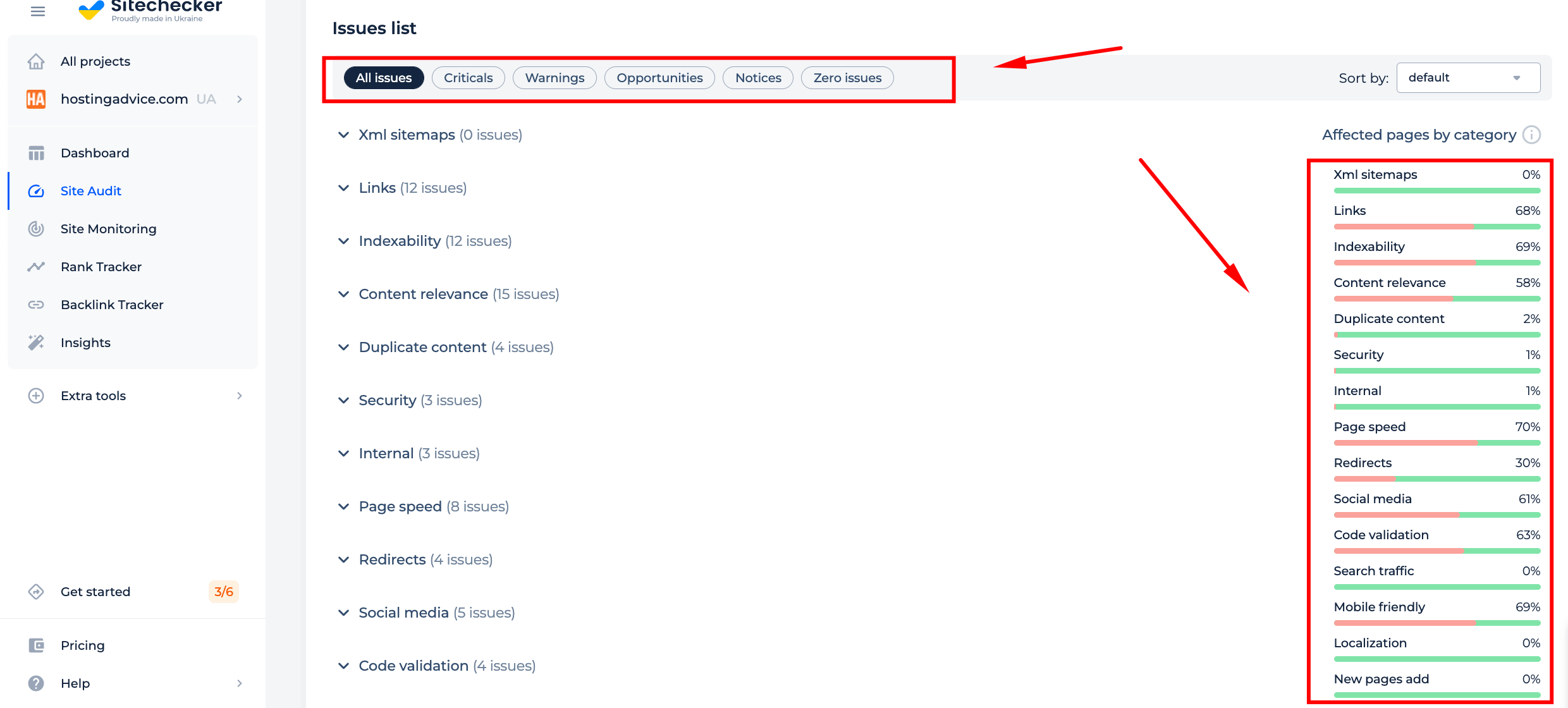 Cases When Sitemap Checker is Needed
Google always ranks well-structured sites higher. Google can crawl properly your most important web pages faster by using a sitemap. So webmasters highly advise creating a new sitemap.xml file and submitting it to Google for indexation after its creation. This is done by using this formula:
https://www.google.com/ping?sitemap=https://YourWebsite.com/sitemap.xml
Type it in the search row and then add your sitemap.xml file to Search Console. It's the best and the fastest way to make a site map for Google. Also, you can check out the Google Search Console Training video by Daniel Weisberg.
Problems You May Have Due to Incorrect Sitemap Generating
Search engines will not rank your site correctly for SEO if the file that lists a website's essential pages is missing. Also, sitemap errors affect your rankings in bad way, you should keep it correct. The system may fail and not find some web documents even though a robot should scan all the pages. These pages can be accessed through a long chain of links and dynamically generated URLs.
Issue of indexation
The XML sitemap helps to index each address of the website. The program unit does not send indexation orders to the system of finding mechanisms. Google does everything on its own. The system crawls through the website, chooses the better quality pages, and indexes them. However, it helps to do this faster.
There's one more thing that should be mentioned: noindex pages. Noindex pages in sitemap create a list of problems for indexing. But in some cases, it's important to indicate the pages that Google should not index.
Lack of stability
XML sitemap example patterns usually have problems with the stability of messages regarding the status of the potentially indexed page transferred to the search system. The following commands may lead to confusion:
"Noindex" —  meaning that there is no need to index the page;
"Nofollow" — the page has got no important information;
"Noindex, nofollow," — for a system, this page would not exist.
General applicability of the site
A search mechanism may seem to have some personal parameters or indicators that select the web pages to promote. But if someone acts like a machine and analyzes a 1000 pages website, there will be a noticeable correlation. In case 5-6 pages were created for the machine, while other pages were oriented for a person, the site will not take the first ranks in the SERP. It's vital to find a balance between the machine-oriented and human-oriented texts so that optimization could promote it through the website.
Issues of huge websites
The sitemap file is the easiest way to find all pages on a website and simplify page location determination. Owners of massive websites prefer not to adjust the XML file as they think that it is necessary to add each page manually. Fortunately, it is not true.
Some tools help to do that automatically. They cover all useful files and hidden objects that will be helpful for the machine indexation. Each next updated web page will undergo the same scanning procedure as per requirements that were stated in the dynamic file. According to the originally stated parameters, the dynamic XML file decides if it should be indexed or not. Too Large Sitemap.xml File is an issue that must be fixed.
Sitemap checker
Such tools are created to validate sitemap XML and provide you with the information of sitemap location. Sitemap Checker helps inform you about any existing issues before submitting this information to Google.
Detect and analyse not only sitemap.xml file but also other kind of SEO issue on your site!
Make a full audit to find out and fix your website issues in order to improve your SERP results.
FAQ
A site map is a file that contains information on all pages that a website has.
How do I find a sitemap link?
In order to find a sitemap link, use our checker. It will show whether the website has a sitemap or not.
How to check if the sitemap is working?
XML Sitemap Checker can also be used for that. Right after you enter the URL into the request field, you will get full information on whether there's a site map file for this website.