All site owners need to know how well sites rank for their target keywords (queries) to be effective on the search engine. Besides, monitoring the competitors' keyword rankings is also necessary to succeed.
Keyword position is the term for ranking or place that a website ranks in the search engines for that key. The goal of promoting a website is to capture and retain any of the first three positions in search engine rankings. But to move forward, you need to research where you are now and where your competitors are now. It will enable you to develop a successful SEO strategy to achieve your promotion goals.
Determining your site's positions may take some time, but you can achieve a great result with a little effort. To find out where your site currently ranks in keyword rankings, use the free Google website rank checker tool. In this article, we'll tell you how you can improve your website position with Google website rank checker, and we'll tell you how to use the tool. Get started now and beat your competitors in an endless race for search engine positions and search traffic, and we'll help you do it.
What is a Keyword Rank Checker?
Google website rank checker shows which keys and at what positions your site is ranked in Google. The tool provides URLs, position, and volume by keyword and other useful data for those who want to bring their site to the top of extradition. Key data is updated once a month.
Google website rank finder is an effective keyword position checker that will check the queries or phrases you insert in the search engine results to determine a website's position for a particular key. If you type in a keyword, you can find out where your website ranks among all the others in the results for that query or phrase.
By the way, our free and simple toolbar can check not only your ranking but also that of your competitors for the keywords you are interested in. The principle is the same, insert the domain name and the key. So you should use our new Google website ranker checker tool to do a competition keyword position analysis or analyze your website. The tool is easy to use, and even novice SEOs in the industry will have no trouble using it.
How Can I Check Queries With a Keyword Rank Checker?
So, to use the best keyword rank checker as effectively as possible, try using it in conjunction with our other tools. For example, the Backlink Checker will help you find the backlinks your competitors have received to their sites and understand what backlink-building strategies they use. In addition, you will also be able to get information on the keys they use on backlinks.
If you're looking to check your website's SEO rankings on Google and don't want to count the results manually, a live rank checker is the best way to go. Simply enter your page URL or domain, then start a free trial. Within seconds, your ranking will be retrieved. You will get top rankings keywords with data for the domain or page.
You can easily and quickly find which queries and countries bring the most traffic to your competitors. Our Rank Checker helps you get useful information on your sites and those of your direct competitors. Use this information to track and improve your own SEO strategy. You can also use Google Search Console to analyze your website's SEO keyword rankings. This application will provide you with valuable reports on SERP rankings.
Once you've analyzed which keys can do the most good for your online business, start tracking them with the search engine position tracker tool or local keywords tracking. You'll be able to track which on-page improvements and optimizations have the biggest impact on your site's ranking in the eyes of the search engines.
Use the free trial of the fast Keyword Rank Checker tool. Below, we show you how to get pro key results for your site in two simple steps.
Step 1: Insert your domain and start the free trial
It's so easy to sign up for a 7-day trial – you don't need any personal or card information, just confirm the email or use your Google or Facebook account to sign up. The process is super fast too!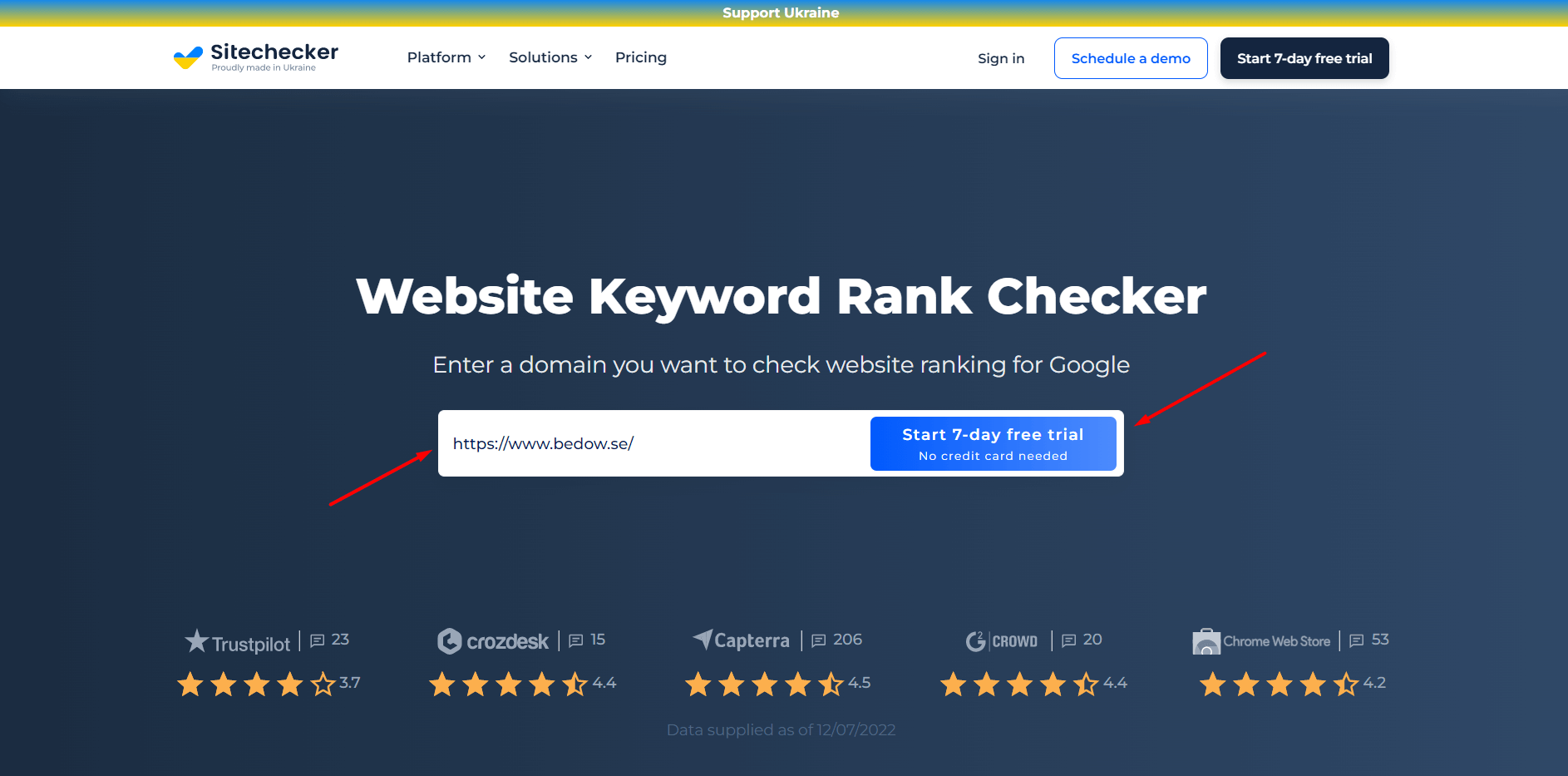 Step 2: Get result
After completing the checking, you will discover the top 10 queries your site rankings for.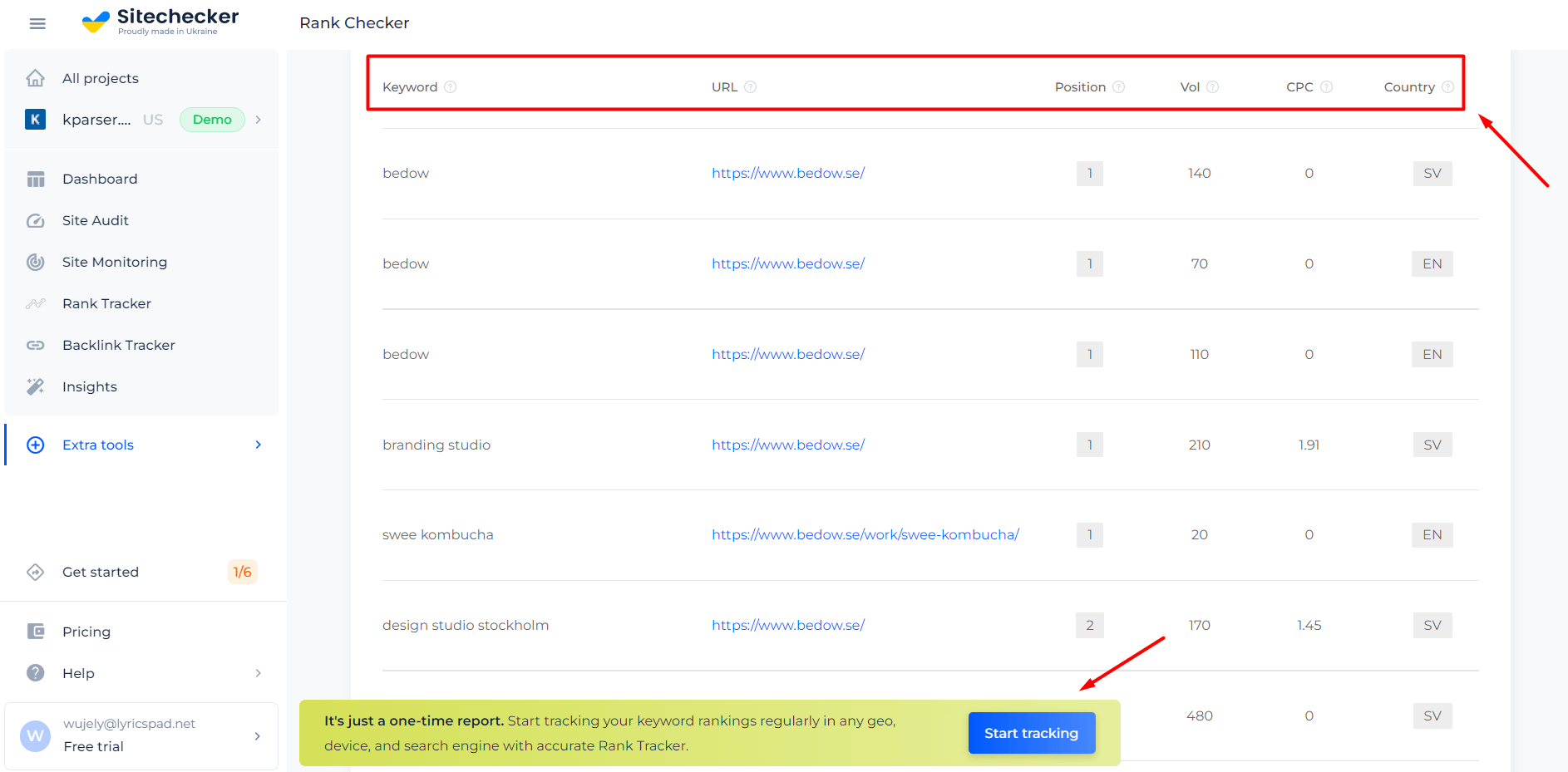 You will have the following metrics available for viewing in the report:
Keyword — the keyword or phrase in the top 10 for your site.
URL — on which webpage the query is located.
Volume — the average bulk of how many times uses searched for this keyword during the last 12 months.
Position — the word's rating on the last selected day in the calendar.
CPC — the average cost per click.
Country — the geo where website ranked by the keyword (for example, Australia).
If you need to check some other site, like a competitor one, you can always do it in the app in the "Extra Tools" in Rank checker.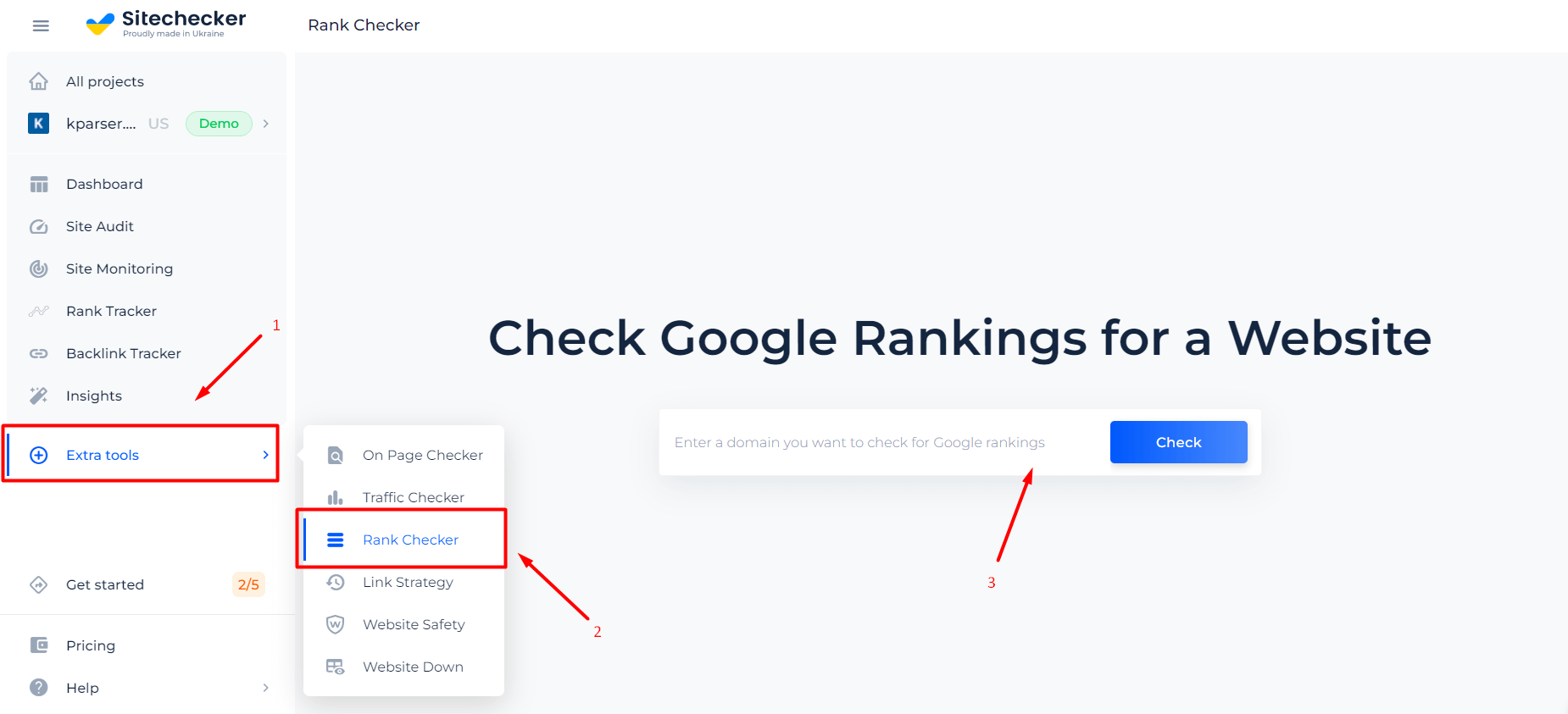 Tracking Features of Rank Checking Tool
Also, you can use not just check the ranking keywords but use our Rank tracker tool. It helps you track your website SEO rankings regularly and find out what of your actions led to growth, and be the first to know when multiple critical happen. You can easily track how fixing issues on your website improves your web rank.
To do that, just click the track keys on the rank checker result page.

After clicking the "Start tracking" button, the keywords that were found will be added to the rank tracker setup page.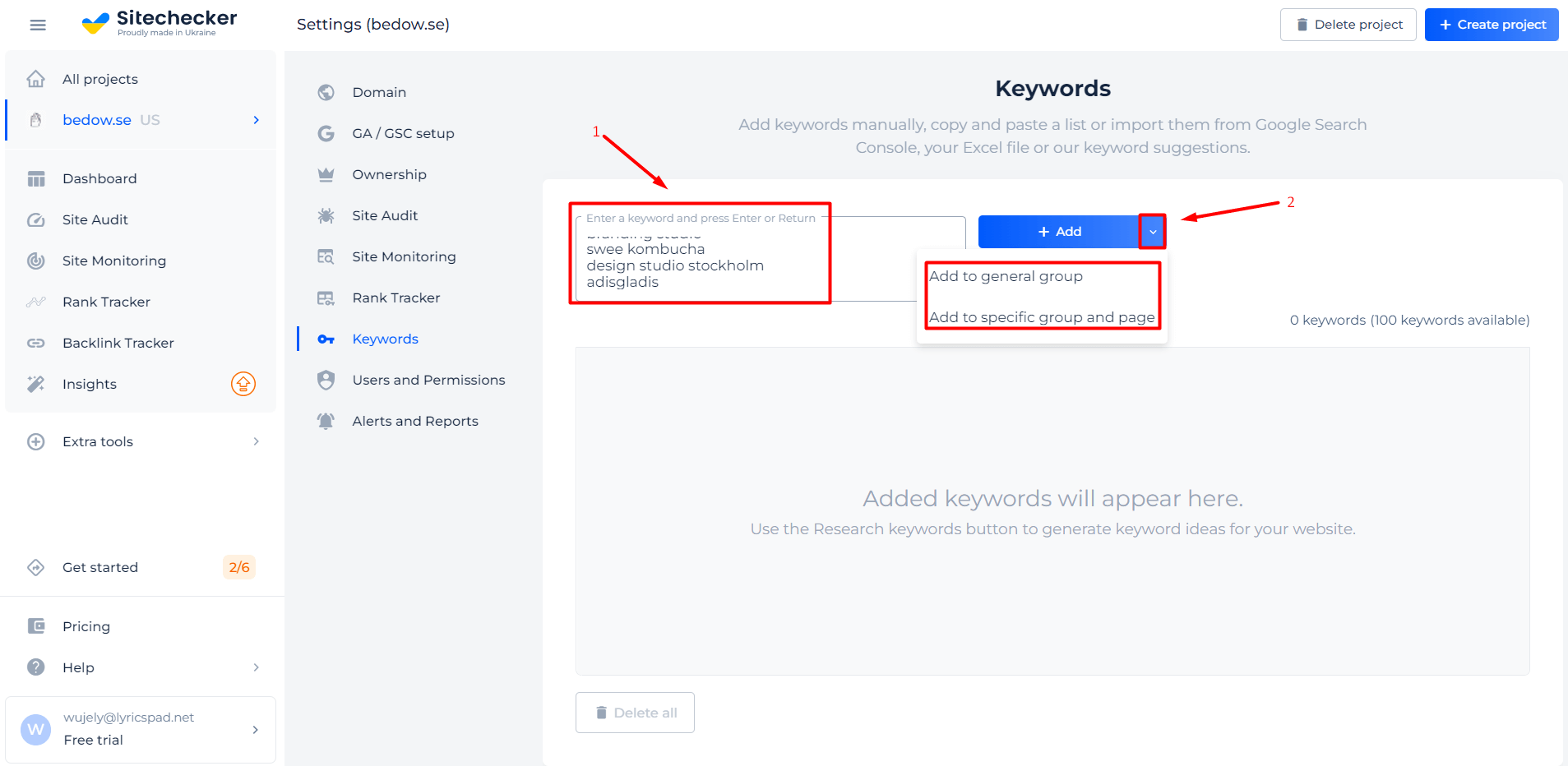 You can use the keywords that were found for your website, and add them just as they are or add your own keywords by listing or downloading them from Google Search Console.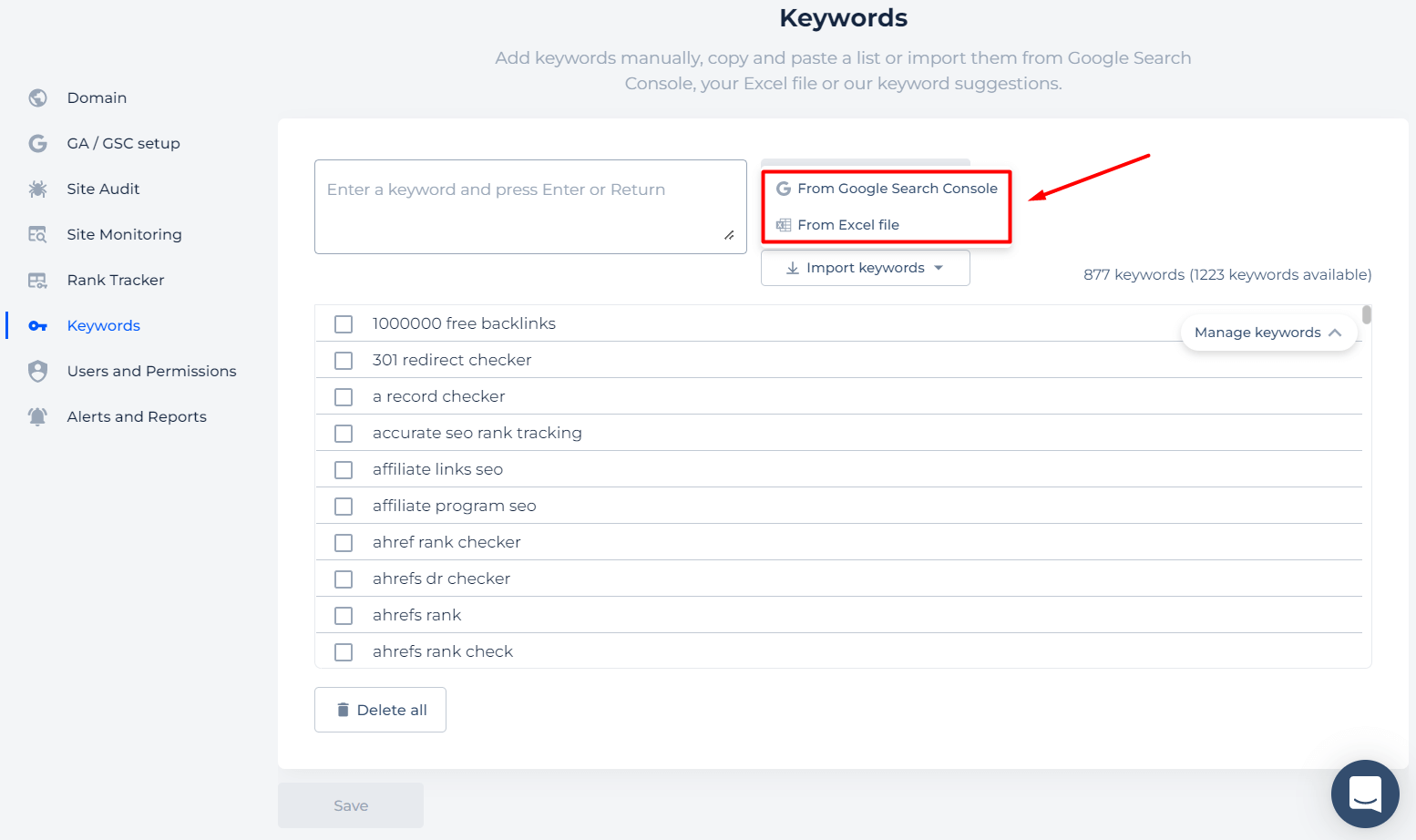 We also offer you simple and useful keyword set up functionality to work with pages and page groups.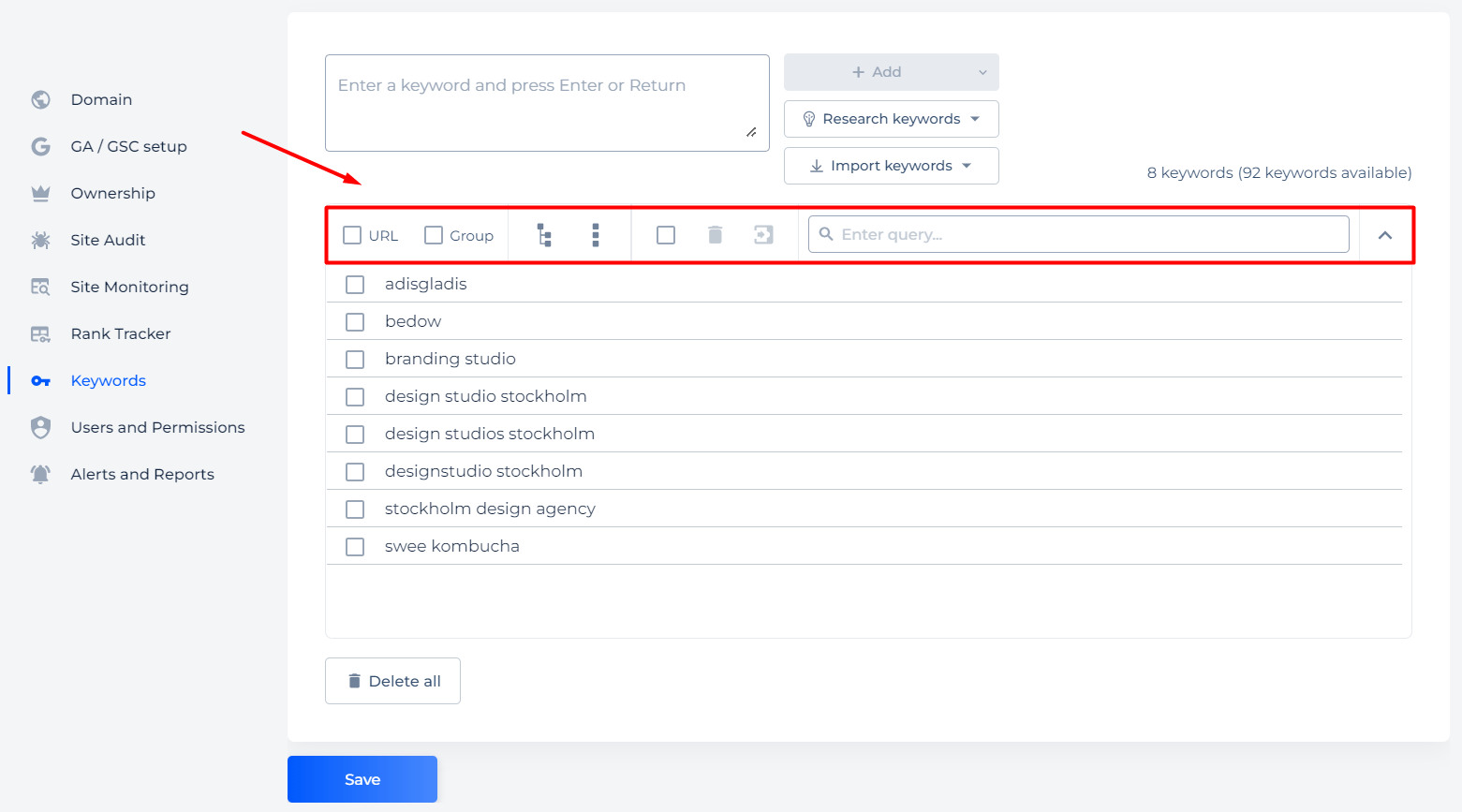 Once you have set up your tracking keywords, you will gain access to a rich array of features that provide deep insights and analytics. Allow the tool some time to collect more data for optimal results – with this information in hand, the trends in your ranking can be clearly identified and monitored.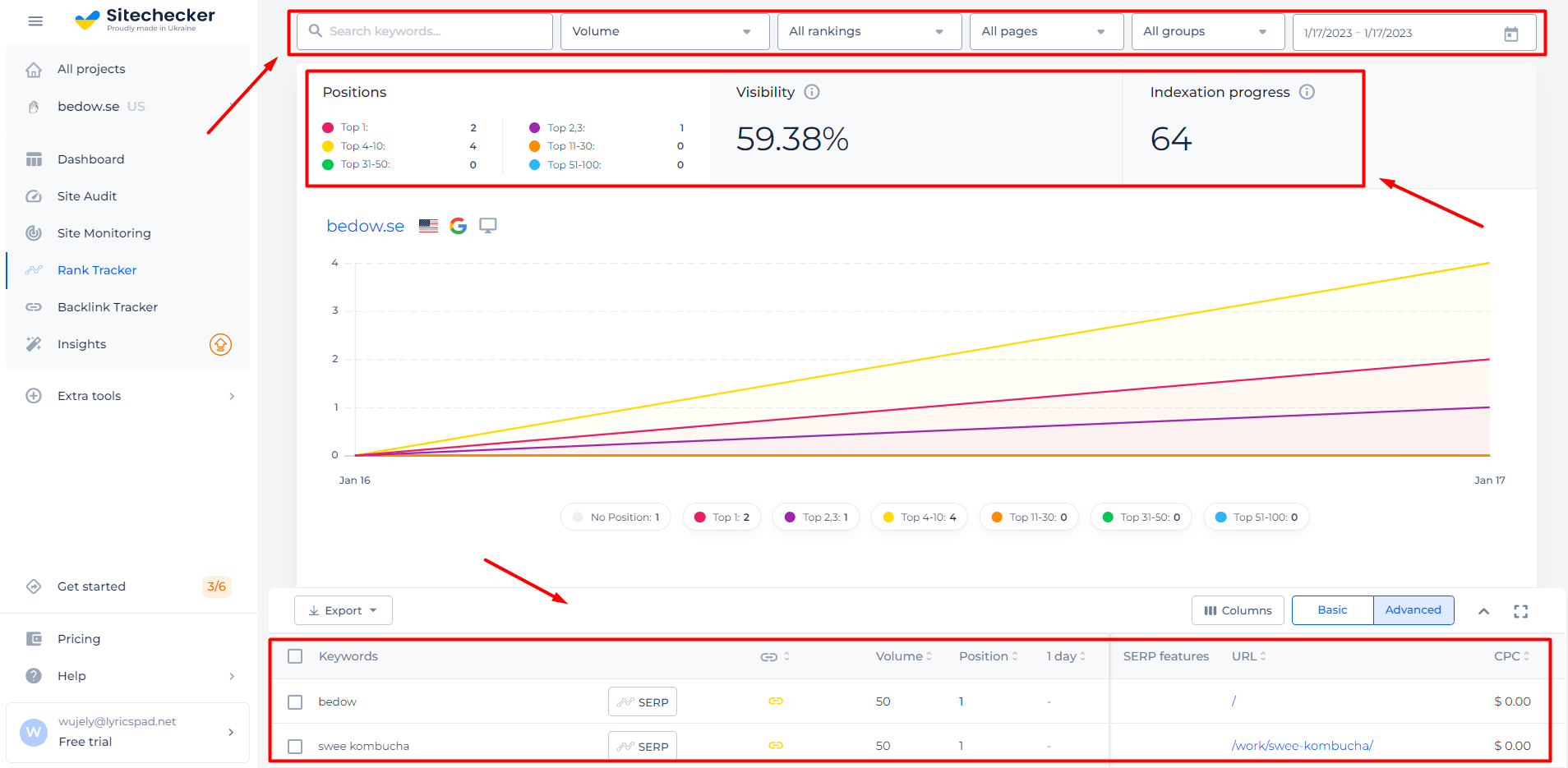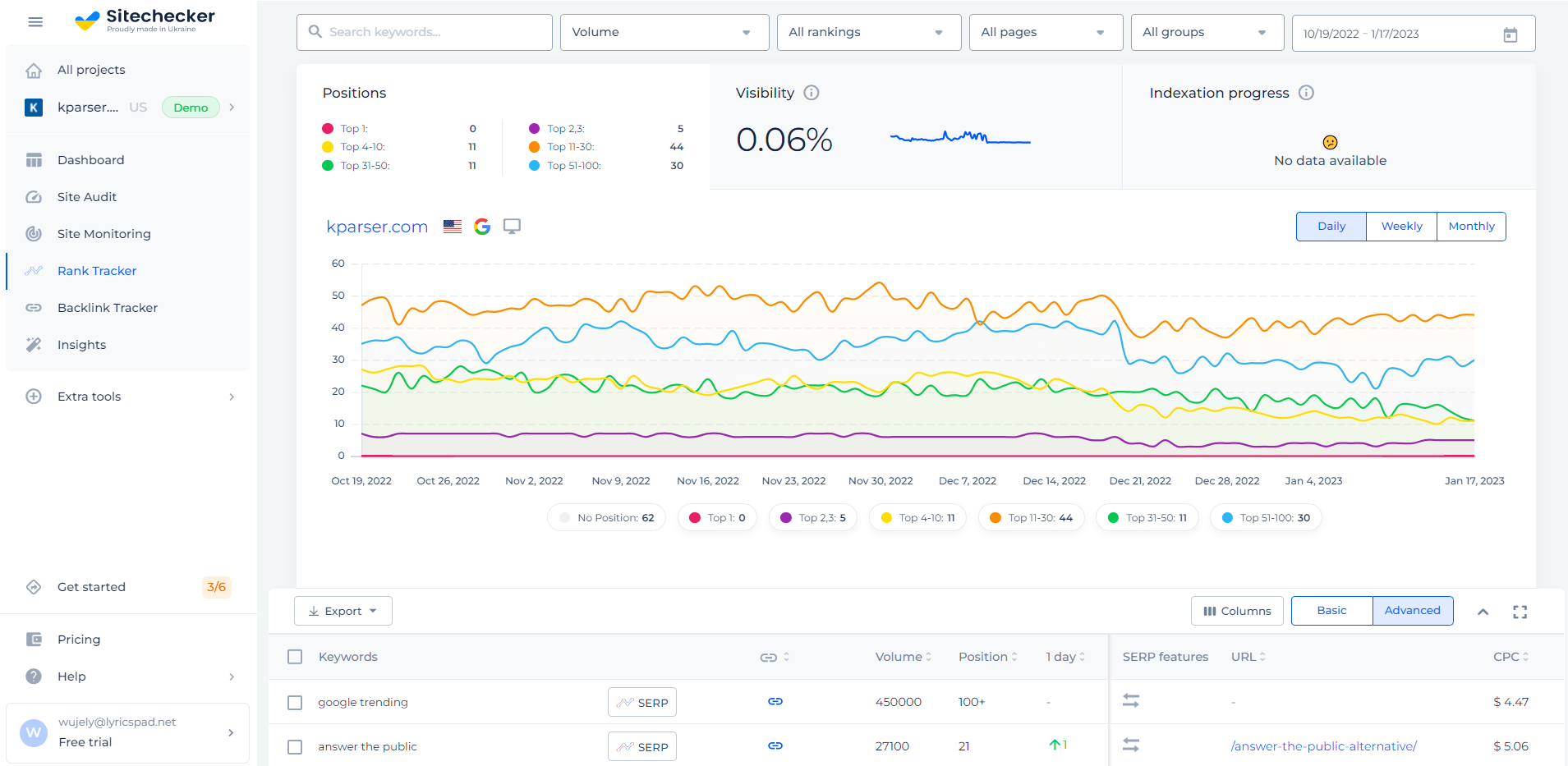 What is Keyword Position, and Why is it Important?
The pages on your site with a better keyword ranking will rank for more queries. It means they have a better chance of coming out on top in search engine rankings and getting more traffic. That's why you must know what keywordsyour audience is searching for and which keys can bring you more organic traffic.
Keyword placement and ranking are related concepts. Knowing what words are being searched for, you can improve your promotion and get better results. By analyzing your competitors' keywords, you can find your weaknesses and turn them into advantages.
It is necessary to analyze the different words users will use to search for you in search engines. Analyzing the keywords with the app according to the number of search queries in your site's content can make you adjust your promotion strategy and start getting more search traffic to your site. It will allow you to get higher search engine rankings and surpass your competitors.
Checking your ranking is important, but you should control the technical health of the site too!
Crawl your site and find out all kind of issues that can hart your users or your website SEO.
How Can I Increase My Website's Keyword Position?
If you're not getting the results you want from your promotion strategy, you probably need to change something. Analyze your site with our set of tools and monitor the site's position in search results and the positioning of your keys. Regular keyword analysis states which specific words can bring in additional traffic.
If you set a goal to be in the first place, it may not always be a winning strategy for promotion. Most site owners want the site to be based on the second page and then slowly bring it to the first page in search engine results. Note that sites in the first place are usually held tight to their united places, and it will not be easy to move them. Try to be in the top post five first, then slowly move on.
For your promotion to be more effective, use keywords already attracting the most traffic to your web page. Then pay attention to queries with high search volume. It's also not very common for experts to add high business value keywords to their strategy, and for a good reason. They can bring you valuable traffic and leads.
There are many necessary factors which rankings and traffic heavily influence listing position. Follow search platform guidelines so that users and search engines consider your site to be of real quality. If you keep in mind the goal of making content primarily for users and not for search genie robots, then good global promotion results are more likely to come to your site.
Here are 3 SEO live strategies that will boost your rankings by Neil Patel.
FAQ
How do I check my Google page rank?
You can do it with our free online software, Google PageRank Checker.
How do I see keyword rankings in GWT?
GWT as the tool to detect keyword ranking: it cannot be false because position data is provided directly from Google, which has the big picture. You can check the information on GWT page
How does keyword ranking change?
After finding keywords in Free Keyword Rank Checker, you can use the Rank Tracker to view and download all changes.
How to check keyword ranking in Google Analytics?
It is easy to check keyword ranking in Google Analytics. First, you need to have an account in GA and also GSC. Then just open Google Analytics and go to the category Acquisition. After that, you should select Search Console from the drop-down menu. In the search console, you can want to get the ranking information: by landing pages, queries, devices, or countries. When you made the choice, the ranking information from GSC will be displayed.
What the best keyword research tool to use?
There are a few different keyword research tools that you can use in order to find the right keywords for your website or blog. Google's Keyword Planner is a great option, as it provides a variety of options and features that other keyword research tools don't offer. Ahrefs' Keyword Explorer is another great option, as it offers a more comprehensive approach to keyword research. Semrush's Keyword Research tool is also worth considering, as it provides a wealth of options and features that will help you find the right keywords for your needs.