What is a Keyword Rank Checker?
The Google Rank Checker tool enables you to evaluate your website's keyword positions on Google, offering both current and historical ranking data for desktop and mobile searches within the top 100 Google results across 155 countries. This tool showcases the overall visibility of your website and specific URLs, search volume for ranked keywords, information on featured snippets, and SERP competition.
Website Ranking Checker Can Help You in Many Ways
Current position checking: Find keyword ranking where you are now and where your competitors are now. It will enable you to develop a successful SEO strategy to achieve your promotion goals.
Uploading a list of target keywords: Use Rank Analyzer for queries you plan to rank. Tracker will show you keyword statistics, even if you don't have them in your Search Console.
Keyword Suggestions: Google rank finder not only checks keyphrase ratings but also suggests related keywords and their search volume that might be valuable for your website.
Local SEO: For businesses that rely on local customers, the tool offers geolocation features. This means you can check website ranking and how well you're ratings for target words in specific cities or regions.
Mobile vs. Desktop: As mobile search becomes more prevalent, the tool provides separate data for mobile and desktop searches.
Frequency: The website Keyword Ranker Tool allows for periodic checks (1 day, 7 days, 30 days, 90 days, and All-time). This helps in keeping a tab on the performance and understanding the volatility in the ratings.
Website visibility & Page visibility: Provides an aggregate score of a site's performance on search engines based on collective keyword rankings. Shows how each page contributes to the overall website visibility, helping to pinpoint high-performing or underperforming pages.
Competitor keyword checking: Check some other sites, like a competitor, and learn how their position in the search results is progressing.
Check the detailed SEPR stats: Other than seeing the data about the positions of any keyword, you can take a more in-depth look into it. If you click on the graph near the key phrases, you will see a more detailed graph of position changes.
Key Features of the Keyword Ranking Positions Finder
Unified Dashboard. This element offers a one-stop hub where you can oversee all crucial data and feedback regarding your website's positions. It may showcase in-depth details about your target words, error summaries, graphical representations, and the like. A consolidated control panel streamlines and simplifies management.
User-friendly Interface. This guarantees that the tool remains straightforward to utilize, even for individuals lacking technical know-how. Such a design encompasses straightforward navigation, unambiguous labels, informative pop-up hints, among other features. An intuitive design accelerates the process of discovering and employing the functionalities you seek.
All-inclusive SEO Suite. Beyond checking query rankings, this encompassing SEO suite could incorporate utilities for on-site SEO evaluations, monitoring, linkage scrutiny, website check-ups, and beyond. Such functions aim to enhance your website's prominence on search engine listings, thus attracting organic visitors to your platform.
Export data in reports. Option to download .csv and .pdf reports to share with your team members or your client.
How to Use Google Website Rank Checker
Step 1: Insert your domain and push the button "Check ranking"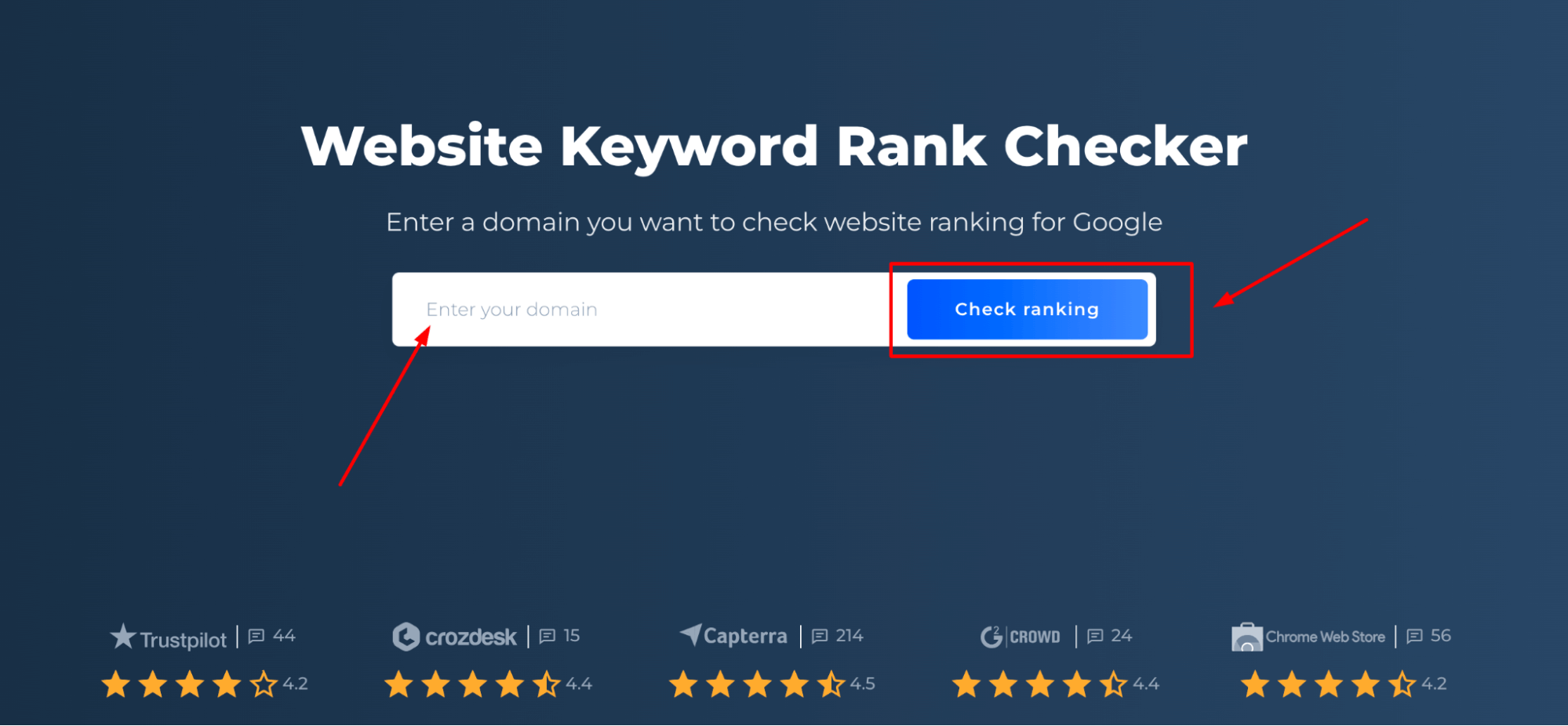 Start your FREE trial to obtain results and gain access to Sitechecker's features for 14 days. Easily sign up using your email, Google, or Facebook account. No credit card required.
Step 2: Get the result
After completing the website rank check, you will discover the top queries your site rankings for.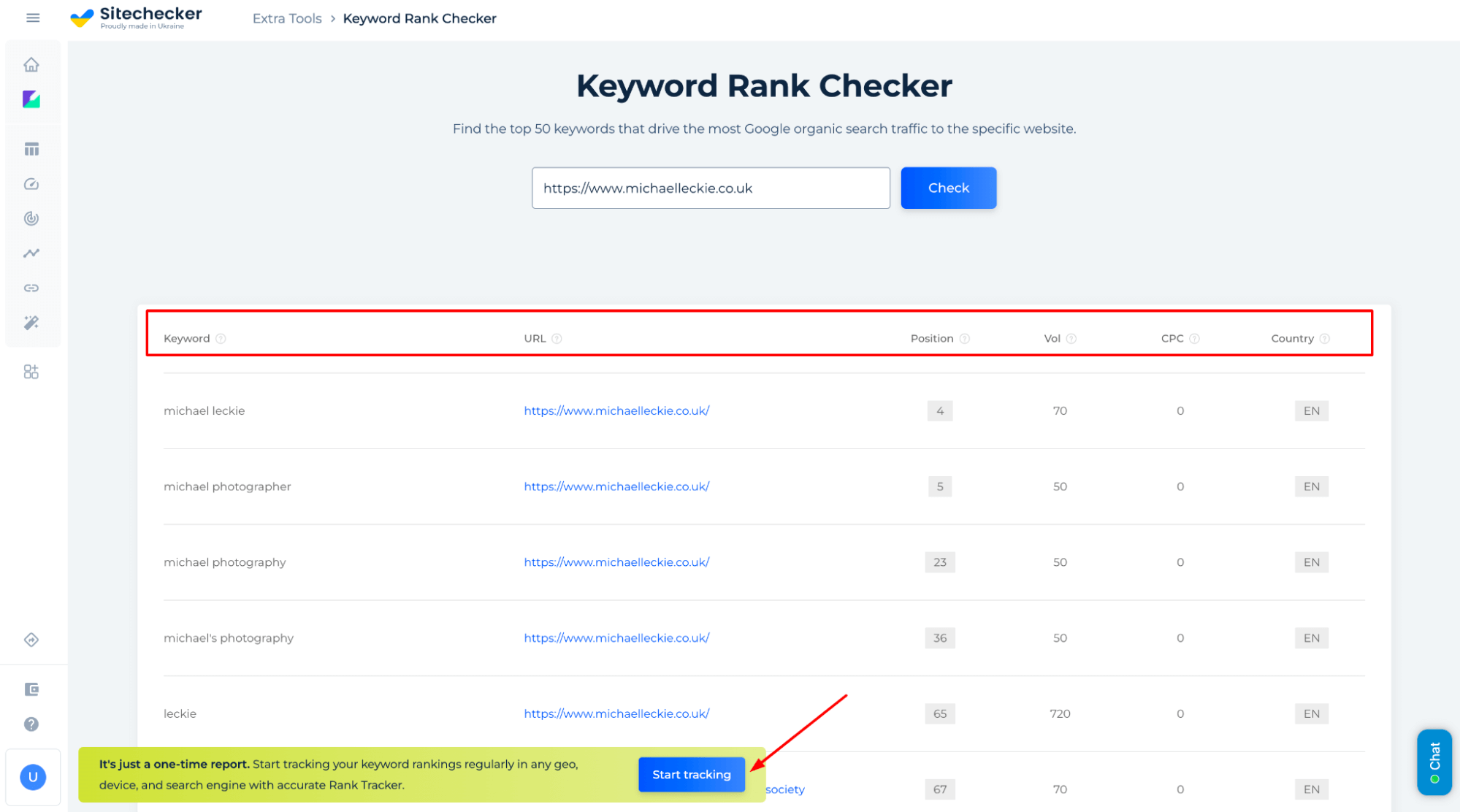 You will have the following metrics available for viewing in the report:
Keyword — the query or phrase at the top of your site.
URL — on which webpage the query is located.
Volume — the average bulk of how many times uses searched for this keyphrathes during the last 12 months.
Position — the word's rating on the last selected day in the calendar.
CPC — the average cost per click.
Country — the Geo where website ranked by the keyword (for example, Australia).
Additional Features of the Website Rank Checker
Also, you can use not just check the positions keywords but use our ranking check software. It helps you track your website SEO ratings regularly and find out what of your actions led to growth, and be the first to know when multiple critical happen. You can easily track how fixing issues on your website improves your web position and test new strategies.
To do that, just click "Start tracking" on the position's analyzer result page.
After clicking the "Start tracking" button, the queries that were found will be added to the tracker setup page: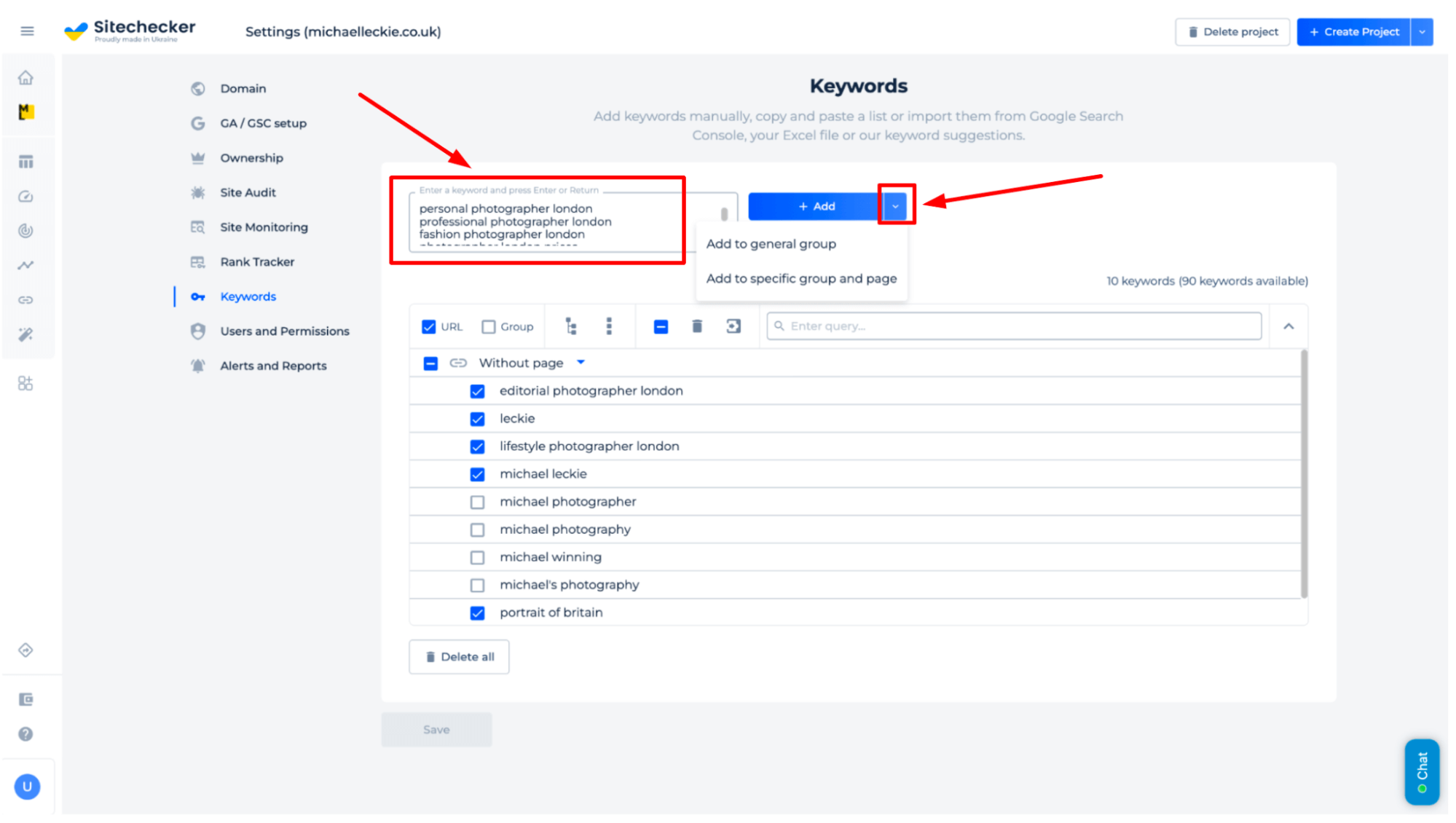 You can use the keywords found for your website and add them just as they are, or add your own queries by listing or downloading them from Google Search Console.
We also offer you simple and useful keyword setup functionality to work with pages and page groups.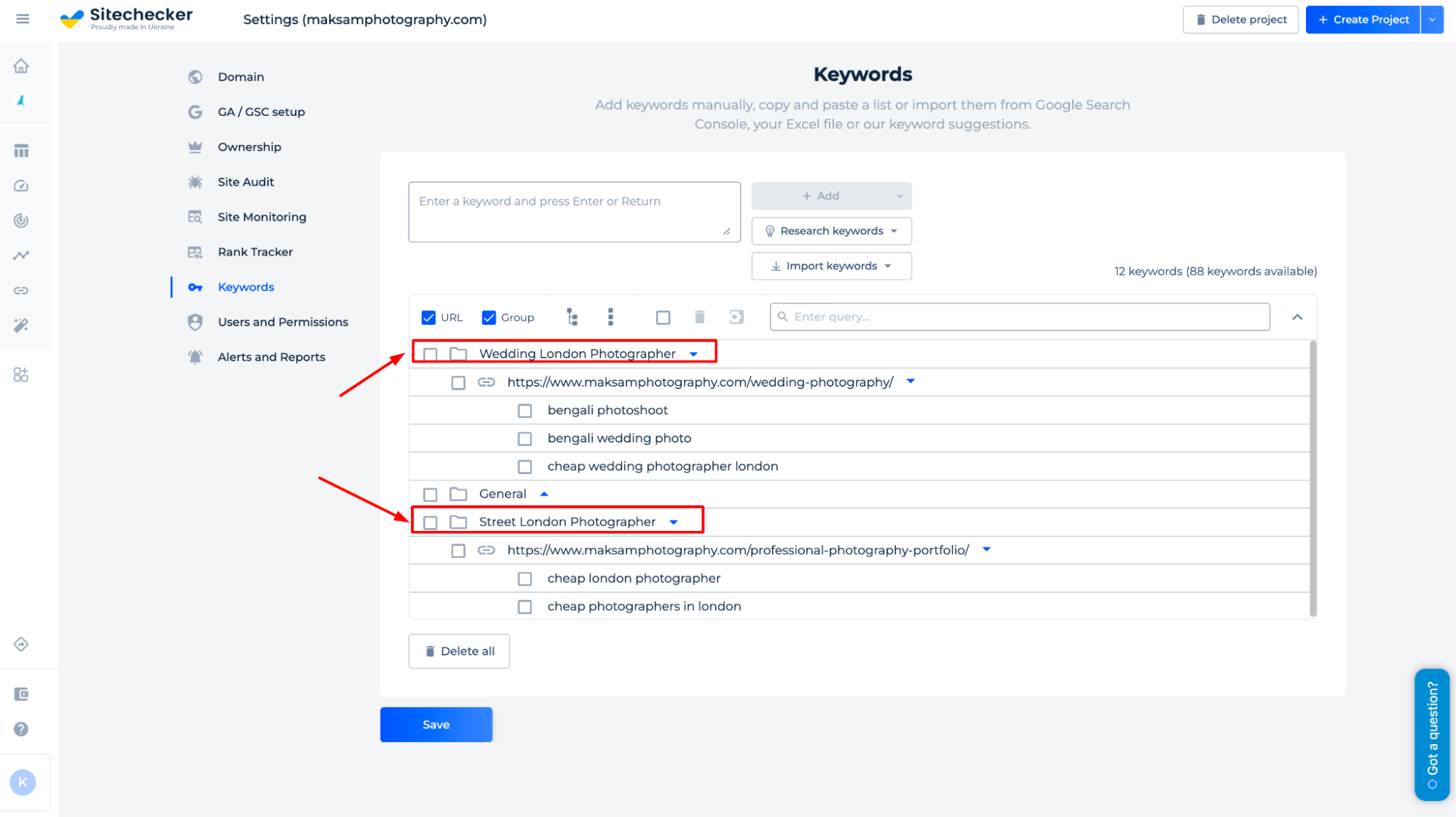 Once you have set up your tracking key phrases, you will gain access to a rich array of features that provide deep insights and analytics. Allow the tool some time to collect more data for optimal results – with this information in hand, the trends in your ratings can be live identified and monitored.
Analyze the ranking and visibility of your website in Google search
To view your website's keyword rankings, click on the "Keywords" tab. This will display all the terms for which your site ranks in search results: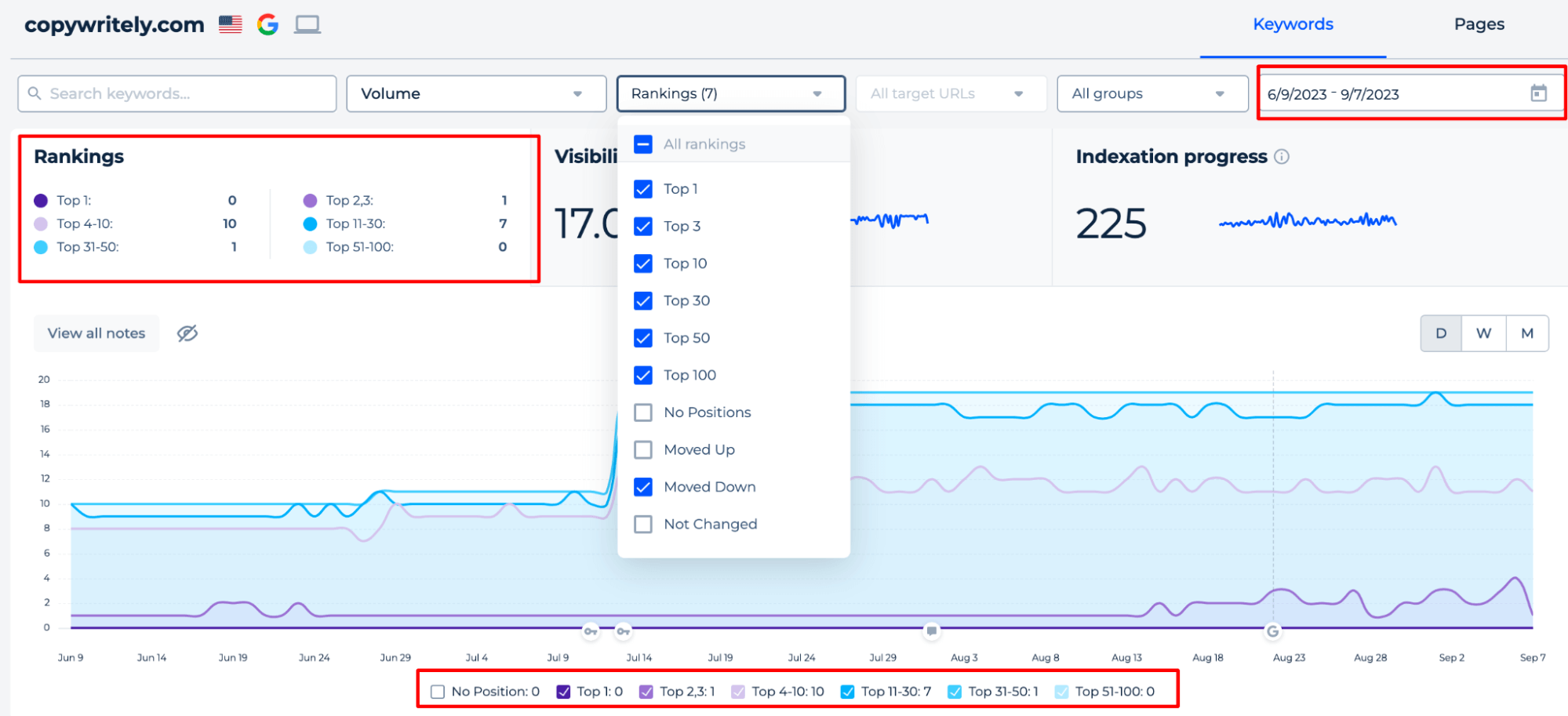 In this section, you can view the ranking trends of keywords within the Google TOP-100 search. Easily filter key phrases by position, search volume, or groupings, such as categorizing them based on your product or service offerings to monitor performance dynamics.
Using the graph, you can visually gauge your site's position over daily, weekly, or monthly periods. You can also pinpoint when keywords were added for monitoring, make annotations, and even track Google updates.
The visibility rate measures the potential to gain more traffic from ranked keywords. Visibility is calculated using an index based on key phrase positions.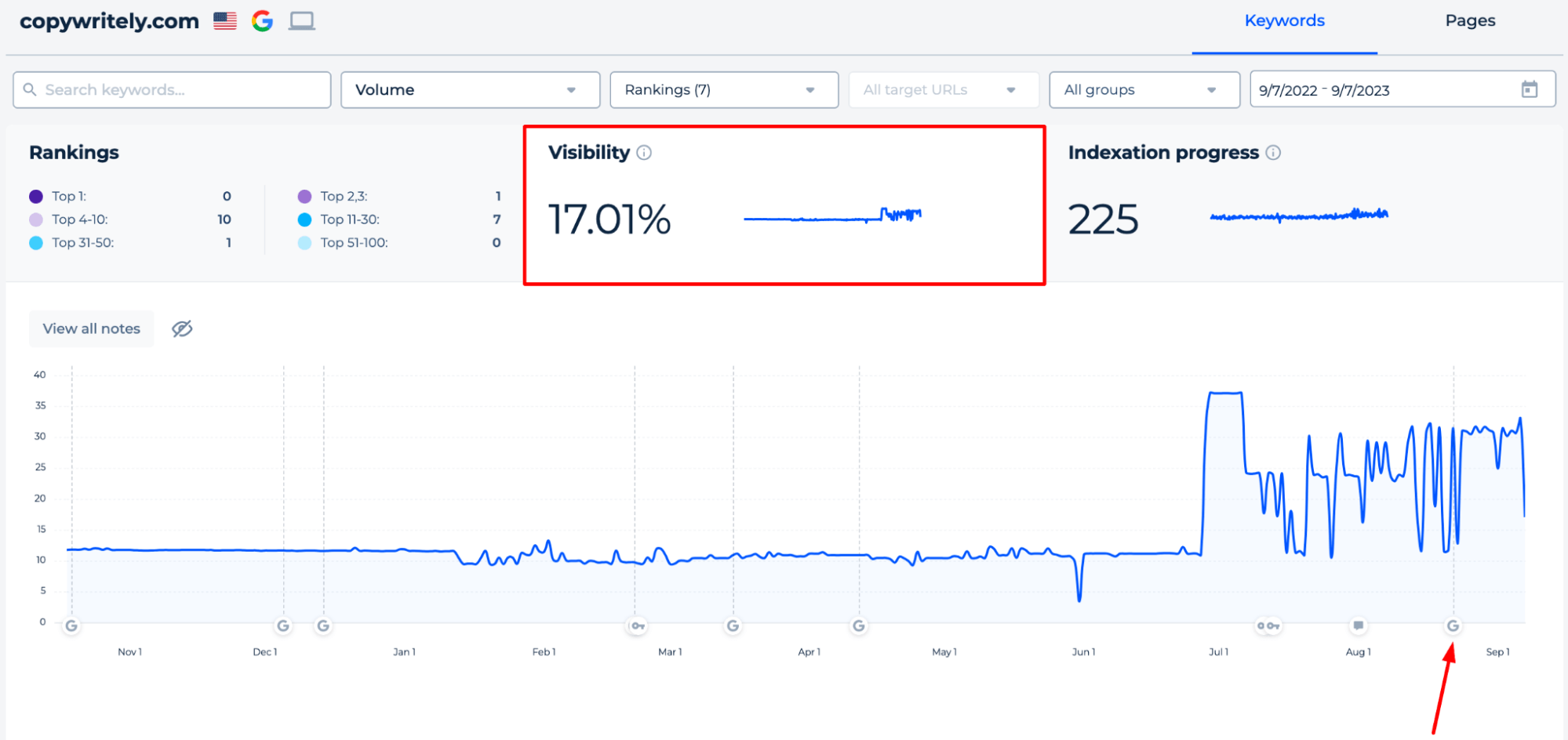 The graph allows you to monitor how Google updates impact your site's visibility in search results.
The table below displays keywords along with their rankings and the corresponding pages.

You can filter ranking changes by day, group positions by TOPs, and choose specific keyword groups. Discover the SERP features for each keyword, the ranked URL, and the key phrase position trends. The export feature is crucial for in-depth data analysis and for sharing with clients or colleagues.
Additionally, by selecting "Keyword SERP analysis," you can view your competitors for a specific keyword and compare your position in the search with theirs.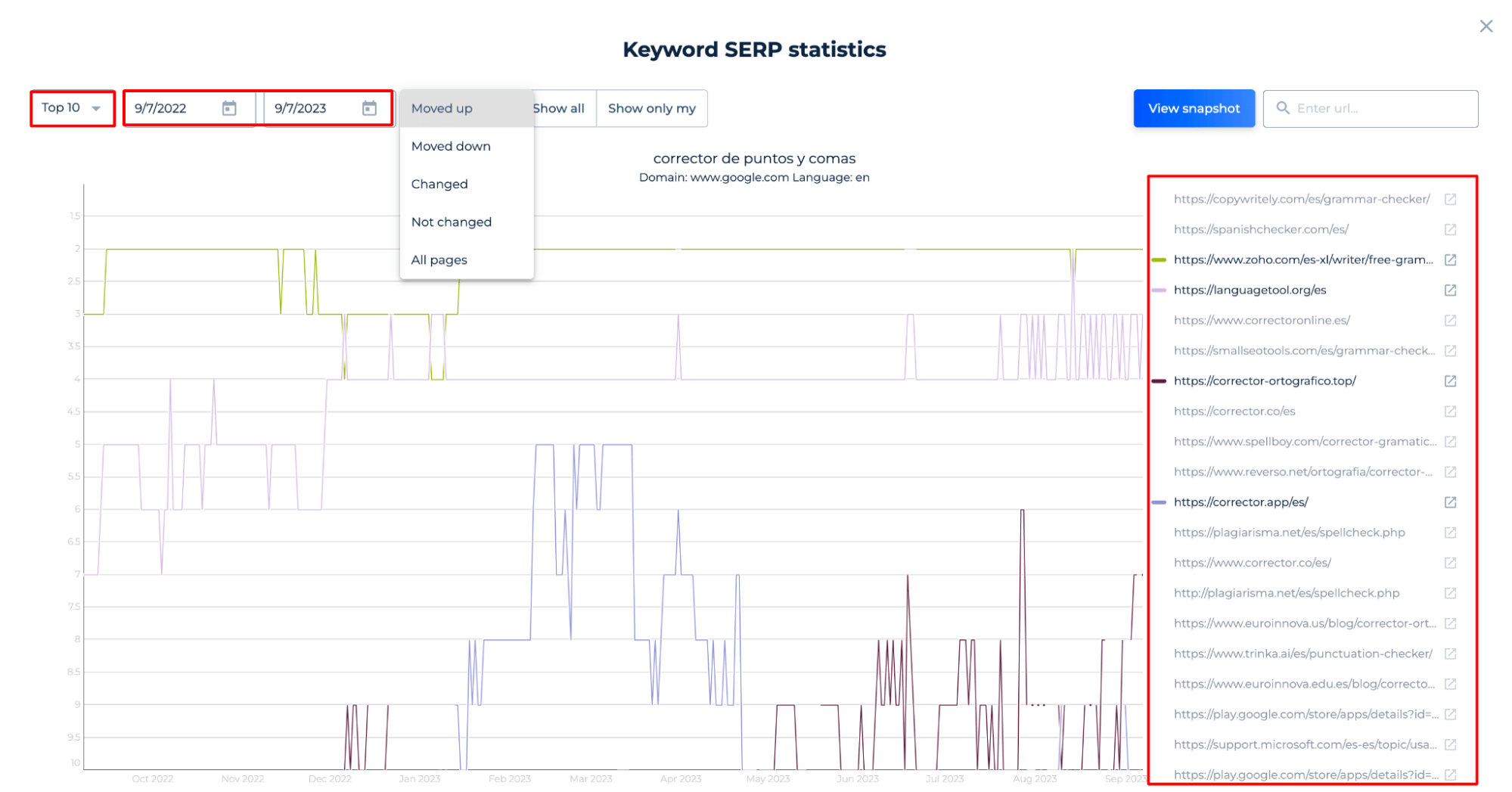 Analyze ranking and keyword visibility of particular URL
In the "Pages" tab, you can view the Page Rank in Google of specific URLs from your site based on their keywords, both TOP and those selected for tracking.

When you display ranking data by URLs, you can see the TOP keywords, the number of keywords, and their respective positions in Google's results. For ease of use, you can select custom groups of URLs, individual pages, or even a specific URL. The table in The Google Page Rank Checker displays the positions and volume of the keywords for which a page ranks and the competitors for each keyword.
Summary
The SEO Ranking Checker is a robust SEO tool that evaluates keyword and URL standings on Google search across 155 countries, vital for both desktop and mobile. It presents overall website visibility, page position in search results, keyword search volume, snippet details, and SERP competition. With a user-centric dashboard, geolocation features, and regular monitoring, it simplifies strategy creation. The Website Rank Checker supports data export, provides traffic potential insights through visibility rate, and highlights snippet-earning content. It also offers insights into URL ranking dynamics and Google update impacts, making it an essential tool in SEO.
FAQ
How do I check my keyword rank for free?
Use the Website Keyword Rank Checker. Just insert your domain to view your query standings.
How many keywords should I use for SEO?
There's no fixed number. Mainly focus on quality and relevance. Ensure a mix of primary and long-tail key phrases based on your content.
Can I track local rankings in a Rank Tracker?
Yes, the Online Keyword Position Checker offers geolocation features, allowing you to track not only global positions but also specific cities or regions.