What is Bing Rank Checker & Tracker Tool?
The Bing Rank Checker and Tracker Tool is designed to monitor a website's organic progression on the Bing Search Engine on different languages, regions, and devices. It lets you evaluate SERP performance across various keywords effectively.
Bing Ranking Checker allows for daily or monthly checks, monitoring, and tracking of web page rankings, providing essential reporting data. Such data is instrumental for analyzing and implementing the necessary modifications to enhance a website's SEO campaign.
Bing Keyword Tracker can help You in Many Ways
Rank Checking and Tracking: This feature displays your current keyword rankings compared to those of your competitors and further tracks targeted queries in Bing over time.
Keyword Upload: It lets you analyze specific target queries, getting deeper insights than those from your Search Console.
Keyword Suggestions: Bing Keyword Position Checker not only checks rankings but also suggests related keywords, complete with search volumes.
Local SEO: Geolocation features target specific cities or regions, vital for businesses focusing on local clientele.
Mobile vs. Desktop: It provides separate search data for mobile and desktop, acknowledging the increasing dominance of mobile searches.
Check Frequency: Bing Position Checker allows for regular ranking checks at set intervals, to track performance dynamics.
Visibility Metrics: It calculates performance scores for the entire website and individual pages, identifying areas of strength and those needing improvement.
Competitor Analysis: You can monitor competitors' websites to gauge their search ranking movements.
Detailed SERP Stats: A more granular look at changes in the position of queries helps you refine your SEO strategies.
Key Features of the Bing Keyword Ranking Positions Finder
Unified Dashboard: A central hub where all SEO metrics and keyword rankings from Bing are displayed, allowing for a streamlined overview of performance.
User-friendly Interface: Designed for ease of use, enabling users to navigate and utilize the full range of SEO tools without the need for extensive technical knowledge.
Complete SEO Toolset: A comprehensive collection of tools and features that cover all aspects of SEO, from SERP tracking to competitor analysis, providing a holistic approach to improving a website's search engine rankings.
How to Use Bing Keyword Rank Checker
Step 1: Insert your domain and push the Start tracking button

To receive results and access to Sitechecker's features for 14 days, start your FREE trial. Sign-up is easy with your email, Google, or Facebook account. No credit card is needed.
Step 2: Connect your Google Search Console account
Connect your Google account to track search queries from the Google Search Console.
This step is optional. However, if the Google Search Console contains data for search queries and the search market you're ranked for, you can track those same search queries in Bing as well.

Step 3: Adding keywords. Choosing search engine, language, country & device
The Bing Rank Checker and Tracker Tool offers a user-friendly module for adding and managing keywords essential for SEO tracking. Users can manually enter search queries or import them effortlessly from the Google Search Console or Excel files. The tool's advanced search engine settings fine-tune SEO efforts, allowing for precise adjustments based on specific countries, languages, and the type of device, be it desktop or mobile.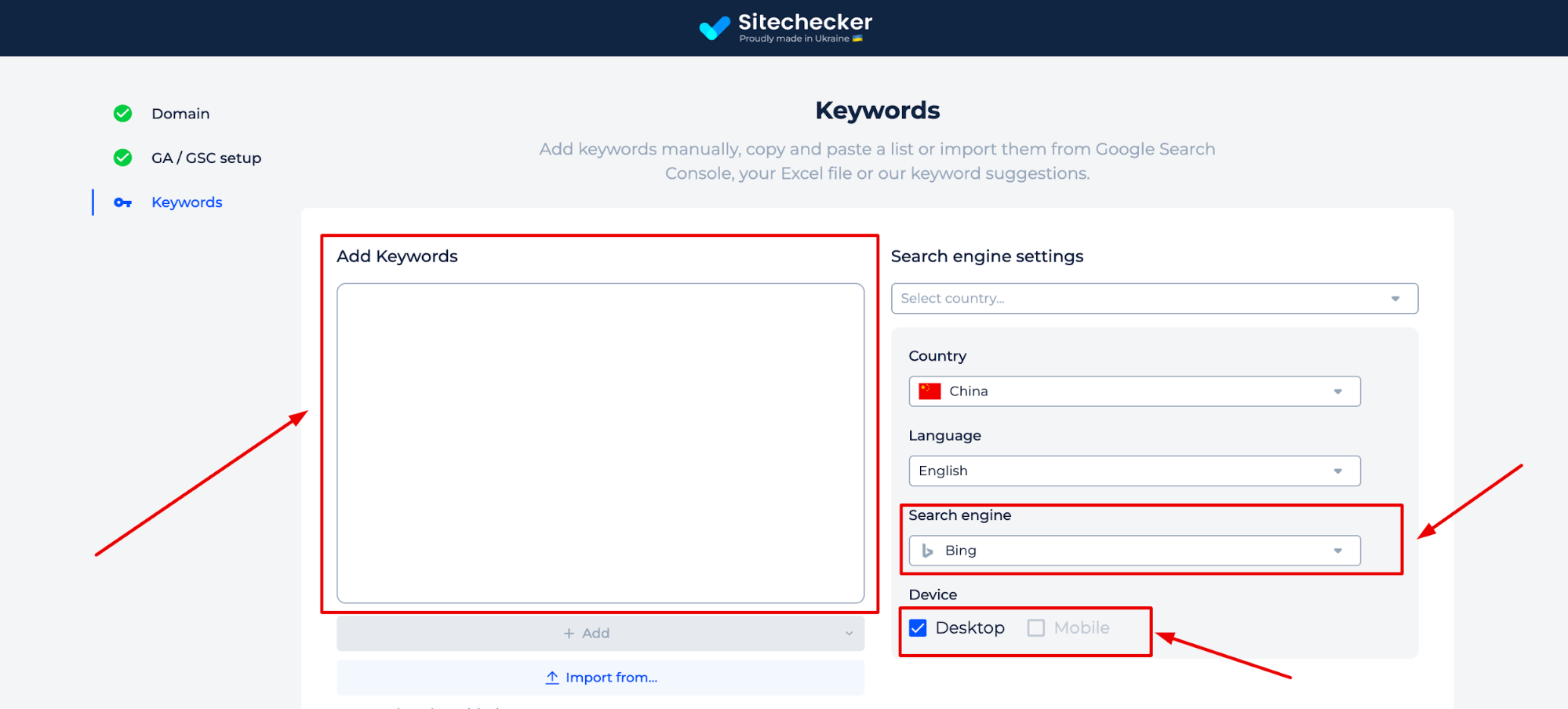 Step 4: Gather Bing SERP data for target keywords & URLs
When you've added your keywords, the Bing Keyword Rank Checker collects data from the Bing search results for these terms. Then, it creates a list of tracking requests. You can now group related search queries for more efficient monitoring and add URLs to track.
The Bing Rank Tracking Tool also provides additional metrics, such as search volume and whether your search queries feature in Bing's quick answers or other SERP features.
Step 5: Result
When everything is done, you receive a report with the accurate results of the first check. Now you can use it regularly as your trusted checker.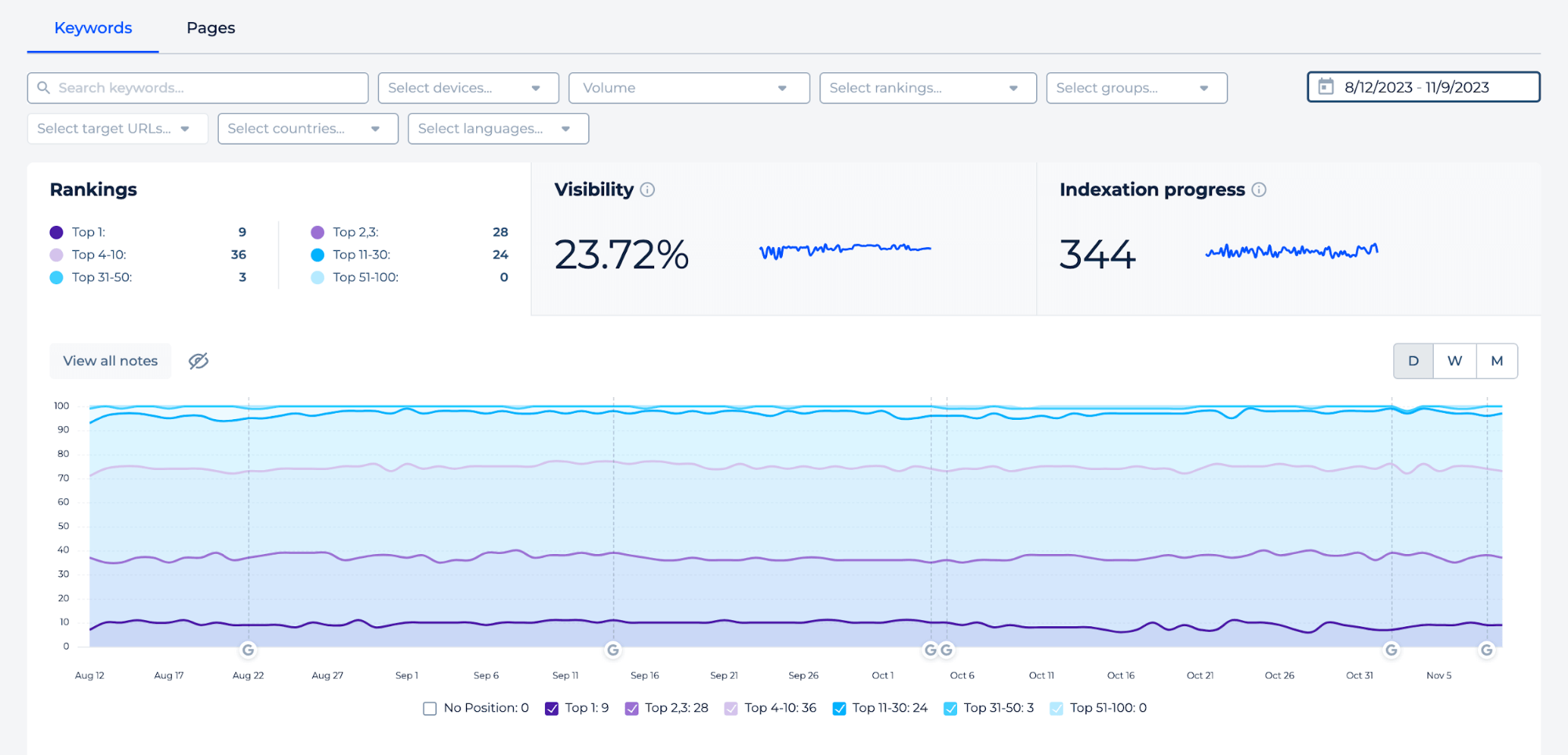 The SERP Checker Bing presents a comprehensive dashboard for monitoring and understanding your website's SEO performance on Bing. It segments keyword rankings into various tiers, offering a clear view of your site's standing in the search results.
The visibility metric encapsulates the proportion of searchers likely to find your site, while the indexation graph traces the number of your pages recognized by Bing over time.
With an interactive timeline, you can track the dynamics of your website rankings and adjust the view to daily, weekly, or monthly periods. It empowers you with actionable insights to optimize your online presence.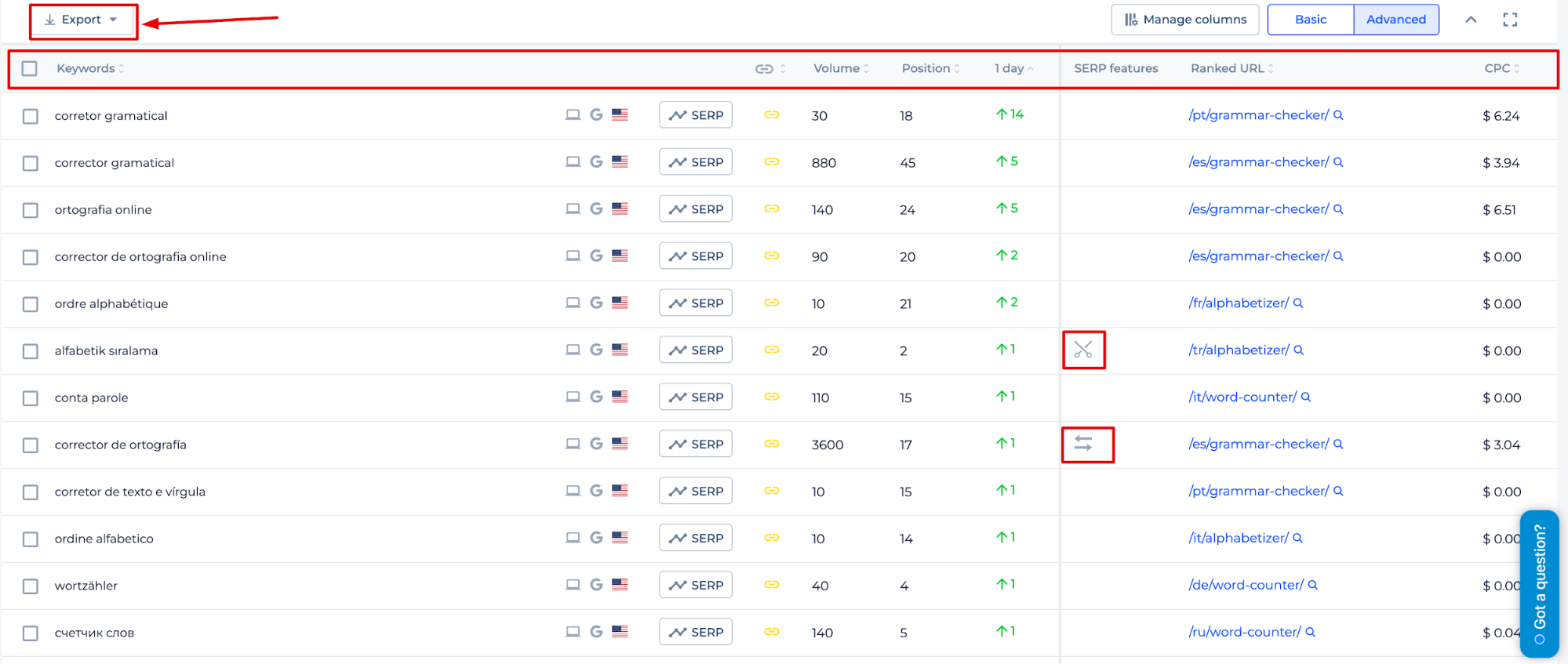 In the keyword tracking display area, crucial information is presented, such as the ranked URL, the keyword in question, its search volume, its current rank, the website's position in Bing's SERPs, and visibility metrics.
Also, details provided include cost-per-click values and an icon that highlights if the keyword is featured in Bing's SERP features, such as quick answers or featured snippets, offering a comprehensive snapshot of keyword performance.
Additional Features of Bing SERP Checker
Clicking the "SERP" button next to a specific keyword will open its corresponding graph.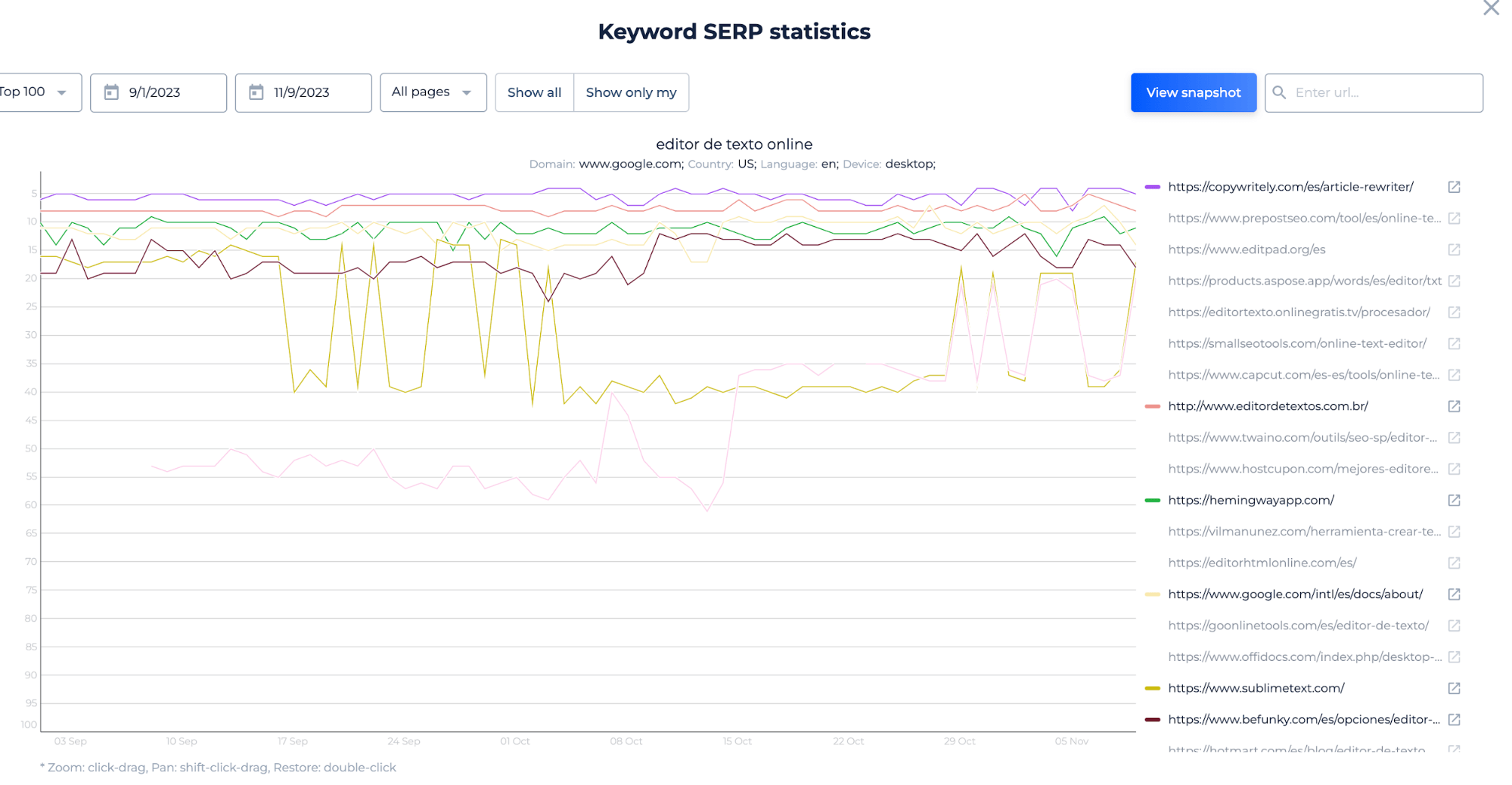 The graph illustrates the fluctuating rankings of various URLs for a specific keyword over time. The lines represent different web pages, each with a unique color code that corresponds to the URLs listed on the right side of the screen.
This visualization aids in understanding how different pages rank for the same keyword across a selected time frame, here shown from September 1st to November 9th. Additionally, it provides a feature to view a snapshot and enter a URL for more detailed analysis, along with filters such as date range and page selection, enhancing the ability to monitor and strategize SEO efforts.
Final Idea
The Bing Rank Checker and Tracker Tool from Sitechecker is designed to help website owners elevate their Bing search engine rankings. This tool features a user-friendly interface that simplifies the process of tracking keywords, analyzing competition, and gauging SEO performance. It offers detailed SERP statistics and the option to track rankings across various devices and geographical locations. Thus, it's a vital tool to fine-tune your website's SEO approach. Efficient and accessible, this solution provides crucial insights to effectively enhance your site's online visibility on Bing.
FAQ
Why do I rank well on Bing but not Google?
Search engines like Bing and Google use different algorithms, which can result in variations in ranking. Factors such as keyword relevance, backlinks, and content optimization may be weighted differently by each search engine.
Why should you track search query rankings on Bing?
Tracking keyword rankings in Bing is important because it helps you understand your website's visibility in Bing's search results, informs your SEO strategy, and reveals opportunities to increase market share and your audience reach on this search engine.
How do I track my Bing rankings?
You can track your Bing rankings using tools like the Bing Keyword SERP Checker, which allows for monitoring keyword positions and analyzing search performance over time.