Increasing competition among content creators makes it more difficult to remain at the top. Specialists from various spheres like marketing, SEO, and design invent new and new approaches and tools to increase the website position.
In this article, we will focus on search engines, their types, page bing rank tracker, how it works, and how it helps monitor and improve the web page's ranking. Let's dive in!
What Is Page Bing Rank Tracker
Stay ahead of the competition with a Bing Rank Checker; an invaluable tool to track your website's organic development and discover new opportunities for growth! Utilizing this software, you can easily measure daily SERP performance on Bing for multiple keywords at once – giving you insight into valuable search engine optimization strategies. What is more, the page Bing rank tracker is a special web instrument that allows checking, monitoring, and tracking the web page's ranking every day or on a monthly basis. Finally, this program provides reporting data to analyze and implement the necessary changes in the promotion strategy.
Page Bing ranking is a website's position on the respective SERP — search engine results page. The higher it is, the more likely the site is to appear while users look for this specific info.
Bing is the second most used search engine in the world. The others examples of search engines are Google, Yahoo, Yandex, and Baidu. These programs are special tools that offer users the possibility of finding the necessary information in the network due to some specific algorithms. Though Google greatly dominates this niche, the Microsoft-owned and operated Bing may fill a notable share of searches in some markets, primarily the United States, where the search engine is mostly used.
How to Use Bing Rank Tracker & Checker: a Step-by-Step Guide
The bing rank tracker & checker is quite easy to use. It requires only several steps to be undertaken to achieve the result. If you are a novice in the field, at first, you don't even need to pay for your account. In order to understand the main features and principles of this tool, you can try a free trial period.
Step 1: Insert your domain
This is the very first step, easy though very important. It shows the program what exact site to check.
Step 2: Settings
At this stage, you fill in all the necessary fields to shape your future checking.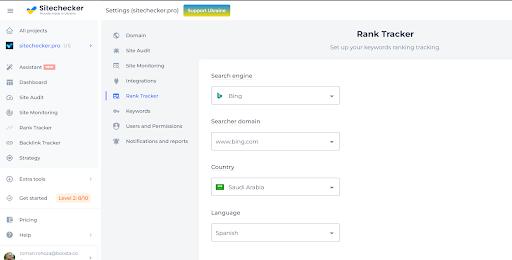 Among the settings you can find various fields like location, type of the search engine, language etc. Choose Bing search system, then insert the relevant data. In addition, you can import the keyword list to check bing keywords position.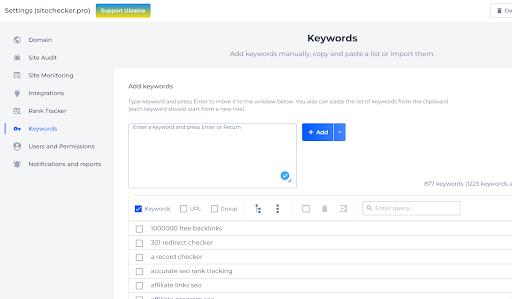 All these parameters are vital to ensure the precise and efficient ranking check.
Step 3: Result
When everything is done, you receive a report with the accurate results of the first check. Now you can use it regularly as your trusted checker.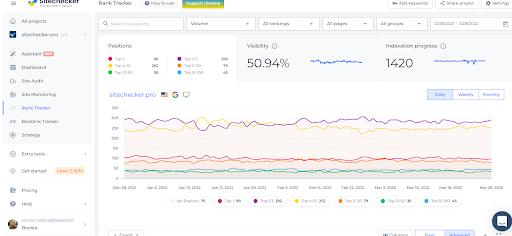 Important to mention that after the first check, you can automatically track the site's positions.

Bing rank tracking is not enough to optimize your site for search engines!
Conduct a full audit to find out and fix all the site level and page level issues on your website.
What Are the Features of Bing Ranking
As we mentioned previously, the domain of search is largely dominated by Google. However, Bing, as well as Yandex or Yahoo rankings, have their own peculiarities. Below we will cover the main features of the search engine.
Focus on the on-page optimization
The first distinctive feature of Bing is that it generally focuses more on on-page optimization. It also incorporates social signals. Google, in its turn, is more focused on E.A.T. (expertise, authoritativeness, and trustworthiness) and links.
Traditional perception of content
Furthermore, Bing analyzes the metadata in a more close manner. The search engine relies more heavily on traditional methods of understanding the content. They include keywords in the domain, page titles, and metadata. For instance, meta descriptions are much more important in Bing's site assessment.
Value of trusted content
In addition, Bing values content that has been live for a long time or has gained a lot of traffic. Bing also esteems more official domains, for instance, .gov or .edu. Google, for example, considers commercial or popular sites to be just as reliable in many situations.
Single index
Finally, Bing maintains a single index optimized for the desktop and mobile versions of a site. With this in view, it is vital to ensure the web page loads quickly, works smoothly, and performs well via any machine.
But if you want to track performance on mobile devices separately, use our mobile rank tracking tool.
Why is Bing Ranking Important
Knowing and monitoring your website ranking is as important as its content.
Increase visibility
The first reason is the general awareness of the target audience. If users do not see your page, you worked in vain. Bing is the second largest search engine, reaching a market share of 14%, especially in the western world.
Outperform competitors
Many SEO specialists focus exclusively on Google metrics while improving the ranking of sites. Working with Bing ranking provides an additional competitive advantage. Do not miss this opportunity.
At the same time, the ranking also shows your competitors' positions. Examining those who perform better is a good strategy to overcome them in the future.
Fix the weak spots
Analyzing your site's ranking with top-notch tools offers an opportunity to find some weak points of your web page. Detailed SERP check can reveal them and allow you to improve the site. It is always good to increase the source data via additional channels.
Fill two needs with one deed
Moreover, as we said, Bing heavily relies on evaluating keywords. If you improve the semantic core to meet the requirements of Bing, you will definitely perform much better with any other search engine. Do not forget to check your keyword positions.
Reveal the inbound potential
Finally, let's not forget who created Bing. This search engine is closely connected with Windows 10. This offers potential in many different areas as well. For example, the Windows desktop background changes daily. If users click on the background for more info, they are taken straight to the relevant Bing search results page. Considering the popularity of Microsoft products, a high Bing ranking may greatly boost your organic traffic.
Aim precisely
We should not also forget about the fact that not everyone uses Google. As a result, outreach via Bing can provide a large number of unique users.
How to Use Bing for SEO
Bing is a very important search engine. Consequently, an efficient SEO strategy should definitely encompass components that cover Bing as well. Here are some crucial aspects:
Always use Bing's Connected Pages feature. This option promotes the vast audience's awareness. In addition, this proves your authority for the search engine. Connect your site with the social media accounts on Facebook, LinkedIn, or Twitter.
Use backlinks. The search engine system recognizes the importance of web pages that recommend your site. Backlinks tracker is a great tool for finding and analyzing inbound website links.
Moreover, Bing is the best search engine to test the keywords you chose for your online resource. It pays significanе attention to this element. If your Bing SERP shows your semantic core performs well, there is no need to worry about Google.
Utilize the potential of SEO reports from Bing. They serve as a perfect analyzer of your activity.
Summing up, Bing is definitely worth exploring and using. It has several unique peculiarities that can greatly assist in SEO promotion of a website. Correct and wise usage of Bing's features leads to a significant increase in traffic flow.
Here is a brief guide on the distinctive features of Bing, how to use the Bing SEO analysis tool, and how to get the most out of this search engine. For more information check out the video by Matthew Woodward:
FAQ
How do I check my rank on Bing?
In order to check the ranking of your website on Bing, you need to use a special Bing rank tracker. This online tool is a special program that allows users to regularly check, track, and monitor the website's ranking.
How do I see keyword rankings in BWT (bing webmaster tools)?
The first option is to apply the SEO features of Bing, where users can utilize keyword research. It allows checking the words and phrases that people are querying for and their corresponding search volumes. However, the easier and more convenient option is to use a Bing rank tracker. This tool is a one-stop shop for SEO specialists. Operations with keywords, checking their rankings, and implementing the necessary changes are incorporated into the functionality of this tool.
How to check the keywords ranking changes?
Bing rank tracker offers versatile peculiarities. These include an opportunity to monitor and check the keywords ranking changes. Bing search engine pays significant attention to keywords. As a result, the feature to check keyword rankings is well developed and tested.