What is a Bulk Keyword Rank Checker Tool?
The Sitechecker bulk keyword rank checker is a tool that lets you swiftly assess your website's ranking in specific search engines, devices, languages, and regions using its bulk function. This tool checks a list of keywords in a single iteration, saving you time and providing a comprehensive view of your ranking for a specific keyword cluster.
How can our tool help you?
It lets you analyze the ranking of numerous keywords simultaneously.
Identify the ranking page for each keyword and group keywords by pages or by forming page groups.
Assess the visibility of your entire website or a specific keyword cluster based on the list of keywords you have checked.
Obtain SERP (Search Engine Results Page) data, such as volume, position, and potential rank for each keyword.
Review your website's ranking across various search engines, languages, and regions.
Gain SERP insights, like keyword trends, featured snippets, or "people also ask" blocks for every keyword.
Gather information about competitors' SERP presence for each keyword and monitor their dynamics.
Begin consistent tracking of the checked keywords and regularly observe the dynamics of your SERP queries.
Key features of the tool
All-in-One Dashboard: Keep all data and insights for the checked keyword list in one place. This way, you make analysis and work easier.
Intuitive Interface: Our user-friendly interface makes data retrieval, filtering, and clustering of keywords, as well as keyword pages and groups, simple. Take advantage of visual graphics created based on your data.
Bulk Keyword Analysis: Utilize retrieved data and insights to analyze and form SEO hypotheses. This functionality allows you to conduct analyses for specific periods to check for dynamics or compare data with other time frames.
Monitoring and Reporting: Our tool can regularly monitor changes and report on specific periods. You can also set up email notifications about changes.
Holistic SEO Platform: Our service provides more than just bulk keyword checking. We incorporate a comprehensive SEO audit (both on-page and off-page), rank tracking, and site monitoring, among other additional features.
How to Use the Free Bulk Keyword Rank Checker?
Step 1: Input the domain for which you want to check keywords, then click the "Check ranking" button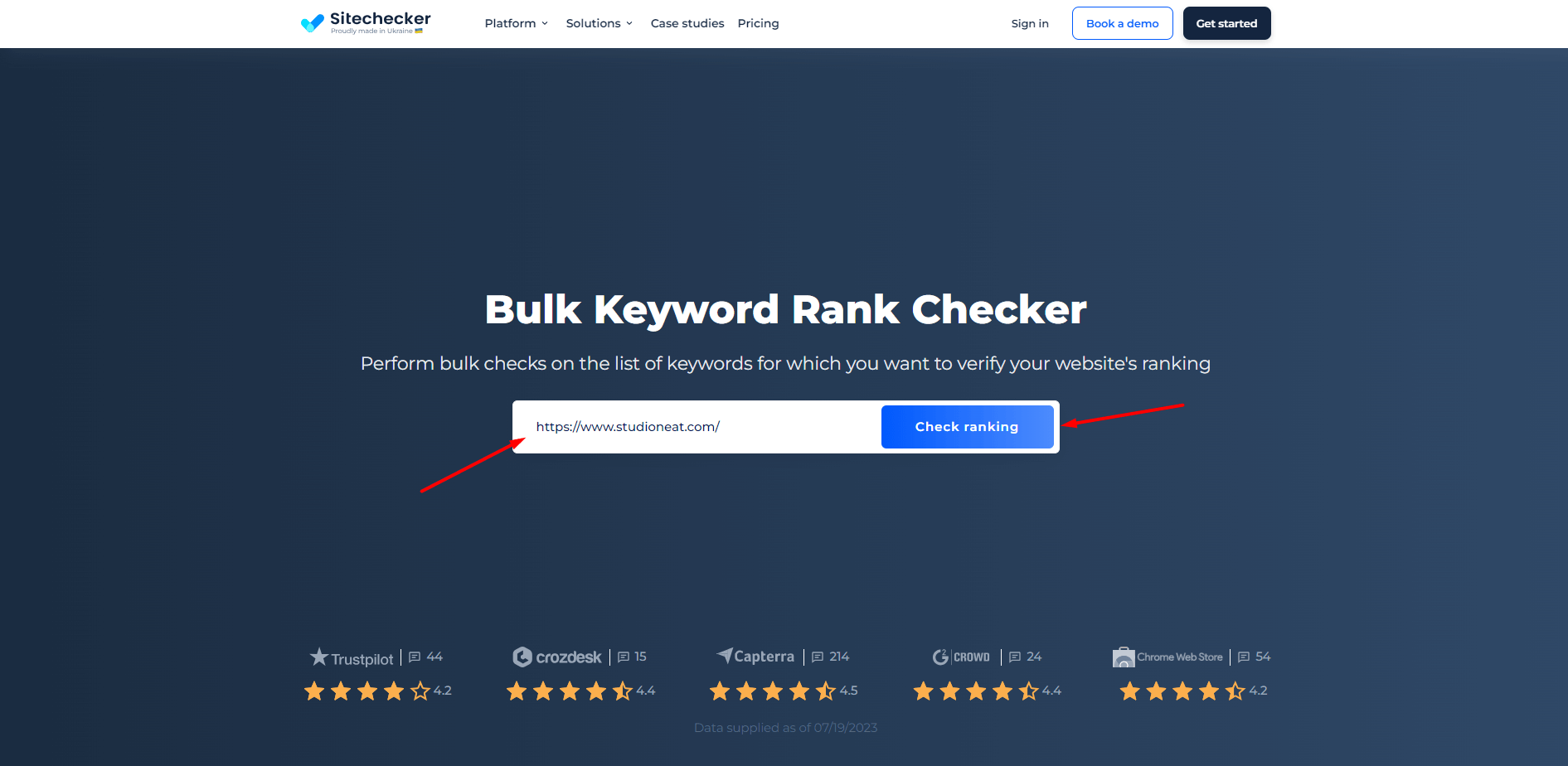 To receive results and access to Sitechecker's features for 14 days, start your FREE trial. Sign-up is easy with your email, Google, or Facebook account. NO credit card is needed.
Step 2: Set up the GA & GSC, define the search system, specify the geo and language
If you plan to use the bulk queries checker for your own needs, it could be beneficial to connect Google Analytics and Google Search Console with just one click. This will provide more insights, such as a list of keywords.

Next, you need to specify the search system in which you want to check your keyword rankings, along with the targeted geographical region and language. Setting up these parameters will provide results tailored to your specific needs. As versatile software, we offer checks for various search systems such as Google, Bing, and Yahoo, and support a wide range of languages and locations.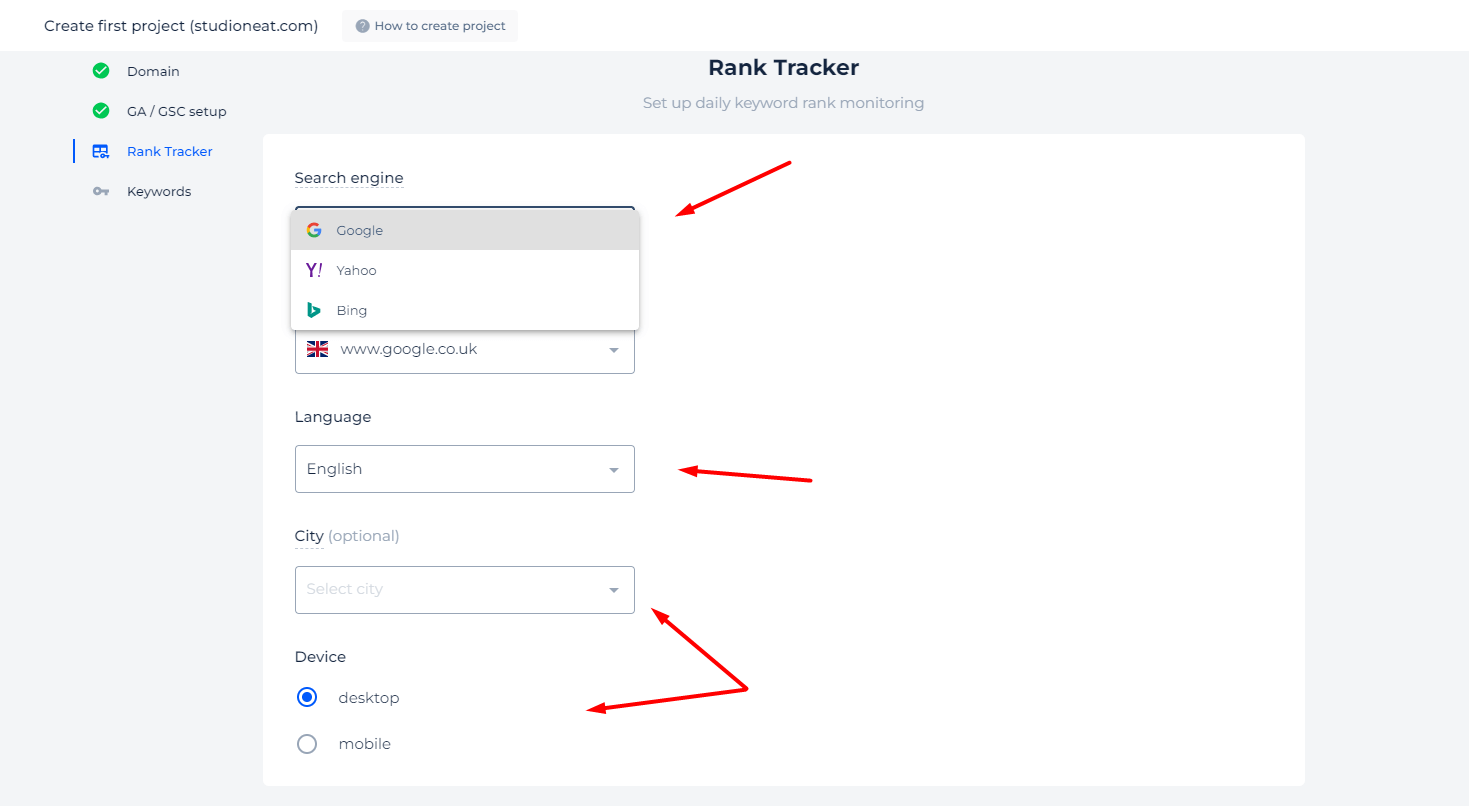 Step 3: Add the keyword list for bulk checking
The final setup before getting the results involves adding a list of keywords. You have a couple of options for this.
Manual Addition: You can quickly start by adding a few keywords that come to mind.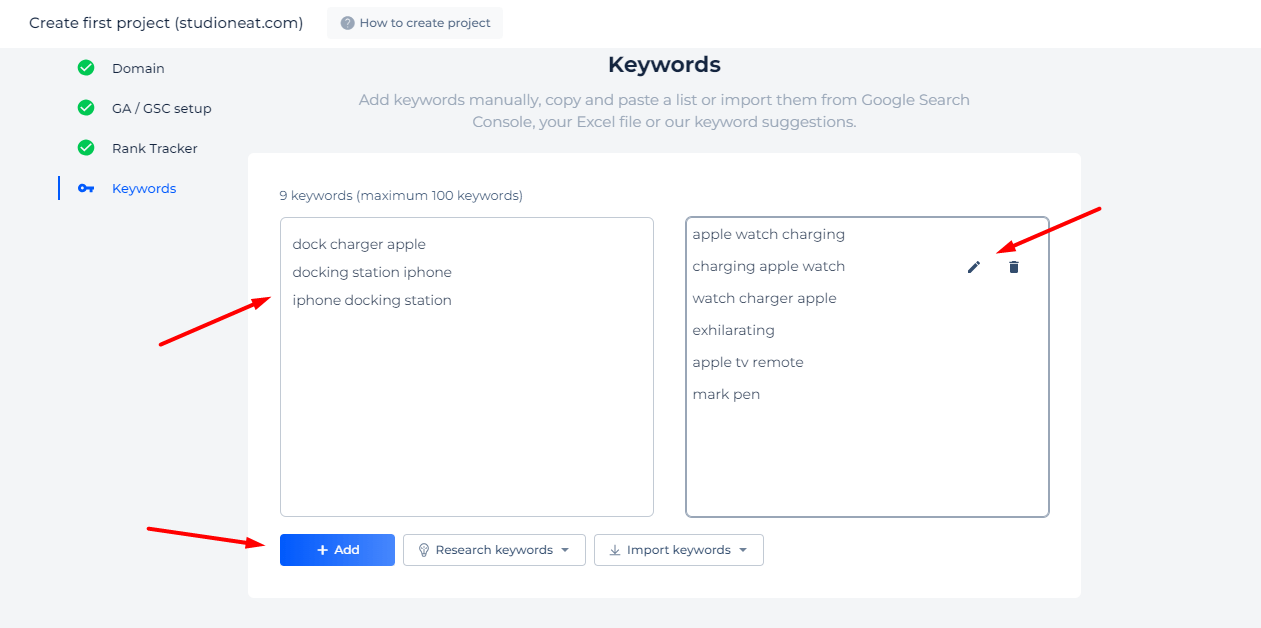 Add Keywords from a File or GSC: You can upload your keyword list from a file if you have previously checked or tracked specific keywords. Additionally, leveraging the feature from the previous step of GA and GSC integration, you can download keywords directly from your GSC account.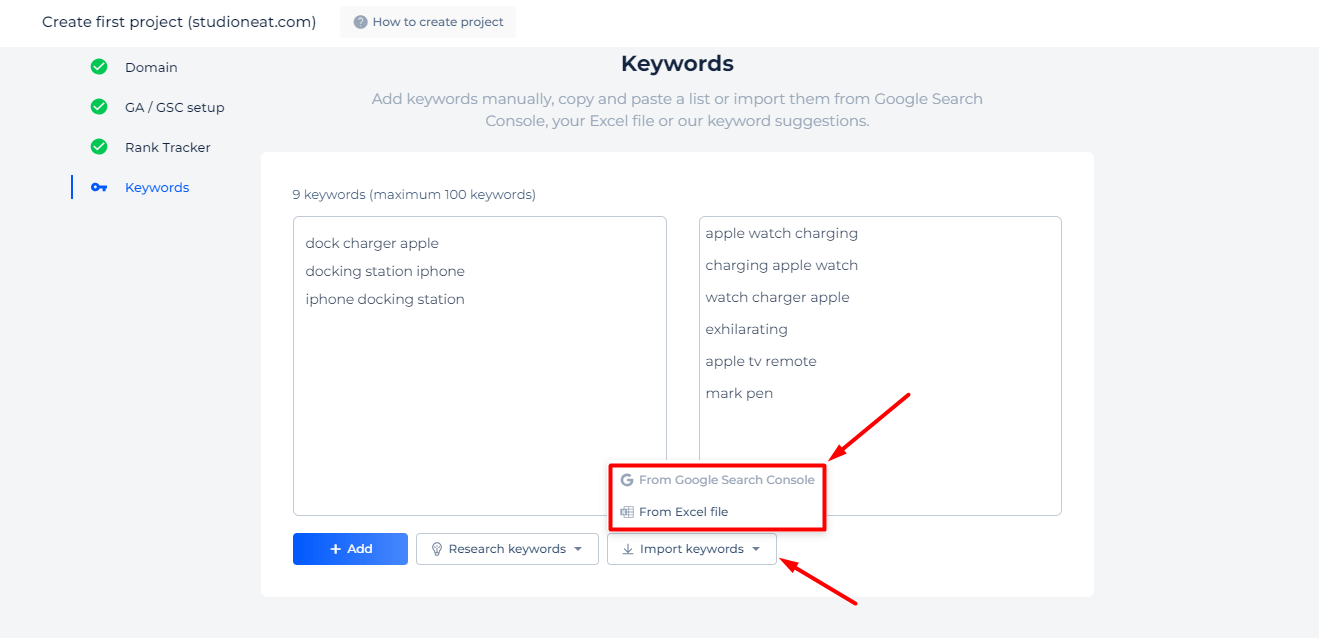 Research Keywords Features: If you don't have a prepared list of keywords or a Google Search Console account, you can use our query research feature. Simply choose the method that best fits your needs, such as researching competitor keywords, your website keywords, and so on.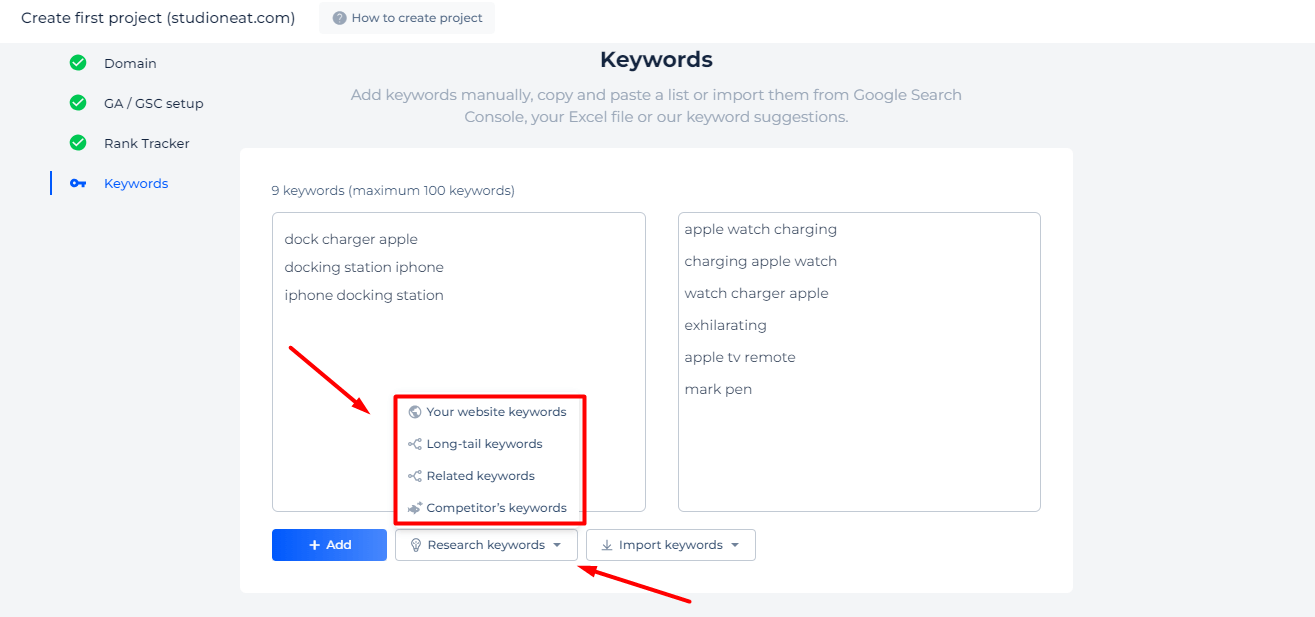 If you use one of the provided methods for researching keywords for the bulk check, you can easily manage the proposed queries. Add or delete them from the list, or try a few variations of finding them, ensuring you create the most comprehensive list possible. The volume and position data will help you choose the most important keywords.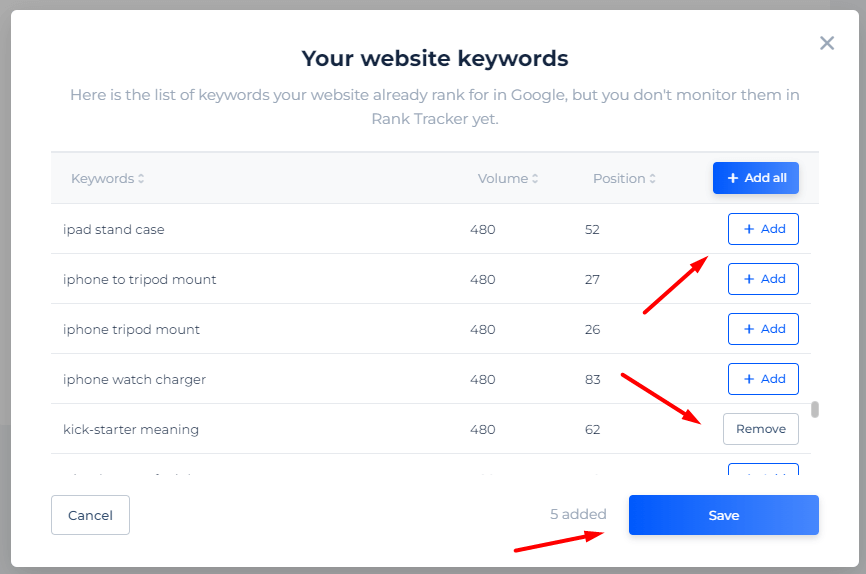 Step 4: Get the results
After retrieving the data, you will see a dashboard displaying the complete list of your checked keywords. This dashboard will include each keyword's volume, potential rank, position, and SERP feature marks. Additionally, you will see the rankings for all keyword clusters sorted by positions, visibility, and index progress.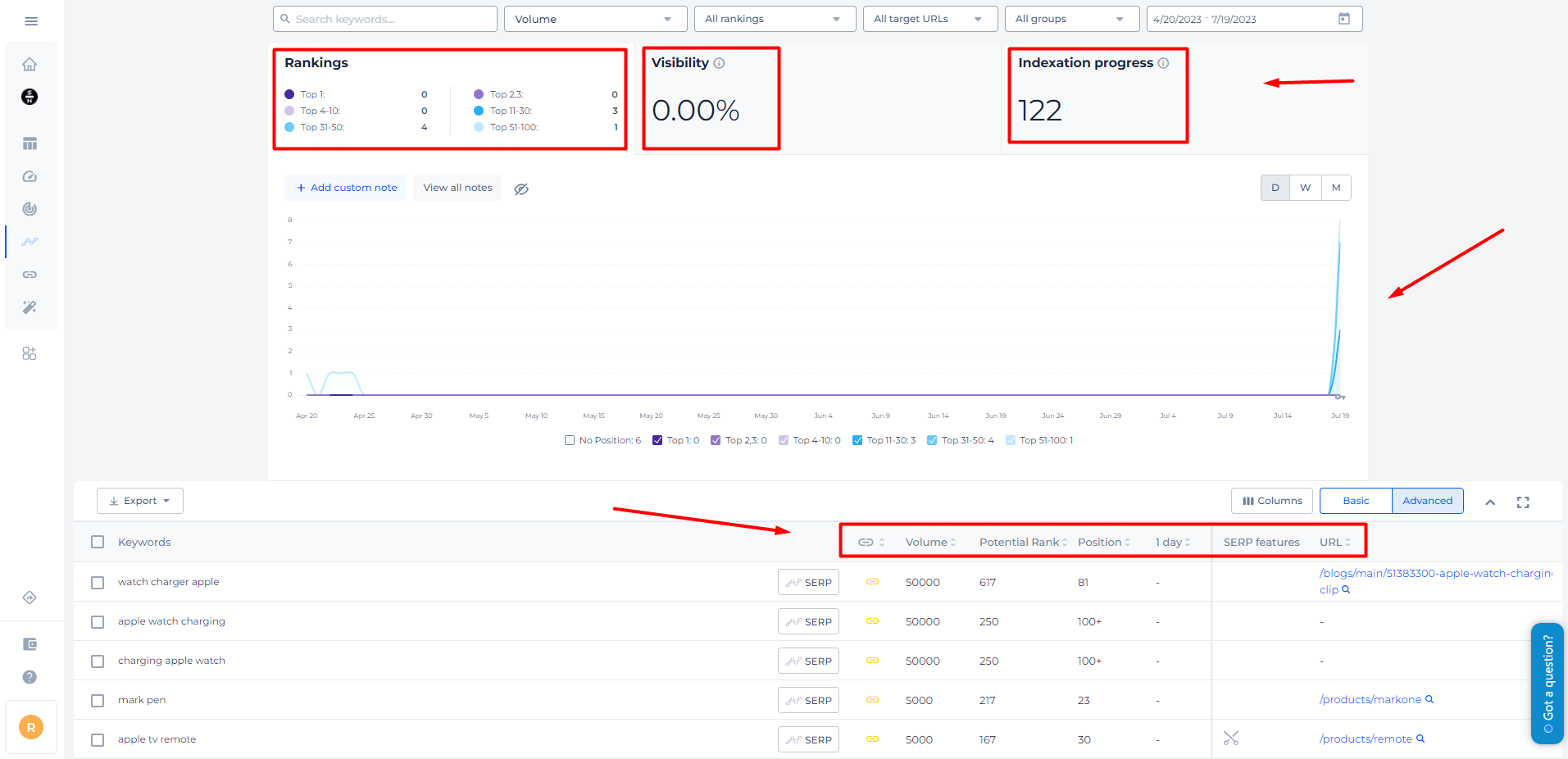 Our professional tool will identify the target URL for each of your keywords, allowing you to check its SERP position and determine who your competitors are in the blue links.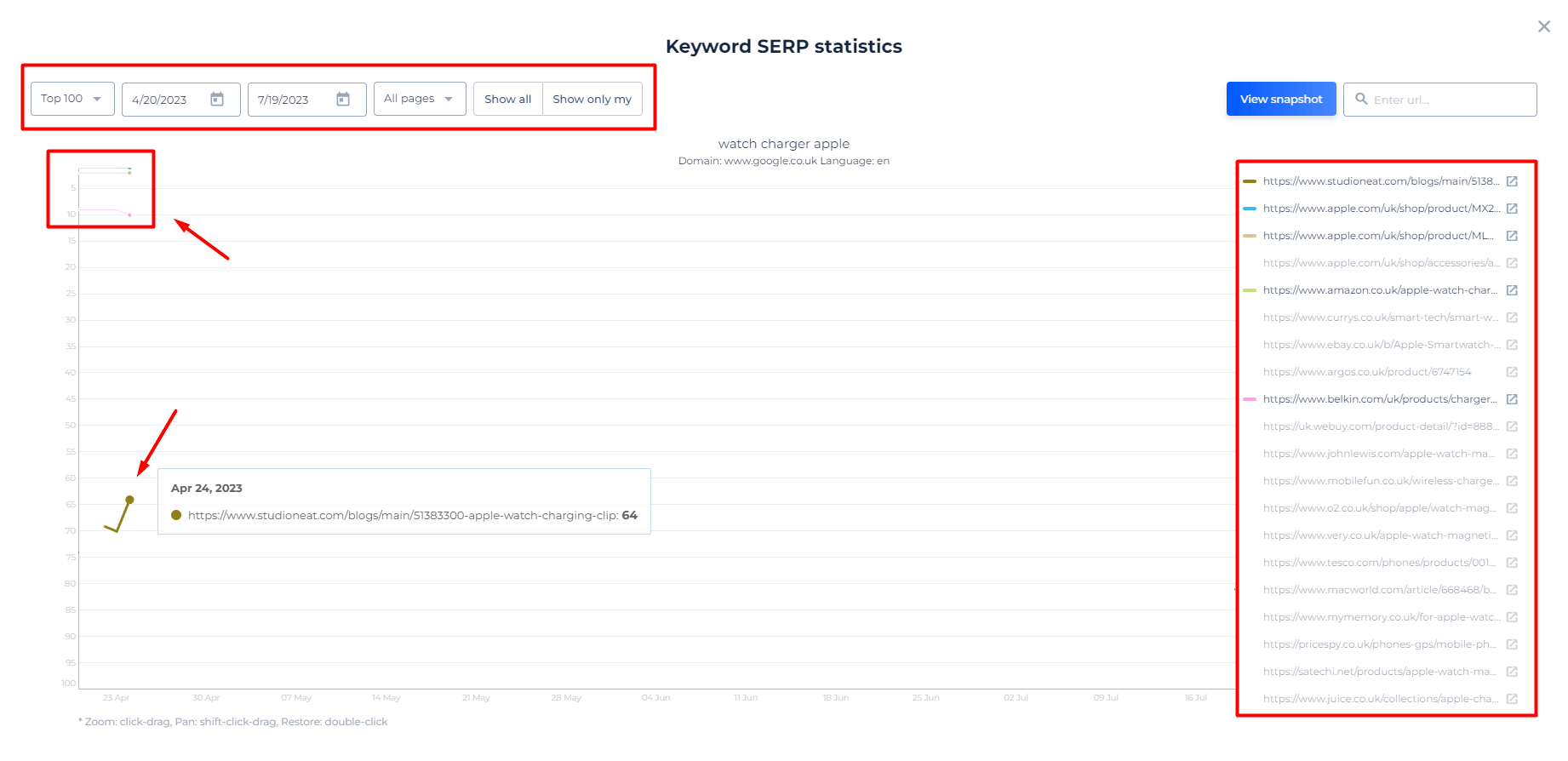 You can group your keywords by target URL to obtain a page-centric view or create groups of pages.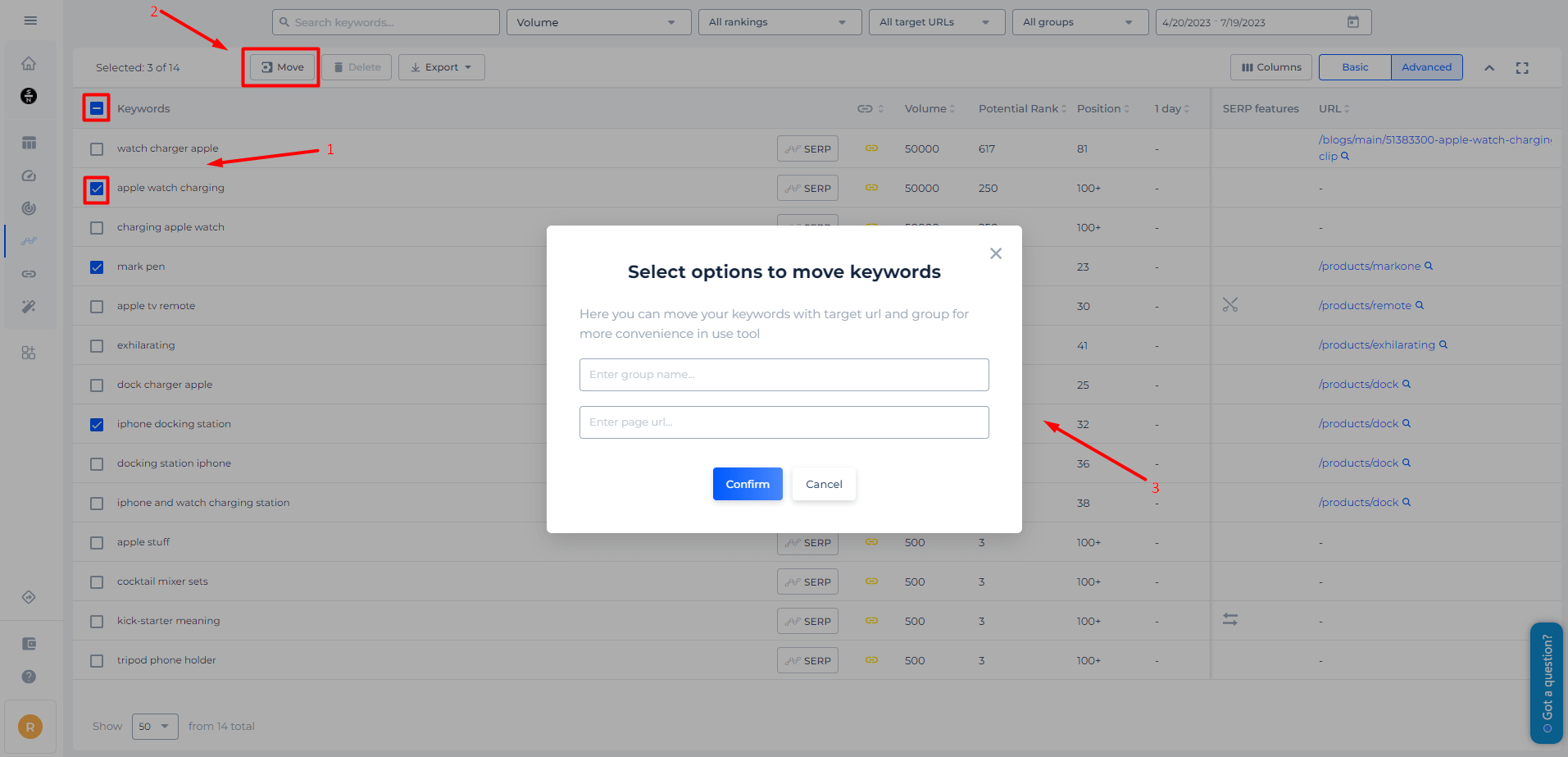 Additionally, you will be able to customize columns and data according to your needs or utilize filters to gain deeper insights during analysis.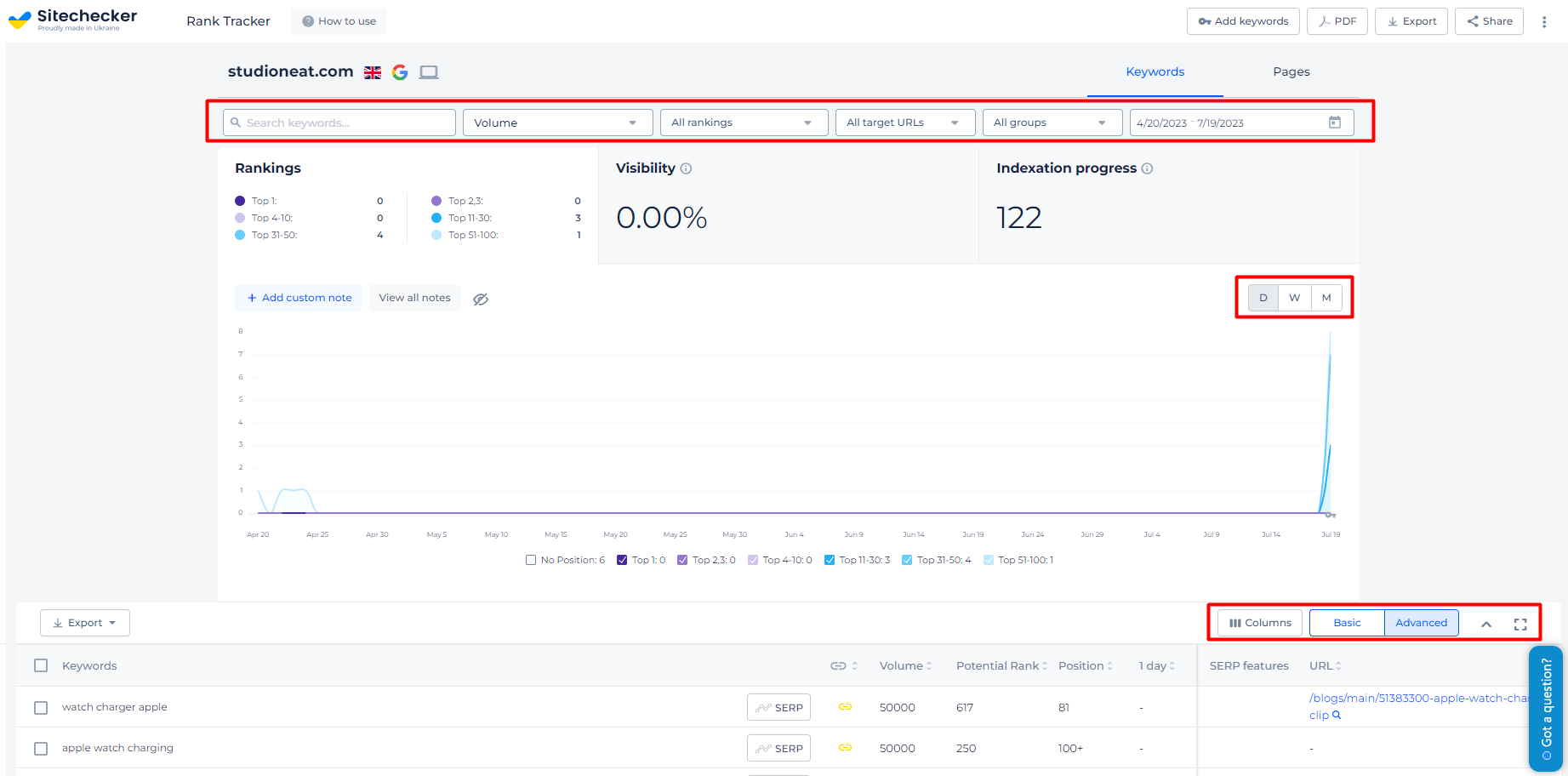 Additional features of the tool
Another feature that doesn't even require a specific setup from you is that after the first check, Sitechecker creates a project for you. This allows you to regularly monitor the ranking of the checked keywords and receive email notifications about your gains and losses. The dashboard offers the capability to save historical ranking data, add new keywords, and utilize all the functionality that could significantly aid your future website ranking analysis.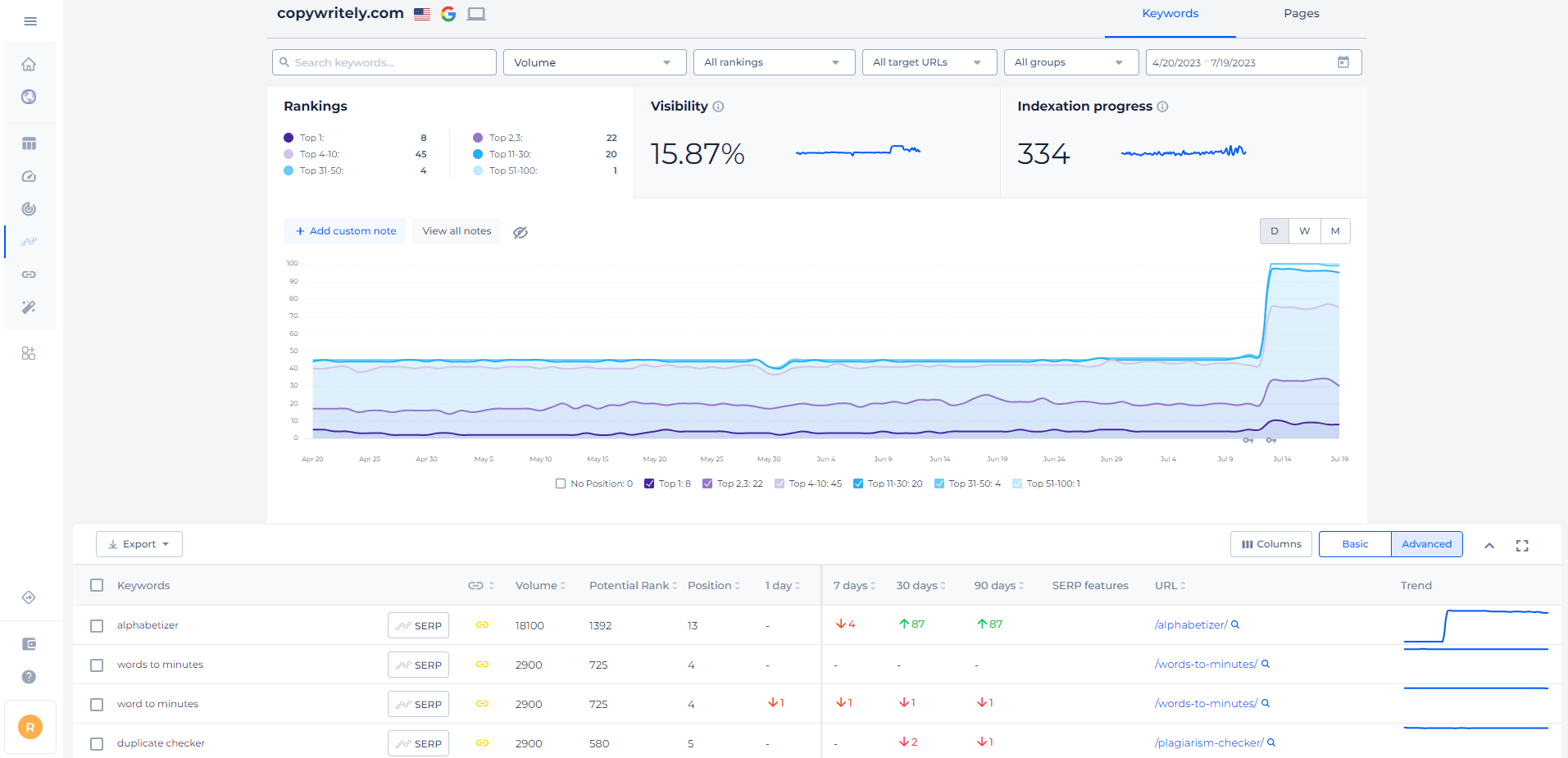 Furthermore, you'll be able to analyze not only the keywords within a page but also the relationships between different pages.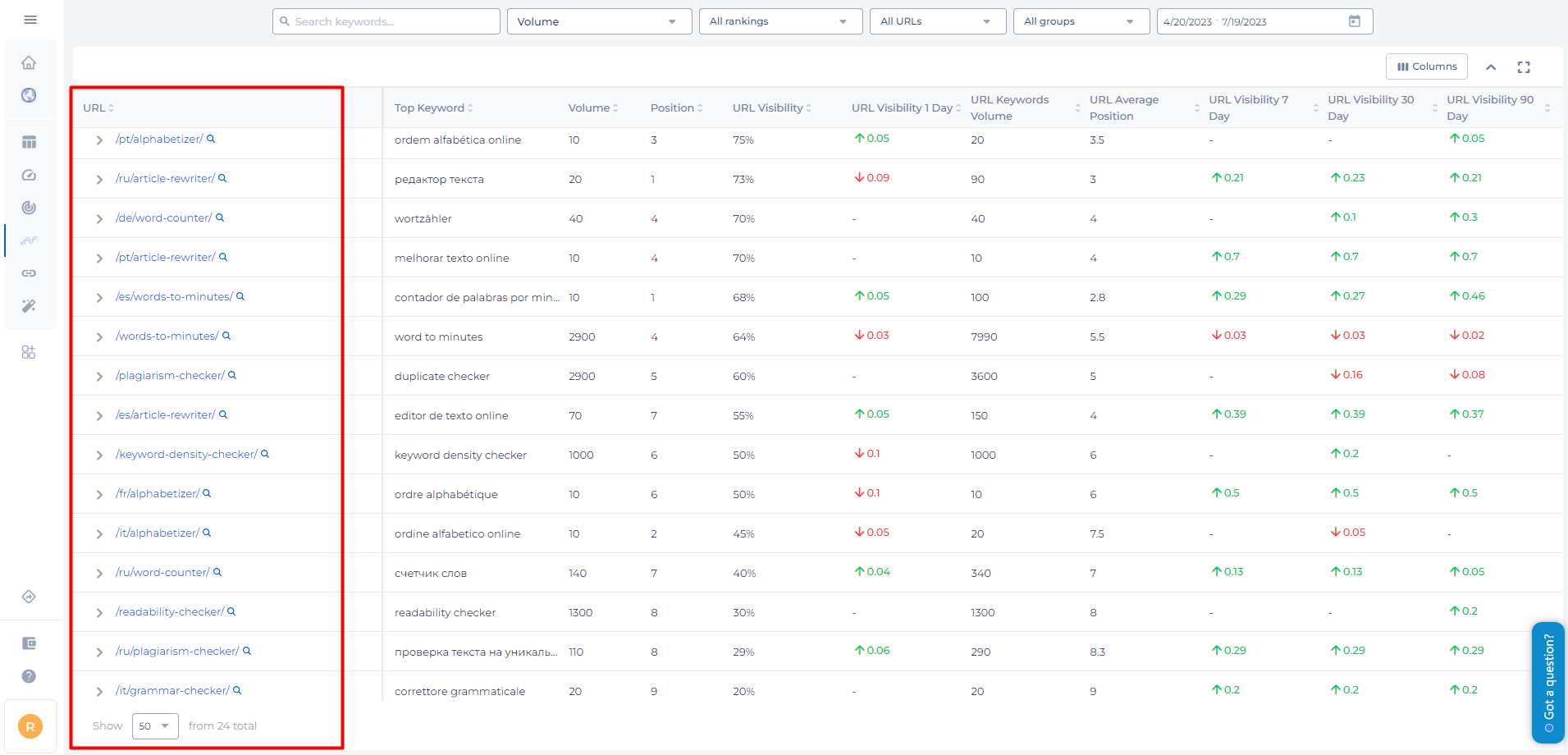 Final Thoughts
The Sitechecker bulk keyword rank analyzer is an efficient tool that lets users check their website's ranking for multiple keywords across different search engines, languages, and regions. Its features include simultaneous analysis of numerous keywords, the ability to review website rankings across various search engines, gathering SERP insights, and monitoring competitors. Users can easily set up the tool to match their needs, and the intuitive interface simplifies data retrieval, filtering, and keyword clustering. The tool also offers regular monitoring of changes with reporting features and a comprehensive SEO audit.
FAQ
What is the Sitechecker Bulk Keyword Rank Checker tool?
The Sitechecker Bulk Keyword Rank Finder is a tool that swiftly assesses your website's ranking for specific keywords across various search engines, languages, and regions in a single operation.
How can the Bulk Keyword Rank Tester help me?
This tool helps you analyze the ranking of multiple keywords simultaneously, identify the ranking page for each keyword, assess your website's visibility, obtain SERP data, review your website's ranking across various search engines, gather SERP insights, track your competitors, and begin consistent tracking of checked keywords.
How can I use the Bulk Queries Rank Checker?
To use this tool, you need to input the domain you want to check keywords for, set up Google Analytics and Google Search Console, define the search system, specify the geo and language, add a list of keywords for bulk checking, and then retrieve the results.