Dead or broken links can hurt your website's ranking and searchability. This is because internal and external links that lead to 404 errors affect the indexability statistics of your website.
For small websites of less than 20 pages, addressing broken links is doable, if tedious. For large sites, identifying and correcting broken links becomes impossible — especially since it can be hard to track reference states when Chrome web documents can refer to pages from several other sites.
What Is a Broken Link Checker (404 Error Solution)?
A broken link checker is a specialized tool that helps you identify such broken links. You check URLs to get a report identifying all the dead references. This lets you address and correct them.
The larger and more developed the website, the more difficult hyperlink maintenance becomes. Since only a few website owners can afford to hire people to handle the task of maintenance, our free online dead link checker tool helps you by:
Checking your website or blog for dead hyperlinks. You're able to check up to 150 links for free; you can check an unlimited number of references with any of our paid plans.
Identifying errors and making suggestions for opportunities to best optimize your website.
Reporting error codes for any broken URLs —including 404 and 502 errors and 301 redirects (Learn what a 301 redirect is).
Fixing end-user usability issues to remove problematic redirects.
Providing high-value links for your website through broken link outreach features.
Offering full functionality without creating an account or downloading any software.
Scanning both internal and external hyperlinks.
How To Use the Broken Link Checker
Using our broken link scanner to test the health and SEO of your website is as easy as copying and pasting your website's URL. Check out our URL definition page for an in-depth explanation of this foundational element of your site.
The scanner is available in two forms: checking a domain or a specific page. Choose the option that best suits your needs, after that, insert the URL or domain and begin your free trial. It just takes a second and is completely free. The tool will start analyzing data after that. You can learn how to begin scanning in the instructions below.

Domain Check
Step 1: Insert your domain and start the free trial
If you'd like to verify a domain, go to the "check domain" button. Put your domain name into the box below, hit the free trial button, and you're ready to go! You don't need a credit card, simply log in using your Google or Facebook account to begin your trial. It's really simple and quick!
Step 2: Get the result
Scanning a domain comes with a free full-site audit. Our crawler will find out the list of URLs with 4xx status code, that other pages of your website reference to them. That will help you to fix the broken links problem for the full site and find out if the new broken links will appear. By clicking on the issue you will find out the list of URLs with that kind of issue, a button to find out the internal references for that broken pages, and how to fix instruction.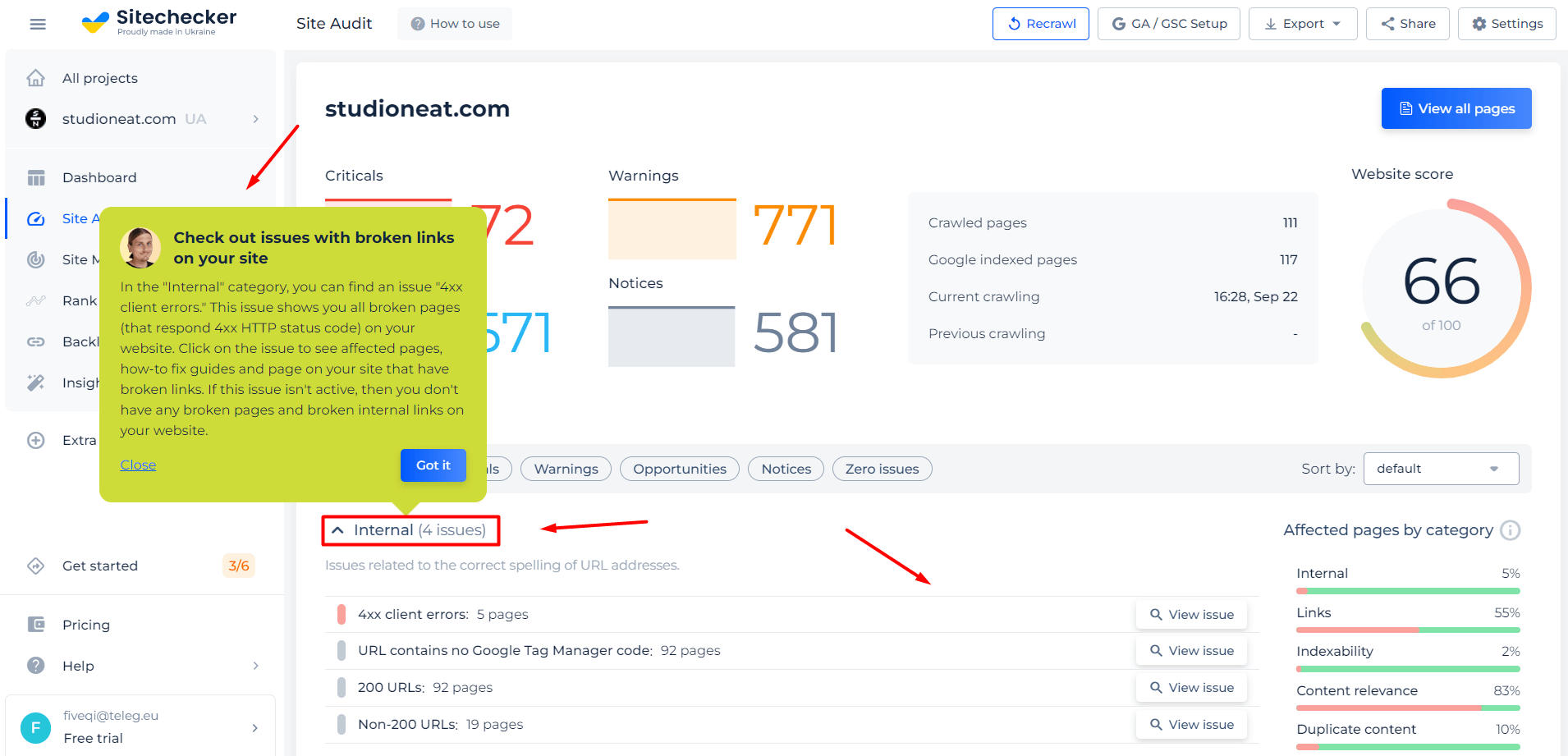 Additional features of domain/website broken link scanner
On the site audit summary page, you will get not only the 4xx error issue, but also the full list of other internal issues that exist on your site.
Also, you can other problems categories by type, such as Criticals, Warnings, Opportunities and Notices. Alternatively, you can view them based on category-for example Links, Indexability or Content Relevance. This makes it much simpler to focus on fixing the issues that will have the biggest impact on your website's success.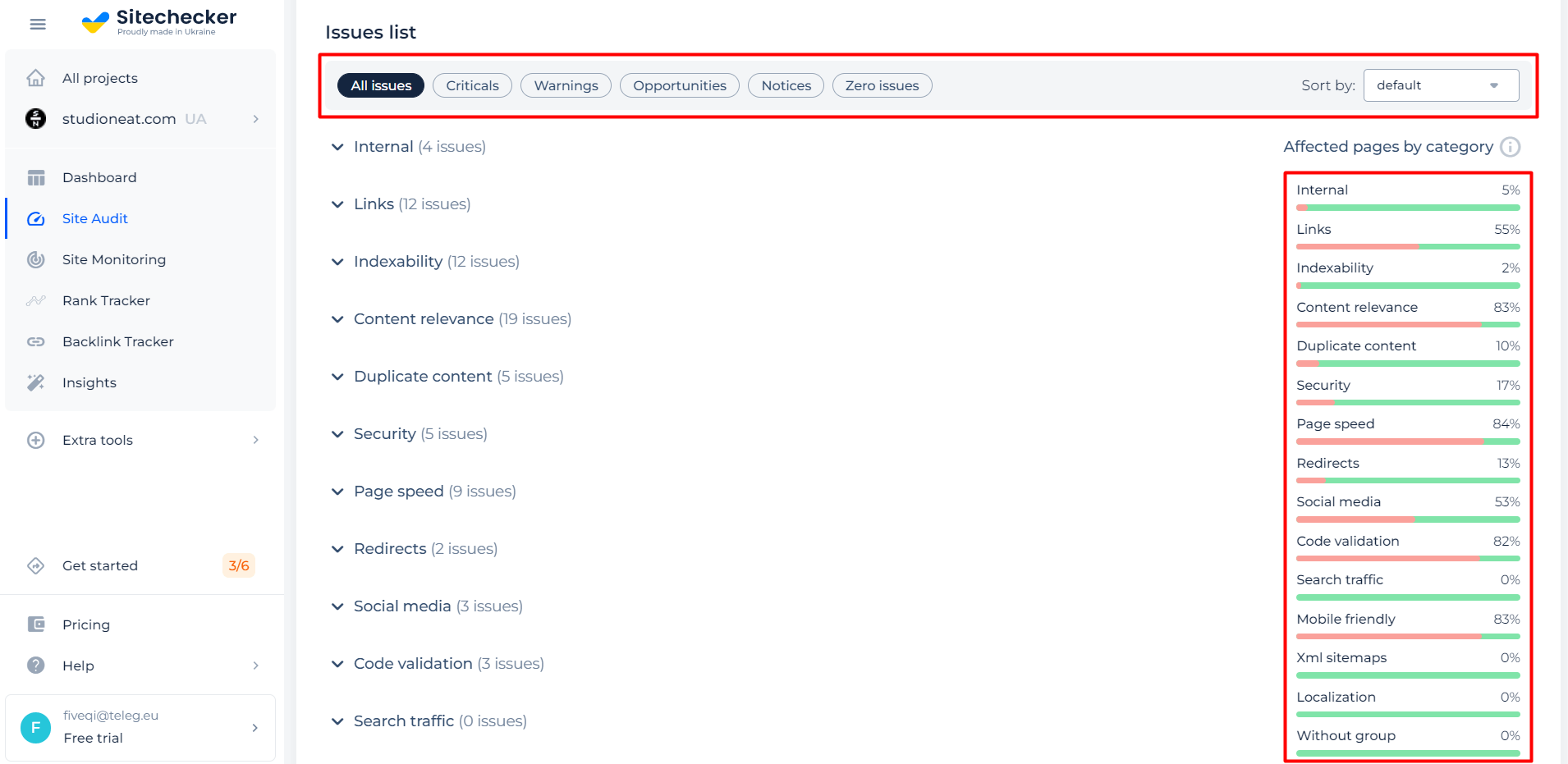 Page Check
Step 1: Insert your URL and start free trial
If you need to check a specific page, enter your URL below to get started. It's easy and fast! No credit card is needed – you can even use Google or Facebook to sign up for a free trial without any hassle at all.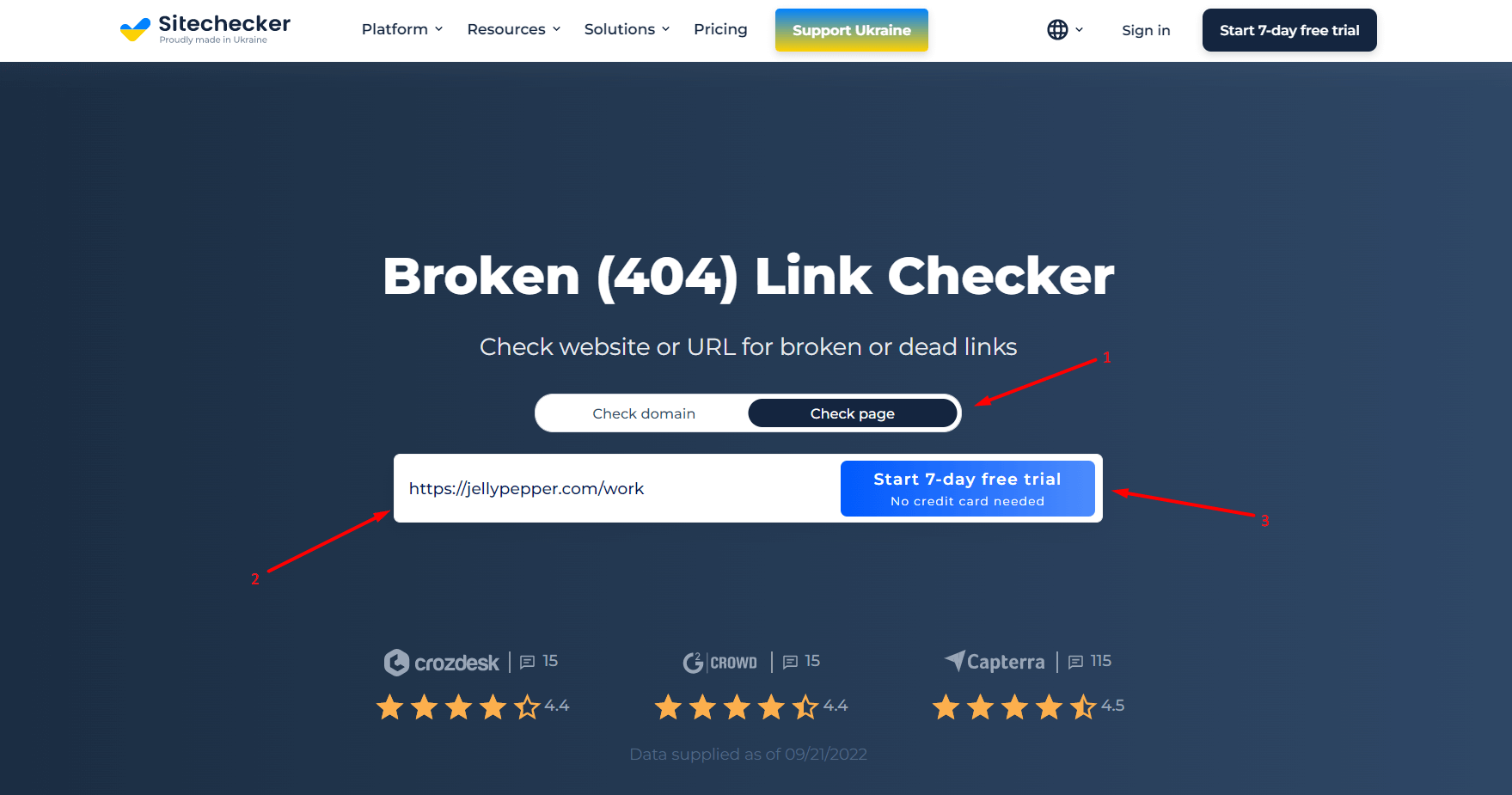 Step 2: Broken link checker results analysis
We will crawl your site in order to obtain the data for the URL you added to our tool. This process should only take a few seconds. On the result page, you will find links data like internal backlinks, internal links that go to your page, and external links that go from your page to another. To understand the analysis of the results, what you want to see for each reference is "200 OK." A 302 redirect is acceptable so long as "200 OK" follows after it. Look out for any references that show "404" or "502" errors. Also, there is information if links to follow or no follow and what anchor they have.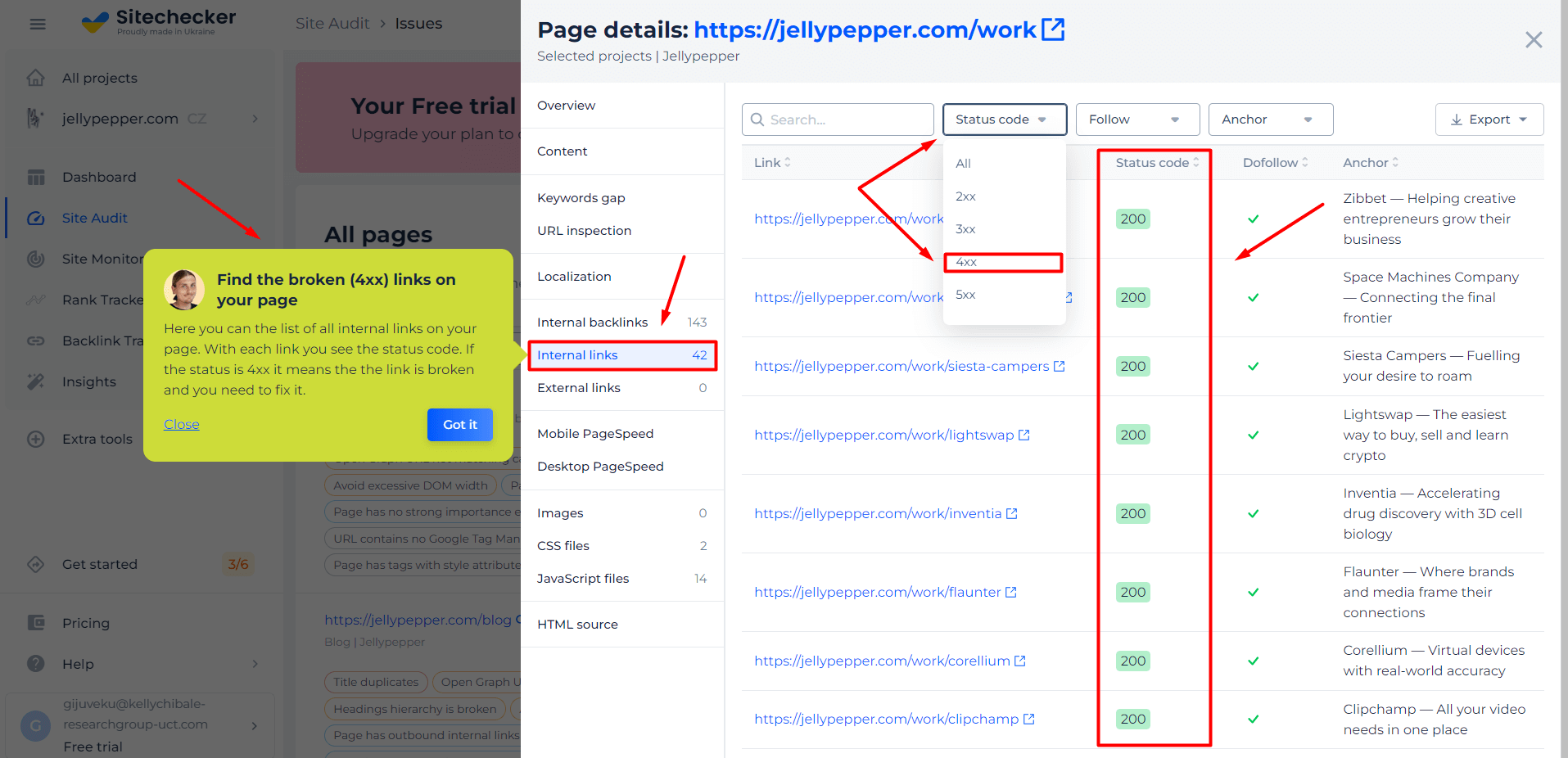 HTTP 404 Not Found error codes mean that the web server could not locate the requested resource. That resource could be a file, an image, or another webpage. HTTP 502 Bad Gateway error codes mean that the web server received an erroneous or invalid response. The web server functions as a proxy when it receives an invalid response from the upstream servers.
Additional features of URL broken link checker
The page check allows you to look for other problems with the page you examined, such as content, localization, page speed, and so on. You may improve your page and whole website performance by identifying these issues.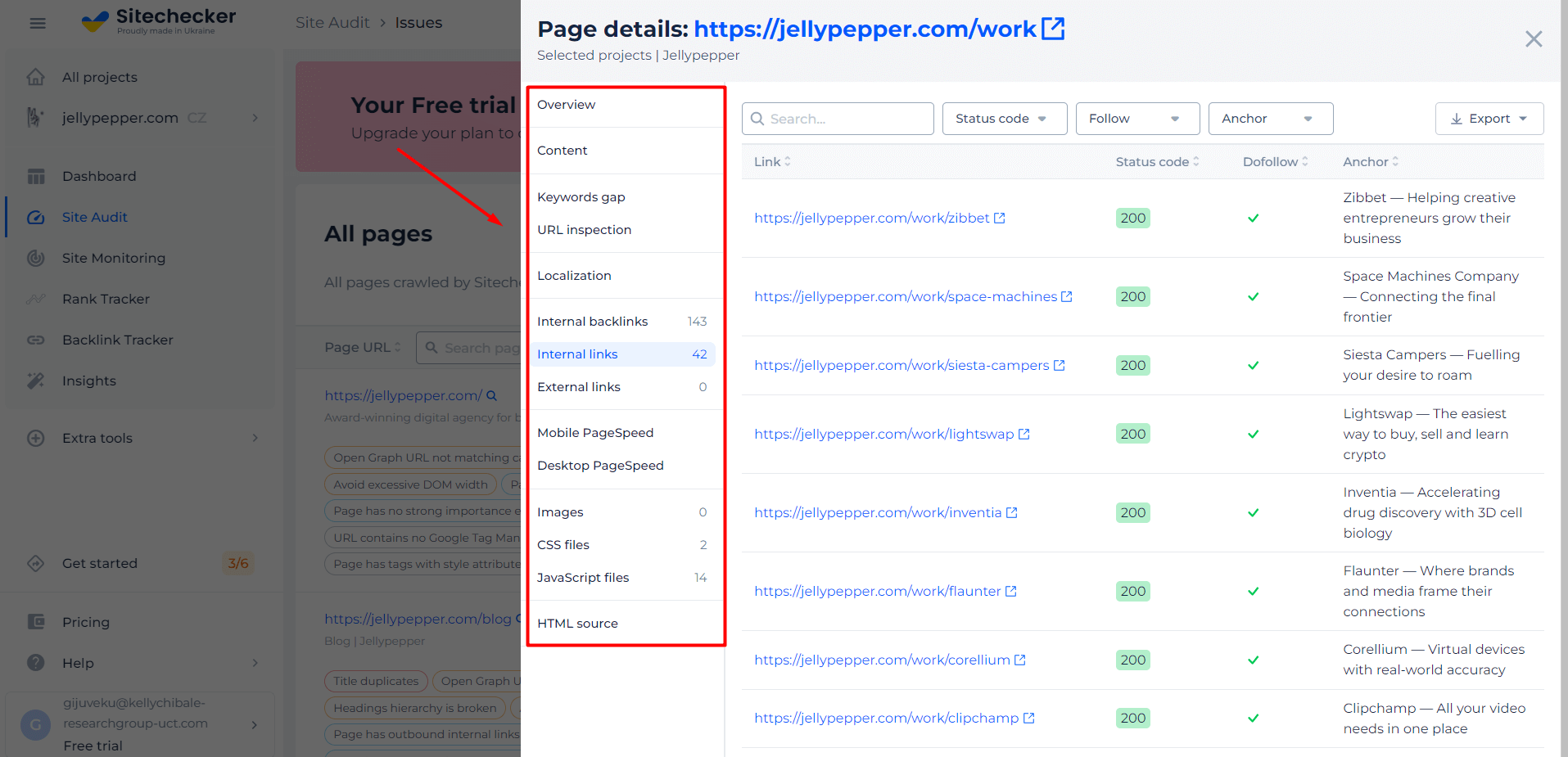 If you want to check out some other pages on your site, it is super easy because we already make the audit for your site. So just close your page details and on the "All pages" enter the URL you're interested in into the search box. You can get more details by clicking on the URL.

What Is a Broken Link (404 Error)?
A broken link is a URL that returns an answer that says, "page does not exist or cannot be found." This means that whatever page, document, or image the reference requested may not exist. Thus, the reference is "dead." This can be as simple as broken images that are no longer hosted on sites like Filehippo, or something more serious, like expired domains.
Dead links are hard to fix because they are invisible to web admins unless they are being checked. Most business websites lack dedicated web analytics staff and software for tracking dead references. Over time, as websites and the online topography shift and evolve, links that may have once been working break unnoticed.
Users won't care that a reference used to work, only that it doesn't work anymore. Since many web admins have other responsibilities, website maintenance often gets neglected. This leads to broken links and messy website architectures.
Why Are Broken Links Bad for SEO?
Broken references create a negative user experience and signify that a website is not a reliable source of information. For users, finding broken links on a site negatively affects their perception of its quality and reputation.
Web search engine site crawlers and search robots are what examine and index pages. They then make them accessible to users. Knowing that, it's easy to understand why fixing dead and broken links is so important for placing on the first few pages of any search engine.
It is the task of webmasters and site owners to ensure that no references lead to non-existent pages and files throughout a website. Users expect that any external or internal links they click through will lead them to the relevant page.
Another reason for eliminating broken links is optimizing search engine indexing. A search engine uses a website crawler tool to update and index web content. When a search engine website crawler (also called a spider) crawls your site and finds too many broken and dead references, it will affect your website's rating.
What Causes Broken Links?
Every day, the number of new pages indexed by search engines grows by thousands, if not tens of thousands. There are similar numbers of removed pages and changed URLs as live websites change CNCs and content, add new pages and files, and delete old ones.
Below is a list of common scenarios that can lead to dead and broken references:
Deleting old pages, HTML files, sheets, and documents that have become unnecessary or redundant

. You might neglect to update links to these pages during website development.

Linking to an external page from another site that has changed its URL

if it doesn't redirect t

o the former URL address. This can be a change of domain name, a change in the site's structure, or even an outright page deletion. Sites can move to domain names with "www" without configuring 301 redirects. This breaks any references to the former URL throughout every other site on the web.

Automatic content updates to external sources can cause hyperlinking failures and dead links. For example, online stores and delivery services that regularly update their catalogs can lead to broken references. Check your pages if you've linked to products that have since migrated to new URLs
Technical and structural website translation can create dead links. Content is sometimes reorganized under a new style without accounting for existing hyperlinks. This is an especially common problem for external references. Restructuring can involve a lot of data. And, technical algorithms may not consider all the nuances of moving page content. It can affect your internal backlinks if you aren't careful about conducting your site's version restructuring.
There are many more reasons that links can break, but we've identified the most common causes above.
We've outlined various causes for broken links. Broken references are a natural and inevitable process of building websites. You can be careful to ensure your website's internal links are always operational. But, you have no way of controlling what happens to backlinks on other pages and websites that you've linked to externally.
The larger your website, the more often you refer to other internal and external sources. External pages, images, files, videos make it more likely that some of your links are going to break. The best that you can do is practice proper maintenance and reference "hygiene."
Search engines and web crawlers understand this reality of link "rot." Search engines see references that direct your visitors nowhere as a bad sign. It shows that your site is badly maintained and out of date. They consider websites with a high volume of functioning links current and relevant. Thus, proper checking and link repair are necessary to meet and maintain high search engine rankings.
Run a Full Audit for Deep Analysis!
Crawl your site and find out all URLs with issues that can hart your users or your website SEO.
How to Fix?
Our broken link checker tool helps you identify which references need repair and maintenance. But, you will need to repair any broken links identified manually. For example, you might need to reference an obsolete or consolidated Wikipedia page under a different URL. You will need to manually change the URL of the broken link to point to a new page.
This video will walk you through how to get started:
You can go here for a more in-depth guide to fixing linking issues.
You will need to restore or redirect broken links to appropriate replacements. You can improve navigation and indexability by deleting dead references. Doing this will help you recover "link equity" and maybe boost rankings.
If one of your links has broken due to a defunct website, you have two options. Check whether the website you linked to still exists. If it does, try to find where the external page may have moved the content you'd linked to before. If not, you can either plugin a link to a copy of that same page stored on a web archive or find an adequate replacement.
If the external site you've linked to has become unavailable, then the issue may be temporary. Websites often get taken down for maintenance, hosting issues, and even the occasional DDoS attack. This is particularly true for websites of major companies and financial institutions. Check if the site has been unavailable for an extended period. Check for a forecast on when service will return. If there's none, consider finding an alternative website to reference to. What choice you make will need to take into account the reason why your link broke.
Websites like blogs may start with direct paths to different articles from the domain. As the number of articles grows, the site's web admins may decide to group similar articles into categories. This can change the URL location of their articles. You'll need to update the paths for your links, so they lead your users to the right pages.
If the page is gone and you can't find a substitute for it – there's very little you can do; you'll have to remove the broken reference. To avoid website indexing problems from broken links, be sure to close out any broken links in your site's robots.txt file (Learn what robots.txt is).
Look for potentially redirected domains that you don't remember linking to. Remove or replace broken redirects to improve user experience. This will prevent bad links to harmful sites that could hurt your SEO. Other websites you reference to might not notify you of any changes to their sites.
You will need to fix the broken reference settings manually. But, being able to know, at a glance, where you need to start is a huge time saver. Once fixed, you'll be able to provide your site's visitors a much more enjoyable and content-rich experience — no matter how they had arrived at your site. Additionally, fixing your broken links will raise your search engine rank. This makes new users more likely to find your site. More visitors will increase your web traffic, sales, and revenue. You may need to wait a day or two after making your fixes to reflect the new results.
We have more in-depth articles that you can follow. These identify and resolve issues with more complex broken links related to broken CSS files or even a broken JavaScript file. A full suite of SEO analysis and auto-optimization support tools are available. Plus, there are tons of guides on every aspect of website maintenance.
FAQ
What is the best broken link checker?
Sitechecker.pro's broken link finder is one of the best available online for Microsoft Windows, Linux, and Mac. Unlike its competitors, it works on any OS.
How do I know if my broken links are fixed?
Re-run the URL through the Sitechecker.pro broken link checker tool. This will show whether the fixes you've implemented have resolved the broken reference issues.
How to remove broken links from my website?
You can either repair the broken references, replace them, or remove them.
How to restore a broken link to an external resource?
If you can't find the page, or if the site no longer exists, consider linking to an alternative external resource.
How to find broken links (404)?
The easiest way to find broken links and 404 errors is to run your URL through the Sitechecker.pro broken link detector.
How to find 404 errors with GSC?
Google Search Console provides a comprehensive list of every 404 error Googlebot finds on your site, including hard 404s and soft 404s. To access this information, login to the search console and click coverage. Then, select the Excluded tab to see a list of all errors. You'll get a list of hard 404 errors marked Not found (404) and soft 404 errors marked Soft 404.