What is a 404 Page Checker?
A 404 link checker is a software solution that assesses websites for broken or dead links. These hyperlinks, when clicked, lead to unavailable pages or 404 errors, negatively impacting the user experience and SEO. Search engines may perceive sites with multiple inactive links as poorly maintained.
Our free online dead link checker tool helps you by:
Checking your website or blog for dead hyperlinks. You're able to check up to 150 links for free; you can check an unlimited number of references with any of our paid plans.
Identifying errors and making suggestions for opportunities to best optimize your website.
Reporting error codes for any broken URLs —including 404 and 502 errors and 301 redirects.
Fixing end-user usability issues to remove problematic redirects.
Providing high-value links for your website through broken link outreach features.
Regularly monitoring the website for any new broken links that may appear and promptly fix them.
Key features of the 404 site checker
All-in-One Dashboard: All data regarding broken or dead links from your site is consolidated into one accessible place, offering a simple and efficient way to manage link health.
Intuitive Interface: With our user-friendly interface, the 404 tester ensures seamless navigation through your website's link metrics, making it easier to identify and rectify web address issues.
Link Status Analysis: Stay proactive by evaluating the status of all your links. Understand which ones are working and which are broken, and utilize these insights to maintain the overall health and integrity of your site.
Comprehensive SEO Toolset: Our platform offers more than just checking 404 errors on the website. With features such as SEO audits (on-page & off-page), rank tracking, and site monitoring, Sitechecker equips you with the necessary tools to address website threats and capitalize on opportunities.
Domain and Distinct URL Check Capabilities of the Free Website Error Checker
There are two methods to check for 404 errors on a website, namely by domain or by searching on a specific page. Opting for the domain check is useful if you want to verify all links on a website and spot any dead URLs across the entire site.
However, the URL check is more suitable if you need to focus on a specific page, including all its links and related data, such as HTTP status codes. Select the method that suits your needs, input the domain or URL, and use the "Find broken links" button. Once initiated, the tool starts analyzing your site data.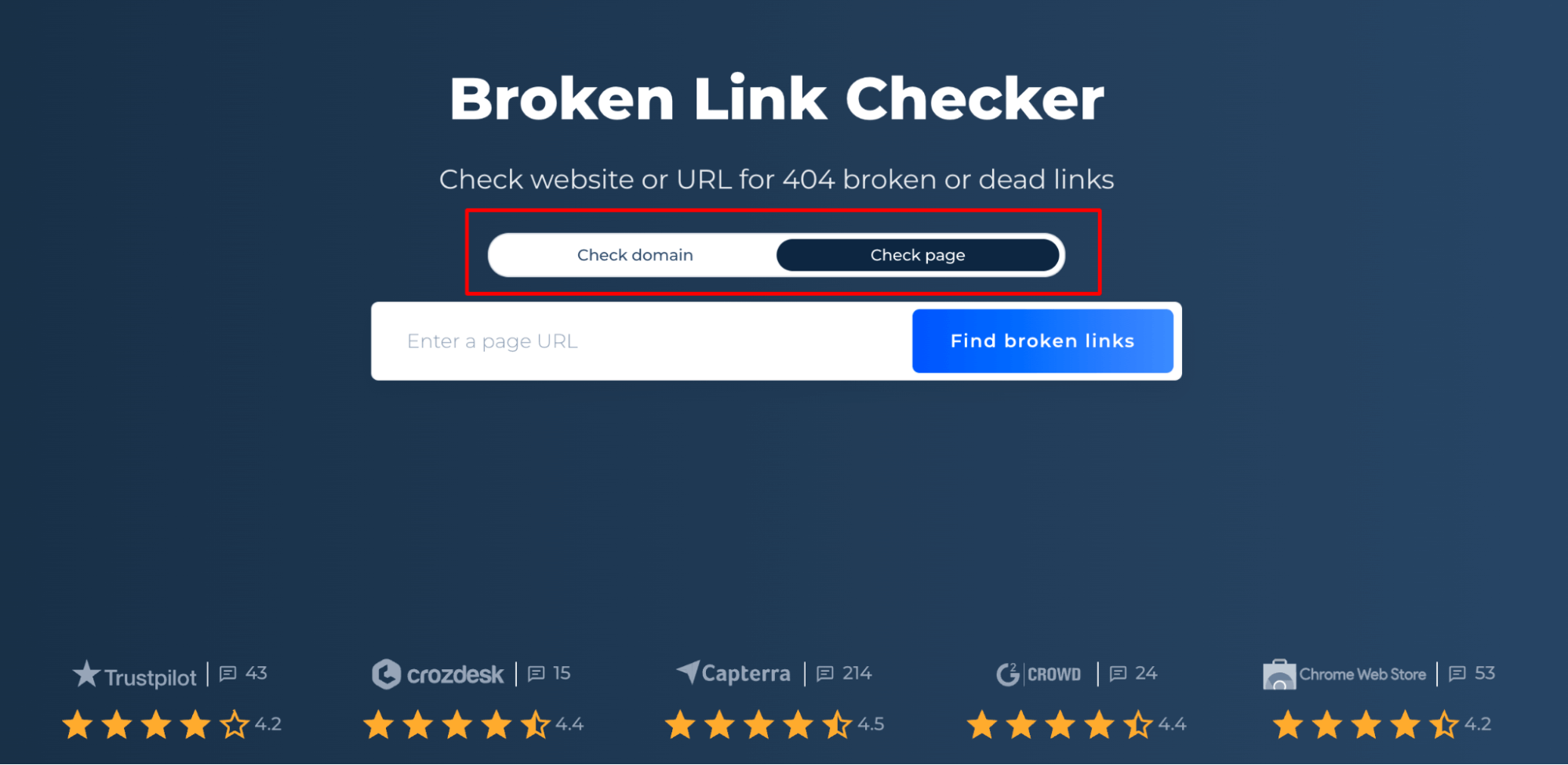 To receive results and access to Sitechecker's features for 14 days, start your FREE trial. Sign-up is easy with your email, Google, or Facebook account. No credit card is needed.
Domain Check
Step 1: Choose "Check domain", enter your URL, and click the "Find broken links" button to initiate the check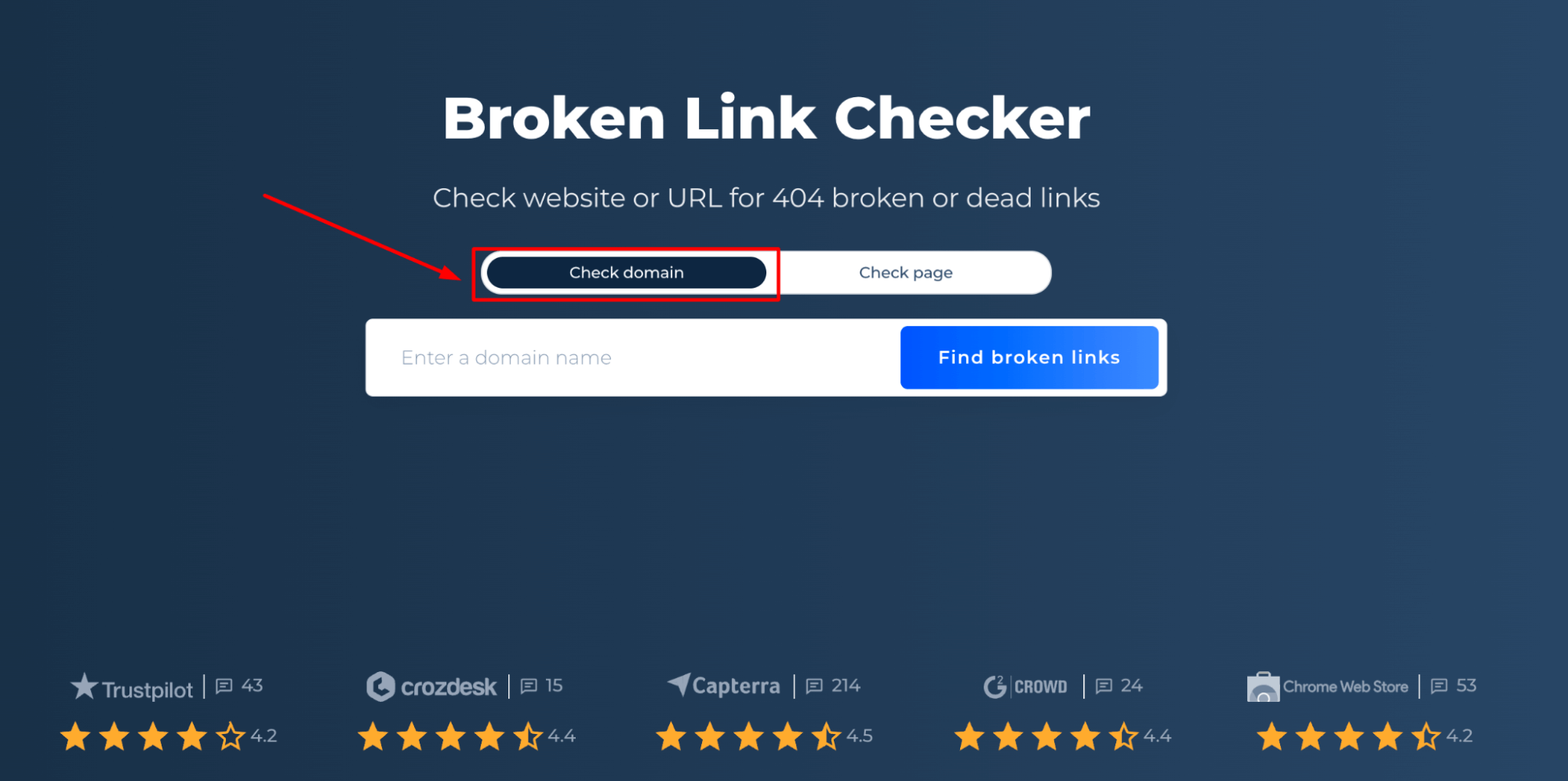 Step 2: Results analysis
Scanning a domain comes with a free full-site audit. You can identify 404 URLs and determine their location on any CMS platforms, such as WordPress, Joomla, Drupal, etc.
Our crawler will find out the list of URLs with 4xx status codes, that other pages of your website reference to them. That will help you to fix the inactive URLs problem for the full site and find out if the new dead hyperlinks will appear.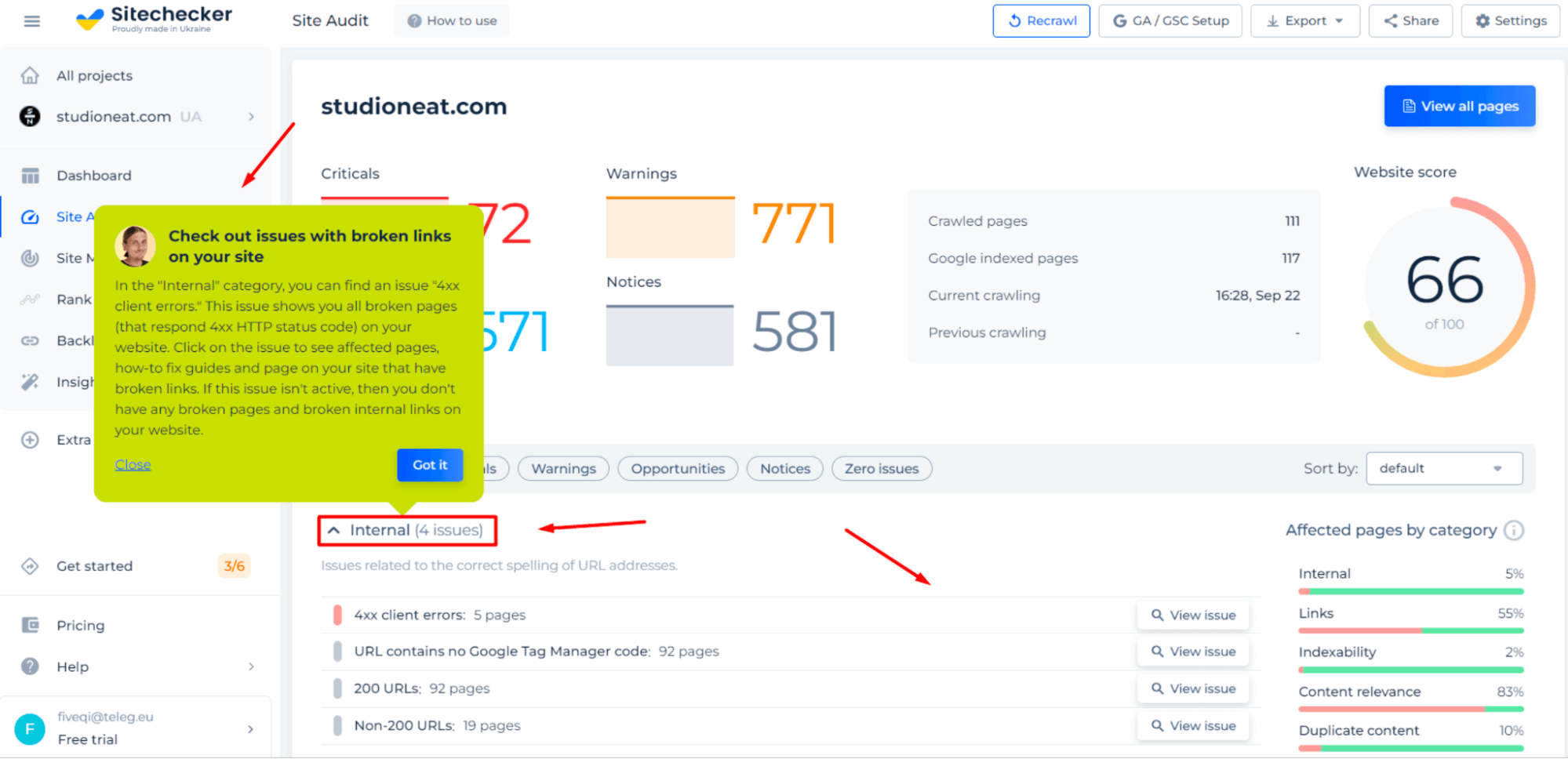 By clicking on the "View issue" you will find out the list of URLs with that kind of issue, a button to find out the internal references for that broken pages, and how to fix instructions: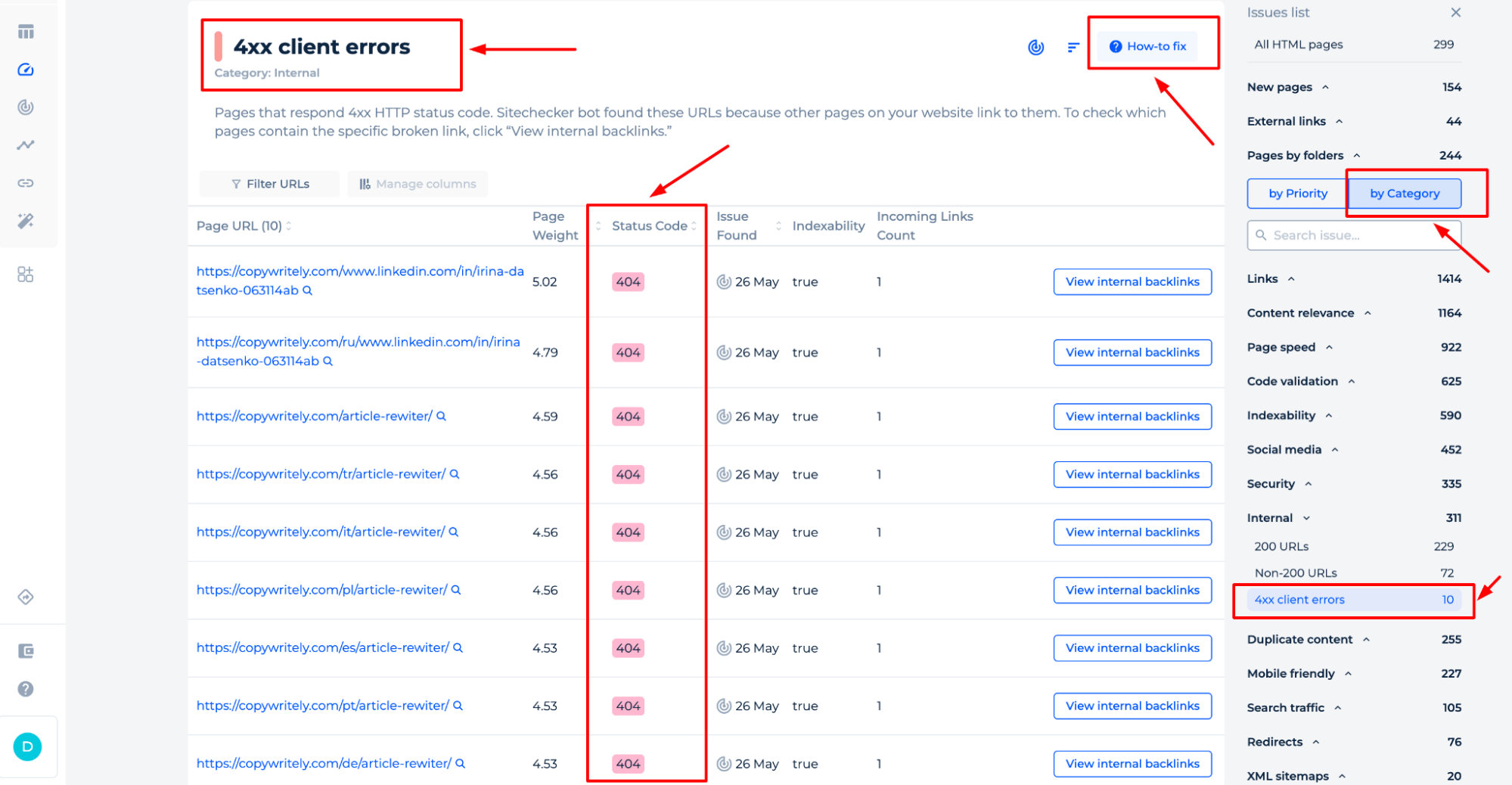 Additional features of domain/website Broken Link Scanner
Clicked on "All HTML pages", you will get the full list of URLs of your website and other internal issues on your site. Issues are organized by categories and types, and you can easily switch behind them. The types are Criticals, Warnings, Opportunities, and Notices. Categories for example, Links, Indexability, Content Relevance, etc. This makes it much simpler to focus on fixing the issues that will have the biggest impact on your website's success.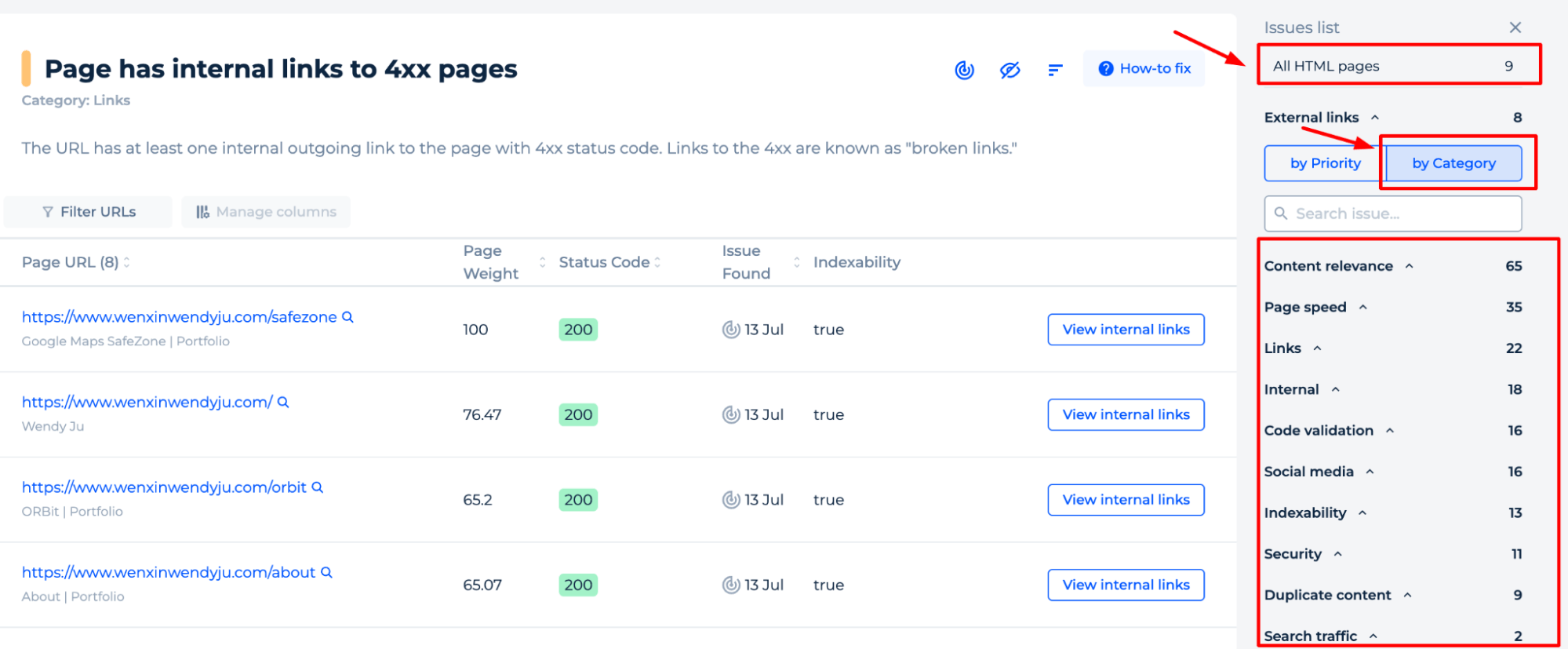 If needed, you can filter by the URLs or set up additional data for the pages that will help you work with them.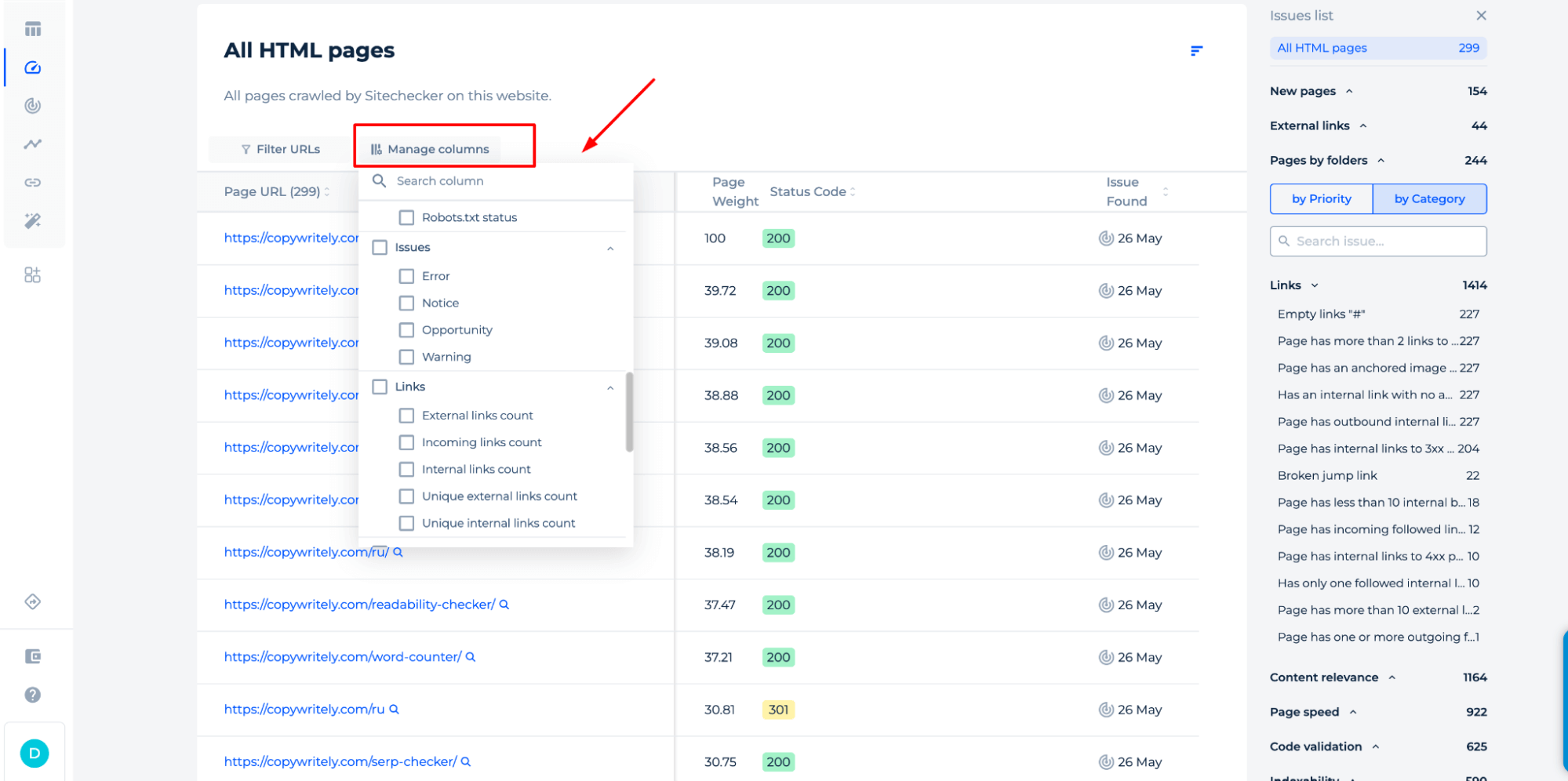 Additionally, you have the option to download and export crawler results to PDF or CSV files, Google Sheets, or simply copy them as needed.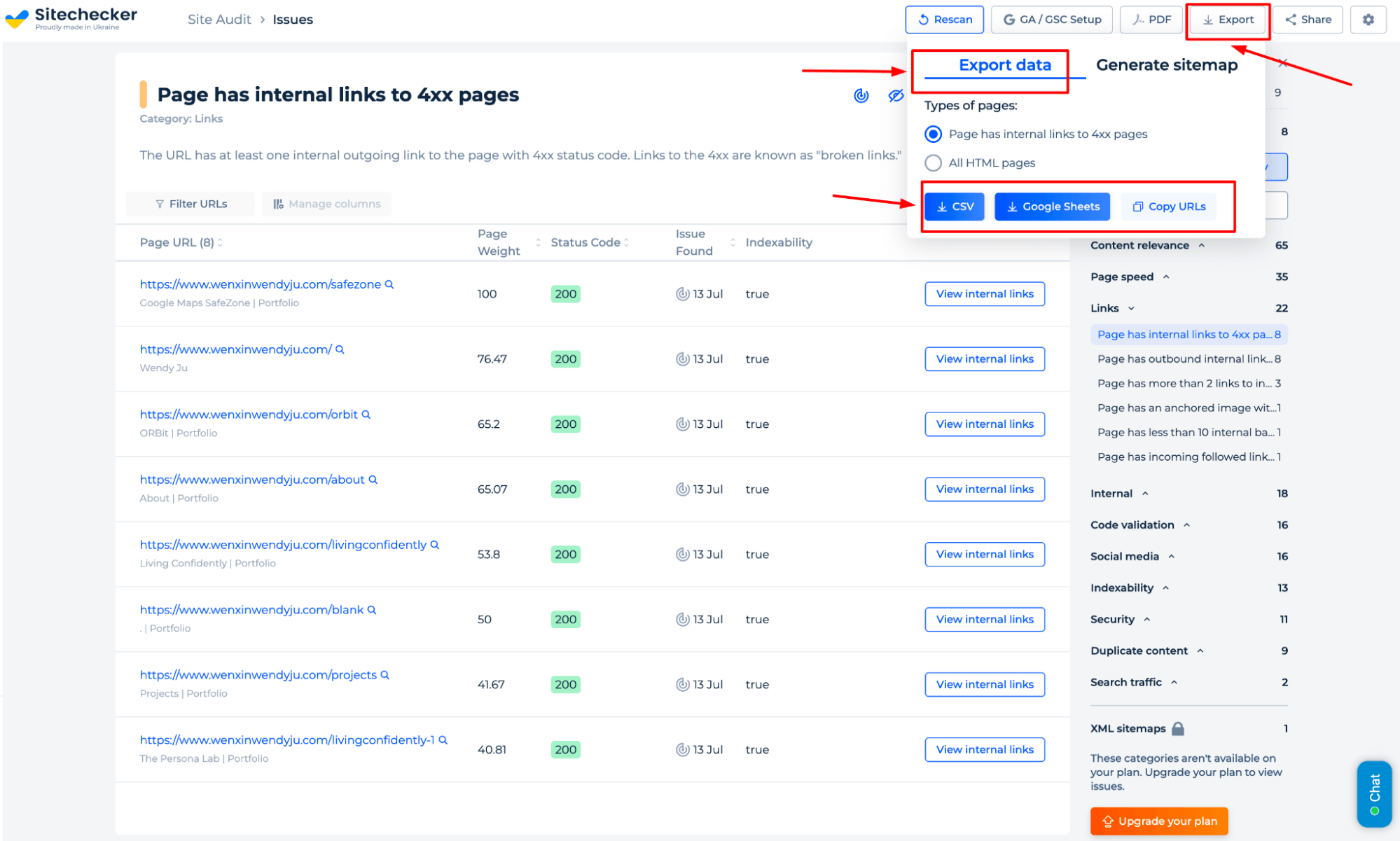 Downloading and exporting crawler results in multiple formats benefits freelancers and SEO managers by providing versatile data for analysis and manipulation.
This feature enables efficient report generation for clients or stakeholders, facilitating clear communication of findings and future strategies.
When data is exported to Google Sheets, collaborative work is simplified, promoting a team-based approach. Lastly, the ability to copy data directly offers instant access to essential information, streamlining analysis and integration with other digital tools.
Regular auto crawlers of the site and automatic notification of detection of potential errors
Take advantage of our regular automated site crawlers, which perform routine scans to identify potential errors on your website. With a consistent check site for 404 errors every three days, you can stay ahead of any issues that could affect your site's performance.

Page Check
Step 1: Choose "Check page", enter your URL, and click the "Find broken links" button to initiate the check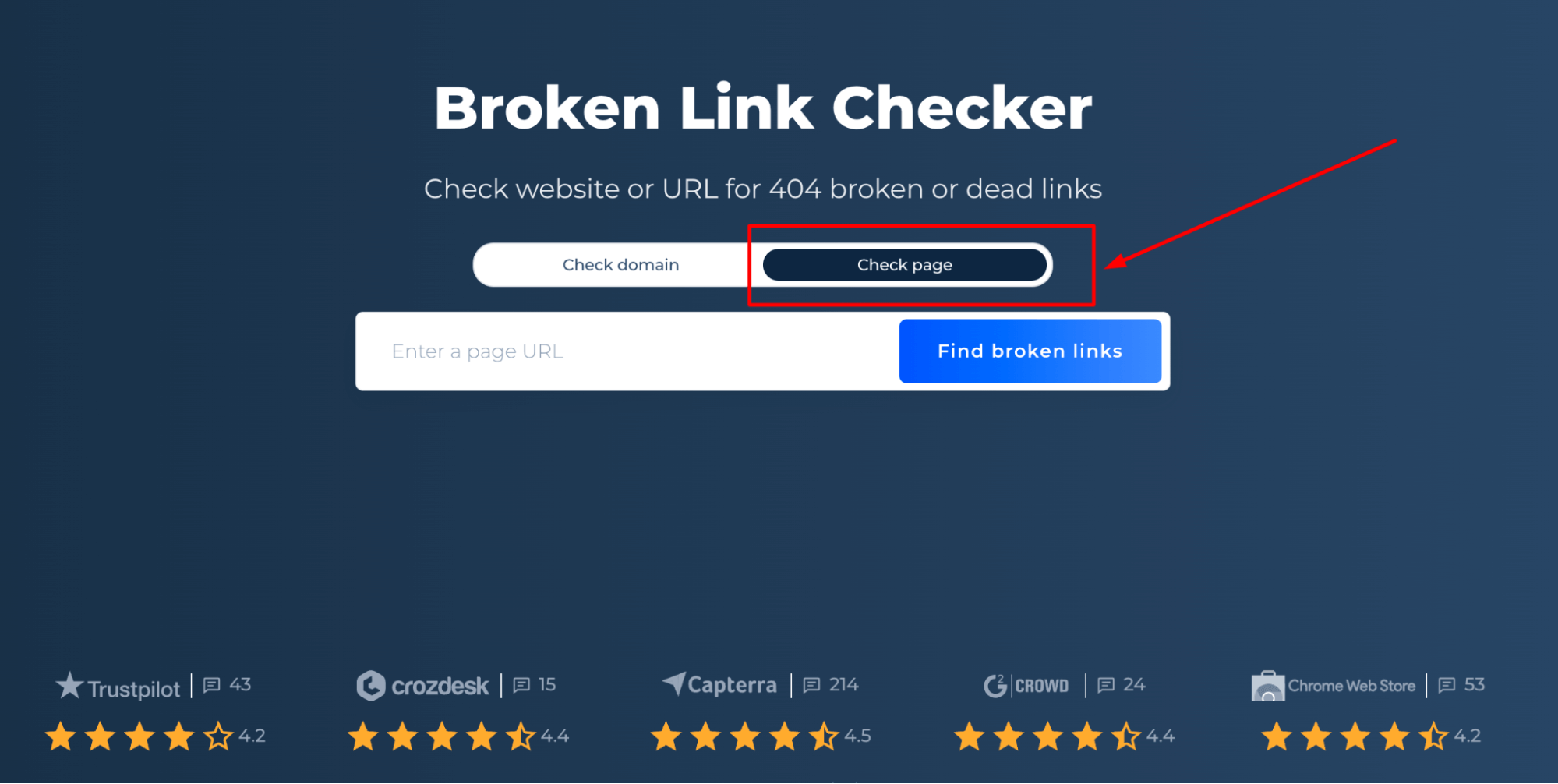 Step 2: Interpreting the 404 Website Detector Results via Page Check
After receiving the 404 scanner results from the 404 Finder, you will be provided with a full audit of the entered URL, revealing information about the links from it.
For each reference, the tool details the URL, anchor text, HTTP status code, and whether the web address is a 'dofollow' or 'nofollow'. This data aids in identifying any non-working links and helps strategize their repair.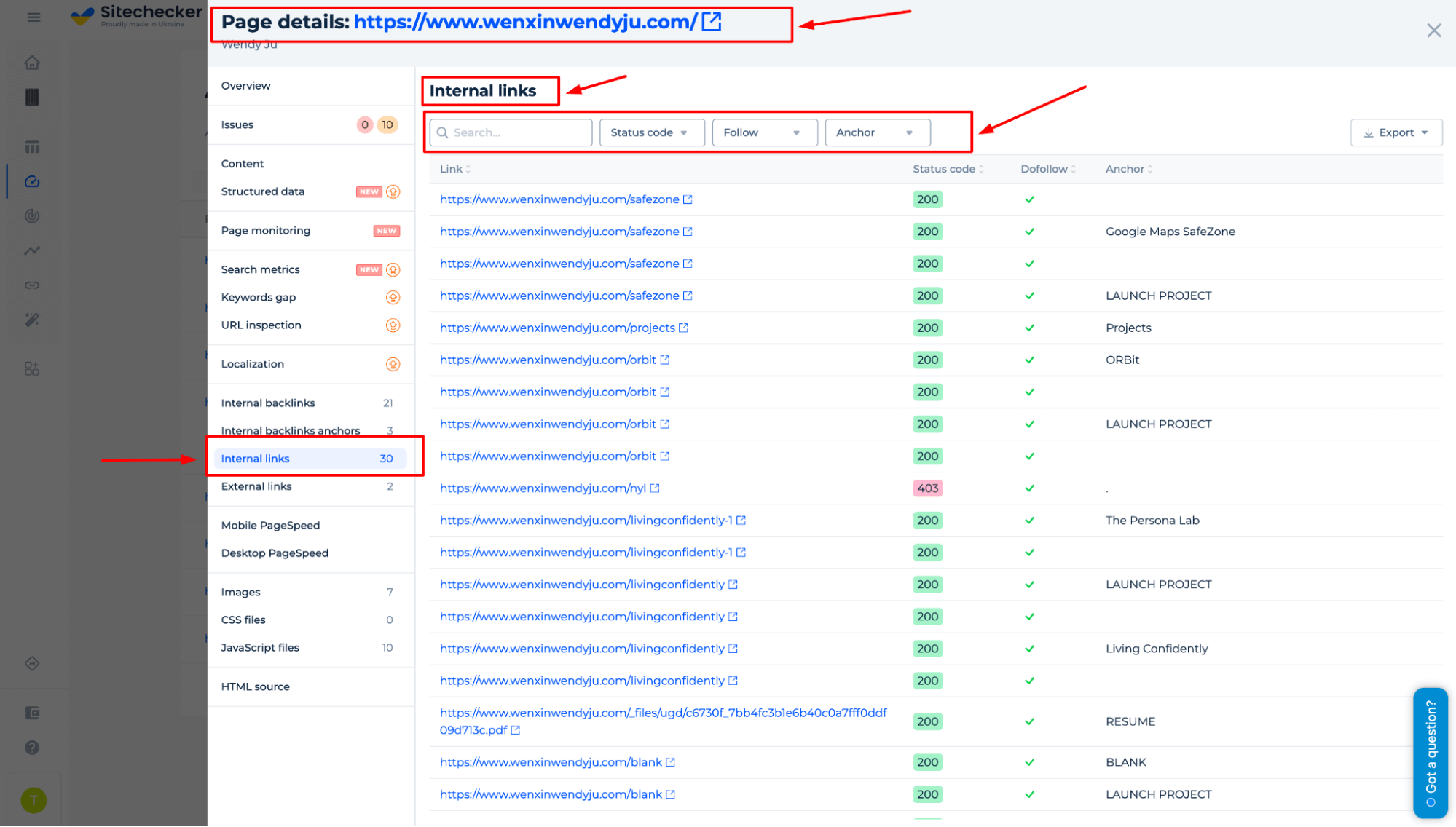 To display 4xx response codes, select the 4xx filter: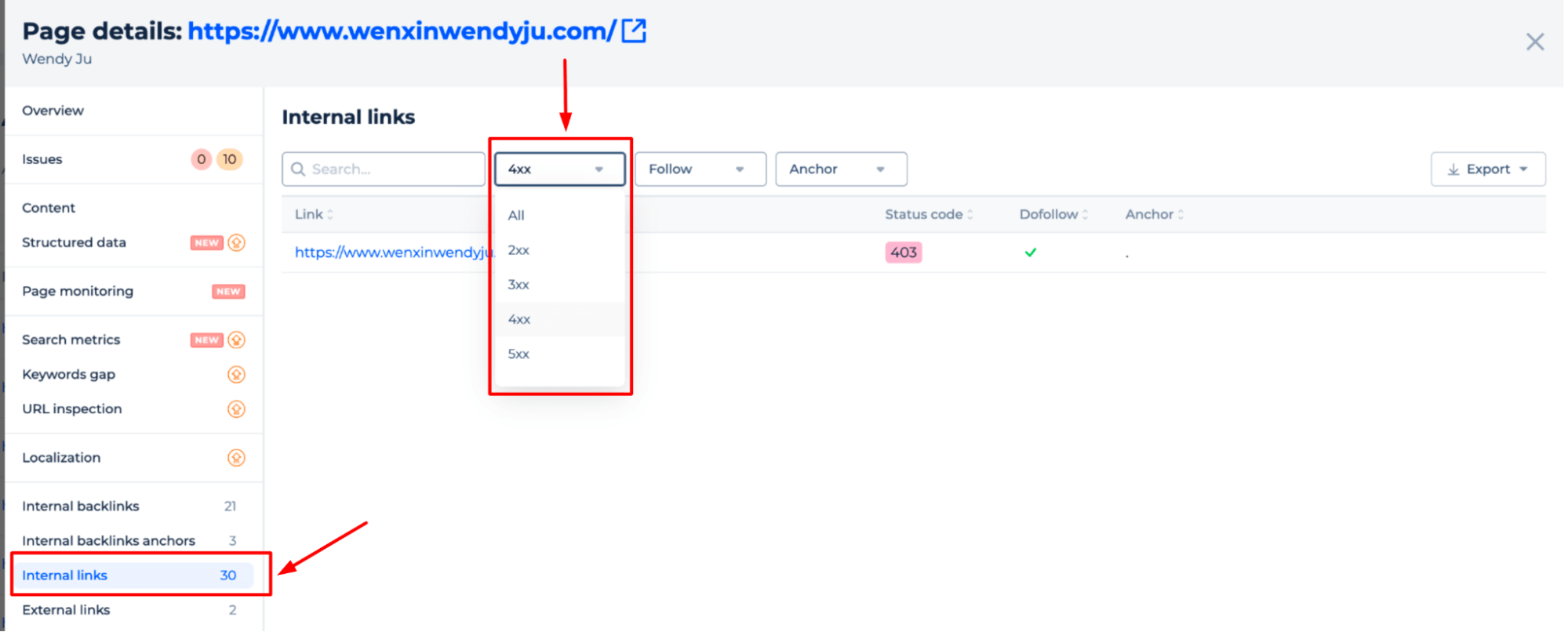 Extra features provided by the page check
In the link section, delve into further details for the page, including internal backlinks, internal backlink anchor texts, and external outbound links: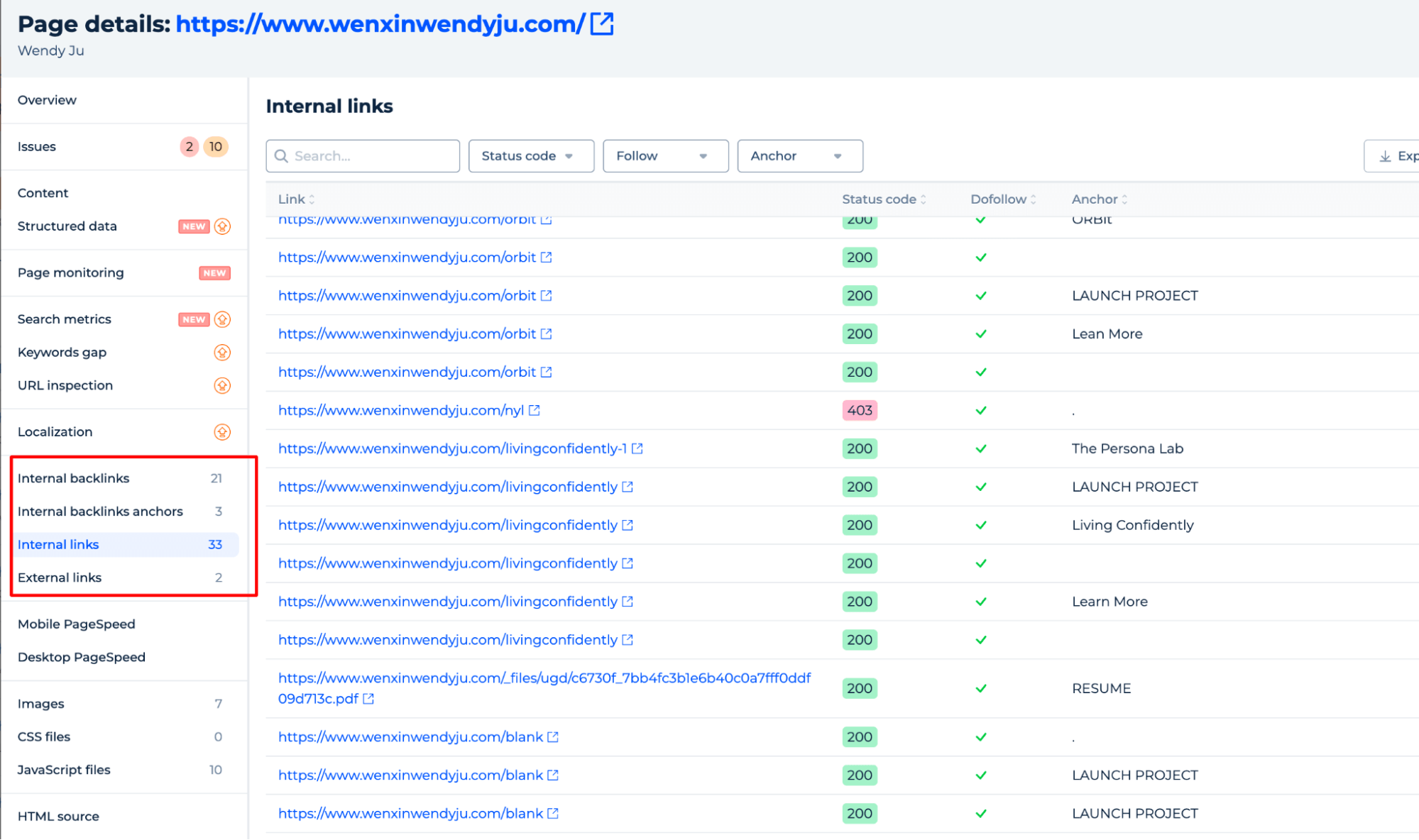 Upon identifying a specific defunct hyperlink, the tool opens a page dedicated to that issue. It offers a color-coded severity marker to gauge the urgency of the fix: red indicates a critical issue, orange serves as a warning, and blue signals a notice.
In the left navigation panel, you'll find highlighted major issues on the page that should be addressed as a priority. A list of HTTP status code errors (3xx, 4xx, 5xx) will also be readily accessible in this section.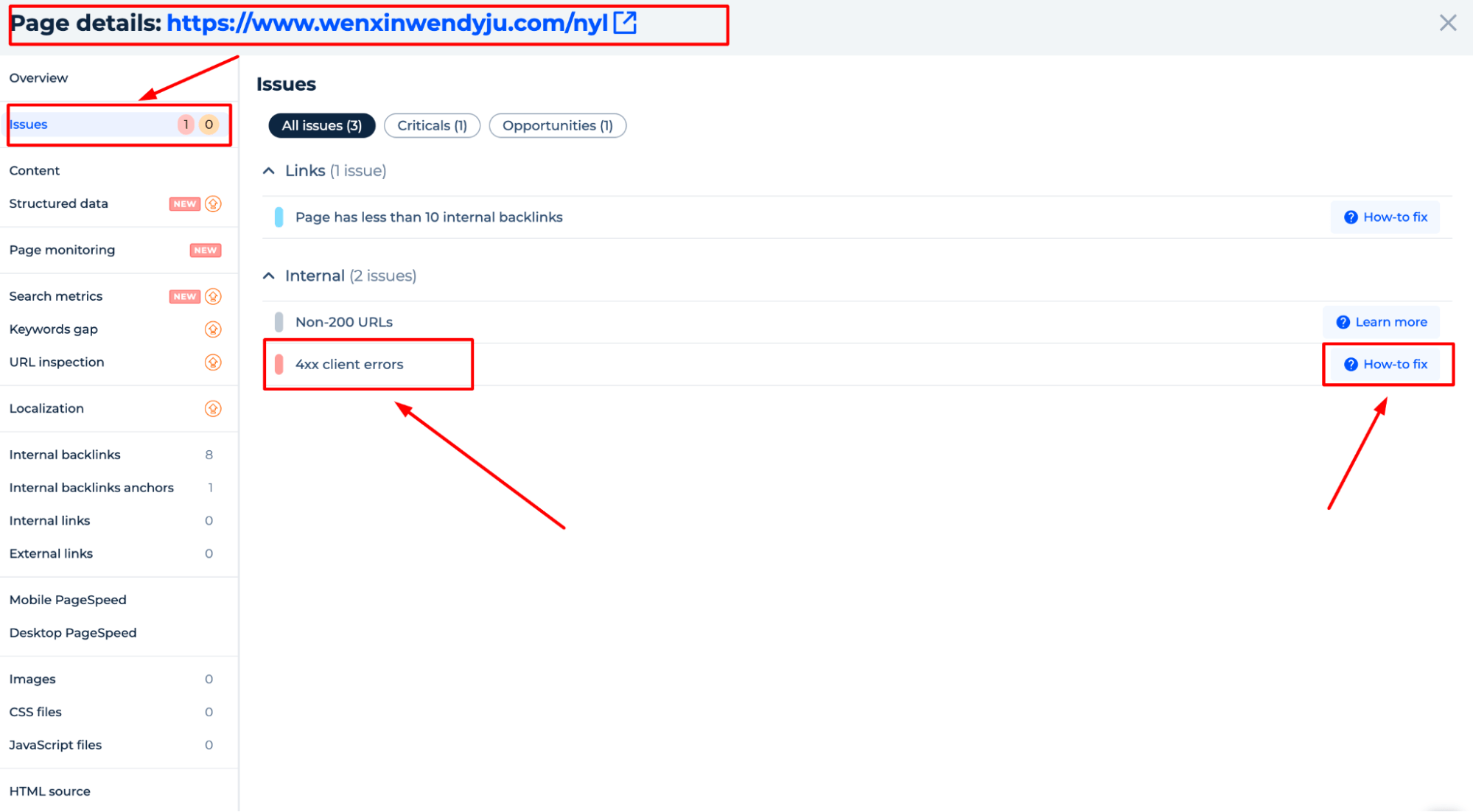 This page provides guidance on how to rectify the problem and delivers a detailed list of URLs affected by the failed link. You also have the option to view the page code or initiate a complete on-page audit by selecting the problematic URL.
Sitechecker Chrome Extension for detecting broken links
You also have the option to conduct a brief analysis of the webpage and verify the status of the code by utilizing the browser extension.
Sitechecker's Chrome extension is a tool for identifying and fixing invalid hyperlinks. After installing it on your Chrome browser, you can easily scan any webpage, analyzing all links for their validity.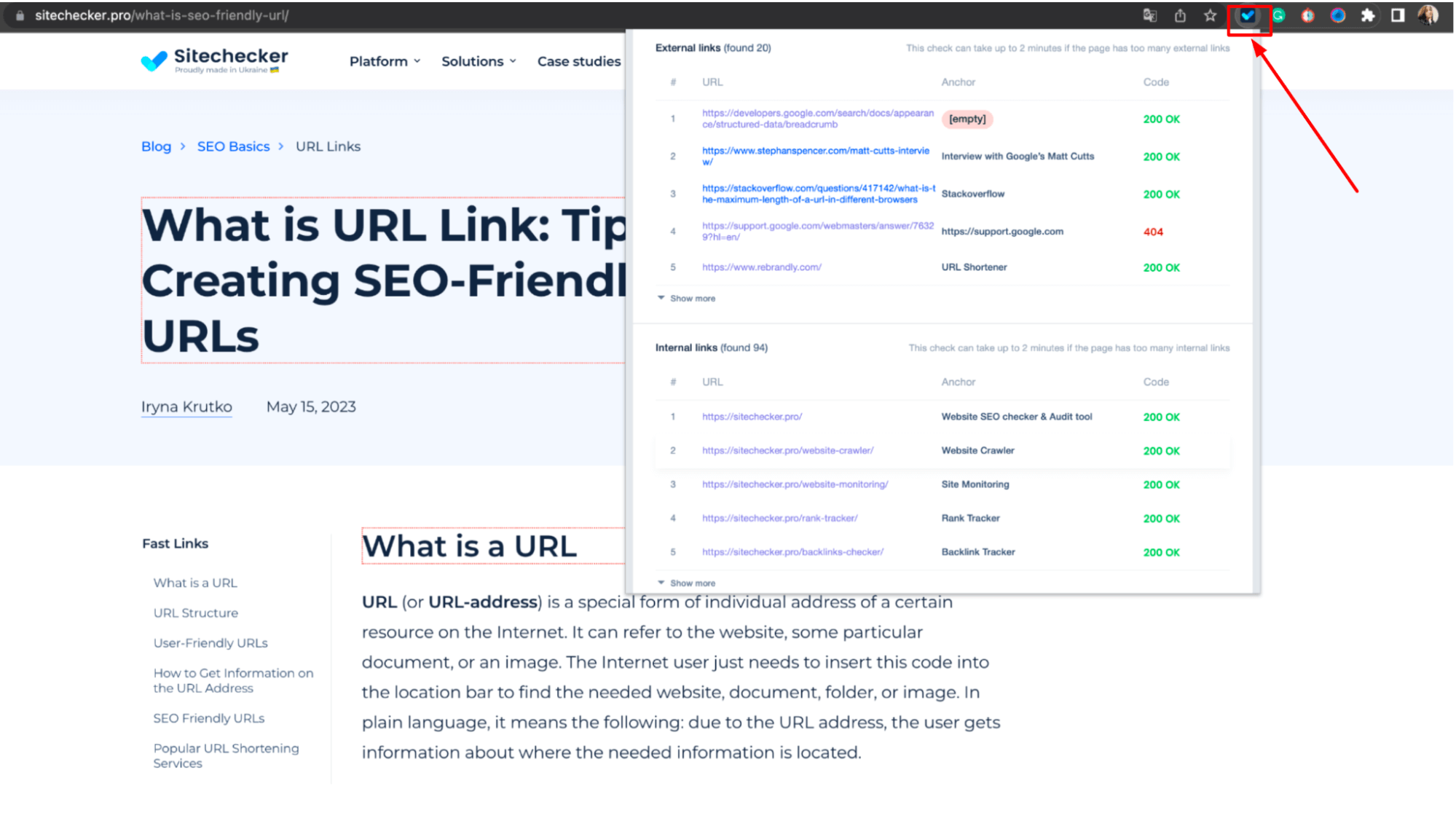 The tool classifies links based on their HTTP status codes, highlights problematic ones, and even offers solutions for their rectification.
For a more detailed understanding, you may want to watch a tutorial on our Sitechecker YouTube channel, where we explain the concept of broken links, their potential impacts, and provide instructions on how to fix them:
Final Thoughts
The 404 error checker is a comprehensive software tool designed to enhance SEO performance and user experience by identifying and rectifying 404 error links. The tool conducts detailed scans, offers optimization suggestions, and provides actionable reports on problematic URLs. It also performs regular auto-crawls for constant monitoring.
With user-friendly interfaces, two checking methods for full or specific site analysis, and a Chrome extension for real-time checks, it stands as a valuable asset for proactive website optimization and maintenance. Furthermore, its capacity to download and export data in various formats facilitates further analysis and team collaboration.
FAQ
How do you check if a URL is broken?
You can check if a web URL is broken by using the 404 URL checker tool. Simply enter the URL you want to scan, and the tool will identify any broken or dead links.
Is Broken Link Checker free?
Yes, the 404 Page Checker tool is free to use during the trial period (14 days).
How do I fix a broken URL link?
To
fix a broken URL link
, you first need to identify it. Once identified, either restore the linked content or replace the unreachable web address with a valid one.
How do I check if a link is valid?
Our Broken Link Finder tool can validate a link. Enter the URL you wish to check, and the tool will confirm whether the page is functional or not.