What is a CMS Detector?
CMS stands for Content Management System and is a software that allows users to generate and modify content on a website. It is crucial to remember that content management systems (CMS) offer much more than simple assistance in managing text and image content displayed on web pages. They have evolved to assist in the design of websites, the tracking of user sessions, the handling of searches, the collection of visitor comments, and the hosting of forums, just to name a few.
More than half of all websites use a CMS. There are hundreds of CMS software out there waiting to be used, and it is the job of a CMS detector to find out which site uses what CMS.
How to Use a CMS Detector?
Using a CMS checker is as easy as 1-2-3! Allow us to show you how.
Step 1: Insert your domain and start the free trial
Getting started is simple and fast! No need for a credit card or a complicated signup process. All you have to do is enter your domain below, and with just one click of the button, you can test it out free with either Google or Facebook. It's that easy!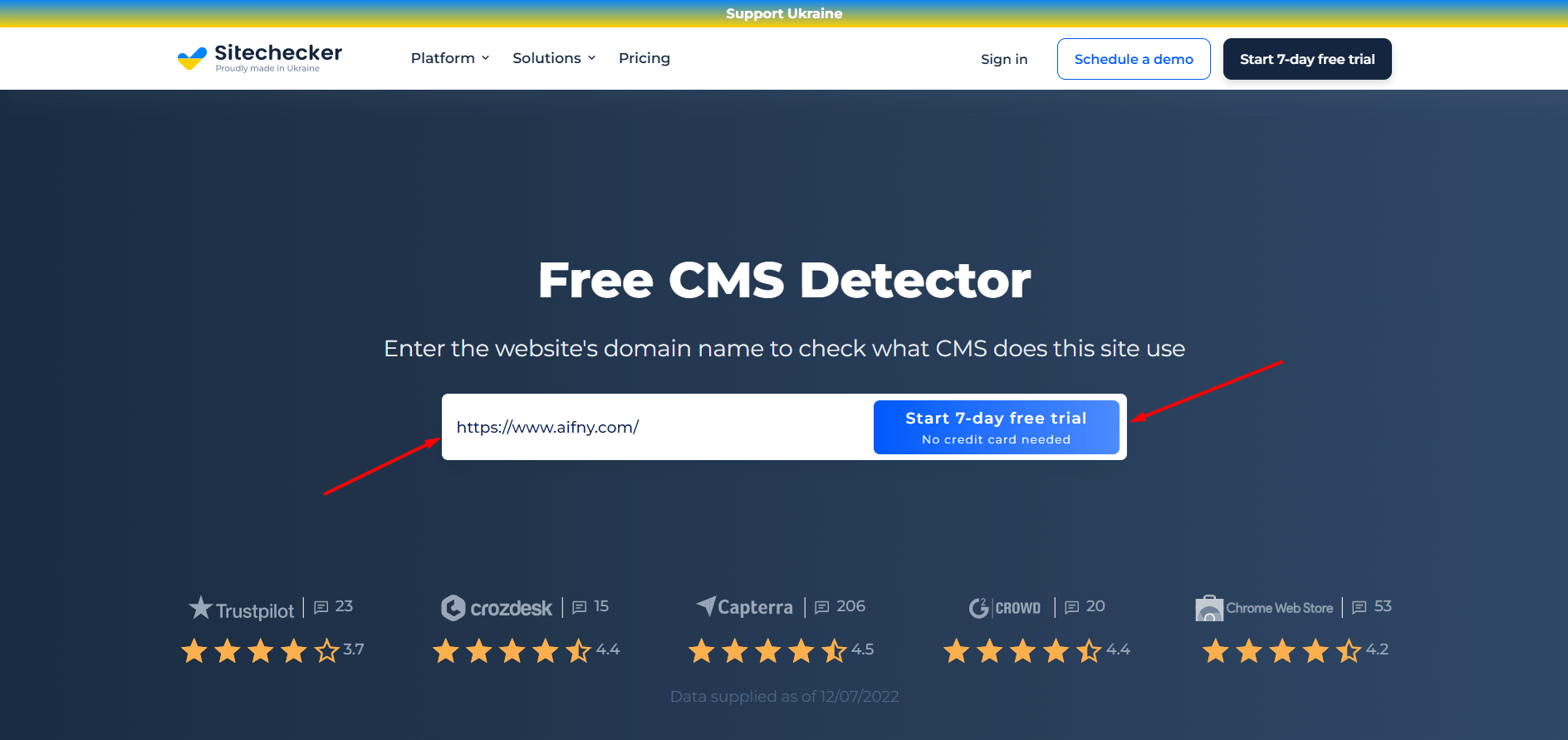 Step 2: CMS detector results
Access the insights regarding the CMS utilized on the website.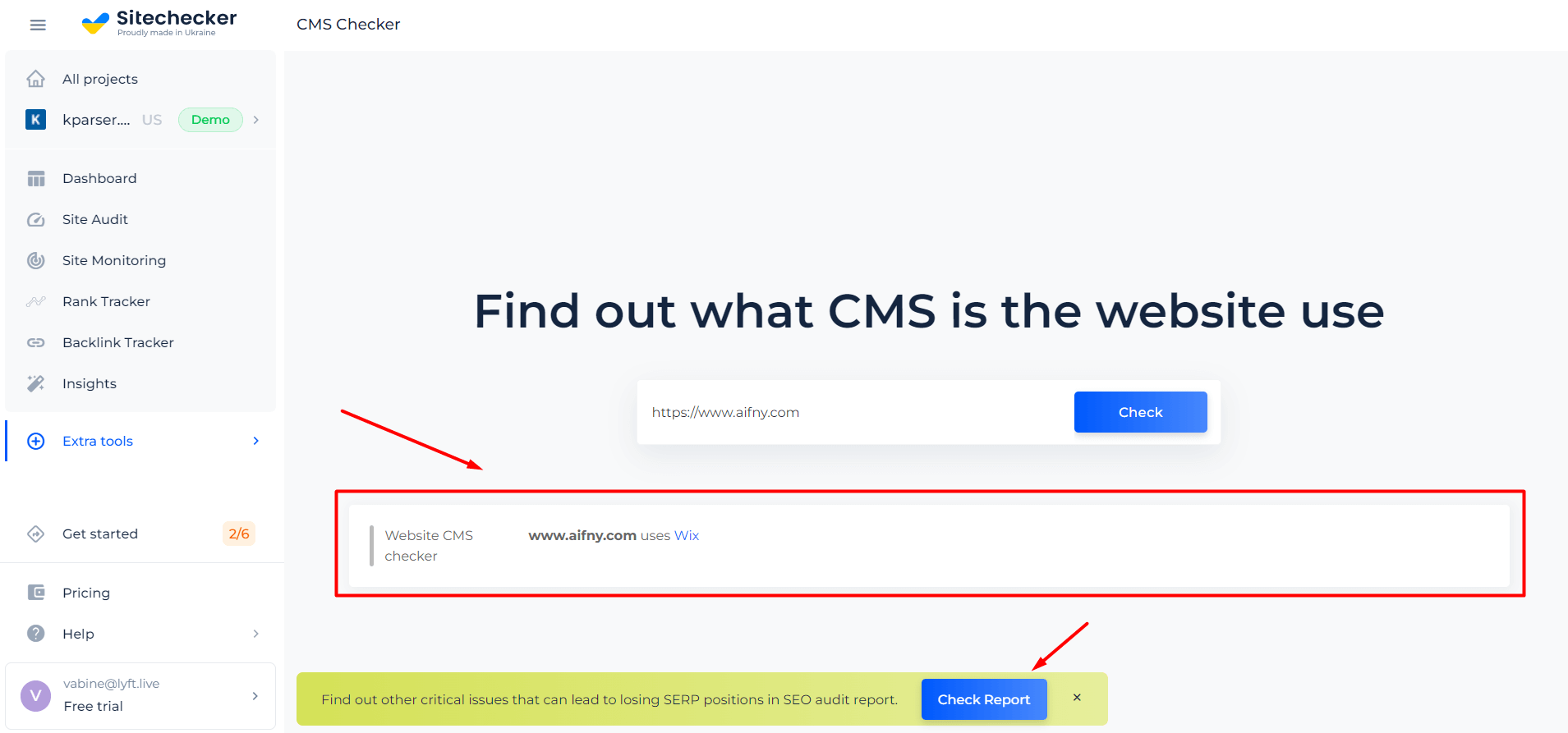 If you'd like to gain insight into your website's performance relative to that of your competitors, start by auditing the technical condition of both sites. This can help get ahead in the game!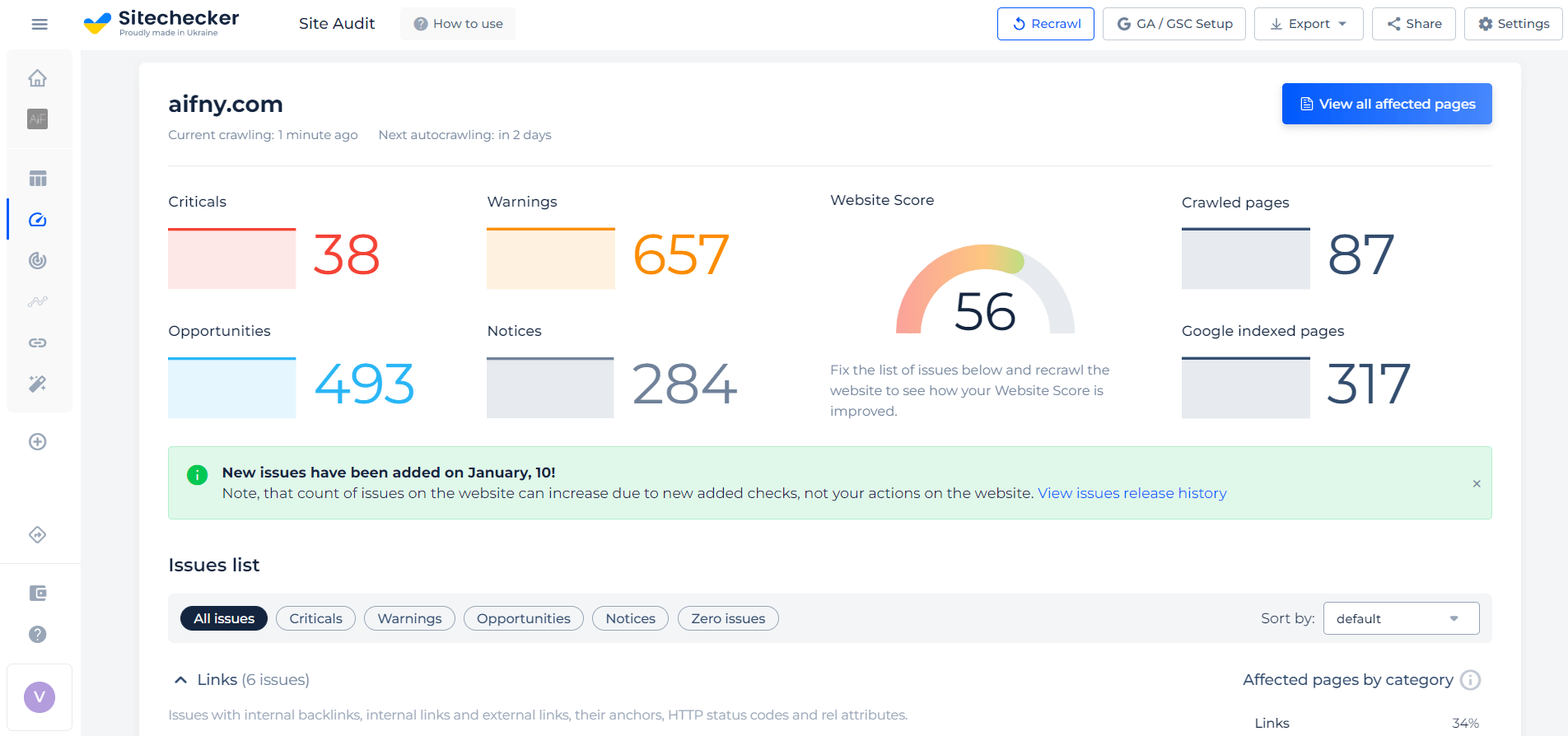 What is CMS?
When it comes to websites, a content management system is software that allows people to easily generate, manage, and alter material without the need for special technical knowledge. In other words, it is a tool that allows you to create a website without having to write all of the code from the start or even know how to code at all.
Using our CMS checker, you will be able to detect which CMS is used on the site, whatever it is. Some examples of the most widely used content management system applications:
WordPress (WP)
Joomla
Drupal
Kinsta
Magento
Squarespace
Wix
TYPO3
BogCommerce
Blogger
CodeIgniter
HubSpot
GoDaddy
Ghost
Kentico
Laravel
Hippo
Is CMS Important for SEO?
Your content management system (CMS) serves as a link between search engines and your material. It will be impossible to get from one end of the bridge to the other if the bridge itself does not have a stable base. The same is true for your content management system (CMS) and SEO. The lack of a robust SEO foundation in your content management system will cause search engines to have a difficult time discovering your content, and all of the hard work you have put into content development will be wasted.
Checking CMS is important but not enough to get good SERP positions!
Now you know about your website CMS, further - crawl your site and find out all kind of issues that can hart your users or your website SEO.
What does Google say?
According to Google, there are various ways in which your CMS affects SEO:
Its built-in optimization capabilities allow you to increase the visibility of your website's content to Google bots by optimizing it.
Because of its ability to incorporate specialized SEO plugins, you can go beyond the options provided by the built-in algorithms.
How much you can optimize your material is determined by the capabilities of the content management system you are using.
How can it affect SEO?
A good CMS software will help improve SEO by applying the following features to your website:
One-Page SEO: One-page SEO capabilities give you the ability to customize the content of your page, how it appears to users in the search results, and the aspects that search engines see behind the scenes. When these pieces aren't expressly defined, search engines can fill in the blanks with relevant information. Even while search engines have made significant strides in their comprehension of web pages and user intent, you are still the expert on your company and your target audience. Fortunately, by including the appropriate SEO tools into your content management system, you can regain control.
Control Site Controlling and Indexing: Some organizations have web pages on their website that they do not want noticed by search engines. Depending on the situation, these could be landing sites for invitation-only events or internal resources. Your content management system (CMS) should provide you with the ability to select what information is visible to search engines for crawling and indexing.
Tracking and Reporting: One of the most critical components of a good SEO campaign is the ability to track and measure the results of your efforts. We marketers can only make informed assumptions about what is effective in the absence of tracking capabilities. However, if you're anything like the rest of the Blue Compass crew, you like to depend on statistics rather than intuition.
That is why your content management system (CMS) must allow you to insert tracking codes and pixels. Ideally, you should be able to embed the Google Analytics tag throughout your website and track extra events with Google Tag Manager at the very least.
FAQ
CMS detection is the process of gaining access to the CMS software that supports the best parts of a page design.
In a content management system, a plugin is a collection of code files that allows you to extend the functionality of your website by adding one or more functions. Following the installation of the CMS core code, you will be able to increase the options of your plugin manifold.
Is WordPress a CMS system?
Indeed, WordPress is a CMS system, but there is a movement away from it to other platforms by users. The reason for this is its lack of new features.