The security of your site is a significant factor that directly affects your search engine rankings. Search engines prefer to show users relevant results from safe sites. That's the reason why you should think about checking the security of your resource. Also, you can check the hall technical aspects of your website that, not just security one, with our google website checker.
Website Safety Checker is a simple tool that lets you effortlessly answer the question 'Is this website safe?'. It also indicates which areas of your site are potentially vulnerable to attack by cybercriminals. If you need the information how to fix not secure website read instructions in the articles.
Use our website reputation checker to prevent problems with hacks. We did our best to create the most convenient and simple tool. Let's look more closely at why security is essential on the Internet and how you can secure your resource now.
How Can You Check if a Website is Legit With Our Site Safety Checker?
Check site reputation because it directly affects how often search engines will display it to users. If your site has a low reputation, it means you have made mistakes somewhere.
Your competitors may intentionally try to lower your resource's reputation by linking to you on unsafe resources. You should regularly check external links to your site and contact the administrators of dangerous resources to remove the links. Use our reliable web hosting with the best site safety guarantees! Take care of the security of your resource now.
Use the Site Security scanner to find weaknesses and check the safe browsing site status. It is easy to do in two simple steps.
Step 1: Insert your domain and start the free trial
Enter your domain name in the space provided below and click the button to get started. No credit card is required – you can quickly start your free trial with us using either your Google or Facebook account.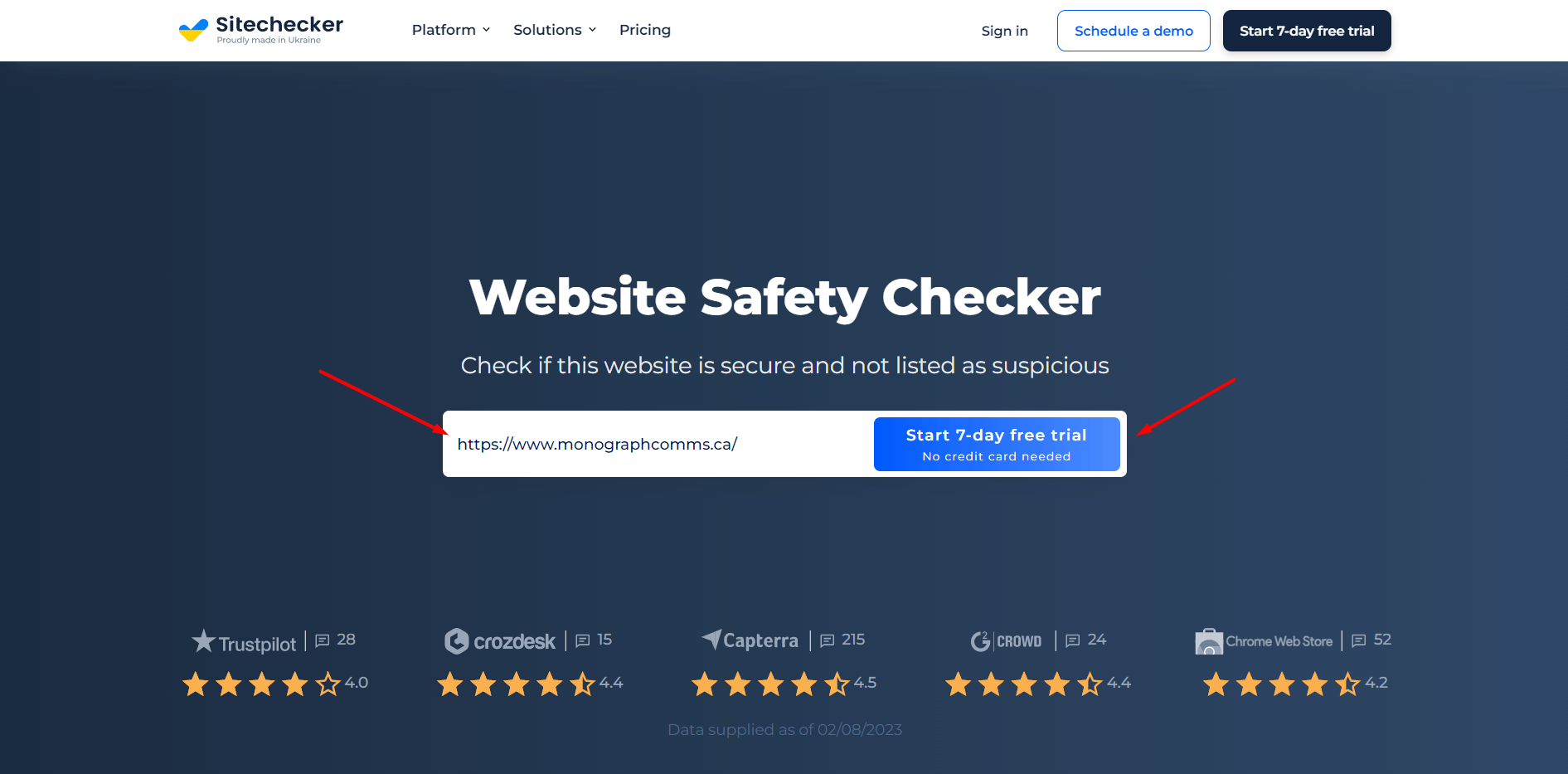 Step 2: Get the result
After checking, you will be able to download the PDF file with the report. Also, you can copy the report to the clipboard in this format:
Web Site URL: copywritely.com
• Website safety status: The website is not blacklisted and looks safe to use.
• Domain Registration: Feb 03, 2020
• IP address: 34.251.201.224
• Country: Ireland
• Region: L
• City: Dublin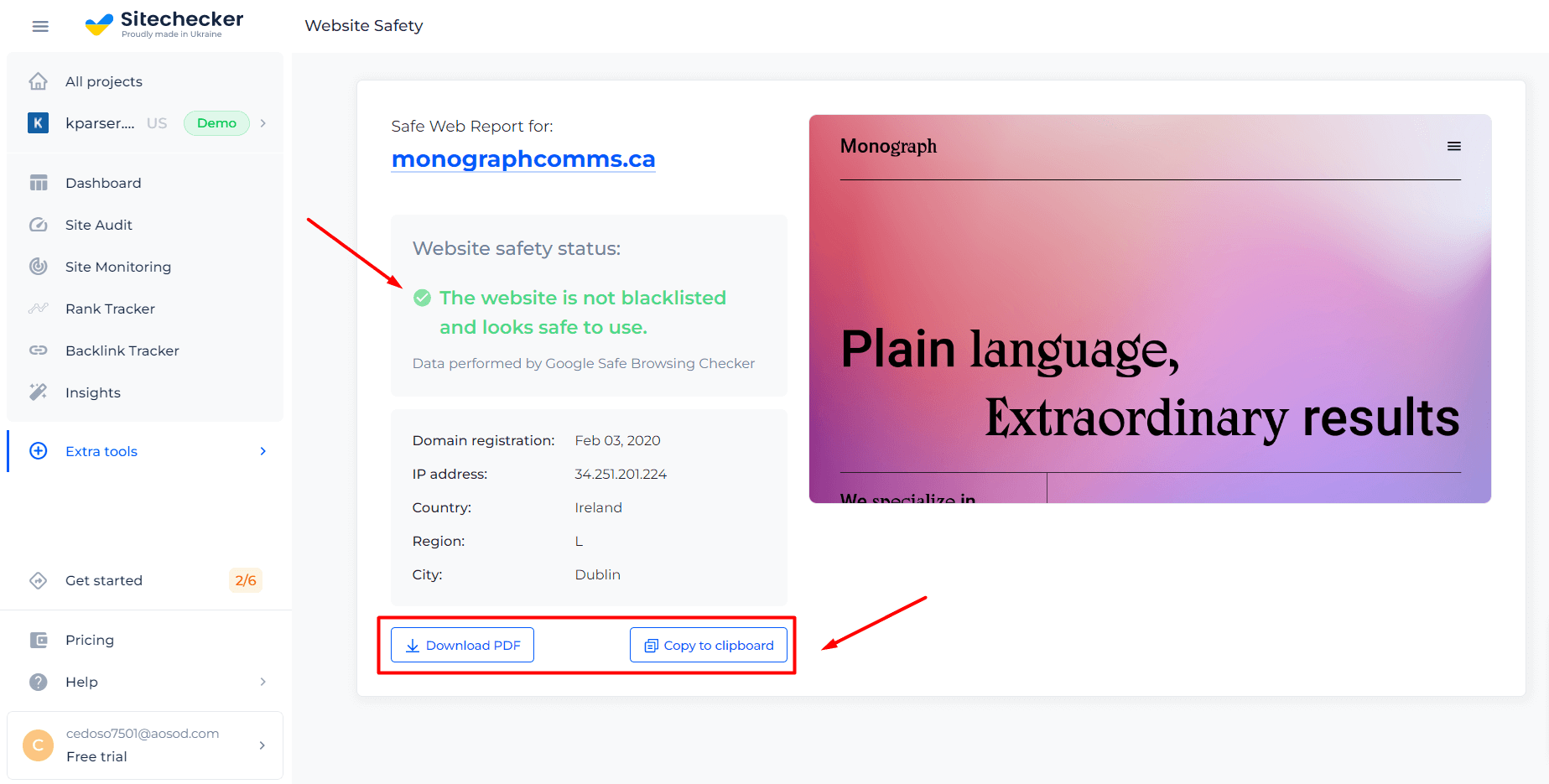 When to Use Google Safe Browsing Checker?
After the website check, a comprehensive website audit report will be provided to help you identify any issues on the site that you check out. Which is a great opportunity for checking your own site. This audit will include recommendations on ways to address these problems. Additionally, the results can be broken down by issue types such as Criticals, Warnings, Opportunities, Notices, or Zero Issues, and by categories like Links, Indexability, or Content Relevance. This allows you to focus on the most pertinent areas for your website's success.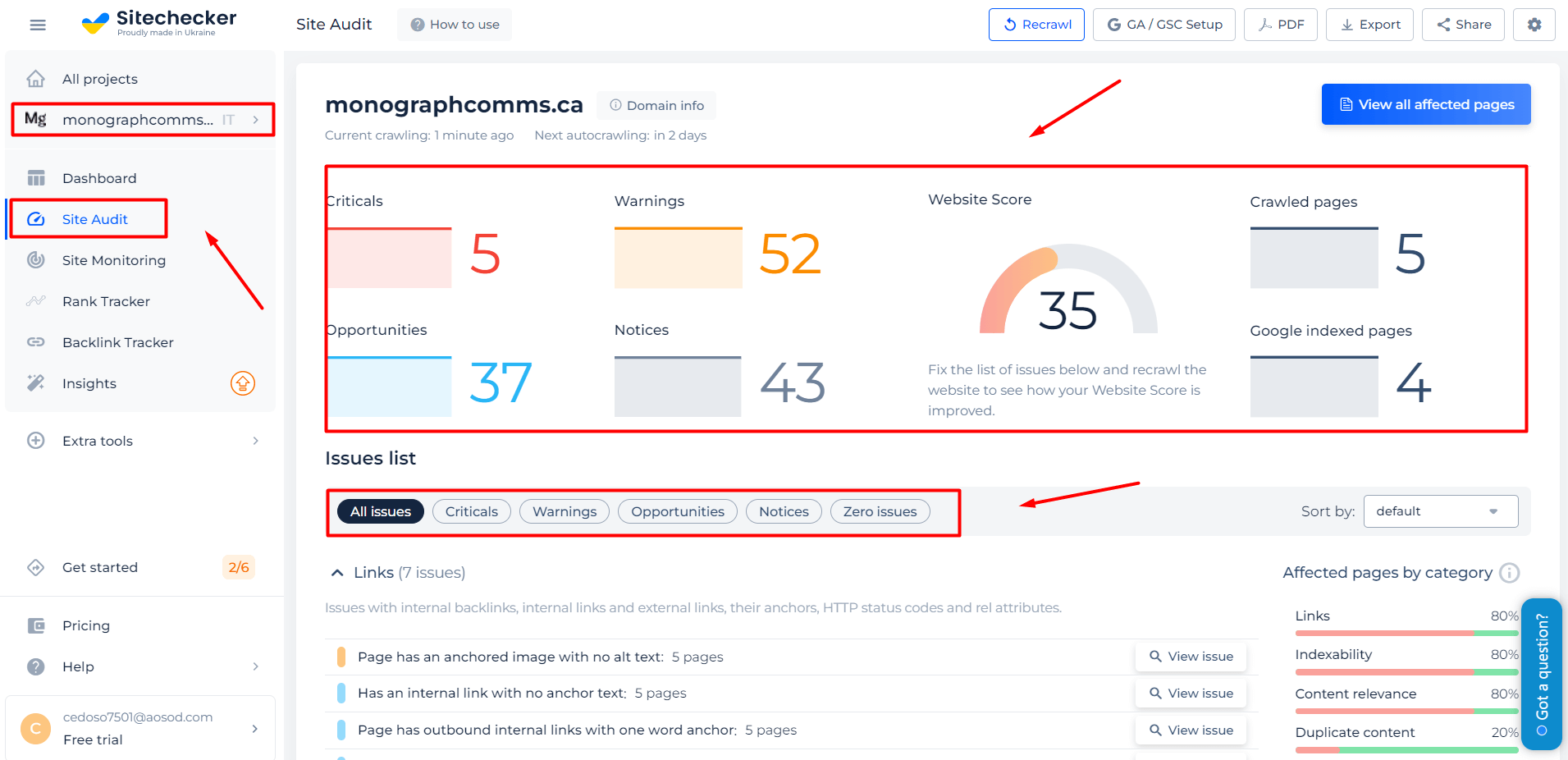 Also, you can use the Google Safe Browsing checker to check if some other websites are safe. In this way, you can determine which sites might be malicious and access your information. The better way to do it, it starts a free trial for your website and use the additional Website Safety Tool, inside the Sitecheker platform.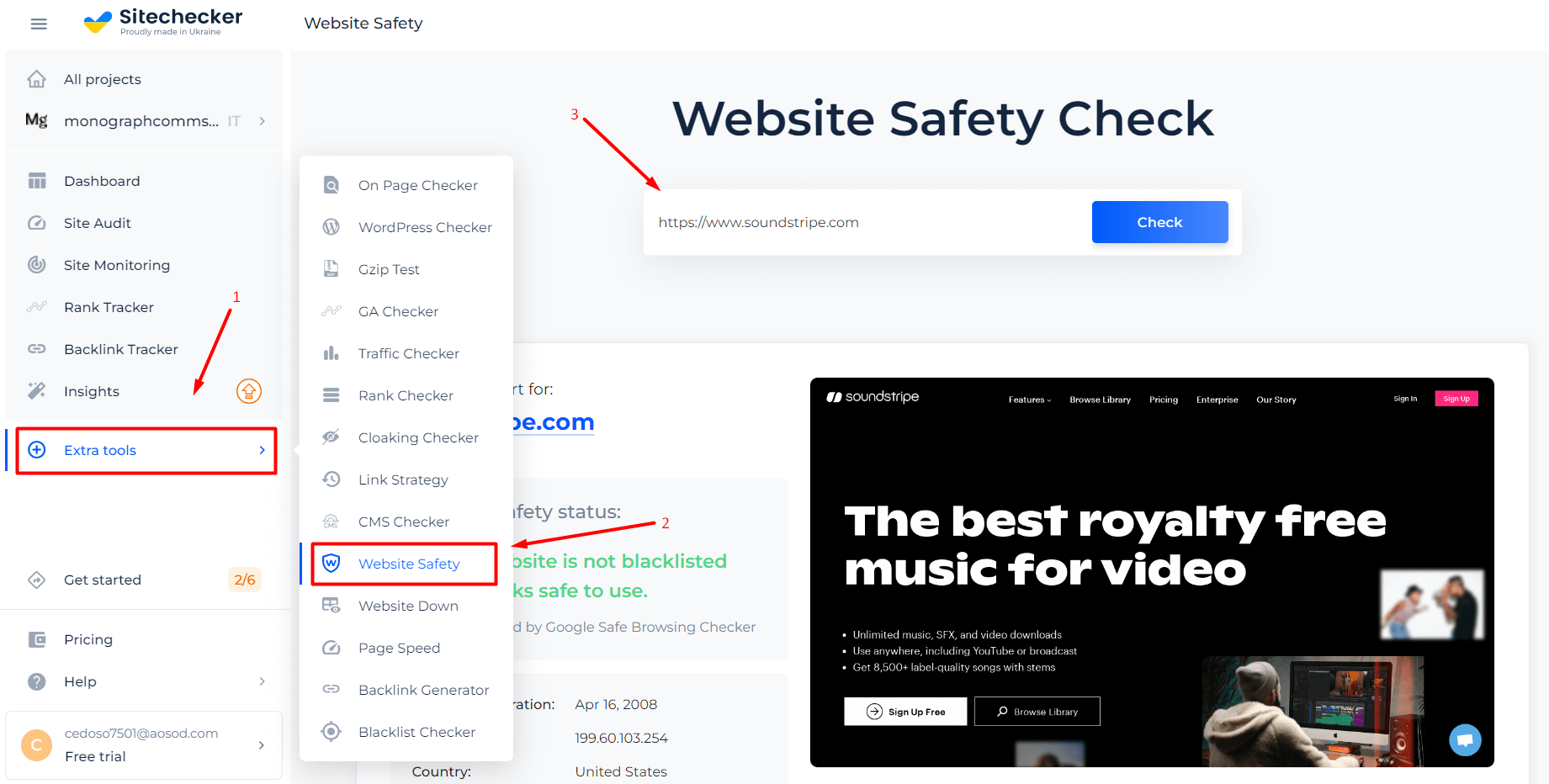 Before you click on an unknown link, we always recommend that you check it for safety. With this tool, you can also check which sites with low reputations have mentions of your site. In this way, attackers may try to lower your resource's ranking in search engines.
Free Website Security Check Special Features
It's a convenient and reliable site safety checker that will allow you to check all aspects concerning your resource's security. Let's take a closer look at the tool's key features.
Check
Check website safety against our Safe Browsing Lists by platform and types of possible threats. With it, you can find out which security mistakes you've already made.
Warning
Warn users before they click external URL safety check on your resource that may lead to infected pages. It is an easy way to keep your site users safe from potential malware.
Prevention
You can prevent users from posting unsafe links to your site. They can be infected, and it will affect the reputation of your resource.
Typical Symptoms of a Hacked Website
Certain factors can help you quickly recognize that a particular resource has been compromised or is untrustworthy. One of the reasons may simply be a mistake, but if you notice a few problems, it is worth engaging in improving your resource's security measures. Let's take a closer look at them.
Security screening services blacklisted the resource.
The hosting provider has turned off support for the resource.
The loading time of the site pages has increased noticeably. Pages may not load at all and do not open to users.
Warnings about possible hacking and insecurity will appear when you try to open the pages of the site.
Users have noted the emergence of strange redirects from the pages of your site.
If you or the users of your resource have noticed such things, you should conduct a website security check to determine whether a scammer has hacked your site. If so, your information may be at risk of falling into third hands, and the reputation of your site may get damaged forever to search engines. To prevent that, you can use our hacked site checker to detect all kinds of security issues.
What is Google Safe Browsing?
Google Safe Browsing is an enormous online list of resources that can steal user data or information from your site. With the help of this tool, you can check 'Is the website safe?'. Google algorithms regularly check safety of website for security problems. You can use this list to determine which sites you shouldn't trust. It gives you a convenient and straightforward way to figure out sites with scammers and not contact them for cooperation. You should check here all the websites that offer a content exchange, link exchange, or any other collaboration so that you don't run into hackers.
You should always be careful when visiting unknown sites because cybercriminals steal gigabytes of information every day, infect equipment with malicious viruses, causing entire corporations to shut down and users' data to leak. It is worth paying maximum attention to security because it directly affects your resource's reputation among users and in search engines. Check out the Google guide on how enhanced safe browsing on Chrome.
Top Tips When Performing a Website Safety Check
Here are some simple tips for effectively conducting a platform security check. Their implementation will not take much time but can significantly increase the chances of being protected from information leaks.
| Tips | Explanation |
| --- | --- |
| Enable HTTPS | HTTPS protects data from being intercepted and used for fraudulent purposes. It is imperative if your site performs payment transactions. When you switch to HTTPS, the "unprotected connection" icon will change to a green "secure" icon. For example, Google Chrome now displays HTTP sites as insecure and will emphasize this even more in the future. |
| Disable/Remove Unnecessary Plugins | if you have plugins that you don't use for your site, you forget to update them. It leads to a security hole in your resource. Don't think that inactive plugins pose no threat since attackers can take advantage of this loophole and attack your resource. |
| Backup Files | regular backups can be a great way to keep your site safe from hacks. Pay proper attention to backing up the files on your site to avoid the possibility of information leaking to third parties. |
| Auto-Generate Passwords | services for generating random passwords typically provide an opportunity to create a secure combination to protect your site. Use a proven generation site to secure the data on your resource. |
| Update Plugins and Other Software | if you keep updating all inactive plugins, you are unlikely to have security problems. However, if you're not installing updates to inactive plugins, it's best to remove them altogether. |
High Website Security With the Best Hosting Providers
Finding a safe and reliable hosting provider is not an easy task because data security is a top priority for website owners.
Even large corporations with huge budgets for data security face regular attacks and data breaches. 'Is it safe website?'. No one can give 100% certainty, but it is better to take all possible measures to ensure your resource's security.
Regularly scanning your platform for a possible virus attack, installing security certificates, and choosing a reliable hosting service are all necessary measures to prevent intruders from attacking your resource. When selecting a hosting service, be sure to pay attention to its security measures.
Oh, don't forget to check a website for SEO issues and malware.
Detect not only safety problems but also other kind of technical issue on your site!
Crawl your site and find out all kind of issues that can hart your users or your website SEO.