What is a site page speed testing tool?
The loading speed of your site is a crucial parameter for search engine ranking. We created a Website Speed Test so that you could analyze your site's load speed. You can use it to speed up your resource's load and understand what causes your site's slowdown.
Website Speed Test is easy to use and will suit both beginners and more experienced users. Get the opportunity with this free speed checker to learn about your site's weak points that prevent you from increasing page load speed.
We intended to create a perfect tool to test website speed and help webmasters and web developers check website performance.
And we did it!
Let's take a closer look at the reasons why your site may be slow to load. Use our tool to check your resource's key speed indicators because it is the issue when Pages have Slow Load Speed that has to be fixed.
Website speed affects your business
8% fewer page views after just a 3-second delay.
16% decrease in customer satisfaction after just a 1-second delay.
32% is bounce rate probability after the 3-second delay in page load time.
40% of your clients will leave the website if the page takes longer than 3 seconds to load.
Why does a website loading speed matter?
Google's research shows that the page load time from 1s to 5s increases the probability of bounce by 107%. Let's see what affects the site's loading rate and why you should reduce server response time (TTFB). But at first, you need to check page speed.
Get more clients – rate is also essential for loading the site from a mobile device. The majority of today's users visit websites exactly from smartphones, and you should take care to reach this audience of potential customers.
Improve user's experience – complex page code will result in slower loading. Leave bulky sites in the past and get on with optimizing your site's code. Believe it, so you can significantly accelerate the performance of your site.
Retain users – it's not enough to get the customer's attention because it still needs to be retained. Note that if your site pages are loaded quickly, then the chances of the user leaving the resource are reduced at times. Notice that you don't like slow sites either!
Get more conversions – the faster your resource loads, the more conversions you can get from buyers who haven't left your site after viewing the first page.
Importance for SEO. Page speed really affects SEO. This is a ranking factor. But this is not the most important factor and affects the ranking of the site only in combination with other factors. Check out the video report of research about the SEO impact of Page Speed that has been made by Brian Dean – Backlinko.
Wondering how to check your website speed for free?
Get detailed information about loading rate and page size with a page speed test. With us, you can export the results in a PDF file, share a link to the data, or copy the information to the clipboard.
Web page speed test is a very convenient way to get test results and compare them with the indicators after fixing bugs on your site.
We propose you a web hosting with the best website speed guarantees. Test website loading speed with us! Take advantage of the export option and analyze how much faster your site loads with our site speed checker.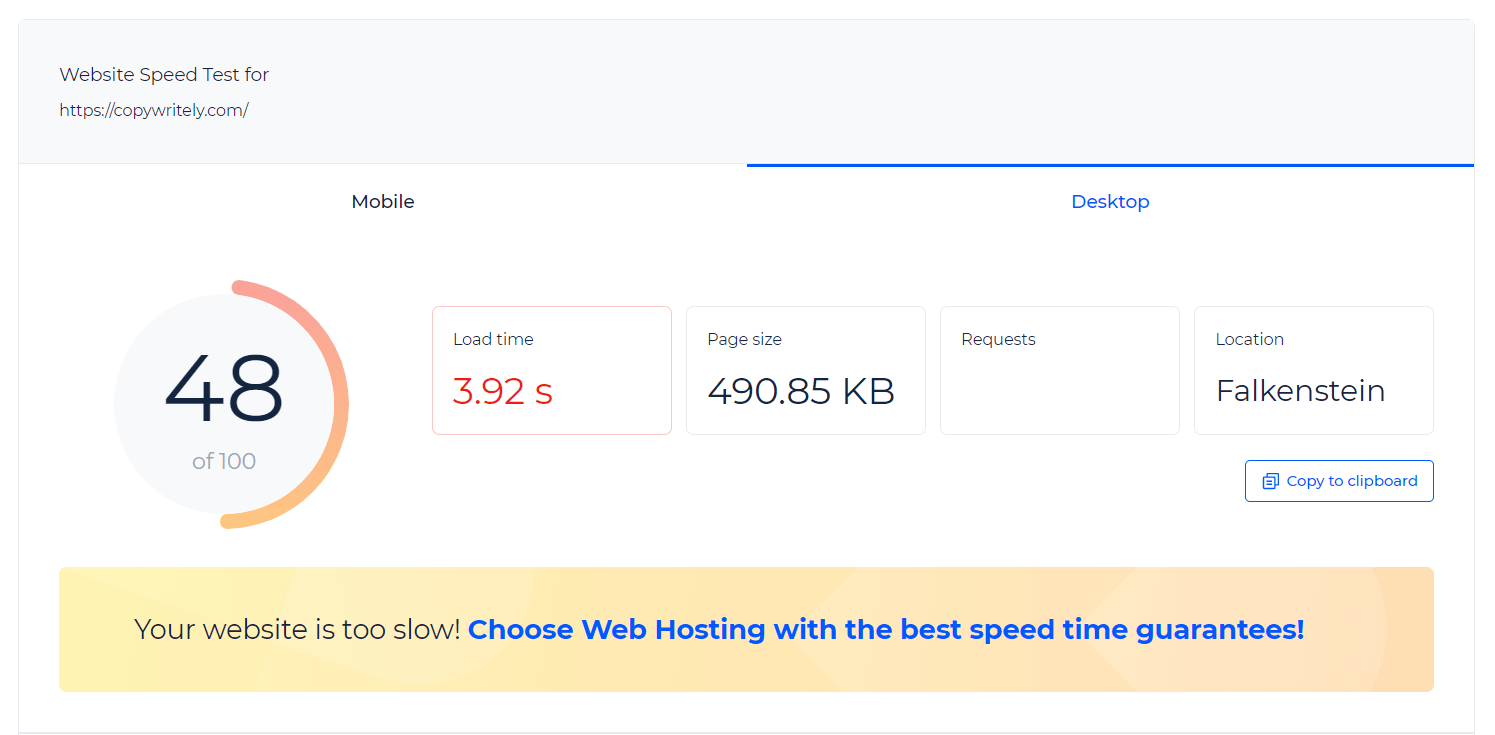 For your maximum convenience, the Website Test will assign a score to the site based on Google recommendations. The tool provides you with useful tips on how you can speed up your site's pages and what mistakes you need to make to do so. Test page speed and fix all the errors.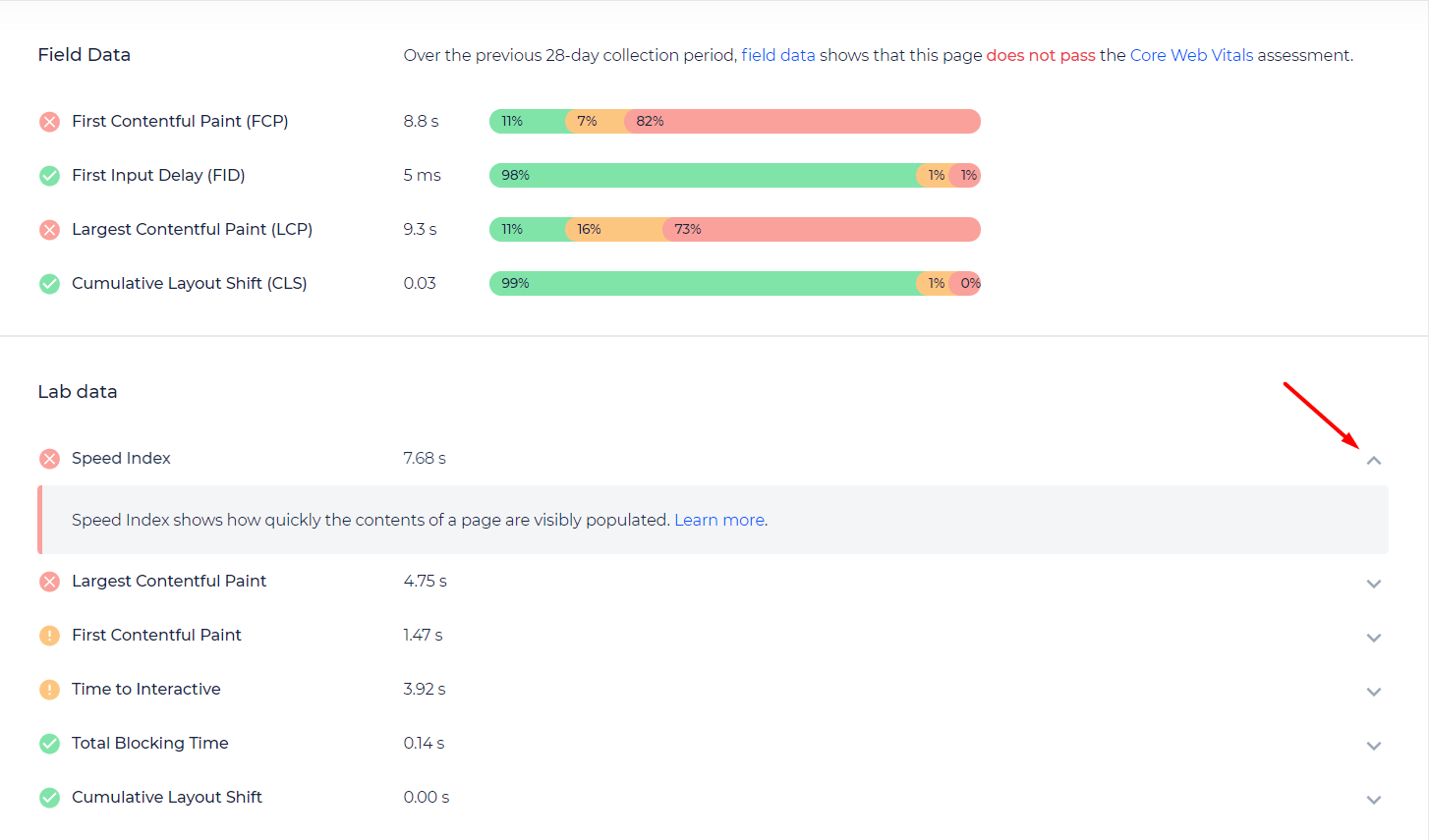 With detailed charts on your site's state, you can quickly learn about problem areas and aspects that need urgent intervention. The tool will show you what to pay attention to and how to correct errors.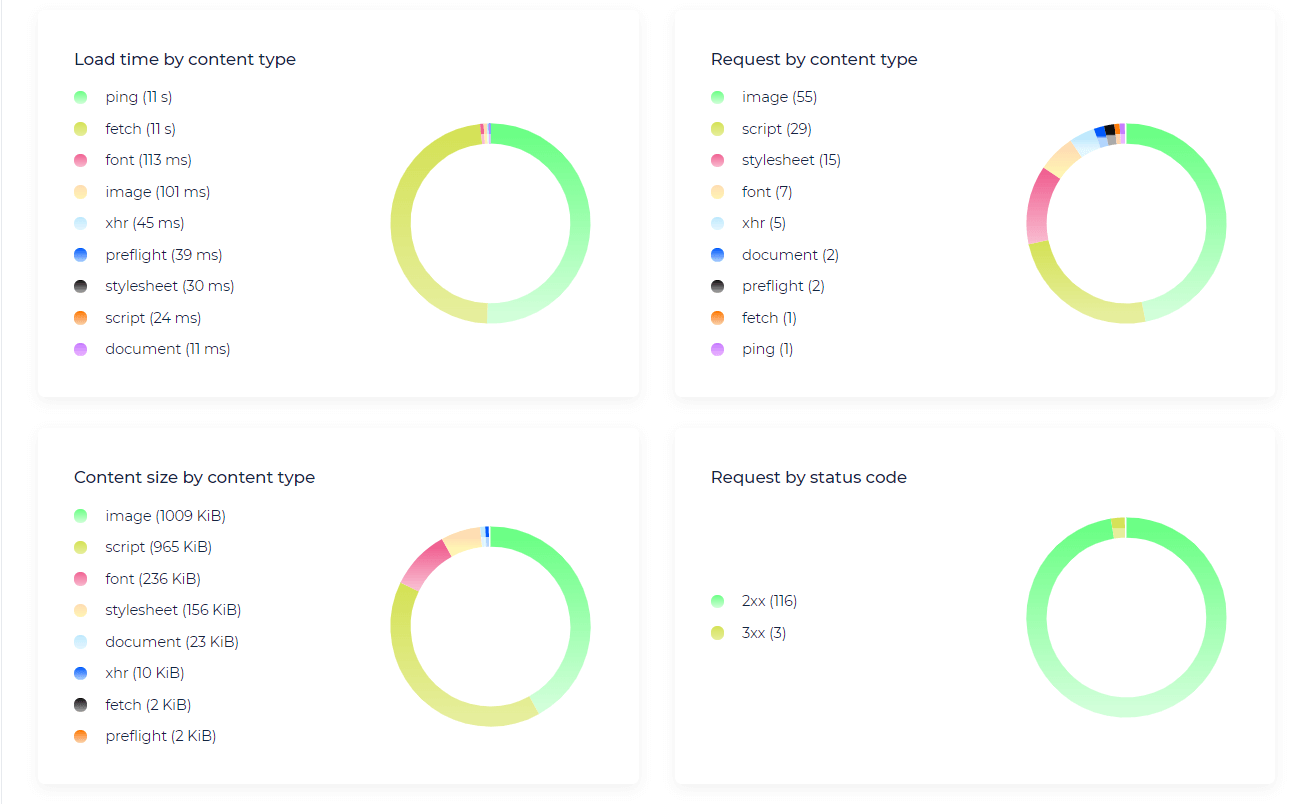 Check speed of website and speed up with our site speed test!
Troubleshooting Tips of website speed optimization
Website load speed test can improve your website's rate. Here are some of the most common problems that prevent sites from loading faster and lead to potential customers' loss. We have collected these tips so that you know where to start working to improve your resource performance. These are simple tips that even beginners can do. Pay attention to troubleshooting tips and increase your site without much effort.
Compare page speed from Chrome, Firefox, and IE
Web site speed checker tests the loading rate of your site from the most popular browsers. It's worth remembering that although most users browse with Chrome, there are also many potential customers using other ones. So it is worth paying extra attention to optimize for other, less popular browsers not to lose a possible audience and customers.
Check your website speed from different world's cities
Get a unique opportunity to check the loading rate of your site from different locations around the globe. Our tool gives you several countries to check how fast your site will load for users living there. It will allow you to identify and prevent possible problems that are slowing down your website.
Test your mobile website speed
Keep in mind that most users will view your resource from mobile devices. That's why our tool provides an opportunity to test the platform rate from different devices. Use fast-loading page formats so that users get information from your pages even faster.
Server optimization
First, the server part is easy to monitor and control. Secondly, with severe problems with server response time, the slowdown is noticeable for everyone. You should seriously take care of this parameter so that your resource will rank even better in search results.
Customer optimization
Here are a few universal tips to help speed up any resource. First of all, pay attention to these factors.
| Tips | Explanation |
| --- | --- |
| Optimizing web fonts | it is worth reducing the traffic size of fonts on your site. To do this, use WOFF2 for modern browsers. Use only popular formats, Latin and Cyrillic. Preloading will allow you to notify your browser when to download a font file. The font-display feature provides a flexible way to control browser behavior if the file gets delayed; |
| Optimizing images | loading heavy images causes the site to become much slower. You can use special programs that will reduce the size of the picture. Besides, such services will result in compression without loss of quality, and therefore your users will not even notice the difference. Use these optimization services to make your site pages load as quickly as possible by reducing the size of images on your site's pages; |
| Data Compression | as we mentioned before, your webpage code should be as simple and optimized as possible. Remove cumbersome constructions, replace them with simpler versions. Remember that compressing your site's data will speed up the resource and not lose potential customers. Use static compression so that the server gives users the latest compressed version of your site |
Using CDN
The application of CDN is an advertised measure to speed up your resource. Don't neglect this opportunity to improve your platform performance now!
The user usually connects to the nearest network server. That's why the creation of TCP and TLS connection happens faster. In the case of data located on the CDN, the user can get it much quicker. This setting significantly reduces the load on your server.
CDN can provide the data of the resource in its original form and optimize them. It makes it possible to speed up the loading of your site without much effort.
Find the technical issues that can harm your website speed!
Crawl your website and find out all kind of issues that can harm your website speed and your SEO in general.