What is a Canonical Tag?
A Canonical URL is an HTML tag in the <head> section of a web page. The best way to show the search engine which page URL has the original content. The search engine crawls and indexes the original page and does not consider duplicate pages based on the canonical URL.
In other words, the canonical tag gives the search robots information about which page they should put in the search index and display it in the search results for user queries. If you have two pages with identical content, the presence of a canonical tag will tell which page is important and primary and which is a clone/duplicate. The search engine will not include the duplicate in the search engine index. A typical canonical URL example: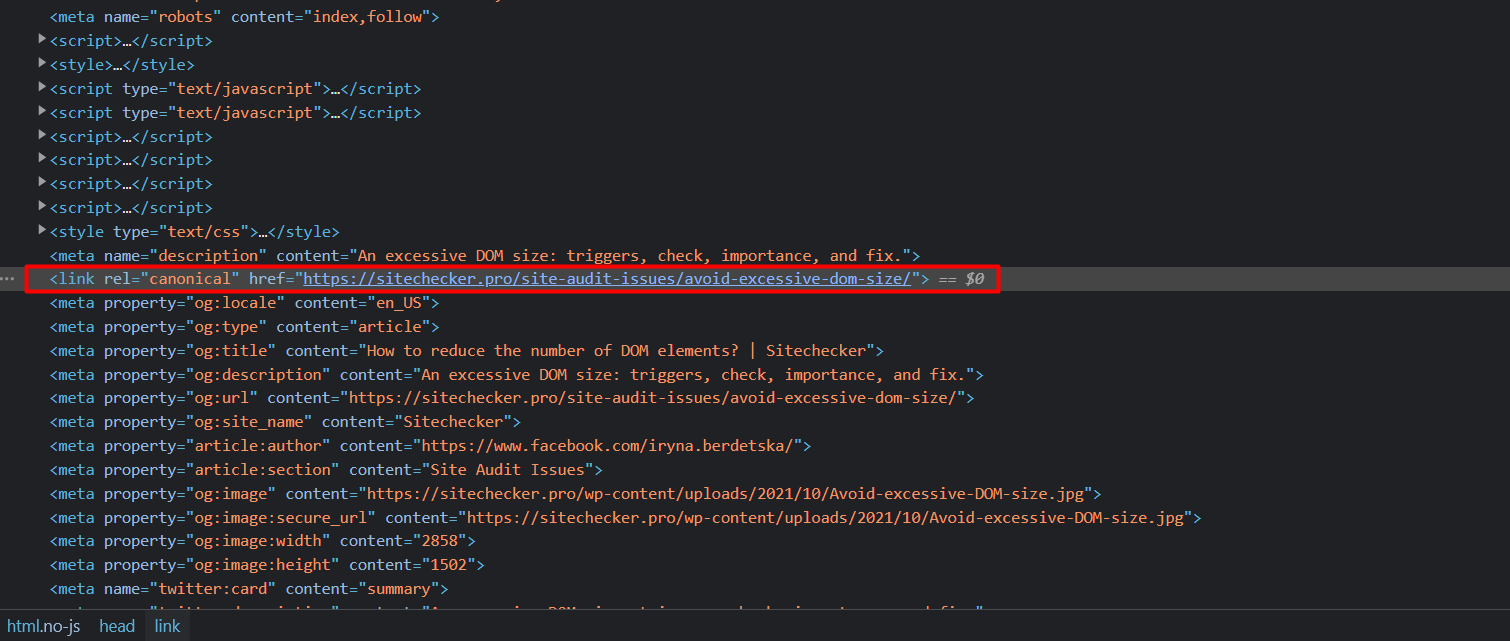 It's significant to monitor canonical pages on your site to know which ones are getting or not getting enough search traffic. That's why we created the free tool, which name is Canonical Checker, to help you find out if your page is canonical or a duplicate. Use the tool to verification search engine crawlers on the right pages.
How To Use Сanonical Tag Tester?
Our free Canonical URL Tester tool checks the canonical HTML tags of a web page on your site. The canonical URL communicates with search engine crawlers and allows you to tell the search engine which link is "favored" or "original." But also we offer you to check the entire site to find out if any pages have canonical problems. That will help you fix canonical issues not just on the exact page but also on the site.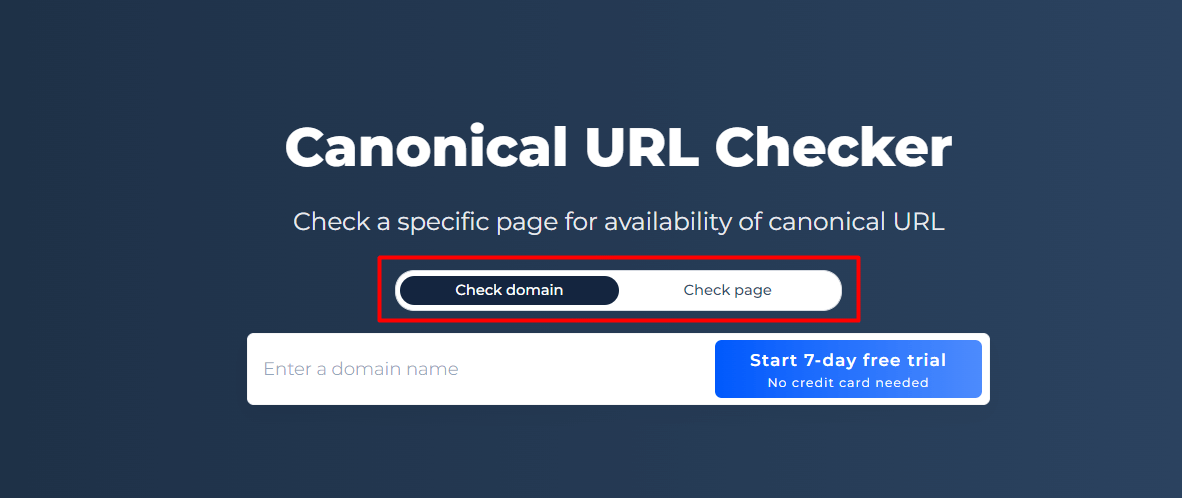 Our tool can help you avoid duplicate content in search engine optimization and track canonical versions of pages on your website. Below, we explain how to use the tool. In the screenshots, you will find instructions on using the free tool.
Domain Check
Step 1: Input your domain to begin the free trial
To check a domain, click the "check domain" button. Enter your domain name into the box below, hit the free trial button, and you're all set! No credit card is required just log in with your Google or Facebook account or by email to start your trial period. It's super simple and fast!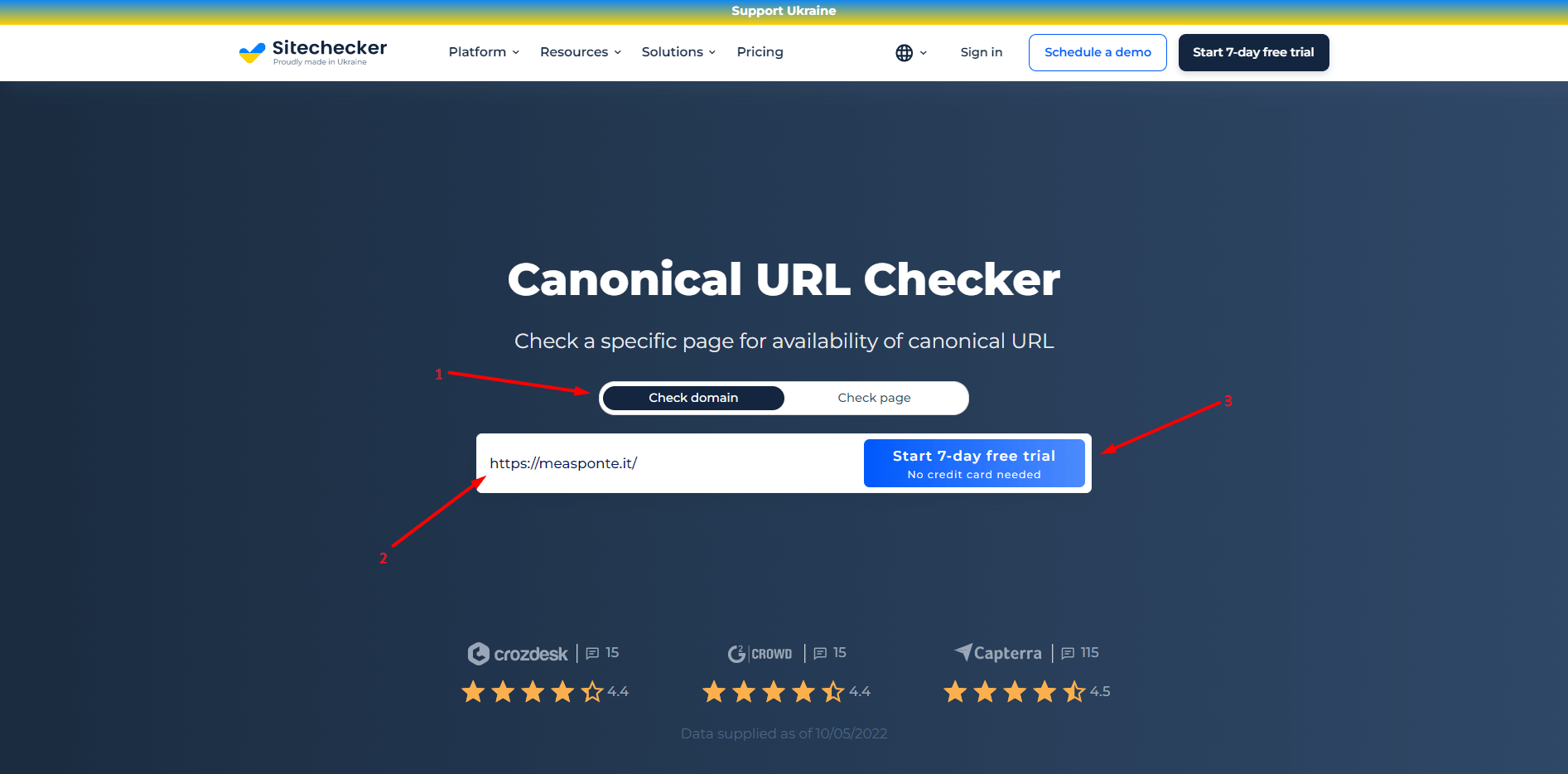 Step 2: Check for the results
By scanning a domain, you will automatically receive a free full-site audit. Our crawler analyzes and creates a list of all URLs with canonical issues so that site-wide canonical problems can be fixed. For each offense found, we provide a list of URLs with that kind of problem and comprehensive instructions on how to fix it. Also, we offer easy access buttons to view the issue in code.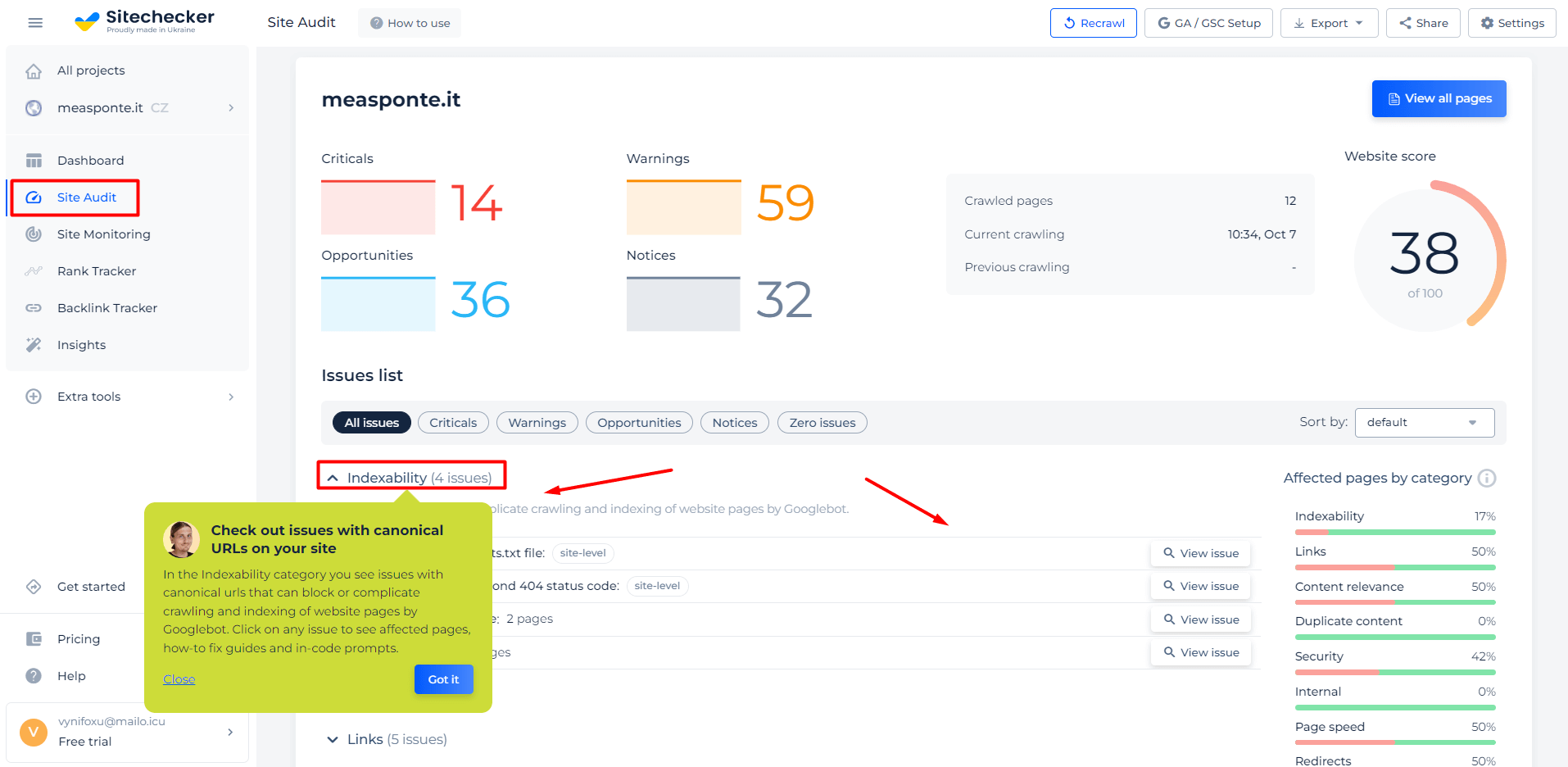 Additional features of domain/website canonical scanner
On the site audit summary page, you'll see not only canonical error issues but also a comprehensive list of internal problems. Additionally, you may sort them by type, such as Criticals, Warnings, Chances, and Notices. Alternatively, you may examine them based on topic area – for example, Links, Indexability, Content Relevance etc.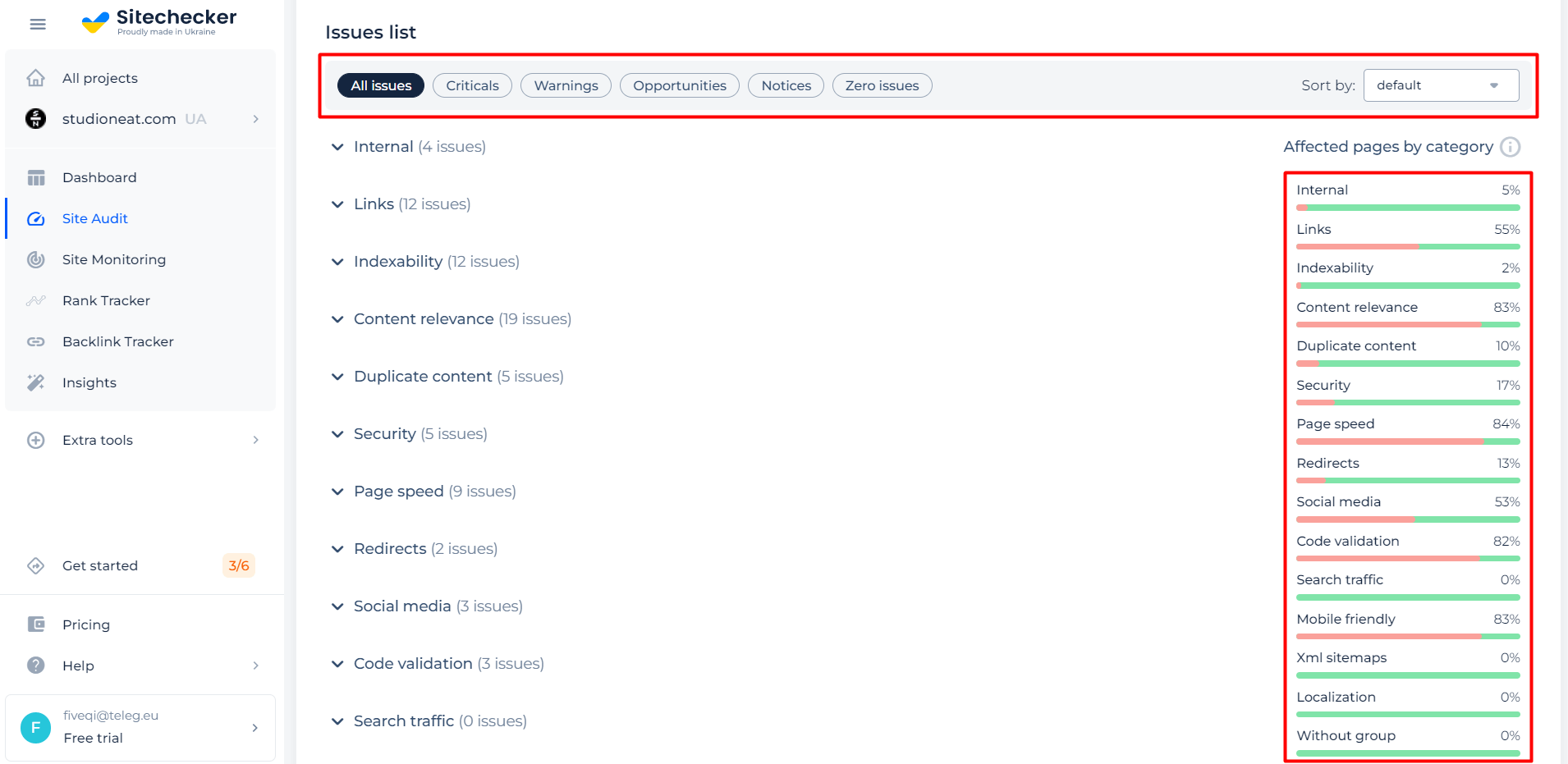 Page Check
Step 1: Enter your URL and begin a free trial
If you want to check a specific page, select "Check URL." To get started, input your URL below. Not only is it easy, but it's speedy as well! And the best part – you don't need a credit card and signing up for a free trial is super simple with options like Google or Facebook.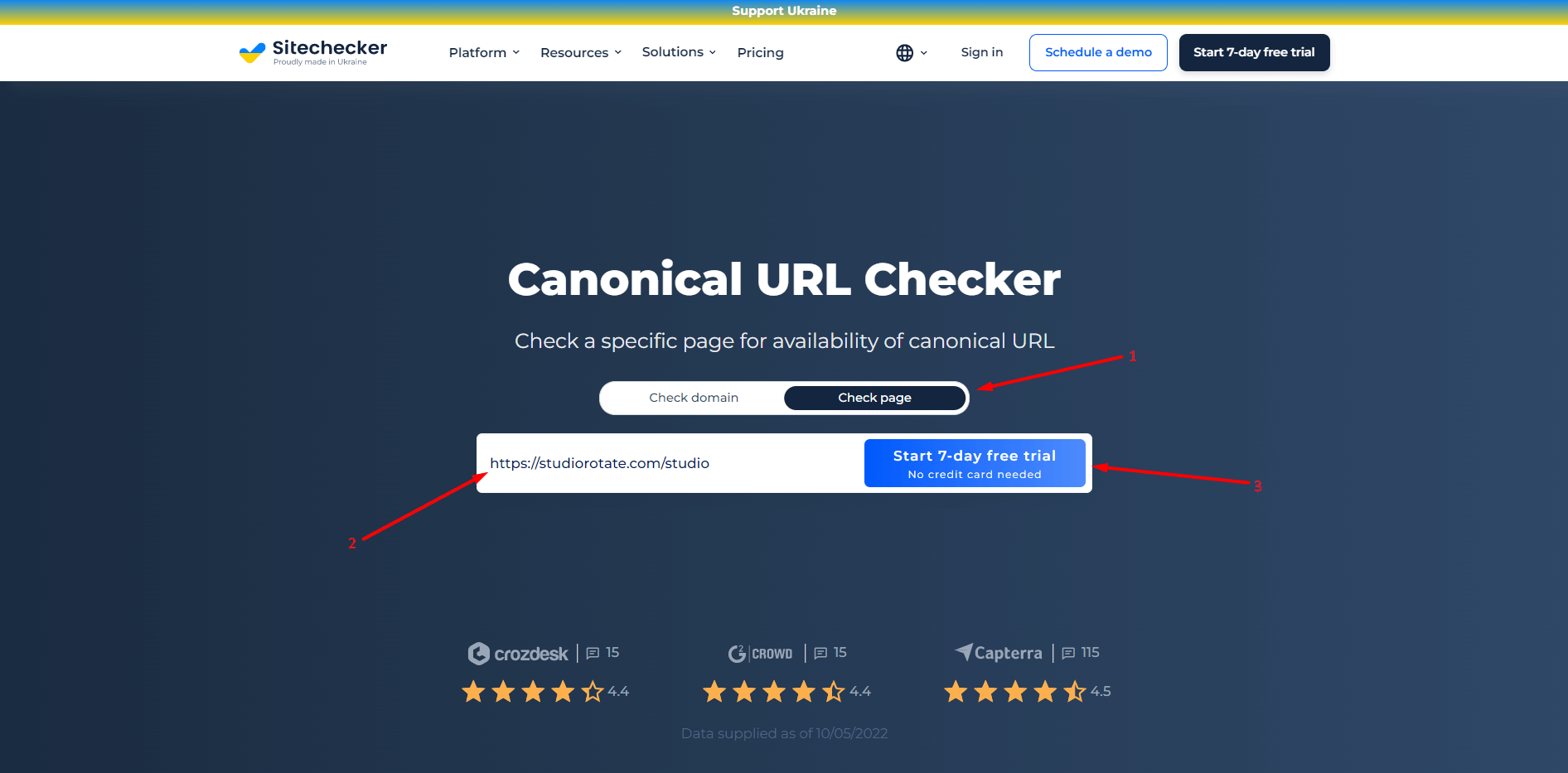 Step 2: Analyze the results of the canonical URL checker
The URL you added to our tool will be crawled in order to gather data. This process should only take a few seconds. On the result page, you will find canonical URL data for your page and will find out if the page is the canonical one.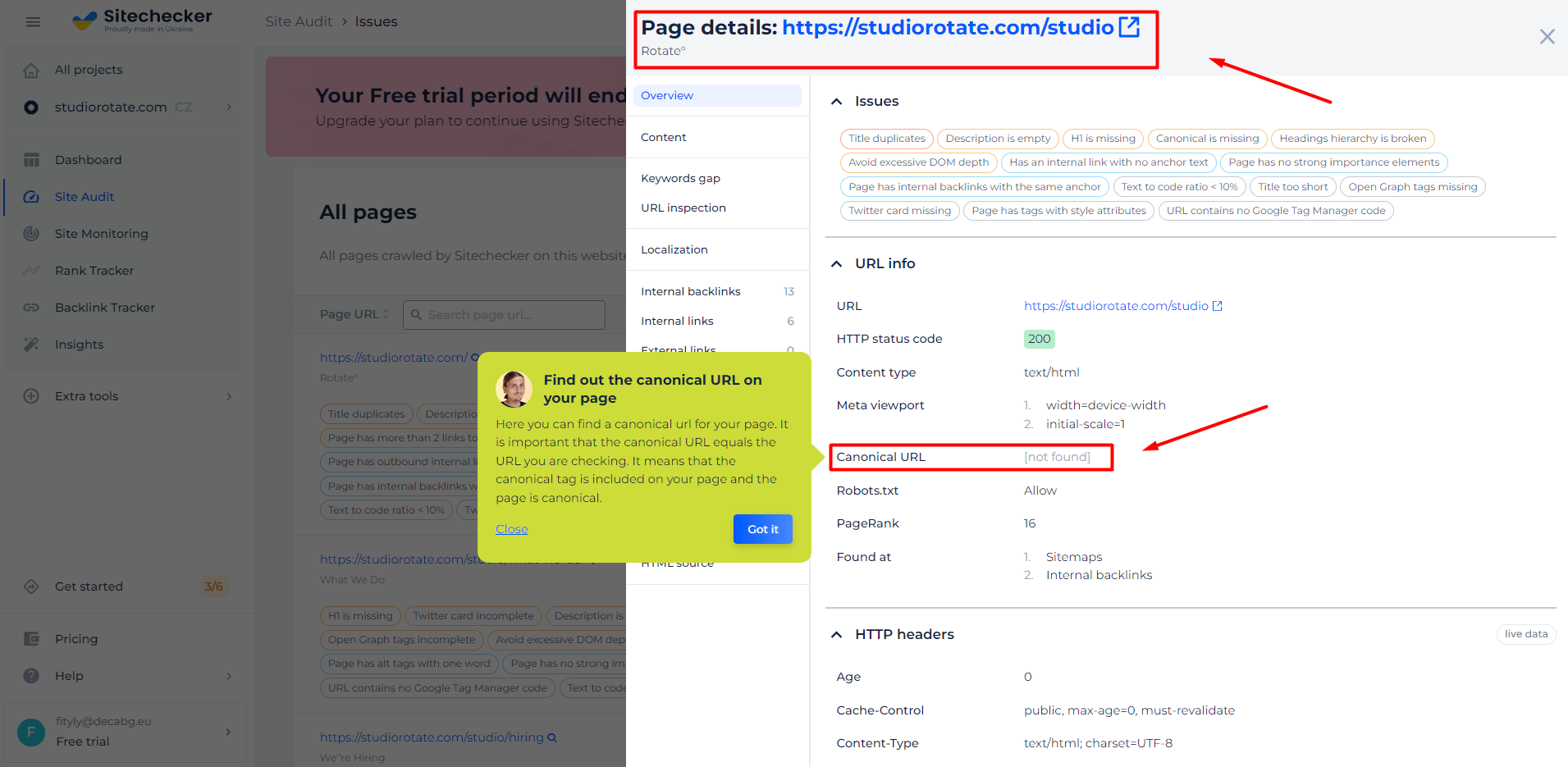 Additional features of URL canonical checker
The inspection of a page provides you with the opportunity to check for other issues with that same page, such as content, localization, website speed, and so on. Identifying these problems may help you improve your page and the whole website.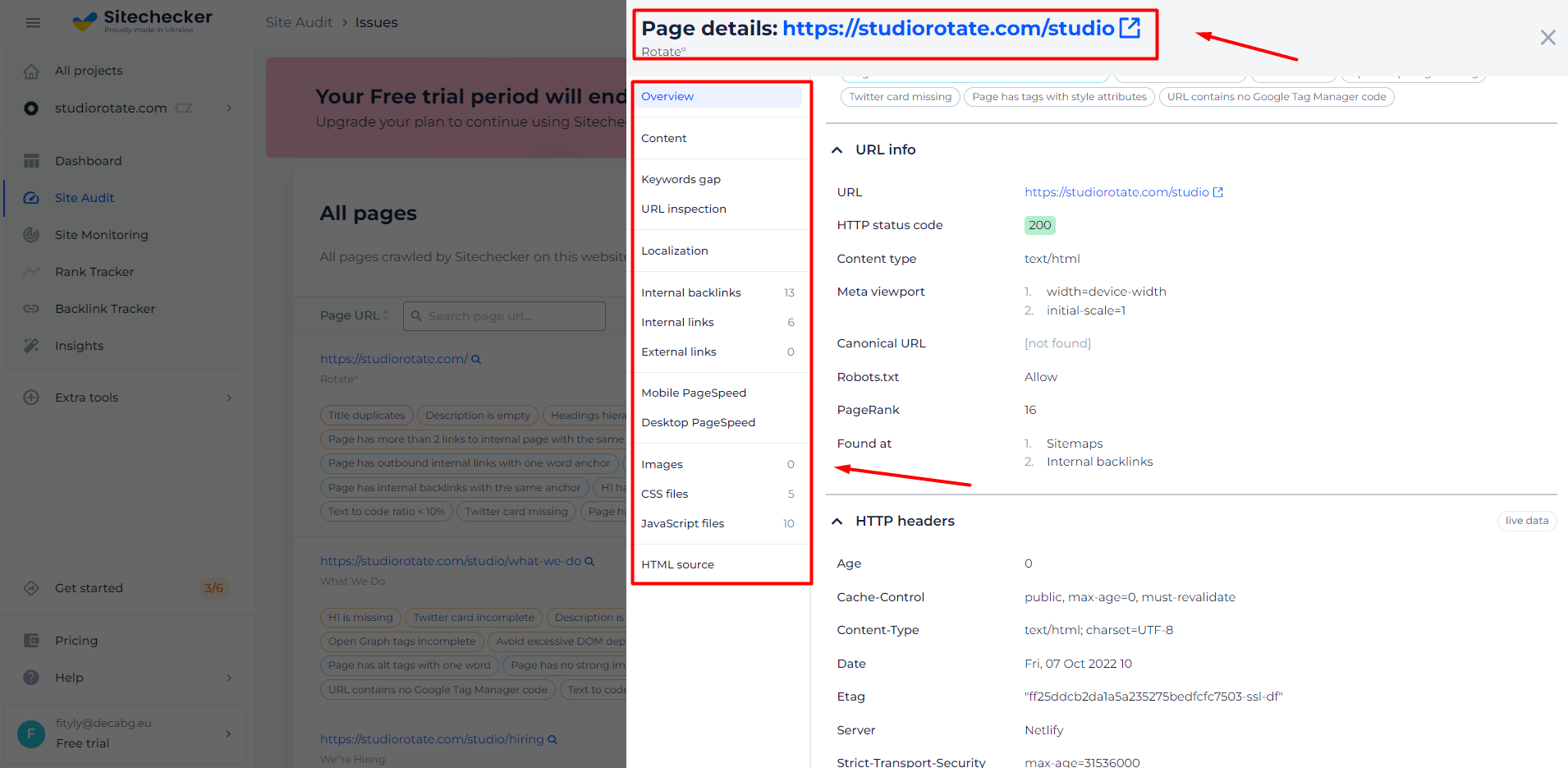 If you want to look at other parts of your site, it's a breeze since we did the audit for you. So, simply close your page details and input the URL you're interested in into the search bar on "All pages." You may learn more by clicking on the link.

Detect not only the canonical problems but also other kinds of technical issues!
Crawl your site and find out all URLs with issues that can hart your users or your website SEO.
Cases When Tool is Needed
Canonical URLs help search engines combine information about individual URLs (such as links to them) into a single authoritative URL. Also, if you distribute your content for publication on a different domain, canonical URLs help anchor page rankings to your preferred URL.
With this tag, you can emphasize pagination pages, mobile pages, or local pages. These might be archive pages or service pages important to your site, but don't give them link weight or want them to be not visited by users. If duplicate versions of pages you can't remove and don't want them in the search index, implement Canonical on the website.
We recommend reducing this issue and the number of such pages or setting the Canonical extension correctly. Implementation will help avoid an error, Canonical points to redirect or Canonical is a relative URL.
How to Add a Canonical Tag in HTML if it is Missing?
We have a detailed, complete guide on how to fix the canonical tag is missing issue. Also, you can check out the video version of the guide right here.
FAQ
The canonical URL is the page's address from the group of duplicate pages, which is a priority and is added to the index by the Google search engine.
How does a Search Engine decide which URL to index or not index?
You can instruct search engine crawlers using the rel=canonical to allow them to include the webpage in the index or not. You can also create these instructions via the Robots meta tag in your href HTML pages <head> section or the X-Robots-Tag in the HTTP header.
When is canonical URL used?
Canonicalized URL is used when the same page content is displayed at a different URL and when the same content is available at a different URL but in a different version.
Why is canonical URL Tag important in SEO?
The canonical tag in the source code specifies which URL the search engine robots prioritize. It will avoid duplicate content because all original pieces of content should be accessible only by one URL.