How to use Alt Tag Checker
Step 1: Insert Your URL and Start Free Trial
It's easy and fast to start your free trial with us – you don't even need a credit card. Just confirm your email or use your Google account to start.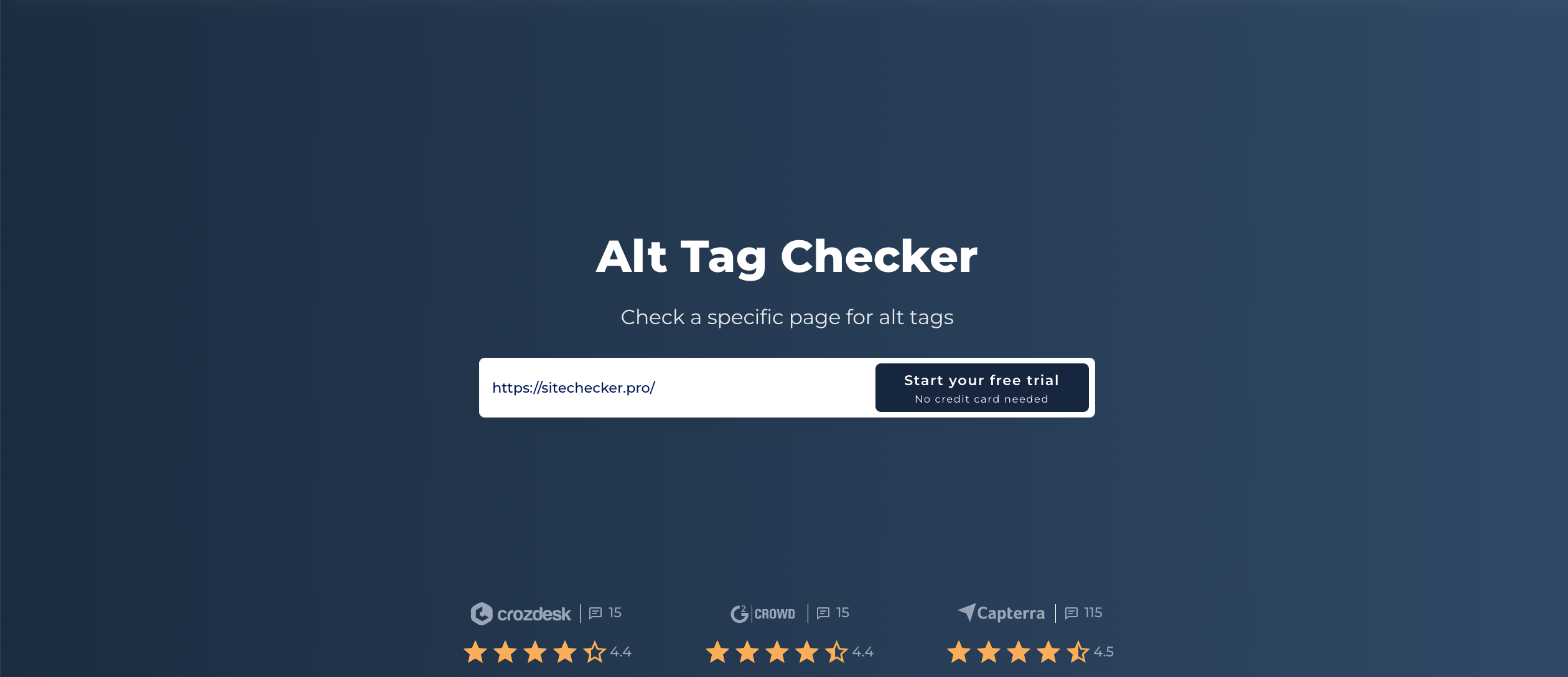 Step 2: Get Result
We will quickly crawl the site you added to our tool, including the URL you provided. In just a few seconds, you'll have results for your URL with data on alt tags. The results page will also include a page SEO audit with an overview of all issues present on the page.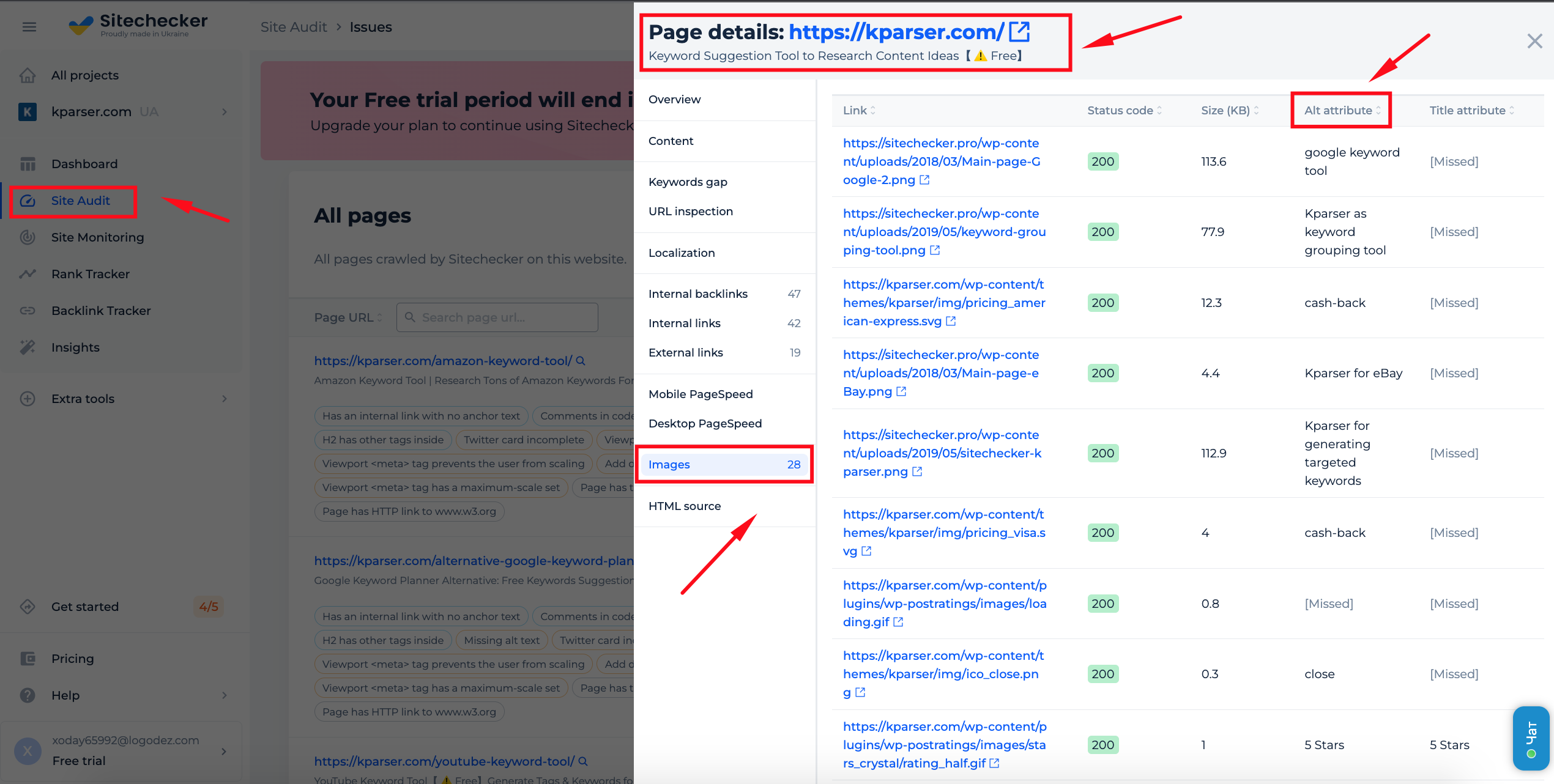 Features of Alt Tag Checker
After you create a trial account, you will be able to run a full-site audit that includes identifying various types of problems and listing the URLs where those problems occur. Additionally, we provide instructions and video guides on how to fix the identified issues.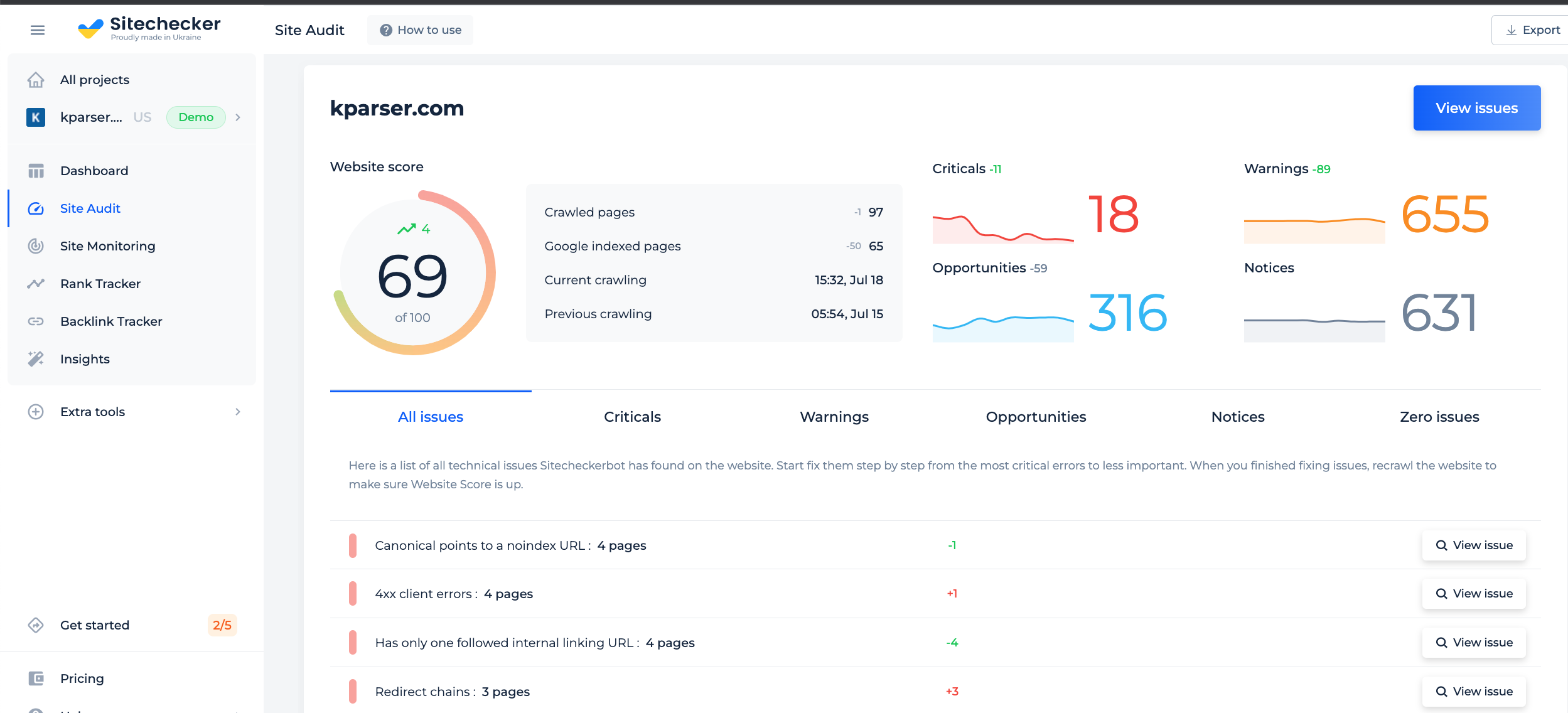 You can also see the alt tags for all the pages on your site. This way, you can identify any pages that have alt tag issues and quickly fix them. You will be notified if these issues are detected on new pages.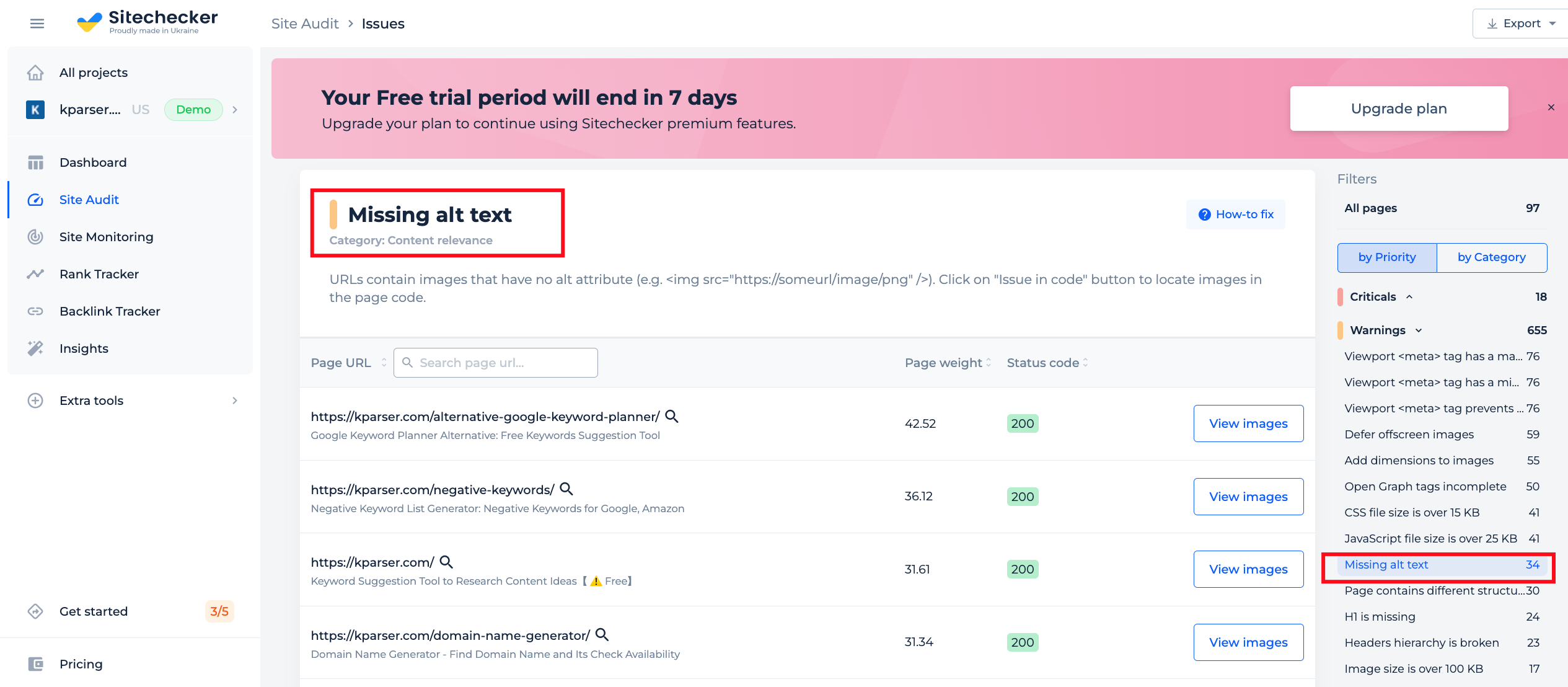 If you want to double-check the image issues on a particular page, you can use our on-page checker in your account.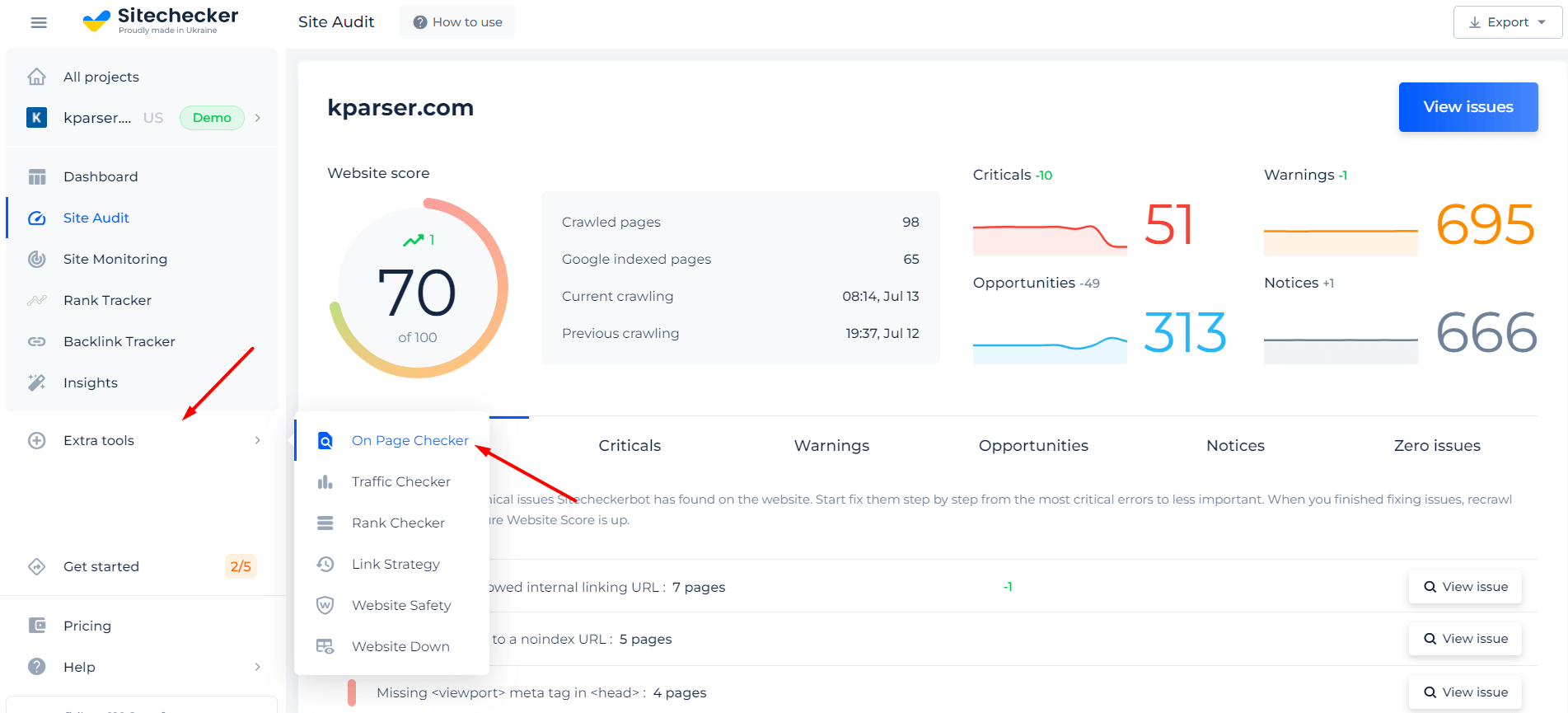 Find all pages with image issues right now!
Make a full audit to find out and fix page alt tags issues in order to improve your technical SEO.
What is alt text?
The alt attribute is a picture description consisting of several words, read by the web crawler when page is indexed. If user has disabled the graphics support function in the browser, then the contents of the tag will be displayed instead of the picture. The text for this attribute should not be excessively long.
The title attribute is a description for the visitor. If the user rests the mouse cursor on the picture for a couple of seconds, title attribute will appear. Usually, to fill this tag a detailed description of 1-2 proposals is used.
Why do we need alt tags?
No doubt, the graphic image will load correctly even if the image tags do not have img alt and title. But in this case, the possibilities of SEO images will remain unactivated. Having spent a bit of time creating an alternative description, webmaster will be able to:
transmit the necessary data to search robot;
attract new visitors;
increase readers' loyalty.
Search engines examine uniqueness of graphic images, but they are not able to analyze their thematic identity. Therefore, if a webmaster wants a robot to categorize a picture, then it should make up a text for the alt tag.
In addition to the main search, Google and Yandex have "images" service. By creating optimized descriptions of image tags, webmaster increases the chances that Internet users will be able to come across his website using this service. In a result, traffic growth will be ensured.
Checking alt tags is important but not enough to get good SERP positions!
Make a full audit to find out and fix your website issues in order to rank by images as well.
Keep in mind that there are different types of issues with images including
pages having redirected images
.
How to use tags in SEO promotion?
To attract leads to promoted requests, webmaster has to make up descriptions using key phrases for alt and title. The text created for alt tag can look like this: "adjective + key phrase". For the title attribute, it is recommended to create a complex sentence "adjective + key + addition".
For instance, let's take a key " New York real estate ". For such key, you can draw a description alt "New York real estate luxury", as well as the title "luxury real estate in Manhattan, New York." An optimized description of image should contain such words as "photo", "picture".
Alt text best practices
Eventually, image alt should be distinct yet in addition descriptive of the point of the webpage. 
Be specific when you describing the image.

Depict the picture, and be explicit. Use both the picture's subject and setting to direct you. 

Keep your alt text less than 125 characters.

Screen-reading tools regularly quit perusing alt attribute at this point, cutting off wordy alt text at awkward moments. 

Try not to begin alt text with "picture of…" or "Image of…" Jump directly into the picture's description. Screen-reading tools (and Google, so far as that is concerned) will recognize it as an image from the article's HTML source code.
Utilize your keywords, but sparingly.

Possibly incorporate your article's objective keyword if it's effectively remembered for your alt text. If not, think about semantic keywords, or simply the most significant terms inside a longtail keyword. 

Try not to pack your keyword into each and every picture's alt attribute.

In the event that your blog entry contains a series of body images, use your keyword once. Identify the picture you believe is generally illustrative of your topic, and assign it to your keyword.
Also, you can check out the full guide by Tomm Griffith co-founder of ClickMinded.