Website Traffic Checker is our data checking tool. With it, you can get and analyze your web traffic to optimize it. Get all the most important website traffic metrics that are important for evaluating the power and optimization of your resource.
Let's briefly look at how our tool can help you improve your online business and what metrics you can track with it to optimize your resource.
Importance of Web Traffic Analysis and Monitoring
Analyzing traffic data about your site is an important process for promoting online, increasing search traffic and sales. Regardless of how big your site is and how many users it has, you should have a regular site audit. With it, you'll get information about your user's sources, check website visitors, your closest competitors, and what you need to fix to optimize your resource.
If you're not examining how your site is performing and what results you're achieving, then you're missing out on potential visits and users every day. Every day there are new engagement metrics to measure a site's success, but the basics in website traffic check remain.
Check site attendance if you're a site owner to adjust your development plans, marketing activities and better understand the audiences for the product or service promotion.
Any site owner should monitor website traffic analysis and the audience's sources to use this information to their advantage. The better and more detailed data you process, the better results you will get, and the better you can improve your resource.
What is more, it happens sometimes when non-indexable urls receive traffic. To fix the issue read the article in order not to have the problem with that.
How to Use the Tool?
Step 1: Insert your or competitor domain and start the free trial
To get started, just enter your domain below. It's easy and fast! No credit card is needed – you can even use Google or Facebook to sign up for a free trial without any hassle at all.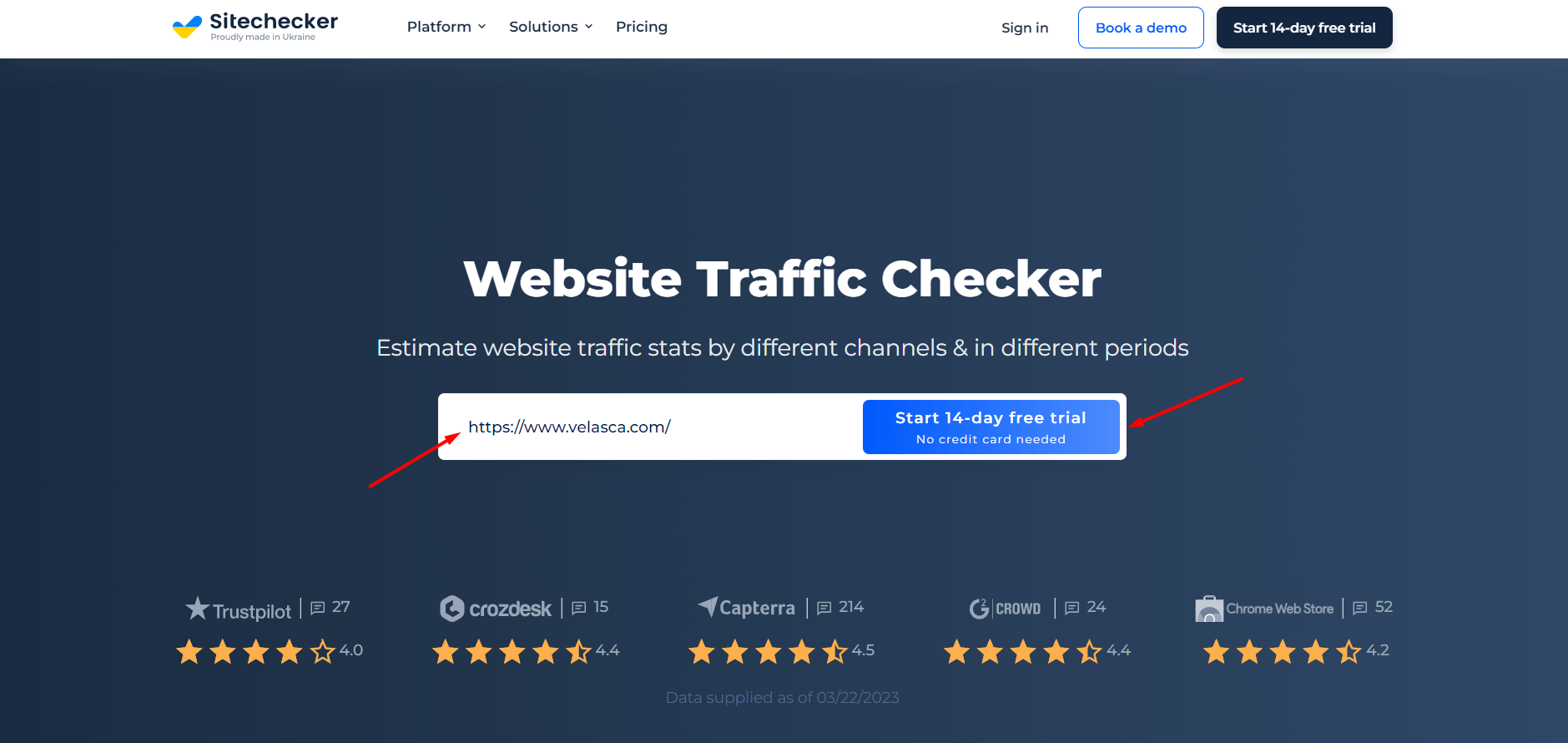 Step 2: Please specify the website for which you would like to access traffic data
Our powerful tool provides you with easy access to traffic data for both your own website and your competitors. We have also included a range of valuable features to help you gain deeper insights into both scenarios. With these features, you can gain a better understanding of your online performance and gain a competitive edge in your industry. So, just answer to simple question: "Is it your own website?".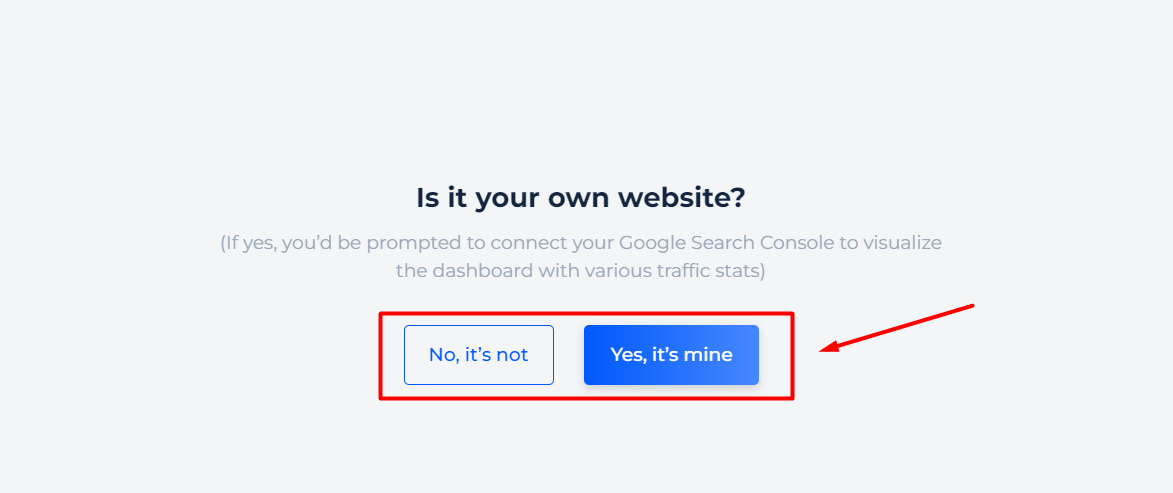 Step 3: Access your results and take advantage of our powerful features
For your own website
To access data for your own website, simply select 'Yes, it is mine' and connect your GA and GSC accounts. This is a fantastic feature that we offer, as it allows you to gain insights into your website traffic from the two best analytics platforms, all in one convenient location. We have also created custom dashboards with valuable insights.

Check out our traffic dashboards, which include general traffic, organic traffic, and top 10 landings with GSC traffic data for them.
If you have E-Commerce in GA, you can also access sales data and correlations with traffic, giving you a complete picture of your website's performance.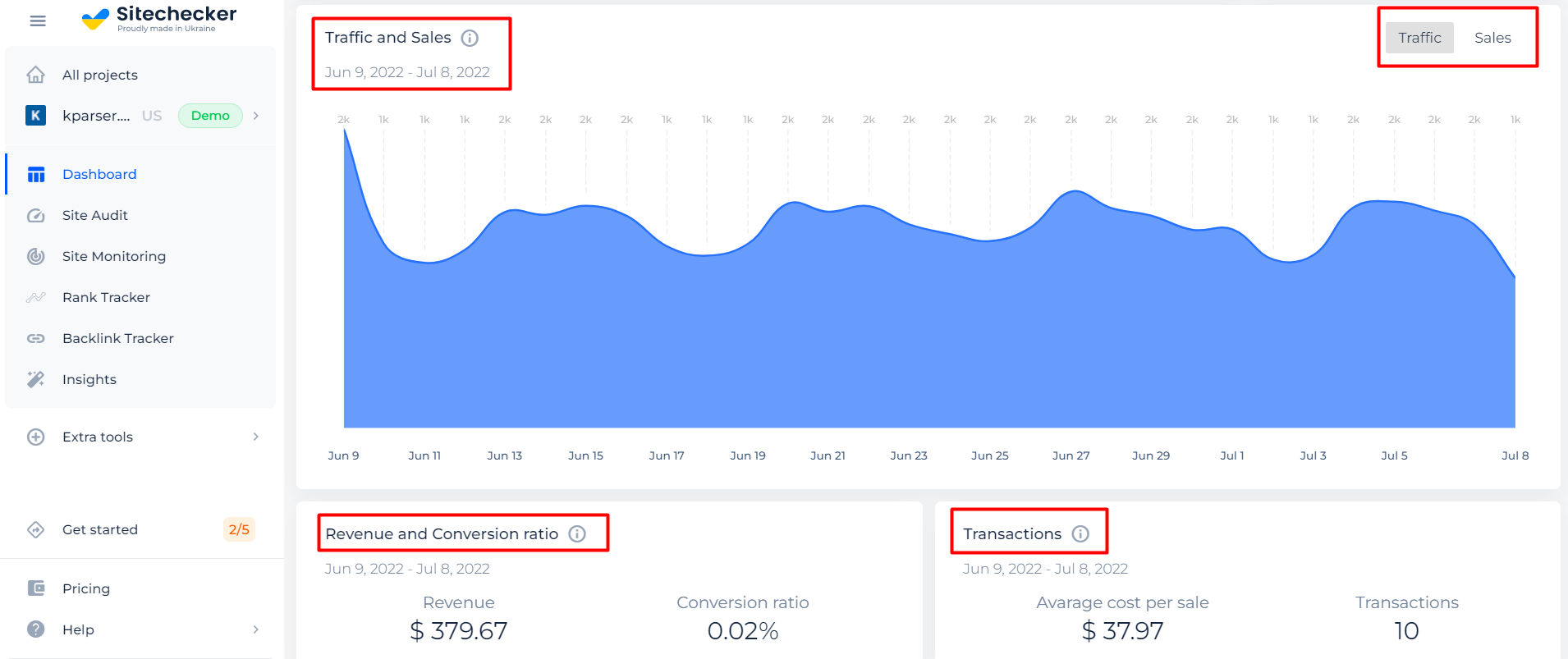 With our user-friendly interface, keeping track of your website's dynamics has never been easier.
For competitors website
Let's take a closer look at the main elements of a website traffic estimator and consider how they help you evaluate your competitors.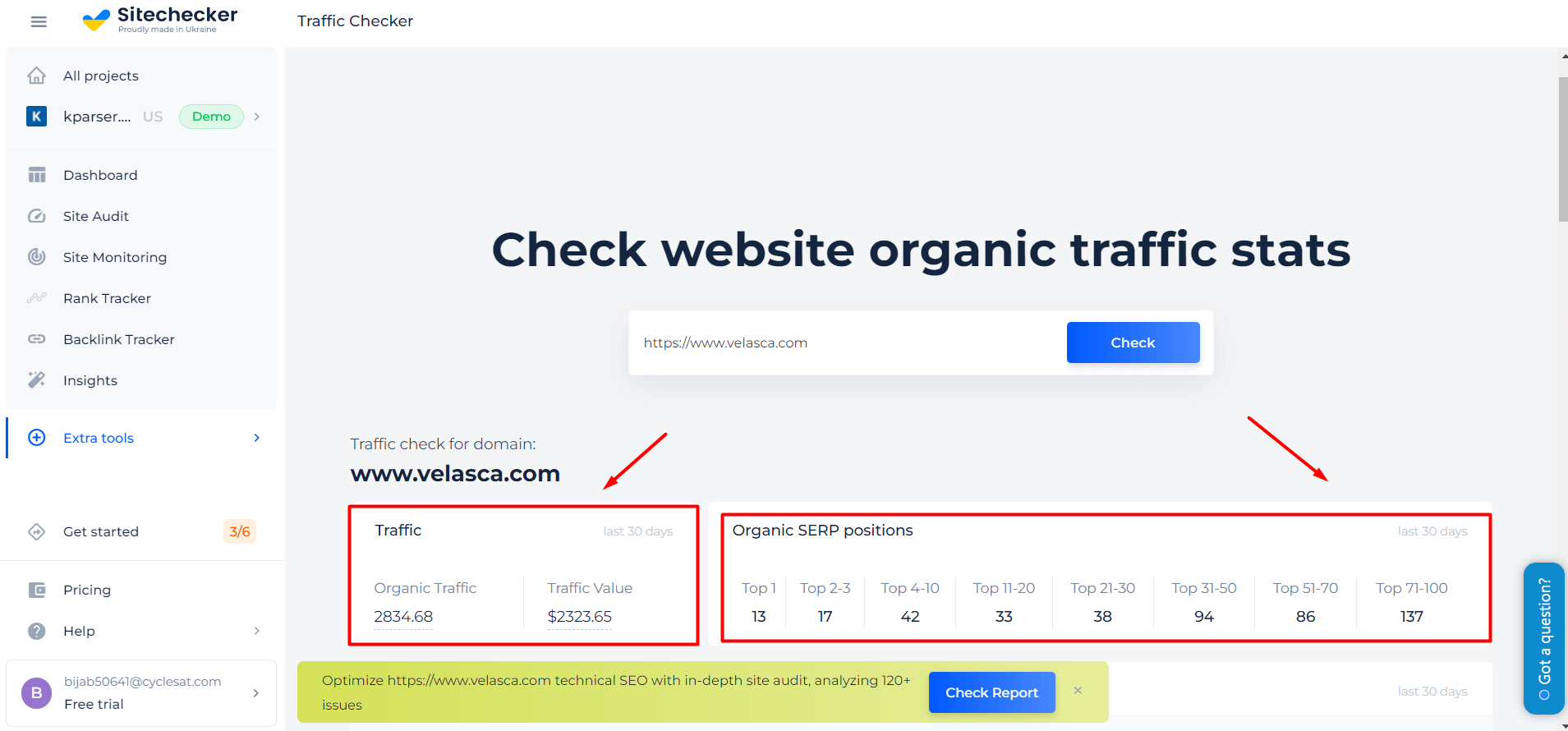 Organic traffic:
Organic traffic is generated from the click-through rate (CTR) and search volume associated with each keyword for which the domain ranks.
Traffic Value:
The traffic value represents the expense associated with driving the estimated monthly organic traffic volume through pay-per-click (PPC) advertising on Google Search. This provides an understanding of the potential financial value of the traffic.
Organic Search Engine Results Page (SERP) positions:
This metric displays the number of keywords for which a competitor ranks within various SERP positions: top 1, 2-3, 4-10, 11-20, 21-30, 31-50, 51-70, and 71-100. It offers insight into the overall visibility of the competitor in search results.
Furthermore, our competitor traffic estimation includes an additional feature: Top Keywords. This allows you to examine the top 30+ keywords for which a website ranks. Each keyword is accompanied by its relevant URL in the SERP, position in the search results, average monthly search volume, cost per click (CPC) from Google Ads, and the top geographical locations where the website ranks for the keyword.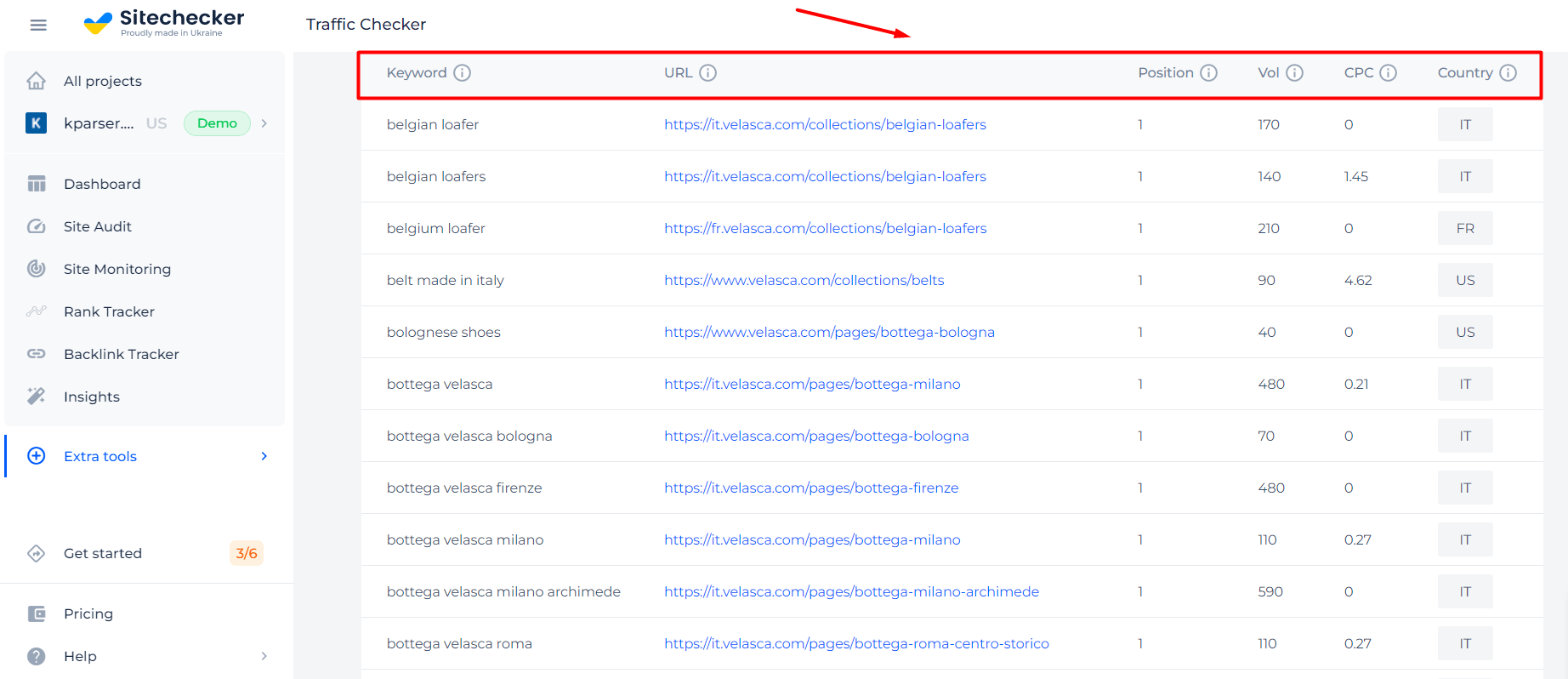 If you are interested in not only evaluating competitor traffic but also assessing their technical SEO performance, you can take advantage of our SEO audit feature.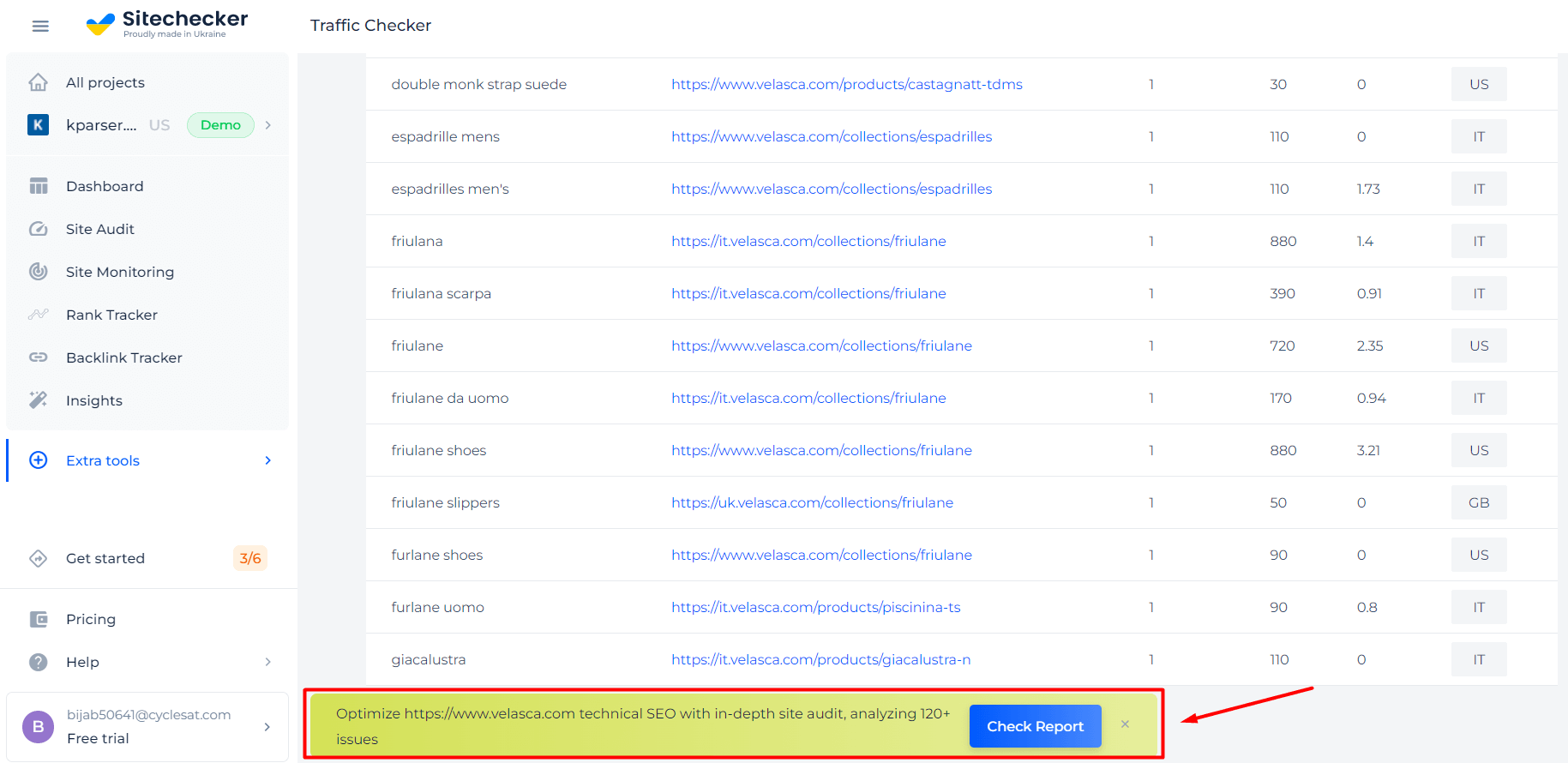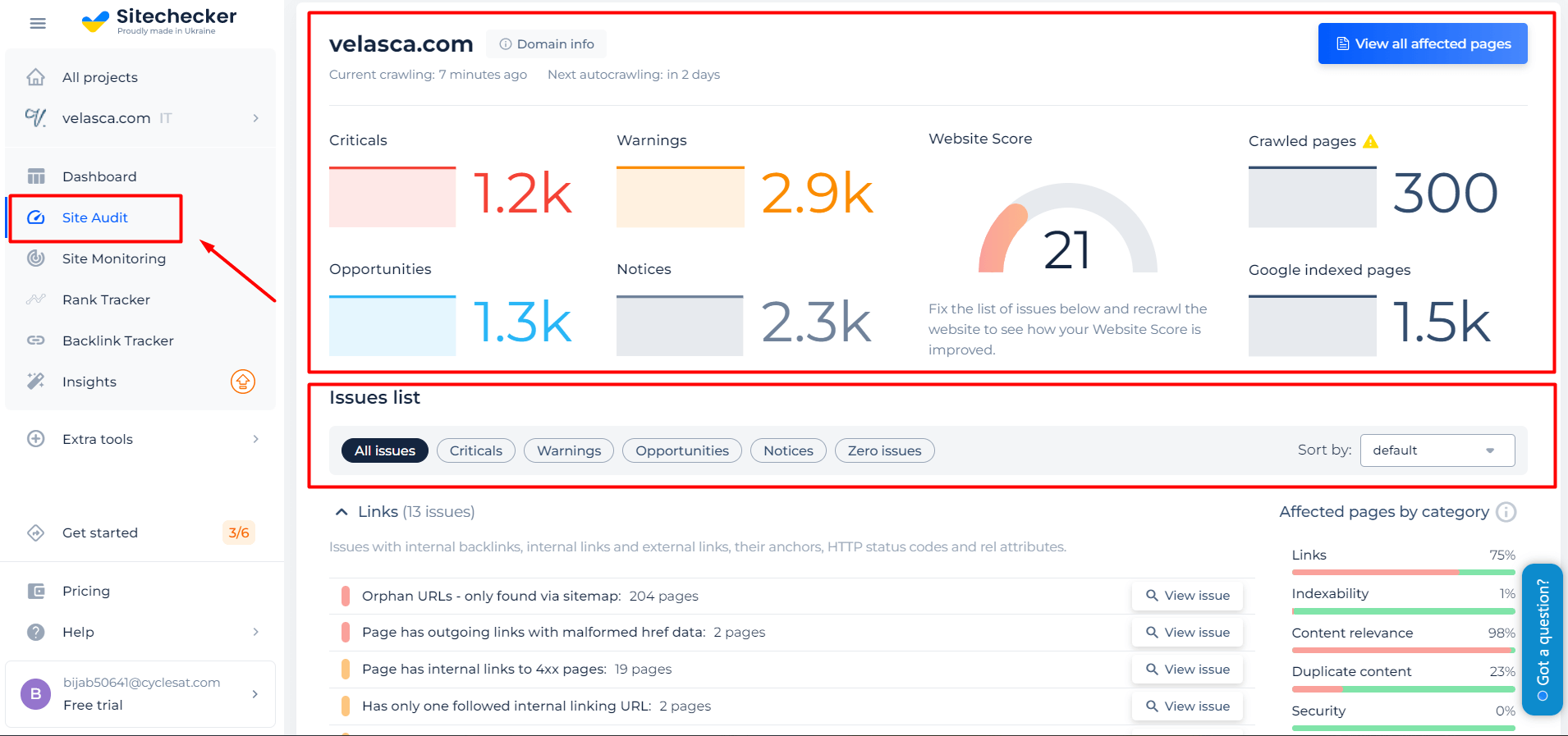 Analyze not only traffic but the entire site!
Make a full audit to find out and fix your technical SEO. Make traffic growth possible.
The Stats Data Usage
Using the data on the statistics of attendance of your web resource, you can get this information:
The total number of users of your site and

web site visits

.

The actions that visitors perform while on your site.

Changes in visit sources.

Results of actions taken to optimize your site for search engines.
Analyze your site's key metrics with a website traffic analyzer to improve weaknesses and get new sources of site attendance check. Regardless of what your site's goals are, you need to analyze the information.
Important Website Traffic Statistics and Engagement Metrics to Analyze
Sessions. The number of visits to the platform during the selected period. One session lasts at least 30 minutes.
Pages / session. Shows how many pages users navigate to per session. 
The average duration of a session. The longer a user spends on your site, the better search engines will rank it.
Users. The number of unique visitors per period. 
Bounce rate. The percentage of users leaving the site in less than 15 seconds.
Channels – sources of user visits. 
CTR. The ratio of impressions to the number of clicks on your page in search results.
Clicks. This data shows how visitors interact with different sections of your site.
Using Website Traffic Checker for Competitor Analysis
When strategizing how to promote your site, you need to consider how your competitors promote and get a website traffic report. Competitor attendance analysis will give you the data you need to get additional users for your site. Website traffic analytics will allow you to analyze your competitors' key sources as well as their audience.
It doesn't mean you should repeat your competitor's keywords, but knowing exactly what they use in their promotion will be very useful to you.
How to analyze a niche?
If you are determined to analyze your competitors in your subject, our site visitor checker will help you. Completely free, you can get key information on your competitors, their promotion methods, as well as learn what methods exist to attract additional visits.
When analyzing a niche, you need to consider the geographic location of your audience, competitors' domains, and what channels to attract more visits are used in that niche.
How to check my website traffic?
There are many ways to check attendance on the site. We recommend using our Website Traffic Checker or Google Analytics tool to check website traffic and get data.
Also, you can get acquainted with the tutorial by Julius Fedorovicius, founder of Analytics Mania. You will find out how to set up the system & how to check website traffic on Google Analytics 4.
What is Critical to Remember Using Website Traffic Checker Tool?
How to check my website attendance? Using Website Checker data, you can see that it does not always match the data from Google Analytics or other analysis seo tools to check web traffic. The tools collect data according to their algorithms, and sometimes, the numerical values may differ slightly.
In addition, you should keep in mind that you're getting data about website visits not in real-time but after some period.
Final Thoughts on Website Traffic Checker Tool
A free website traffic checker is a useful tool for analyzing your website's visit sources, audience, and competitors. Use it to promote your site even more effectively in search engines and attract even more users. In the fight for higher search engine rankings, you should use analytics tools to check website traffic data.
Also remember about the problem when 404 page appears in search results or redirect (3XX) URL received organic search traffic.
Only by knowing and fixing your site's weaknesses will you be able to attract additional visits and bring your site to the top search engine positions.
FAQ
Can I check website traffic for free?
Yes! With a web traffic analyzer, you can check some website traffic for free. But there are some paid functions, so if you want to know more, get the full version of the tool.
How to check traffic on site?
You just need to type in your site's domain name and get all site traffic metrics. Analyze this data and compare it with the latest months.
Can I see website traffic history using the tool?
Yes, you just need to log in to the site to track the history of checks on your resource. Only then will you be able to track the history of changes.
How to check the website traffic of other websites?
Just add a new project during the test and analyze another site.
What is website traffic analysis?
Website traffic analysis involves collecting and interpreting (analyzing) data about visitors to your website in order to understand their behavior.
How to check visitors on the website by GA?
Google Analytics isn't just some numbers game, it provides basic audience and behavior metrics. It lets you segment your users by their demographics, the devices they used to visit your site, and whether this was their first time on your site. You can also use it to track a website's advertising performance and overall traffic numbers so that you're never left in the dark again. Also, we offer you a few clicks connection the GSC and GA to the Sitechecker for getting combined informative dashboards to describe your traffic in the most informative form.