What is an SEO Focus Keyword Generator?
The Sitechecker keyword suggestion generator swiftly uncovers lots of popular keywords. Make use of our specialized keyword analyzer to verify the search preferences of your prospective clients or audience across Google, Bing, Yahoo, and YouTube. Tailor the content on your website and profile to align with pertinent subjects. An abundance of query suggestions paves the way for enhanced performance in SEO.
Key features of the SEO keyword generator
SEO Focus Keyword Generation: The tool employs the auto-suggest technique to yield a rich array of fresh query inspirations. In contrast to the different planners, it unearths invaluable long-tail queries that boast substantial monthly searches, making them ideal for enriching your website's content. Leveraging the ranking metrics allows you to use the most efficient queries for SEO.
Multi-Platform Keyword Recommendations: Our query apparatus expands its reach expansively, delivering suggestions from various search engines. Discover prospective keywords extracted from platforms including Google, Yahoo, Bing, YouTube, and beyond.
Comprehensive SEO Toolkit: Our SEO suite stretches its wings further than the domain of just keywords and research. With Sitechecker as your ally, you gain access to an abundant array of features that embrace on-page and off-page SEO assessments, rank tracking, website supervision, and a wealth of additional facets. Utilize this in-depth data scrutiny to effortlessly pinpoint areas for improvement and uncover hidden gems.
When is the Keyphrase Generator Needed?
Content Creation: When drafting content for a website or blog, using a keyword creator can help find relevant keywords to make the texts more appealing to search engines and the target audience.
Website Optimization: If you are optimizing an existing website for search engines, a query generator can help discover the queries that potential visitors might use to find content similar to what your website offers. Incorporating these keywords can improve your website's search engine rankings.
Market Research: Understanding what keywords are popular in your industry or niche is essential for market research. A keyword builder can offer insights into current trending terms and phrases.
Competitor Analysis: Analyzing the keywords that competitors are ranking for can provide insights into potential areas for improvement or opportunities for your own website. A query generator can help with this analysis.
PPC Campaigns: When setting up Pay-Per-Click advertising campaigns, selecting the right queries is crucial. A keyword maker can help you find high-value keywords to drive traffic to your site at a lower cost.
Content Strategy Planning: Developing a content strategy involves planning the types of content to create, and understanding the keywords relevant to your audience is essential. A query generator can guide you in aligning your content strategy with the interests of your target audience.
Improving Long-Tail Focus: Sometimes, you may want to target long-tail keywords, which can often have less competition and a more specific audience. A keyword generator can help find these long-tail queries that might not be as obvious.
International SEO: If you target audiences in different geographical locations and languages, a keyword finder can help find popular search terms in different languages and regions.
Product Launches: When launching a new product or service, it's essential to understand what potential customers might be searching for. A keyword parser can help identify relevant keywords for your new product or service.
Utilizing an SEO Focus Keyword Generator strategically in these scenarios can greatly enhance your online presence and performance.
How to Use the Free SEO Keyword Generator?
Step 1: Input one or multiple foundational queries, configure settings, and hit the "Get keyword suggestions" button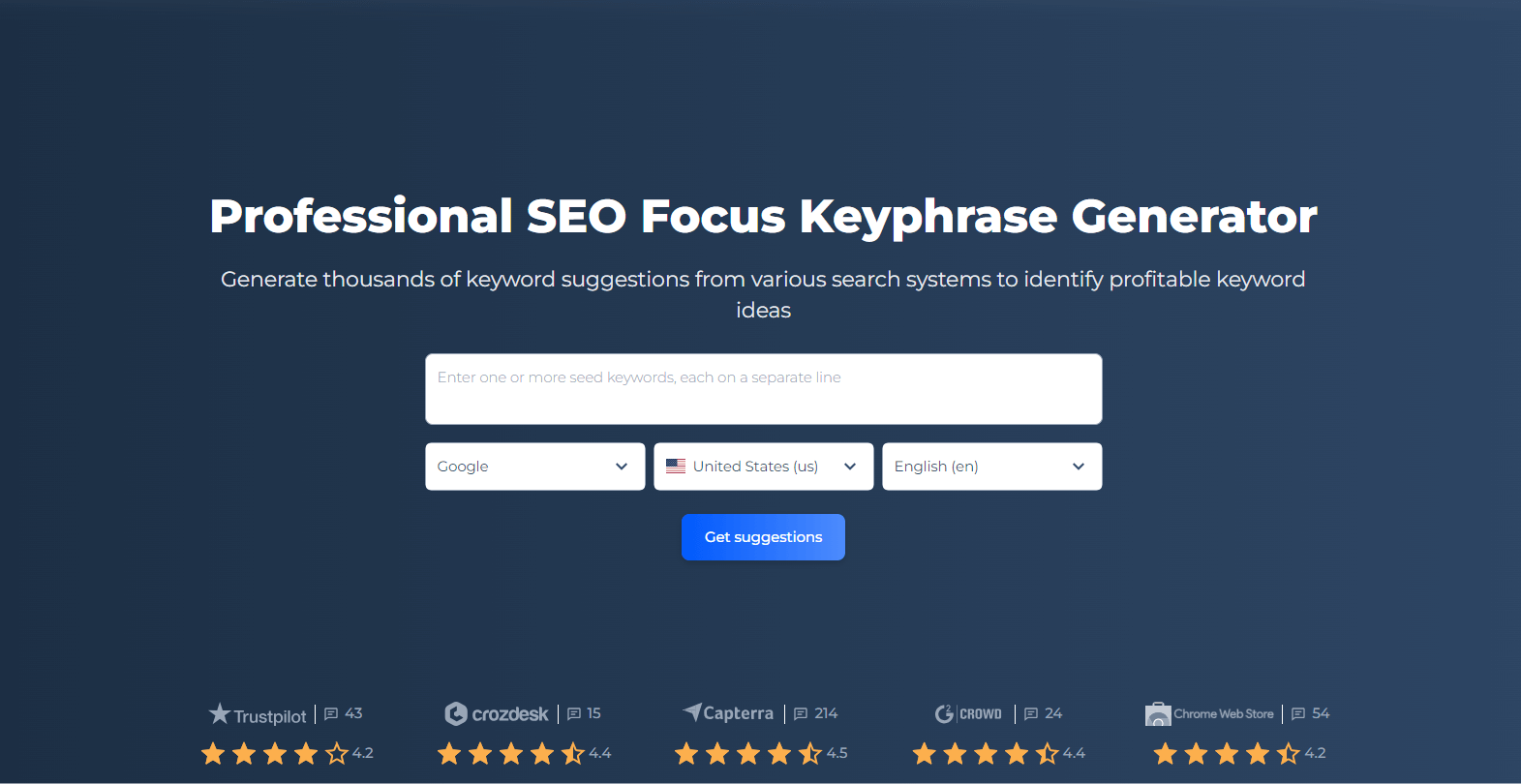 Note: To get more precise and targeted results, please use the additional settings feature to specify the search engine, region of interest, and language for the search suggestions.
Step 2: Retrieve your results and capitalize on the potent functionalities at your disposal
Upon initiating the crawl, you'll land on a results page showing information regarding the tally of suggestions unearthed and queued at the header. This is attributed to the crawl being in progress, and you possess the discretion to halt it once you have garnered ample suggestions. Beneath this information lies a roster of suggestions complemented by Rank metrics. The rank is an indicator based on the prevalence of each word within the expression among the amassed results.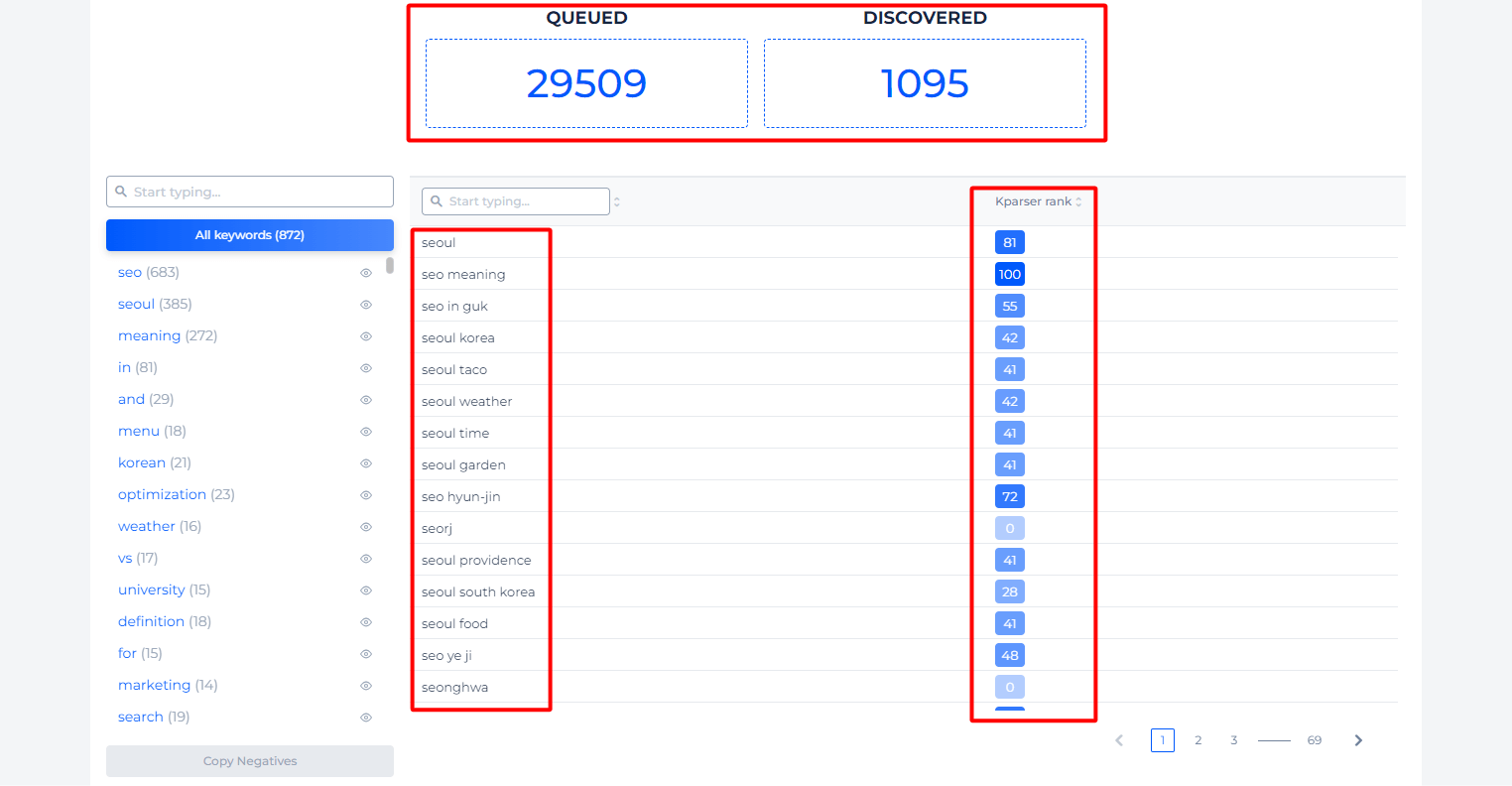 Additionally, in the left-hand sidebar, you will encounter clusters of suggestions systematically categorized based on the primary query from the overarching list, enabling you to use the app as a keyword aggregator.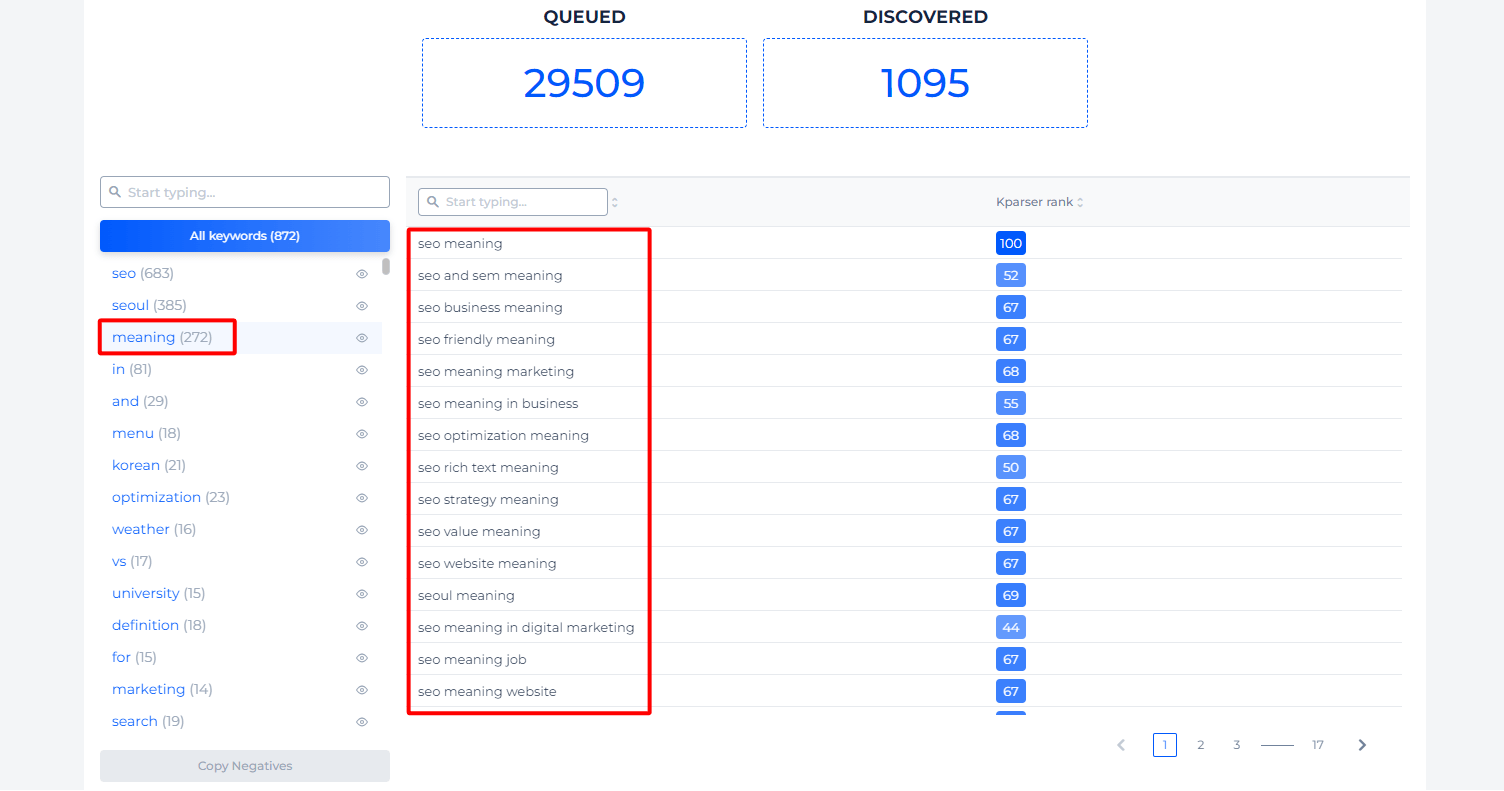 Features of the SEO phrase generator tool
Leverage the advanced mode features to optimize your time and get the full spectrum of suggestions for your foundational keywords.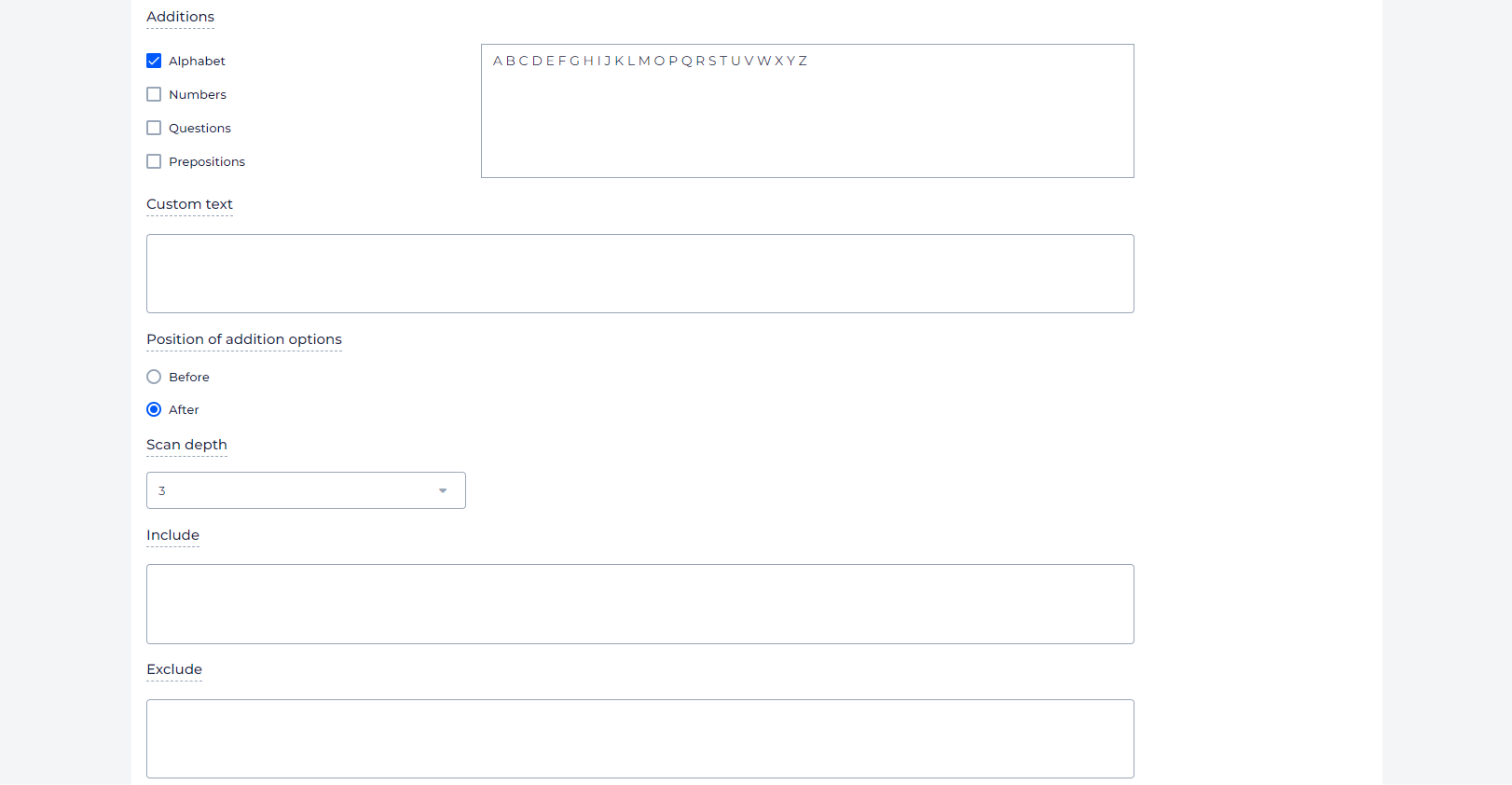 The following cutting-edge features are at your disposal:
Additions: Every checkbox represents an extra way to get even more results. For instance, "Alphabets" implies that we will probe for insights by replacing the necessary letter in your term. The "Questions" segment signifies that the results will expand by seeking responses to common queries containing your query. The "Custom text" field enables you to delineate additional words, symbols, or phrases for substitution to amass more insights.
Before & After function: The "Before and After" toggle act as determinant for positioning Alphabets, numbers, etc., either preceding or succeeding your term.
Scan depth: The search depth signifies the number of result tiers that will be scrutinized for insights.
Include: Functions to enumerate words or phrases (each on a separate line) that must be present in the results. Queries not listed here will be excluded from the final compilation.
Exclude: Functions to enumerate all the words to avoid in the search results. Furthermore, insights containing words from this section will not be displayed or used as a foundation for subsequent searches.
In addition, if your interests extend beyond query discovery and encompass tracking and monitoring the rankings of your website for these keywords, utilize our banner and click the "Activate 14-Day Trial" button.

Upon a swift configuration of keywords, region, search engine, and language, you will unlock access to our rank tracking instrument, coming with invaluable features.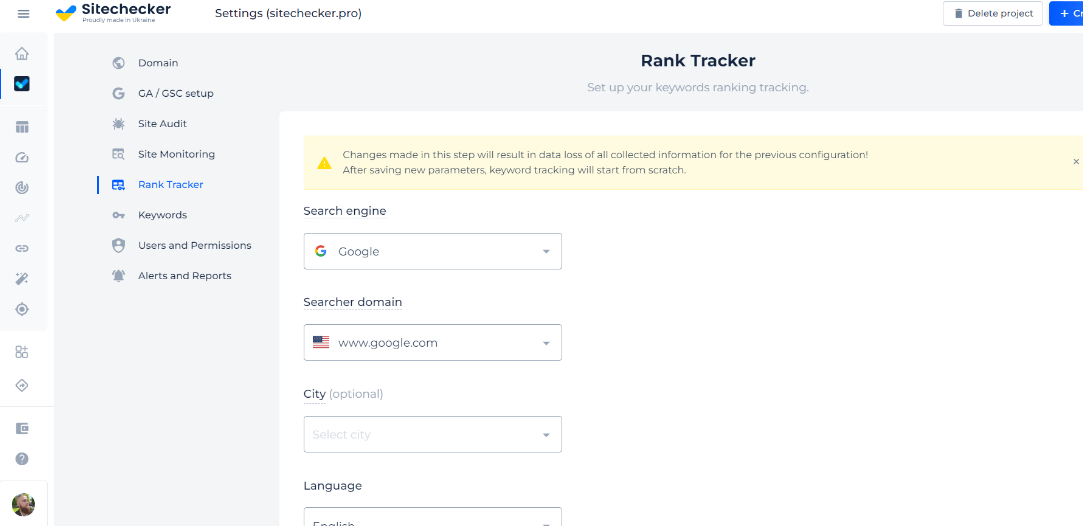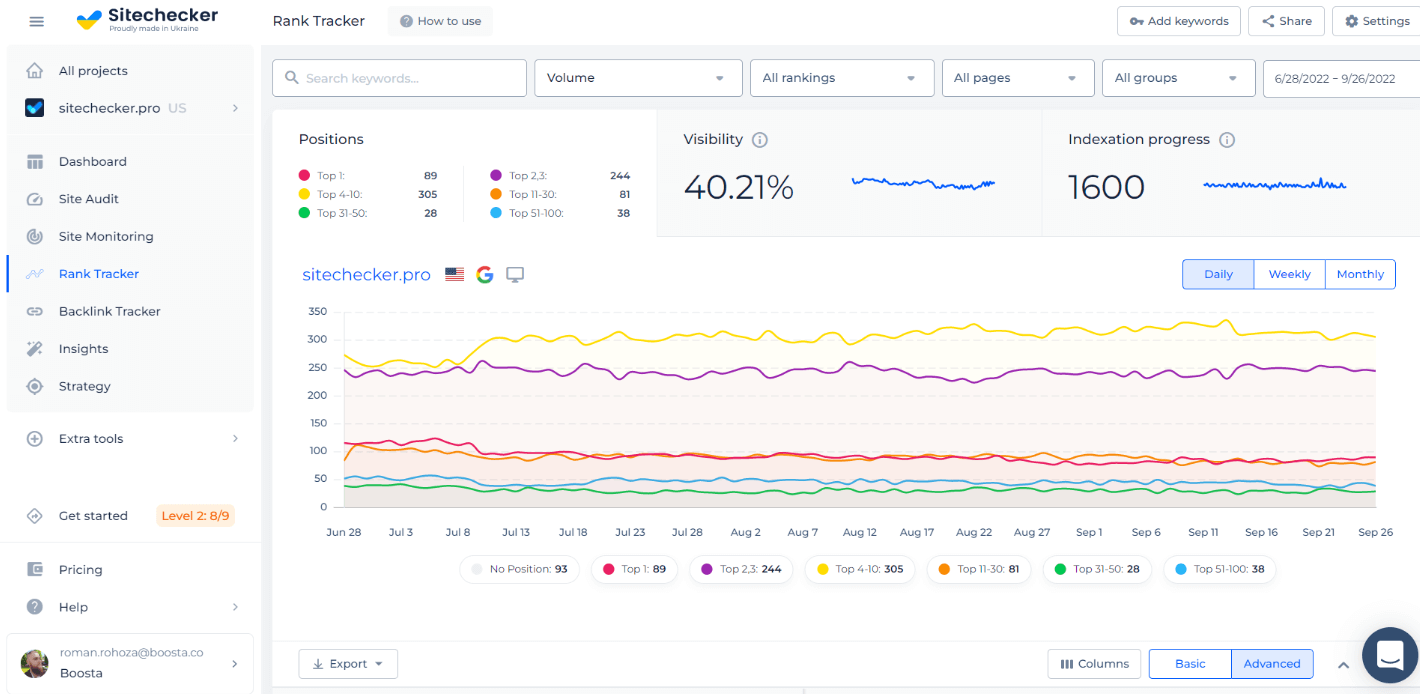 Concluding Remarks
Sitechecker's keyphrase generator is an essential tool for enhancing online visibility. It efficiently generates numerous query suggestions, including valuable long-tail queries, from multiple search engines. Its comprehensive set of SEO tools and advanced customization options makes it perfect for various applications such as content creation, competitor analysis, market research, and more. Whether you're an SEO novice or a seasoned expert, Sitechecker is a robust and versatile asset for your digital strategy.
FAQ
What is Sitechecker's SEO Keyword Generator?
It is a tool that generates a wide array of queries, including long-tail queries, by analyzing search preferences on various platforms such as Google, Bing, Yahoo, and YouTube. This helps in optimizing content and improving SEO performance.
How does the Keyword Generator help in content creation?
It helps find relevant queries that make the content more appealing to search engines and the target audience. It is instrumental in crafting content strategies and optimizing websites.
How do I use the SEO Keyword Generator?
Input your foundational queries, configure the settings, and click the "Get keyword suggestions" button. You can then retrieve your results and utilize various functionalities to refine them.