What is a YouTube Keyword Generator?
Our tool offers plenty of suggestions derived from YouTube searches. Leverage them as keywords for video ideas, assessing their search potential, creating tags, and crafting video titles and descriptions. This tool helps you get video content ready for your channel by optimizing it for search.
Key features of the YouTube tag generator
YouTube Keyword & Tag Finder: Explore YouTube keywords and tags with our tool. Generate video ideas, evaluate search potential, create tags, and craft titles and descriptions. Optimize your channel's content for YouTube search.
Multiplatform Keyword Suggestions: Our keyword tool casts a wide net, offering suggestions from a diverse range of search engines, not just YouTube. Discover potential keywords from platforms like Google, Bing, Amazon, eBay, and beyond.
Comprehensive SEO Suite: Our SEO toolkit goes beyond simple keywords and research. With Sitechecker, you access an array of functionalities such as on-page and off-page SEO assessments, rank tracking, website surveillance, and more. Use this detailed data analysis to effortlessly pinpoint potential hazards and uncover promising opportunities.
When is This Tool Needed?
Our tool is needed when you're aiming to maximize your video's visibility in YouTube's search algorithm. The tool is particularly beneficial in the following scenarios.
Keyword Research: If you want your video to be discovered by viewers searching for specific topics on YouTube, our tool will help you find the most relevant and frequently used search queries.
Title Creation: Our solution assists you in crafting a concise and compelling title that encapsulates your video's content and includes your target keyword.
Description Crafting: The tool guides you in creating a detailed description that outlines your video's content, highlights its benefits to the viewer, and includes your target keywords.
Tag Addition: Our tool helps you select the most effective tags based on your keyword research, which aids YouTube's search engine in understanding your video's content.
Social Media Promotion: After publishing your video, our tool assists you in promoting it on social media platforms and via email to drive views and engagement.
In essence, our tool is necessary when you're looking to increase your video's search visibility, audience engagement, and overall performance on YouTube. Whether you're a seasoned content creator or just starting out, using our tool can significantly boost your YouTube SEO efforts.
How to Use the Tool?
Step 1: Enter one or more seed queries.
Enter one or more seed queries. Set up YouTube with geo and language parameters, and click the "Get keyword suggestions" button.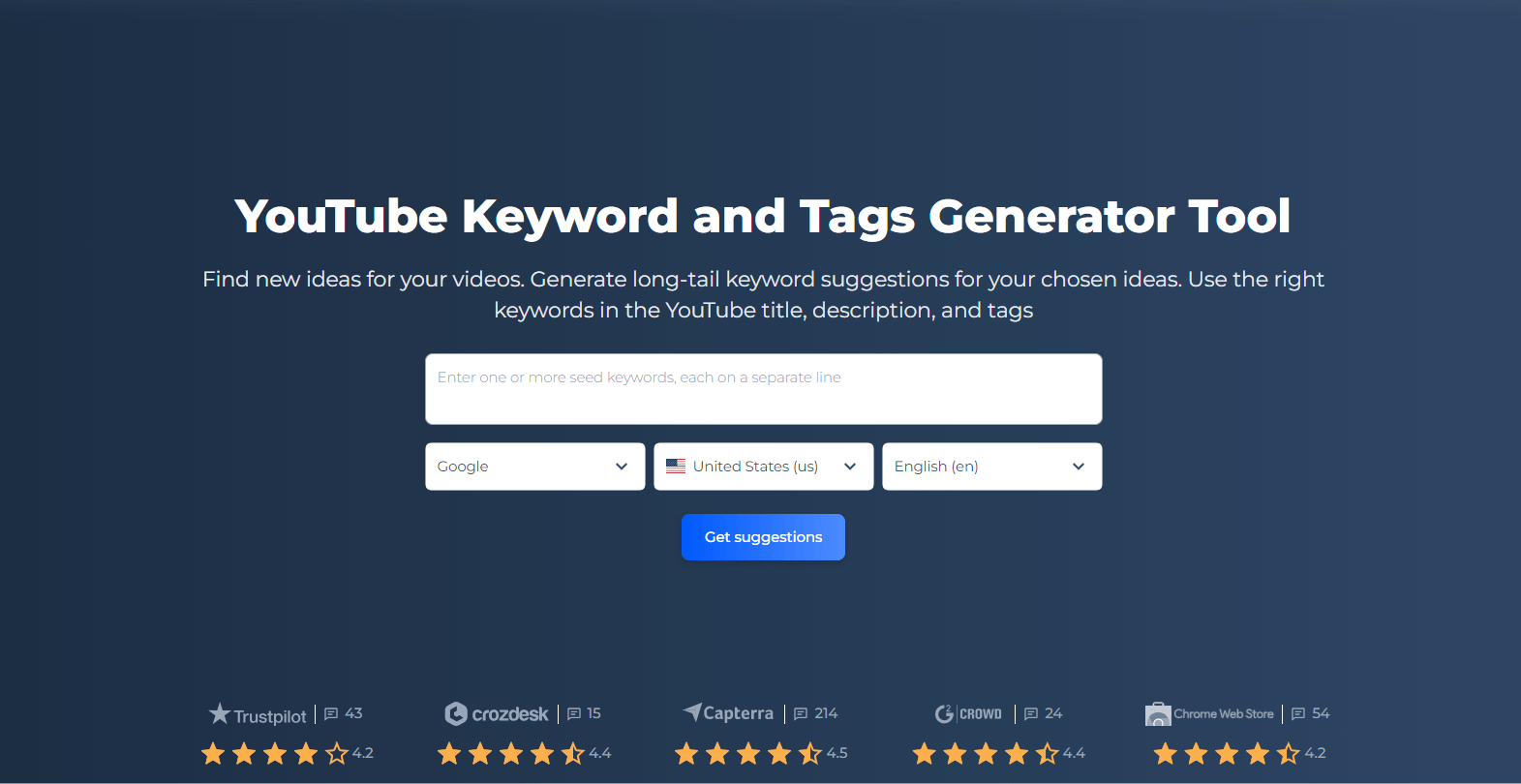 Step 2: Evaluate your results and utilize the powerful functionalities at your disposal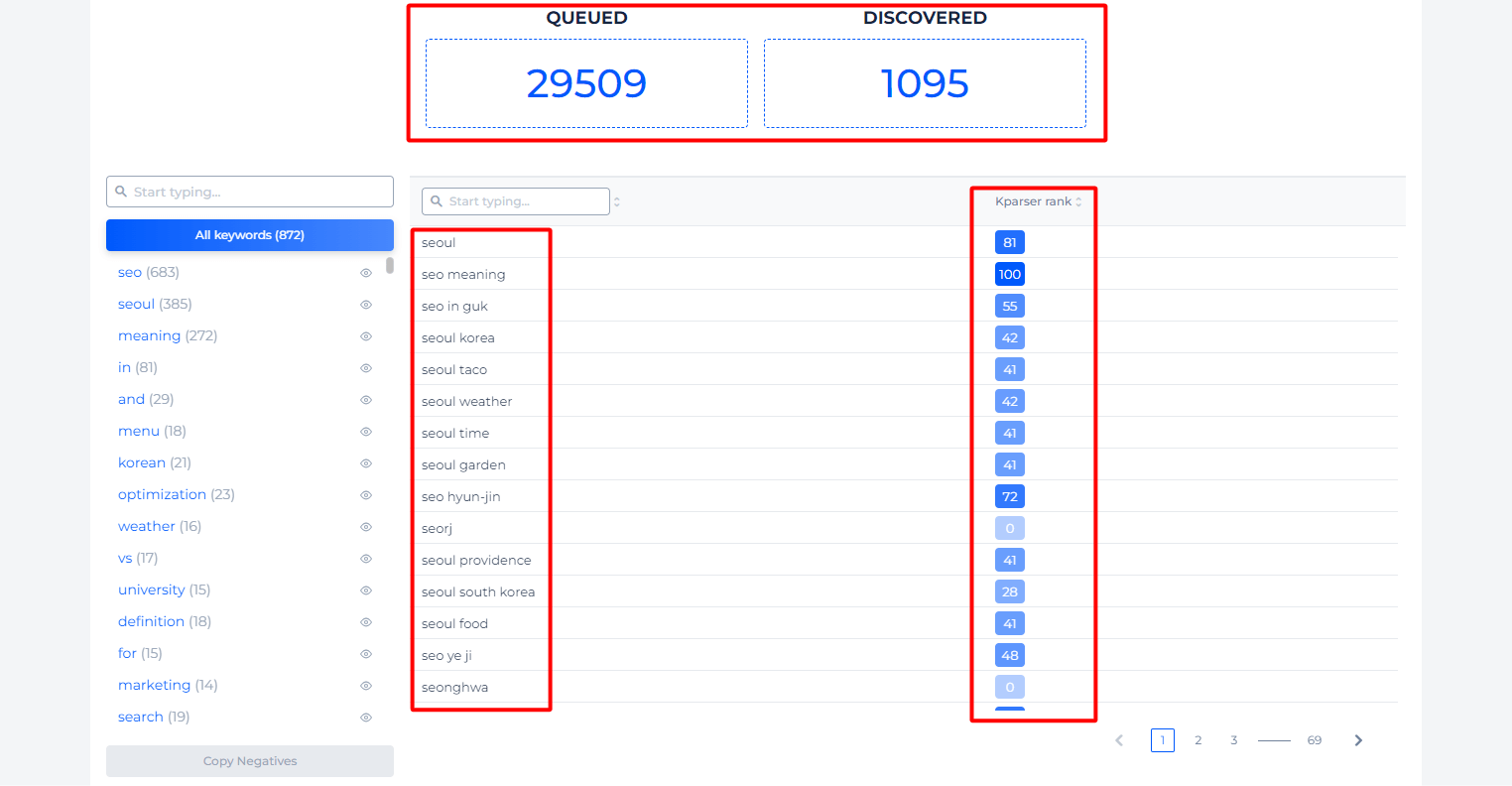 Pay attention, after keyword research, you will understand which tags you need to use and how to create a video title and description.
Also, remember that the more search volume, the higher the competitive level. So, if you use long-tail keywords in the title, description, and YouTube tags, you have a big chance to get to the top by appropriate query very fast. It's better to grab a small part of the traffic at first. And with viral effect, bit by bit, your video can go to the top in keywords with significant competition and search volume. Correct long-tail keywords increase your video SEO accuracy in a moment.
Features of the YouTube keyword research tool
Use advanced mode features to save time and get all possible suggestions for your seed keywords.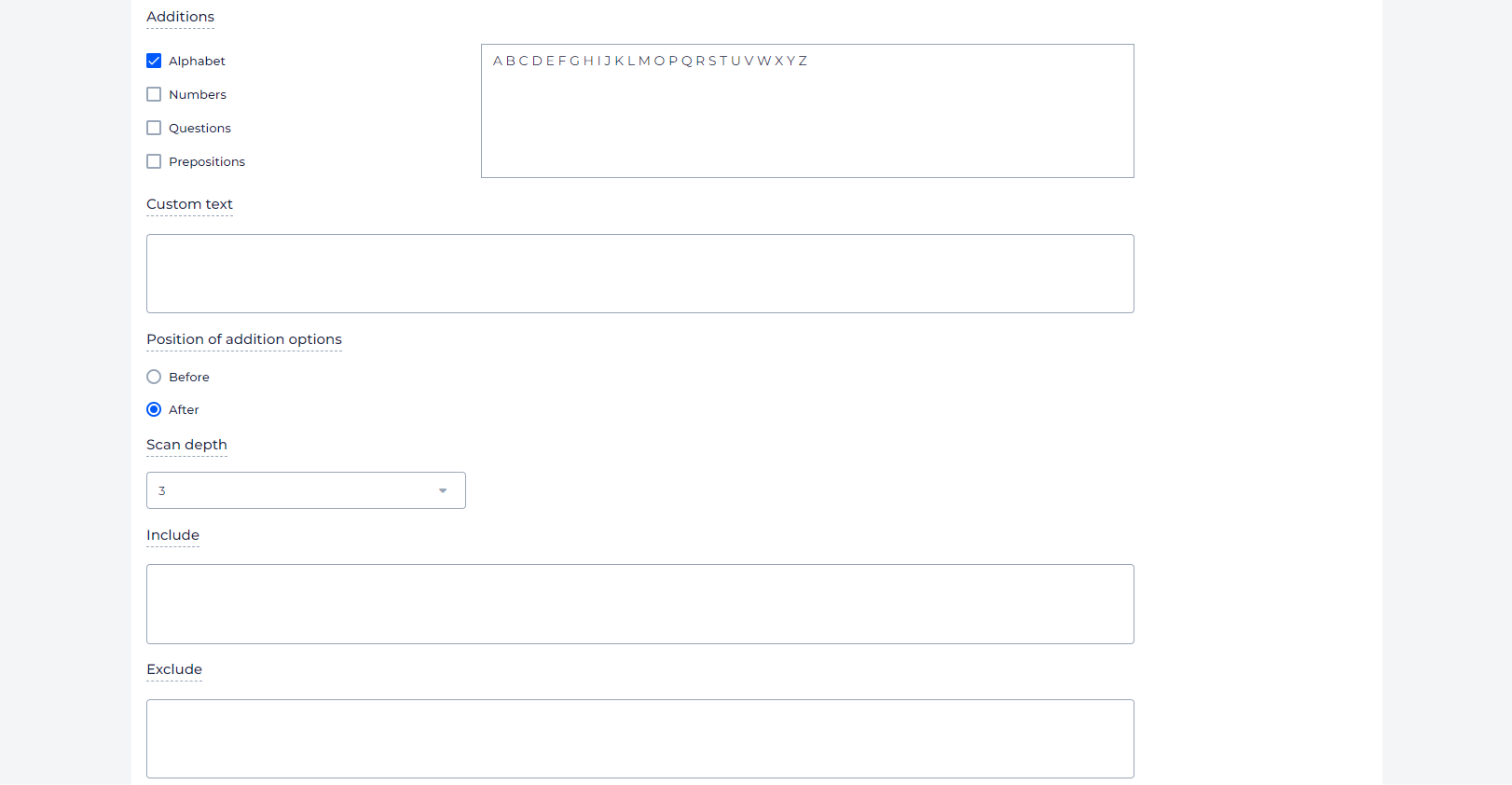 There are the following advanced features.
Additions: Each checkbox is an extra opportunity to collect even more results. For example, the "Alphabet" means that we will look for clues by substituting the mentioned letter in your word. The "Questions" section means the results will be expanded by searching for answers to standard questions containing your keyword. The "Custom text" field specifies what other words, symbols or phrases you need to substitute to collect even more tips/clues.
Before & After Function: The "Before and After" switches indicate where to put Alphabet, numbers, etc. – before your word or after.
Scan Depth: The search's depth shows how many results we will cover looking for clues.
Include: Serves to list all words or phrases (each with a new line) that must be in the results. All other keywords won't make it to the final table.
Exclude: Serves to list all the stop words not needed in the search results. Moreover, all the clues that contain stop words from this block will not be shown to you and will not serve as a basis for further search.
Concluding Remarks
In conclusion, our YouTube keyword checker is an essential tool for content creators, offering multiplatform keyword suggestions and a comprehensive SEO suite. It aids in maximizing your video's visibility on YouTube, creating compelling titles and descriptions, and optimizing social media promotion efforts. With an emphasis on long-tail keywords, it provides an opportunity for increased SEO accuracy and improved ranking in search results. Whether you're a beginner or an experienced creator, this tool can significantly enhance your YouTube SEO efforts and online presence.
FAQ
What is the best YouTube tag generator?
Our tool stands out due to its comprehensive features that extend beyond mere tag generation, including multiplatform keyword suggestions, SEO suite, title creation, and social media promotion assistance, all aimed at maximizing your video's visibility and performance on YouTube.
Do YouTube keywords work?
Yes, YouTube keywords work and play a crucial part in how your videos are discovered on the platform. They help optimize your video content for search, making it easier for viewers to find your videos when they search for related topics.
How do I find the best keywords for YouTube?
You can use a YouTube keyword explorer to find the best keywords for YouTube. This tool offers many suggestions derived from YouTube searches, which you can leverage as keywords for video ideas, creating tags, and crafting video titles and descriptions. It also allows you to optimize your channel's or vlog content for YouTube search.