What is a YouTube Channel Name Generator?
Our tool offers many suggestions based on YouTube searches, which serve as inspiration for your YouTube channel names. These suggestions help you make an informed decision by exploring various channel name options, enabling you to choose the one you like the most. Additionally, the suggestions are based on keyword rankings, providing the added benefit of gauging the search volume for your potential channel name. Furthermore, work with our other YouTube keyword tools to get channel-specific keywords or generate ideas for your videos on your newly-created channel.
Key features of the YouTube channel name ideas generator
YouTube name generator: Swiftly provides various name suggestions using YouTube searches. It focuses on keyword rankings to help users intelligently choose names with high search volumes and includes integrated utilities for content ideas.
YouTube Keyword Tool: Use our tool for comprehensive keyword research on YouTube. You can make our suggestion tools work not just for channel name ideas but also for video concepts, channel keywords, and more.
Cross-Platform Keyword Recommendations: Our keyword recommendation tool lets you discover suggestions from not just YouTube but several search engines and platforms, such as Google, Bing, Amazon, and eBay.
Worldwide SEO Ecosystem: Our comprehensive SEO ecosystem goes beyond mere keyword suggestion research. Sitechecker takes pride in its diverse features, encompassing both on-page and off-page SEO assessments, rank monitoring, website supervision, and beyond. Capitalizing on this extensive data analysis enables you to effortlessly reduce risks and pinpoint emerging opportunities.
When is This Tool Needed?
The tool for generating YouTube channel names is needed during the early stages of channel development. A well-thought-out name is crucial, as it serves as the brand's message and identity. A good channel name should be unique, easy to pronounce, and memorable. This is important to get more views and subscribers as the channel grows. The tool helps generate such names, considering the market you are targeting, the product you are selling, and your target audience. Use it to follow successful branding strategies similar to big names.
How to Make a YouTube Name Using Sitechecker and Your Imagination?
The ideal YouTube username might be created on your own. However, brainstorming always helps, even a digital one. Our YouTube name finder can only offer a massive list of unique and exciting words. Thus, our tool is an excellent solution for tag and keyword generation, such as getting creative username ideas.
Step 1: Type some letters or unique words in the input field above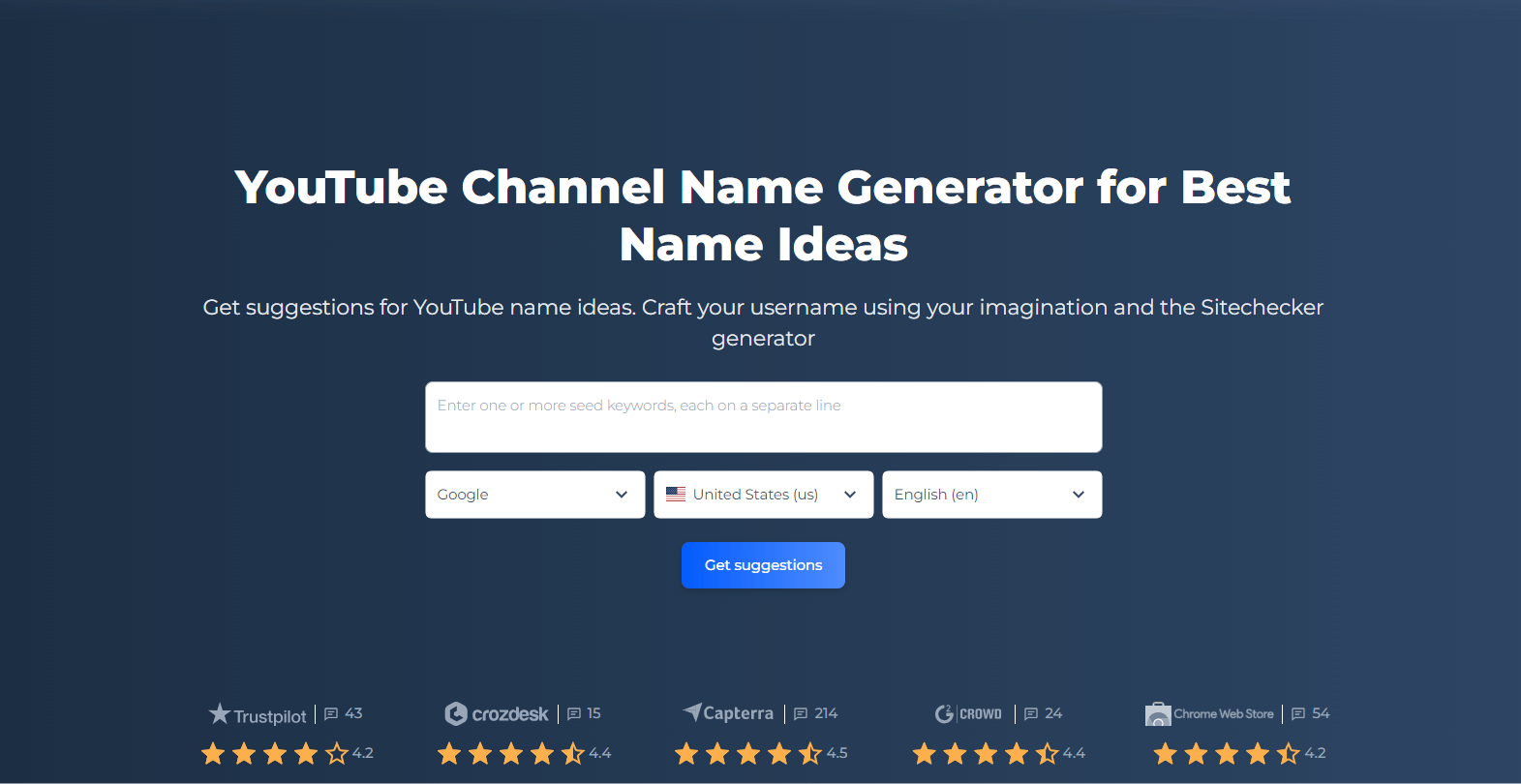 Type some letters or unique words in the input field above and get thousands of keyword suggestions from your desired source. Set up YouTube with geo and language parameters, and click the "Get keyword suggestions" button.
Note: To obtain more precise and targeted results, please use the additional settings feature to specify the search engine, region of interest, and language for the search suggestions.
Step 2: Examine the outcomes and leverage the potent tools at your disposal
There is a big chance you'll find something interesting — a word or a phrase — that would become your YouTube channel username. It doesn't matter if you're looking for gaming, vlog, or couple-name YouTube ideas. Our generator will provide them immediately.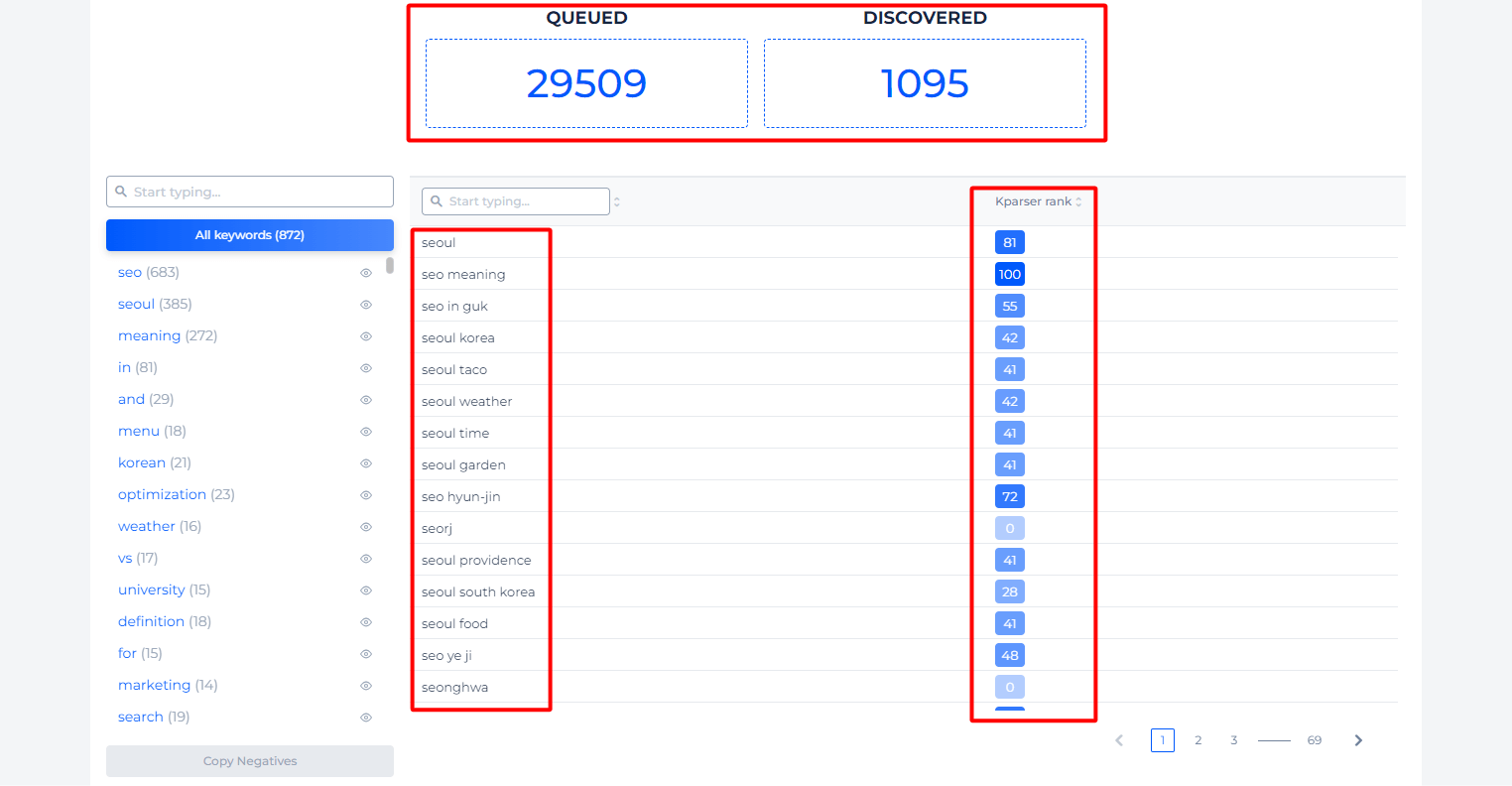 Note for NEW YouTuber: Try to keep in mind the next points till you're working on your channel name: persuasive, memorable, distinctive, relevant, emotional, scalable, trademarkable, and SEO.
Additional Features of the YouTube Name Generation Tool
Make use of the enhanced mode to maximize your efficiency and delve into plenty of suggestions linked to your initial queries.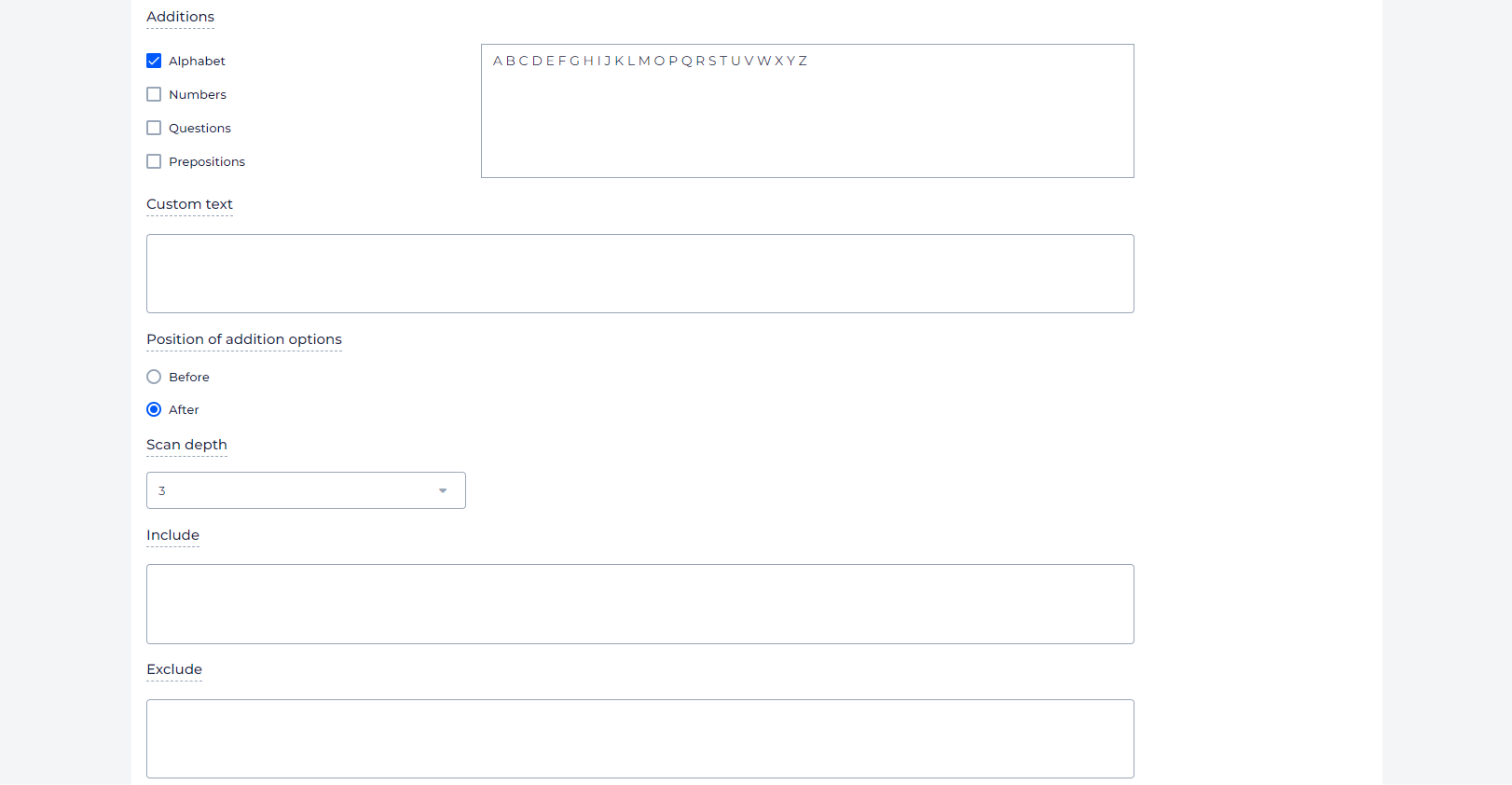 Additions: Each checkbox offers more options to get more outcomes. For example, selecting "Alphabet" means we will hunt for suggestions by altering a character in your input. The "Questions" alternative expands the outcome by looking for responses to prevalent inquiries that include your keyword. The "Custom text" space lets you designate extra words, symbols, or phrases for a replacement to generate diverse suggestions.
Before & After Function: The "Before and After" switches let you determine the placement of alphabets, numbers, etc., either as a prefix or suffix to your input.
Scan Depth: The search depth sets how many results we will explore for recommendations.
Include: This attribute permits you to catalog all the words or phrases (separated by lines) that must be present in the outcomes. Any other queries will be omitted from the final report.
Exclude: This utility enables you to enumerate all the terms you wish to avoid in the search results. Suggestions with these blocklisted words will be withheld from your view and not used for subsequent searches.
Concluding Remarks
Sitechecker's YouTube Channel Name Generator is a versatile tool for early-stage content creators. It generates memorable and impactful channel names based on YouTube searches and keyword rankings. Besides username suggestions, it offers comprehensive keyword research across multiple platforms and a rich SEO suite for site assessment and monitoring. Its advanced features allow customization in searches, aiding creators in developing a channel name that resonates with their target audience and market.
FAQ
How do I pick a good YouTube channel name?
To pick a good YouTube channel name, use Sitechecker's generator to get various suggestions based on YouTube searches and keyword rankings. Combine these suggestions with your creativity, and select a nickname that is unique, easy to pronounce, and resonates with your target audience and market.
How do I know if my YouTube channel name is taken?
YouTube Search:
Go to YouTube and enter the channel name you have in mind into the search bar. Check the results to see if there is a channel with the exact name you want.
YouTube URL Check: In the address bar of your web browser, type in 'youtube.com/user/[desiredchannelname]', replacing '[desiredchannelname]' with the name you have in mind. If the page leads to an existing channel, the name is already taken.
Google Search: Google the name you are considering, followed by "YouTube channel" to see if any results come up with that exact name.