What is a Professional Email Address Generator?
Finding the perfect name for your email account is often challenging. Your email name should fit you well, be unique, and meet its specific goals. Luckily, Sitechecker offers an email name generator to help you come up with fancy usernames. This tool generates thousands of random email names you can personalize to suit your objectives.
Key features of the email username generator
Email Name Generator: Swiftly provides numerous name suggestions using the search function. Check out the available suggestions to find the perfect one for your needs.
Multi-Platform Keyword Proposals: Our keyword suggestion tool enables you to unearth potential keywords from various search engines and platforms, including (but not limited to) Google, Bing, Amazon, eBay, and YouTube.
Global SEO Infrastructure: Our comprehensive SEO platform transcends the scope of simple keyword research. Sitechecker is renowned for its multifaceted capabilities. They include on-page and off-page SEO evaluations, rank tracking, website oversight, and more. Seamlessly mitigate risks and identify burgeoning opportunities, leveraging this broad spectrum of data analysis.
When the Tool is Needed?
The email name creator is needed when:
You need to create a professional email for business or marketing purposes. A unique and relevant email name attracts customers and encourages them to open your communications.
You require a well-crafted profile name for personal use. A memorable and distinctive email can make a strong impression.
You want to establish a business email using your own domain name (e.g., [email protected]). It enhances your business's trustworthiness and professional image, increasing brand reputation and sales.
You aim to adhere to standard username conventions. For instance, you may include your full name, first or last name only, or a combination of name and initials.
You wish to ensure that your email is displayed correctly, typically in the full name format with the first and last name of the email address owner.
In these cases, our tool can provide helpful and diverse name suggestions to meet your needs.
How to Use the Professional Email Generator?
Step 1: Paste the word or number you want to include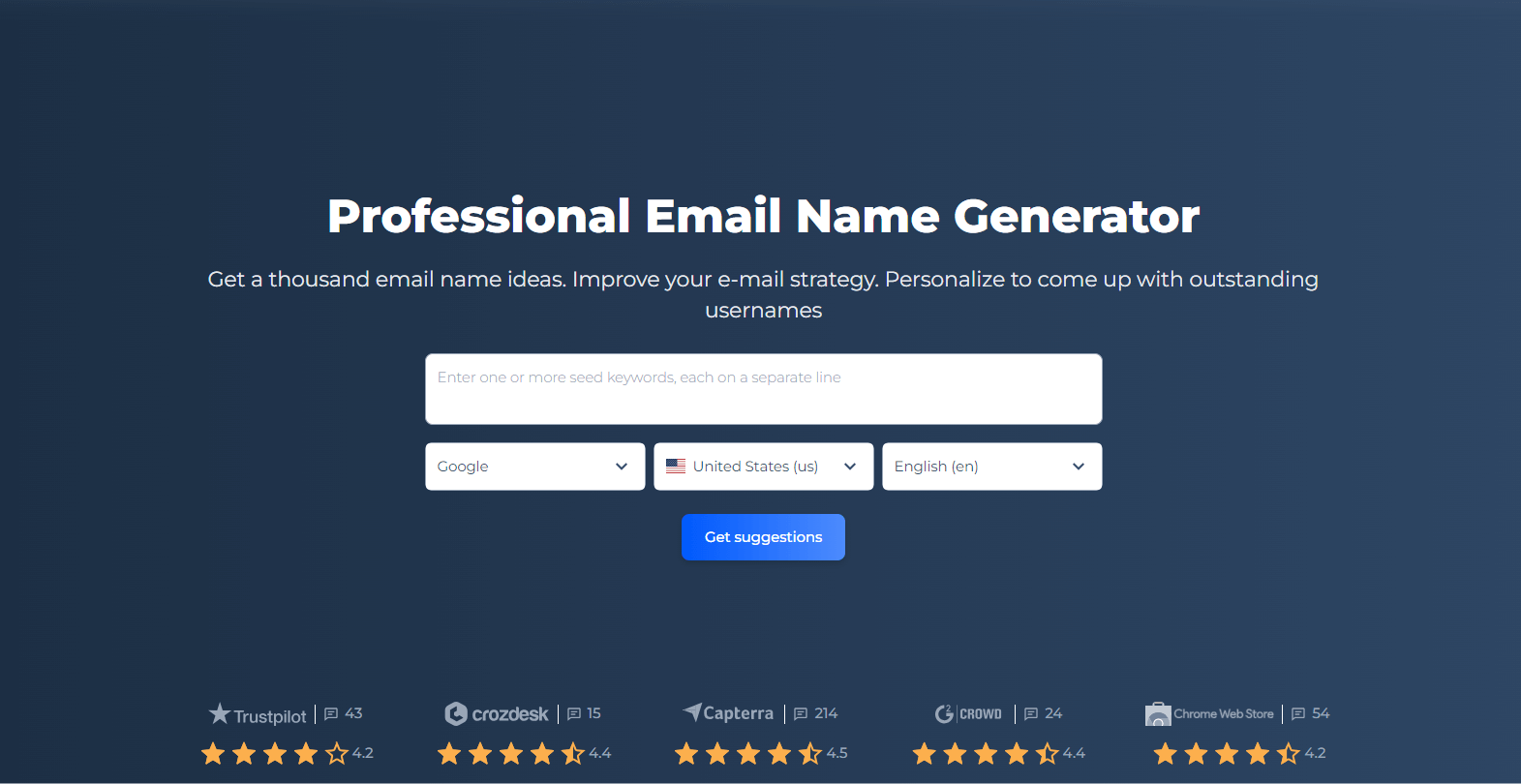 Paste the word or number you want to include and add a creative element that better personalizes you or your business. Then, set up the search system and select your geo and language parameters. Next, click on the "Get Keyword Suggestions" button.
Note: To obtain more precise and targeted results, please use the additional settings feature. You can specify the search engine, region of interest, and language for the search suggestions.
Step 2: Scrutinize the results and harness the powerful tools available to you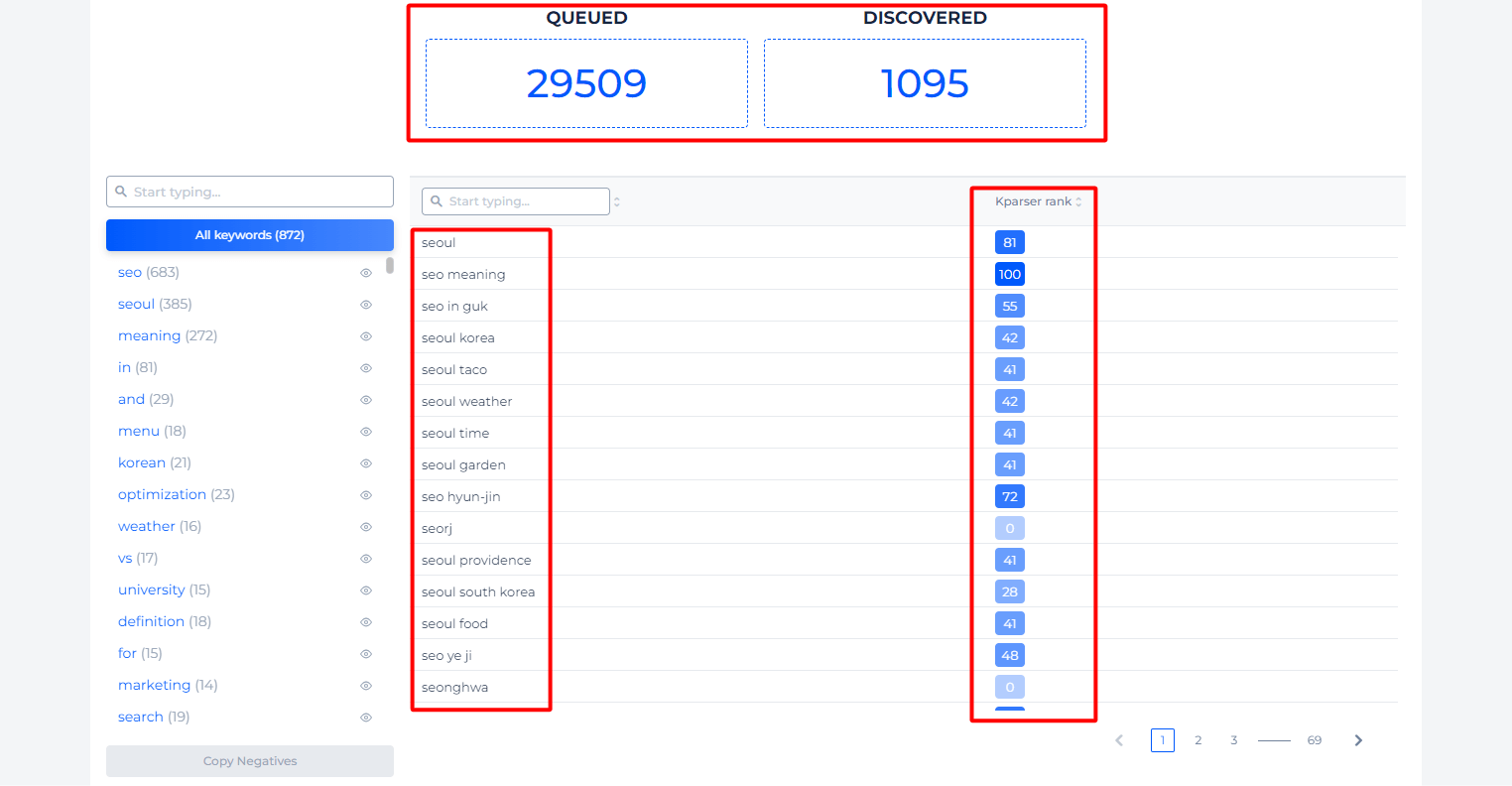 Receive a complete list of random suggestions to identify the most relevant email. Use the tool as a Gmail username generator or finder for other mail services. It doesn't matter what comes after the '@' symbol.
Additional Features of the unique email ID name generator
Engage with the advanced mode to optimize your productivity and explore an array of suggestions related to your initial input.
Additions: Every checkbox uncovers a new avenue to amass a broader range of results. For instance, if you choose "Alphabets," we'll search for suggestions by modifying a letter in your input. The "Questions" option broadens the pool of results. It seeks answers to common queries containing your keyword. Finally, the "Custom text" field specifies extra words, symbols, or phrases for substitution, producing various suggestions.
Before & After Function: The "Before and After" toggles give you control over the positioning of alphabets, numbers, etc., before or after your input.
Scan Depth: The search depth reflects the layers of results we'll investigate for recommendations.
Include: With this feature, you can list all words or phrases (line-separated) that must be present in the results. Queries lacking them will be excluded from the final output.
Exclude: This function lets you list all terms you want to remove from the search results. The tool will hide suggestions containing these unwanted words from your view and won't use them for subsequent searches.
Concluding Remarks
Sitechecker's professional email name generator is an innovative tool that crafts unique and effective email usernames. It's not just an email generator but a powerful SEO platform offering extensive features. The tool is ideal for creating professional business emails, usernames, and username conventions. It's a user-friendly solution enabling the easy incorporation of words or numbers. Moreover, it offers advanced modes for more refined results. Overall, it's a valuable tool for enhancing your digital communication strategy.
FAQ
How do I use the Professional Email Name Generator?
First, paste the word or number you want to include and add a creative element. Set up the search system, select your geo and language parameters, and click the "Get Keyword Suggestions" button. Scrutinize the results and select the most suitable email name for you.
Can I use this tool for specific email services?
Yes, you can use this tool as a username generator for Gmail or any other mail service. Its functionality isn't limited to a specific email service.
How does the email name maker contribute to my digital communication strategy?
By generating unique and effective email usernames, the tool enhances your professional image, attracts customers, and improves your overall digital communication strategy.
What are good email names?
Good email names are unique, relevant, and fit well with the individual or business they represent. They may include full names, first or last names only, or combinations of names and initials. An effective email name attracts customers, makes a strong impression, and enhances the professional image and brand reputation. For more personalized options, tools like Sitechecker's business email name generator provide thousands of random suggestions you can further customize to suit your specific needs.