The analyzer of internal links is one of the basic tools used to optimize the process of link juice distribution and backlink strategy. Internal linking is also used to improve your website's conversion, keep users more engaged, and minimize bounce and exit rates. Users see anchor words that trigger them for further action, click the URL, and get redirected to the next page of the website.
Like external links, internal ones are also effective for improving page rank in search engines.
Yet, do we need to track all inner links or automate this process manually? Still, monitoring of inner references can be automated. SEO experts prefer to use internal link checkers and analysis online tools. They help to take it under control.
If you have already planned to monitor the link structure of your website or a specific page, internal link check tool helps you with that. Before we analyze how the tool works, let's first discover the importance of internal links checking for SEO.
How to Use Internal Link Checker
Internal references checker is one of the tools that can be used by anyone. There's no need to install additional software for a link audit. It can all be done with the Sitechecker tool. To make a complete audit of your website, first, use the website page counter. In this way, you will get all the pages on your website that need to be checked.
Here are two basic steps you need to perform in order to get the results:
Step 1: Insert your url and start free trial
There's no need for a credit card to start your free trial with us. All you need to do is confirm your email or log in with your Google account. Get started today and see how easy and fast it is!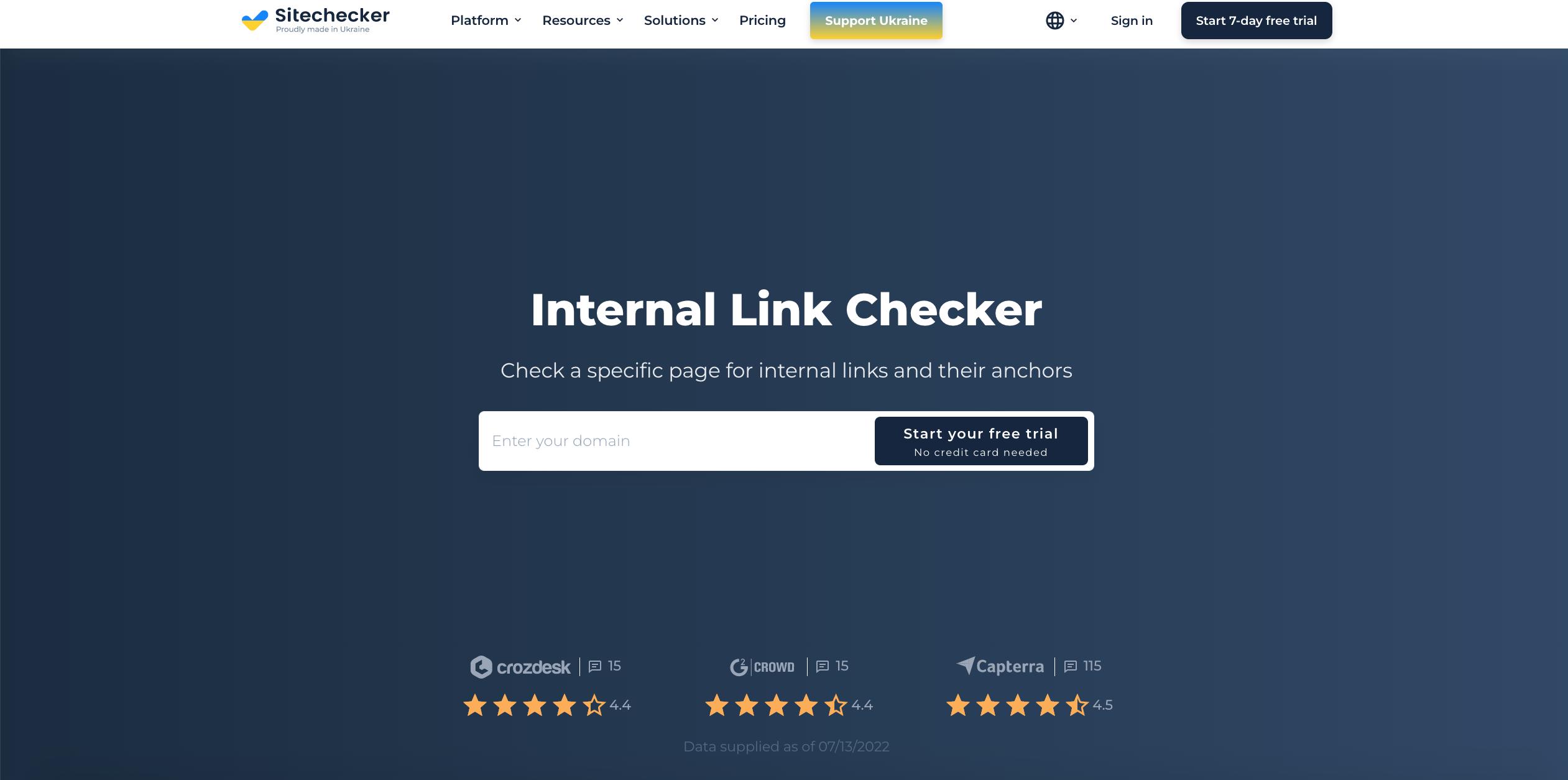 Step 2: Get website internal linking checker results
Your valuable internal references are now being analyzed by the SEO Audit Tool. You'll be able to view a page-by-page summary of all issues present on your website, as well as receive recommendations for how you can fix them!


Features of Internal References Checker
The full-site audit will help you identify various types of problems and list the URLs where those issues occur. We provide instructions on how to fix any identified errors, with video guides for your convenience!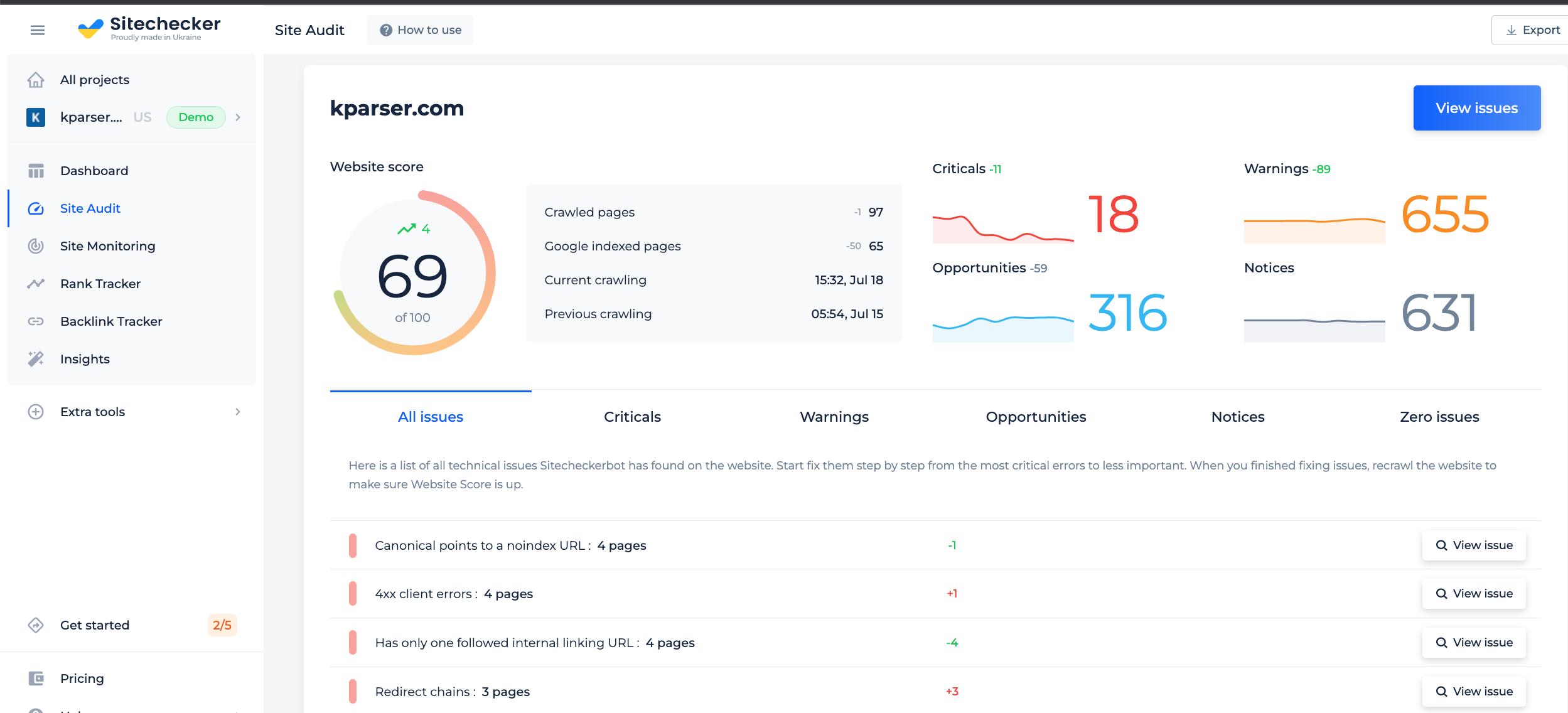 What is more, you can find all the issues with different type of links in a full audit.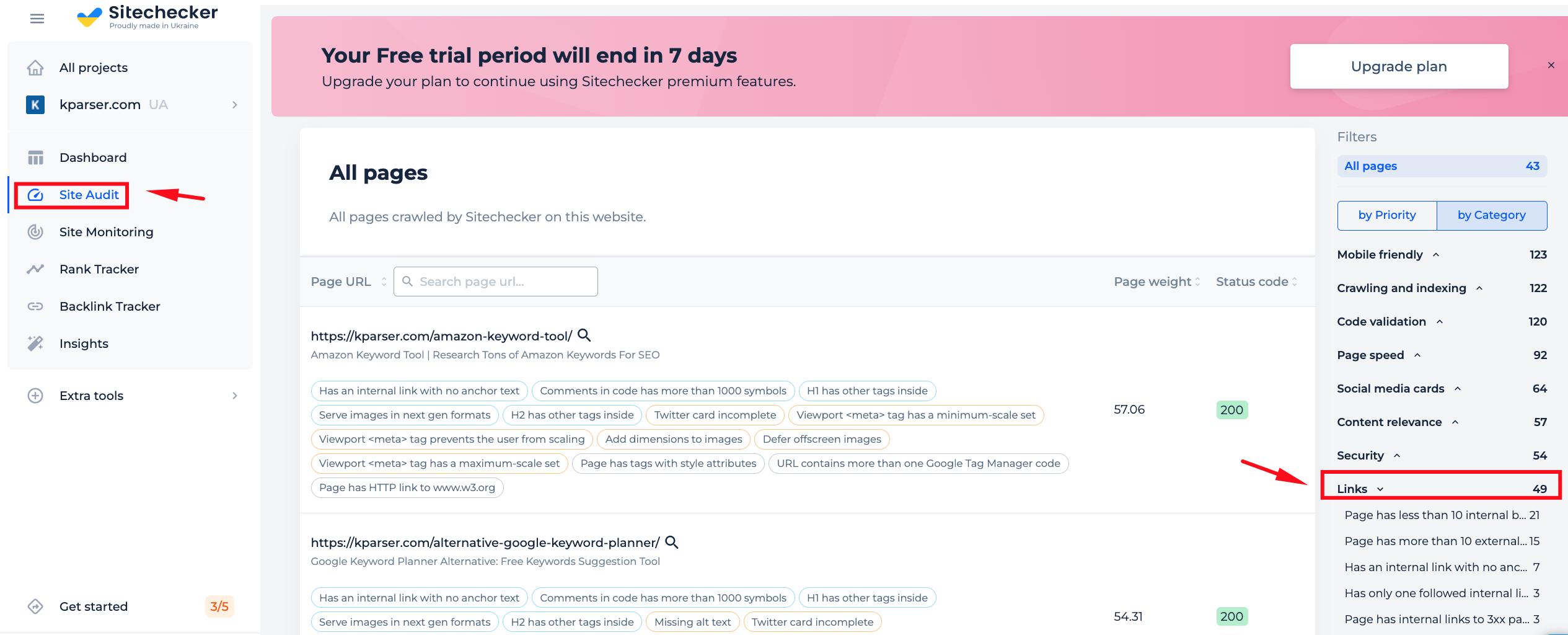 Our on-page checker in your account will help you double check the internal link issues on any particular page.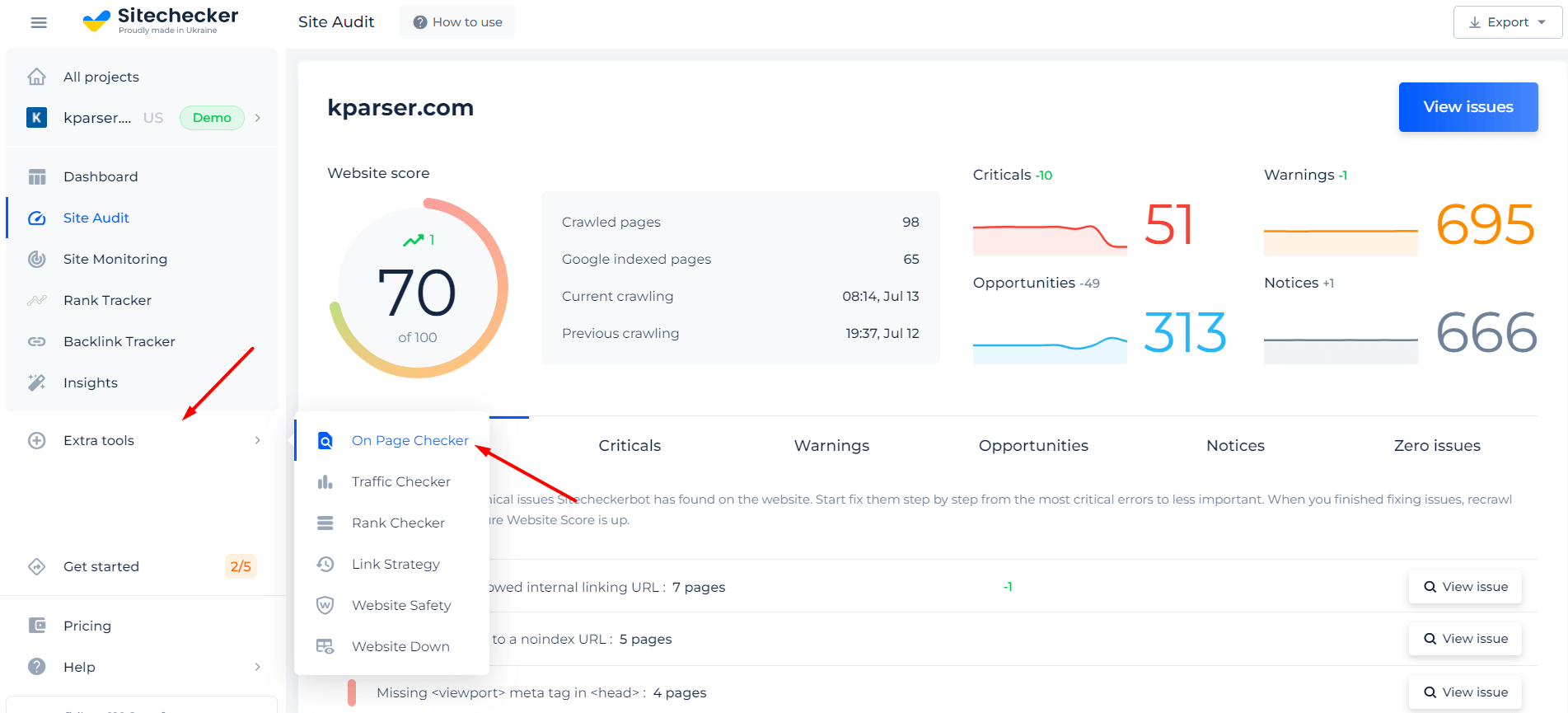 Find all pages with internal links issues right now!
Make a full audit to find out and fix page internal links issues in order to improve your technical SEO.
What are Internal Links on a Website and Why do We Need It in Terms of SEO
All in all, internal references check and analysis helps to perform three main tasks:
simplify website navigation;
define the architecture and hierarchy of the site;
improve page ranking.
They help other search engines and create a linked network of your posts on the site. Also, they help to increase the time readers spend on the site.
But how exactly can interlinking improve the SEO of the site?
The main purpose of these types of backlinks is to provide search robots with the correct information about your website pages. It's an important and necessary part of SEO. All the keywords used as anchors are main pointers to what keywords should your page be ranked.
Importance of Internal References Checking
If you plan to improve and enhance your SEO strategy or boost the engagement rate, Internal Link Checker will be the first tool to use regularly.
The information you will get once the check is complete, will help you fix problems with website navigation. For example, you will see what interlinking you already use. If you are not sure they are used properly (the anchor may be too vague and uninformative), you can replace them with more appropriate links.
Interlinking also helps Google, Yahoo, and other search engines to ensure that the page is informative and useful. Moreover, the pages to which you link also get more significance from the point of view of SEO. Therefore, you both improve the page with backlinks and the page's position to which you link.
Internal Links Proper Usage Tips
When working on your internal link strategy, follow these tips and recommendations:
1. Create a large amount of content
In order to have many interlinks, you must have many different pages on the site. Therefore you might need to create more content that you can link to. Provide many useful references that lead to other valuable materials on your site. But be careful and avoid such mistakes like Internal redirected URLs.
2. Use the anchor text
Text anchor is words and/or characters that you can click on in order to go on another page of your site. A correct anchor which leads to the landing page is your secret weapon for SEO. This way, you help Google bots to understand how your page should be optimized. If you don't verify anchors with the landing page, they lead to, use a website crawler to save your time and check them. When a page has an internal link with no anchor text, it's an issue, so analyze the problem and solve it.
Images can also be URLs that lead to other pages; apply a proper description in the value of the "alt" field where this link leads to.
3. Link further
Try to avoid such obvious interlinks as the one to the main page of your site (visitors will be able to find it) or to a page with your contact information. In general, the rule is: do not add links to the pages of your site that are in the main menu. The best ones are to materials that can be difficult to find.
In order to understand where to lead your readers, extract all links from a website. This way, you will get a full list of pages for internal linking.
4. Make them useful
One of the key aspects of inner links is that they increase user engagement. When a user sees an informative reference that leads to relevant content, he will most likely go over it and spend some time on your site.
Thus, they will help you improve the search optimization of your site and help your readers find useful information.
5. References must be relevant
Your SEO internal links should be relevant, i.e., match the material's content. You don't need to create them just for having — do not bundle references for two different materials.
For example, if you write a story about dog food, then it's hardly appropriate to reference to your material about nesting parrots. But if you write about parrot feed, then a link to their nesting habits can greatly value the readers. This will be relevant, as the content in both articles has the same topic, so if possible, always use linking in this way.
6. Use an adequate number
Internal linking is good, but you do not need to overload the entire page with them. Google's instructions are simple: adhere to an adequate number of links on the page.
The question is: how much is an adequate number?
The answer is: no one knows.
The fact is, only you can determine the number of links needed. Only when you check website backlinks, you can find the ideal formula. Focus on your readers — add as many references as you think will be useful for them. Moreover, with the help of an internal links checker, you can see what number of links your website`s page has or if they are not broken. Also, try our free broken link checker and fix all the 404 pages.
FAQ
How do I find internal links?
The most effective way to find all internal links on a web page is to use a tool like Internal Link Checker by Sitechecker. After a careful review of the page, you will get a listing of internal links and anchors currently used on the page. You can use this tool for all types of sites, including landing pages and e-commerce websites.
What are the other ways to find internal links on a website?
There are many tools that can be used to find interlinking in a website. They all have common logic. You enter a URL and get the results. Yet, it is always better to choose a tool that gives you a link with an anchor and analyses all elements of the web page.