What is the Internal Link Checker?
This must-have tool helps optimize link juice distribution, build internal linking structures, and identify and resolve references issues. It simplifies obtaining data for a specific URL or an entire website while also automatically and consistently tracking, monitoring changes, and detecting errors.

Key features of the internal link finder
What can this tool do?
Collect comprehensive data for each URL on your website, including status codes, dofollow / nofollow statuses, and anchor text.
Internal backlinks and anchor data are available, allowing you to obtain the inner references for a specific URL and the complete list of inner backlinks for that URL, along with the anchor text presented in a percentage format.
Detect linking errors, generate a complete list of problematic URLs, and provide detailed instructions for resolving issues.
Continuously track and monitor changes with 24/7 coverage, including backlinks tracking, and maintaining a complete history of alterations and errors.
Our comprehensive SEO platform offers more than internal linking analysis, including a full SEO audit (on-page & off-page), rank tracking, site monitoring, and more.
Importance of Internal References Analysis
Our analyzer helps redistribute your site's SEO weight across important pages, enabling Google to index pages faster. Enhance your website's conversion rates, increase user engagement, and improve site navigation. Check out the internal linking wiki page for a deeper understanding, and common mistakes and best practices.
How to Use Website Internal Link Analyzer?
Internal references checker is one of the tools anyone can use. There's no need to install additional software for a link audit – you can do everything with the Sitechecker tool. Here are two basic steps you need to perform to get the results.
Step 1: Insert your URL and click "Check internal links" button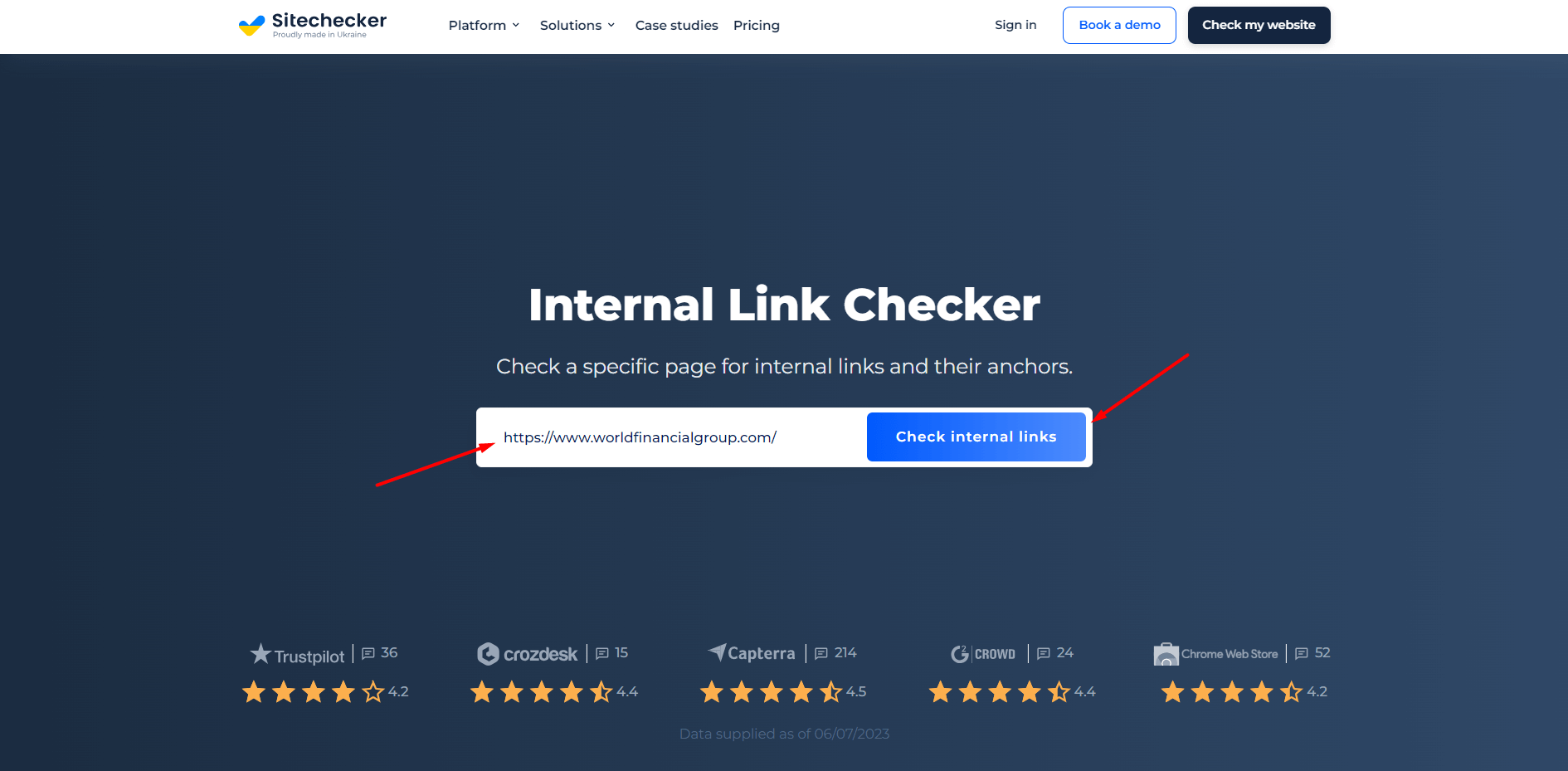 Note: To receive results and access to Sitechecker's features for 14 days, start your FREE trial. Sign-up is easy with your email, Google, or Facebook account. NO credit card is needed.
Step 2: Get the results
You will receive a comprehensive list of internal links for the URL you have analyzed. This list will include the reference URL, status code, dofollow link information, and anchor text.
Additionally, you can filter data based on available parameters or search for a specific URL if you are interested in a particular one. For example, you can select to view all links that are broken and have 404 server errors (they can harm your linking) or to find references with 301 redirect and change for the final URL it is redirecting to.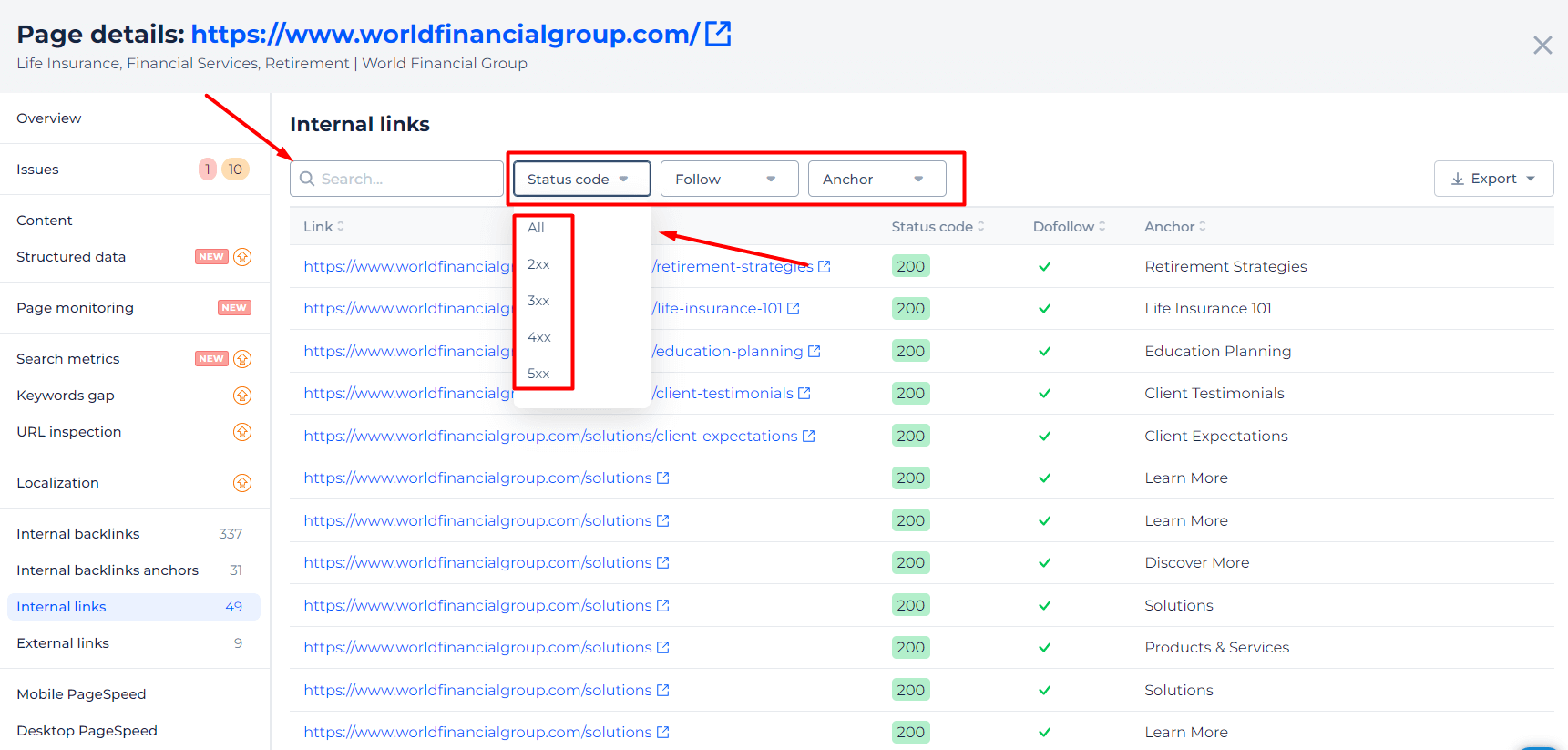 Additional Features of Internal References Checker
Internal backlinks data
Access to internal link audit data offers a great opportunity to analyze and refine your internal linking strategy. Consider exploring the Internal Backlinks and Internal Backlinks Anchors sections for enhanced clarity and further insights.
These two additional categories within the on-page audit allow you to discover the references from a specific URL and the internal backlinks to that URL from other internal pages. Moreover, you can review the percentage distribution of each anchor text used in the inner backlinks. If you are conducting a full linking audit, you can also use the outbound external link checker.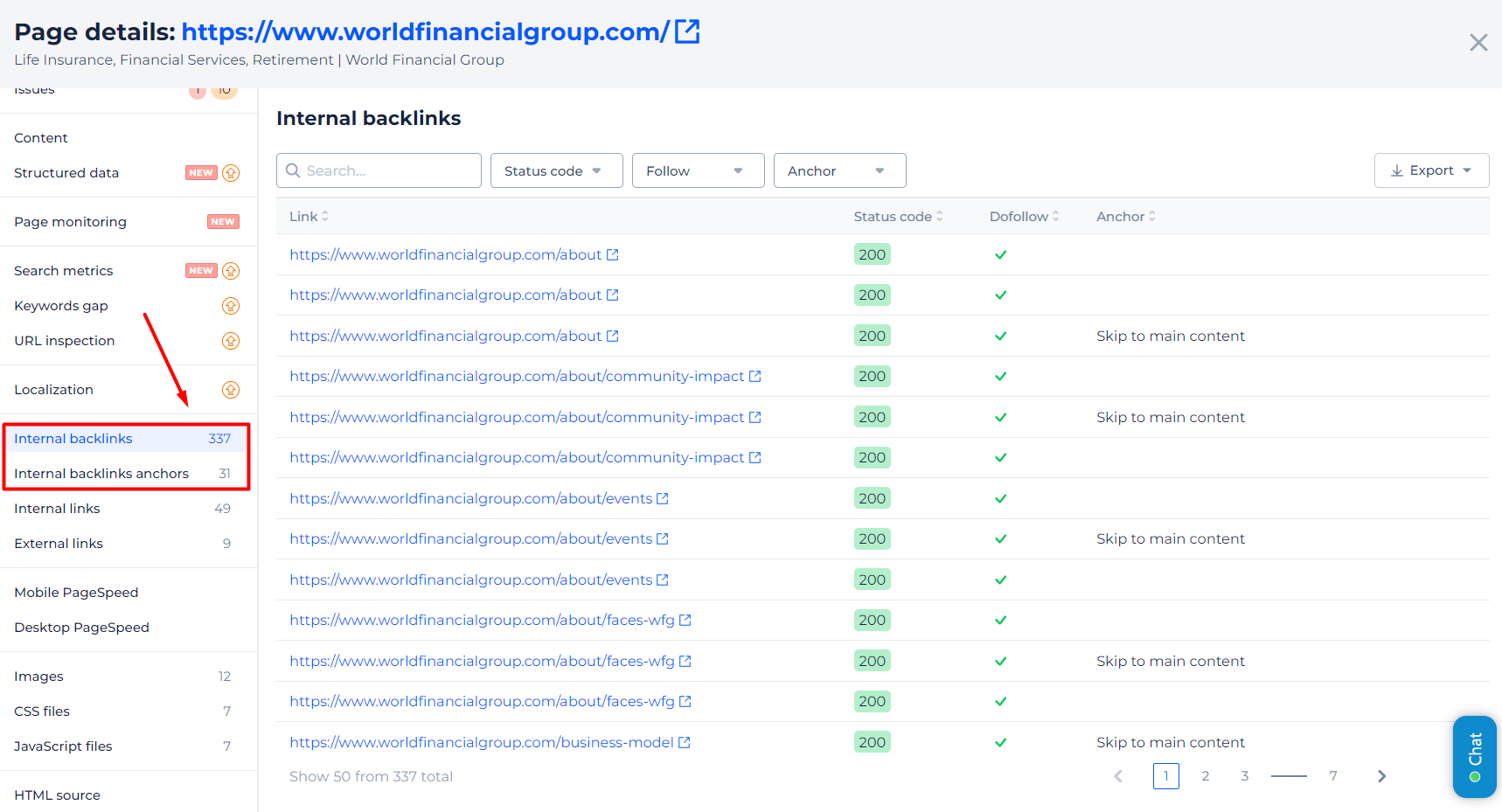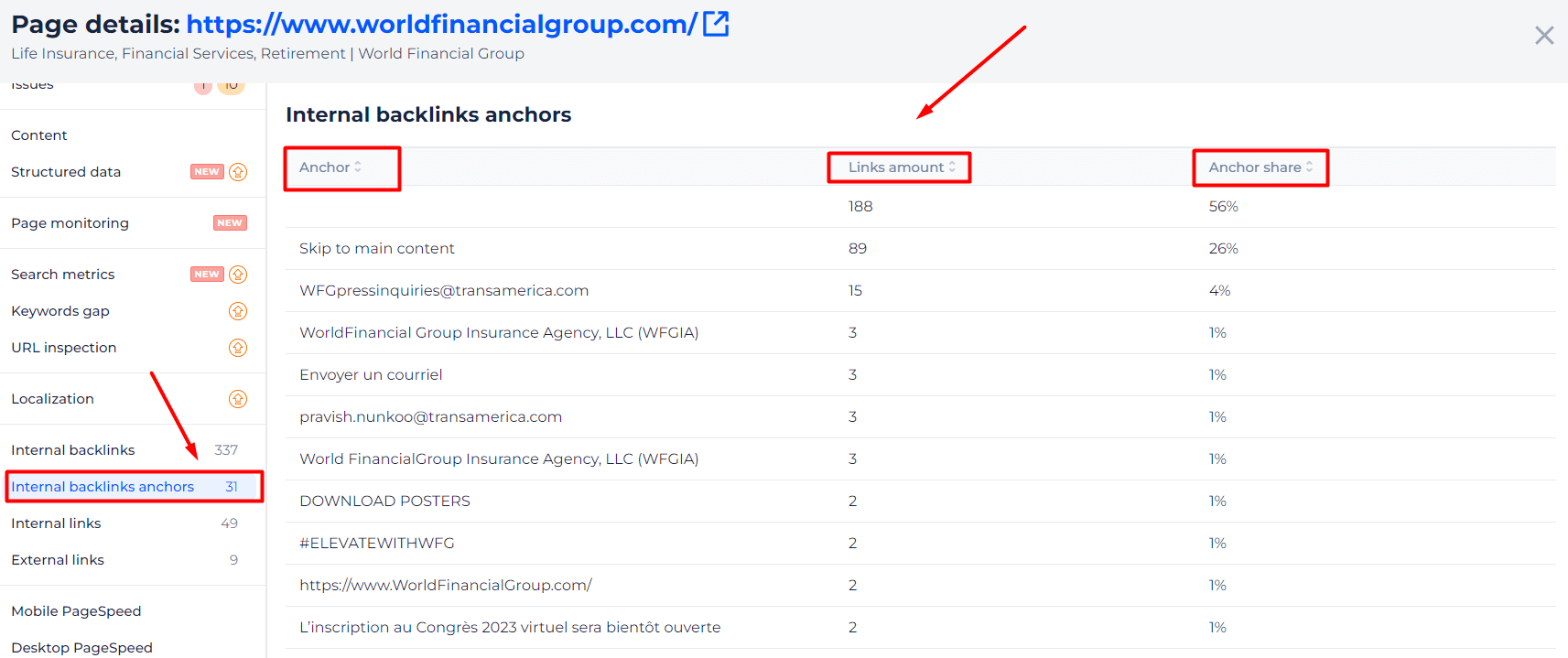 Find internal links issues for the hall website
While examining a specific URL, our SEO checker conducts a comprehensive audit of your entire website. To access the complete list of issues that have surfaced, simply visit the site audit page within the app. For example, in the "Links" category, you can identify inner reference issues for your website and discover the affected URLs. All issues get prioritized to help you understand which to address first. Besides, we provide detailed instructions on resolving them.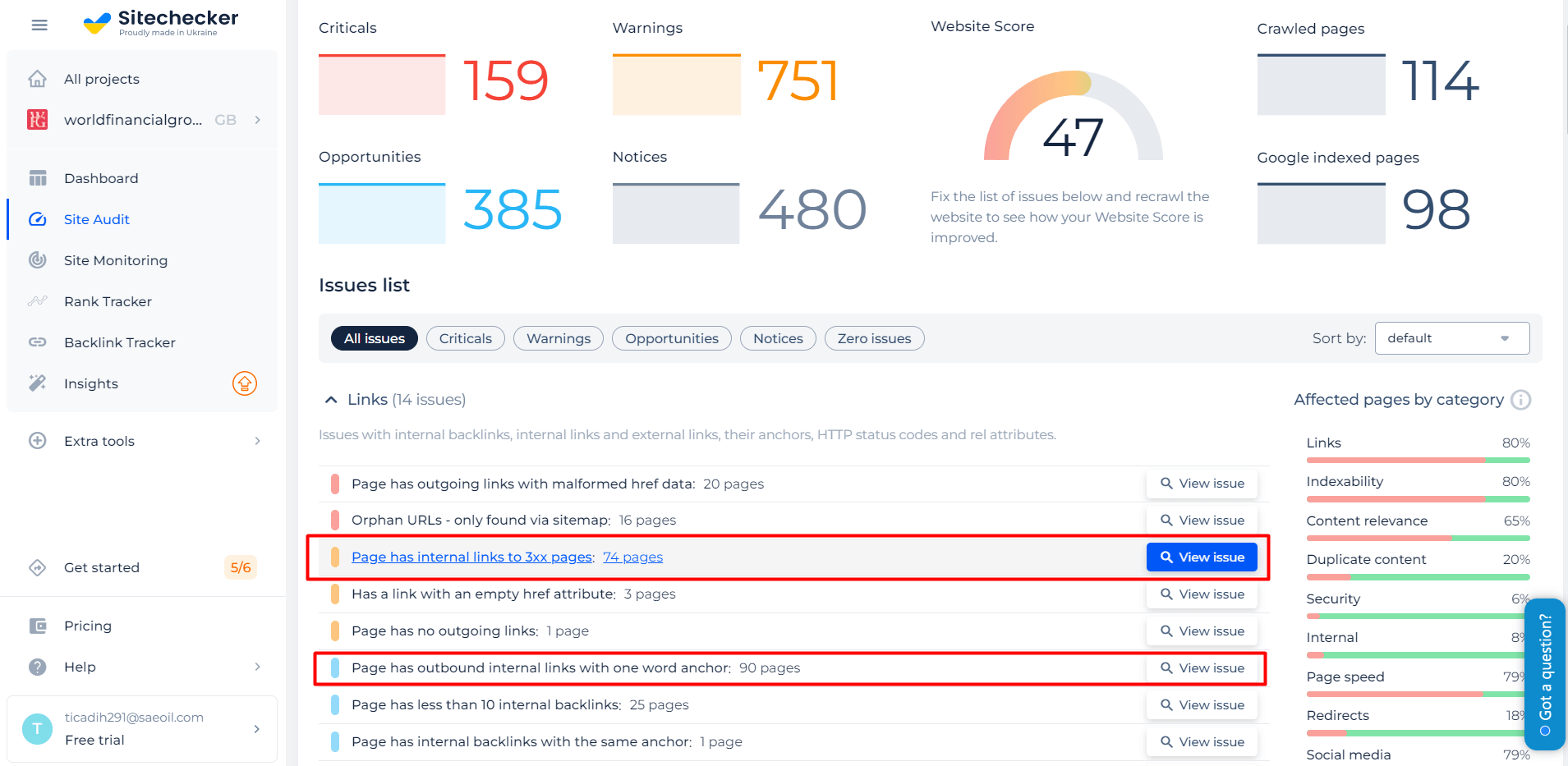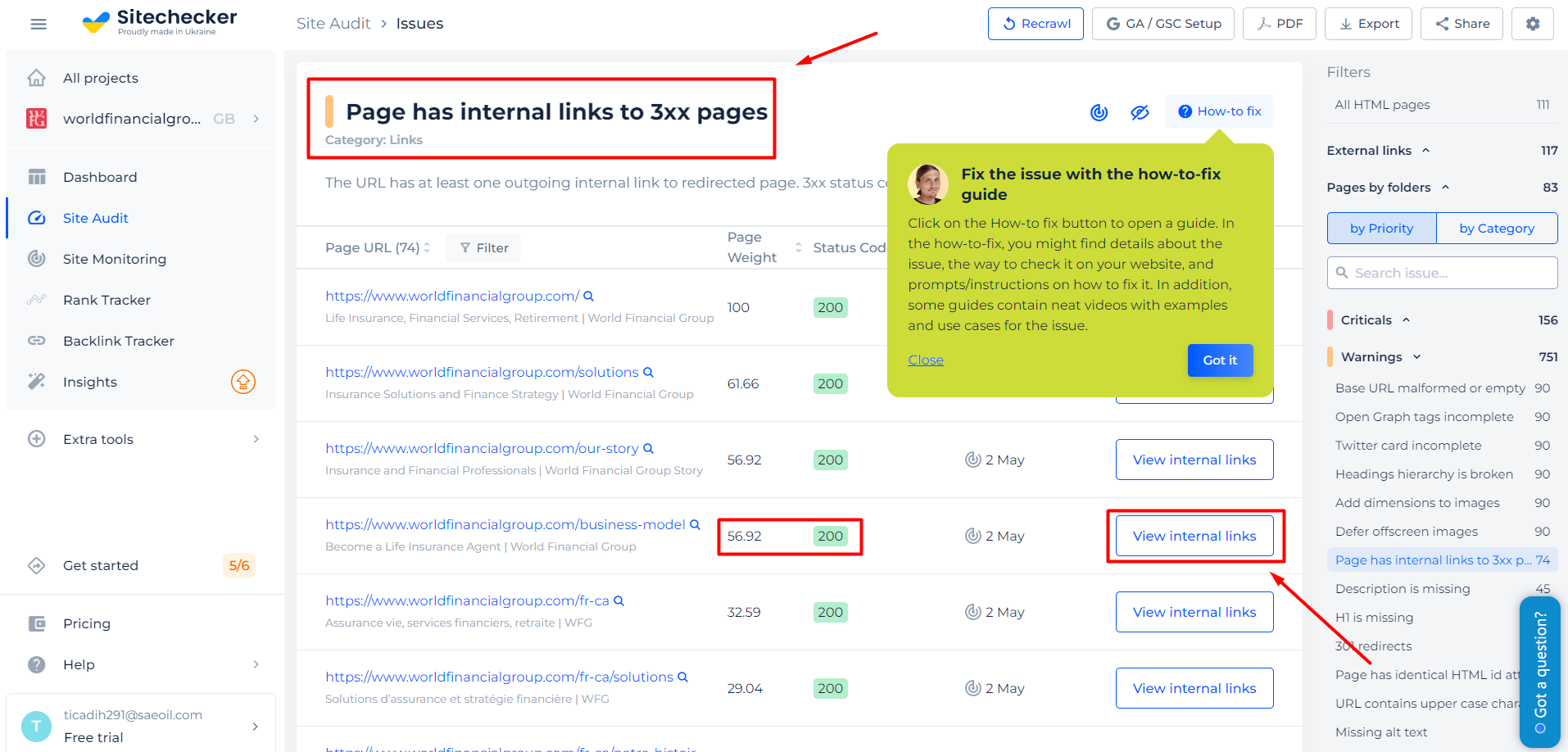 Are you a website owner who needs to send issue data to your SEO specialist? Or, maybe, an SEO professional looking to share issues with colleagues, send a report to a client, or create a technical task for a development team? Then, our team is here for you. We offer a highly flexible reporting and sharing system tailored to your needs. This platform allows you to generate and download reports, lists of issues, or specific reference lists from URLs, among other options.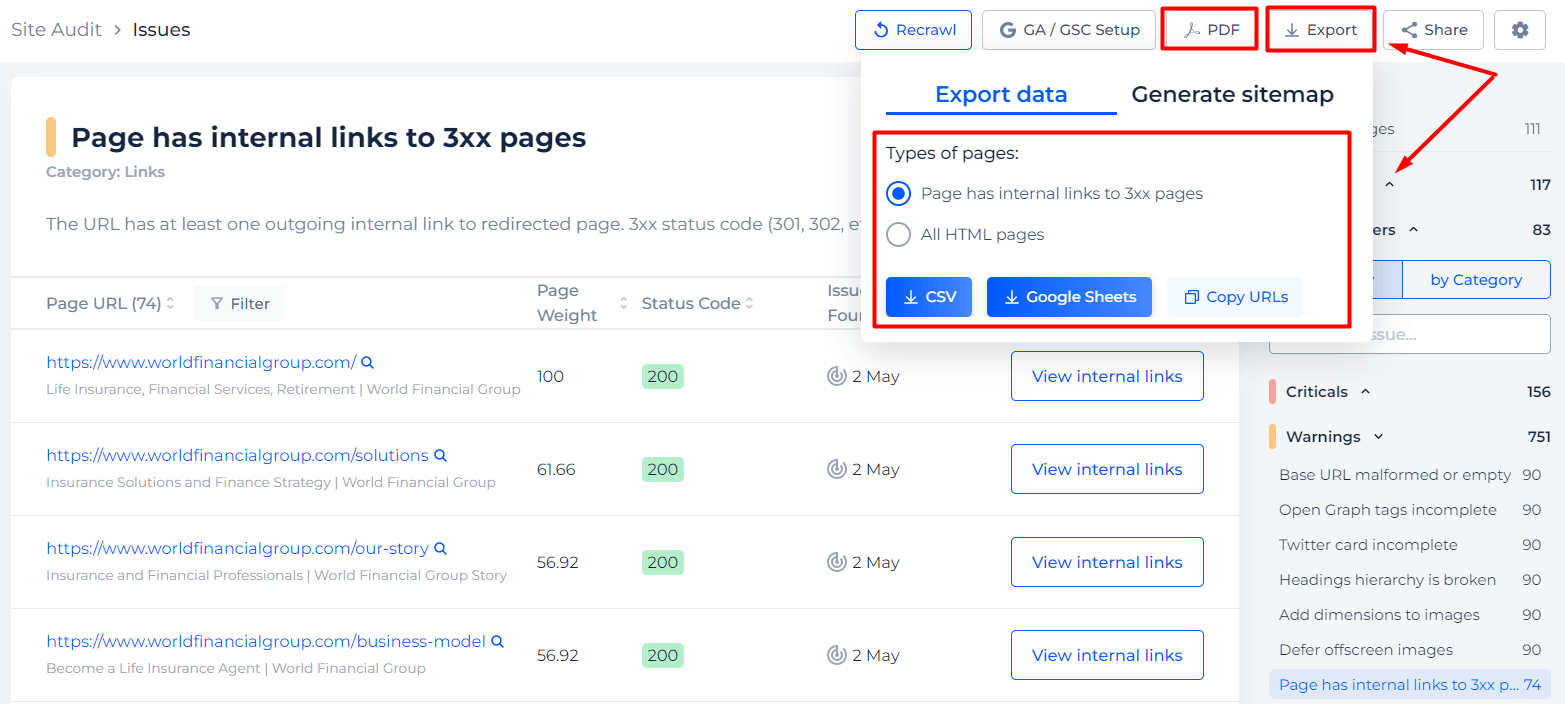 Concluding Remarks
Internal link checker offers a comprehensive analysis of internal link structures, identifies issues, and provides actionable insights to help you refine your strategy. With features such as continuous tracking and monitoring, an extensive SEO platform, and flexible reporting options, this tool is invaluable for website owners, SEO professionals, and development teams. Using the internal linking analyzer, you can improve site navigation, enhance conversion rates, and increase user engagement. Ultimately, you get better search engine indexing and ranking for your website.
FAQ
How to find internal links to a page?
The most effective way to find all internal references on a web page is to use a tool. After carefully reviewing the page, you will get a listing of links, status code, dofolow status and anchors currently used on the page. You can use this tool for all types of sites, including landing pages and e-commerce websites.
How to find internal links on the website?
Sitechecker's tool allows you to examine internal links for a specific page and all website pages. As an additional feature, it provides a list of issues for the website and a compilation of affected URLs for each issue.
Can this tool analyze the internal links pointing to websites on any CMS?
Our tool analyzes the inner references structure for any website, regardless of whether it is on WordPress, Shopify, Wix, or another CMS.