Backlink Checker

& Tracker

Platform that checks & tracks website inbound links and analyzes how they impact rankings. Monitor if backlinks to your website are live.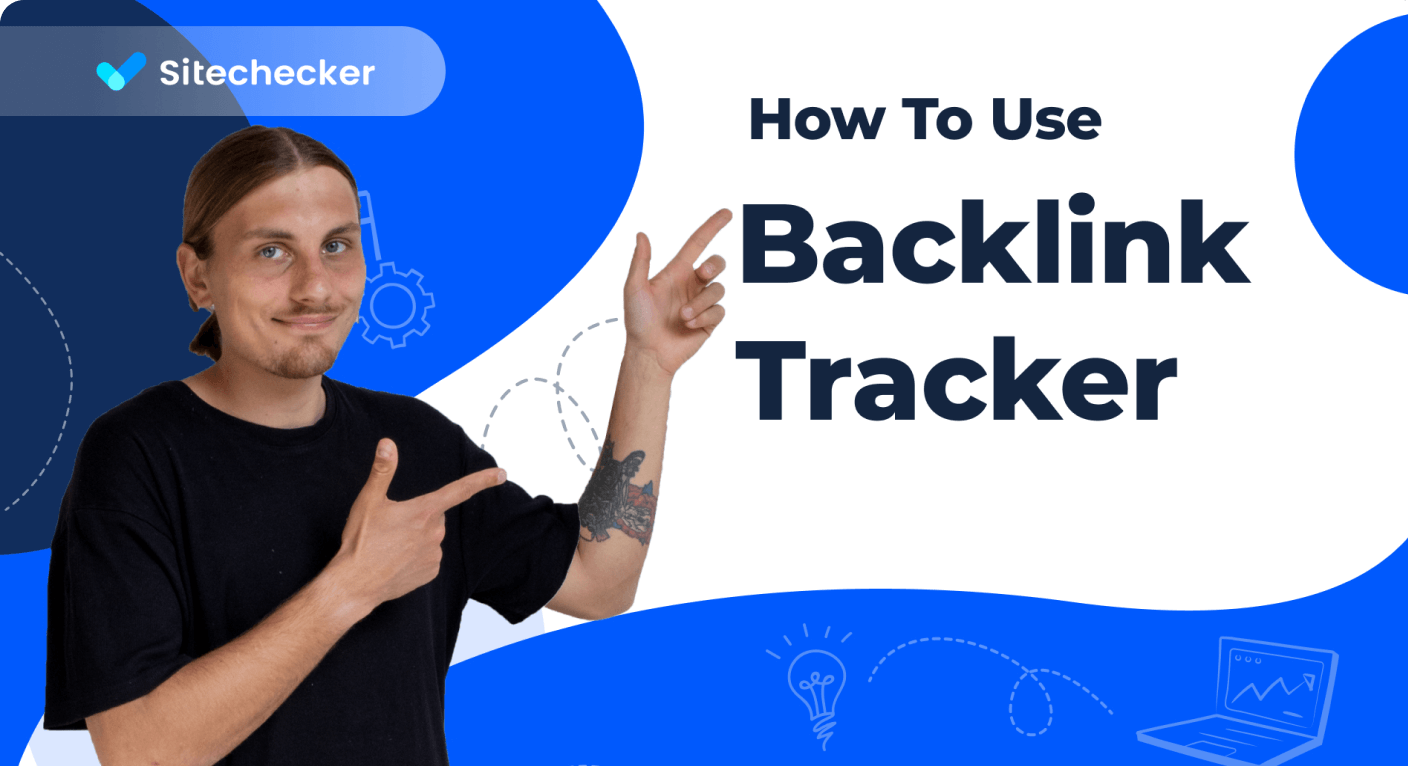 Trusted by 1000+ teams
How the Sitechecker tool can help you
Business owners
Control all incoming links you've built by yourself or with the help of employees, freelancers, or agencies.
Agencies
Track backlinks for all projects in one platform. Help your customers monitor how their link building profile changes due to your efforts.
SEO experts
Monitor your link building strategy implementation. Measure the impact of incoming links on website rankings.
What's inside
Check your website backlinks
Use the "Suggested Backlinks" backlink finder feature to make the backlink research for your domain. Select those you deem crucial and start tracking them regularly.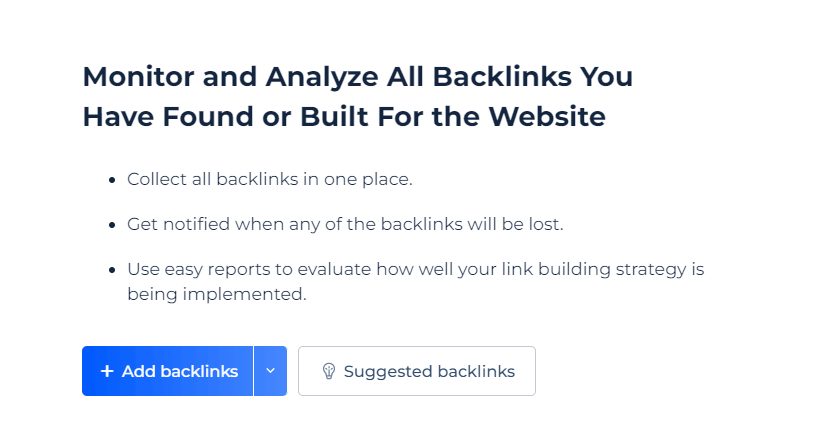 Collect all inbound links in one place
Use the backlink checking feature or import valuable incoming links you've built manually or found in GSC, Ahrefs, etc., to get a real picture of your inbound references profile.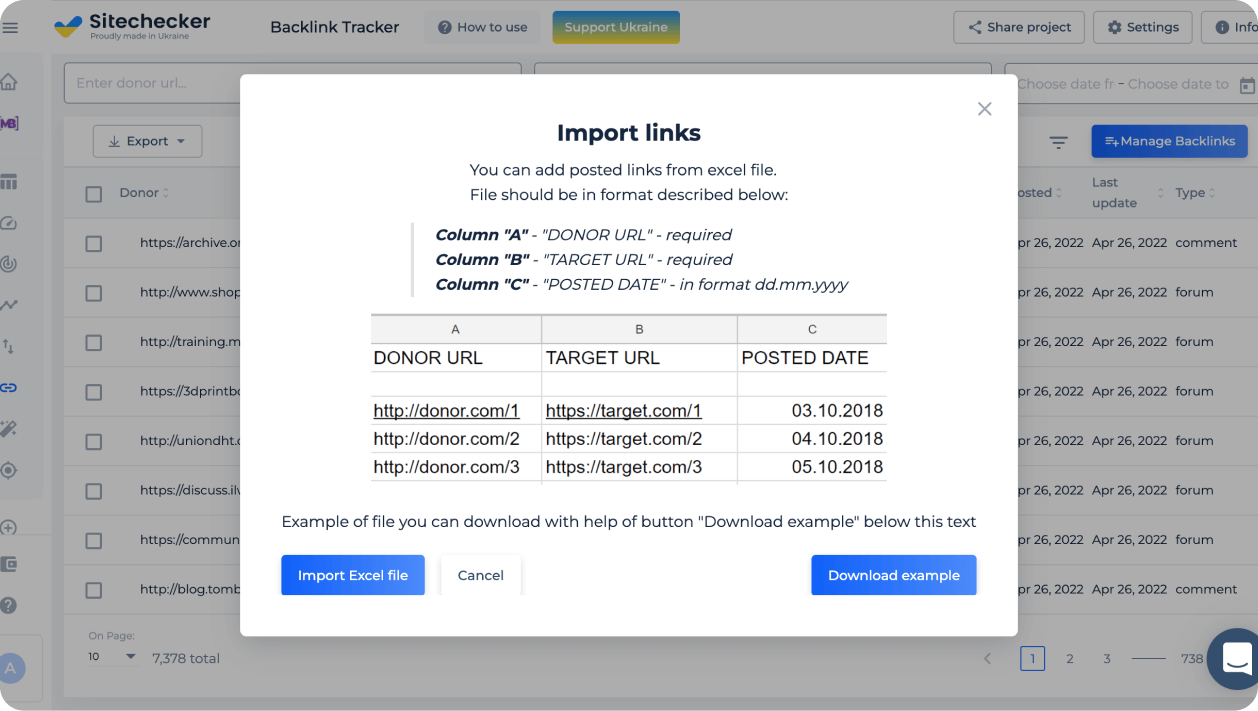 Check if referring pages are available in Google index
Only indexed inbound links impact website rankings. Checking if the backlink is in the index immediately after you get it is vital. So is tracking its status regularly to keep the inbound reference live. Sitechecker's backlink tracker accomplishes both tasks.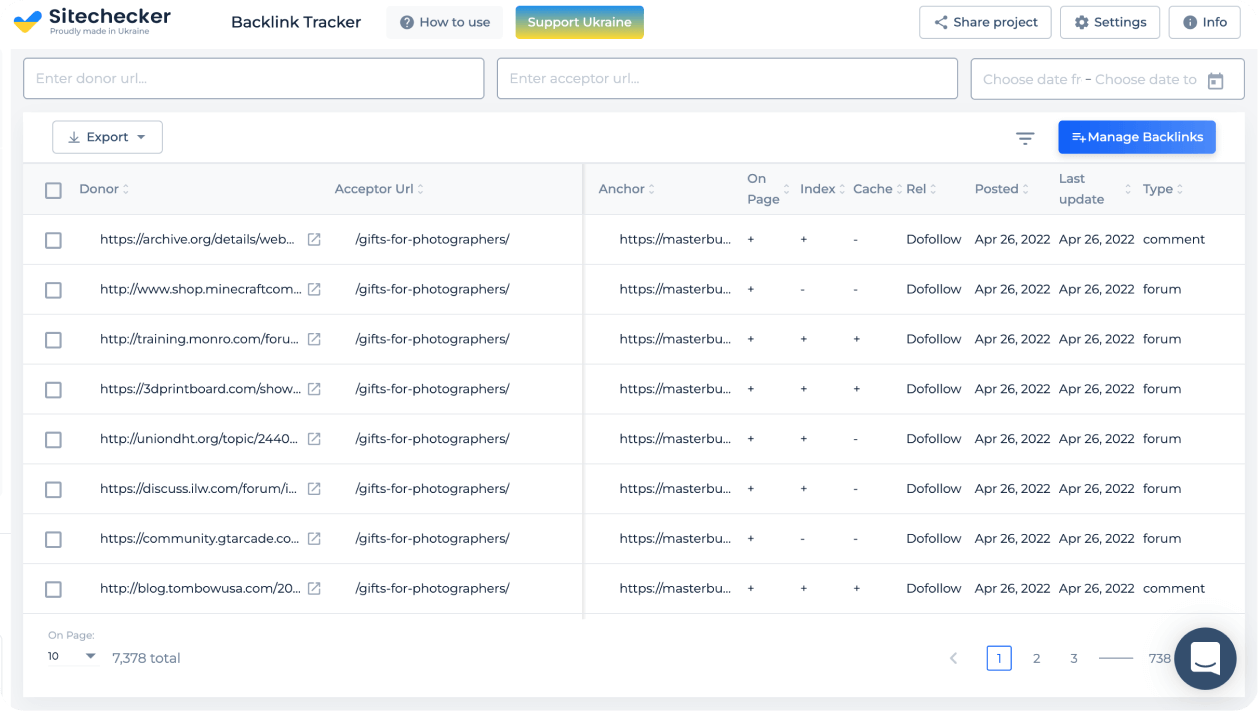 Bring lost backlinks back to life
Get notified when backlinks become non-indexable or pages with inbound links are deleted. Use these alerts to act immediately and contact website owners to bring lost inbound links back to life.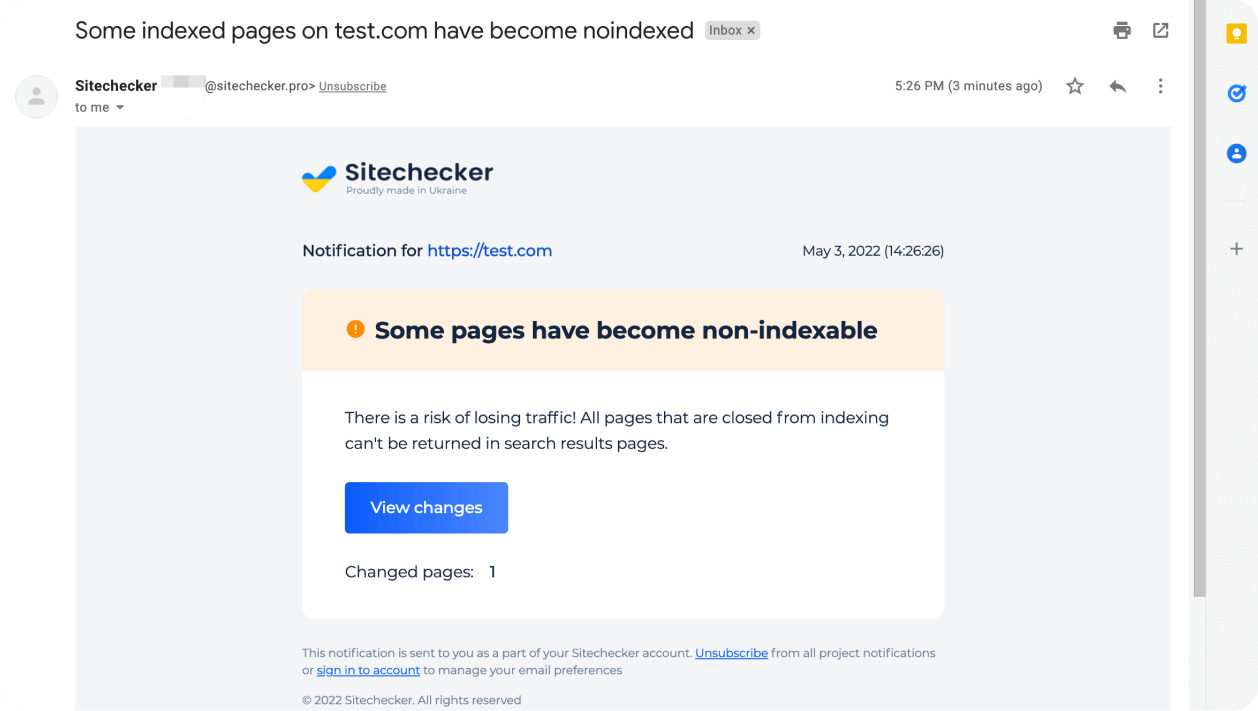 Get a clear picture of your backlinks anchor cloud
Detect the anchors that websites linking to your website use most — and get the corresponding percentage for each.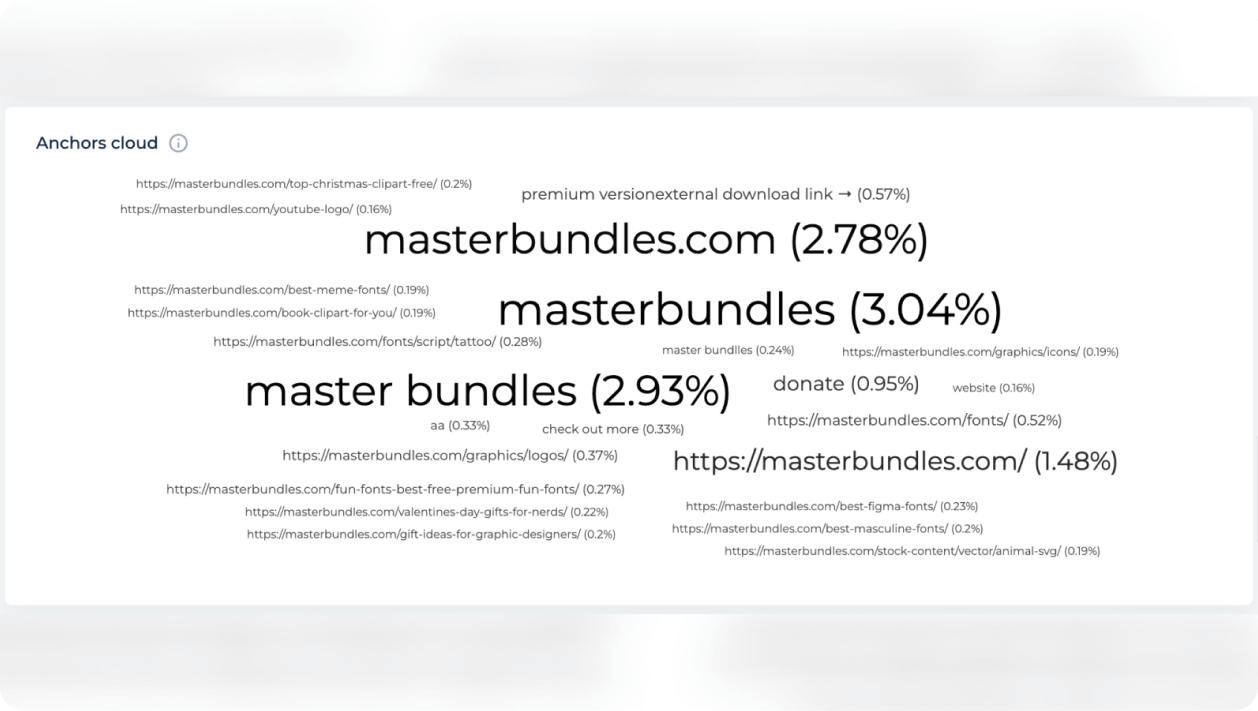 Monitor which landing pages are leaders by backlinks
Check which landing pages have more inbound links from authoritative domains and analyze how inbound links have influenced their search traffic.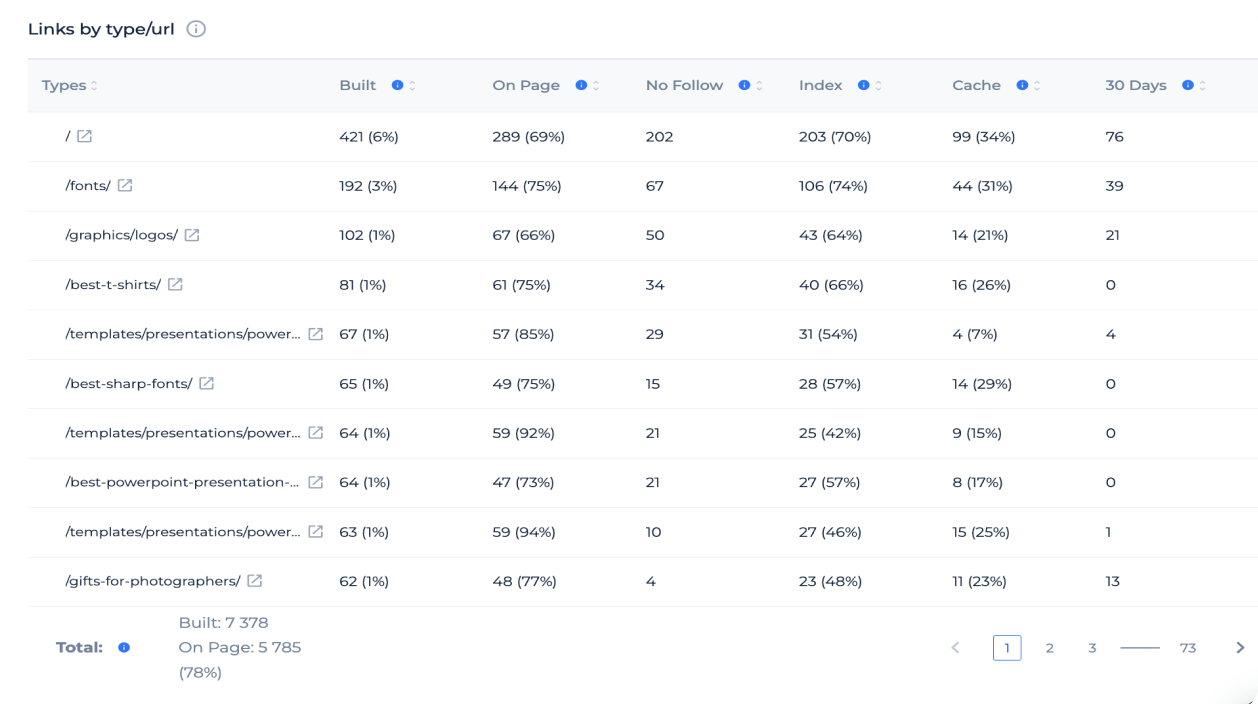 Analyze backlink profiles and assess growth dynamics
Identify peaks in link building history. Identify the reasons for, and the sources of, these peaks (perhaps some of your content became viral or your sponsored post brought results) and measure how your website rankings changed after them.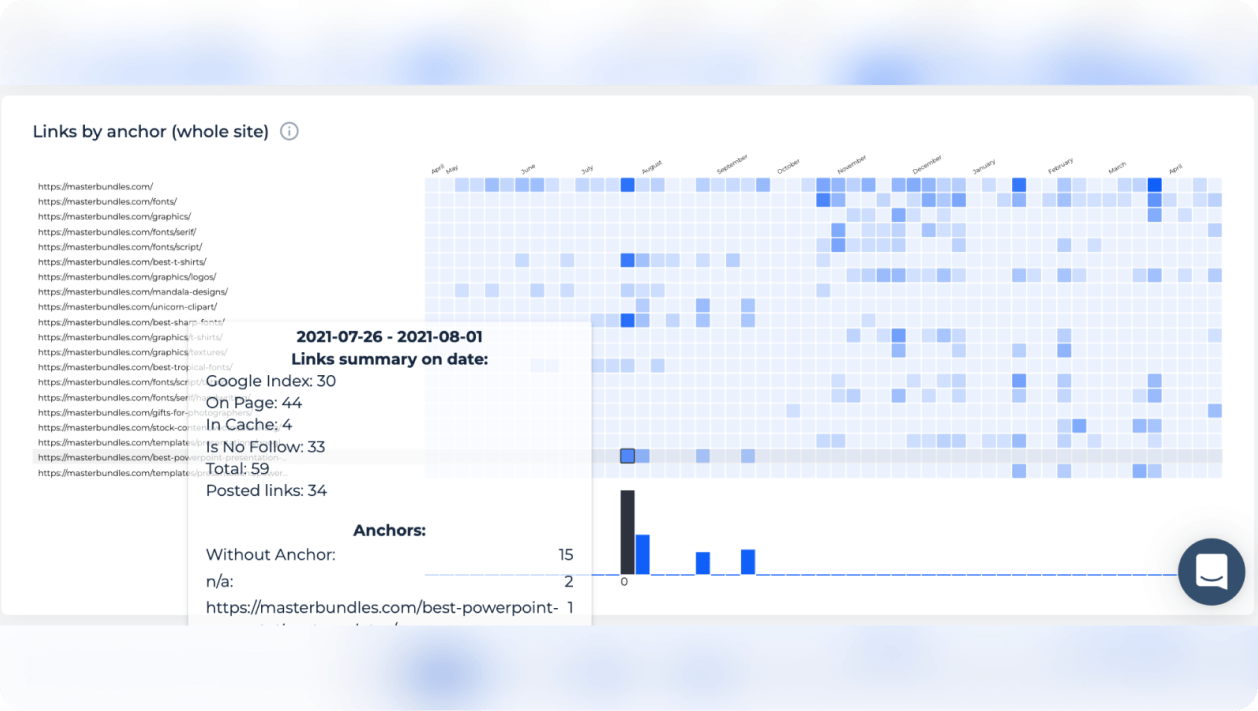 Join the 1,000+ businesses growing with Sitechecker
All of our clients are growing after we use the platform. For instance, our client Hospital Amazônia had a growth of more than 13.500 impressions from March to September.
After two months there were noticeable improvements in rankings and organic traffic. Backlink and Rank Tracker make it easy to monitor changes, but our website needed also regular SEO audits. We decided to run Sitechecker Audit once a week and it also contributed to the improvement of our results. This audit comes really handy and allows for quick and effective on-site optimization.
Before using Sitechecker our ranking was approx. #4 (mobile SERP) regarding the most important keywords. Now we are #1!
Explore customer stories
What users are saying
Data supplied as of 12/06/2023
FAQs
How do I track backlinks?
You can monitor backlinks in Google Search Console, Ahrefs, Semrush. etc. However, it is difficult to use tools with different formats and logic. Also, most non-Google tools won't tell you if your incoming link is indexed by Google. This is why users choose Sitechecker. You can import inbound references from different sources and even add them manually every time you get a new one. All added inbound links will be monitored for page indexation, presence, availability in the page cache, and the dofollow status every week.
What is a backlink checker?
An inbound links checker is a tool that checks, analyzes, tracks, and helps manage your website's inbound references. It empowers monitor link-building strategies, ensuring no valuable links get lost and evaluates how they impact website rankings.
Which is the best tool to check backlinks?
The tool to choose depends on your specific goals. Sitechecker is an excellent option for inbound link checking. It provides comprehensive features to examine, track, analyze, and manage inbound references. Thus, you can ensure the effectiveness of your link-building strategy and its impact on your website's rankings.
Backlinks monitoring is crucial to get control over incoming links, insights into link-building strategy effectiveness. Also, it measures impact on website rankings, ensures the link profile health, and helps detect and recover lost inbound links. Besides, it simplifies understanding the use of anchors, tracking landing page performance, and analyzing backlink growth dynamics.