In the world of search engine optimization, the biggest name gets to sit at the top of the search results. There are many ways to do this, but doing so organically is hard work. It's tough to use all the elements of a web page to their maximum potential, but when you do, it is that much more rewarding to reap the rewards. Creating reliable backlinks to your site is one of the many ways to do this, especially if you have a new site you want to build up quickly.
Backlinks aren't a very complicated concept to grasp if you're new to SEO. They are simply links that lead you from one site to another. If you've spent any amount of time on the internet, you will have come across articles linking you to other articles. That's basically it.
Google Analytics uses backlinks as a measure of how well the site is doing; if there are a high number of ones, creators can rejoice, as these sites will get a higher ranking in organic searches.
Why is that? Well, people typically don't recommend a source of information unless it is valuable and correct. Therefore, a backlink is seen as a vote of confidence that your information is deemed good enough to be shared among more people. The more of these that you have, the more Google will be convinced that your site belongs closer to the top.
So, how do you generate this kind of links? We'll address that next.
What Is a Free Backlink Generator?
A backlink generator is an online tool that lets you add special SEO links to your content by creating them automatically from other websites. It's simple how this works, really.
The internet contains a plethora of software that checks websites for various characteristics, including:
Quantity of traffic
Web host
IP address
Domain age
Google PageRank
Keyword rankings
Social shares
Security vulnerabilities
In addition, some of these technologies save and index each report that is generated for them. The Sitechecker backlink builder tool automatically generates such reports on these websites, resulting in free PR generation for your website.
Free Backlink Generator Usage: a Step-by-Step Guide
Now that you know what they are, it is time to understand the ins and outs of using this program. Luckily for you, we are providers of this very service.
Step 1: Insert your domain and start free trial
First and foremost, you will have to copy the URL of your website and paste it into the bar. Then, press start the free trial. For our example, we're scanning hypernia.com.


Step 2: Interpreting the backlinks generator results
The scan you perform will generate the backlinks with status code.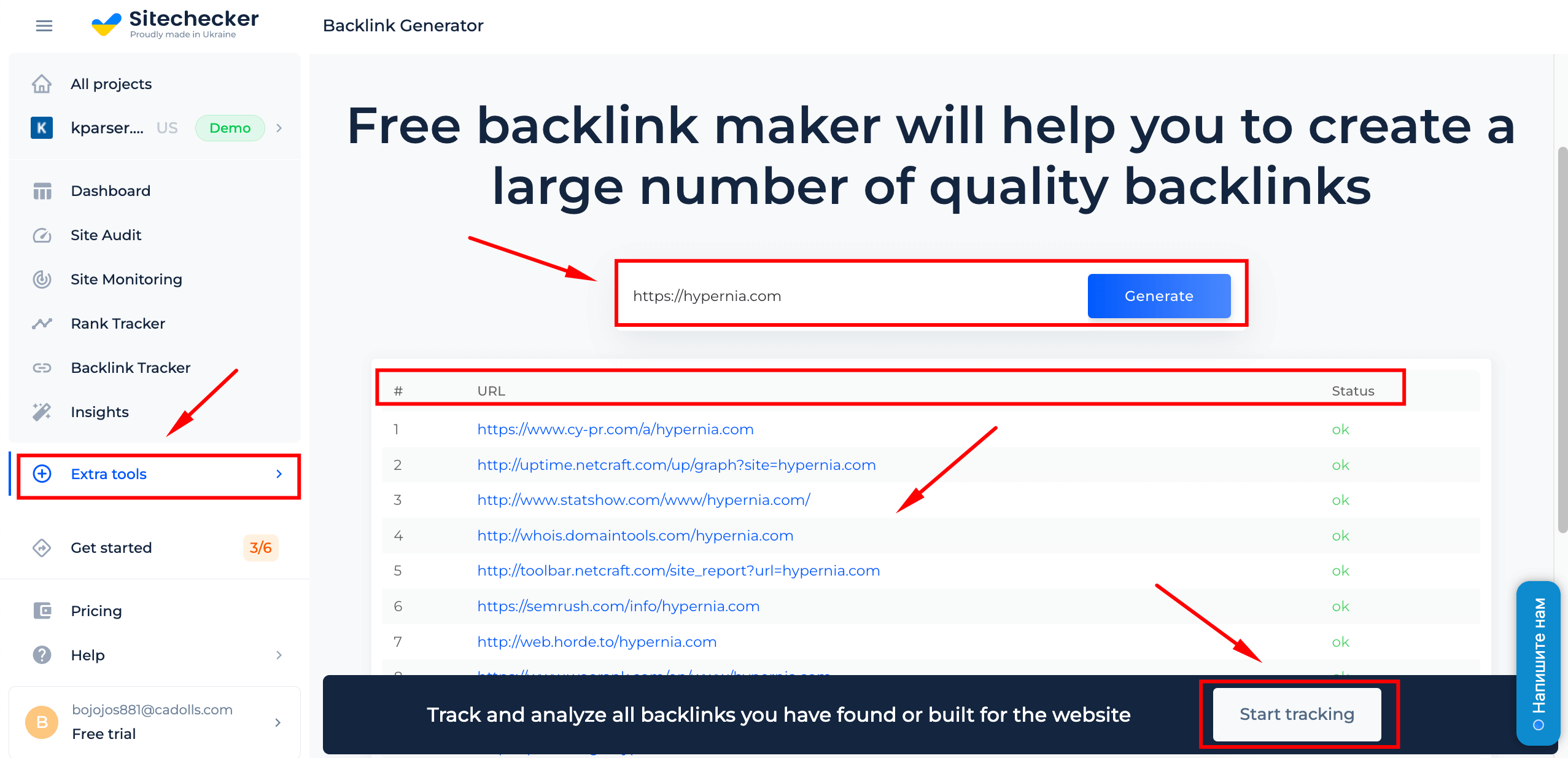 You can click on any of these links to see where they lead and learn more about them.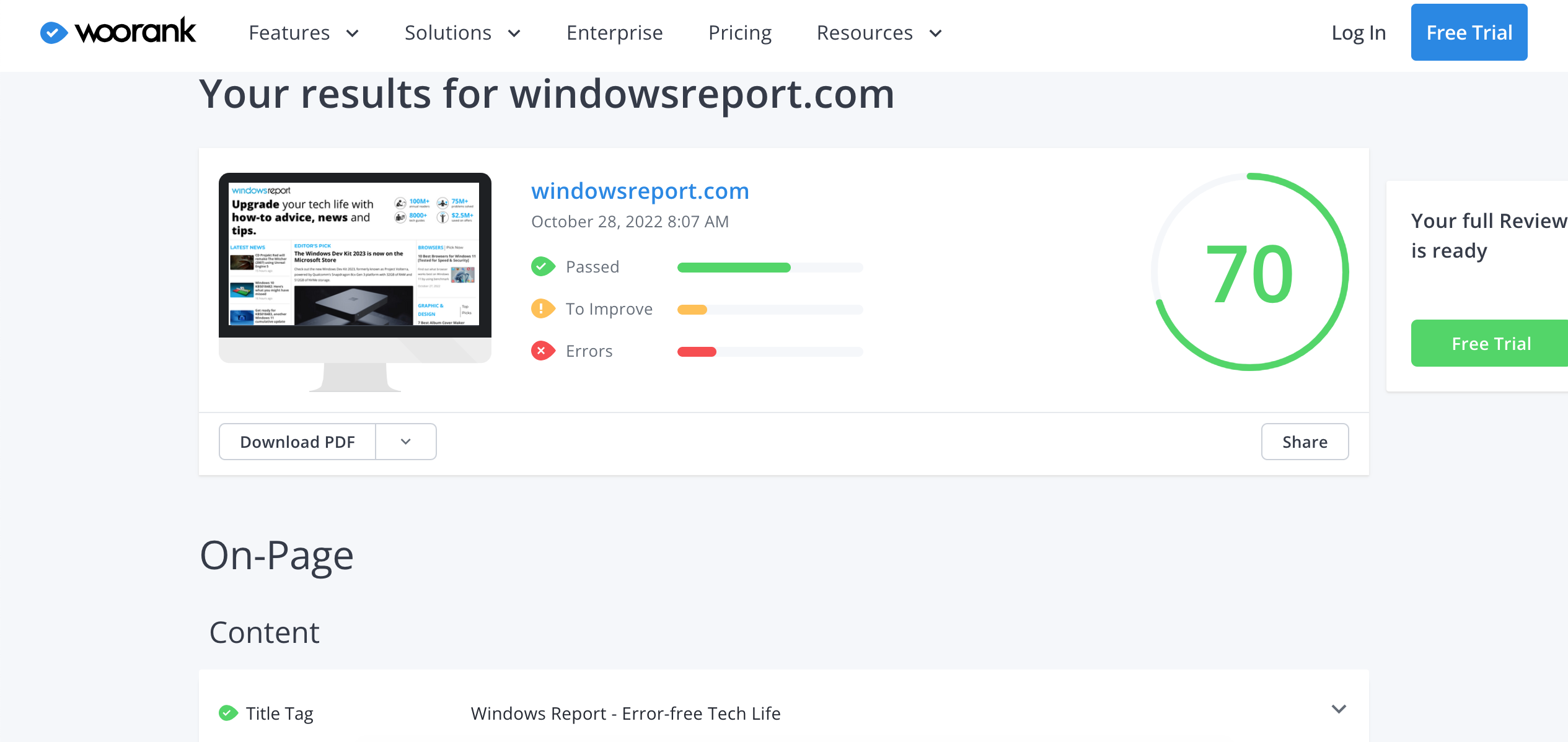 Backlink tracker
Also, you can press the "Start tracking" button to track and analyze all backlinks you have found or built for the website.


After pressing the button your generated backlinks will be automatically added to the Backlink Tracker section. Here such info about the links will be displayed: donor, acceptor URL, anchor, onpage, index, cache, etc.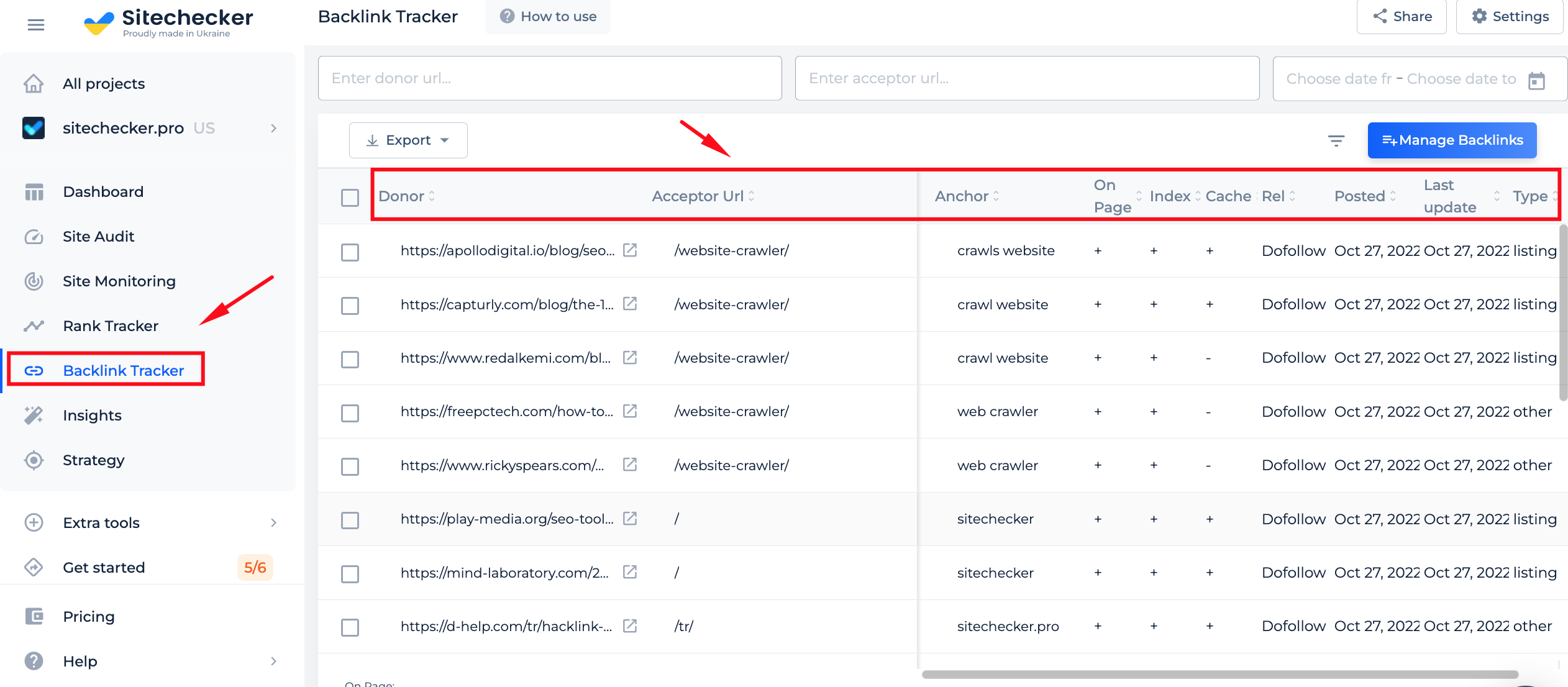 What is more, there is also the possibility to add some other links and export the data.

Additional Features of Backlink Generator
In addition to generating backlinks, the tool will also provide a comprehensive website audit report to help identify any potential problems. This report will not only highlight these issues, but also offer suggestions on how to resolve them. The audit can be broken down by issue type or category, allowing for efficient targeting and resolution of crucial issues affecting your website's success.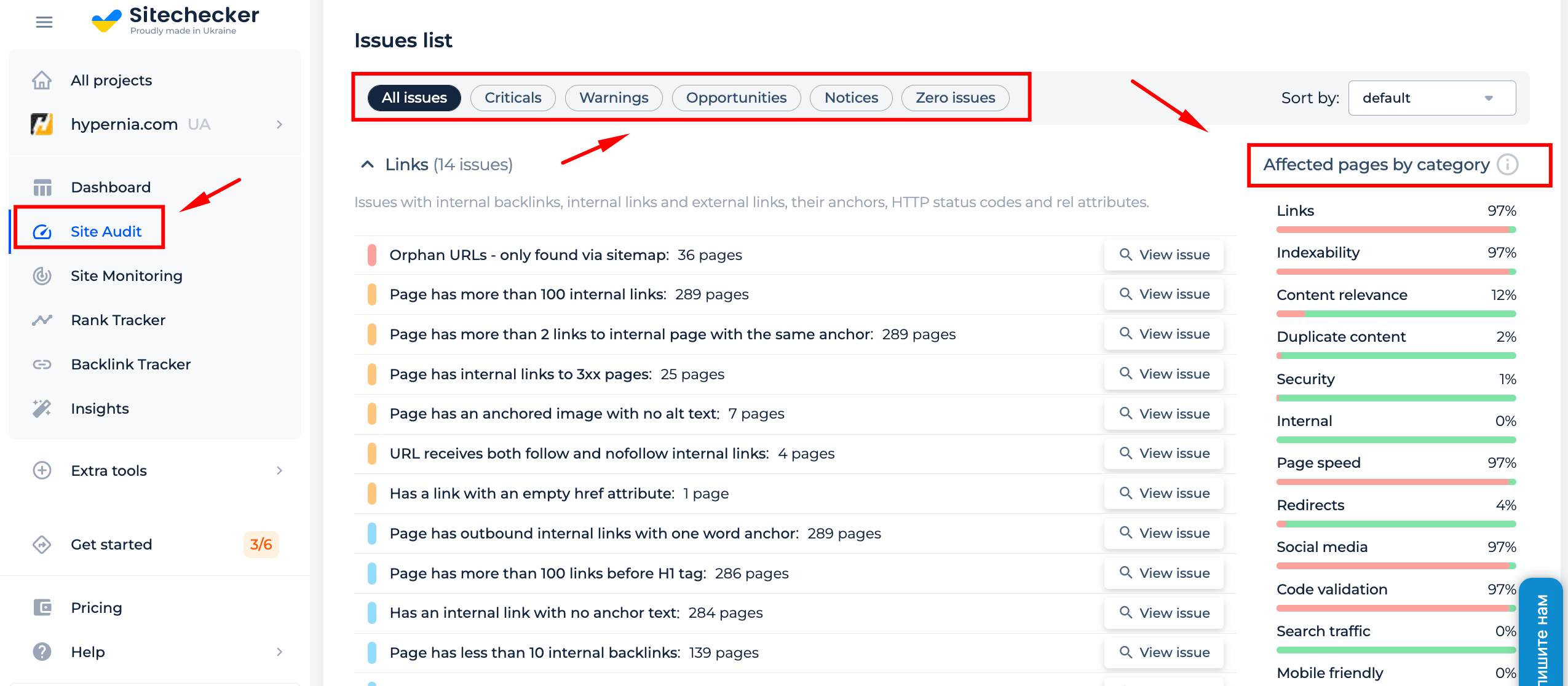 Why Should I Use It?
According to Google's Andrey Lipattsev, backlinks form the backbone of Google's ranking requirements for the search signal. This has been the case ever since Google started ranking, and it has continued to this day. So, if you want to reach the top with organic SEO, you will have to take into account the use of backlinks and deal with them properly.
To Increase your rating
You have to make sure that all the links that will lead people to your website are of the highest quality possible. This is to ensure maximum exposure. Websites with a lot of strong backlinks will automatically rank higher in search engine results pages.
To keep the website free of spam anchors
It is not unheard of to have your competitors intentionally add some bad links from domain donors to the mix, causing your anchor cloud to become spammy. The best way to respond is to use a disavow tool and to add some trustworthy links that do not contain anchor text.
To increase the traffic to your new website
When you create a new site, you may not have a large budget to work with. Luckily for you, generating good backlinks is neither expensive nor time-consuming. Many people believe that links are only built for SEO purposes, but backlinks are the most effective way to increase your authority and brand recognition across the internet. Our service gives you high-quality backlinks that are simple and free to use, which will help your site be seen by search engine bots.
To submit your site to search engines
If you want to increase your website's visibility and improve its backlink profile, then you should use a backlink builder tool. This tool creates free links to your webpages and will help improve your site's image in the eyes of visitors and search engines. If your website is new, then building high-quality links with a free backlink maker will eventually get it noticed by search engine bots.

Backlinks generation is not enough to optimize your site for search engines!
Conduct a full audit to find out and fix all the site level and page level issues on your website.
How to Use a Backlink Maker Properly
If you want to reach the top of Google search results, you won't be able to do this by relying on just one tool. Combine it with additional tools to broaden the scope of your link-building strategy.
A backlink Maker is the fastest and most efficient solution for new websites to obtain their first backlinks in a matter of seconds.
Backlink Checker is an effective tool for discovering organic backlinks that have linked to your expanding website.
Backlink Tracker is a fantastic tool for determining which of your backlinks have the greatest impact on your rank in search results.
As a bonus, you can refer to this YouTube video by Exposure Ninja to learn more about getting started without a huge budget backing you:
Other Ways to Get Backlinks
Every SEO expert will tell you that it's crucial to generate backlinks to improve the site's visibility and provide referral traffic. Here are some of the best ways to easily generate backlinks for free.
1. Create high-quality content
One of the easiest ways to get backlinks is to create content worthy of mentioning. Write the top-notch industry articles that bloggers or experts would voluntarily refer to.
2. Publish a "Skyscraper" content
The fact you are not the first doesn't mean you can't do better. Prepare as detailed guides as possible, even on existing topics. Extra helpful information is undoubtedly an added value that can generate backlinks.
3. Write testimonials
Testimonials often serve as social proof of quality. For example, if you are a regular user of a certain tool relevant to your sphere, leave your positive testimonial in return for a backlink.
4. Refresh old content
Another easy option to generate backlinks is to update previous materials. Find a relatively old review or research with multiple publications referencing that particular piece of content, and refresh it with up-to-date data.
5. Create free tools
Easy free tools like percentage calculators or email topic generators can attract many references.
6. Build up your personal network
Expanding a network of your personal connections with bloggers or industry leaders can also boost your resource's mentions on different platforms.
7. Participate in interviews
Taking part in interviews with their future publishing on relevant industry platforms or in online media can also generate backlinks.
8. Participate in forums
Discussion forums are platforms where heated debates may attract thousands of people. Expressing a justified authoritative opinion can increase your citation and drive additional traffic to your website.
9. Visit industry-related events
Even offline events always have online pages where administrators publish all top news, updates, speeches, panel discussions, etc. So it's an excellent chance to show up and earn your resource a mention.
10. Work with Help a Reporter Out (HARO)
HARO is a platform where reporters, journalists, and bloggers get insights, news, and stories for future publications, with a certain probability in top media. And they always refer to sources. What can be better?
11. Use free backlink sites
There are plenty of websites where you can describe your company or services and, in this way, generate backlinks for free.
Free Backlink Sites List
Here are some of the best web resources where you can get free high quality backlinks.
Netcraft is an internet company that offers services and solutions regarding cybersecurity, website uptime check, security testing & PCI compliance, or internet data mining.
StatShow is a popular and free tool for assessing website value and estimating traffic volume.
DomainTools operates in domain research services, offering threat hunting, brand protection, and other assistance regarding Internet intelligence, like domain ownership research.
A popular online platform that people use to research keywords and online ranking data encompassing such metrics as search volume and cost-per-click.
Simcast provides a domain management platform that assists in managing traffic to unregistered or expired domains.
Woorank offers a free SEO tool for instant website analysis to understand website scores.
DeviantArt is a vast online database of digital art and photography.
A universal platform where users can share their opinions about these or those websites. A well-written review can bring some free high quality backlinks.
This site allows users to explore all the websites saved over time – more than 760 billion web pages.
StuffGate is a free online website analysis tool where you can check a site's metrics or look at the list of expired domains.
A search engine that shows similar sites. A handy tool for building brand strategy or outperforming competitors.
SpyFu is a search analytics company that assists in revealing successful marketing approaches of potential competitors.
This website value calculator accumulates information about a particular domain, analyzes it, and provides site-worth estimations.