What is a Free Backlink Generator?
A backlink generator is an online tool that enables adding unique SEO-friendly links to your content by automatically sourcing them from other websites. The mechanics of this process are quite straightforward.
The internet is full of software that evaluates websites based on various criteria, including the quantity of traffic, web host, IP address, domain age, and so on. Moreover, some of these technologies archive and index every report generated through their usage. The Sitechecker backlinks builder tool takes advantage of this feature. It automatically generates these reports on such websites and facilitates free PR for your website.
Key Features of the backlink creator
Here are the most significant features of a free backlink creator.
Free access. We don't bill users for link generation. Though the links provided are rather basic, they may serve as an excellent starting point for an efficient SEO strategy implementation.
Domain availability. You will receive inbound links from 17 different trusted domains.
Backlink tracker. Our platform incorporates a powerful backlink tracker tool. It monitors generated inbound links and adds the new ones you build for your website. This feature also alerts you when you lose any links.
Audit. Our SEO checker is more than just a backlink generator. We empower you to utilize a comprehensive SEO audit feature, rank tracker, website monitoring, and more.
Why Should I Use the Tool?
Our tool offers a free and straightforward approach that boosts your SEO and helps your new website index more swiftly. It's possible thanks to links from indexed pages on highly trusted websites. Additionally, with the generator, you achieve Search Engine Results Page (SERP) visibility by appearing on 17 reputable domains.
How to Use the Free Backlink Generator?
Step 1: Input the domain for which you want to generate backlinks, then click the "Start generation" button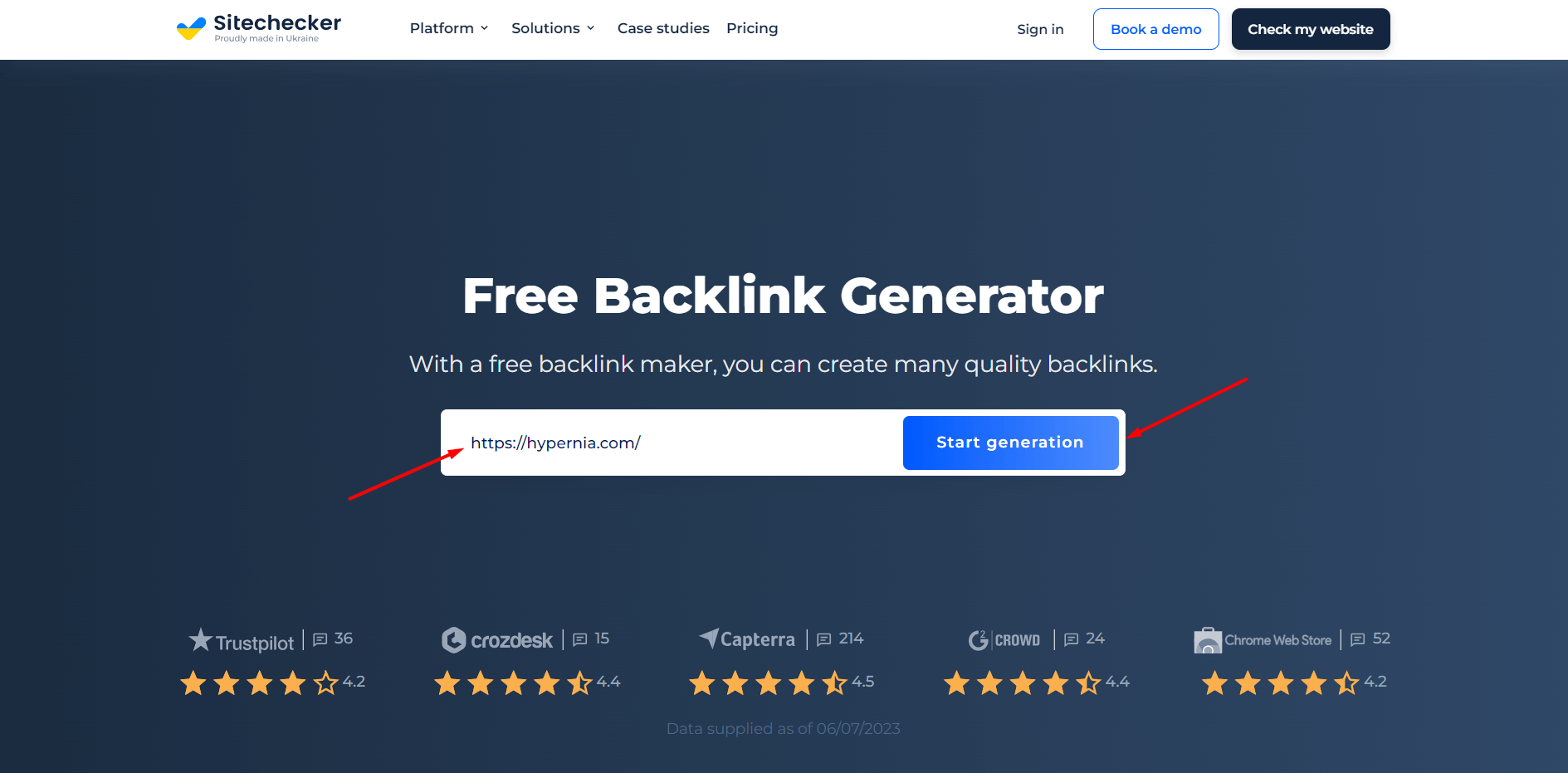 Note: To receive results and access to Sitechecker's features for 14 days, start your FREE trial. Sign-up is easy with your email, Google, or Facebook account. NO credit card is needed.
Step 2: Interpret the backlinks generator results
The tool will generate inbound links for you. It will also provide a list of these links with their status codes.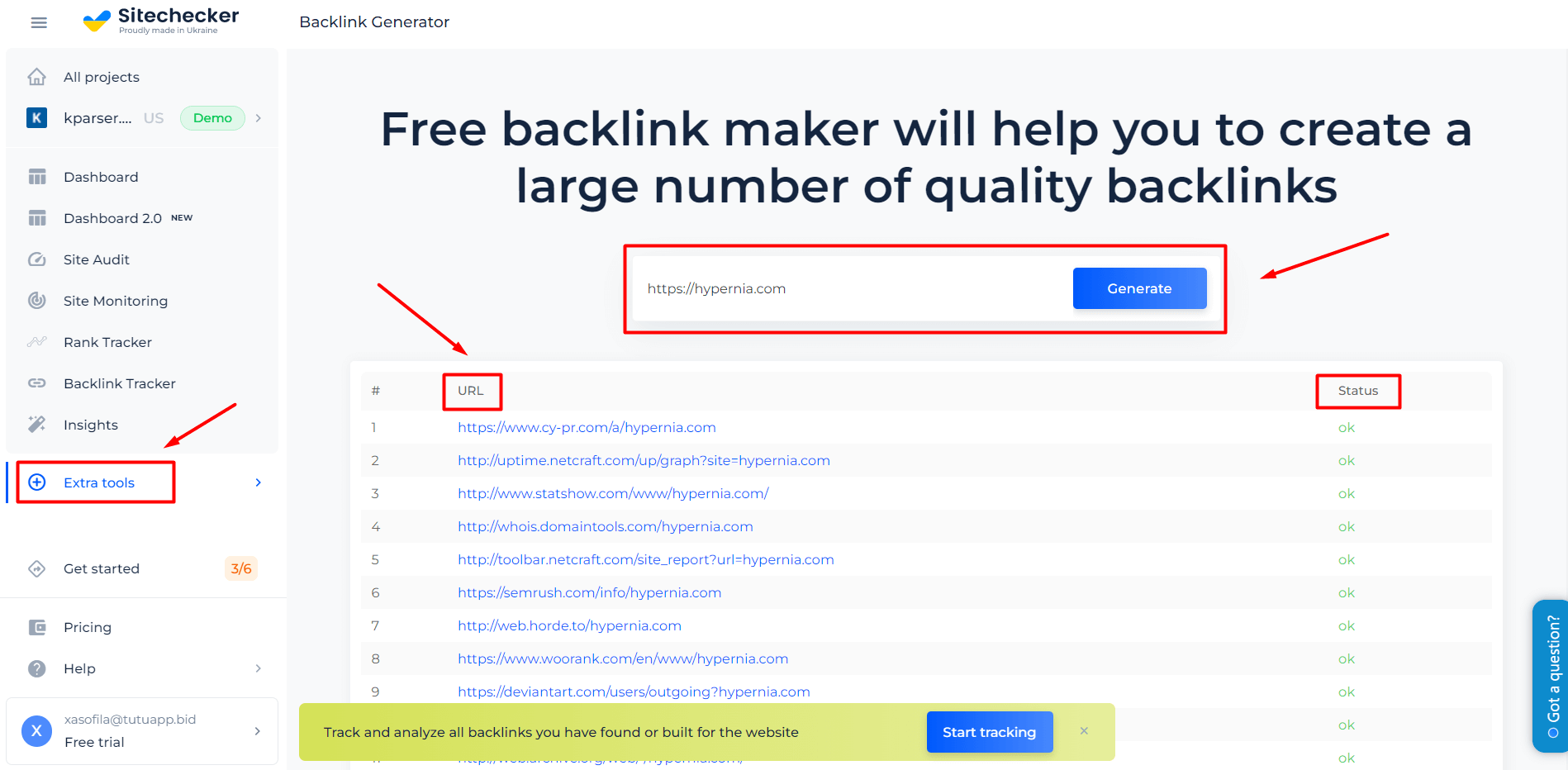 Click any of these links to see where they lead and gain more insights into their performance.
Additionally, you can use the "Start Tracking" option to monitor and analyze all the backlinks you've discovered or built for your website.

Once you click the button, the tool will automatically add your newly generated inbound links to the backlink tracker. The tool will display detailed information about the links. It includes the donor, acceptor URL, anchor, on-page status, index status, cache status, and more.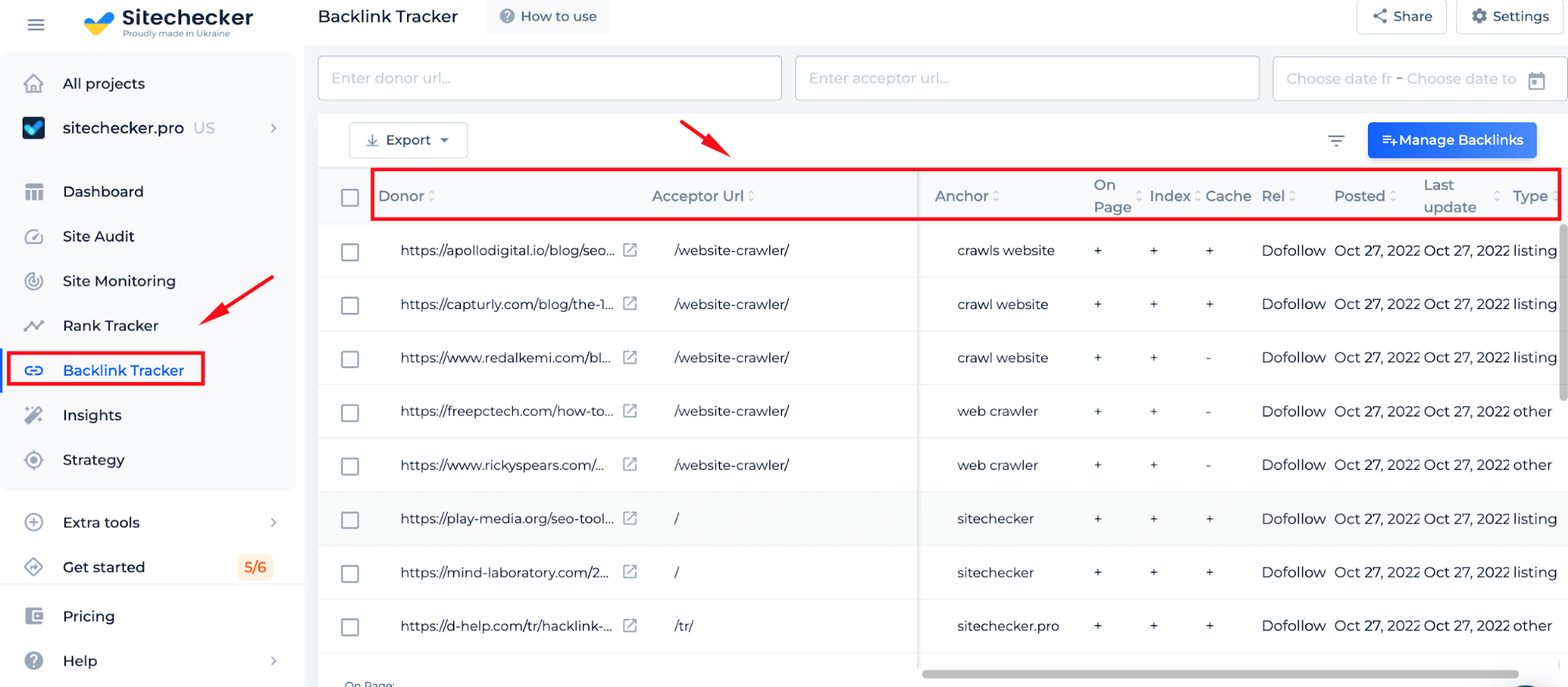 On top of that, there's a flexible backlink management function. You can manually add other links, import them from a file, or explore our inbound links-checking feature.

For more details, check out our YouTube video guide on how to use the tool properly:
Step 3. Use Additional Features of Backlink Generator
In addition to generating backlinks, the tool provides a comprehensive website audit report to identify potential problems. This report will highlight these problems and offer suggestions for resolving them. Moreover, you can break down the audit by issue type or category for efficient targeting and resolution of crucial challenges affecting your website's success.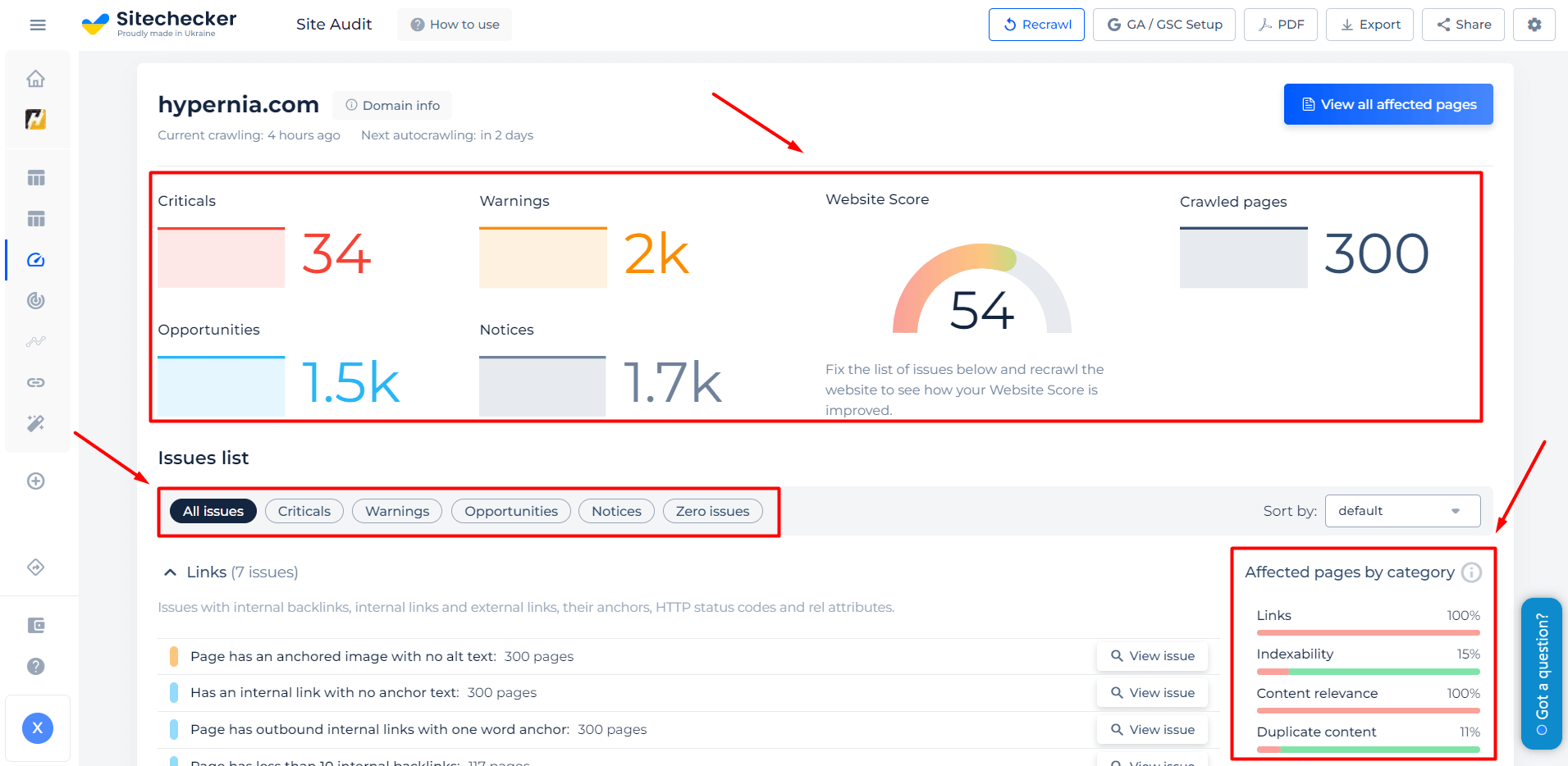 Concluding Remarks
The Sitechecker backlink generator is a powerful tool that offers free backlinks from trusted domains and a host of SEO resources. Its user-friendly interface and functionality let you generate and manage inbound links smoothly and efficiently. The tool also provides a detailed website audit report to identify and address potential issues. As a result, it ensures an improved SEO strategy and boosts your website performance.
FAQ
Where can I create free backlinks?
To generate free inbound links, enter your website's URL into the Sitechecker backlink generator tool and start your free trial. The tool automatically generates backlinks from 17 trusted domains.
What does a backlink generator do?
A backlink generator leverages various software to create links and evaluate websites based on multiple criteria. In particular, it includes traffic quantity, web host, IP address, and domain age.
What is a good example of backlinks?
A backlink occurs when a website references other web pages using anchor text to create a link. You can find an example of an inbound link in any article or blog post that provides a hyperlink to an alternate source or website.