What Is a URL Redirect?
Redirect refers to forwarding website users and search engines to a different URL than the one they originally requested.
For more information on redirects and when to use them, be sure to read our guidelines.
How to Use Redirect Checker
Redirect Checker allows you to check either a domain or specific page for leading to another page. To use the tool, simply paste in a URL and start a free trial. The scan will only take a few seconds and is absolutely free. After the scan is complete, you will be able to see any issues that were found.

Domain Check
Step 1: Insert your domain and start free trial
To check a domain, press the "check domain" button and enter the domain name. For example, to scan hostpapa.com, simply enter that into the search box and start your free trial.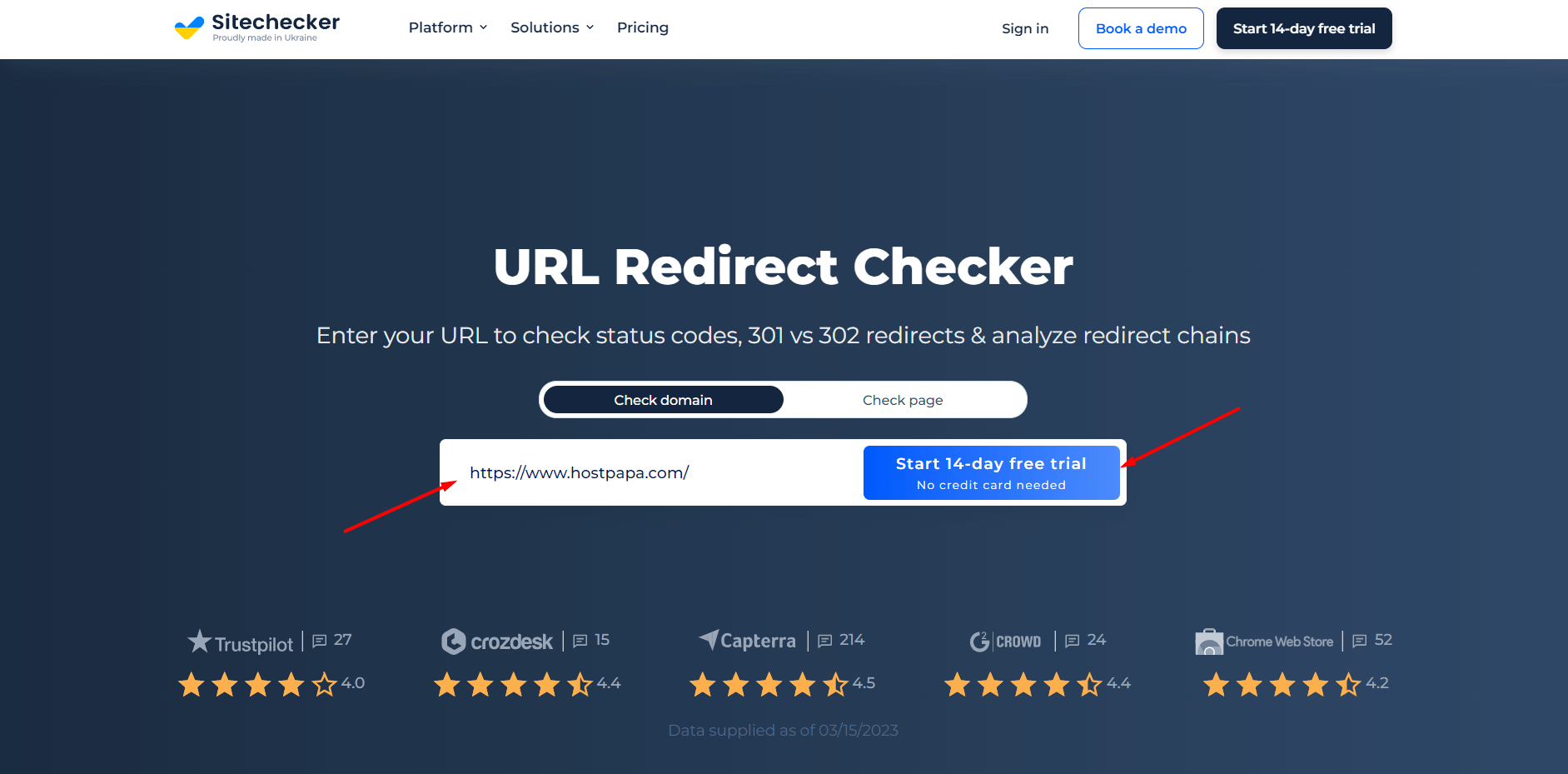 Step 2: Interpreting the domain redirect checker results
The scan you perform will generate a site audit for the domain you enter, revealing various issues, such as 301, HTTPS to HTTP, 302 redirects, etc. By clicking on any given issue, you can see which pages are affected and extract a list of links for those pages. This way, you can easily identify and correct any problems that may be present.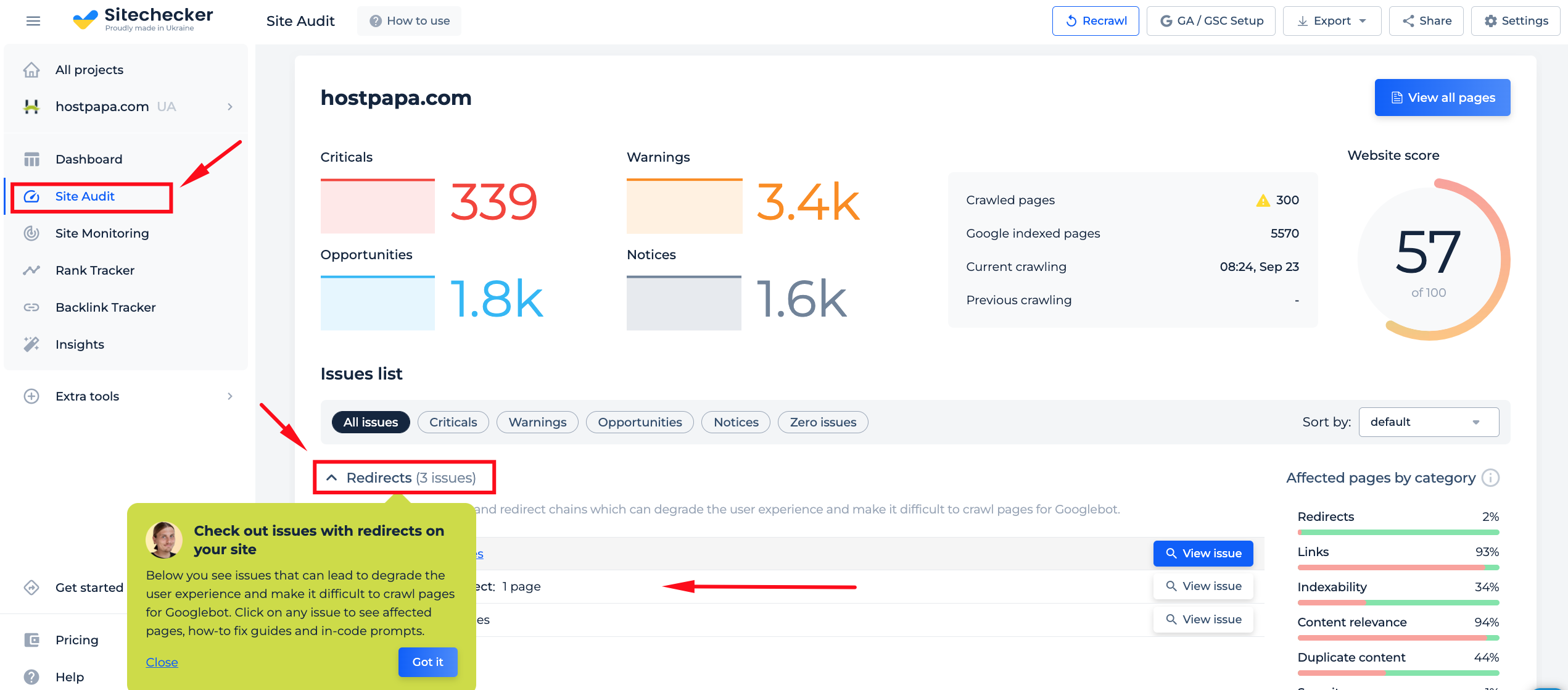 Additional features of website redirect checker
After checking the domain, you will receive a full website audit report that will help identify different types of problems. The report will also provide instructions on how to fix the identified issues. Additionally, you can observe issues by issue type or category, which allows you to quickly target and resolve the most important problems for your website's success.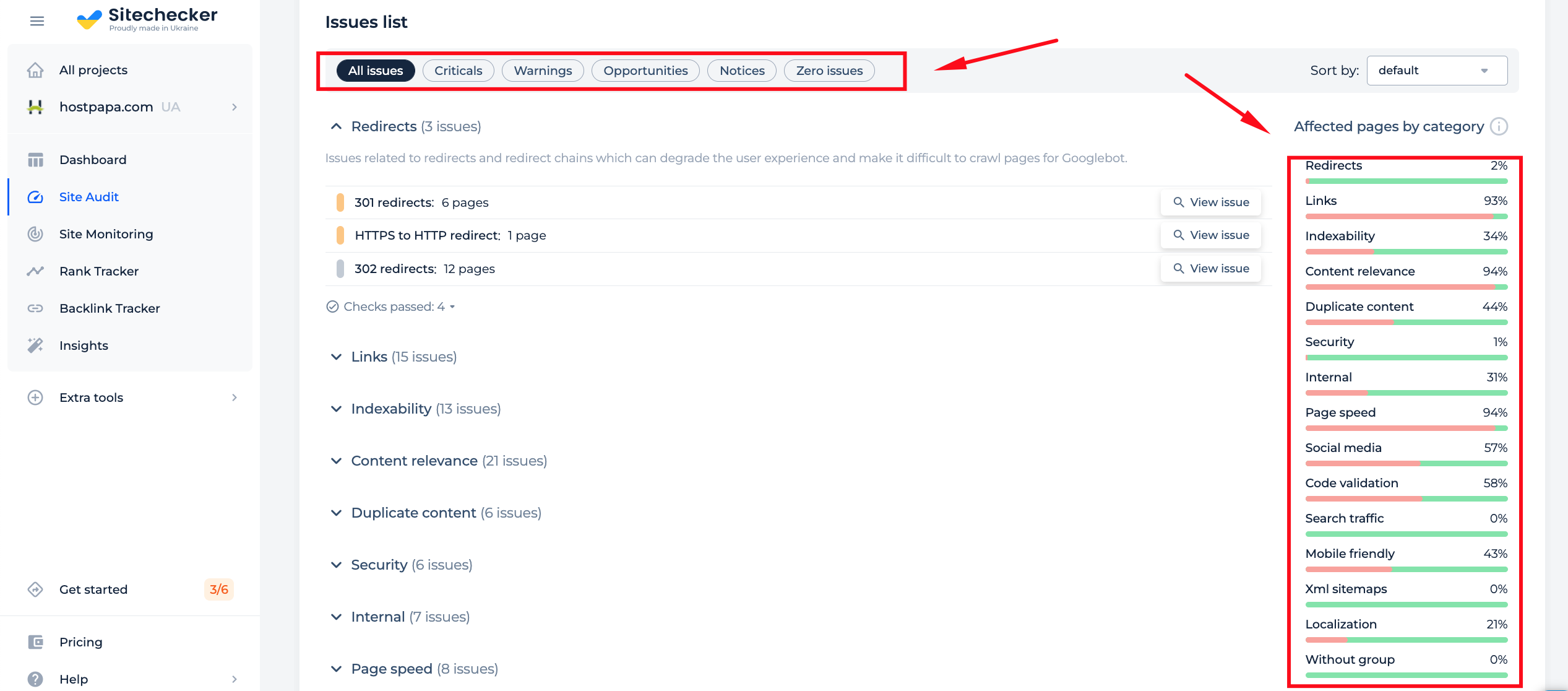 Page Check
Step 1: Insert your URL and start free trial
If you'd like to check a specific page, press the "check page" button, enter the URL, and start your free trial. For our example, we'll scan ipage.com.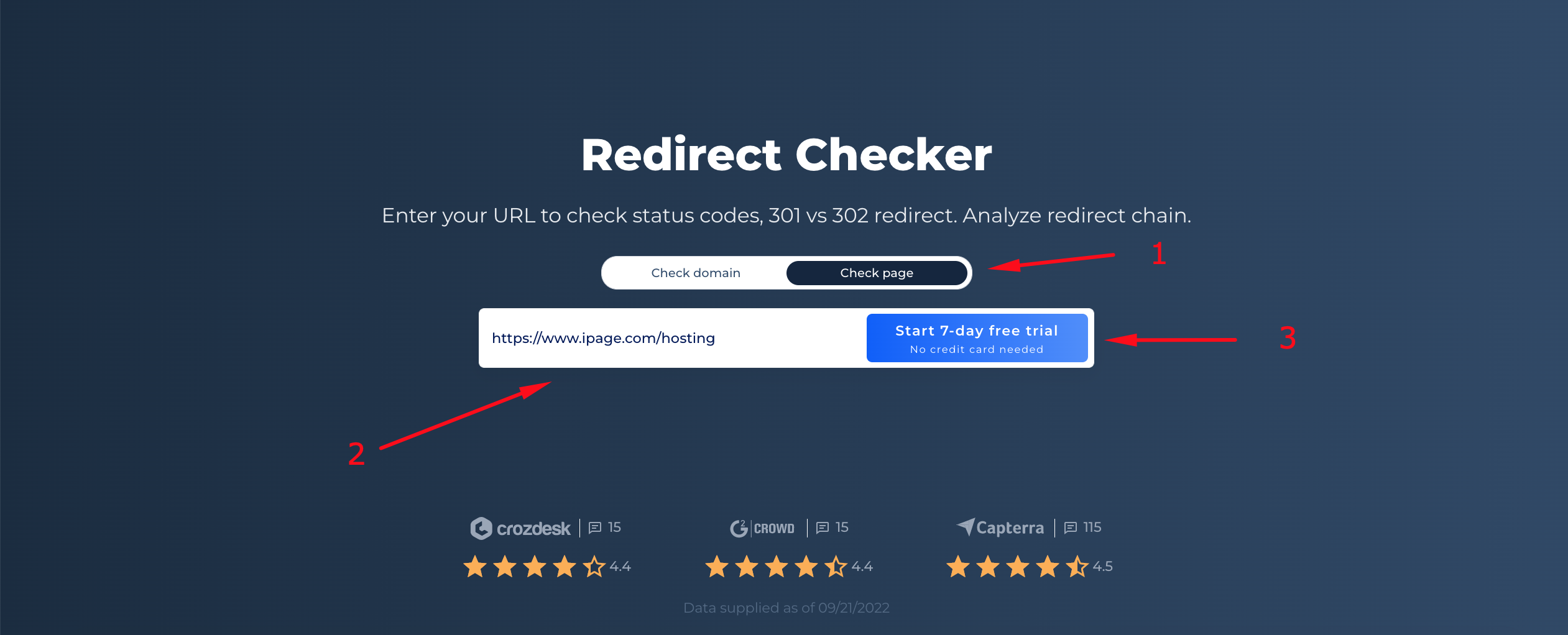 Step 2: Interpreting the page checker results
After adding a URL to our tool, we will quickly crawl the site and give you detailed results where you can find the information about the HTTP status code on your page. Find out if there are 301 or 302 redirects on your page.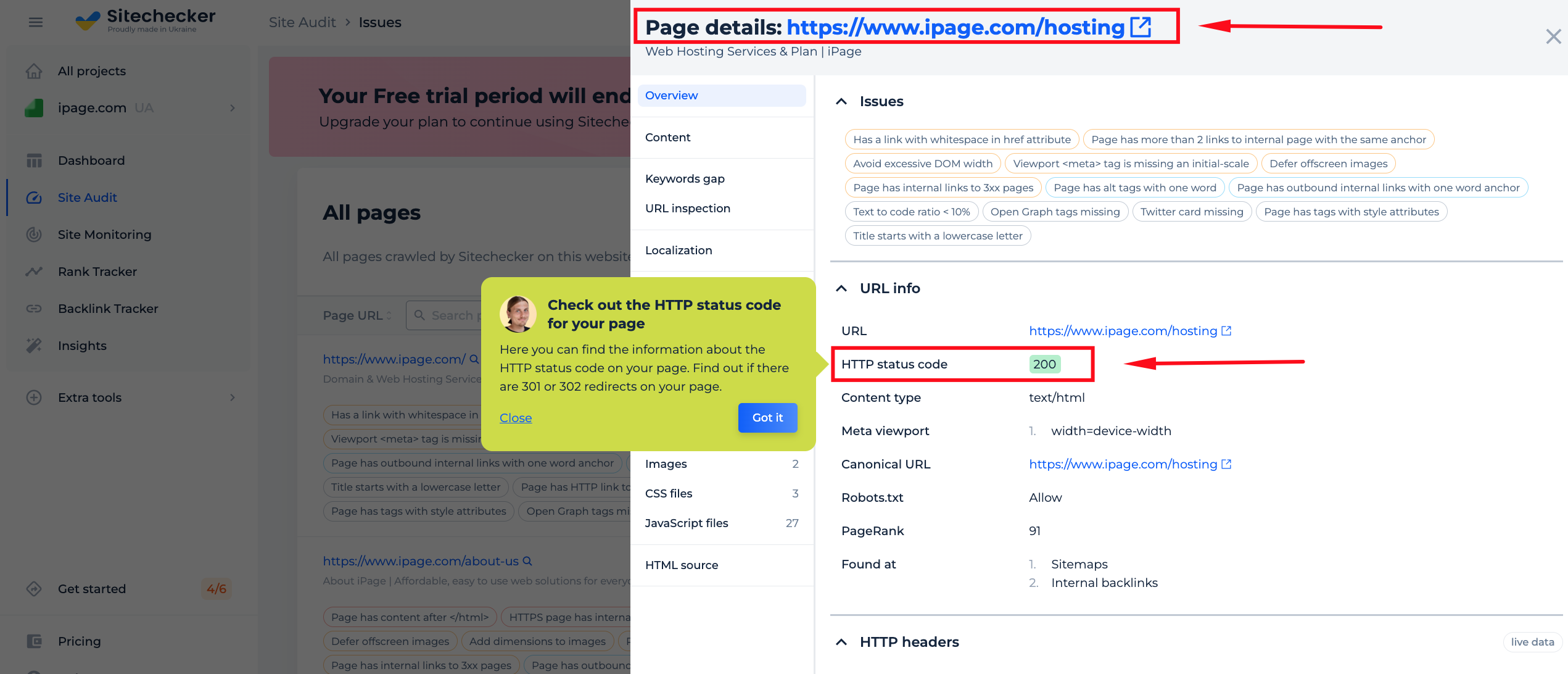 Additional features of page redirect checker
The Page Check feature can also help you identify other problems with the page you scanned, such as content, localization, page speed, and so on. By identifying these issues, you can improve your overall website performance.

If you want to make sure that there are no issues with the redirect on a particular page, just close your page details and on the "All pages" enter the URL you're interested in into the search box and get details.


Find all pages with redirect issues right now!
Make a full audit to find out and fix page redirect issues in order to improve your technical SEO.
How to Check URL Redirection in Chrome?
It is super easy. You just need to add to your Chrome browser our on-page SEO extension. After that, you will be able to check if there are some links to redirecting pages from your URL. Also, you will be able to check other technical SEO parameters of the page.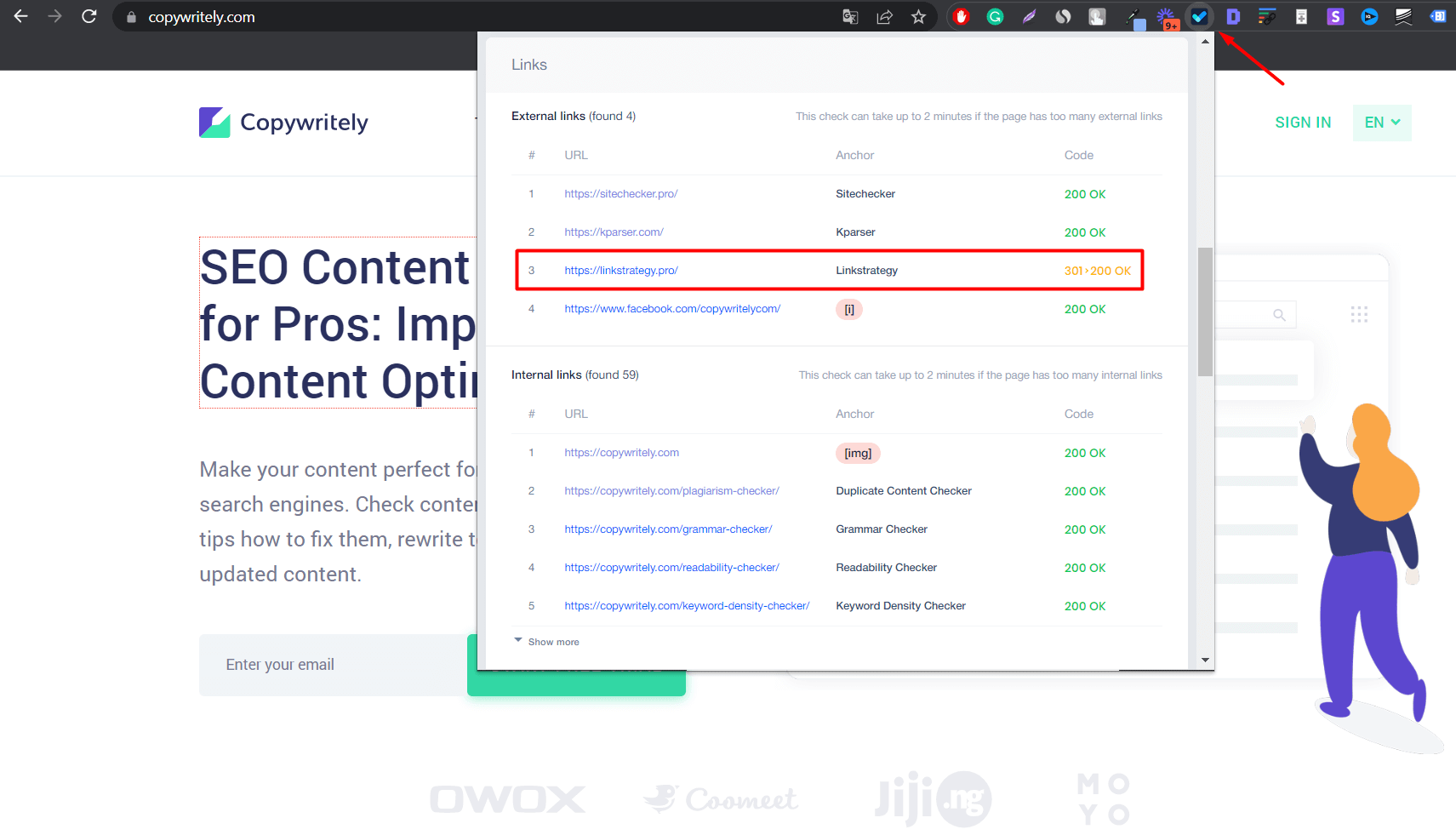 Why It Is Important for SEO?
Using redirects is essential to good website performance. However, it's important that you use them correctly unless you want to undermine your website's SEO health. By abusing redirects, you risk seeing your Google ranking drop. As a result, you may lose a good deal of organic traffic. The same is true for multiple redirects. Check out what Google says about these.
Why Should I Use Your Redirect Checker? What Can It Do?
Here are the main features that our finder has:
permanent 301 VS temporary 302;
chains check.
A chain is a series of redirects which follow each other. A redirect HTML chain can cause the following problems:
"too many redirects" error message;
increased delay times;
problems with crawl budget;
pages receive less SEO weight or lose it altogether.
The tool will show you the status code of your web page. The two possible results are:
URLs with multiple redirects should be set up correctly and checked regularly to prevent chaining and other SEO issues. For more information read the articles about how to fix redirect chains and redirect loops.
How Do I Fix the Issues?
There are separate articles about How to fix URLs with 3xx, Internal redirected URLs and Internal redirects from trailing slash mismatch. Follow the links and learn more about the problems and the ways to solve it.
Also, you can find lots of video tutorials on the web. We recommend checking out this video guide by Craig Campbell.