What is the Redirect Checker?
A URL Redirect Checker is a tool used to identify and analyze the complete path of where a redirected URL leads. It examines the HTTP status codes, such as 301 or 302, to determine the type of redirect (permanent or temporary) and helps in identifying redirect 3xx chains.
The tool allows to analysis of all website URLs or separate URL.
A Redirect Chain Checker can help you in many ways:
Ensure Proper Redirection. Some, such as 301 or 302, indicate a webpage's URL change. This tool checks status codes and identifies the exact redirect type, ensuring old URLs properly lead to the new ones to retain traffic.
Detect and Resolve Redirect Issues. You can use this tool to diagnose and troubleshoot problems like path change loops or chains that are too long, which can impact both user experience and SEO negatively.
Analysis Third-Party Links. If you're linking to an external site, you can use this tool to see where that URL actually leads. Sometimes, a URL might go through several readdresses before reaching the final page, and that page might be different from what you expected.
Prevent Security Risks. You can use this tool to ensure that your website isn't path-change to malicious sites, which can happen if your site gets hacked.
HTTP to HTTPS Redirection. It can confirm that all HTTP traffic is correctly being redirected to HTTPS. This is essential for securing user data and building user trust.
Comprehensive Redirect Analysis. This tool can fully audit all internal and external linking on your website. By scanning every link, it ensures that all redirects are functioning correctly and efficiently, helping to optimize the overall site performance.
Key Features of the URL redirect checker:
Unified Dashboard. This feature provides a central location where you can monitor all the important data and insights about your website's redirects. It could include detailed information about your readdresses, error reports, data visualizations, etc. A unified dashboard is essential for efficient and easy management.
User-friendly Interface. This ensures the tool is easy to use, even for people without technical expertise. This could involve intuitive navigation, clear labeling, helpful tooltips, and more. A user-friendly interface makes it easier for you to find and use the features you need.
Presents the full redirect path, illustrating the complete journey of a user or a search engine bot. Further, identifying the type of relocate, be it HTTP, JavaScript, or Meta Refresh, is also vital due to their differing impacts. Additionally, the inclusion of server IP information can assist in identifying and resolving server-level issues.
Complete SEO Tool set. In addition to checking redirects, a comprehensive SEO tool set might include features for keyword research, backlink analysis, on-page SEO analysis, rank tracking, site audits, and more. These features can help improve your site's visibility in search engine results, driving more organic traffic to your site.
How to Use Redirection Checker
The 301 redirect checker provides the capability to examine both specific URLs and the entire website for path changes and redirects. The scan will only take a few seconds to complete. After it's done, you'll have the opportunity to see and track any detected issues, offering a comprehensive view of both individual URLs and the overall site.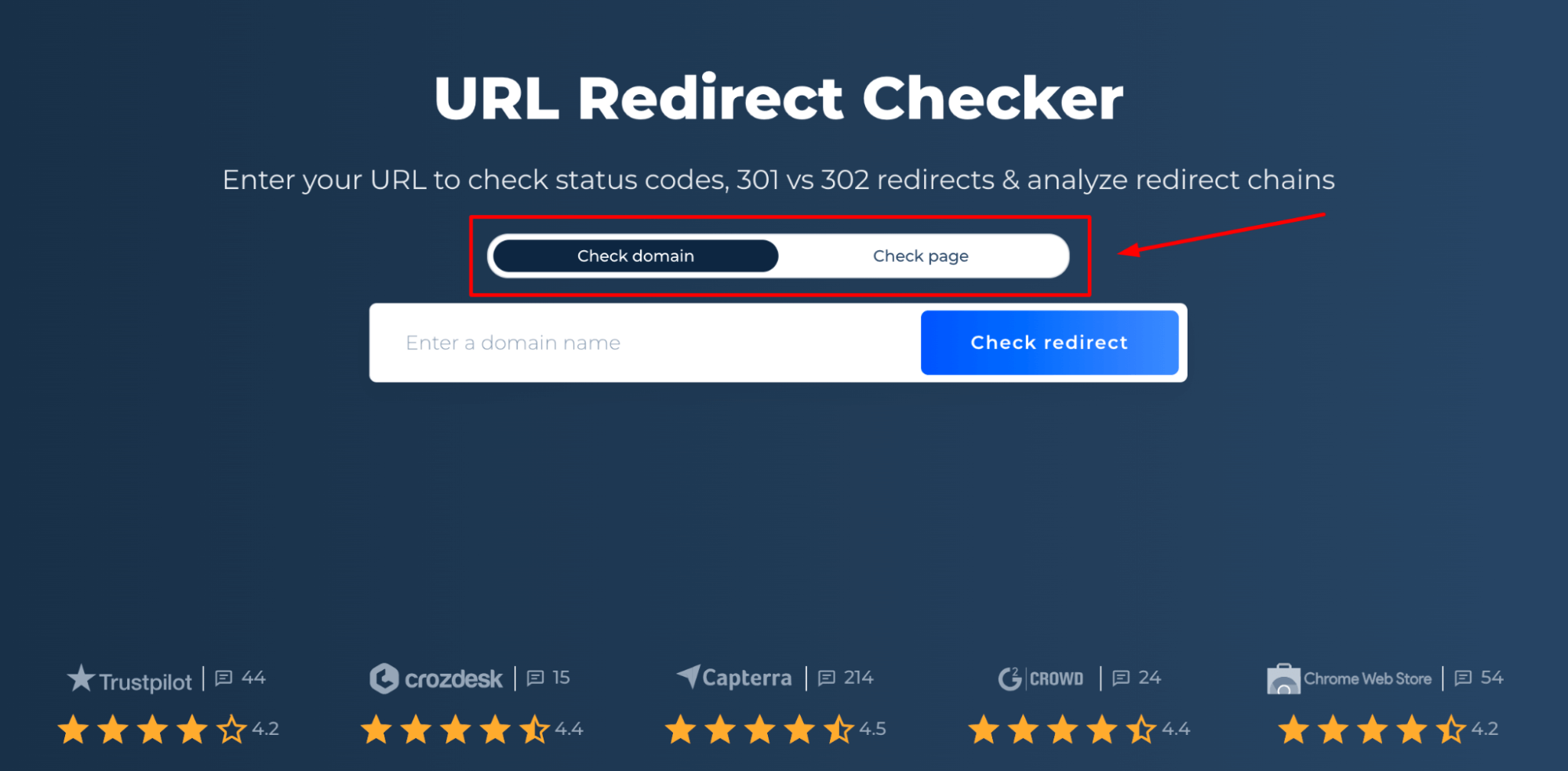 Start your FREE trial to obtain results and gain access to Sitechecker's features for 14 days. Easily sign up using your email, Google, or Facebook account. No credit card required.
Domain Check
Step 1: Insert your domain in the search bar
To check a domain, press the "check domain" button, enter the domain name, and press the button "Check redirect":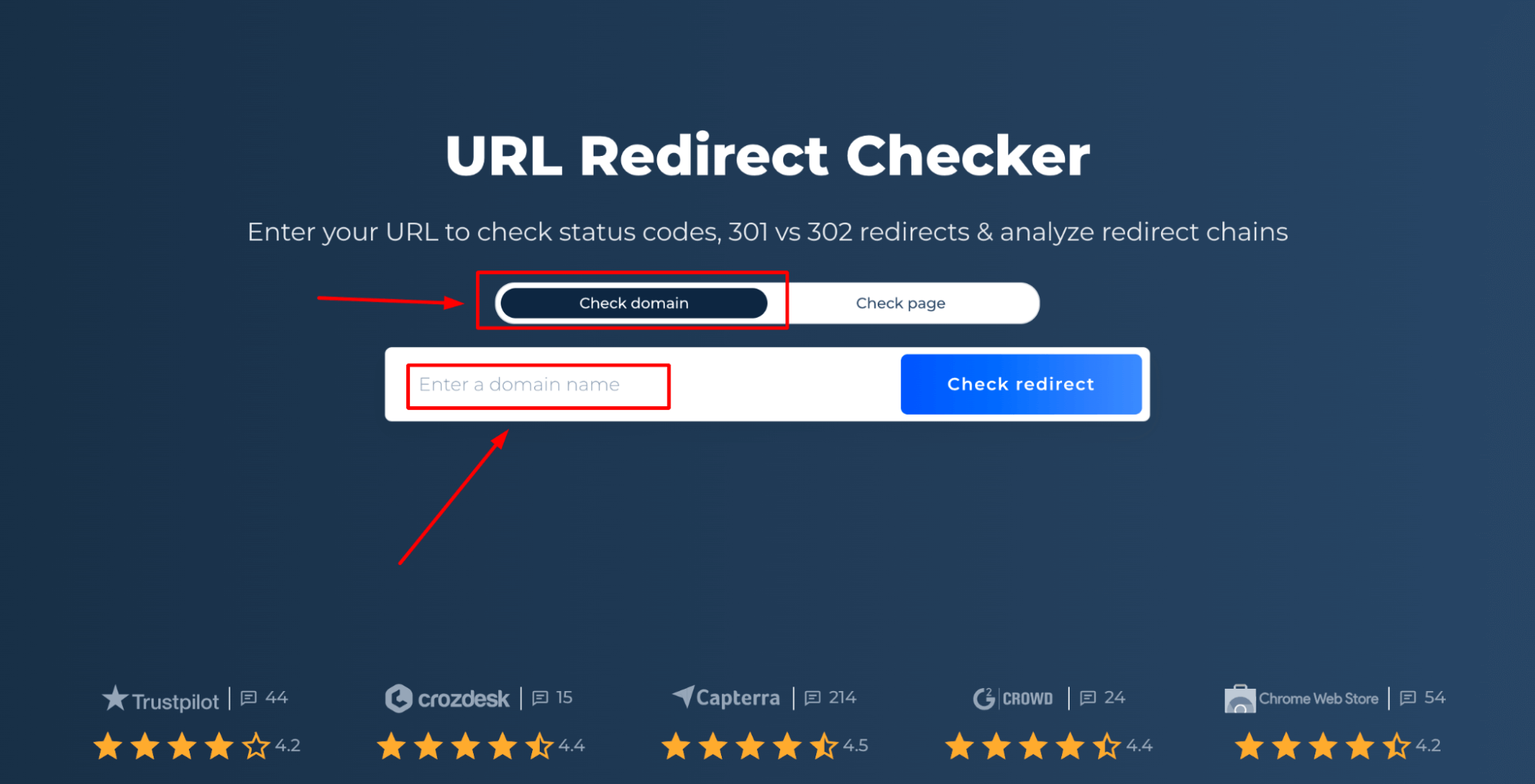 Step 2: Interpreting the domain redirect checker results
The scan you perform will generate a site audit for the domain you enter, revealing various issues, such as 301, HTTPS to HTTP, 302 path changes, etc.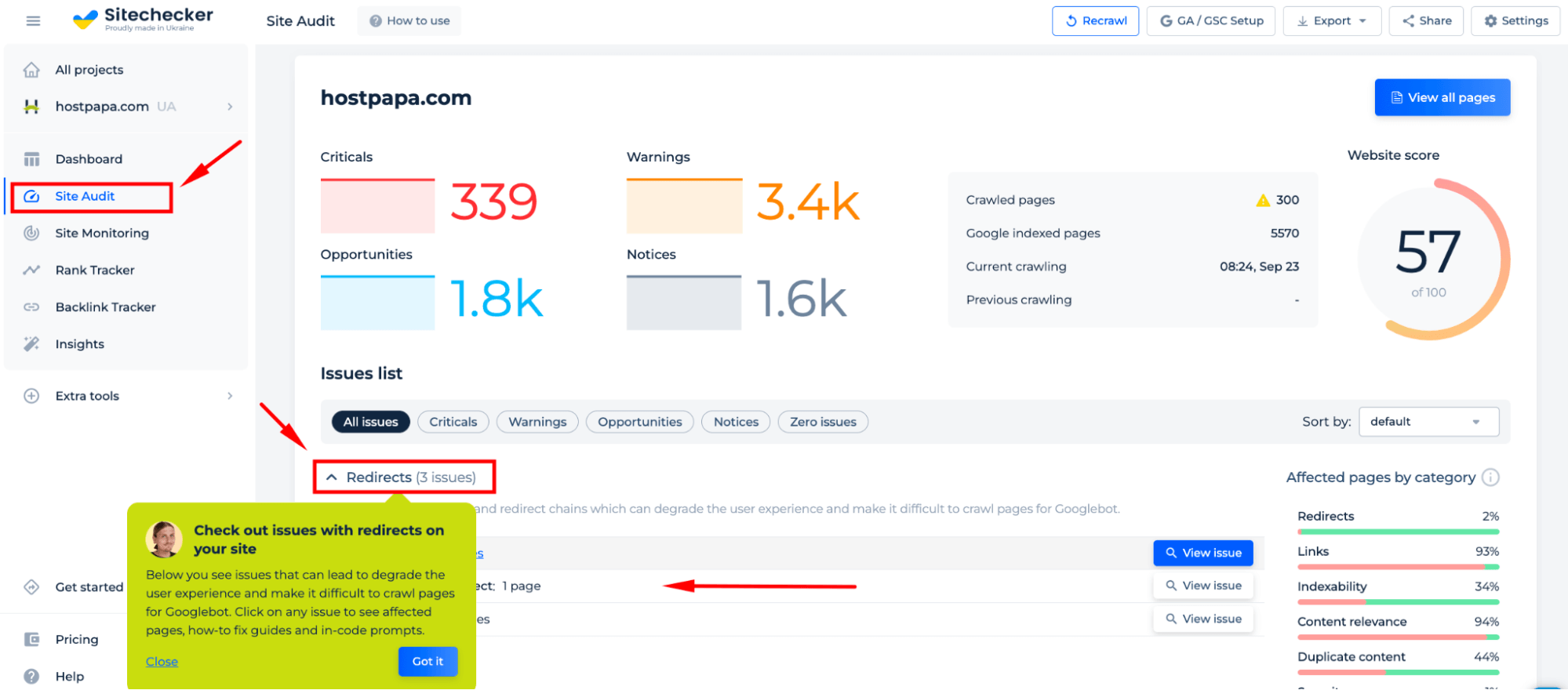 Simply click on "Page has internal links to 3xx pages", and you'll have the ability to view the list: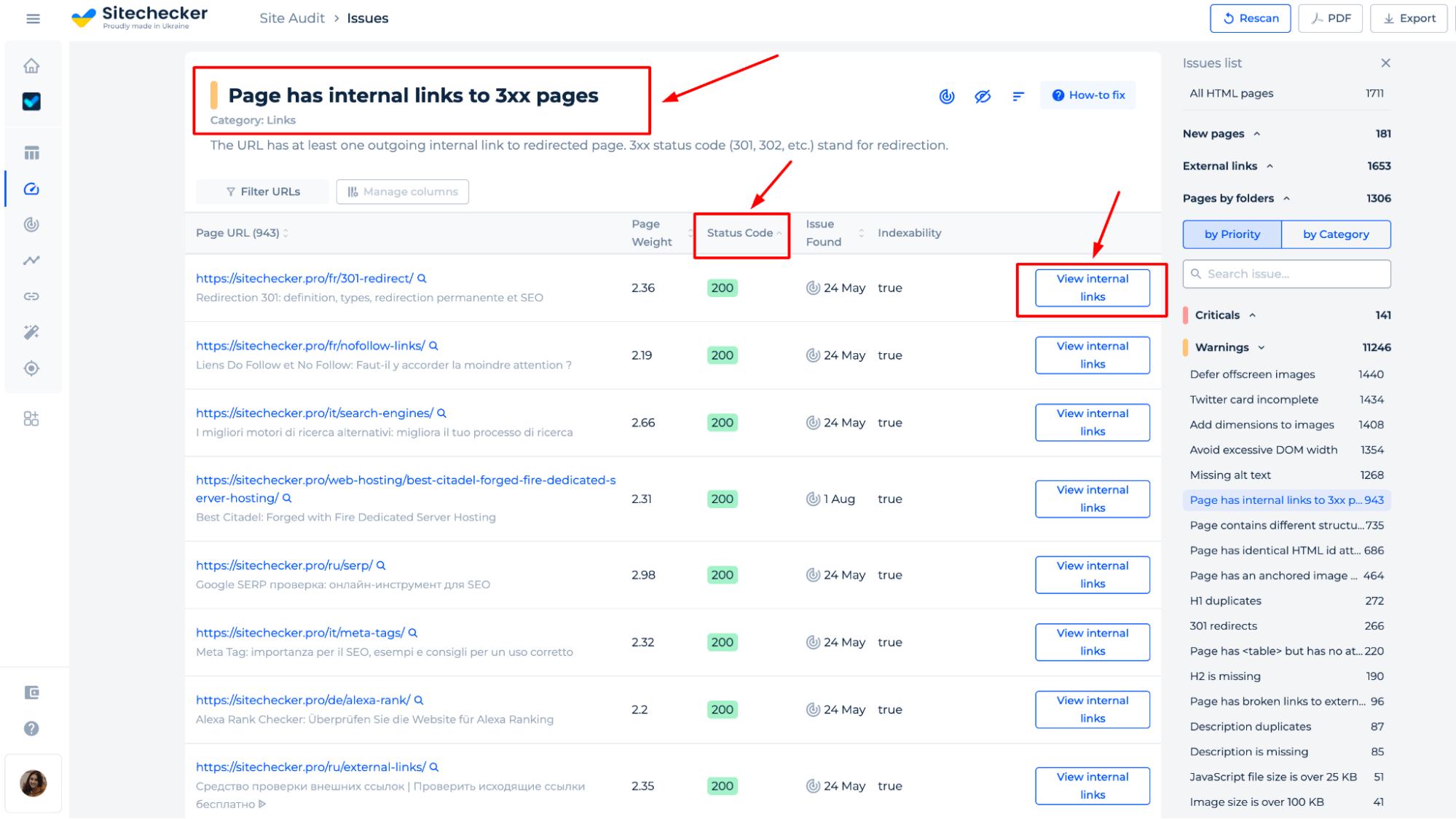 After that, click on the "View internal links" button to open a list of site pages with status codes: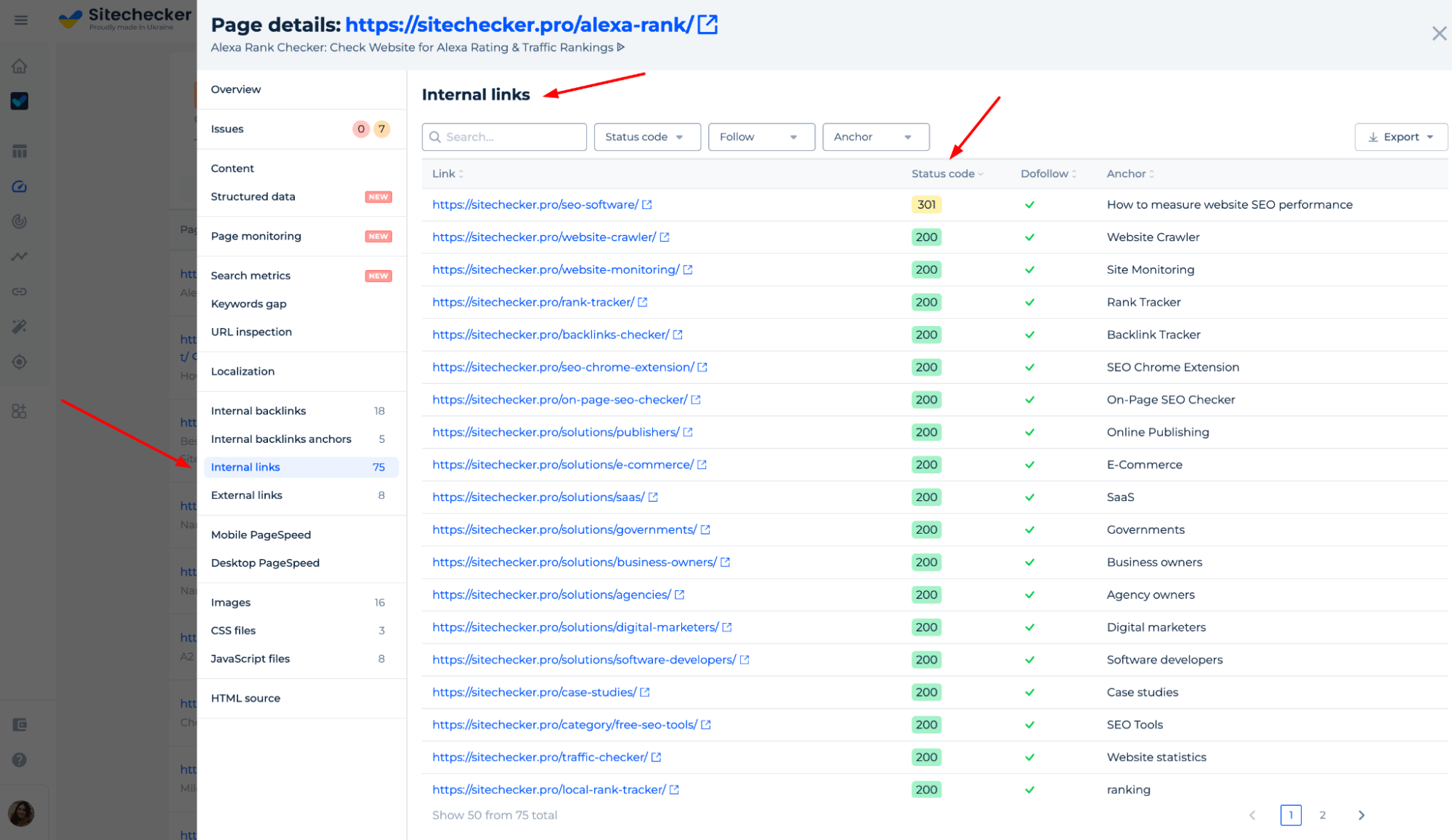 Additional features of the website redirect checker
After checking the domain, you will receive a full website audit report that will help identify different types of problems. The report will also provide instructions on how to fix the identified issues. Additionally, you can observe issues by issue type or category, which allows you to quickly target and resolve the most important problems for your website's success.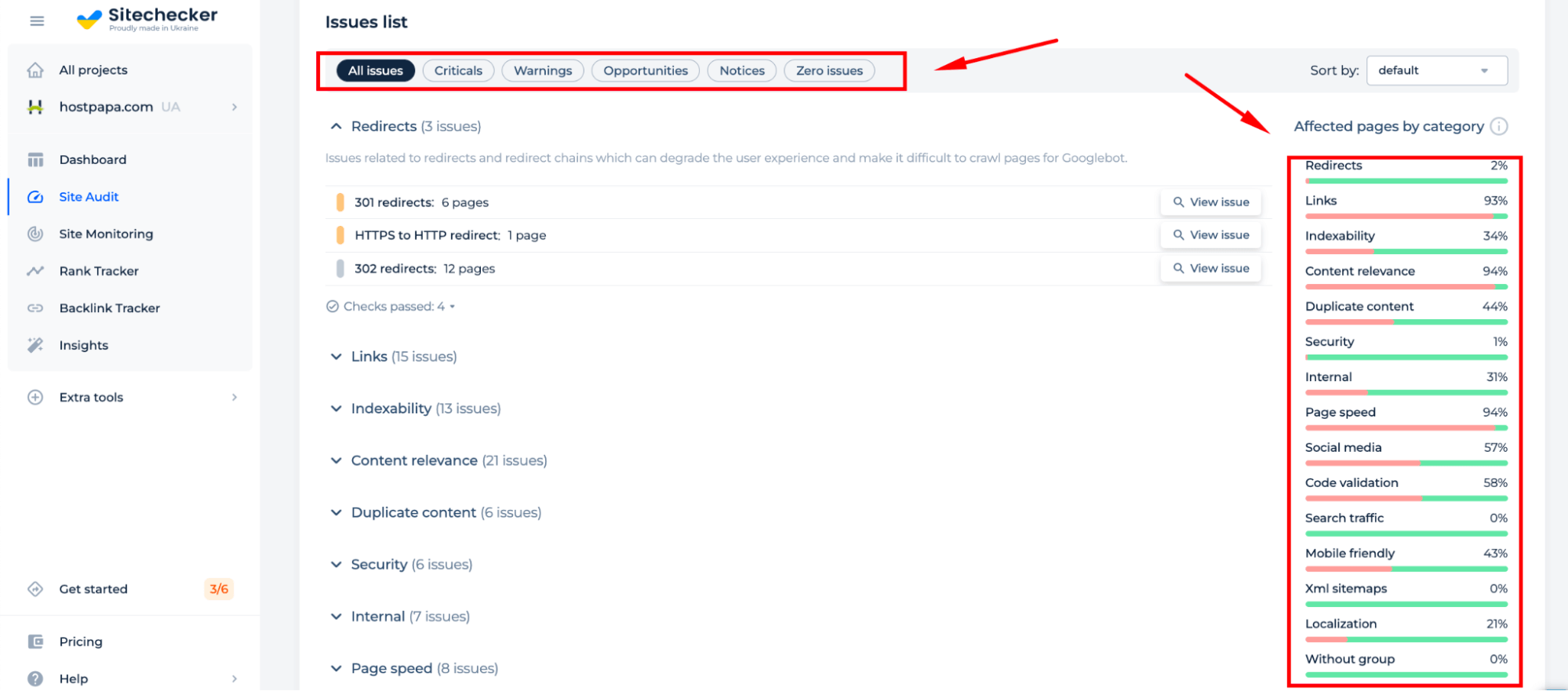 An advanced Redirect Loop Checker comes with a set of additional features that facilitate a comprehensive audit of your website's readdresses.
When you select the option for "View all affected pages":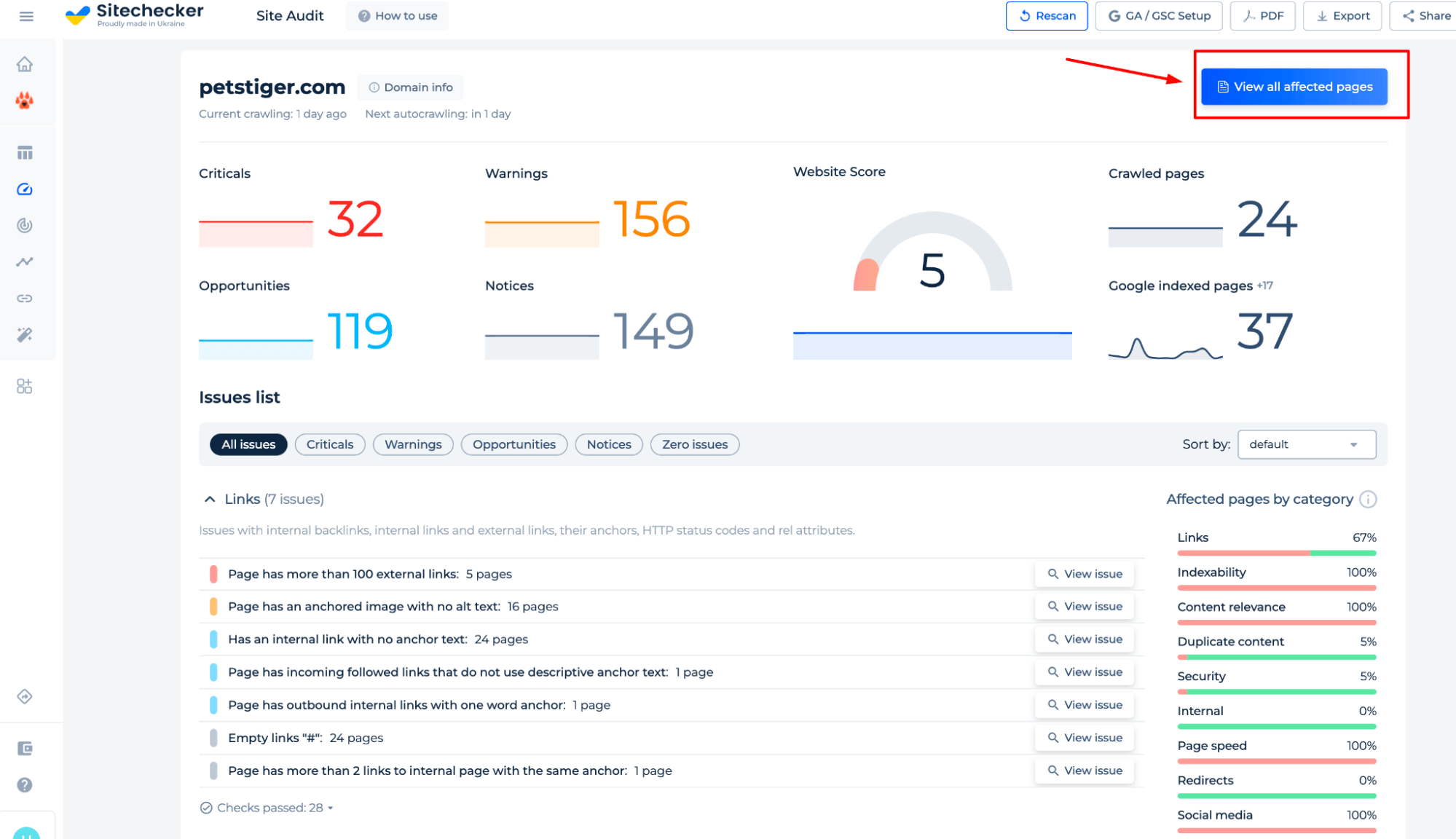 The tool presents a detailed list of all the website's URLs along with any associated issues.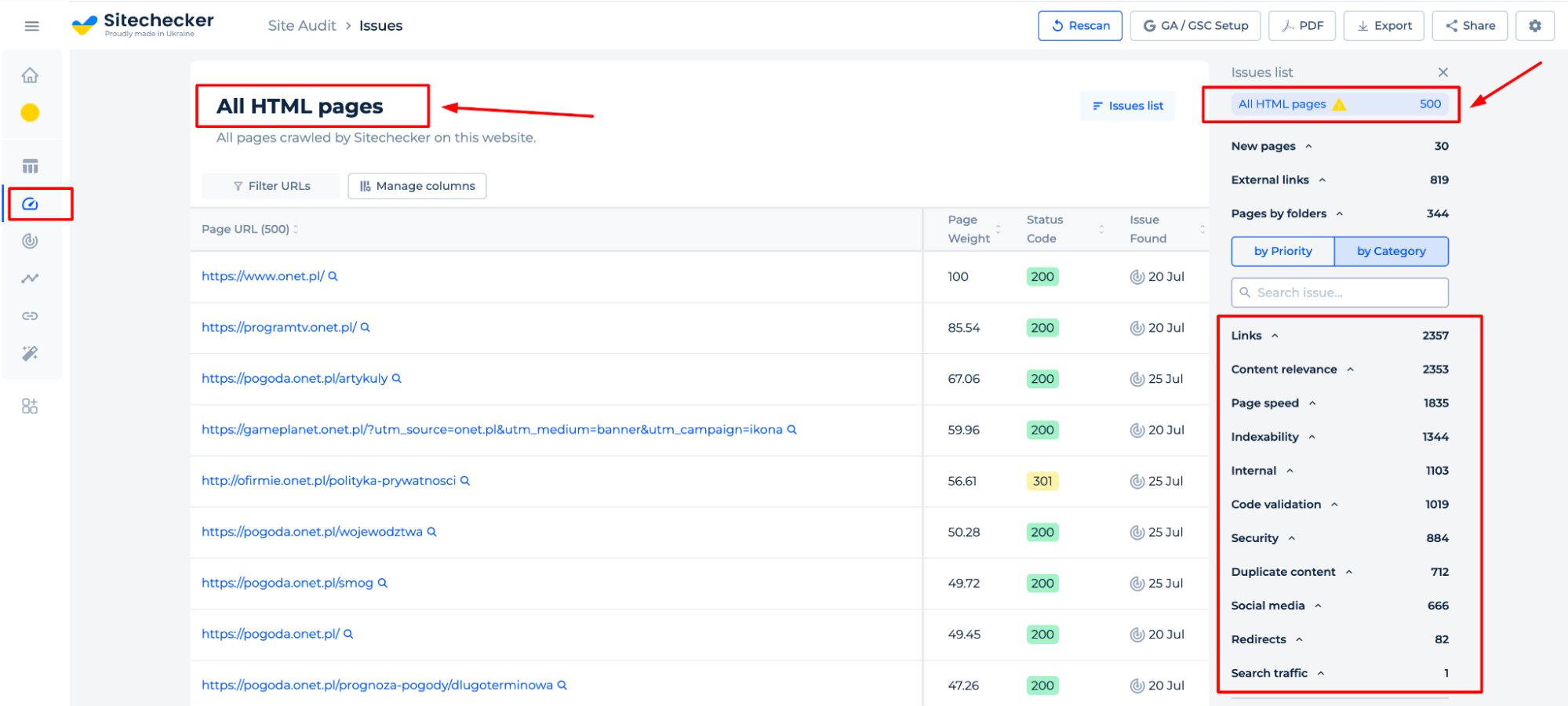 You can detect all information about links (internal and external), content relevance, page speed, indexability, redirects, search traffic, etc.
The issues are also classified into types such as Criticals, Warnings, Opportunities, and Notices. This classification helps you quickly identify the severity of each issue and allocate your resources effectively. Criticals might be pressing redirect problems that need immediate fixing, while Opportunities could be areas where your reroute strategy could be improved.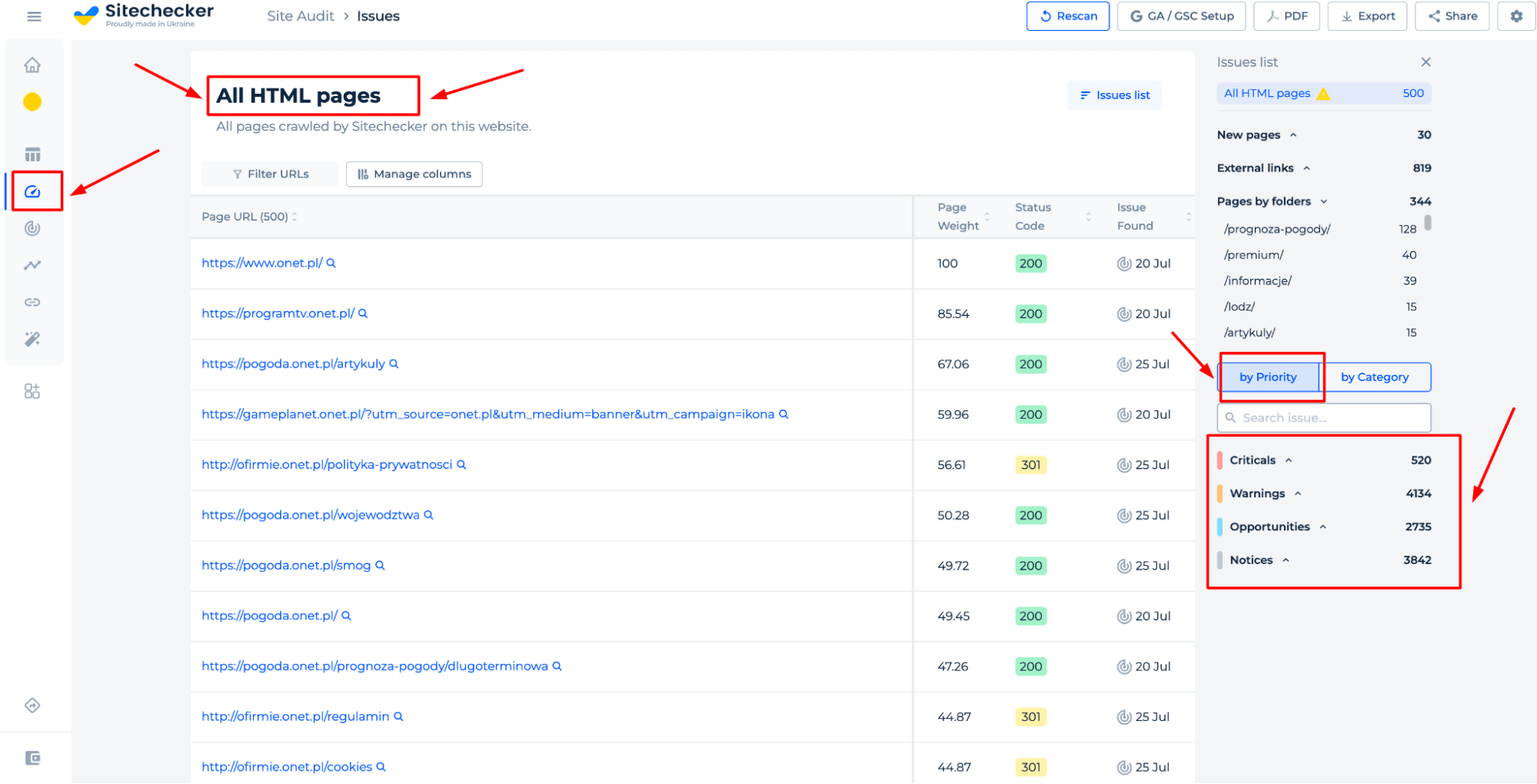 This structured overview and issue classification make it simpler for you to focus on resolving the issues with the greatest impact on your website's performance.
You have the capability to fine-tune your interaction with the URLs by applying filters or integrating additional data for individual pages to aid in your work process.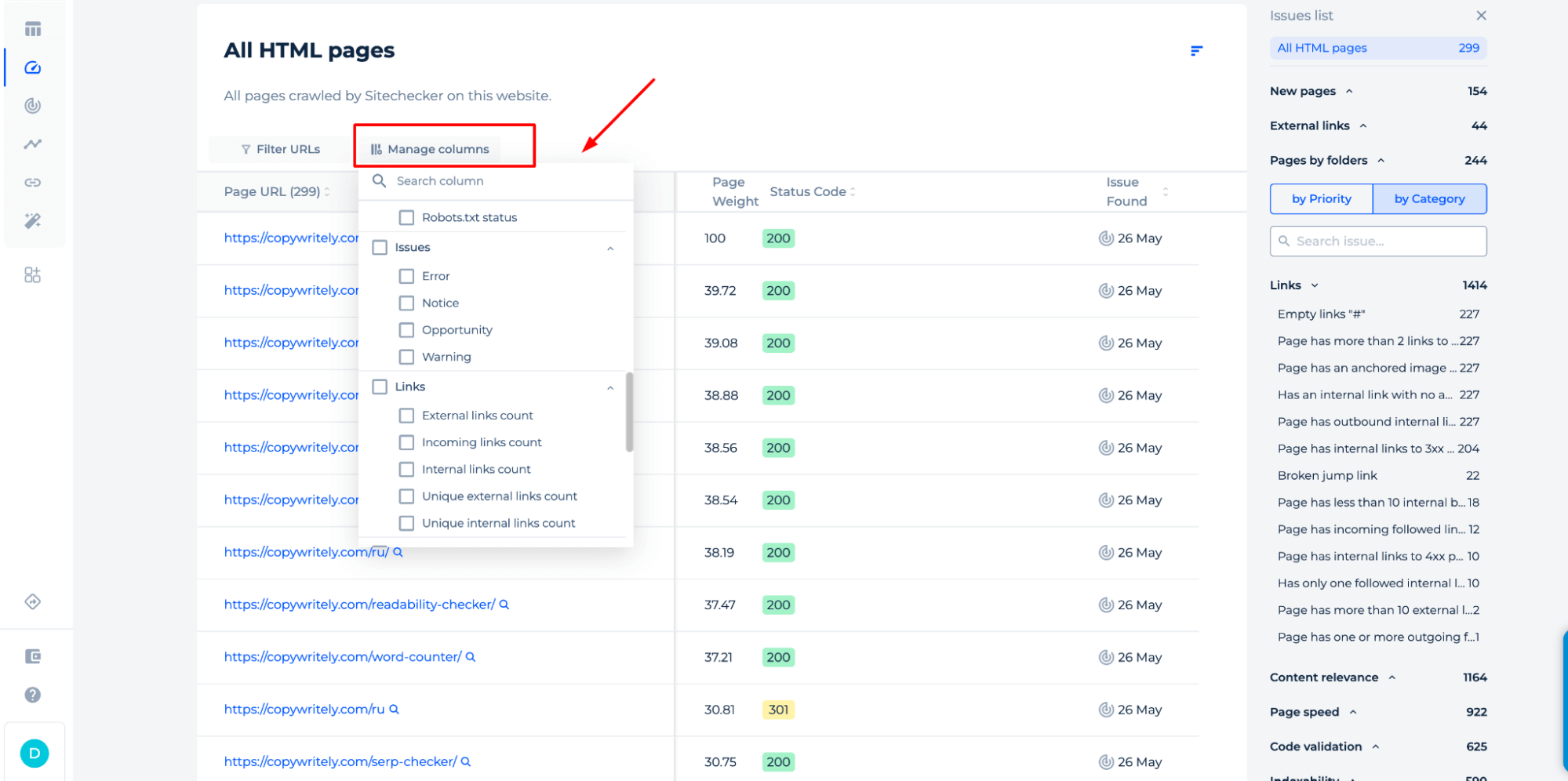 Furthermore, the tool provides you with the flexibility to capture and transfer crawler results by downloading them into PDF or CSV formats, transferring them to Google Sheets, or effortlessly copying them as per your requirement.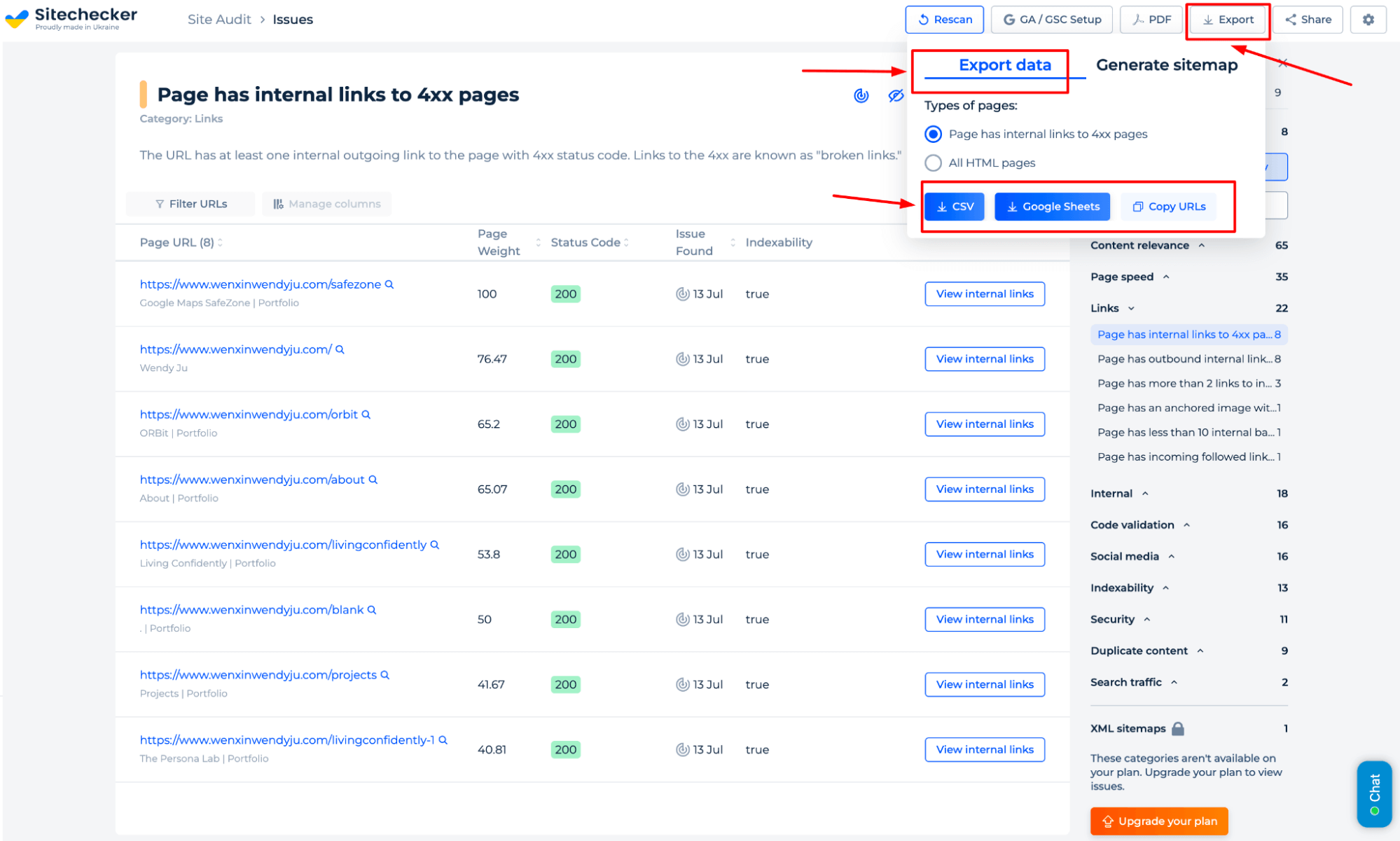 The capacity to download and export crawler outcomes in various formats proves advantageous for freelancers and SEO managers, delivering adaptable data for review and adjustment.
This characteristic aids in the creation of detailed reports for clients or key players, enhancing the transparency of discoveries and forthcoming plans.
Page Check
Step 1: Insert your URL and start "Check redirect"
If you'd like to check a specific page, press the "Check page" button, enter the URL, and start to "Check redirect".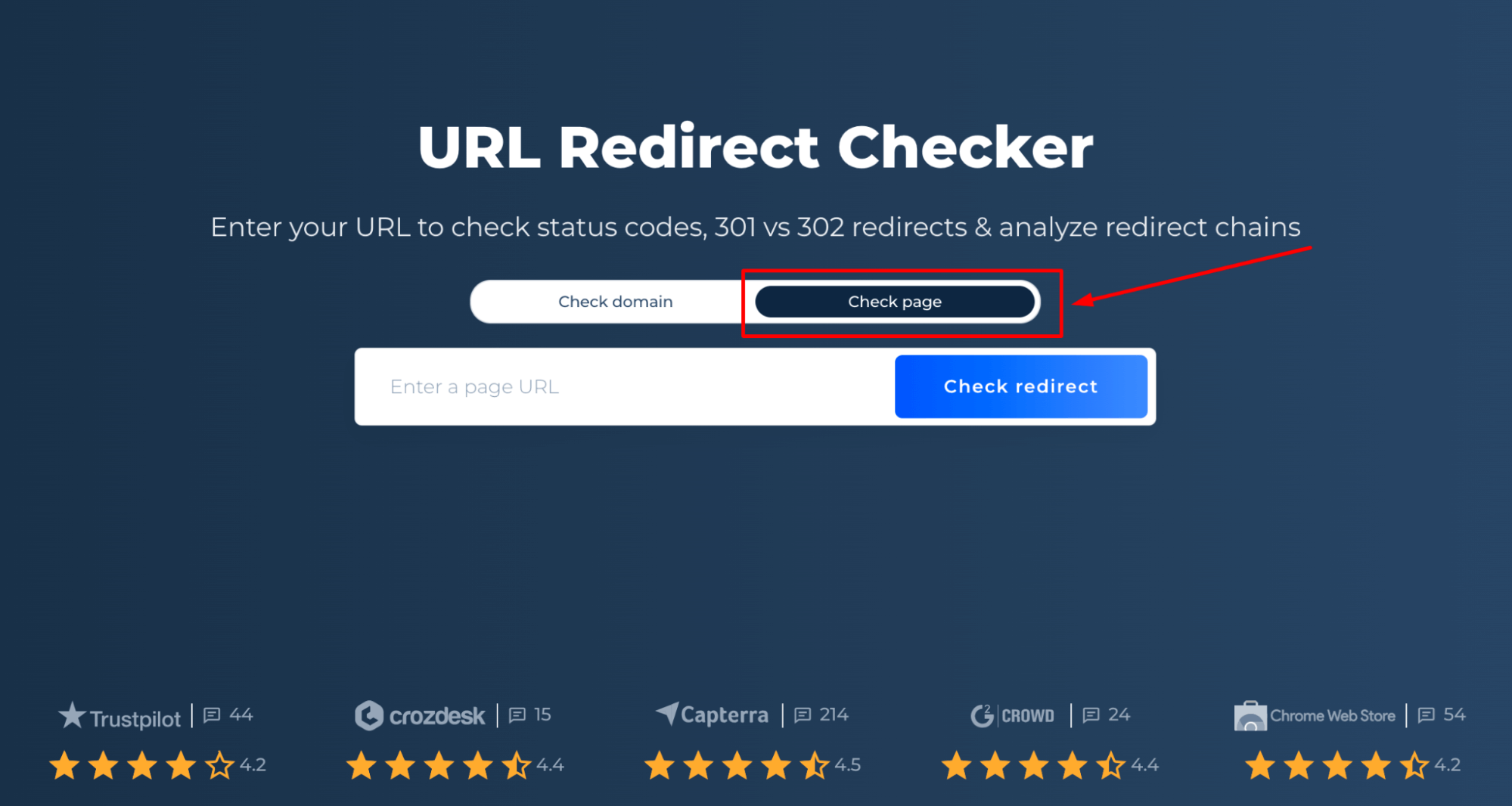 Step 2: Interpreting the page checker results
After adding a URL to our tool, we will quickly crawl the site and give you detailed results where you can find the information about the HTTP status code on your page. Find out if there are 301, 302 redirects (or any other 3xx group of status codes) on your page.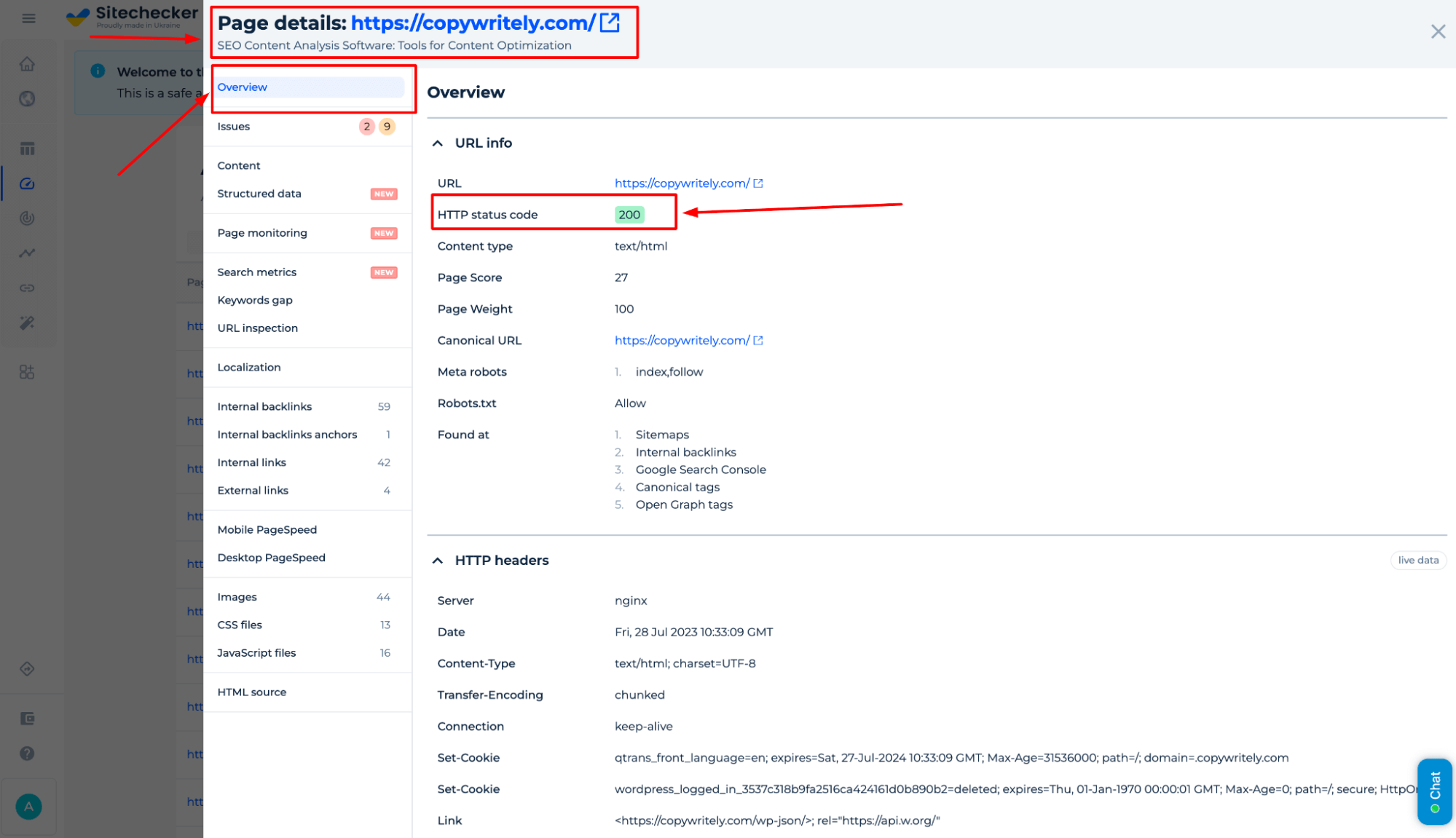 Should the status return as 200 instead of a 3xx code, inspecting both internal and external links remains essential. This ensures that there are no unintentional connections to redirects on other websites or within your own site's internal structure.
For an overview of potential linking, click on a specific page to examine the details, and then refer to the section titled 'Internal Links.' To display the 3xx response codes, select the 3xx filter: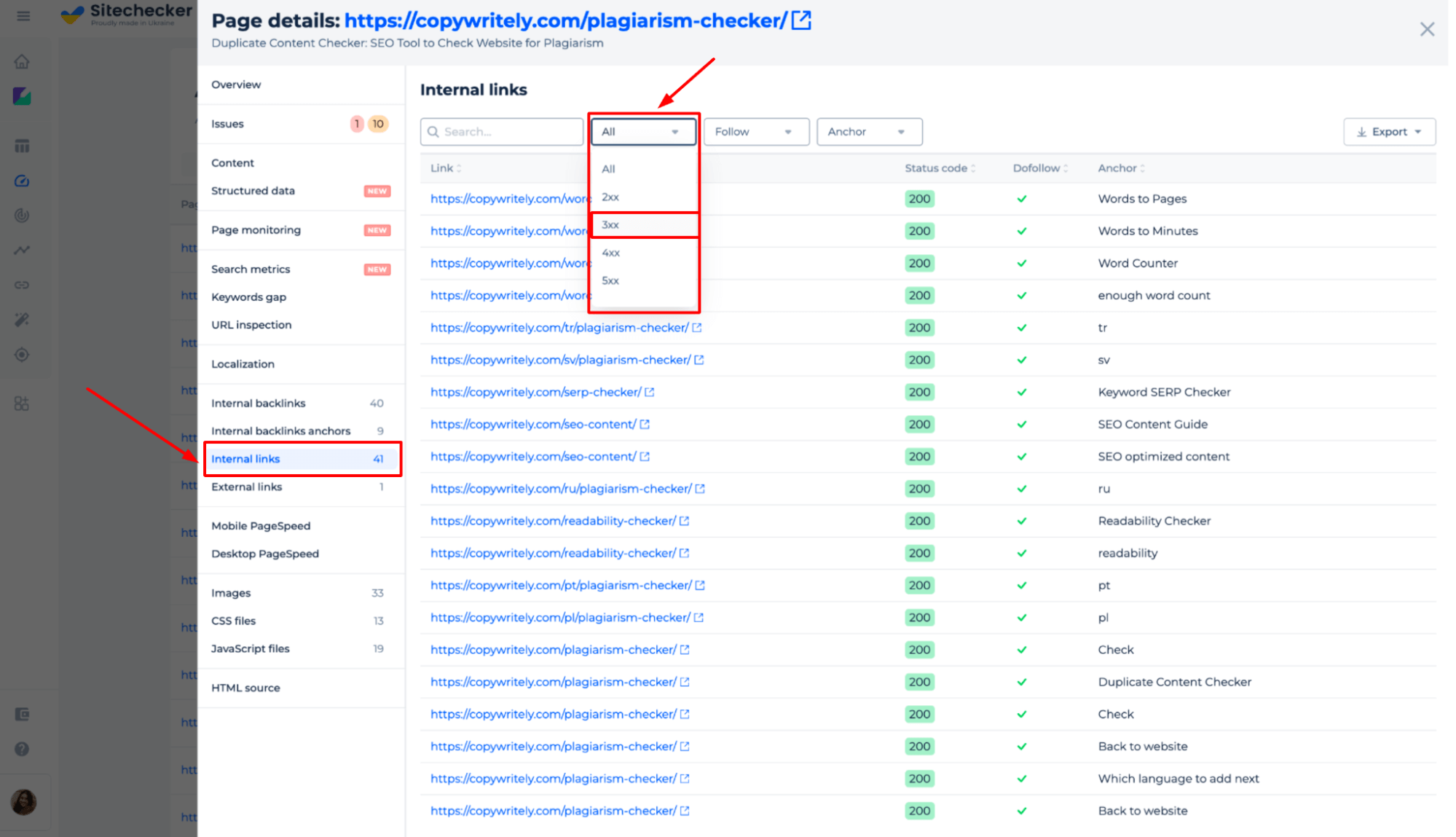 The results of the check, presented in a list, will display the pages with redirects.
Explore deeper insights in the link section for the page, encompassing elements like internal backlinks, the associated anchor texts of those internal links, and the external links leading outwards:
Additional features of Redirect Checker online
The Page Check feature can also help you identify other problems with the scanned page, such as content, localization, page speed, etc. By identifying these issues, you can improve your overall website performance.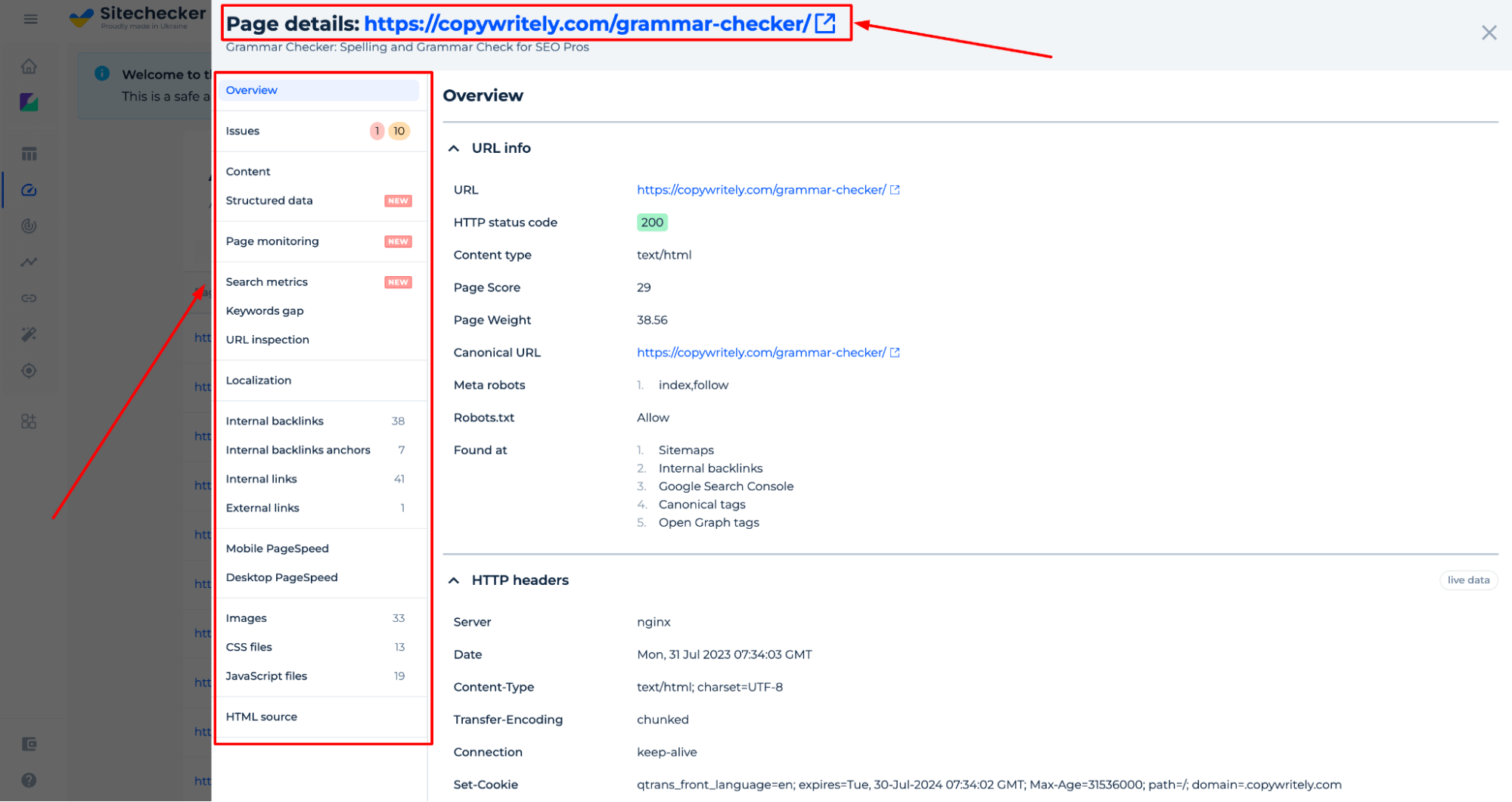 If you want to make sure that there are no issues with the reroute on a particular page, just close your page details and on the "All HTML pages" enter the URL you're interested in into the search box and get details.
Sitechecker Chrome Extension for Detecting Redirects
The Sitechecker Chrome extension offers a feature specifically designed for detecting redirecting links directly within your browser. By enabling this feature, you can swiftly analyze any webpage, focusing on the status of links and especially identifying links with 301 (Moved Permanently) and 302 (Found) status codes.
This feature excels in detecting and fixing broken or invalid redirects on your website. Once activated within your Chrome browser, you can effortlessly scan any webpage, evaluating all the links for their status and validity.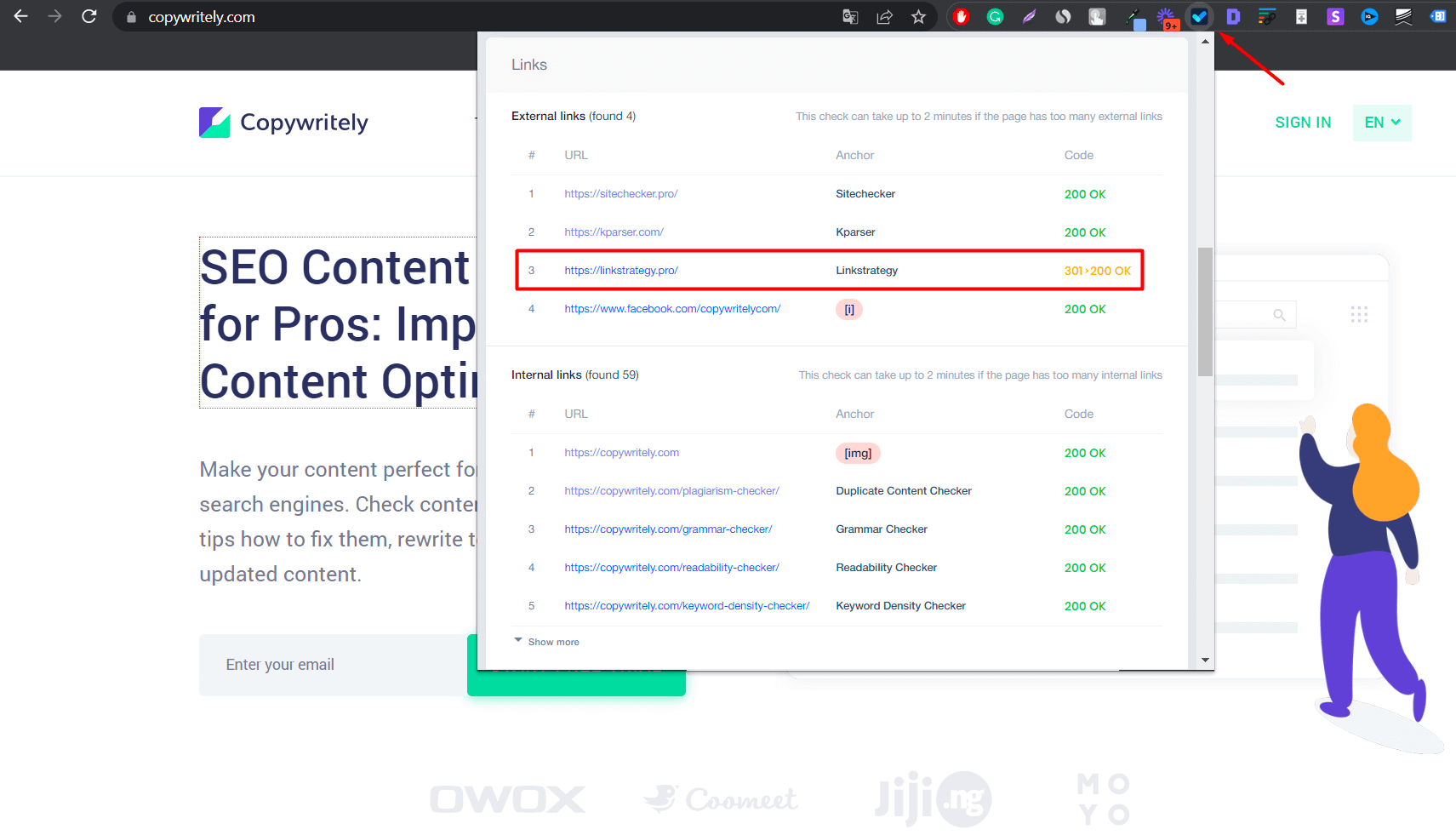 This can be incredibly beneficial for maintaining optimal user experience and effective SEO practices, as it allows you to quickly identify and resolve issues that might impact your site's performance or rankings.
Final Idea
The Domain Redirect Checker is a crucial tool for web developers and SEO experts, enabling the examination of URL readdress, including 301 and 302 status codes. It aids in ensuring proper path change, diagnosing issues, checking third-party links, and maintaining security. Key features include a unified dashboard, a user-friendly interface, a complete SEO tool set, and the ability to conduct detailed audits.
Additional functionalities, such as the Sitechecker Chrome extension, offer enhanced detection and rectification of redirecting links.
FAQ
How does the HTTPS redirect checker help with HTTPS redirection?
The tool can confirm that all HTTP traffic is correctly redirected to HTTPS, which is vital for securing user data and building trust.
What types of redirects can the URL Redirect Checker identify?
The tool can identify various redirects, including HTTP, JavaScript, Meta Refresh, and status codes like 301 (Moved Permanently), 302 (Found), 307 (Temporary Redirect) etc.
How to check website redirection?
To check website for redirects 301-302, you can use a Website Redirect Checker. Simply enter the URL you want to check into the tool, and it will follow the path of redirects, displaying information like the type of readdress status codes and the final destination of the URL. Some tools also offer browser extensions for quick analysis directly from your browser.