What is Link Extractor?
The link extractor tool serves to grab all links from a website or extract links on a specific webpage, including internal links and internal backlinks, internal backlinks anchors, and external outgoing links for every URL on the site.
Key Features of the Link Extractor
What can this tool help you with?
Collect comprehensive data for every URL on your website, including internal links, internal backlinks, Internal backlinks anchors, and external outbound links.
Detect all link-related issues, curate an exhaustive list of troublesome URLs, and provide straightforward solutions for these problems.
Provide continuous tracking and monitoring capabilities, ensuring 24/7 attention including backlinks tracking, and preserving a complete log of changes and errors.
Our holistic SEO platform offers more than just link analysis. It includes a thorough SEO audit (both on-page and off-page), rank tracking, and site monitoring, along with other additional features.
Cases When Page or Domain URL Extractor is Needed
Use this multifaceted tool for various tasks. For instance, evaluating the quantity of external and internal links on a webpage, verifying the status of links, or generating sitemaps. The website all URL finder feature can find all links on a website and detect various link issues, while explaining how to resolve them. It's also handy for testing newly published landing pages for broken or incorrect references. The URL unpacker is highly beneficial, as it enables you to analyze a bulk of URLs rather than checking them individually. It provides a wealth of data, ranging from status codes to anchor text and nofollow statuses.
How to Use the Link Extractor Property?
There are two methods to extract links from website, namely by domain or by search on a specific page. Choosing the domain option is beneficial if you want to extract all links from a website and identify any existing link issues. The URL option, however, is more suitable if you primarily need data for a specific page, including all its references and associated data, such as status codes. Select one that suits your needs, input the domain or URL, and use the "Get all links" button. Once ready, the tool begins scraping the site data.

Note: To receive results and access to Sitechecker's features for 14 days, start your FREE trial. Sign-up is easy with your email, Google, or Facebook account. NO credit card is needed.
Domain Check
Step 1: Choose the domain option, enter the domain you want to analyze, and click the "Get all links" button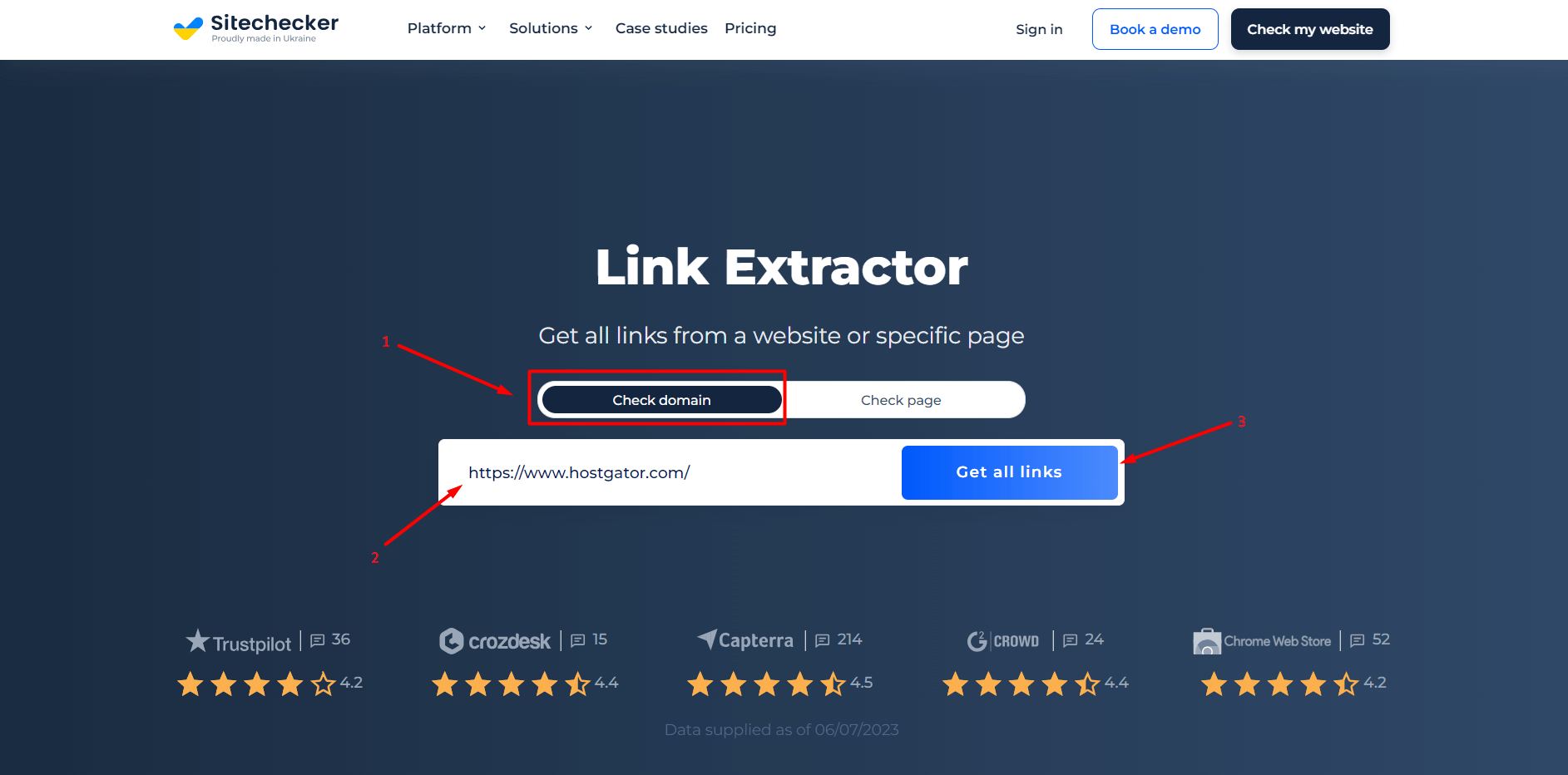 Step 2: Interpreting the domain link extractor results via domain check
The scan you perform will generate a site audit for the domain you enter, revealing various issues with links, such as backlinks, internal and external links, their anchors, HTTP status codes, and rel attributes. By clicking on any given issue, you can see which pages are affected and extract a list of references for those pages. This way, easily identify and correct any possible problems.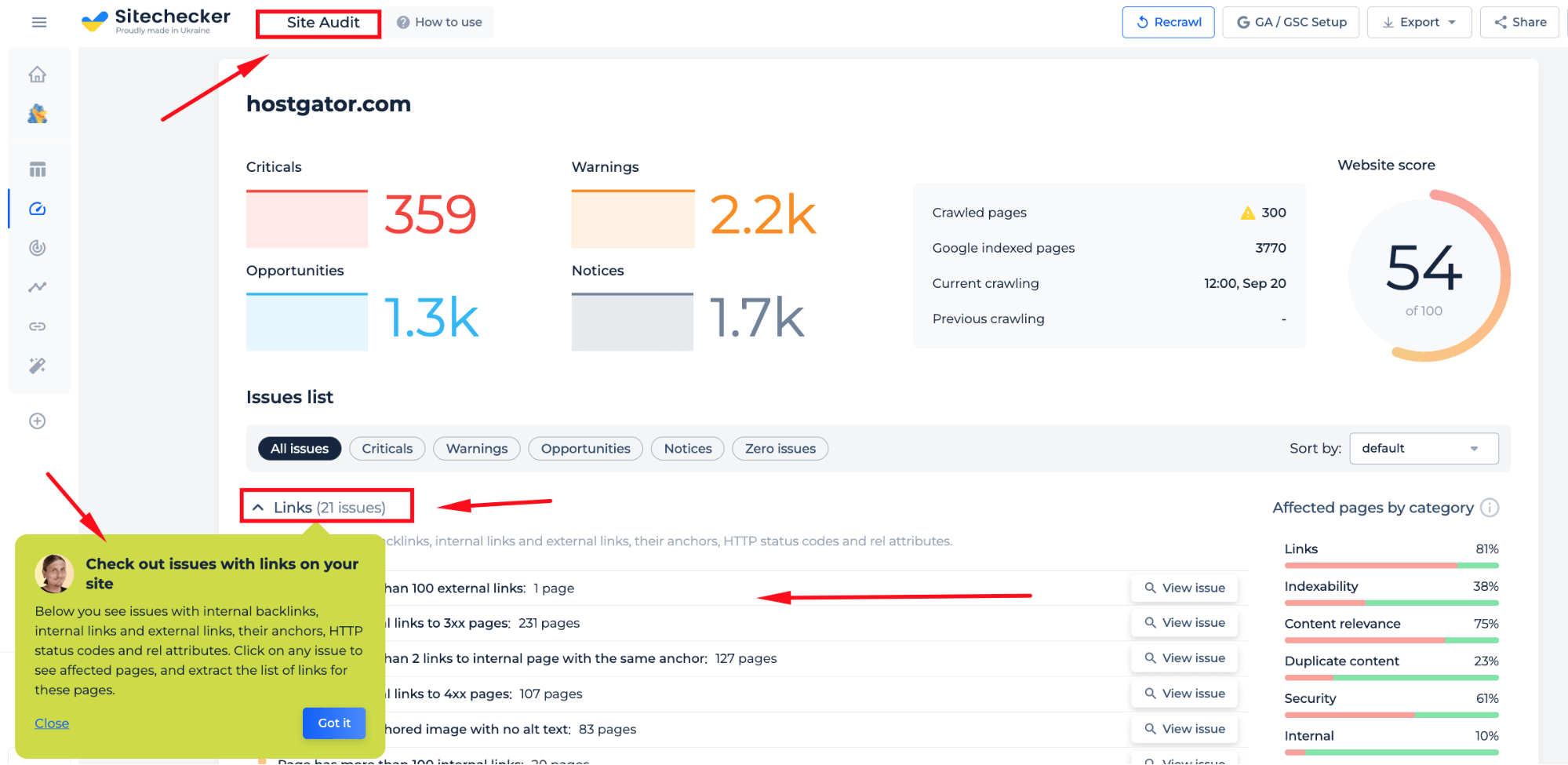 Do you want to extract all URLs from website to get a comprehensive list for sitemap creation? We've already done this for you. You can download the sitemap generated from the URLs that our SEO checker has previously crawled.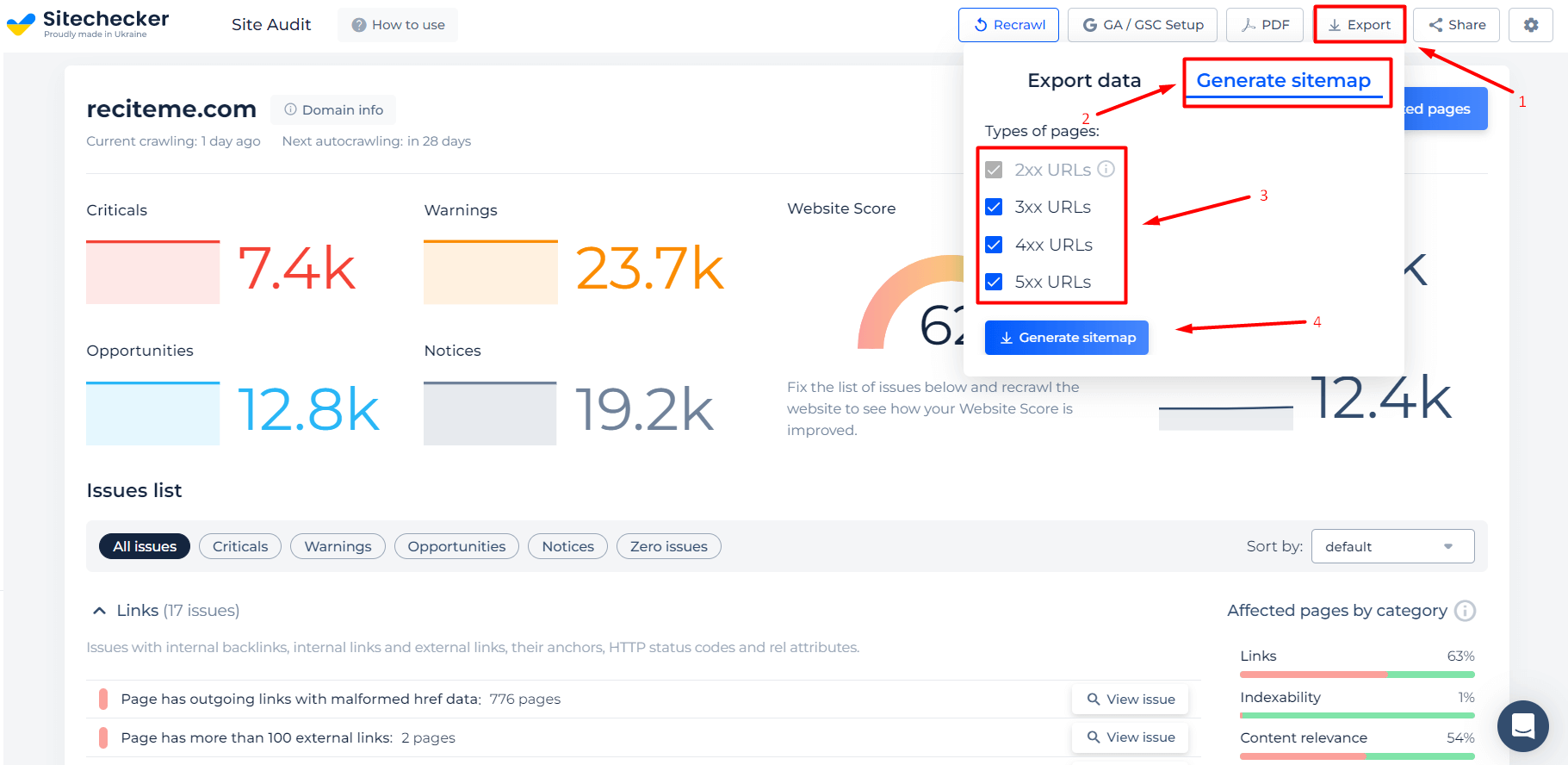 Additional features of the website link extractor
When you check all URLs of a website, you also receive a full-site audit report to help you identify different types of problems on your website. The report provides instructions on how to fix them.
Moreover, filter issues by their type (Criticals, Warnings, Opportunities, Notices, Zero issues) or category (Links, Indexability, Content Relevance, etc). This lets you quickly target and resolve the most critical issues to your website's success.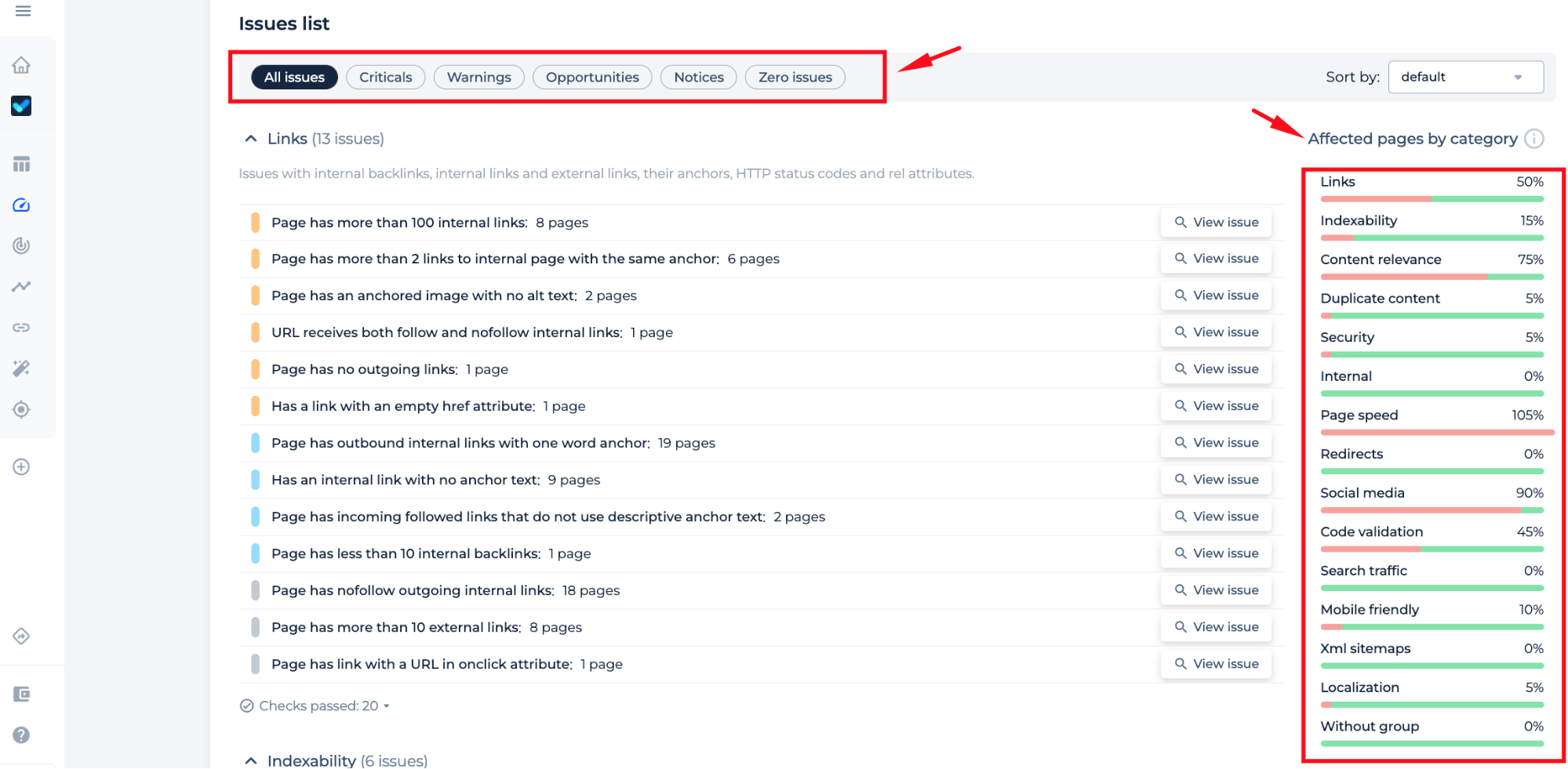 Do you own a website and need to share the information on the issues with your SEO consultant? Or, perhaps, you're an agency-level SEO expert who needs to share problems with your team, submit a report to a client, or formulate a technical assignment for your development squad. In any case, our team is at your service. We provide a highly adaptable reporting and sharing system for your specific requirements. This platform enables you to generate and download various reports, including lists of issues or specific URL reference lists, among other customizable options.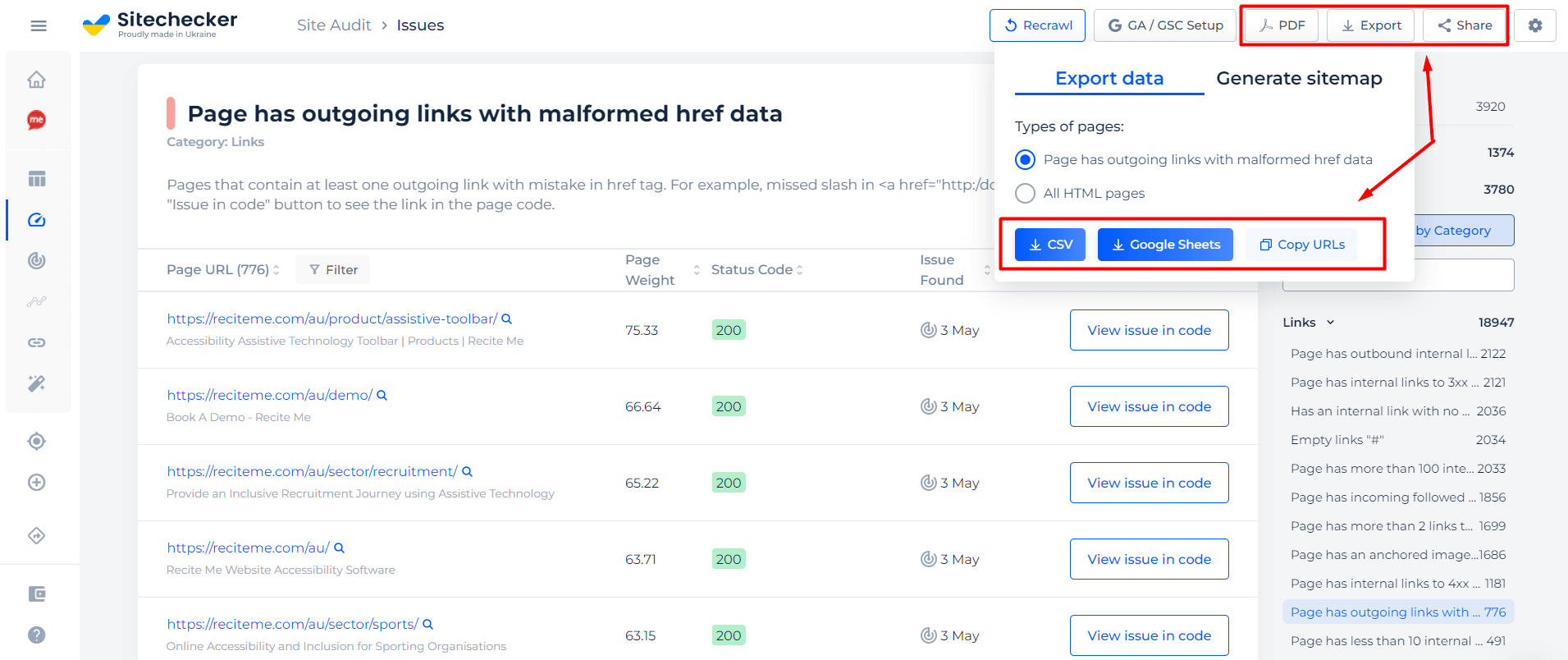 You can also check out our tutorial below:
Page Check
Step 1: Choose the page option, enter the URL you want to analyze, and click the "Get all links" button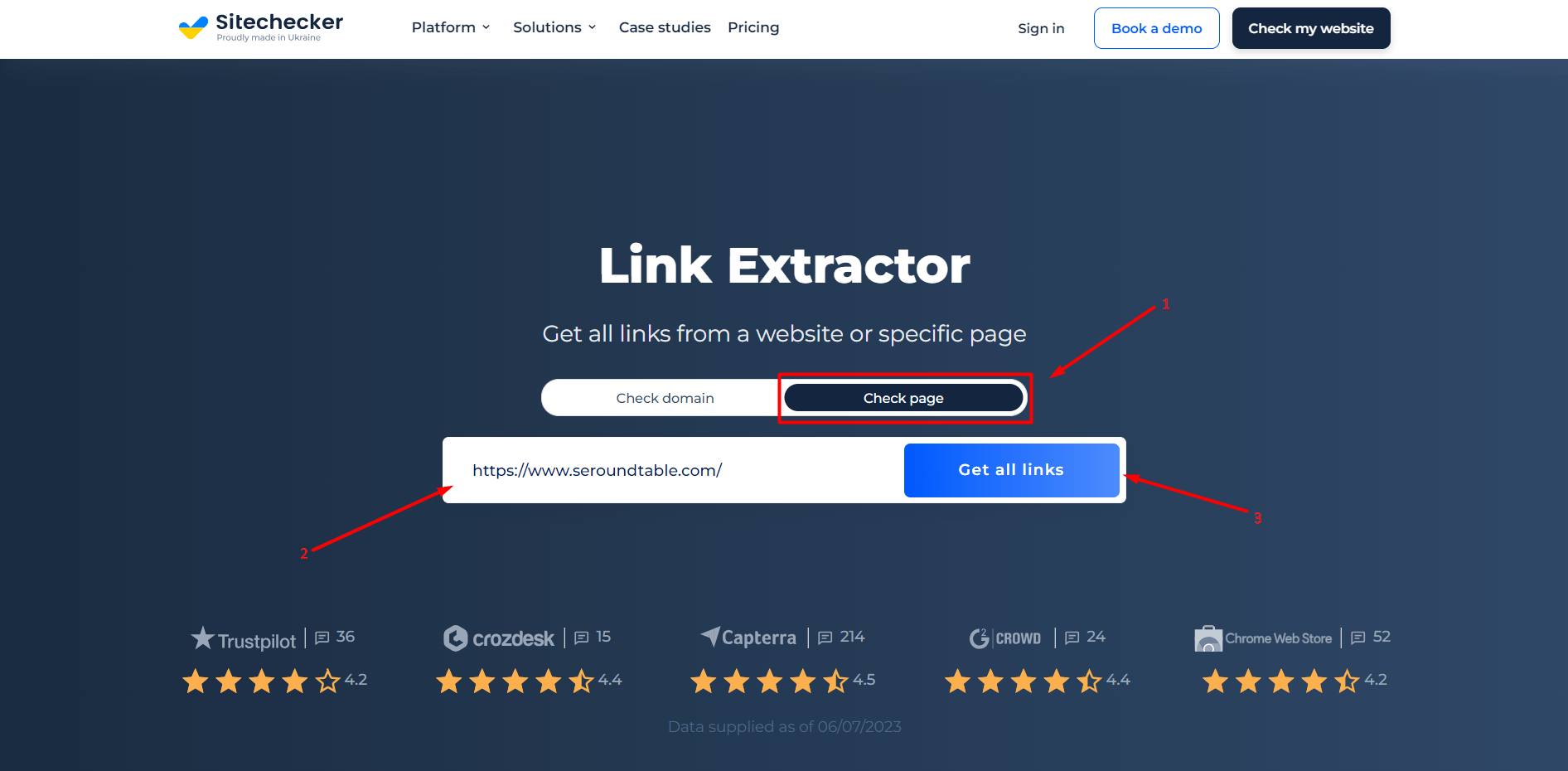 Step 2: Interpreting the link extractor results via page check
With the scan results, you get the audit of the URL that you enter with an open block of information about the references. There you will be able to see all Internal and External links, Internal backlinks. Including the URL, anchor, status code, and dofollow status of the reference.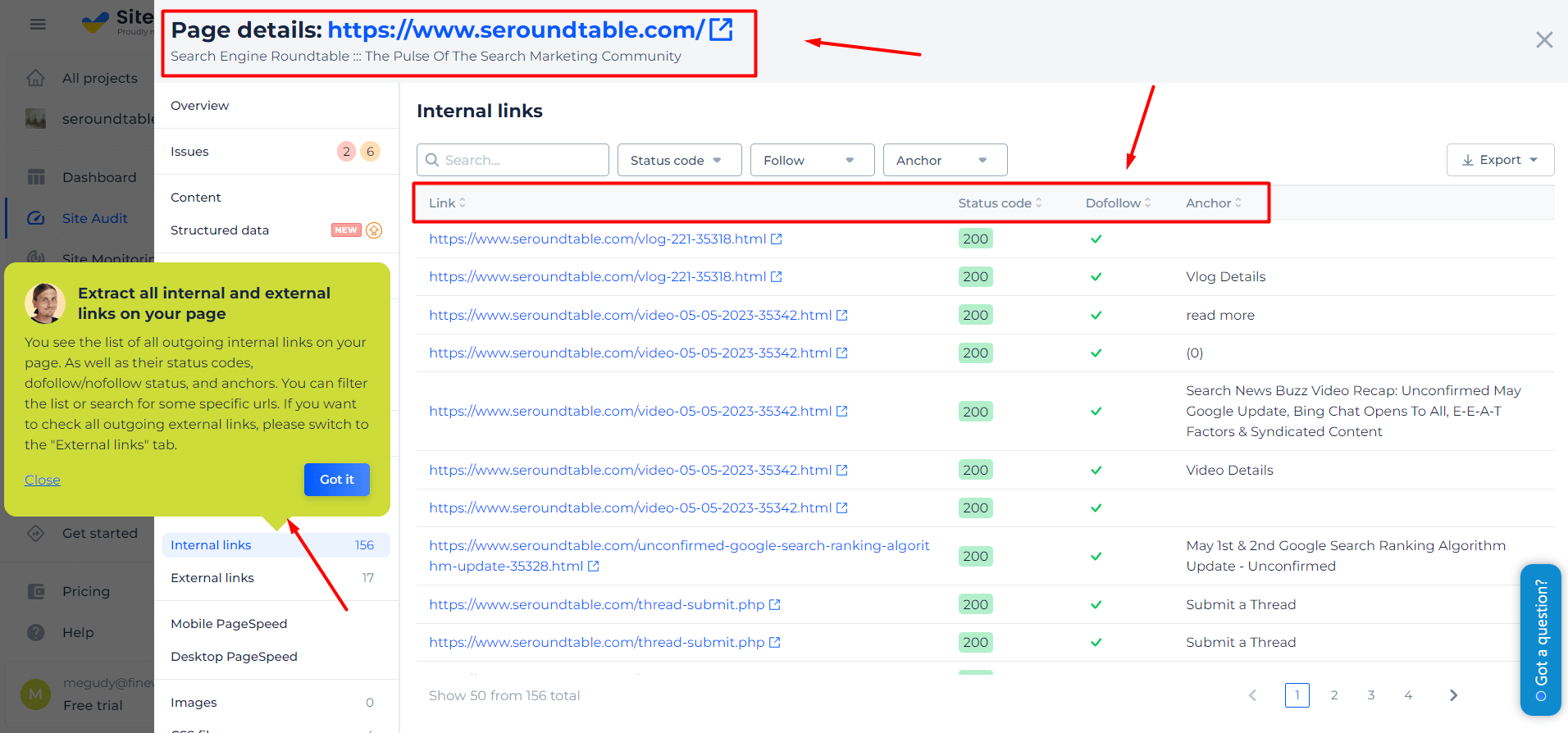 Additionally, you can refine the data using the provided filters or search for a particular URL if it interests you.

Within the link section, explore additional data for the page, such as internal backlinks, internal backlink anchors, and external outbound links.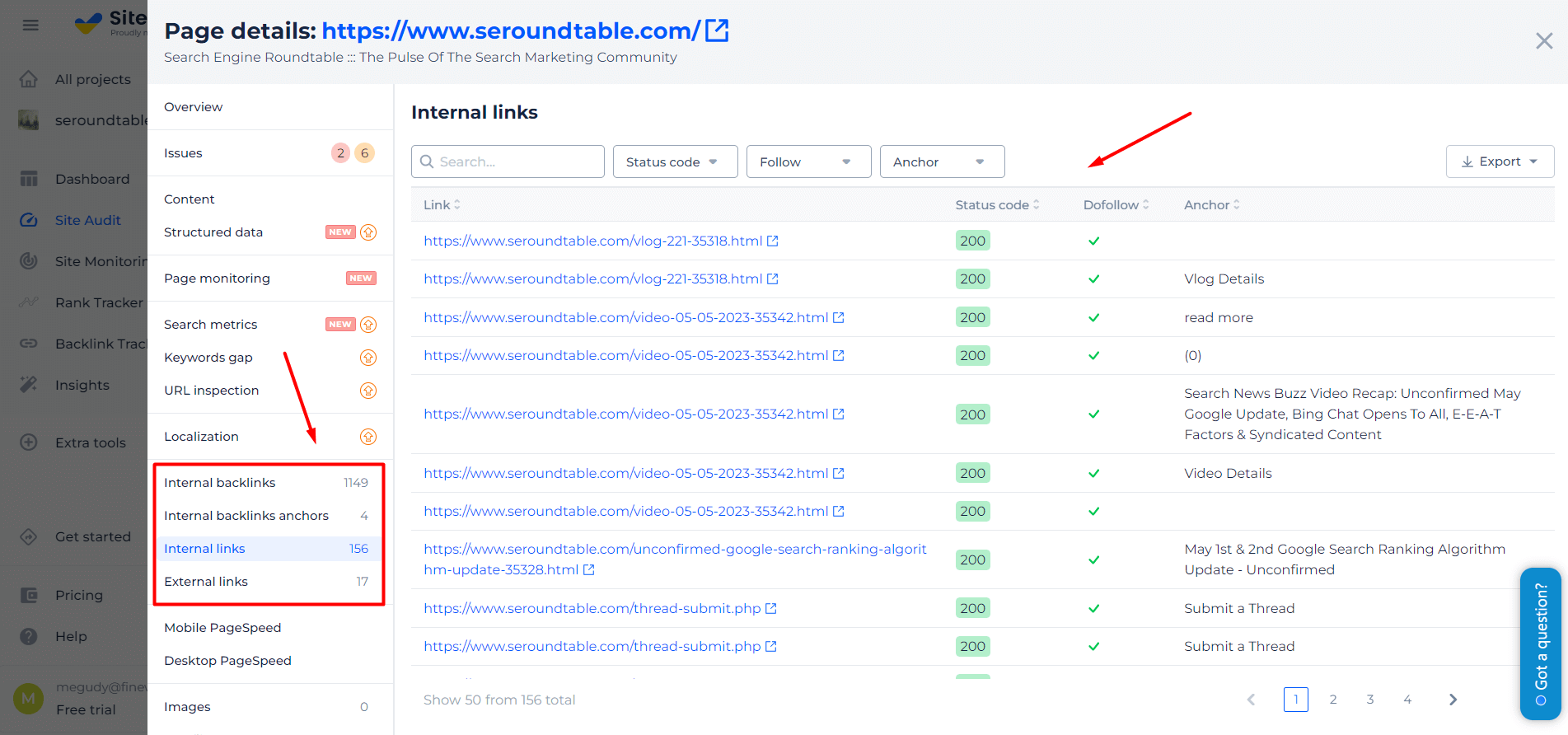 If you're need not only references but also URLs from images, the process is straightforward. Simply open the "Images" block and extract them. In addition, you'll gain access to data such as image size, alt attribute, title attribute, status code, and robot.txt allowance.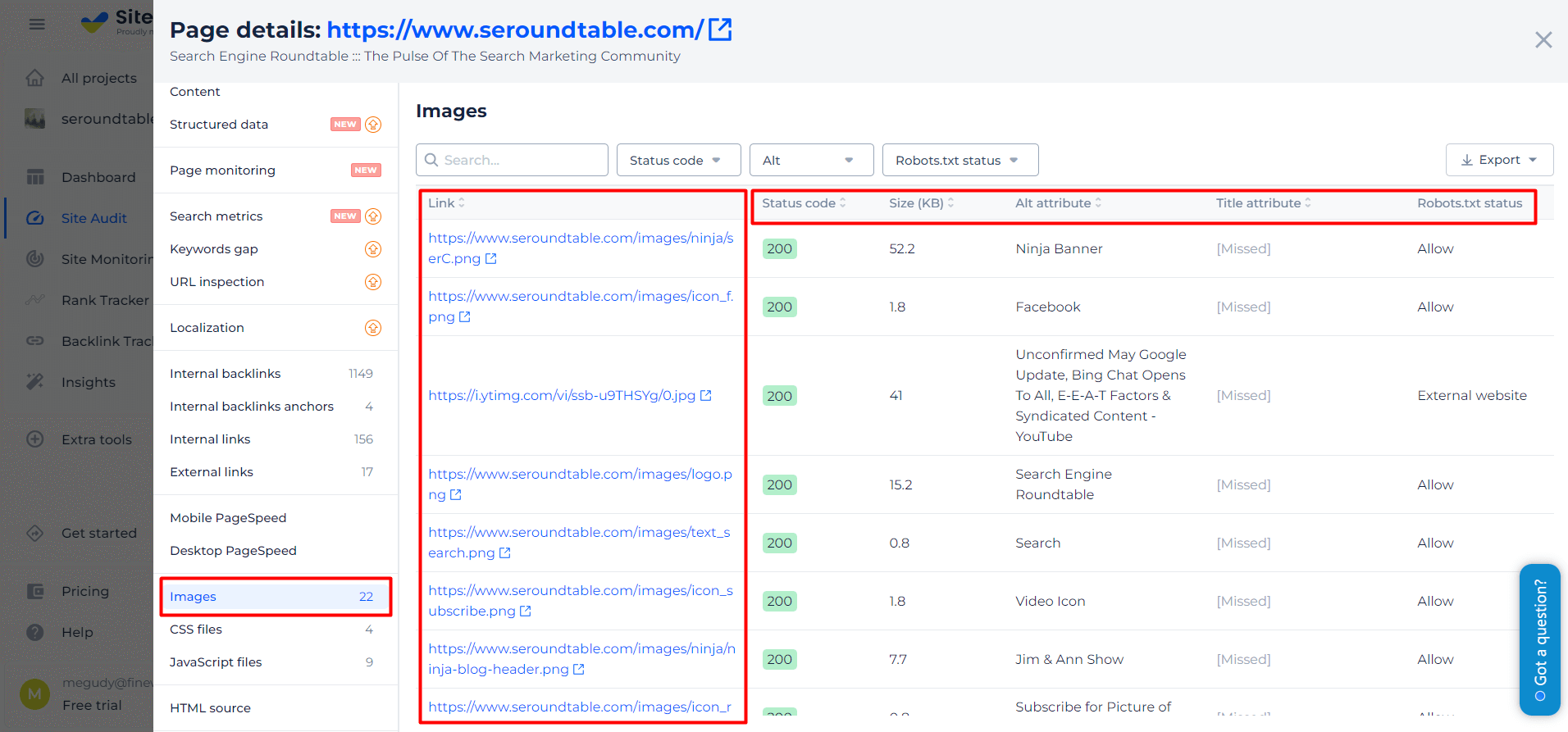 Additional features of the page check
With the page check, you can also identify other issues with the scanned page, including Content, Localization, Page Speed, etc. By identifying them, you can improve your overall website performance.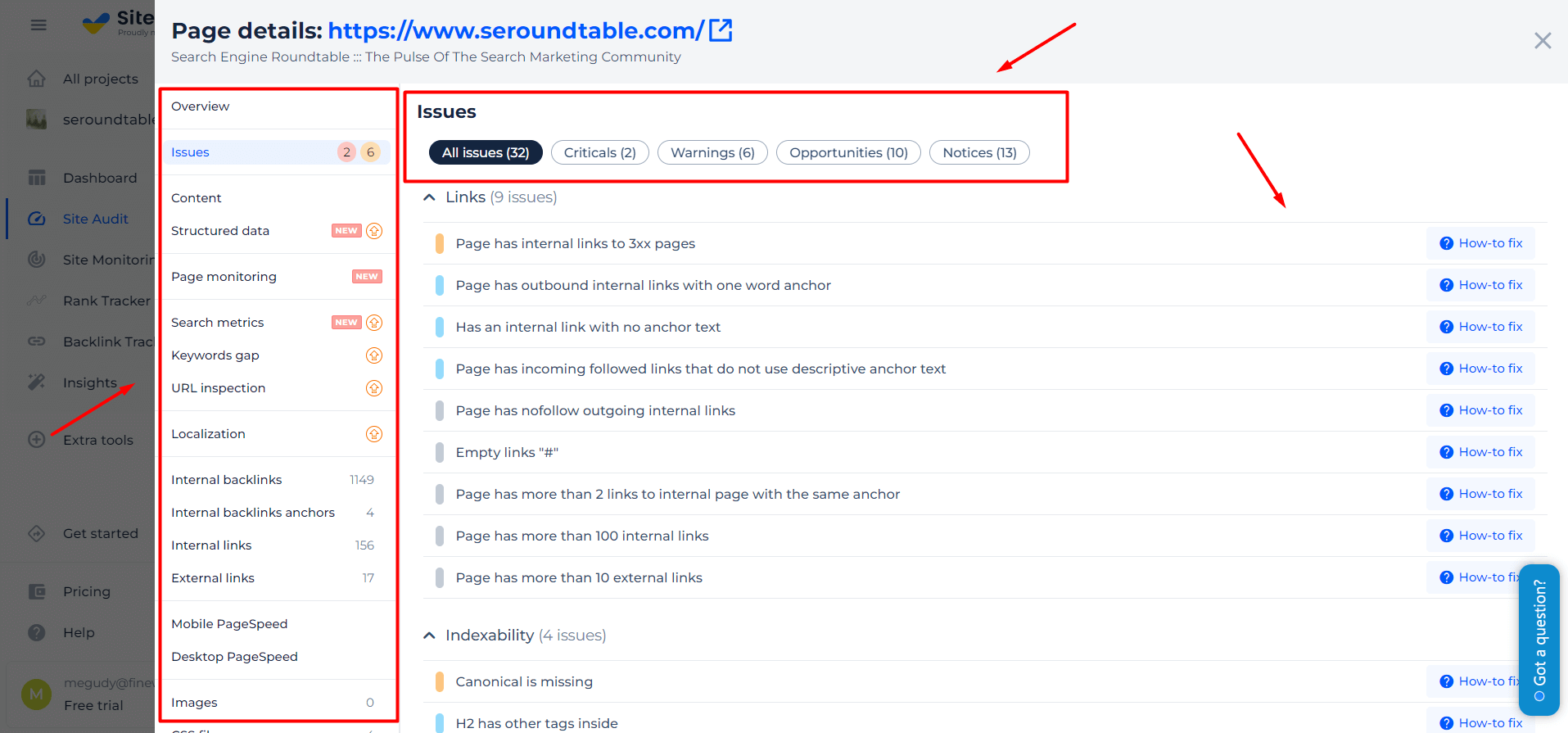 Besides, if you're concerned about any potential issues with the references on some other pages on your site, it is also easy. We already make your site a full audit. So, just close your page details, and enter the URL you're interested in into the search box in the "All pages" section. Get more information by clicking on the URL.

Check out the video guide about the on-page audit and the specific part about the links section and how to work with it.
Concluding Remarks
To wrap up, the website link extractor extracts, analyzes, and monitors all links on a website, providing comprehensive insights for each URL. It detects and helps rectify link-related issues while offering holistic SEO capabilities, including on-page and off-page audits, rank tracking, and site monitoring. Users can leverage this tool for various purposes, such as verifying link status, generating sitemaps, or testing new landing pages. With easy-to-use features, users can analyze an entire domain or a specific page. Furthermore, the tool offers a customizable reporting system, making it ideal for SEO consultants, agency professionals, and website owners.
FAQ
How to get all links from a website?
URL extractor will allow you to export all links from website or extract links from page, including internal, internal backlinks, internal backlinks anchors, and external outgoing links for every URL on the site.
How do I extract a link from an image (picture)?
Our tool analyzes all the references on every page of your website. Therefore, if you need the link to an image, it's easy to obtain it with our tool. Open the 'Images' section in the on-page audit, and you will get a list of image URLs. Additionally, you'll access data like image size, alt attribute, title attribute, status code, and robot.txt allowance.
What is the link extractor Chrome extension?
We have already developed a Google Chrome extension for Sitechecker. Our extension conducts a comprehensive on-page audit, which lets you scan all links. Simply start the free trial and download the Sitechecker application to your Google Chrome browser. After that, open it on the page you want to examine and receive the results.