What is Page Rank Checker?
A web page rank checker is a comprehensive tool that gauges the rating or authority of a webpage. This metric scrutinizes internal links, offering insights into the efficiency of internal linking while identifying which pages possess greater significance.
Here's how we calculate the Website Page Importance:
sum(0.25 / number of links from the page) * 0.85
It's an internal metric from Sitechecker. While the Internal PageRank tester offers valuable perspectives, it's worth noting that these are estimations and may not capture the precise algorithms employed by search engines.
Sitechecker's Internal Page Rank Checker can help you in many ways
Insightful Analysis of Internal Linking: The tool meticulously examines internal links, offering you insights into the effectiveness of your internal linking strategy. This can guide you in refining your website's link juice distribution.
Highlighting Key Web Pages: Identify pages that should possess greater internal rank significance and focus your efforts on https://sitechecker.pro/what-is-link-equity/ from other URLs on them.
Technical Audit: The tool doesn't just evaluate URL importance; it also pinpoints technical hindrances impacting rating, like prolonged load times, issues with mobile optimization, broken links, etc.
In essence, the Internal Page Checker is an indispensable tool that aids in strengthening your website's internal structure, optimizing link equity, and prioritizing webpages with the most valuable content.
Key Features of the Web URL Rating Checker
Unified Dashboard. Efficient website management starts with a central hub. The rating Checker unified dashboard aggregates critical data, offering insights into readdresses, error reports, and even data visualizations.
User-friendly Interface. Recognizing that users vary in technical expertise, the tool is designed to be accessible to all. With intuitive navigation, well-labeled features, and helpful tooltips, even novices can navigate its functionalities with ease.
Insightful Internal Linking Analysis. The Page Rank Checker evaluates the significance of web pages, scrutinizes internal links for efficiency, and identifies key web addresses with greater importance. Its transparent calculation method offers insights, while also emphasizing that results are estimations aligning closely with the internal linking strategy.
Complete SEO Toolset. Beyond internal webpage rating checking, the tool's arsenal encompasses a diverse SEO toolkit. From keyword research and backlink analysis to on-page SEO scrutiny, rank tracking, and comprehensive site audits, it's equipped to bolster a website's SEO strategy.
How to Use Page Rank Checker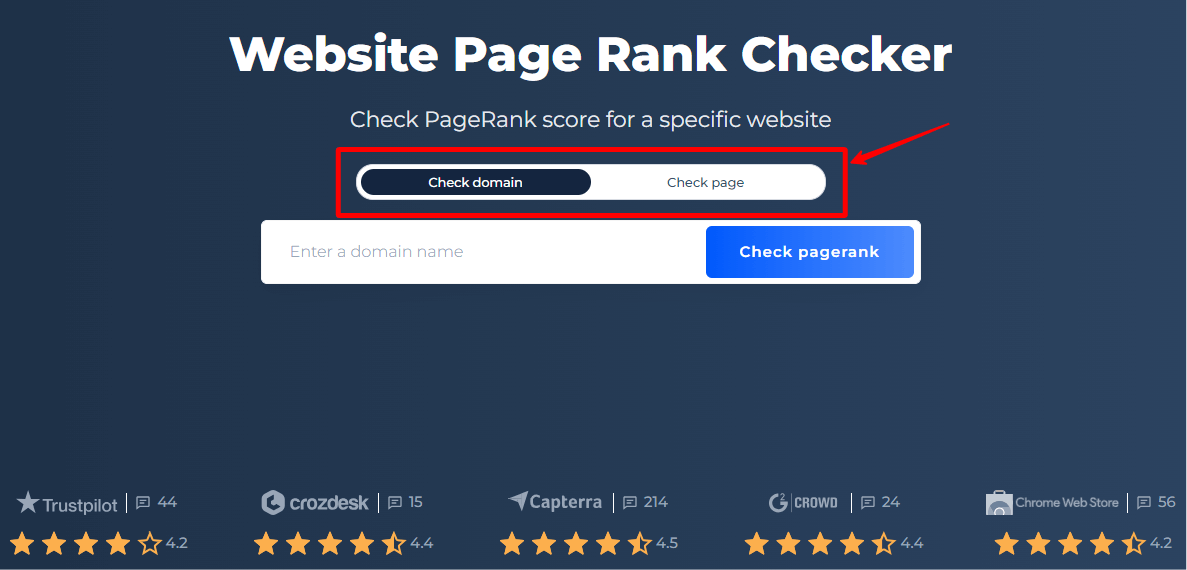 Start your FREE trial to obtain results and gain access to Sitechecker's features for 14 days. Easily sign up using your email, Google, or Facebook account. No credit card required.
Page rating checker offers the ability to assess the authority and rating of specific web address based on all internal links.
The process is swift, wrapping up in mere moments. Upon completion, you're presented with detailed insights about the rank and perceived value of your link structure in the context of all HTML pages of your site, granting a holistic understanding of individual webpage ratings.
Domain Check
Step 1: Insert your domain in the search bar
To examine a domain online, click on the "Check domain" option, input the domain name, and then hit the "Check pagerank" button.
Step 2: Interpreting the domain page rank results
In the "All HTML pages" category, you can find and sort data about your web address. The greater the rating, the more links that point to the domain and the more authoritative they are (in comparison to other websites). Check and improve the score of all the URLs of your domain.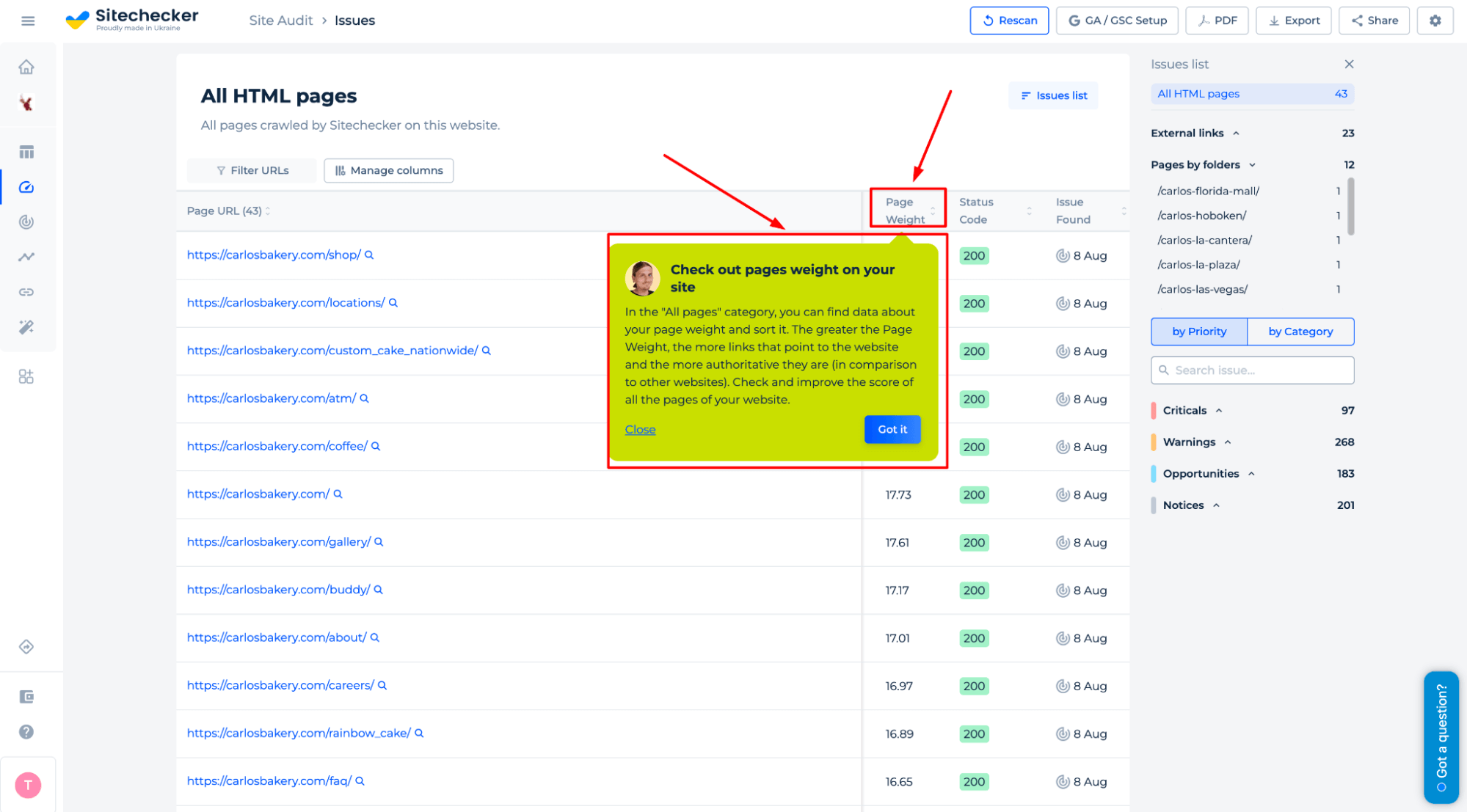 If you wish to locate a specific rating URL to check its matter, you can utilize the filter:

Besides the page rate in the table, you can customize the columns and add the data points that interest you: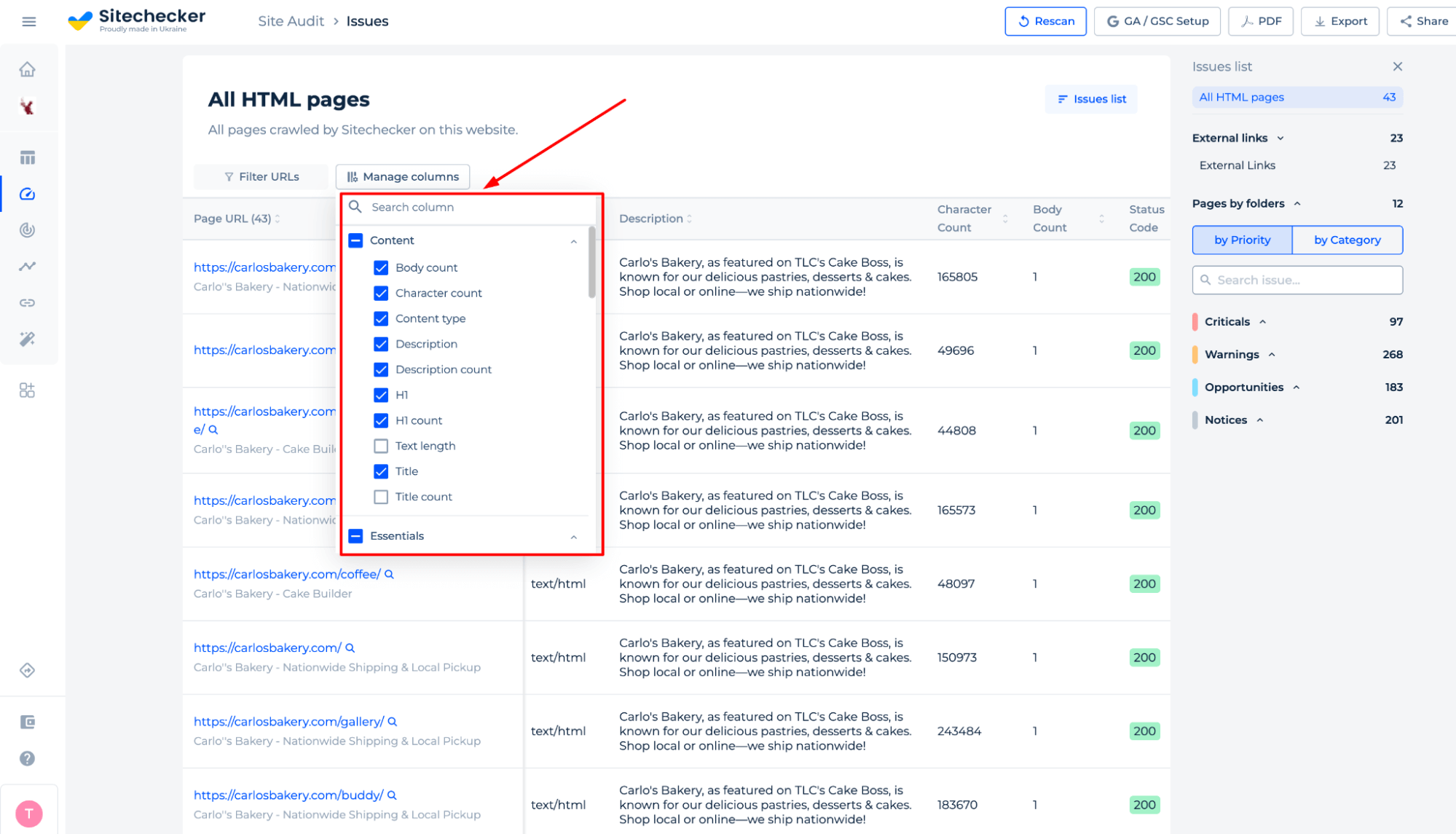 Other Features of the Page Rating Tester
Page rank tester will provide you with a comprehensive website audit and assessment designed to help you identify and address any issues.
Every audit report comes with recommendations on how to correct the problems that have been identified, as well as allowing you to easily sort the issues by type: Critical, Warnings, Opportunities, Noties.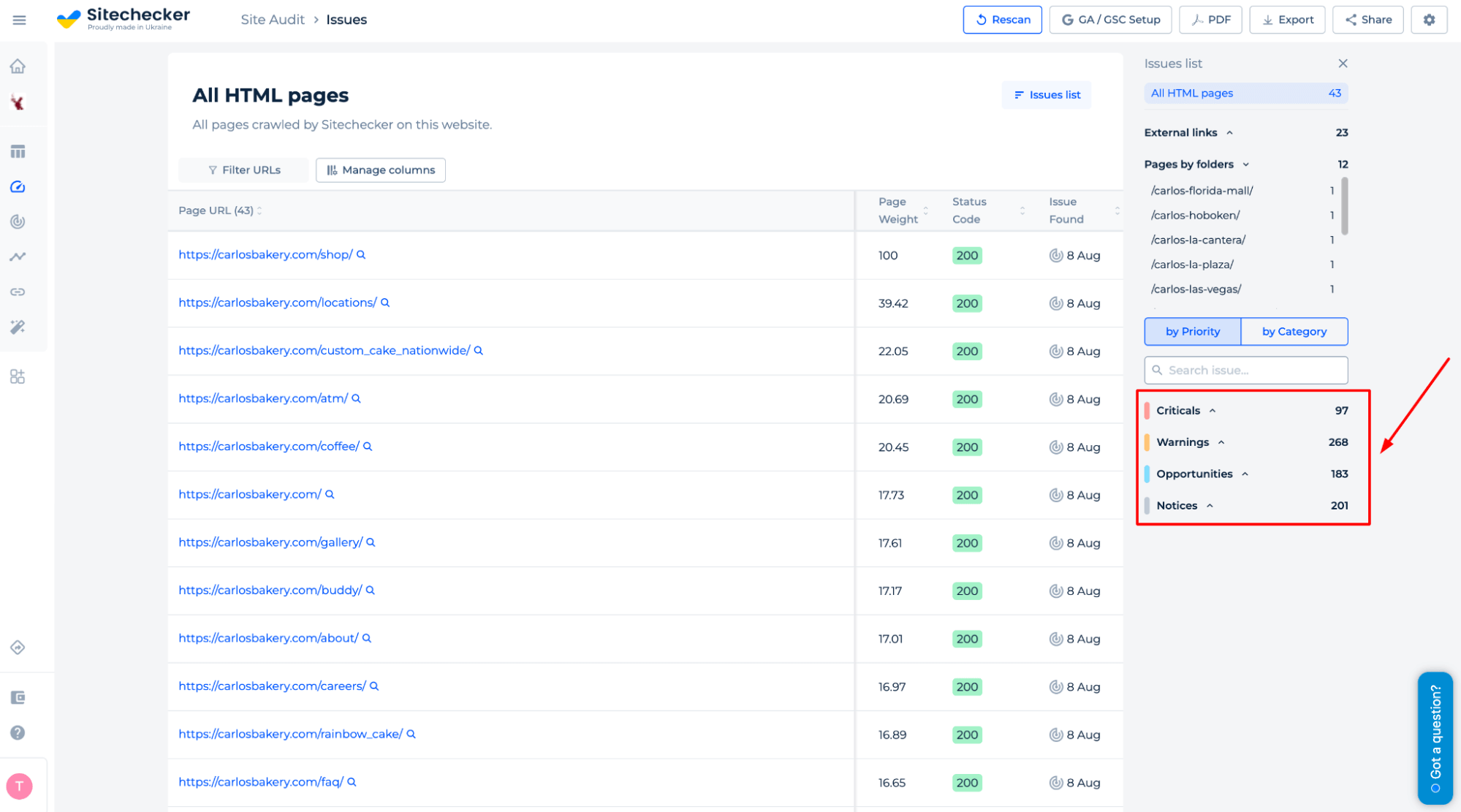 By toggling the "by Category" filter, you can review information related to links, indexability, content relevance, URL speed, security, and more: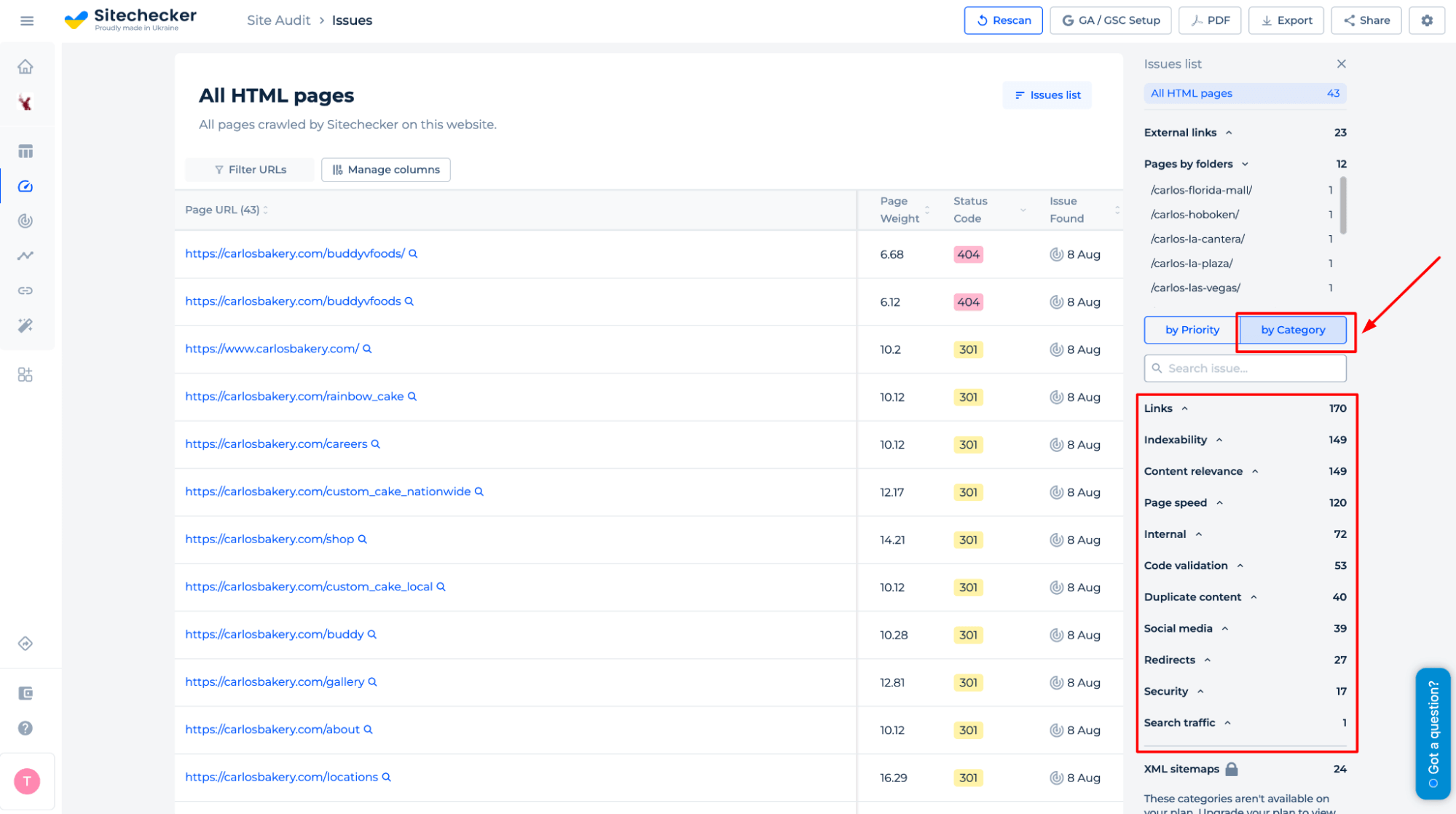 To delve deeper into website performance, you can integrate Google Analytics and Google Search Console: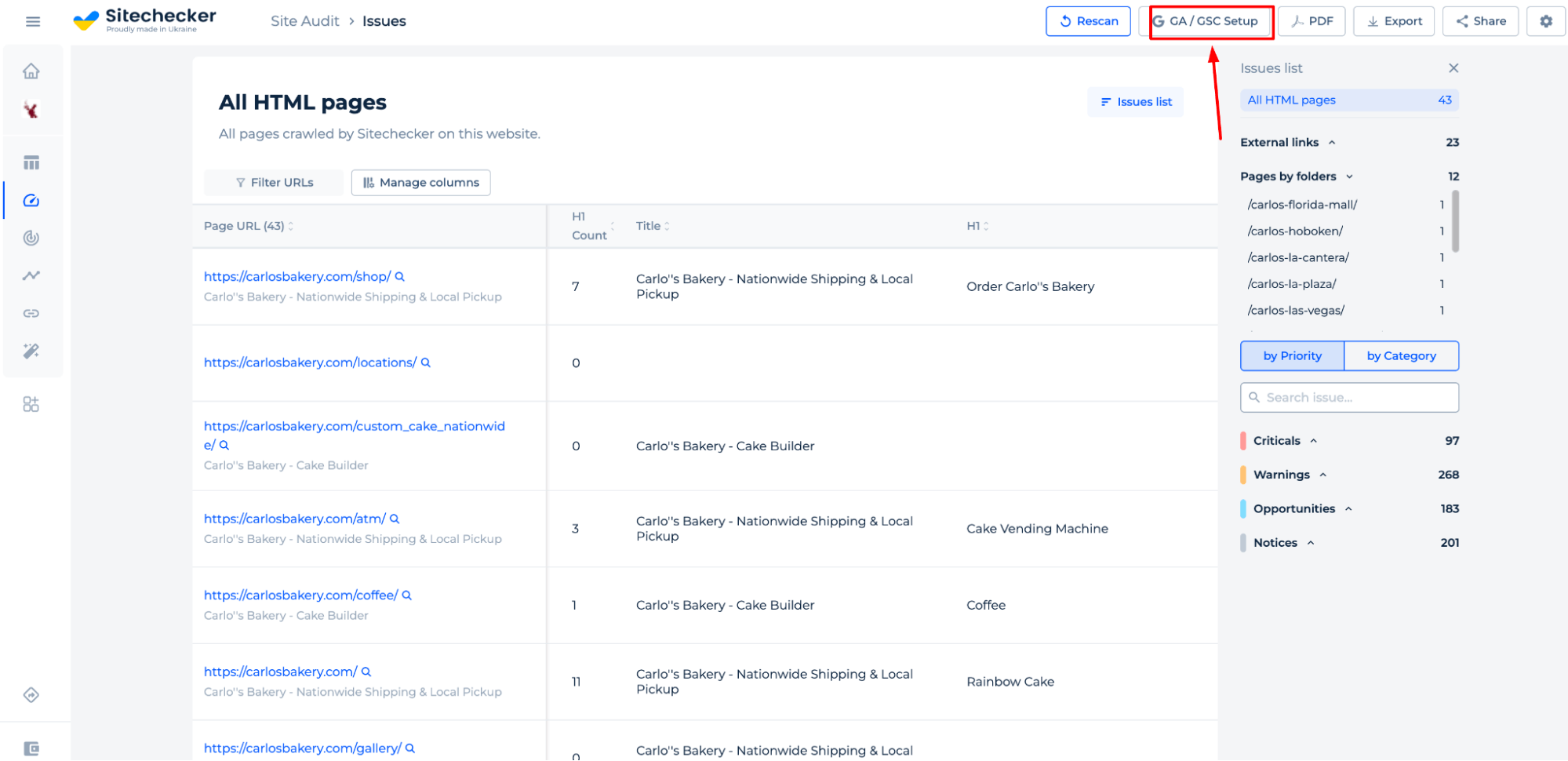 Data from Google Services can be accessed in the "Manage colums" filters: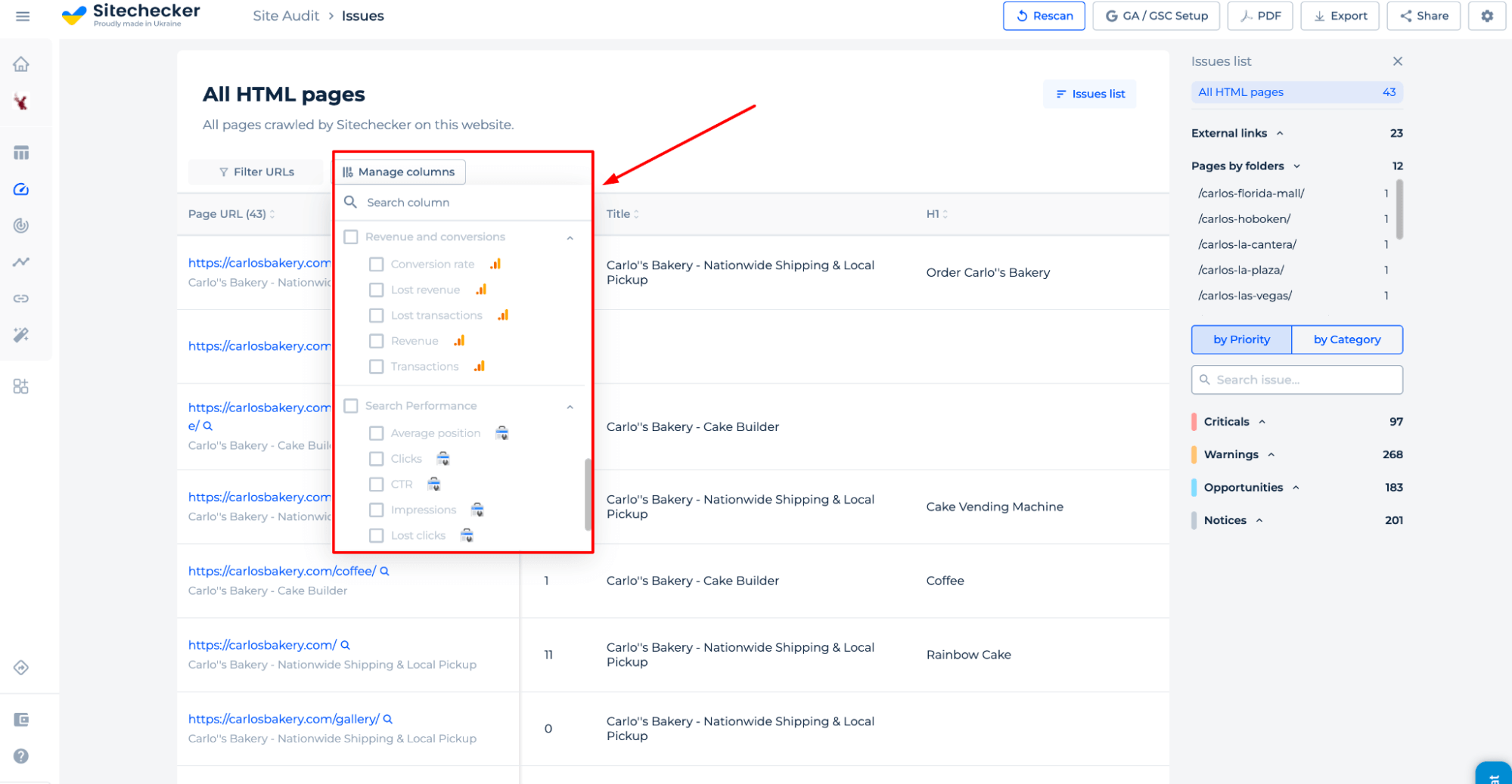 For further analysis of the collected data, there's an option to export to Google Sheets, save as a PDF, or simply copy the information:

Check Page Rank
Step 1: Insert your URL
With just one click of a button, you can do a page rating check of the web address that you would like to analyze.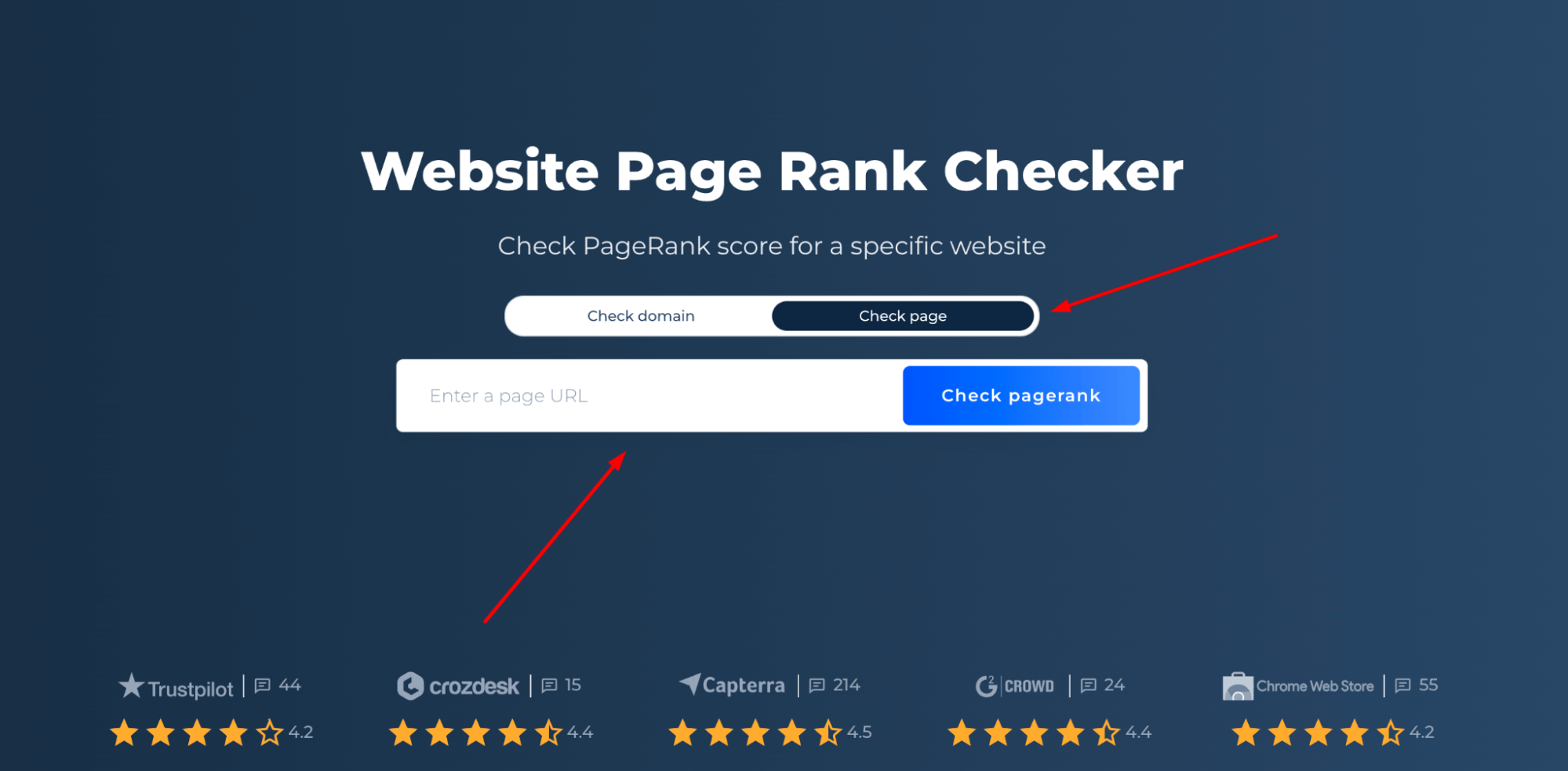 Step 2: Results check
By harnessing our advanced tool, we can quickly perform a crawl of your website and analyze the data associated with the importance of a specific URL. Here you can see the importance of your URL. The greater the Page Rank, the more links that point to the website and the more authoritative they are (in comparison to other websites). Check and improve the score of the analyzed link.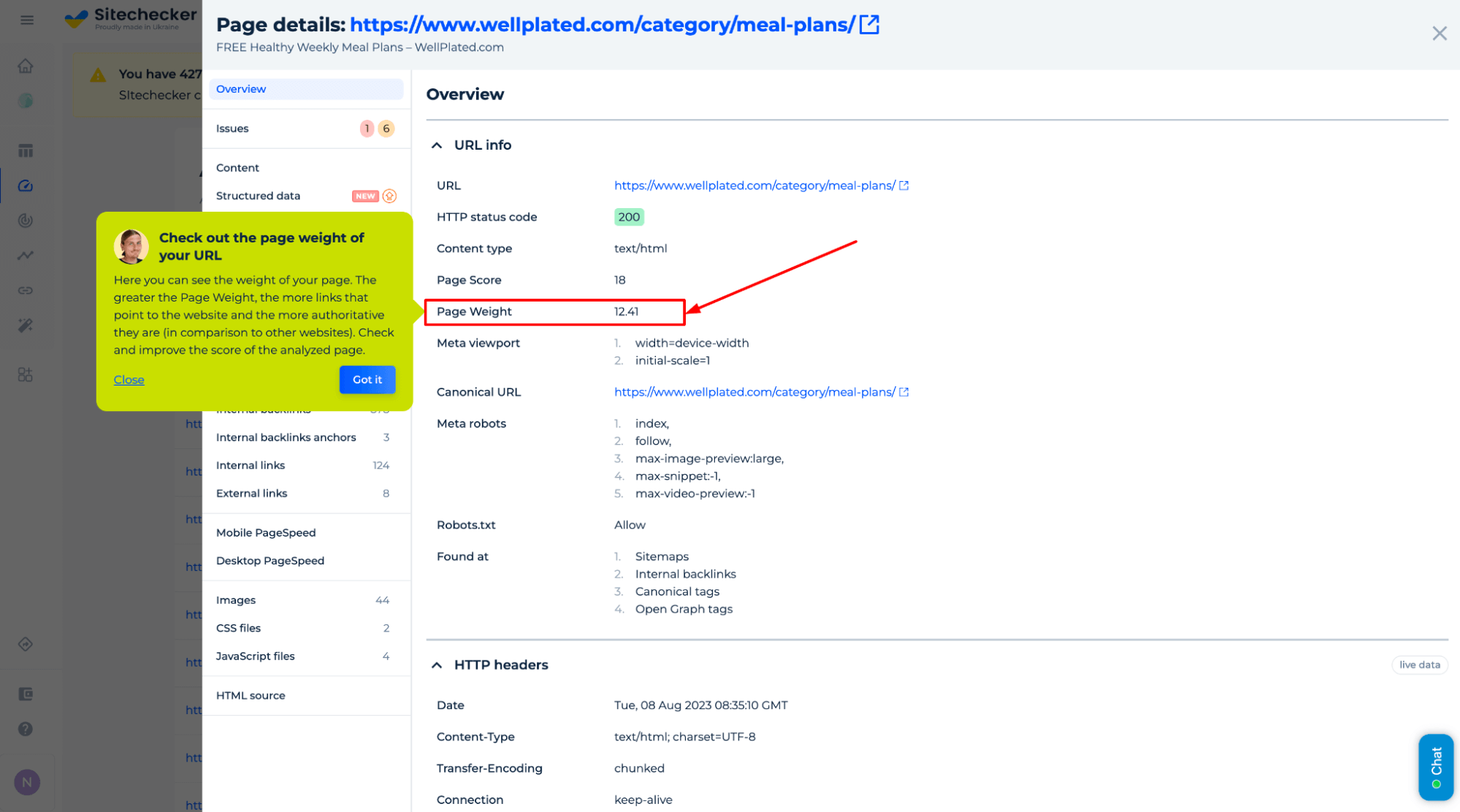 On the "Internal Backlinks" screen, you can review all the links from your site that point to the selected link: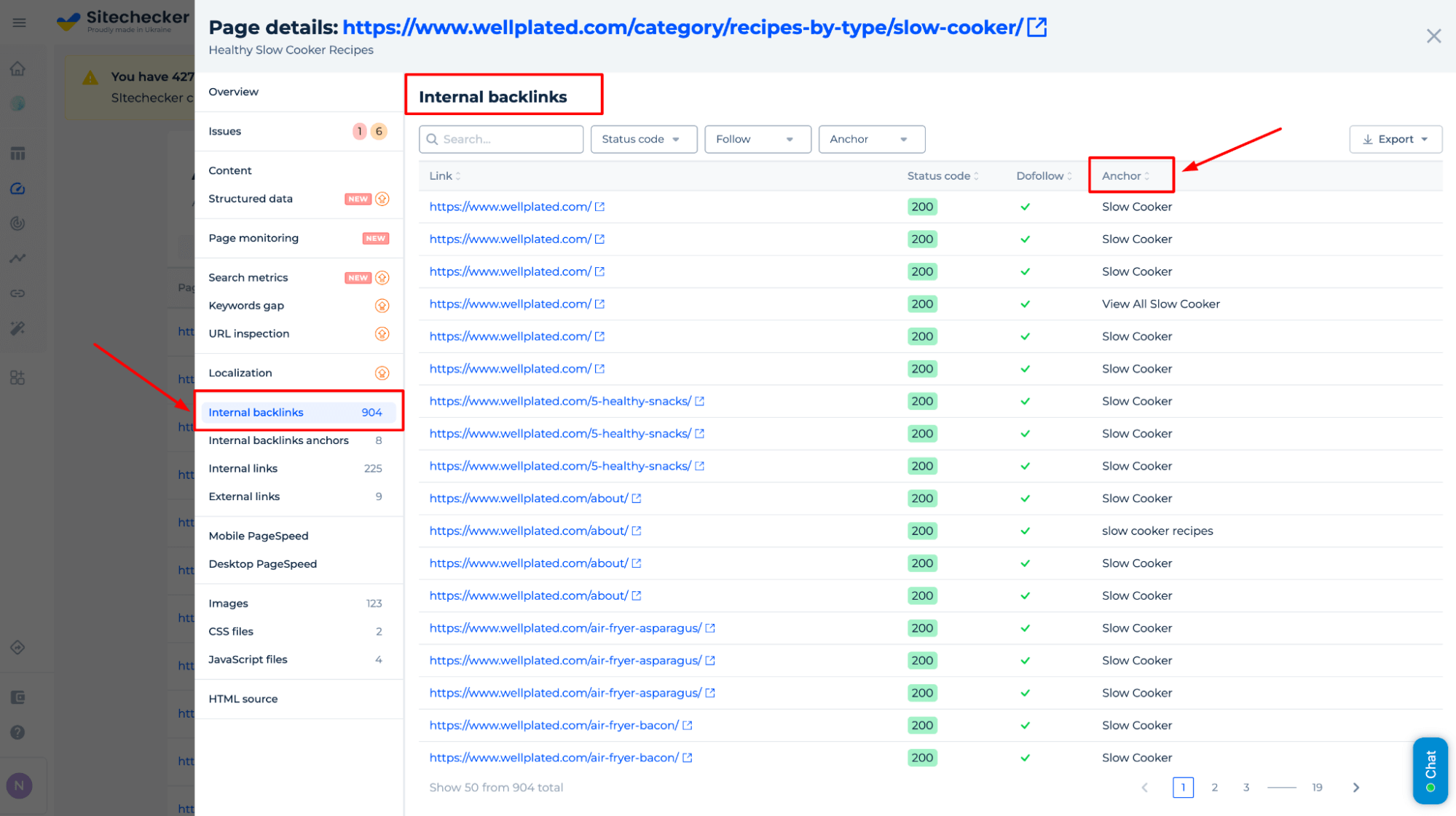 To plan your anchor strategy effectively, you can analyze the anchors: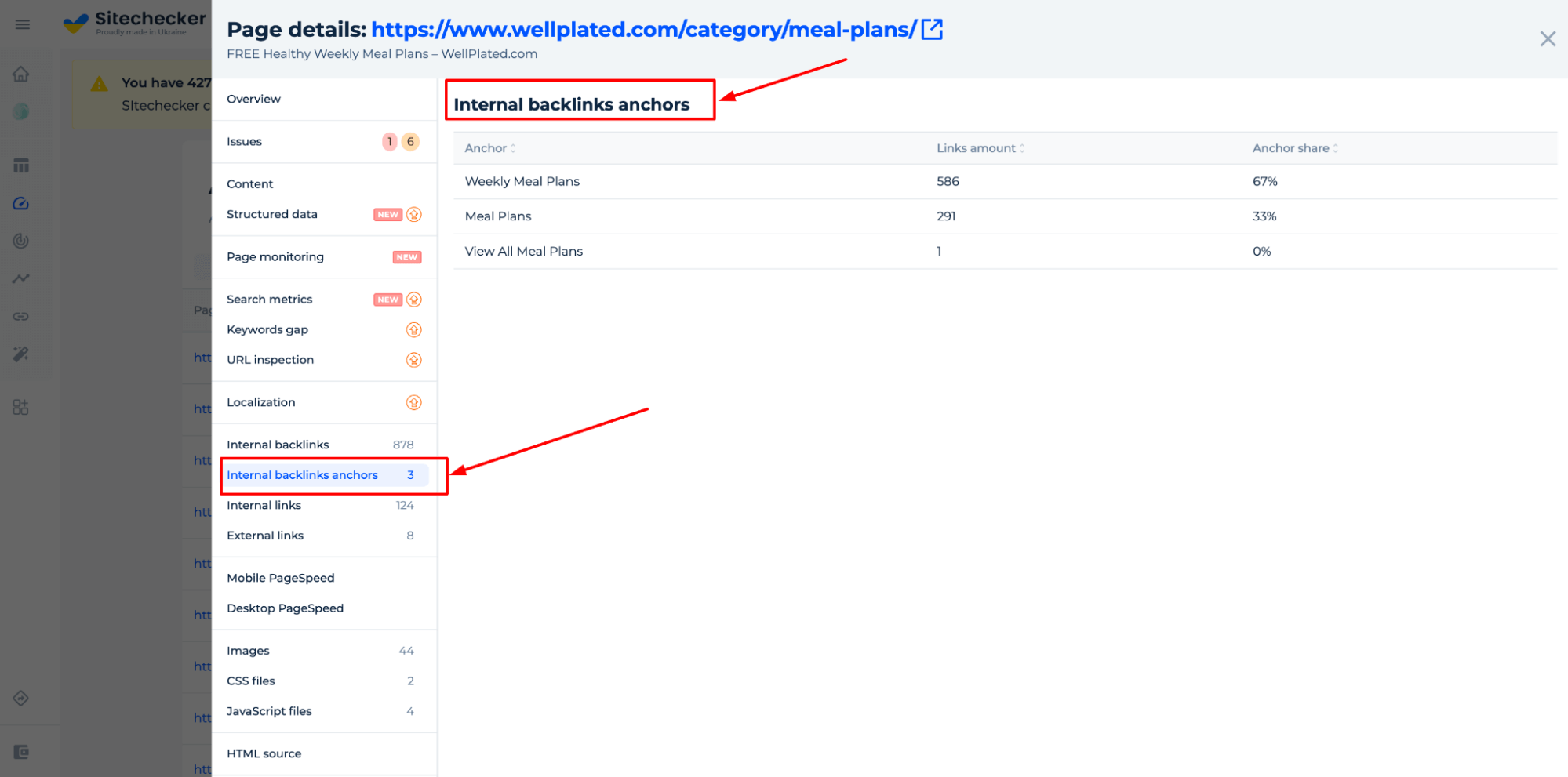 Additionally, you can view information about the internal links for the selected link here: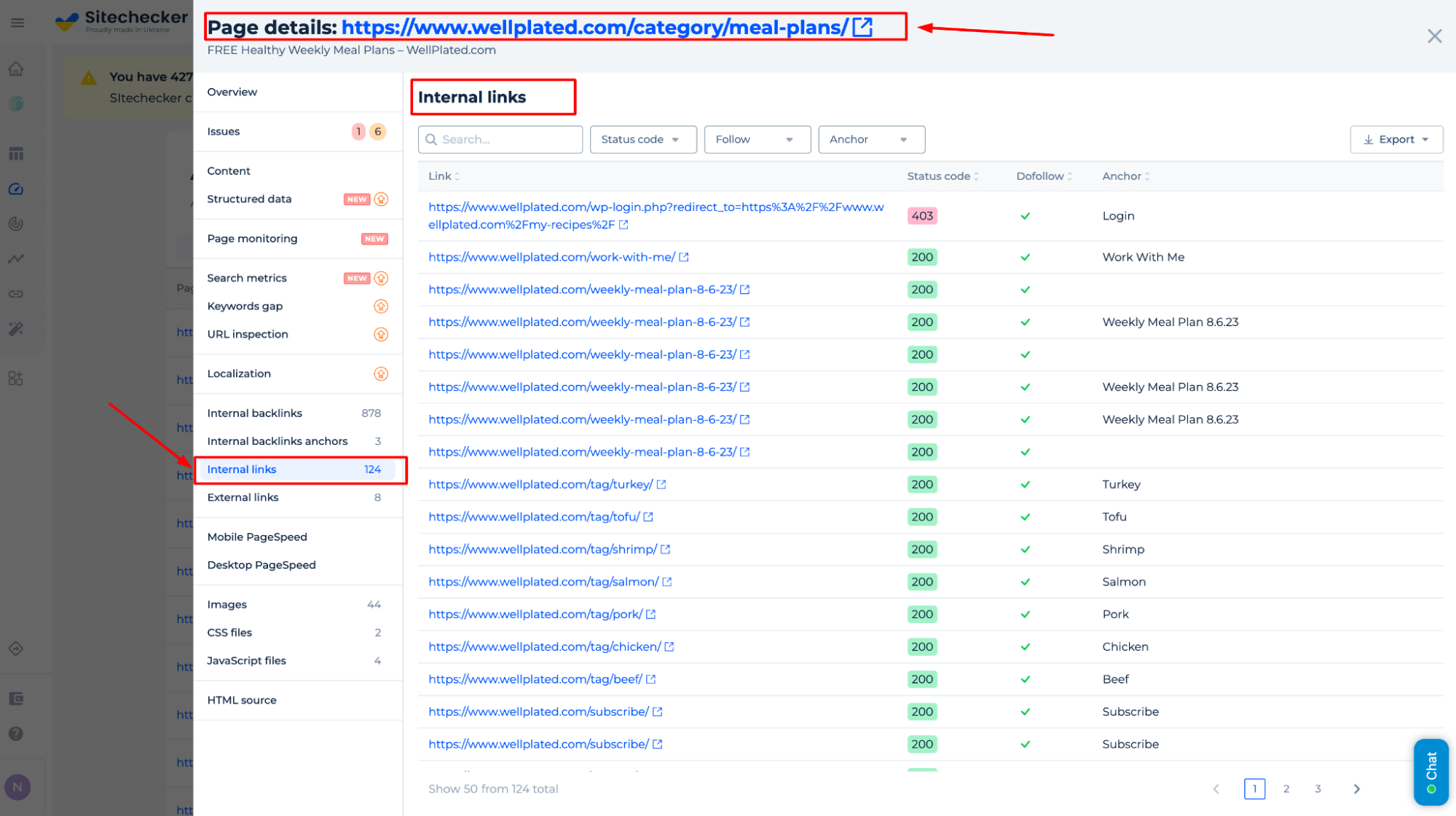 This list of URLs illustrates how the selected web address influences the consequence of other web pages.
Additional Features of Free Page Rating Checker
The information in highlights issues that directly affect your URL metric: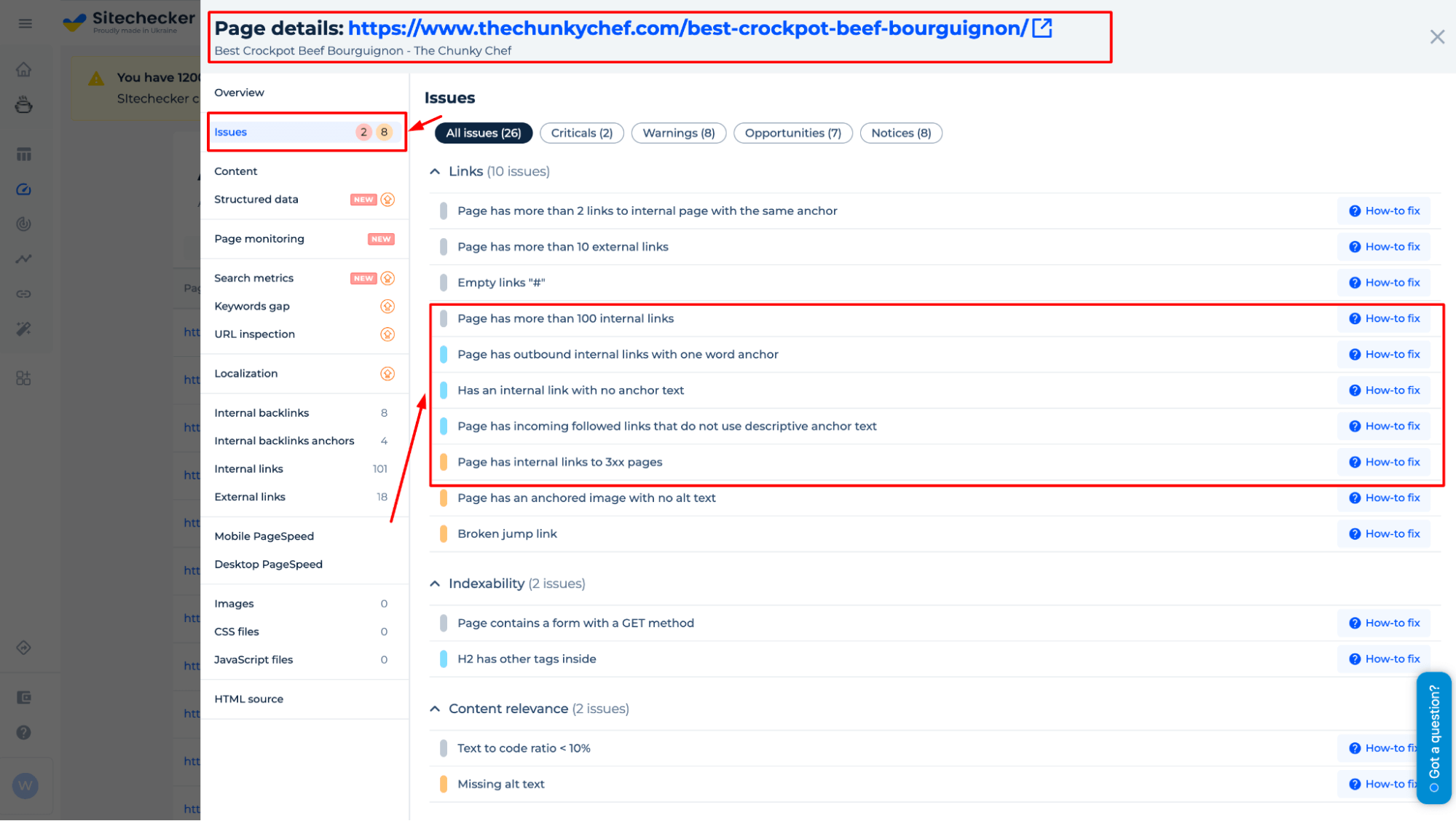 To maintain a high URL value, it's crucial to monitor response status codes consistently: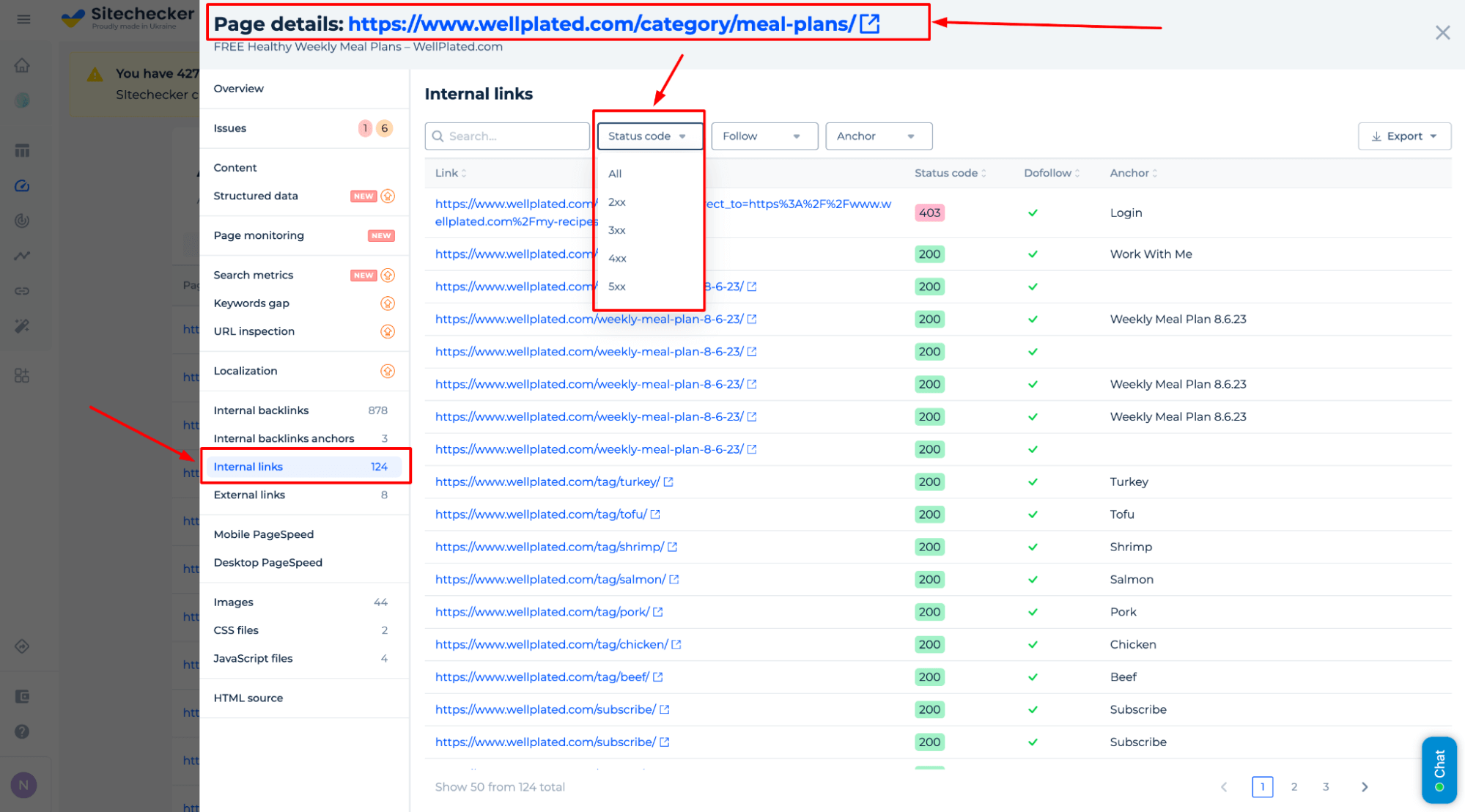 While page rank is a valuable metric, webmasters should also focus on monitoring site performance in terms of keywords and SERP positions for day-to-day practicality.
To check how your site ranks on search engines – use our Website rating Checker.
This tool allows you to monitor changes in keyword possessions of your keyphrases:

The Keyword Rank Tracker lets you monitor the changes in a keyword's position over time, assess the search volume of the phrase, view the associated URL, and more.
Conclusion
Sitechecker's WebPage Rank Checker is a specialized tool designed to assess a webpage's authority internal linking. By examining internal links, it identifies pages of higher significance and calculates their digital significance using a unique formula.
The user-friendly interface presents a unified dashboard, providing crucial insights that simplify website management. Beyond just rating webpages, the tool offers a comprehensive SEO toolkit, catering to tasks like keyword research, backlink analysis, and more. Integration with platforms like Google Analytics and Google Search Console further extends its capabilities.
Supplementing the core features, Sitechecker also provides additional tools like the Website rating Checker and Keyword Rank Tracker. These tools, used alongside the Page Rank Checker, offer a comprehensive view of a site's SEO standing, making it invaluable for those aiming to enhance their website's online presence.
FAQ
What's the difference between Google PR and Sitechecker's PR?
The difference between Google PR and Sitechecker's PR is that Google PR was a system developed by Google to rank webpages based on their authority and relevance, but it's no longer publicly available.
On the other hand, Sitechecker's PR is an internal metric developed by Sitechecker to evaluate the significance and efficiency of web pages, specifically looking at internal links. This metric provides insights into the website's internal structure.
How do I check my page rank?
Use the Sitechecker Page Rank Checker by inputting your domain or specific URL.
What are the benefits of understanding the rank of web pages using this tool?
Understanding and optimizing the rating can help optimize link equity, prioritize pages with the most valuable content, and work on low-rating pages.
By Sitechecker's standards, a good PageRank reflects efficient internal linking. Higher scores indicate greater authority.