PageRank is an algorithm used by Google to rank webpages in their search engine results. It is named after both the term "webpage" and co-founder Larry Page. PageRank is a way of measuring the importance of websites. The higher the PageRank of a link, the more authoritative it is.
Google keyword ranking is the position your website is listed in Google when someone searches for a phrase or keyword. A ranking of 1 means you are at the top, while 11 means you are on page 2.
This article will walk you through using a Google Page Rank Checker and why it is crucial for your site.
What Is a Google PR Checker?
The Google PR Checker is a free online tool for determining a website's PageRank. It's similar to a page score calculator, but it's a lot more useful. PageRank is an independent metric used by the Google PageRank algorithm to assess a web page's quality, authority, and reliability. Page Rank is a system for ranking web pages that was developed by Google's founders, Larry Page and Sergey Brin, at Stanford University.
How To Use Google Page Rank Checkers
Using a page weight checker is an effective way to measure the page rank of any website or individual URL quickly and efficiently. Starting your free trial period is a straightforward process – simply paste the URL into the search bar and wait for the scan to be completed, usually taking no more than one minute.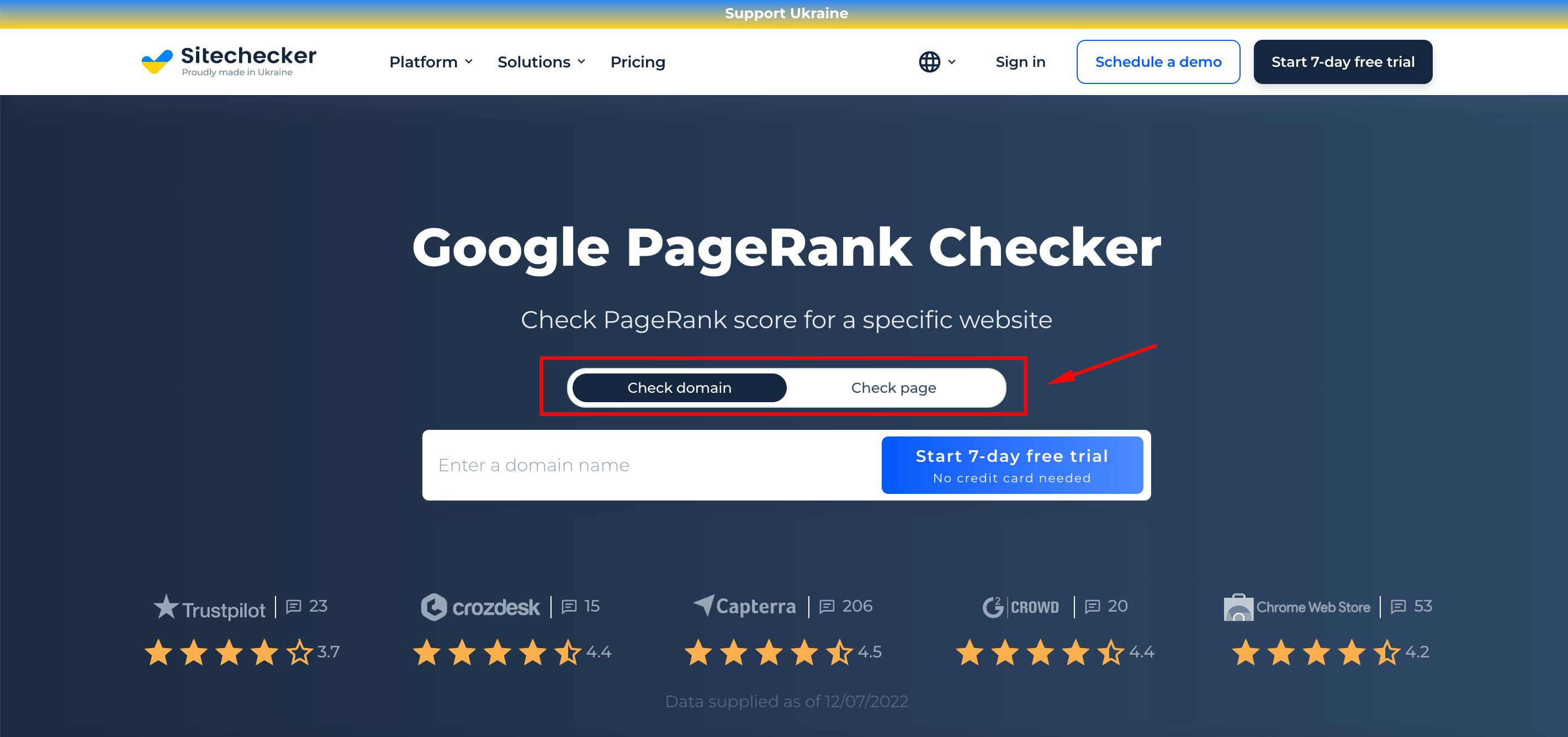 Follow this step by step guide to use SiteChecker's PR Checker tool:
Domain Check
Step 1: Insert your domain and start the free trial
In order to test a domain, simply click on the "check domain" button and you can begin your trial.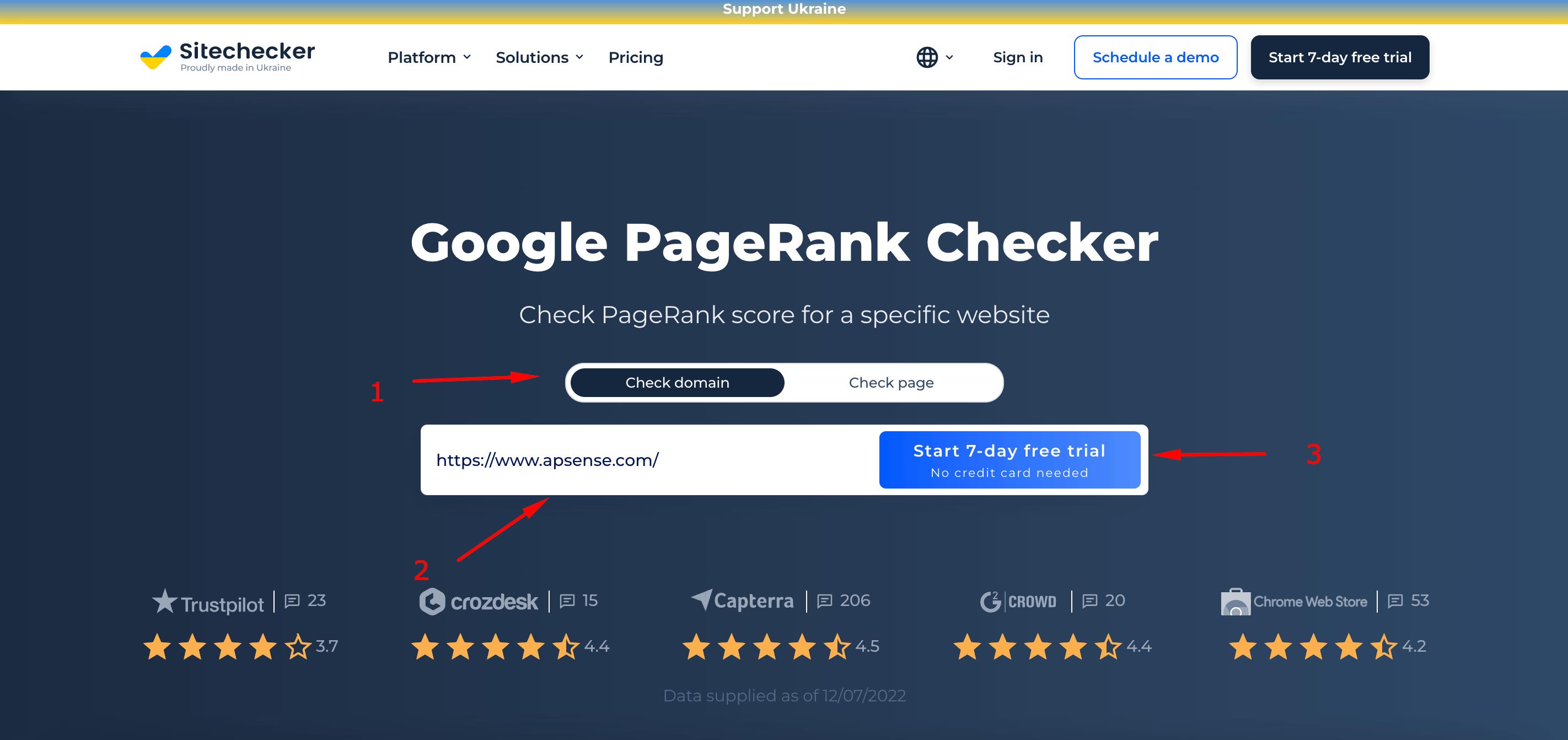 Step 2: Results analysis
In the "All pages" category, you can find data about your page weight and sort it. The greater the Page Weight, the more links that point to the website and the more authoritative they are (in comparison to other websites). Check and improve the score of all the pages of your website.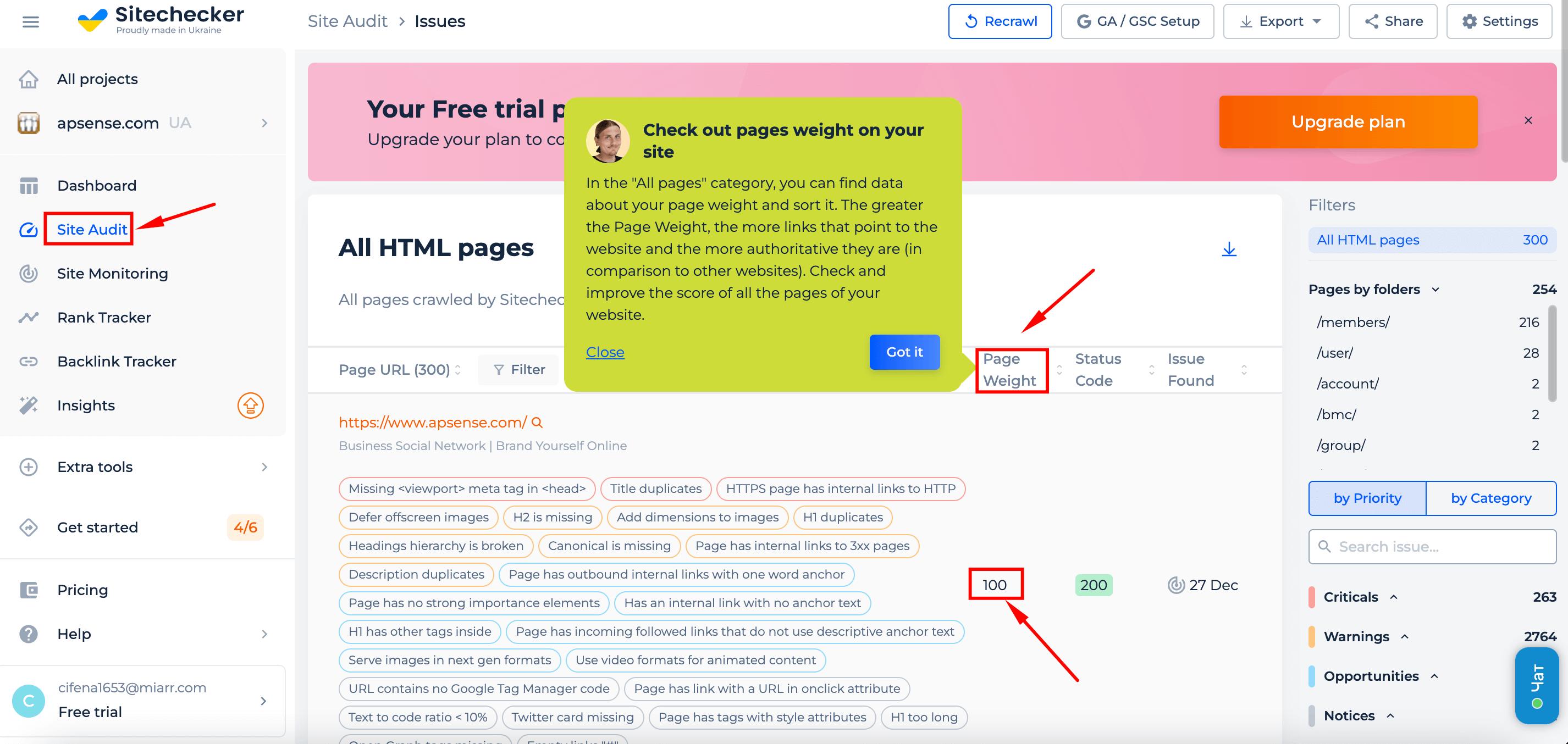 Other features of the page rank tester
Our powerful page rank tester will provide you with a comprehensive website audit and assessment, designed to help you identify and address any issues that could be negatively impacting your website. Every audit report comes with step-by-step instructions on how to correct the problems that have been identified, as well as allowing you to easily sort the issues by type.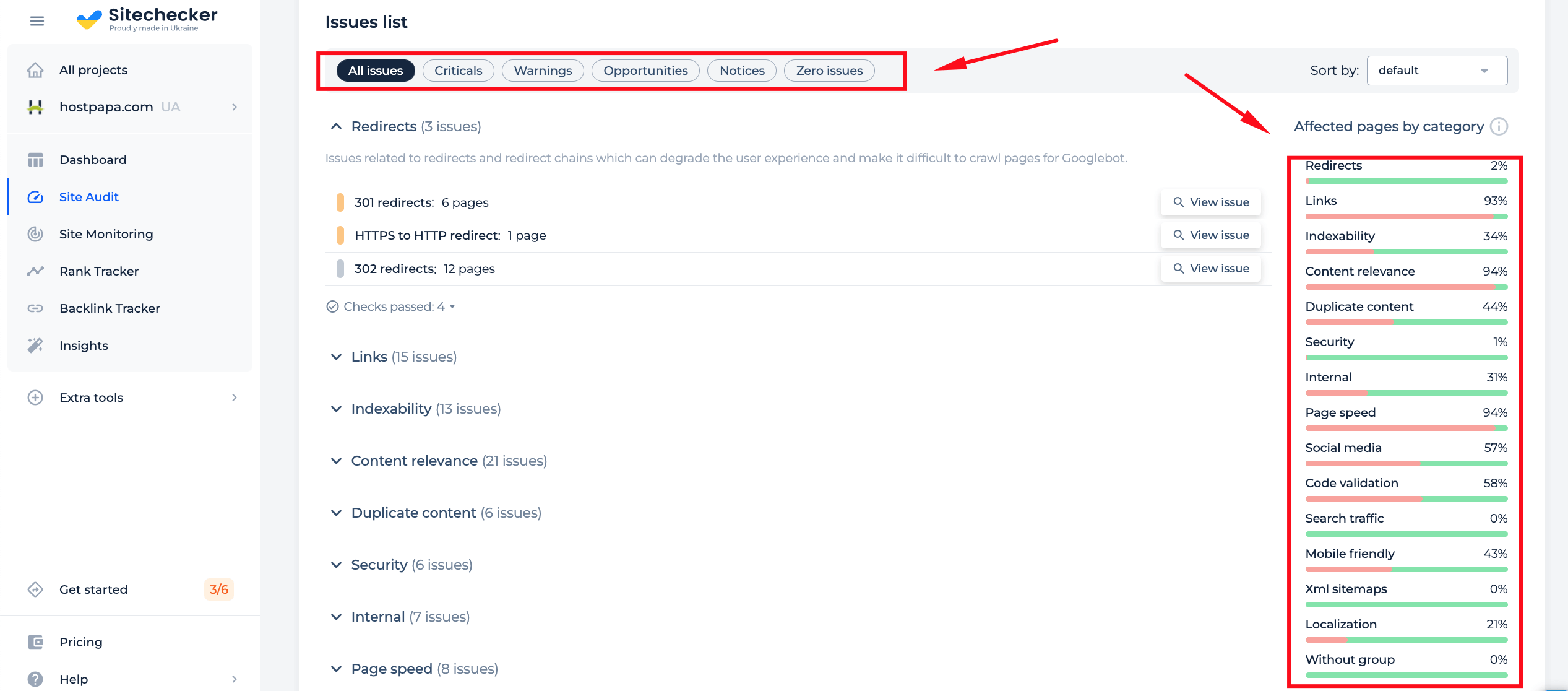 URL Check
Step 1: Insert your URL and start a trial
With just one click of a button, you can begin your free trial and insert the URL of the web page that you would like to analyze.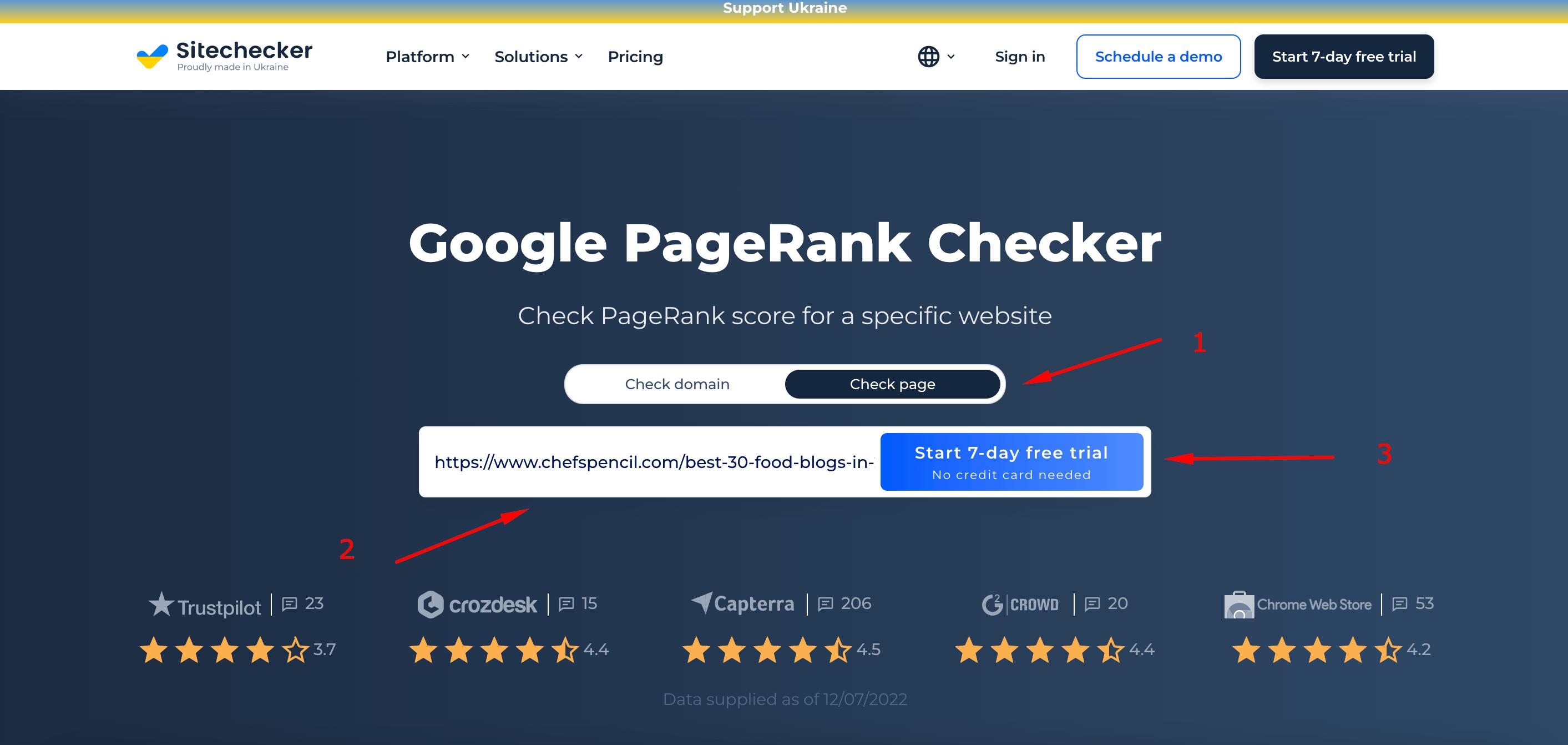 Step 2: Results check
By harnessing our advanced tool, we can quickly perform a crawl of your website and analyze the data associated with the weight of a specific page. Here you can see the weight of your page. The greater the Page Weight, the more links that point to the website and the more authoritative they are (in comparison to other websites). Check and improve the score of the analyzed page.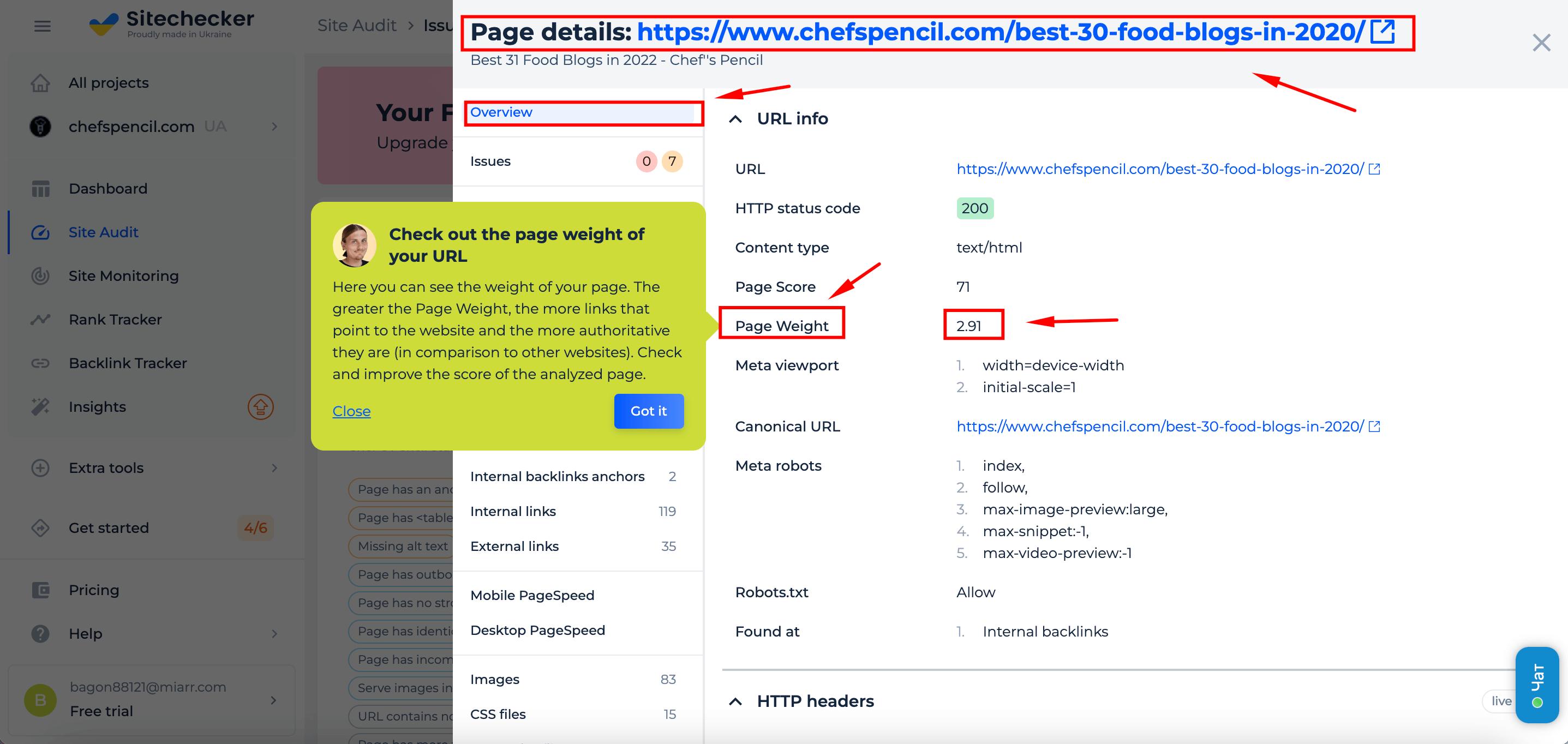 Unlocking Incredible Possibilities – Discover What Our Validation Tool Has to Offer You
The page check function is a useful tool for finding issues with a given URL, such as content quality, language adaptation, loading speed and other potential issues. Using this function can be an important step in improving the performance of your website by proactively detecting any possible problems.

If you're looking to ensure that your other pages won't be hindered by page weight issues, then you can use the tool to investigate any desired URL.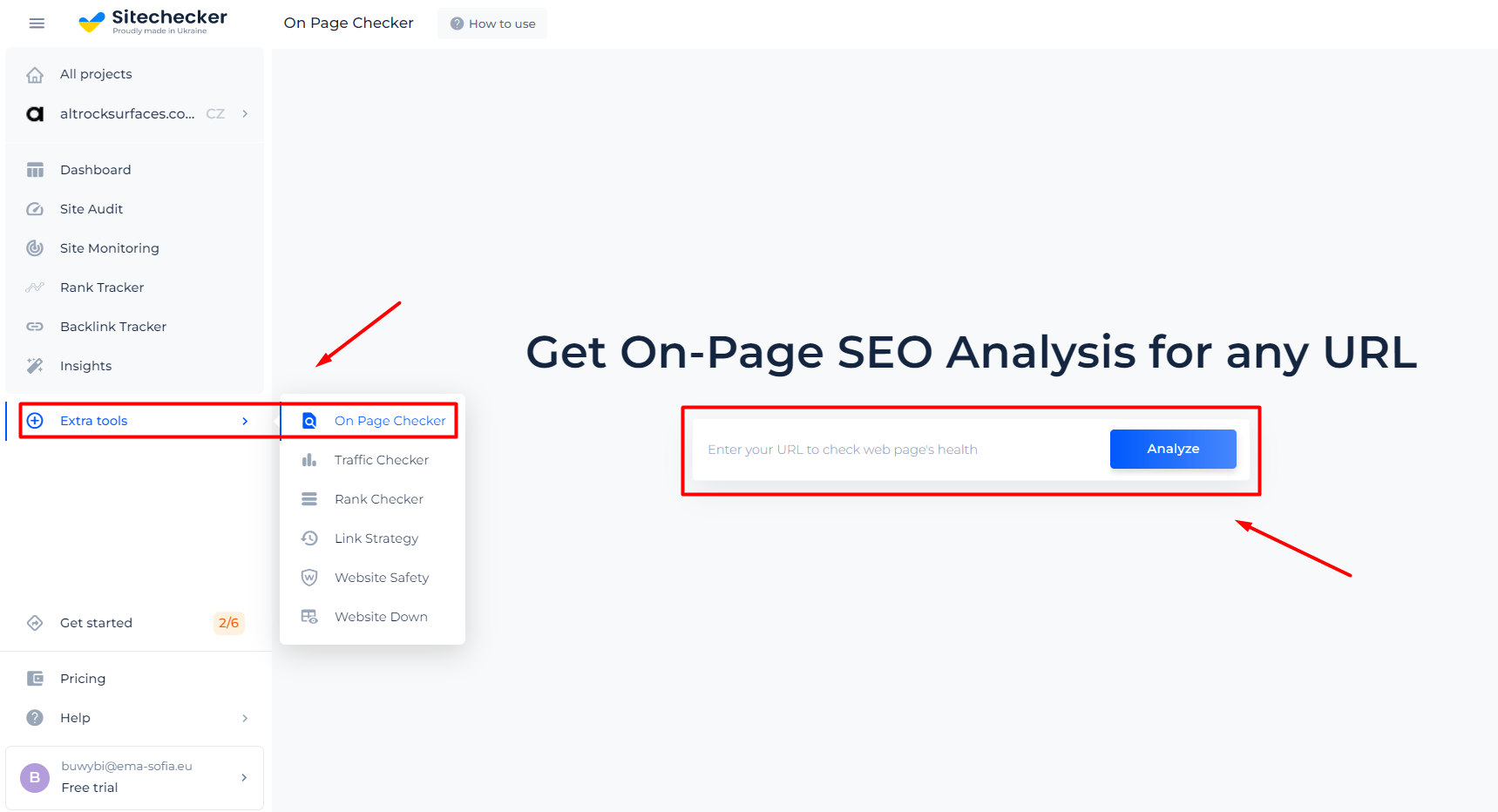 For more detailed results, watch this video on how to perform a complete site audit on SiteChecker:

What Is Google Page Rank?
One way to characterize a website's importance is to define its domain authority, which is entirely determined by the number of other authoritative websites that connect to it. The more authority a website has, the more weight it has for outbound connections.
The ability of a web page to match a search query for which it is listed in search results is referred to as page relevancy. It also has to do with the anchor text of the hyperlink it goes to.
Figures ranging from 0 to 10 are used to define PageRank. Websites that were recently founded and have no inbound links have a PR of zero. The greater the PR, the more links that point to the website and the more authoritative they are (in comparison to other websites).
The relevance or importance of an internet page is determined by Google PageRank. The website PR was previously visible to all users and developers; however, it has now become closed information, and you cannot identify the website PR despite the fact that Google continues to use the same metrics. It is believed that Google withheld this information to encourage webmasters to focus more on creating high-quality content and building natural link profiles rather than imitating the activities of competitors' websites.
PageRank is only one of the many factors that influence the rank of a page in a search query.
How is PR calculated?
Google selected several factors to consider when allocating sites in SERPs rank. However, because numerical features were required to evaluate the site's relevance, the best method was to employ link profile as a factor determining website ranking. It's reasonable since it is founded on the assumption that a site will only connect to another if the first one has useful content. The coefficients that establish website authority also make it possible to calculate PR fairly.
When a website links to your website (link donor), you gain PR points, which improve your PR. And the number of PR points you earn is determined by the link donor's PR.
As a system, it appears to be straightforward. In actuality, however, Google employs complex arithmetic algorithms and dependencies to determine how many PR points a webpage has earned and the website's PR. It can be tough to ensure that a website's PR was calculated appropriately in order to provide the greatest results for users. You need to figure out how to establish a fair relationship between the number of inbound links and their authority.
To calculate the Google PageRank of your site, use this formula:
PR(A)=PR(B)+PR(C)+PR(D)
Where page B linked to pages C and A, page C linked to page A, and page D linked to all three pages stated previously. If you're still unsure about the calculation, you can utilize SiteChecker's online PageRank checker or API Open PageRank (for bulk URLs).
How is PR transmitted?
Page rank is transmitted from page to page along with links. When you click on a link on one web page, your browser issues a request to load another page. In response, your browser receives two pieces of information:
There's another document at some other URL
How authoritative (or not) that document is
The second piece of information is sent as part of an HTTP header in code that looks like X-Robots-Tag: noindex or X-Robots-Tag: nofollow or just nothing at all.
How PR Impacts SEO
PR impacts SEO for individual pages and for websites as a whole. This can be especially helpful when doing local SEO. When people search on Google, results with higher ranks will show up higher on their screen. For example, if someone searches for "law firms in Atlanta," then Google will determine which law firms are most relevant based on their authority and other metrics.

Analyze not only Page Rank but the entire site!
Make a full audit to find out and fix your technical SEO in order to improve your SERP results.
What does Google say?
According to Google, PageRank is Google's best guess at determining a given page's importance and relevance to a user. In short, it measures how important you are in your industry.
How to get more pr points with internal activity
Internal link development is a good way to improve your search rankings and overall PR by increasing the weight of your web pages. You should use specific anchor text for backlinks on web pages and ensure that they go to relevant material on your website. Check your website's SEO here.
Why use nofollow?
The nofollow command is used for three key reasons. They're all linked to the fact that you don't want the weight of your site's external links to decrease.
Due to the Google Nofollow usage guideline, if the link is sponsored (paid link in the text or on an ad like a banner or teaser), you must employ the nofollow command; otherwise, Google may consider you to be doing black SEO tactics to promote other websites. This, in turn, can lower your PR.
It's critical to only create relevant content and link to relevant websites, as both of these factors influence Google's decision on which page to rank first in search results. If your site's theme is cooking and you include a link to a website with hi-tech information on one of the pages, make sure you use the nofollow command to prevent Google search robots from lowering your website's page rank.
Google considers a link suspect if it leads to a site with suspicious traffic, fraudulent activities, or a new domain. As a result, make sure the website you're linking to is trustworthy; otherwise, the nofollow command should be used.
If you don't have a proper link-building policy in place, your website will most likely be banned by Google, or your PR will plummet. Each year, Google refines its standards and algorithms to identify the highest-quality sites and rank them top on the first page of search results.
Interested in google site rank and page ranking tools and how to utilize the page rank google checker? Here in FAQ are some tips on seo tools pagerank.
FAQ
How do I check my Google page rank?
Use our Google PageRank Checker: insert the website's URL and examine the results.
Is Google still using PageRank?
Yes, it is a part of Google's algorithms.
What is a good Google page rank score?
Google page ranking of 4 and up on a scale of 0 to 10 is good.
Can you rank on Google with Google sites?
Yes, you can, especially if your content is valuable, compelling, and relevant.
How do I find my website's Google ranking?
You can check your website rankings, visibility rate, and indexation progress with the help of our Rank Tracker.
Is PageRank algorithm still used?
Yes, Google search engines use it internally together with many other signals.
What search engines use PageRank?
Google Search uses PageRank.