If you want to know how many outgoing links a particular page on your site or someone else's site contains and what anchors are used, then our tool External Link Checker will help you check this information.
Search engines are critical in evaluating the number of outbound links that lead from your site to others sites. If you link to poor-quality sites, it can be detrimental to your site's search engine ranking. At the same time, external links to reputable resources can be a nice bonus in building your site's search engine ranking. This will give you more user traffic and link weight. It is a great optimization strategy.
If you put a nofollow tag, search engines can also lower your ranking, so don't forget to share link weight and traffic with other sites. We created the External Link Checker to check and track all outgoing links from pages on your site to increase your SEO. All you have to do is run the checker for a particular URL, and you'll get a complete list of all outgoing links from that page. It sounds simple, but it's even easier.
Let's get into the details and learn how to use the External Link Checker.
What are External Links
An external link leads from your resource to any other resource. You may have used such links when you took information from another site and cited the source. You may have exchanged links with affiliate sites to increase user traffic. Either way, using outbound external links is an important step in optimizing your site for search engine requirements. This fact means that you need to check your outbound external links regularly and see if you're missing out on a low-quality source. Don't neglect the opportunity to use our tool; it's free.
You've probably heard by now that external links on a site are an essential ranking factor. They play a significant role in building your resource's reputation among both search engine robots and users of your site. If you link to a low-quality site and do not find the necessary information when clicking on the link, the user will no longer trust you. Similarly, search engine crawlers will determine your site to be of lower quality than you would like it to be.
External links are also the basis of Google's "Page Rank" algorithm. The more links from other sites lead to your page, the more credibility that page deserves. Therefore, it is important to link to other sites and get links to your site from them.
Leading search systems to measure the value of external links with the help of the following specific metrics:
The number of references to the same page on the source location;
The domain trustworthiness;
The page popularity;
The relevance of published content on the source and mark pages;
Root domain's quantity that links to the page;
Proper anchor building.
Let's understand all the nuances in more detail and determine why it's so important to track outside links.
External Link Checker Tool: A Step-by-Step Guide
Suppose you want to examine your entire web site, audit each URL one by one to check for external links. Let's go through the tool External Link Checker step by step.
Step 1: Insert your URL
To use the free External Link Checker, simply enter any URL in the input box and press the enter key. In this way, you can send a request to our External Link Checker. The tool will analyze your domain and show you all the outgoing links on the page you are analyzing.
For the example below, we checked https://sitechecker.pro/ website.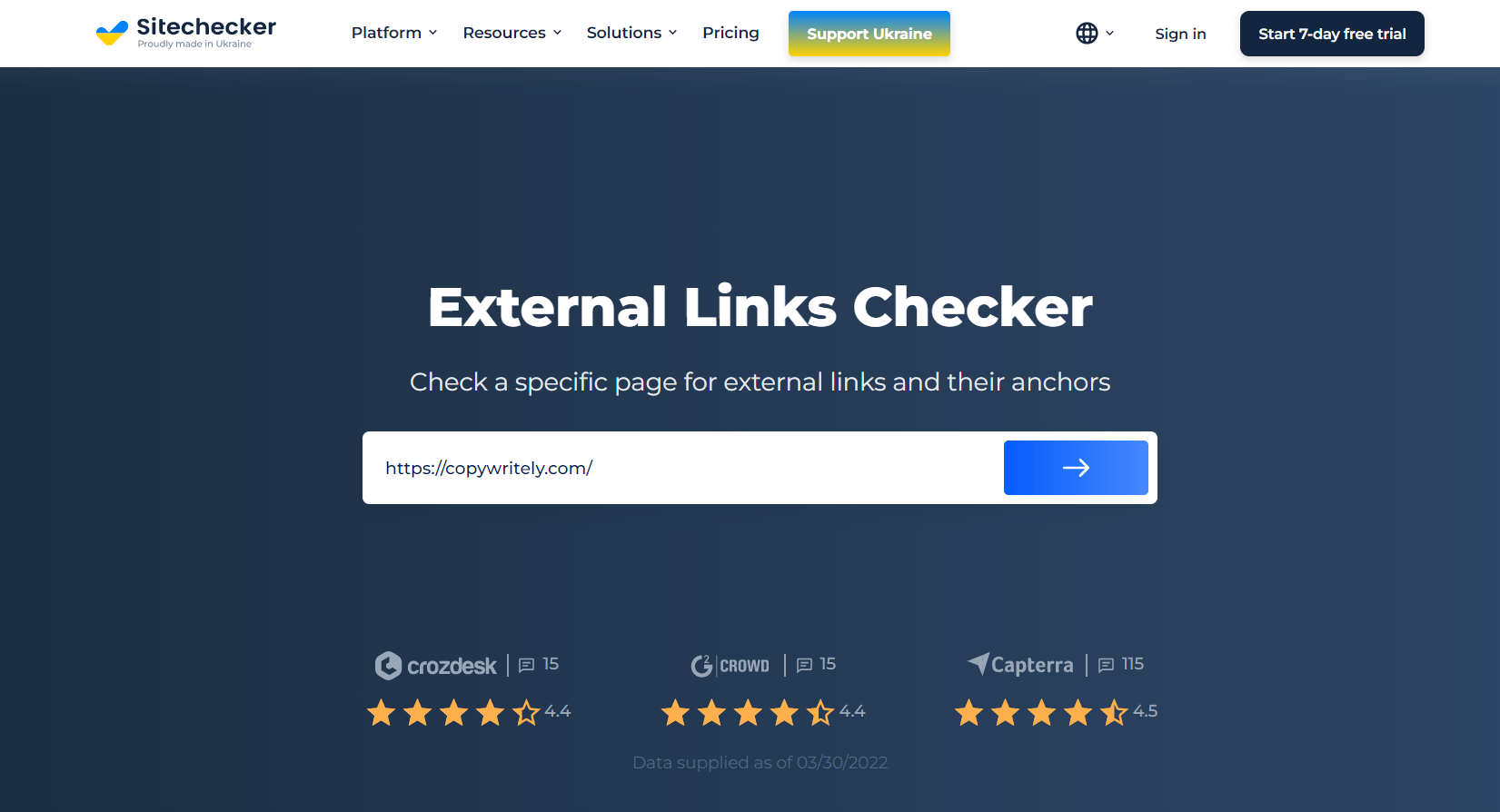 Step 2: Interpreting the External Link Checker Results
In the results of our finder tool, you will see a list of all outgoing links present on the analyzed page, their anchors, and the server response code.

Importance of Outbound Links Checker Tool
It is quite difficult for search engine robots to know the rank of your resource, while with outer links, this process is much easier. Use outbound external links on the pages of your site to make a good balance of the Page Rank. The page should not only receive but also give away link weight. If your page is a dead-end, it will not reflect positively on the search engine ranking.
Outgoing link is a kind of authority factor of the resource. If you are referenced, you create quality content; it means you are read and trusted. Think about another ranking factor, such as content relevance. The more your content meets the needs of users' search queries; the more likely your site will be in the top spots. External backlinks should contain content relevant to your article's topic. Otherwise, search engine crawlers will consider your site as a spammer site. That will harm the ranking. As a result, you will get less traffic than you would if you followed search engines' recommendations. Therefore, we strongly recommend regularly monitoring the ranking algorithms and following search engine optimization tips.
Very destructive if your strategy links to a huge number of useless links. So you do not show search robots of your authority and relevance, but only on the contrary. When optimizing your site for the search engine results page, remember the quality of your content. Outbound links are also part of your content, so give them the attention they deserve.
The External Link Checker is an indispensable tool for monitoring and controlling the outbound links to your site. Simply enter the link of interest from your site or a competitor's site and get a complete list of the external online links that are contained on that page.
Detect and analyse not only external links but also other kind of SEO issue on your site!
Crawl your site and find out all kind of issues that can hart your users or your website SEO.
FAQ
What are the two main reasons behind hyperlinks' importance?
The hyperlink is a link between all the websites on the Internet. It is an opportunity to move from one site to another. With their use, site owners can get additional quality information from different sources. In addition, hyperlinks also affect search engine rankings. It is an important ranking factor that you need to watch to get higher positions in search engine rankings.
What are the other ways to find external links on my website?
There are other ways to check outgoing links. For example, Google Search Console or Moz Link Explorer. Similar to our External Link Checker, these tools show information on outgoing links and their anchor text.
How to make your page relevant?