What is External Linking Checker?
The external link analyzer is a professionally crafted tool that lets you identify and track all outgoing hyperlinks from any specific page on your website, covering each URL. Moreover, it assists in identifying and rectifying any issues related to outbound hyperlinks on your website. Besides, this tool also helps you develop and implement an effective outbound link strategy.
Key Features of the External Link Finder
What can this tool do?
Gather extensive data for each URL on your website, such as status codes, dofollow / nofollow statuses, and anchor text.
Identify outbound linking errors, compile a thorough list of problematic URLs, and offer clear guidance for addressing these issues.
Consistently track and monitor changes, providing round-the-clock 24/7 coverage including backlinks tracking, and maintaining a complete history of modifications and errors.
Our all-inclusive SEO platform delivers more than external linking analysis, encompassing a comprehensive SEO audit (on-page & off-page), rank tracking, site monitoring, and additional features.
Why You Need an Outbound Links Checker Tool
Search engines evaluate outbound links from your site. Those directing to low-quality sites harm your search engine ranking. Conversely, external links to reputable resources can enhance your position and increase user traffic.
Striking a balance in Page Rank is essential, as your site should both receive and give hyperlink weight. In addition, outgoing links serve as an authority factor and should contain relevant content to avoid being marked as spam.
Visit our external linking wiki page for more information and details. Mind that regular monitoring and evaluation strengthen your strategy, which makes our tool an excellent choice for this purpose.
How to Use the Outgoing Links Checker Tool?
Suppose you want to examine your entire website and audit each URL one by one to check for external links. Let's go through the external link checker tool step by step.
You can either scan a domain or a specific page — it's up to you. After selecting which option you need, input the URL or domain into the provided space. Starting your trial takes seconds and is free of charge! Soon after you begin your free trial, the tool will analyze data.
Follow our step-by-step instructions below.

Domain Check
Step 1: Start the free trial by entering your domain
To check a domain, click the corresponding button and fill in the blanks with your domain name. Once you do that, hit the free trial button. You don't need a credit card for this! Just log in using your Google or Facebook account to start your trial period. Seriously, it's that easy and fast!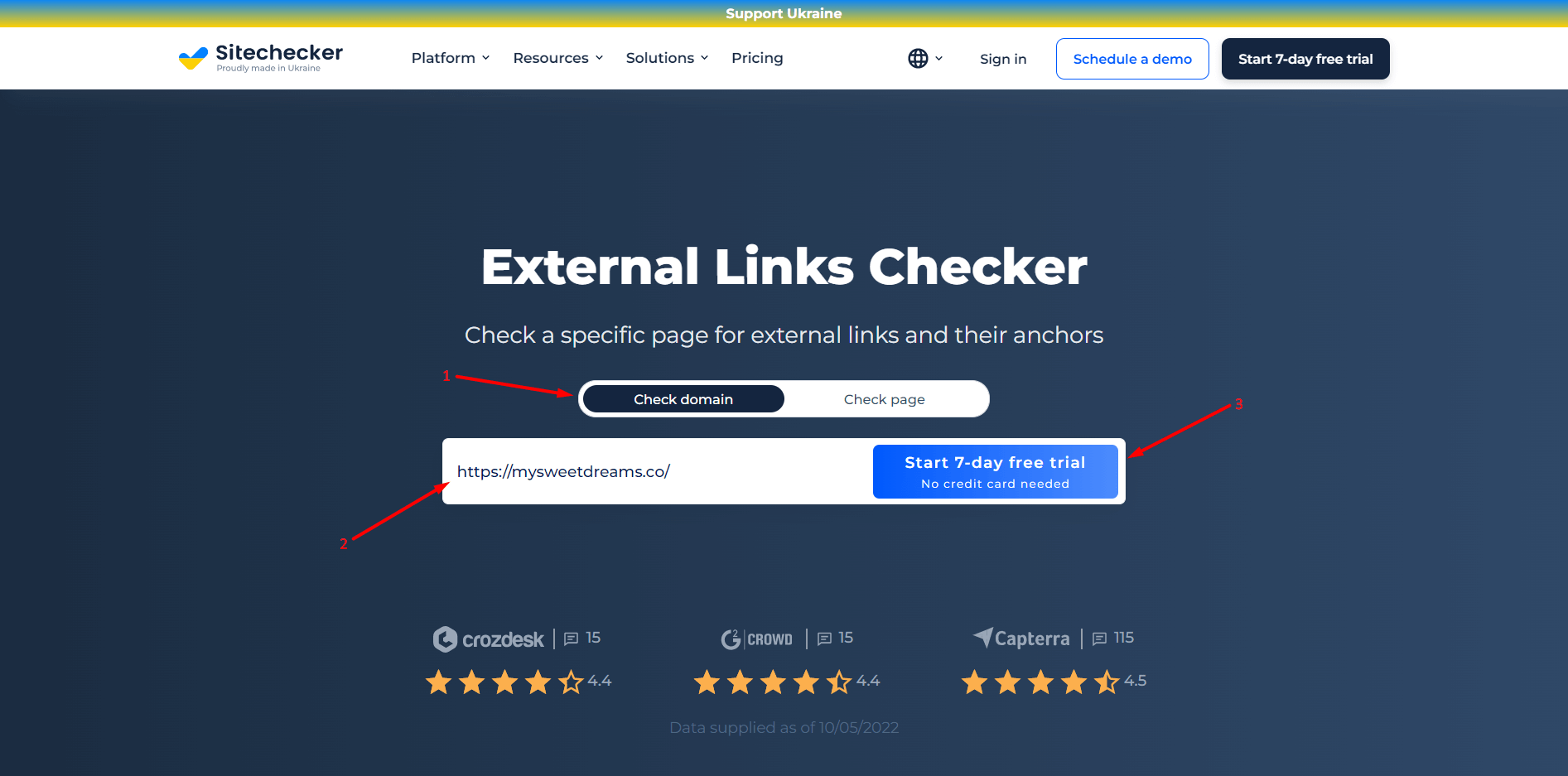 Step 2: Get the website external link checker result
A free full-site audit is included when you scan a domain. Our crawler discovers issues with external links, such as status code problems, among other things. It will help you fix the whole site's external hyperlink problem and determine whether any new issues will arise.
Find the list of URLs with that problem by clicking on the issue. A button to show the internal connection for broken pages and how-to fixing tips are all there.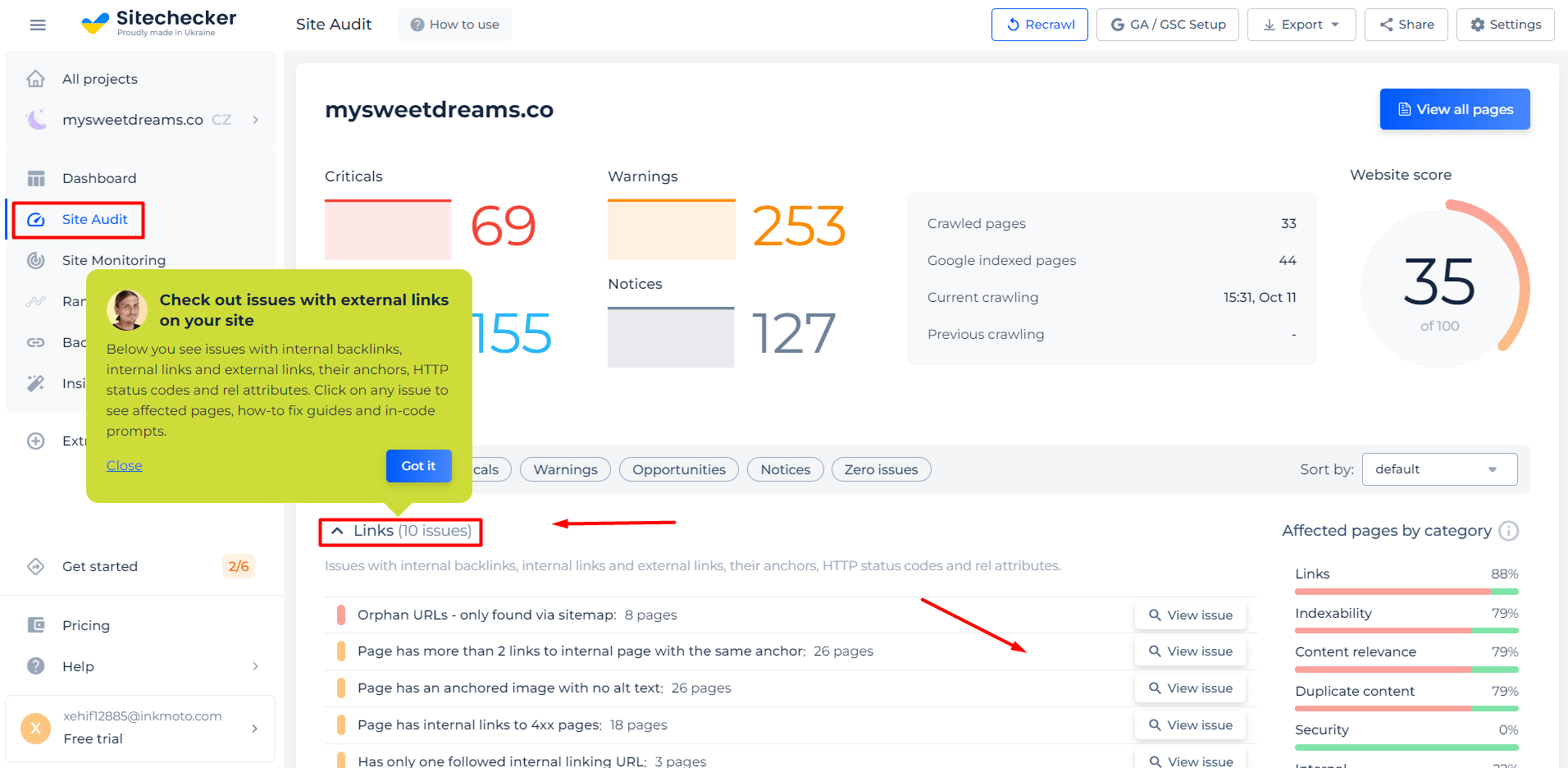 The domain/website external link scanner also has the following features
On the site audit summary page, you'll find an overview of external and internal link problems. You may filter issues by categories, such as Criticals, Warnings, Opportunities, and Notices. Alternatively, you can look at them based on topic type – for example, Indexability, Security, Page speed, etc.
It makes it easier for you to concentrate on the problems most important to your website's success.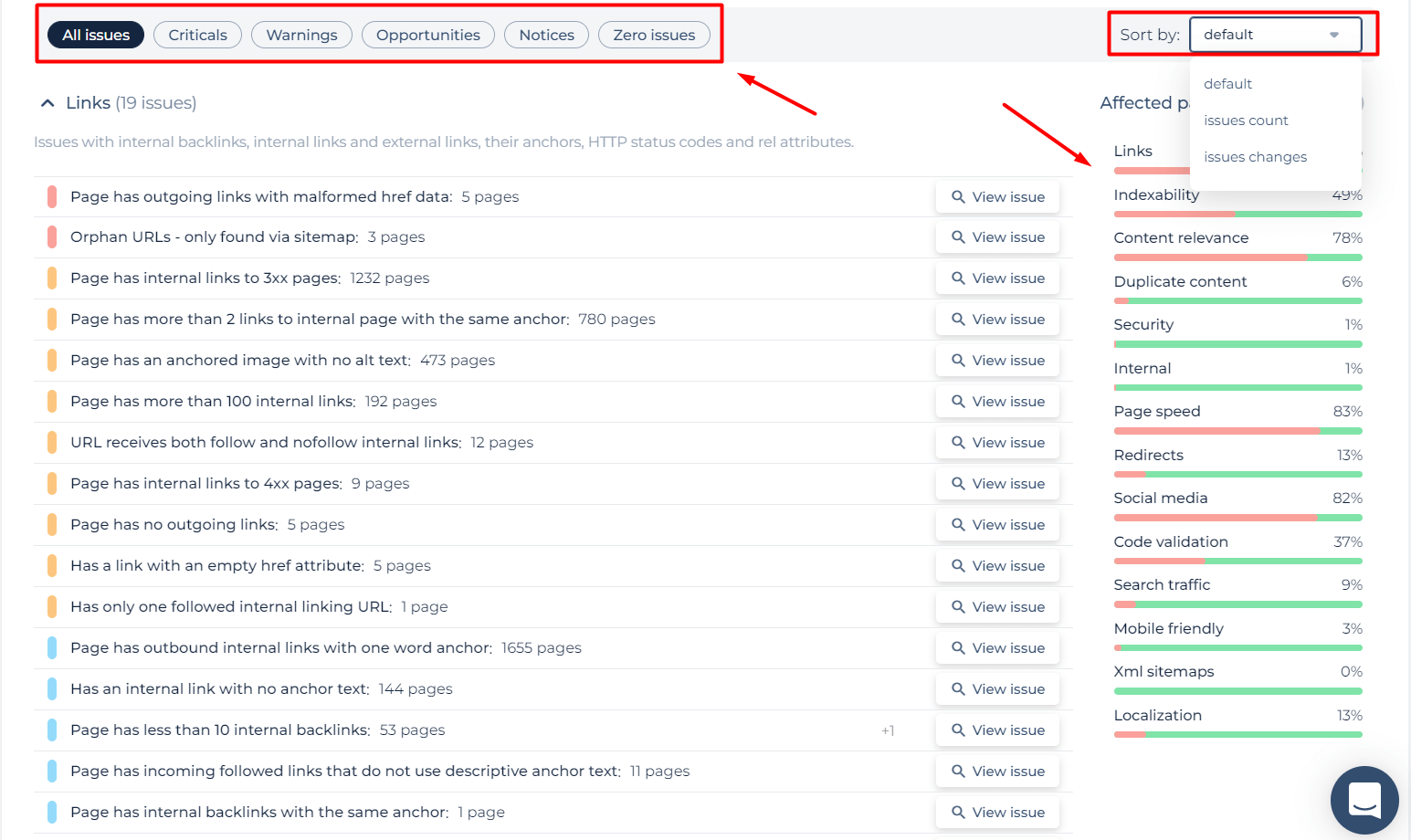 Page Check
Step 1: Insert your URL and start the free trial
Getting started with your free trial is a piece of cake. To start, choose "Check page", type in the URL, and click the free trial button. No need to share your credit card info! Just confirm your email address or use your Google account.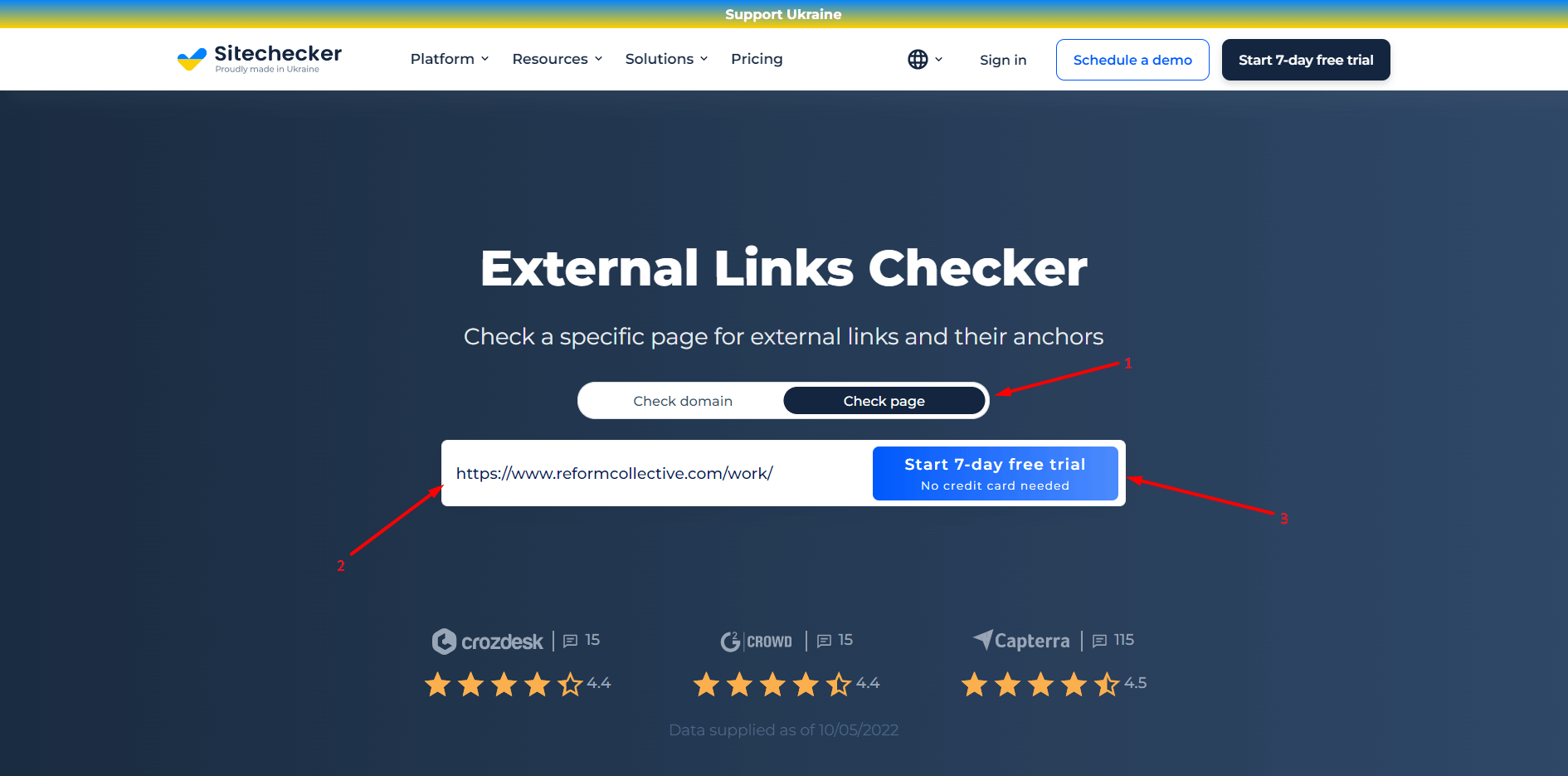 Step 2: Interpreting the result
The first thing we do is crawl your site, giving you detailed results with page information, including data on external links like the URL, do-follow status, and anchor. Furthermore, you can refine the data using available filters or search for a specific URL if you are interested in a particular one.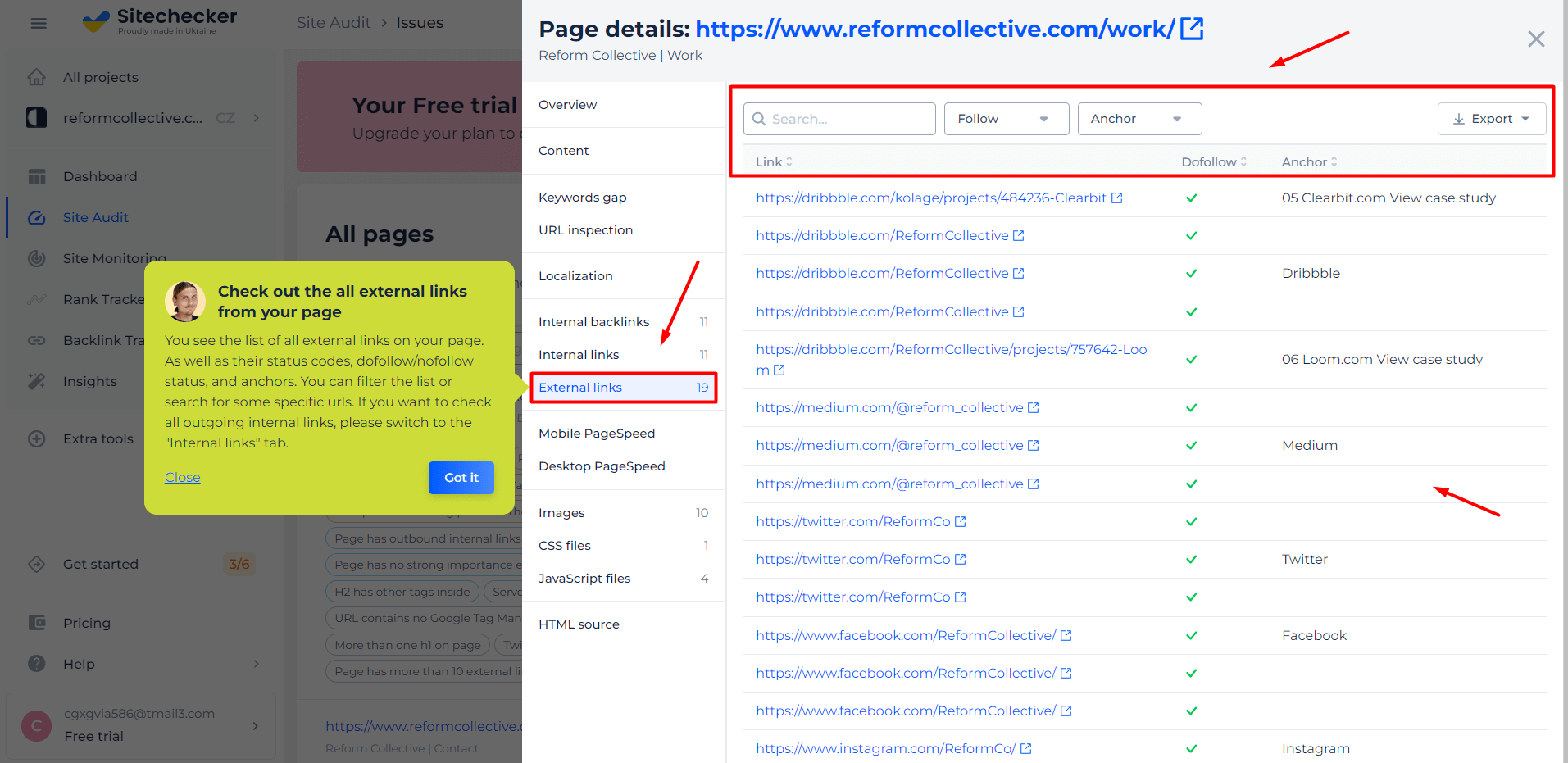 Features of URL external link checking tool
Likewise, if you want to explore other types of references on the page, like internal links or internal backlinks, simply switch between categories.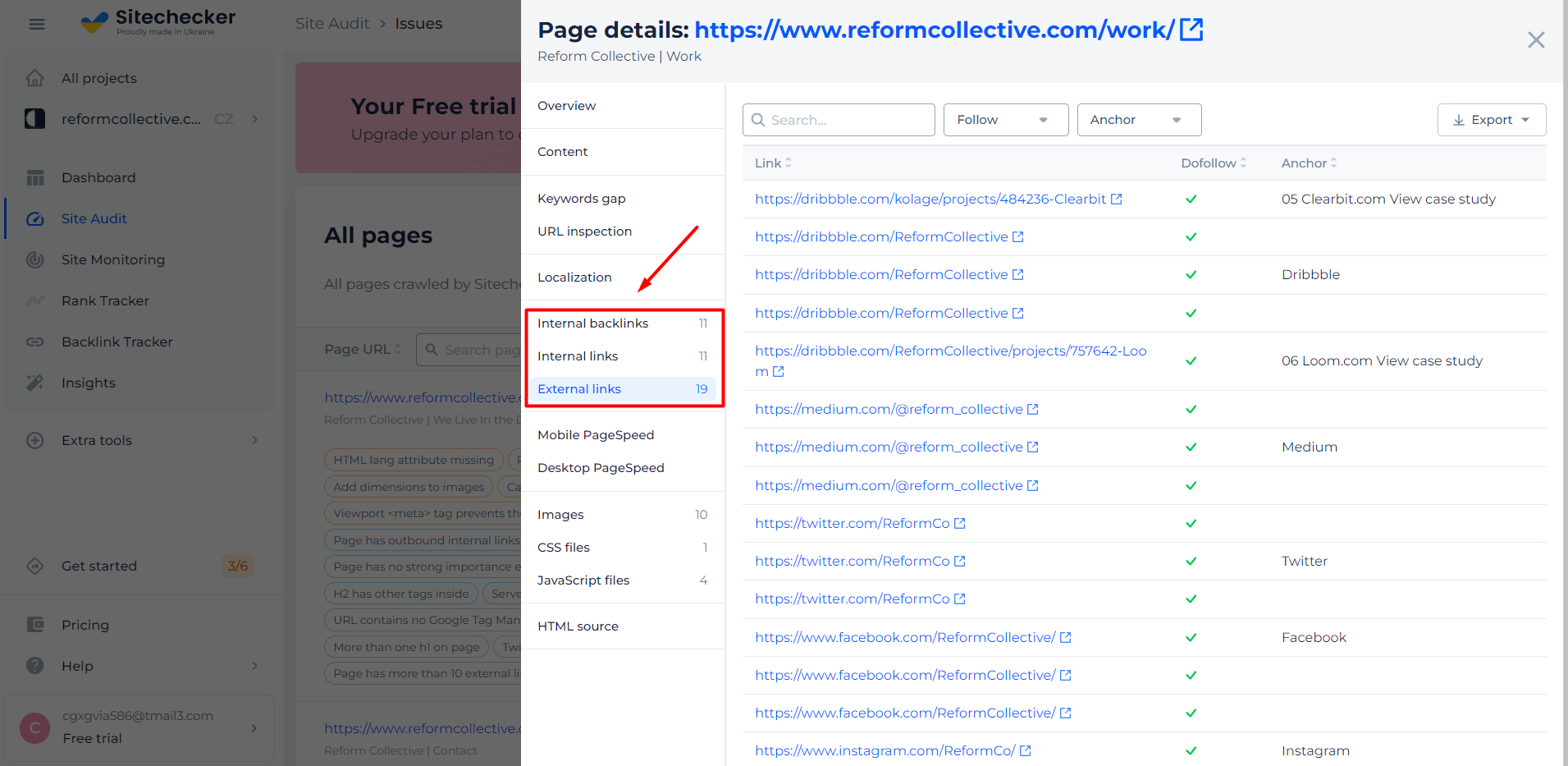 You may use the page test to look for additional issues like content, localization, speed, etc. By finding these problems, you can enhance your page and website performance.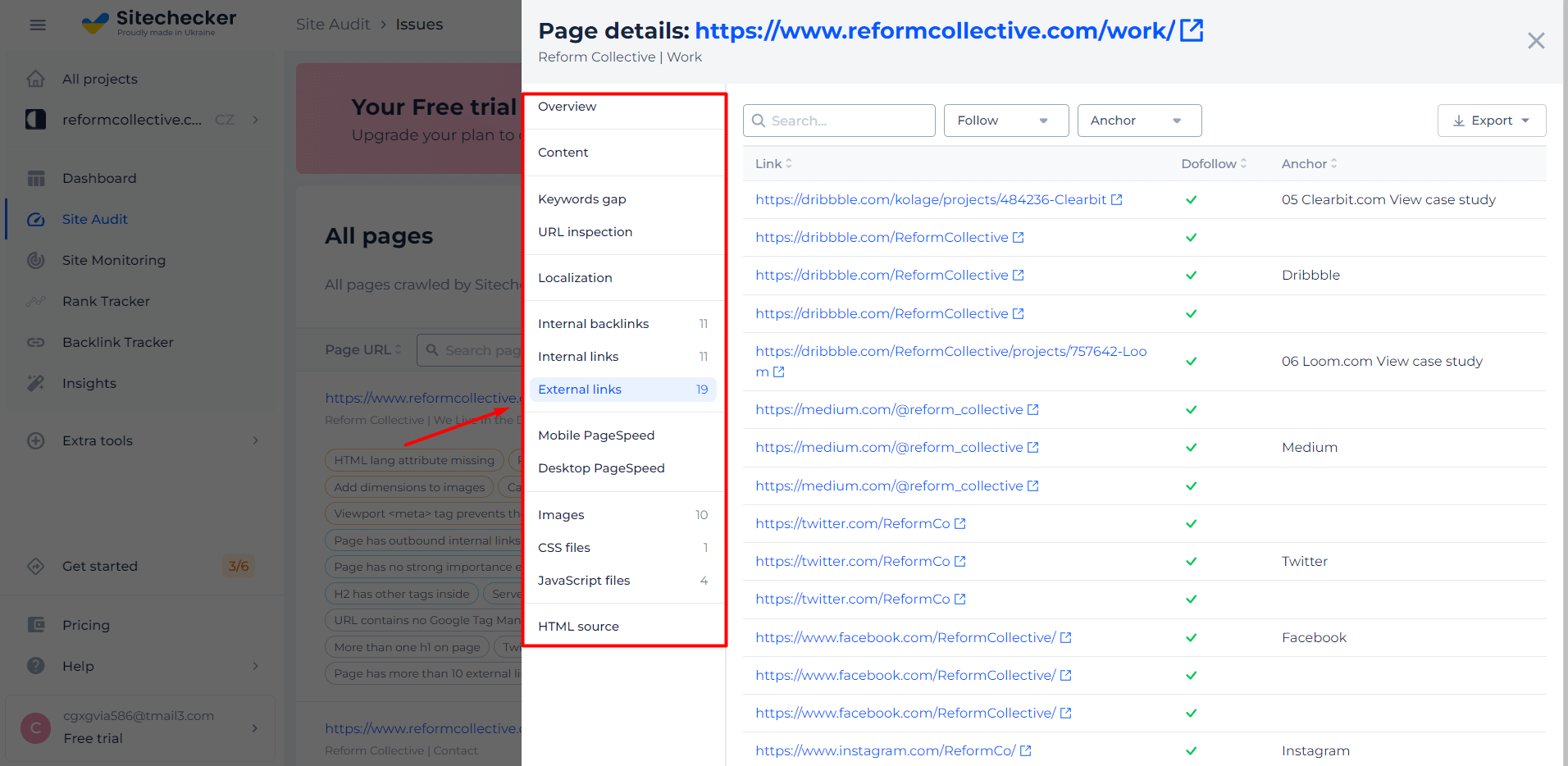 Checking other pages on your site is also easy! Why so? We've already made the audit for your site. So just close your page details, and on the "All pages" section, enter the URL you're interested in into the search box. You can get more information by clicking on the URL.

Concluding Remarks
The outbound external link checker is a professionally designed tool that helps find outbound links and track them for specific pages on your website. Key features include collecting extensive data for each URL, identifying linking errors, and providing round-the-clock monitoring. This tool helps strike a balance in Page Rank, check, and keep outgoing references relevant and authoritative. The SEO checker offers both domain and page checks, providing users with detailed results and suggestions for improvement.
FAQ
How to check external links on website?
To inspect outbound external links on a website, use Sitechecker's tool. Select the domain or page check option, enter the URL or domain, and start the free trial. The tool will analyze the data and prepare comprehensive results, including details on outbound link URLs, dofollow statuses, and anchor text. This process will help you identify and resolve any outbound reference-related issues while giving insights into an effective strategy.
How can I check if a link is safe?
If you need to verify whether a resource you want to link to is safe and not spam, you can use Sitechecker's website safety tool at https://sitechecker.pro/website-safety/
How do you check if a link is external or internal?
To check whether a link is internal or external, use an external linking checker tool like our Sitechecker. By scanning either a domain or a specific page, the solution analyzes data and provides information on external and internal links, making it easy to differentiate between the two types.
How to make your page relevant?
To improve the page relevance, make all its parts relevant, make a quality site structure, and work on interlinking. Important tip: the anchor should be full of keywords on the same topic as the target pages. So, selected keywords will attract targeted traffic. Nevertheless, it is critical to use different keyword texts, as spam detectors can ban your website.
What are the other ways to find external links on my website?
There are other ways to check outside references—for example, Google Search Console or tools similar to our external link analyzer.