If you want to know how many outgoing links a particular page on your site or someone else's site contains and what anchors are used, then our tool External Link Checker will help you check this information.
Search engines are critical in evaluating the number of outbound links that lead from your site to others sites. If you reference to poor-quality sites, it can be detrimental to your site's search engine ranking. At the same time, external links to reputable resources can be a nice bonus in building your site's search engine ranking. This will give you more user traffic and link weight. It is a great optimization strategy.
If you put a nofollow tag, search engines can also lower your ranking, so don't forget to share link weight and traffic with other sites. We created the External Link Checker to check and track all outgoing links from pages on your site to increase your SEO. All you have to do is run the checker for a particular URL, and you'll get a complete list of all outgoing URLs from that page. It sounds simple, but it's even easier.
Let's get into the details and learn how to use the External Link Checker.
External Link Checker Tool: a Step-by-Step Guide
Suppose you want to examine your entire web site and audit each URL one by one to check for external links. Let's go through the tool External Link Checker step by step.
You have the option to either scan a domain or a specific page, it's up to you and what best suits your needs. After selecting which form of scanning you would prefer, input the URL or domain into the provided space. Start trial takes seconds and is free of charge! Soon after starting your free trial, the tool will begin analyzing data. Still unsure of how to get started? No problem! Just follow our step-by-step instructions below.

Domain Check
Step 1: Start the free trial by entering your domain
If you want to check a domain, click the "Check domain" button and fill in the blanks with your domain name. Once you do that, hit the free trial button. You don't need a credit card for this! Just log in using your Google or Facebook account to start your trial period. Seriously, it's so easy and fast!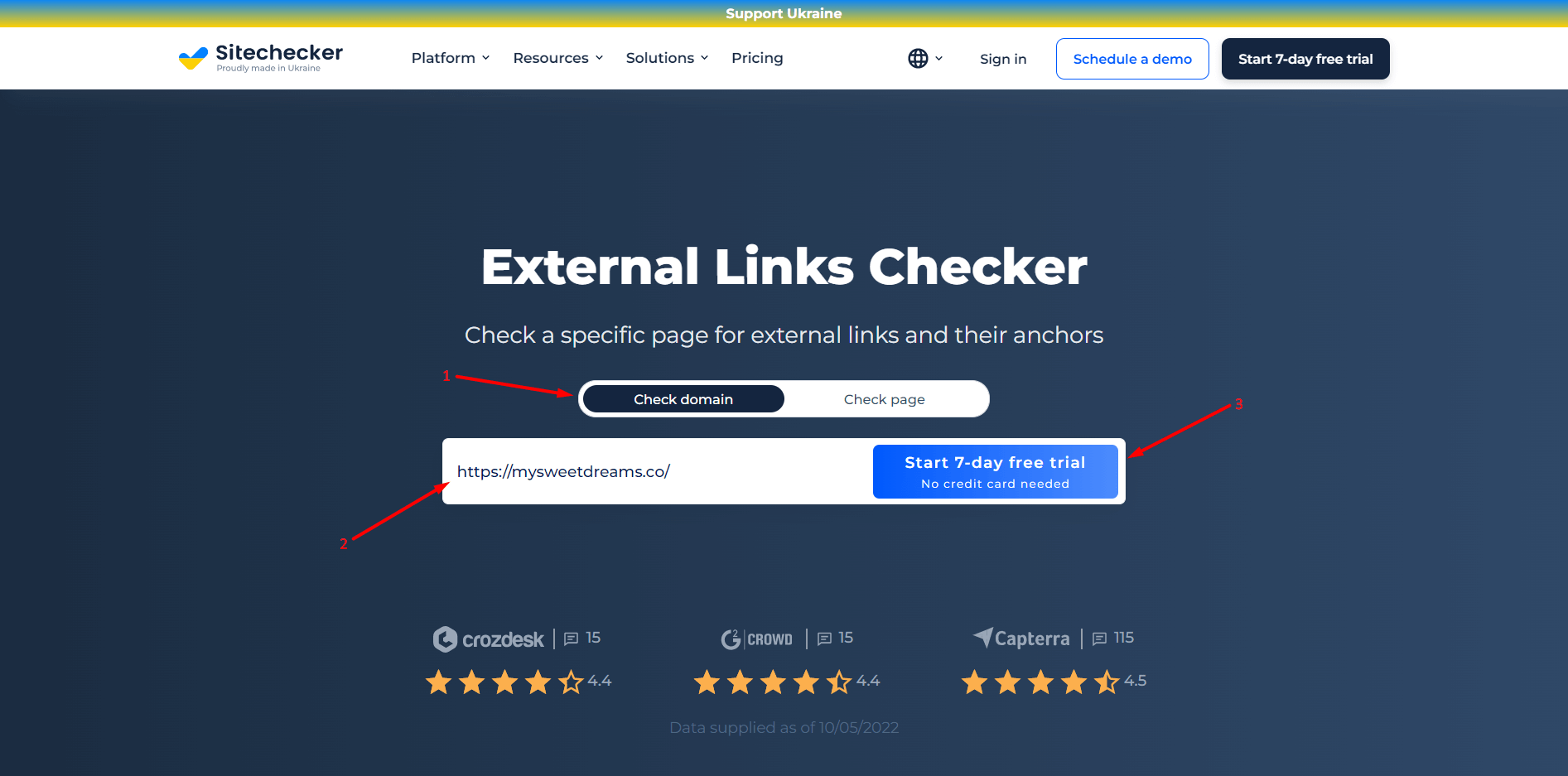 Step 2: Get the result
A free full-site audit is included when you scan a domain. Our crawler can discover issues with external links, such as status code problems, among other things. This will assist you in fixing the whole site's external link problem and determining whether any new issues will arise. The list of URLs with that sort of problem is available by clicking on the issue, a button to reveal the internal connection for broken pages, and how-to repair recommendations are all provided.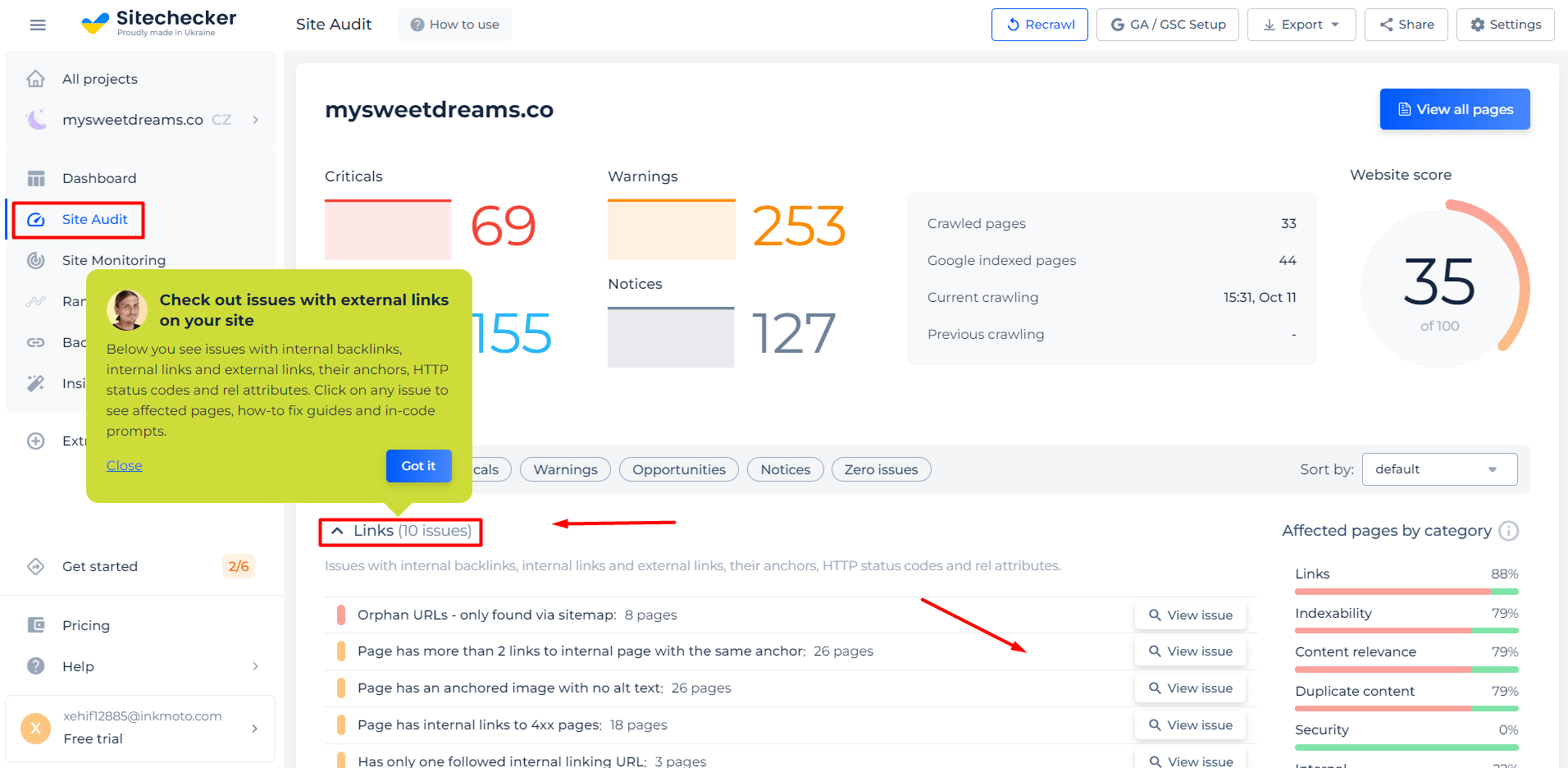 The domain/website external link scanner also has the following features
On the site audit summary page, you'll find an overview of external and internal link problems. You may further filter issues by categories, such as Criticals, Warnings, Opportunities, and Notices. Alternatively, you can look at them based on topic type – for example, Indexability, Security, Page speed etc. This makes it simpler to concentrate on the problems that are most important to your website's success.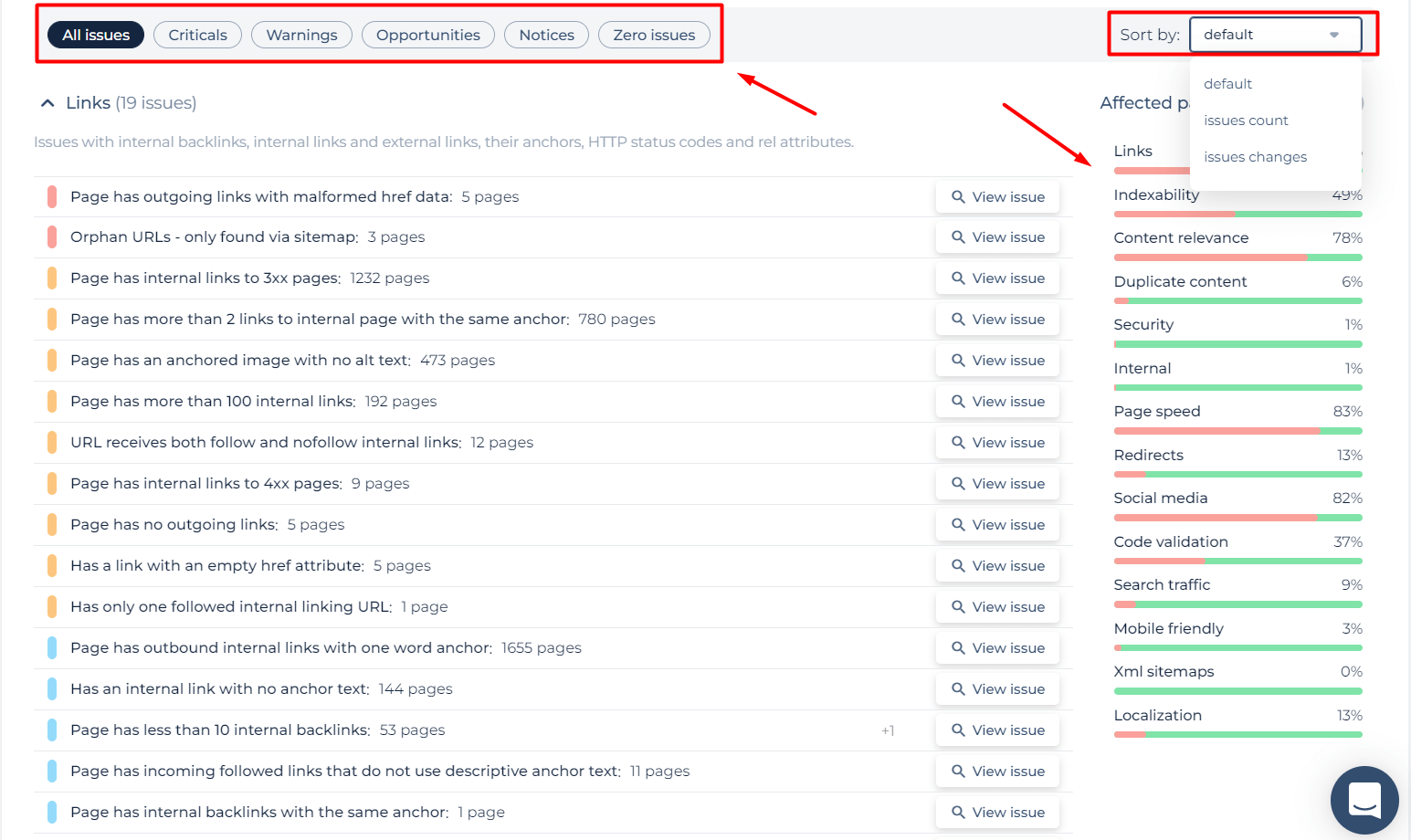 Page Check
Step 1: Insert your URL and start the free trial
Getting started with your free trial is quick and easy. To get started, choose "Check page", type the URL and click the free trial button. You don't even need a credit card. Just confirm your email address or use your Google account.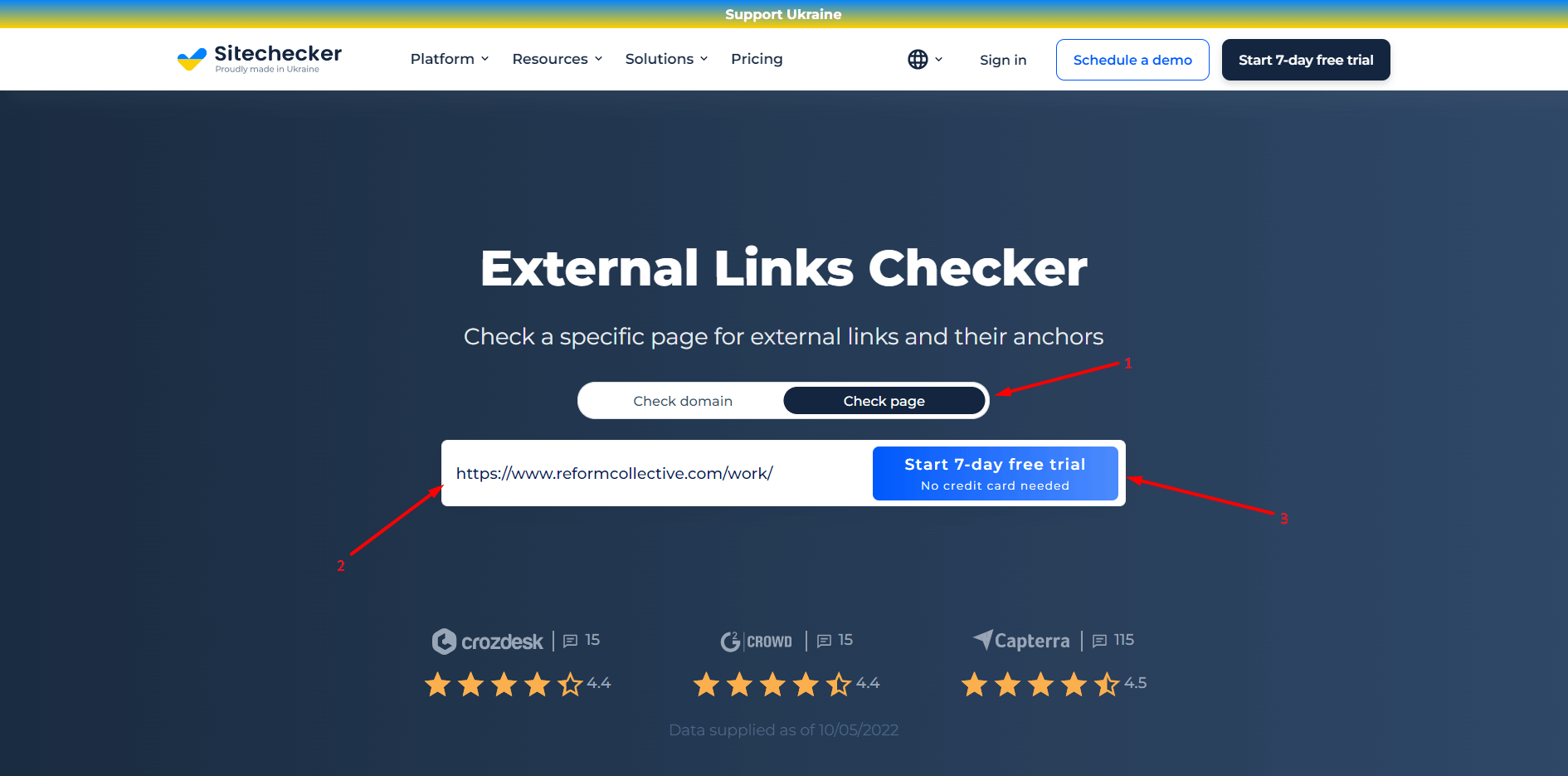 Step 2: Interpreting the external link checker results
The first thing we do is crawl your site, giving you detailed results with page information, including data on external links like the external URL, do follow status and anchor.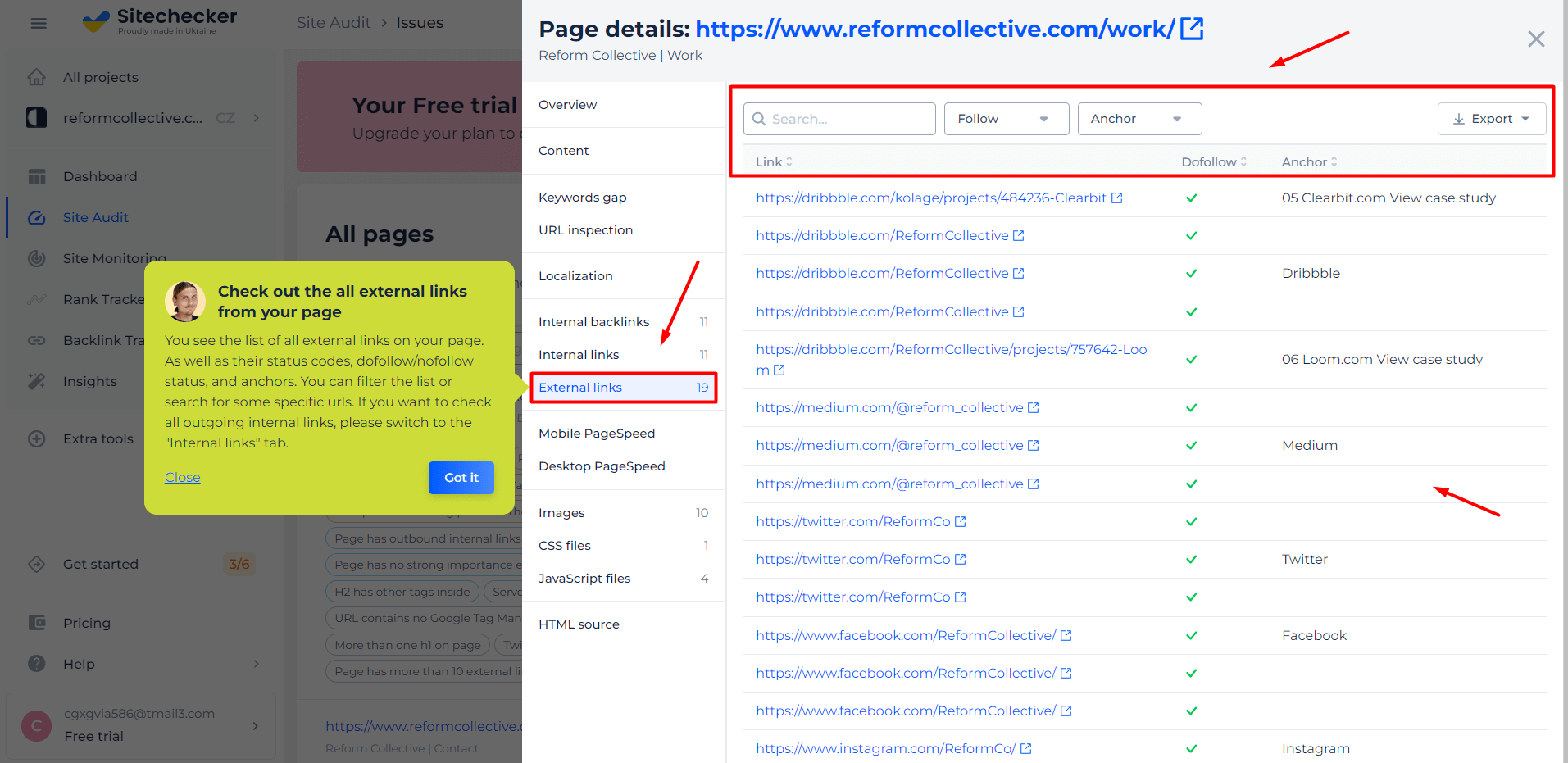 Likewise, if you want to explore other types of links on the page, like internal links or internal backlinks, simply switch between categories.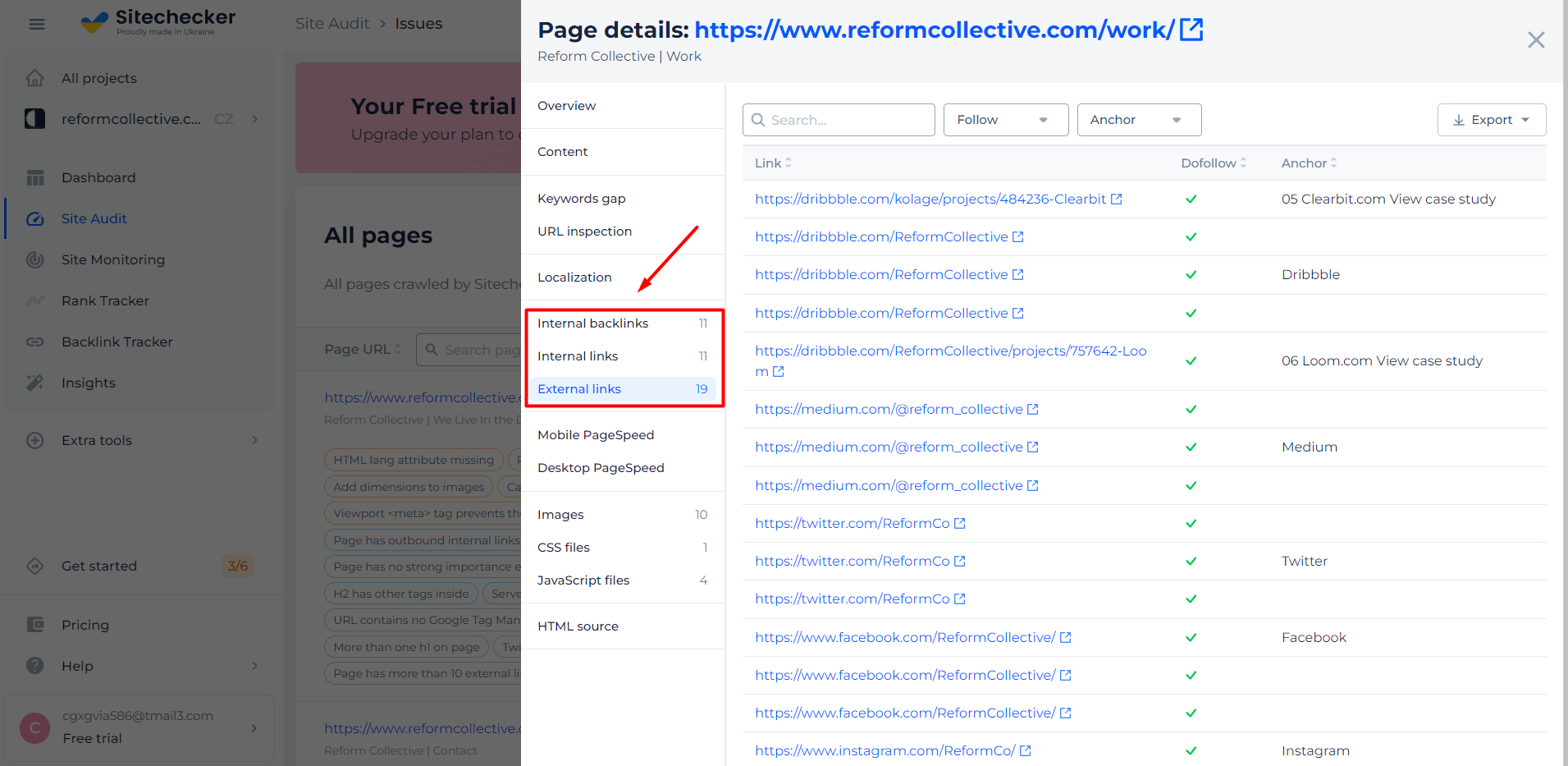 Features of URL external link checking tool
You may use the page check to look for additional issues with the page you're looking at, such as content, localization, speed, and so on. By finding these problems, you may enhance the performance of your page and the whole website.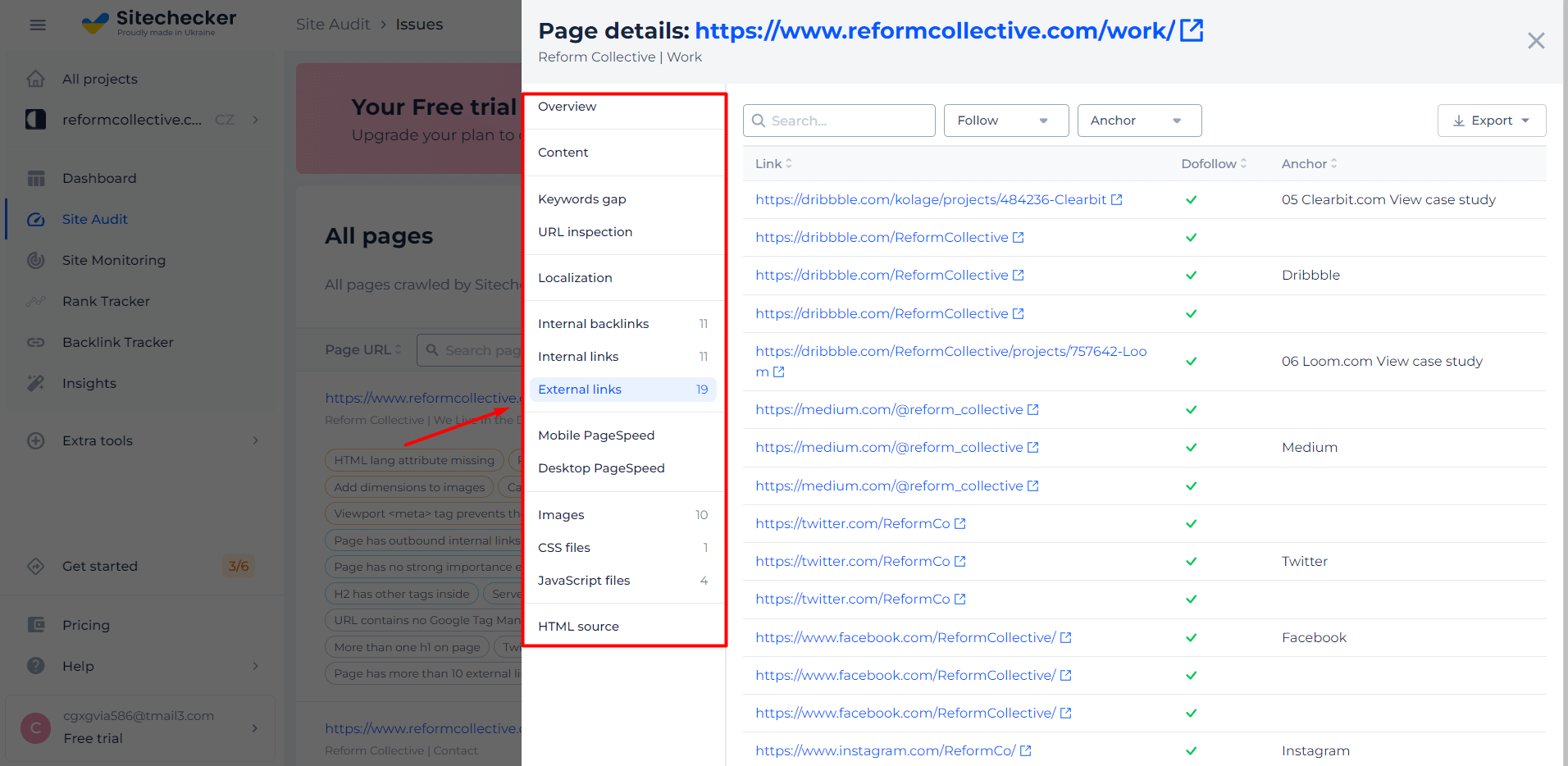 If you want to check out some other pages on your site, it is super easy because we already make the audit for your site. So just close your page details and on the "All pages" enter the URL you're interested in into the search box. You can get more details by clicking on the URL.

Detect and analyse not only external links but also other kind of SEO issue on your site!
Crawl your site and find out all kind of issues that can hart your users or your website SEO.
What are External Links
An external link leads from your resource to any other resource. You may have used such references when you took information from another site and cited the source. You may have exchanged links with affiliate sites to increase user traffic. Either way, using outbound external links is an important step in optimizing your site for search engine requirements. This fact means that you need to check your outbound external links regularly and see if you're missing out on a low-quality source. Don't neglect the opportunity to use our tool; it's free.
You've probably heard by now that external links on a site are an essential ranking factor. They play a significant role in building your resource's reputation among both search engine robots and users of your site. If you link to a low-quality site and do not find the necessary information when clicking on the link, the user will no longer trust you. Similarly, search engine crawlers will determine your site to be of lower quality than you would like it to be.
External links are also the basis of Google's "Page Rank" algorithm. The more references from other sites lead to your page, the more credibility that page deserves. Therefore, it is important to link to other sites and get backlinks to your site from them.
Leading search systems to measure the value of external links with the help of the following specific metrics:
The number of references to the same page on the source location;
The domain trustworthiness;
The page popularity;
The relevance of published content on the source and mark pages;
Root domain's quantity that links to the page;
Proper anchor building.
Let's understand all the nuances in more detail and determine why it's so important to track outside links.
Importance of Outbound Links Checker Tool
It is quite difficult for search engine robots to know the rank of your resource, while with outer links, this process is much easier. Use outbound external links on the pages of your site to make a good balance of the Page Rank. The page should not only receive but also give away link weight. If your page is a dead-end, it will not reflect positively on the search engine ranking.
Outgoing link is a kind of authority factor of the resource. If you are referenced, you create quality content; it means you are read and trusted. Think about another ranking factor, such as content relevance. The more your content meets the needs of users' search queries; the more likely your site will be in the top spots. External backlinks should contain content relevant to your article's topic. Otherwise, search engine crawlers will consider your site as a spammer site. That will harm the ranking. As a result, you will get less traffic than you would if you followed search engines' recommendations. Therefore, we strongly recommend regularly monitoring the ranking algorithms and following search engine optimization tips.
Very destructive if your strategy links to a huge number of useless references. So you do not show search robots of your authority and relevance, but only on the contrary. When optimizing your site for the search engine results page, remember the quality of your content. Outbound links are also part of your content, so give them the attention they deserve.
The External Link Checker is an indispensable tool for monitoring and controlling the outbound links to your site. Simply enter the link of interest from your site or a competitor's site and get a complete list of the external online links that are contained on that page.
FAQ
What are the two main reasons behind hyperlinks' importance?
The hyperlink is a link between all the websites on the Internet. It is an opportunity to move from one site to another. With their use, site owners can get additional quality information from different sources. In addition, hyperlinks also affect search engine rankings. It is an important ranking factor that you need to watch to get higher positions in search engine rankings.
What are the other ways to find external links on my website?
There are other ways to check outgoing links. For example, Google Search Console or Moz Link Explorer. Similar to our External Link Checker, these tools show information on outgoing references and their anchor text.
How to make your page relevant?
To improve the relevance of the page, it is essential to make all parts relevant, make quality structure of the site, create interlinking. Significant tip: the anchor should be full of keywords on the same topic as the target pages. So, selected keywords will attract targeted traffic. Nevertheless, it is critical to use different keyword texts, spam detectors can ban your website.