If the website's performance and SEO metrics matter to you, you would be interested in improving and maintaining its high ranking on mobile devices. Everyone is using their smartphones as it's more convenient and compact than dragging a laptop. Hence, people browse, scroll, and search for various websites directly from mobile gadgets. Plus, most internet traffic now comes from mobile, which must encourage you to track mobile rankings.
However, it's not enough to make your website reach better metrics and improve the SEO. You'll need to run a couple of extra checks. They include SERP tracking, global and local rank analysis, competitor tracking, and comparing the performance of both desktop and mobile web versions. You should do this daily and keep an eye on abnormal behavior or some unexpected changes.
How can you do this efficiently without spending the whole day tracking your site's mobile performance? Here, we'll tell you more about our Mobile Rank Tracking tool to help you seamlessly manage this task.
How to Use Mobile Rank Tracker and Checker
Our simple yet effective rank checker tool helps you see how well the mobile version of your website shows up in search engines. It allows you to choose between desktop and mobile rankings and provides comprehensive reports on what's going on with your mobile webpage. Plus, you won't need to spend hours on result checking and analytics — all the data will be ready in a few moments!
Here's how you can use our tool and save time and effort:
Step 1. Insert your domain and start the free trial
To ensure our Mobile SERP Tracker is exactly what you need, you may start with a free trial. Right on the start page, insert your website's domain. You'll be redirected to the setup page.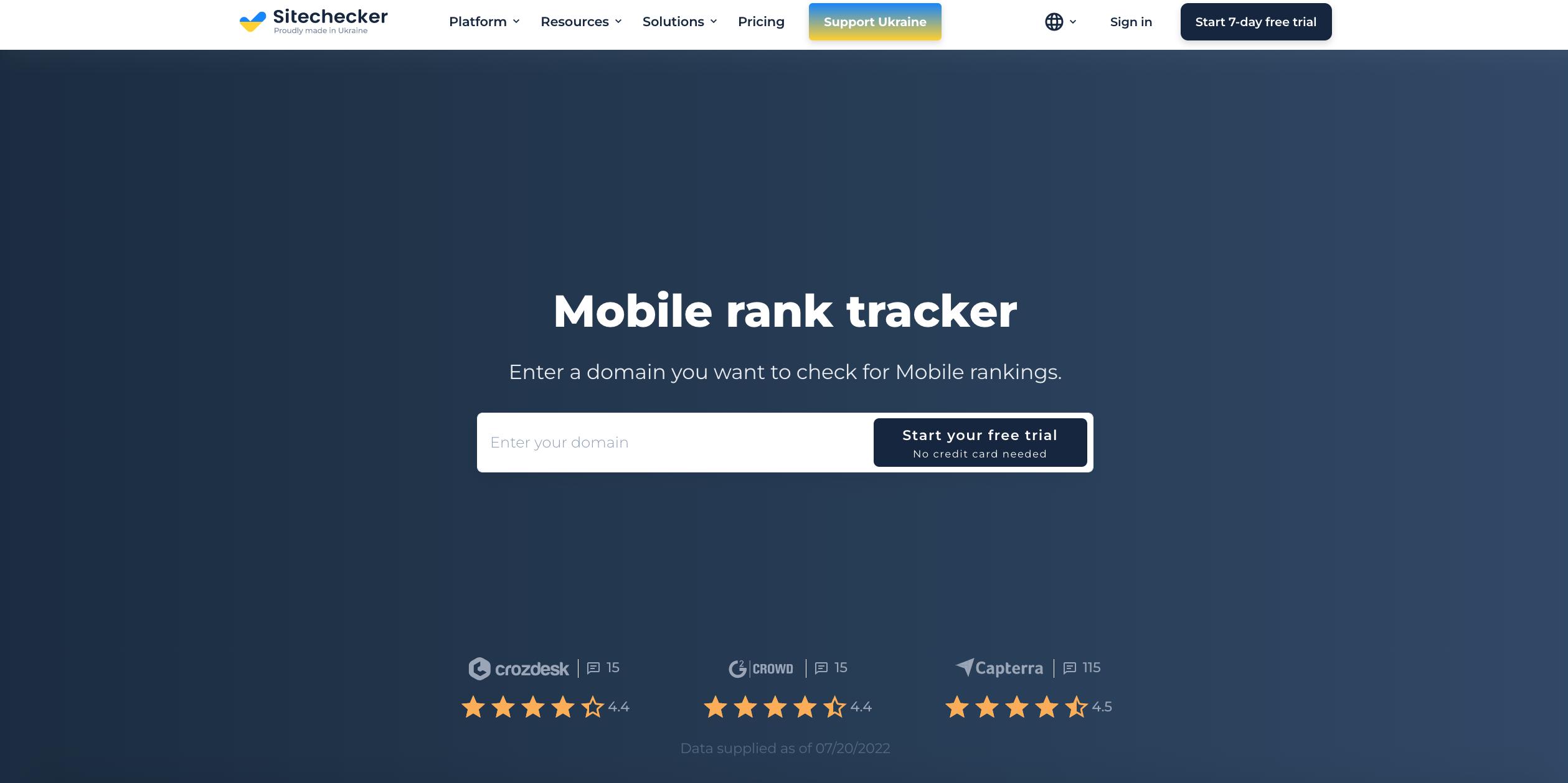 Step 2. Setting the right configuration
Once you've moved to a setting page, you'll need to add the necessary data:
The desired search engine
Finder domain
Language
City
Device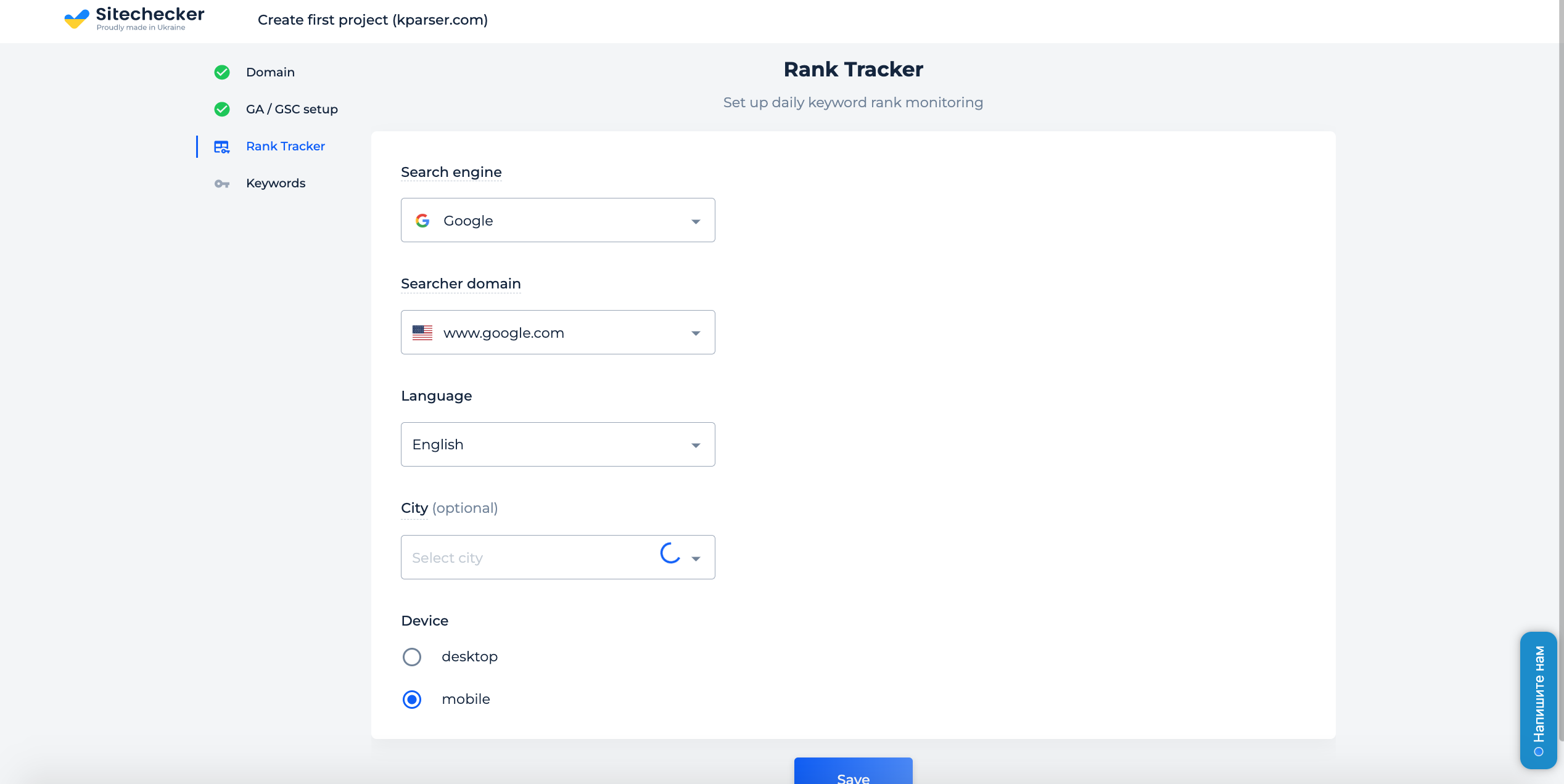 In addition to this data, you can also import keywords placed on your website to see how high they rank in a particular search engine. Try to add as much information as possible to ensure precise reports.
Step 3. Get you results across all SERP features
After a few moments, Mobile Rank Tracker will show you a detailed report on how well your mobile web version appears in search results. You'll see metrics like visibility and indexation progress and the very positions your page achieved daily, weekly, or monthly.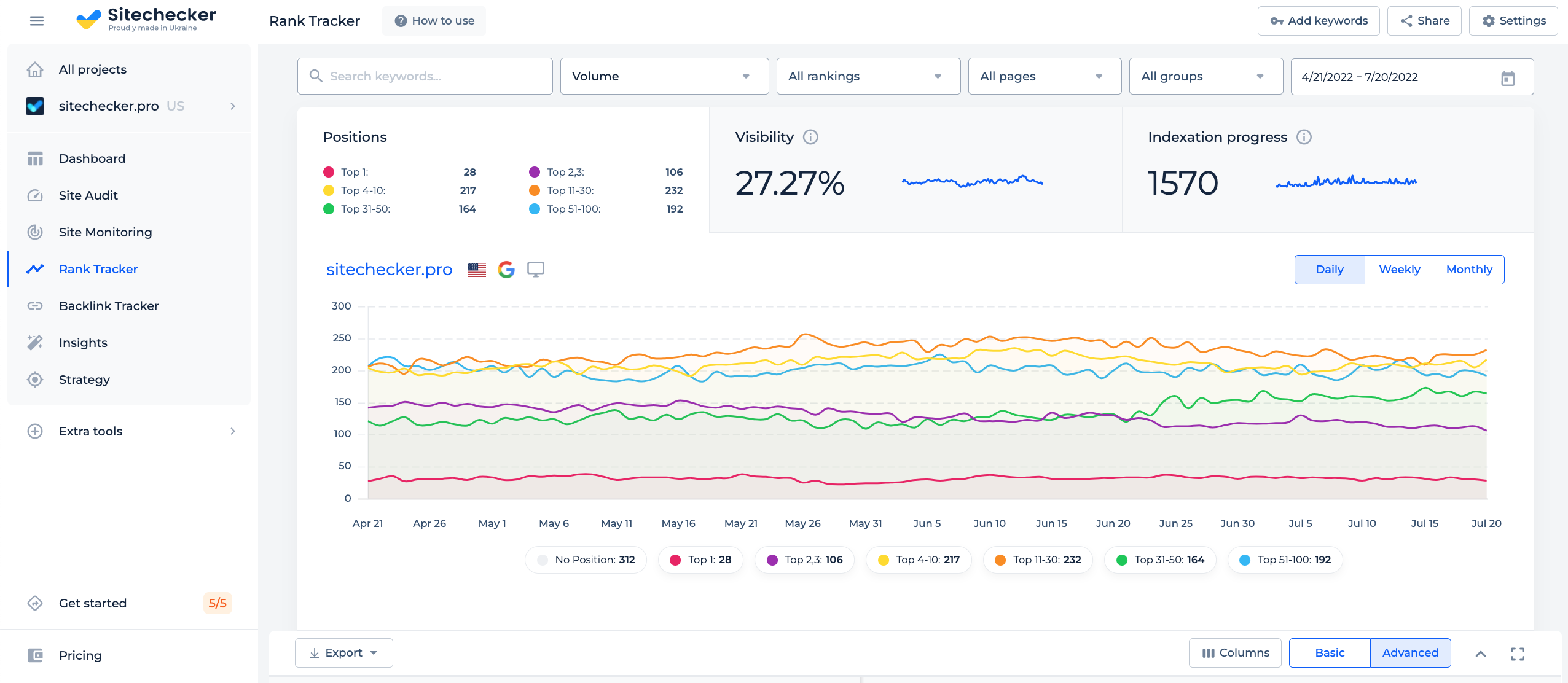 Features of Mobile Rank Tracker
A full-site audit can help identify various types of problems and list the URLs where those issues occur. Additionally, we provide instructions and video guides on how to fix the identified issues. This is an invaluable service that can help improve your website's performance and ranking. Having a trial account allows you to fully use this service and see how it can benefit your website.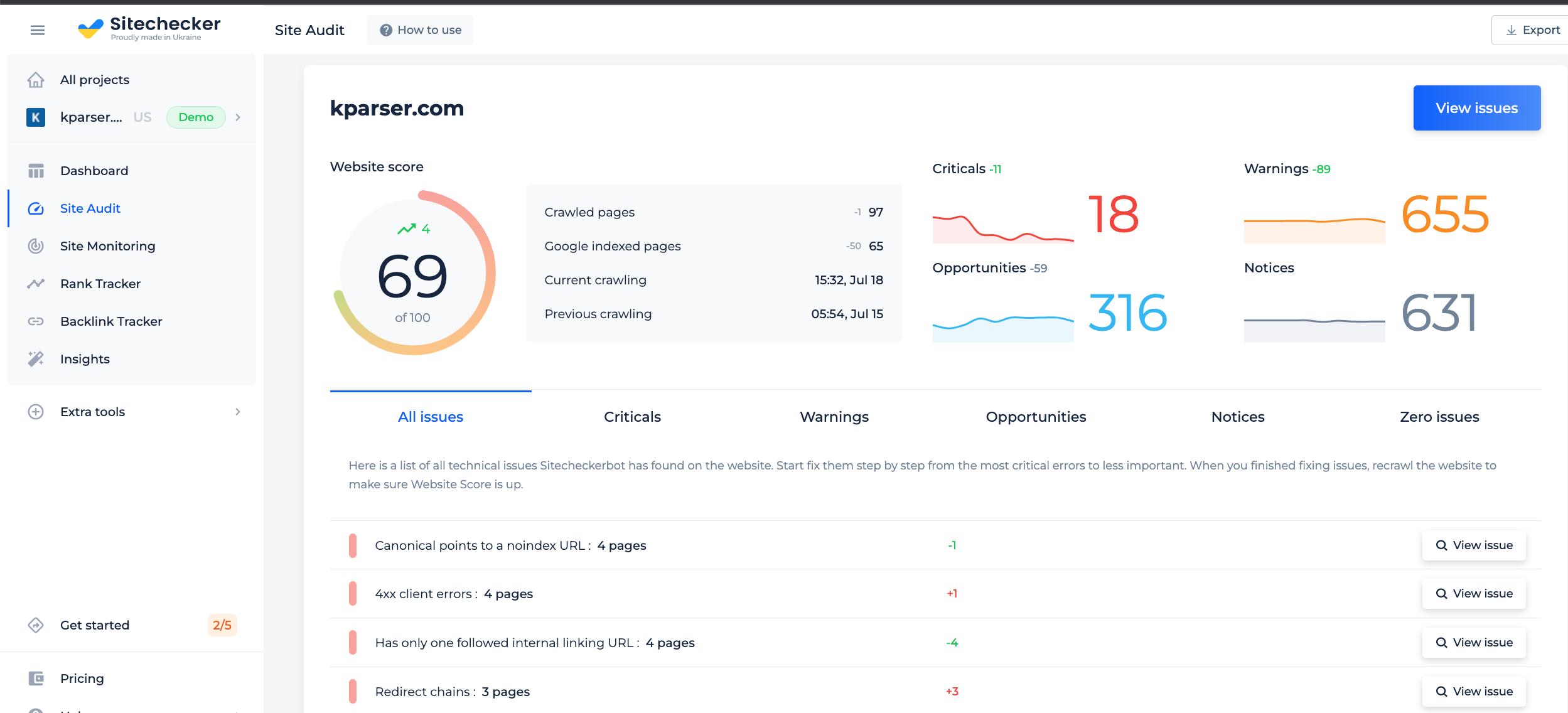 Your website is in great shape! We'll even let you know if any issues arise and provide a full audit of your site so they can be fixed quickly. You won't have to worry about these problems coming back again because our team takes care preventative measures from now on, too!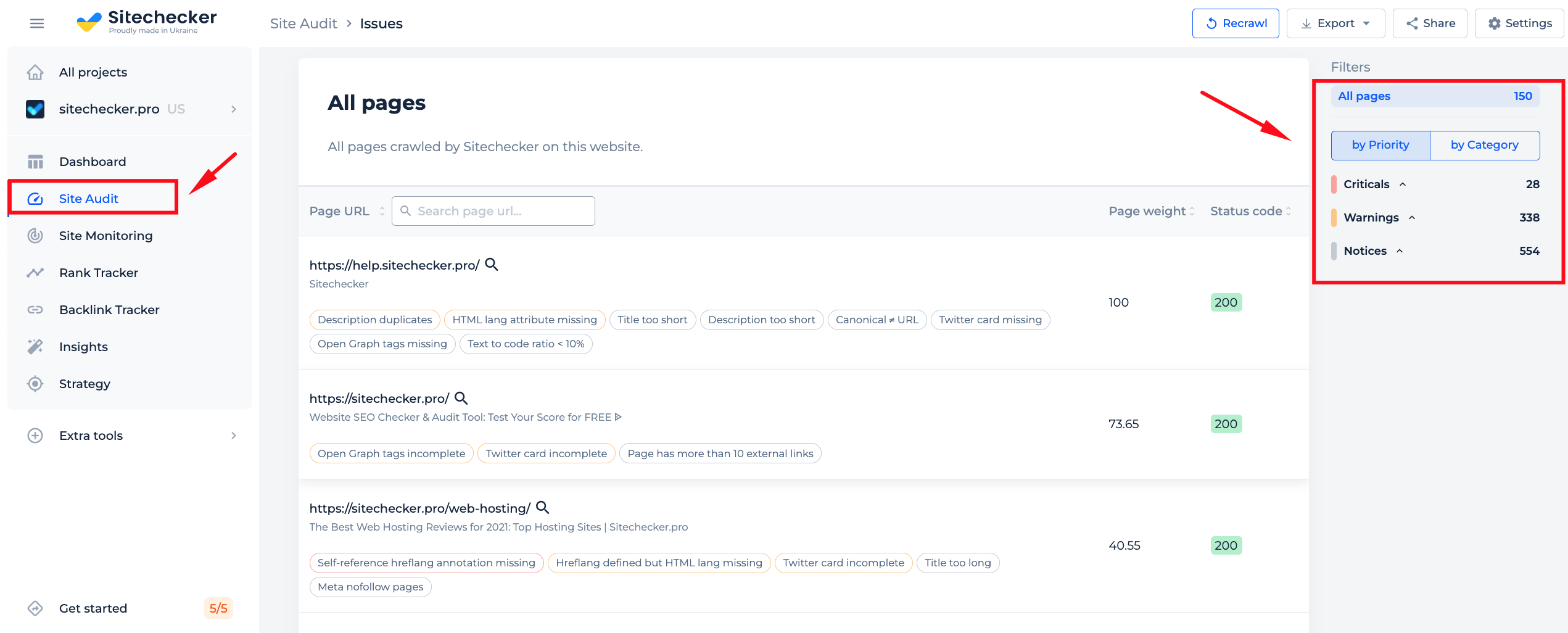 With our on-page checker tool, you can make sure everything is set up correctly and avoid potential problems down the line.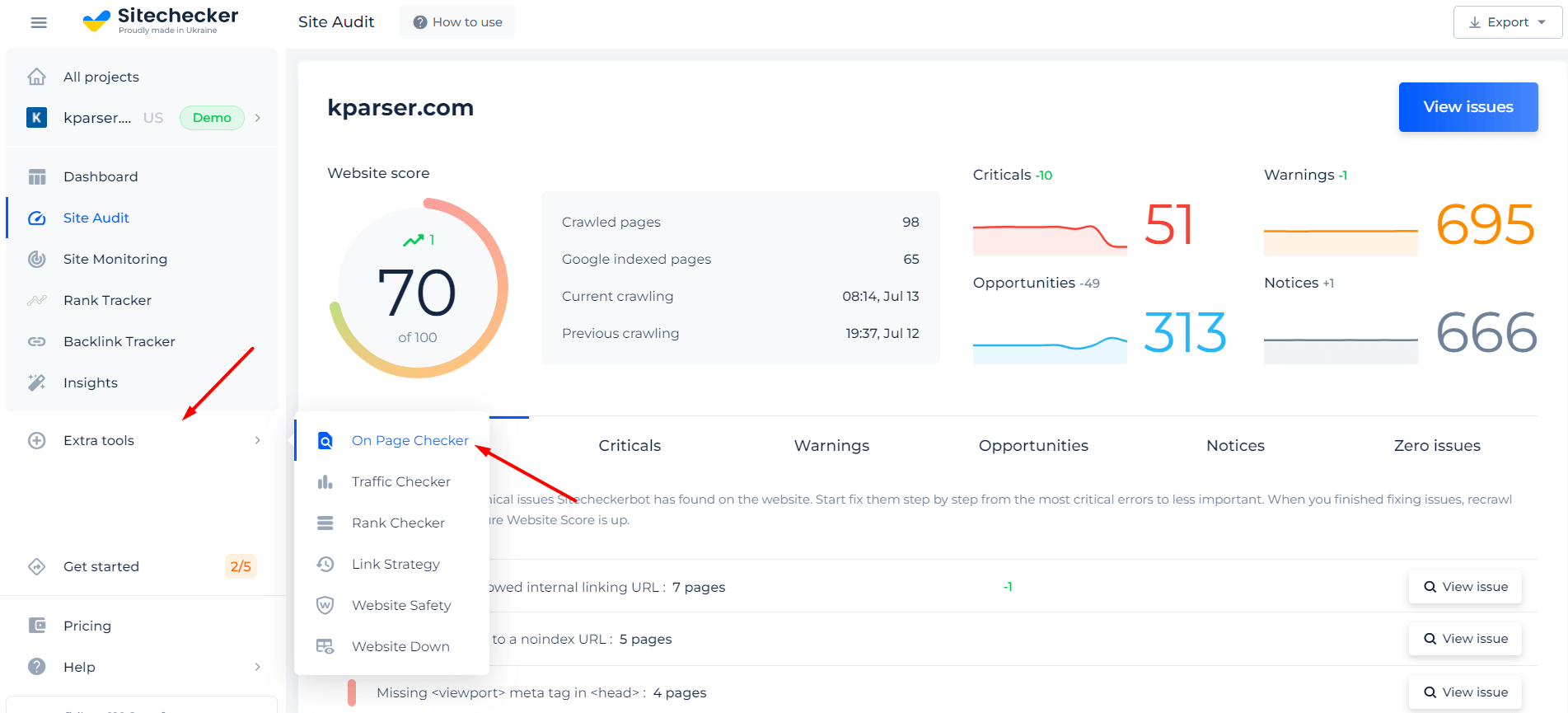 Find all pages with all website issues right now!
Make a full audit to find out and fix page issues in order to improve your technical SEO.
What are Mobile Keyword Rankings
Mobile keyword rankings show how high your website shows up in search results. This metric helps you see if your keyword quality, relevance, or frequency needs improvement. Plus, if your webpage ranks high enough, it will generate way more revenue as it drives more visitors.
Having a well-defined mobile keyword strategy combined with tracking SERPs, local and global ranks, and other metrics will allow you to raise your website on device platforms and add to your SEO performance.
Why You Have to Track Rankings on Mobile Devices
Prioritizing mobile SEO is an excellent opportunity for your company and its website to bring more revenue and customers. The main reason for that is the mobile-first approach most companies and technologies use for markets, user experiences, and indexing.
Users would rather get to a mobile version of a website instead of downloading a branded app. People from Asia, for example, have already been browsing everything from their devices years ago. And now, even Google will determine your website's rankings based on the quality of the mobile version.
These factors make businesses worldwide go mobile-first and pay much more attention to mobile rankings than before.
Using SERPs Tracking Tool for Mobile and Desktop Separately
You should separate mobile and desktop rank tracking because they'll give you different results. This happens due to various factors. The main ones include:
Location
Mobile device's OS
The device's screen size
In mobile devices, organic links go below, while maps or knowledge graphs will be placed on top. Plus, on mobile devices, location data has more impact on mobile searches since the GPS provides more accuracy. And finally, on Google, for example, you can only see apps that work on your operating system, while you can't find any on a desktop version.
If you still don't understand why mobile and desktop rankings differ in mobile first indexing, here's an excellent video by Google Search Central that'll explain it all:

Why You Need Sitechecker as Your Mobile Rank Tracking Tool
The data you'll get by using Sitechecker will help you meet your business goals and get comprehensive data on what's working on your website.
Here's a quick recap of what our tool can be helpful with:
Fixing weak areas and getting insights on how to do this efficiently
Outperforming competitors and ranking higher in various search results
Improving your page's visibility by ranking in multiple engines
Bringing more unique users
How to Increase your Ranking on Mobile with SEO?
There are plenty of tips on how you can increase your mobile rankings. We've prepared some for you too!
First, check your page's performance. Test and improve the page load speed, and see if all the images, videos, and buttons work correctly. Once you know your page loads flawlessly, take care of the content. High-quality articles, blogs, FAQs, and well-formatted landings will add to your page's success. Then, of course, don't forget about keywords, their relevance, purpose, and density.
Also, don't forget to optimize all the links and pages for mobile devices. Make sure you have clean URLs and no issues when you switch to a mobile website version. If you want users to notice you, set up a Google Business page and add links to social media to quickly get in touch with you.
All these small yet practical tips will take your mobile page rankings to a new level. Add our Rank Tracker tool and enjoy the burst of activity on your website!