Scanning website directories and sensitive files are one of the important tasks in testing your site. Scanning is necessary to detect confidential directories or find hidden directories on site. With, our tool you can scan and find files such as PHP Robots.txt and other information;
If scammers scan your site and find the downloaded files, they can upload malicious code to your site. If your site contains hidden files that you don't know about, you could become easy prey for cybercriminals. They can gain access to confidential information and use it for illegal purposes.
For this reason, it is very important to know how you can find hidden files on website and directories.
We will explain how to view a website directory listing a scanner. It is an easy and free way to get a complete list of hidden directories that can become a vulnerability for your site.
What is a Website Directory Scanner?
How to find hidden pages on a site?
It is an excellent idea to scan a site for hidden directories and files (hidden – it is directories and files that are not referenced and which only the site owner knows about!) using a website directory scanner online. At a minimum, you can learn something new about the site, view website directory structure, and sometimes a super prize just drops out – an archive of a site or database, backup of sensitive documents, etc.
What is a site directory?
It is the main folder where all directories and files of the site are stored. It is in this folder that the archive with the site files and database is loaded. If you place the site files in the wrong folder, an error 403 will be displayed instead of the site.
The directory finder helps you to discover a specified directory on the system for files containing messages (for example, in XML or JSON format). When the messages have been read, they can be passed into the core message pipeline, where the full range of message processing filters can act on them.
The site file viewer is typically used in cases where an external application is dropping files (perhaps by FTP) on the file system so that they can be validated, modified, and potentially routed over HTTP or JMS.
It helps to scan the website professionally. Especially when you launch safety-oriented tests and browse site directory, it covers some holes not covered by classic web vulnerability scanners. It is looking for specific web objects but does not look for vulnerabilities and does not search for web content that may be vulnerable.
What can "hidden files" be?
In general, these directories may be as follows:
Project configuration files that the IDE (integrated development environment) creates.

Specific configuration and configuration files for a given project or technology.
You should regularly scan the sites to see if any confidential and proprietary files are being shared. A view site directory is a really simple rule which will help keep you safe from hacker attacks and keep your files completely safe.
Different Types of Website Directory Scanners
How to view website directory? Scanners work on different principles. There are tools for scanning your site (and these are authorized tools), but there are also hacker tools. Ethically, you cannot scan directories of other sites. Legally, this is considered hacking and fraud.
Let's see what principle the different types of directory scanners will work on.
Dictionary

scan website for files

.

Scanning with a clean scanner.

Scanning with a web scanner.

Scanning with Python query library implementation.
As you can see, there are several ways to scan and find hidden files on your site. You can choose the most convenient one for you or use our simple Website Directory Scanner tool. With our free scanner, you will easily view directory of website and find all hidden files that can become your vulnerabilities.
How to Use Our Tool Effectively?
If you want to find hidden pages on site and know how to view site directory listing, use our Website Directory Scanner tool.
Step 1: Insert your domain and start free trial
Enter the URL of the site you want to scan into the placeholder below & start the free trial. It is super fast and absolutely free.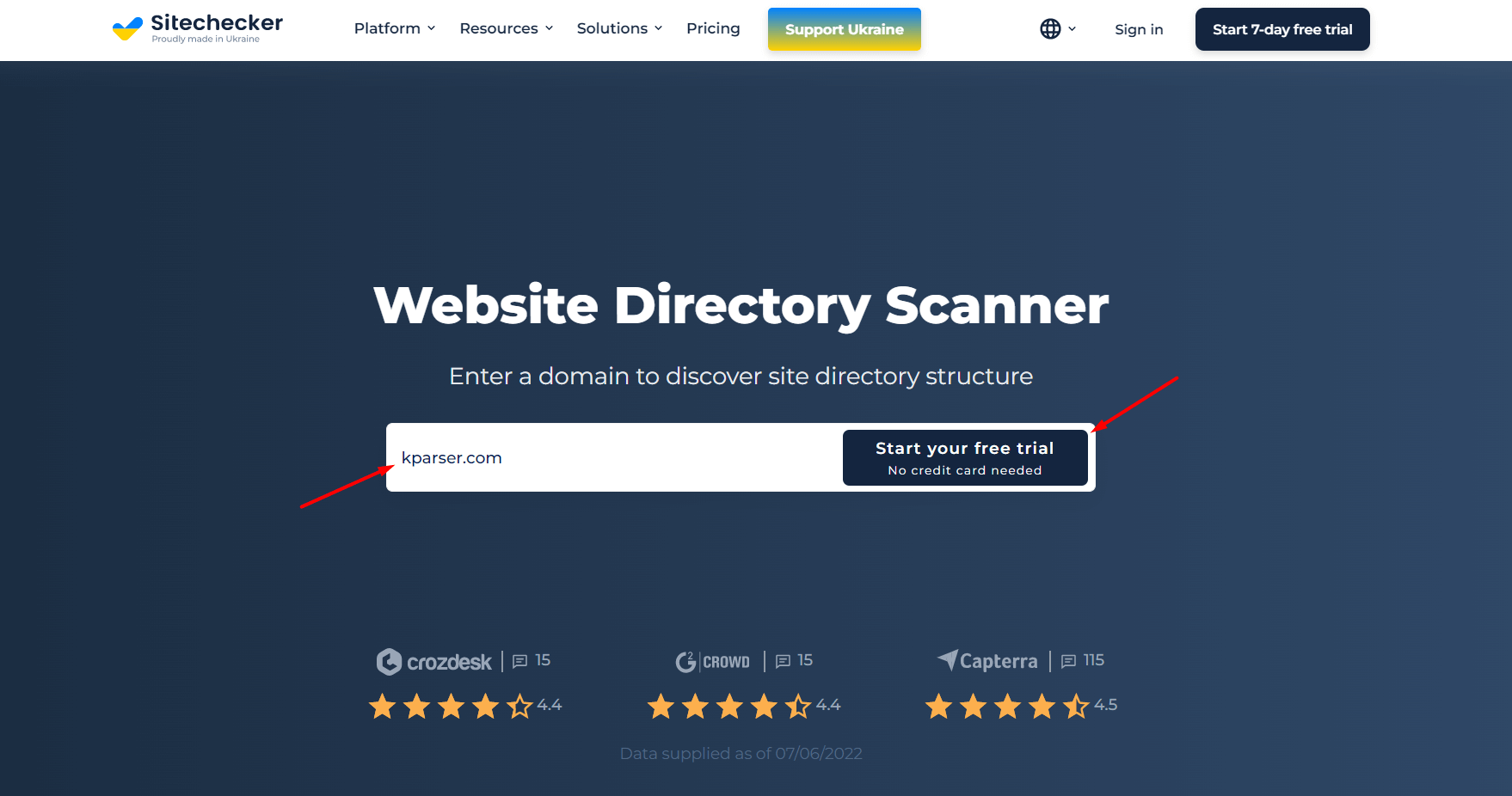 Step 2: Get result
After crawling, you will receive the whole audit report and view all files in a directory of a website online. That's it. It is how easy the search site directory process looks.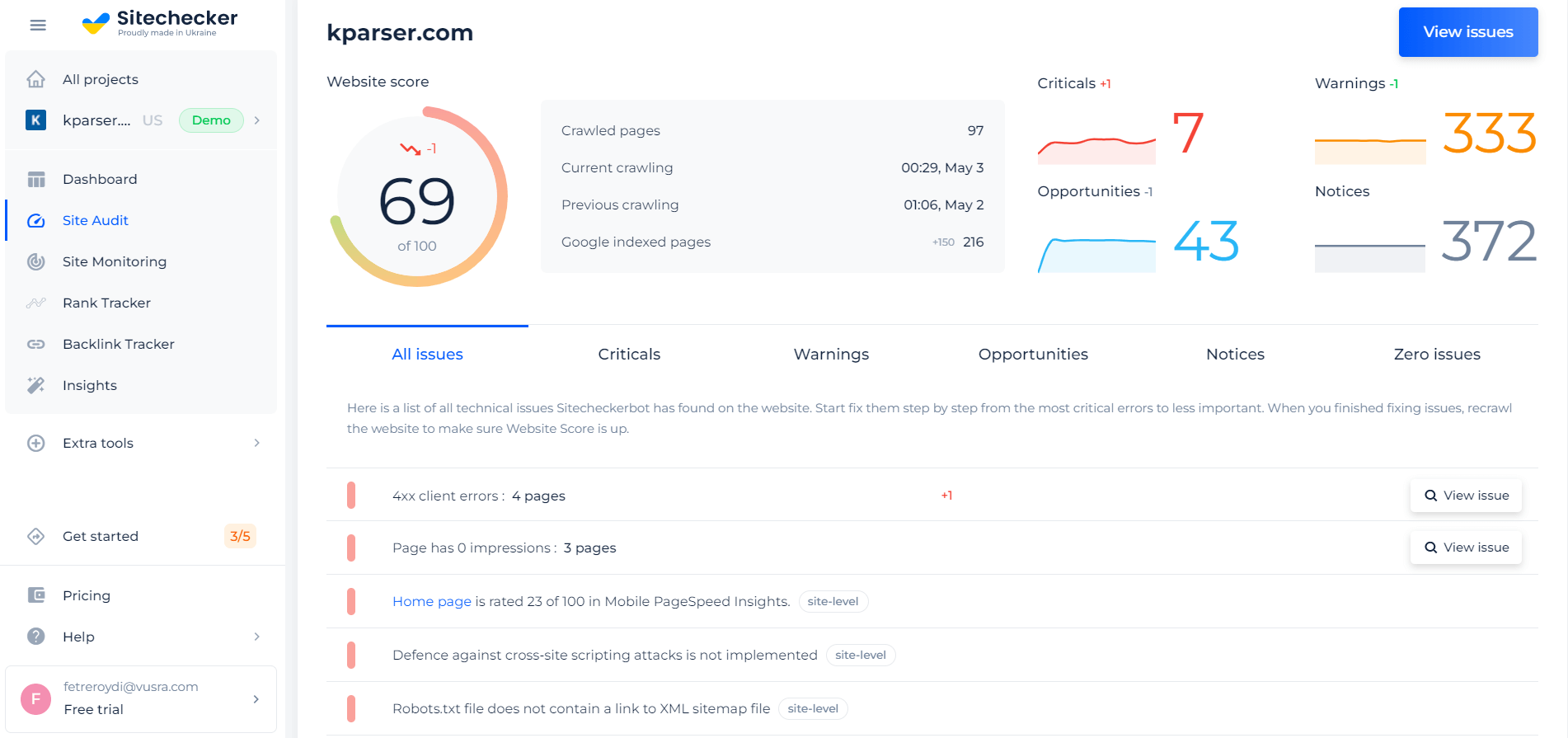 Our Website Directory Scanner Special Features
Well, let's take a quick look through the main features of our Website Directory Scanner.
Once the scanning stops, you will see the score of your site, the number of pages scanned, and the number of pages in the Google index. For example, we scanned our site sitechecker.pro. You can see the results of the scan in the screenshot below.

By scrolling below, you can see site-level issues. If your site has hidden files that our tool can scan, you will also see them in this list.

The next special feature of our tool is that you can look at errors divided into three categories. These are critical errors, which tell you the importance of fixing them as soon as possible.
These are warnings that inform the site owner of what can be improved. And the minor ones are notices, which are not important warnings.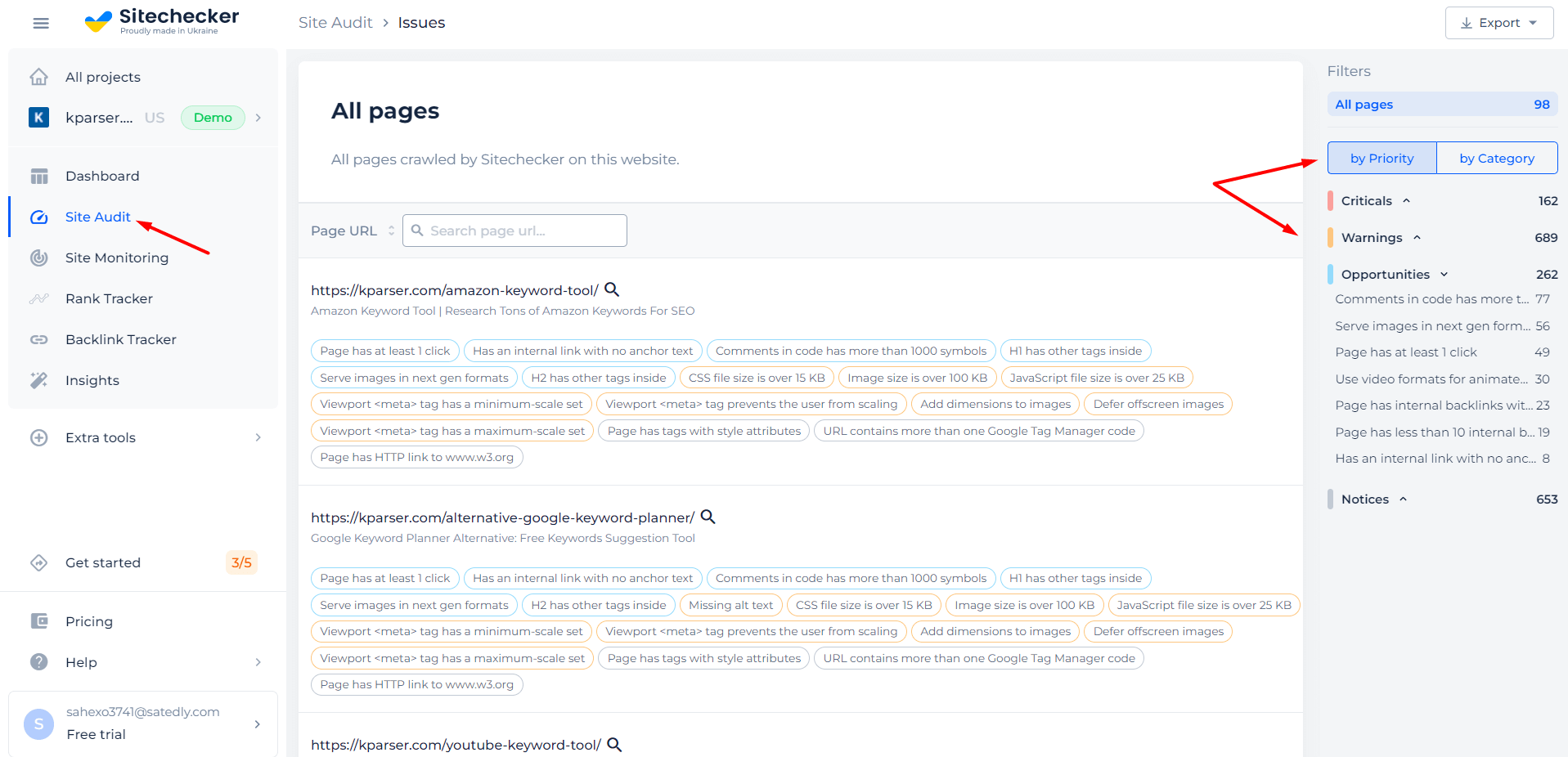 It is how you can view all files in a directory of a site. It is very simple and will not take you much time. In addition, it will avoid unpleasant situations with access to your site.
Scan your website directory right now!
Find out hidden files to protect your site.
FAQ
What Is The Directory Of A Website?
A web directory is an online list or directory of websites. Also known as a subject directory, these lists create an organized method for finding sites.
How Do I Get All Files From A Website?
The easiest way to search web directory is to connect to the webserver via SSH or RDP and run the command to output the list of local directories.
This is a discovery action that allows you to discover resources that should not be public (eg /backups, /index.php.old, /archive.tgz, /source_code.zip, etc.).
We strongly recommend that you do not run penetration testing programs on someone else's site without written permission from the webmaster. It could have undesirable consequences for you, depending on your country's cybersecurity laws.