A black list is a list of websites or IP addresses that are reported as sources of spam, viruses, fraud, and other malicious activity. If your website appears on a blacklist database, you'll likely see drops in traffic (or no traffic at all) from users with email clients and antivirus programs that use these databases. The easiest way to avoid being on a blacklist is to not send spam emails and be cautious about what you link to. This article will guide you on using a Blacklist Checker and its SEO importance.
What is a Blacklist Check?
A Blacklist Check tool allows you to see whether or not your website has been blocked. It is extremely important to use this tool because blacklisting prevents visitors from accessing your site due to spam complaints from other sites hosting your domain or IP address. With a blacklist checker, you can quickly and easily find out if your website has been blacklisted and work on getting it whitelisted before too much damage has been done to your business's reputation.
Using a Blacklist Checker (How to Use)
If your domain or IP address has been flagged as spam, the blacklist lookup will show it. To find out if your website has been blacklisted, complete the following steps:
Step 1: Insert your domain and start free trial
If you'd like to start verifying domain, simply press the free trial button. All you need to do is enter your desired domain name into the field below and click – no credit card required! You can also get started quickly by using either a Google or Facebook account for our free trial. Quick and effortless – that's what we're all about!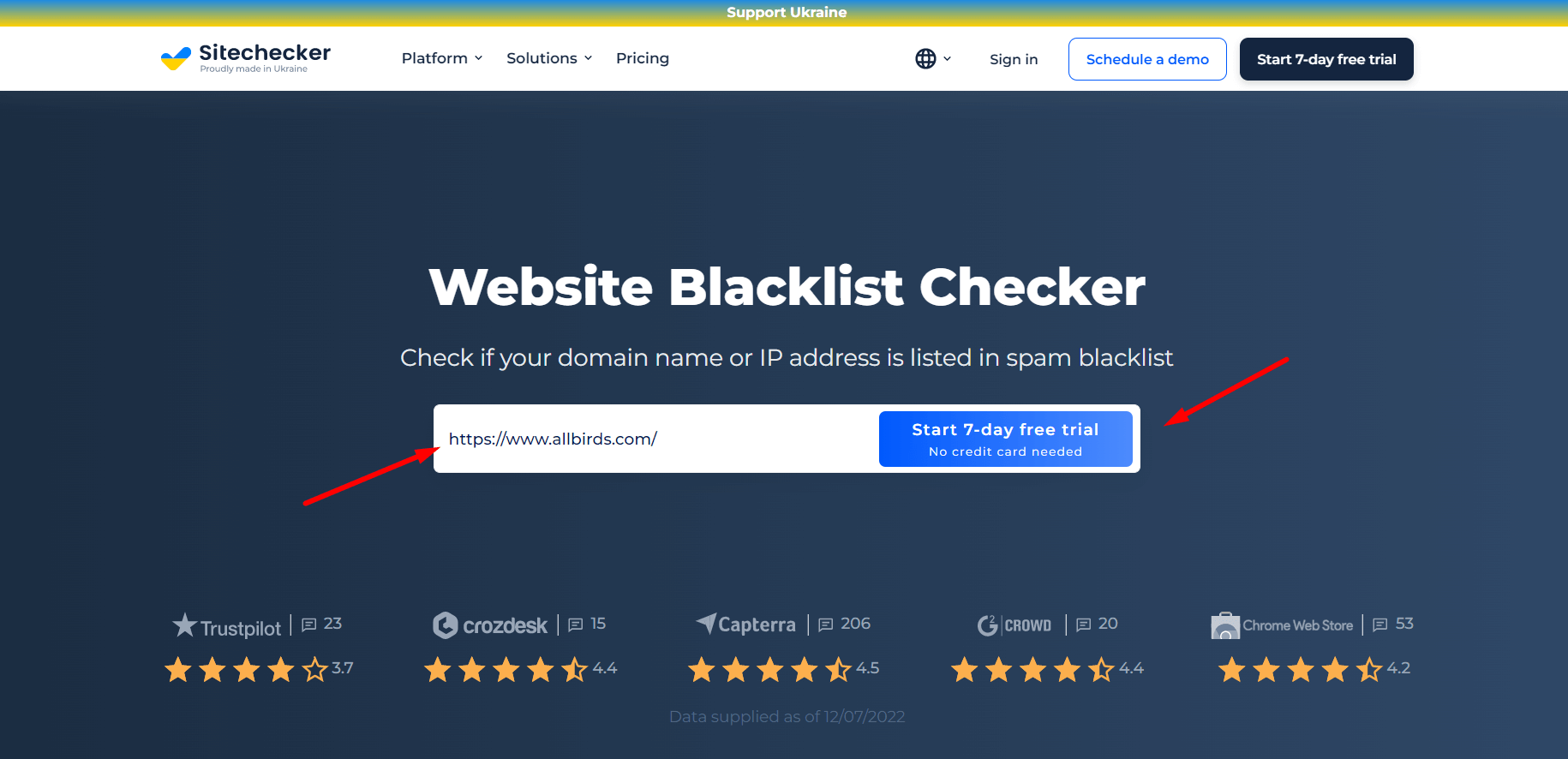 Step 2: Get the result
In a matter of seconds, all the information regarding your website will be gathered and compiled into one comprehensive report.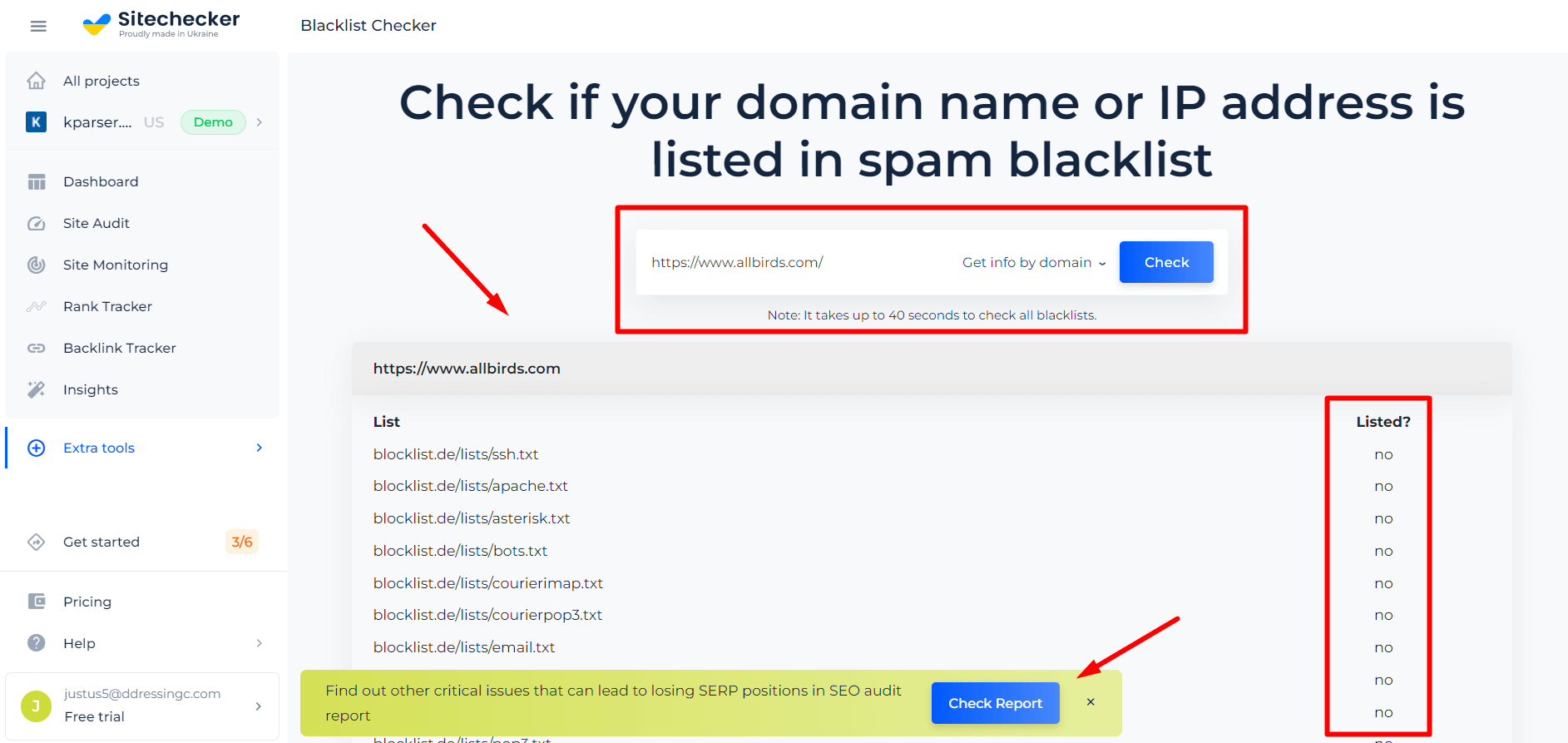 When you check your domain for blacklisting, we crawl your site in the background. So by clicking on the banner, you will get a comprehensive website audit report that will assist you in finding any problems on your site.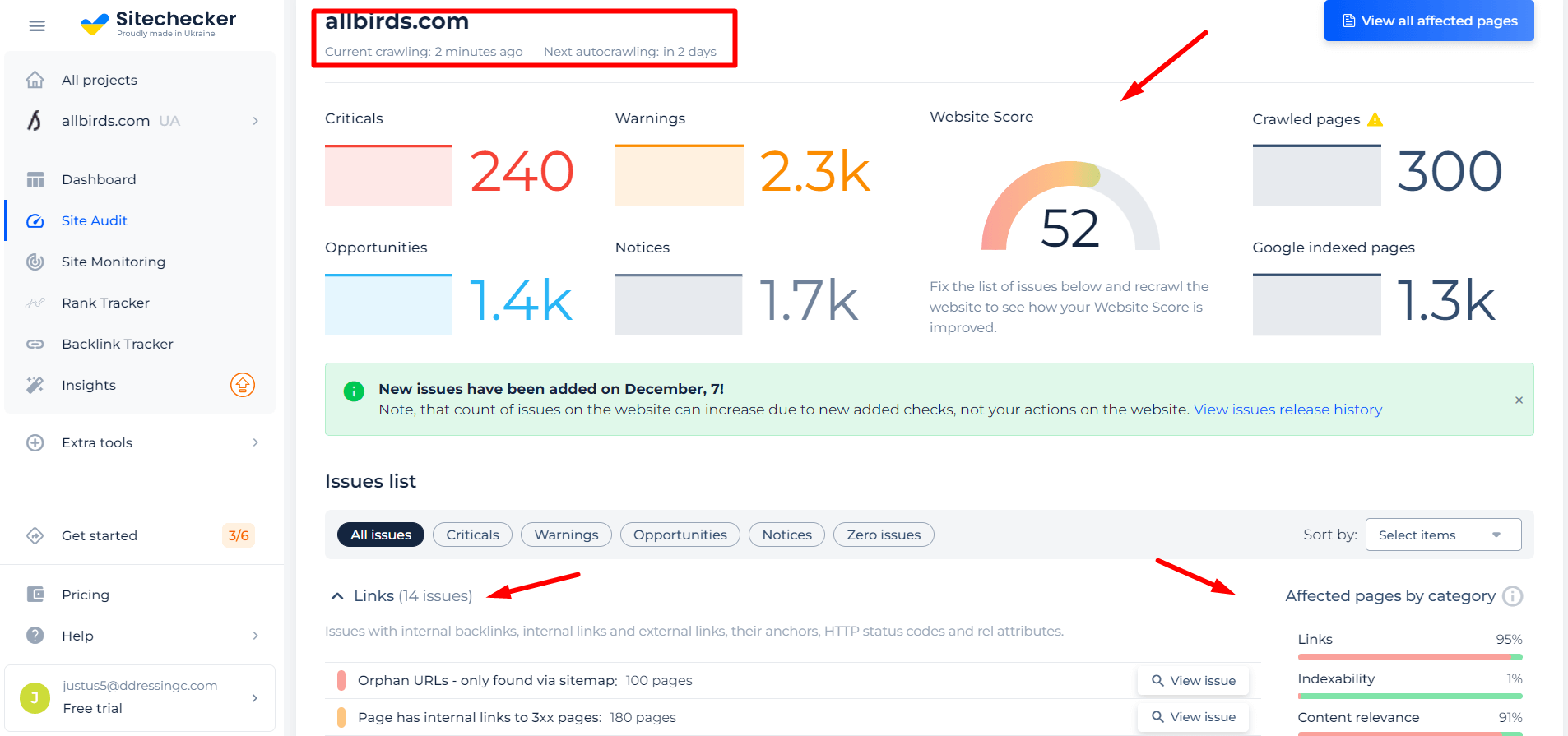 Is it Important for SEO?
If a website is not optimized correctly, it can have a negative impact on how your site appears in search results. There are lots of different blacklists that search engines use, so it's important to know what each of them is and how you can avoid them. Write original content, provide helpful resources to users when possible, and avoid posting spammy backlinks; all of these things can make a difference when it comes to maintaining your online presence.
Blacklist analysis is not enough to optimize your site for search engines!
Make a full audit to find out and fix your technical SEO in order to improve your SERP results.
The Reason for Blacklisting Domains
A URL blacklist is a list of websites that have been deemed insecure or dangerous by a search engine, hosting provider, antivirus program provider, or another authoritative body. This list can help protect users from accessing malicious or harmful websites.
If your IP address is listed on a blacklist, it may be because of the reputation of your ISP. ISPs can get blacklisted if there are too many spam complaints — or if the email appears to share the hallmarks of unsolicited promotion. If your domain is blacklisted, it usually results from the degradation in the reputation of the domain itself. This is most often caused by sending emails that have been classified as "spam-like".
SiteChecker's free blacklist checker determines whether a URL or IP address is in the DNSBL database, which lists are based on the Internet's domain Name System.
Most of today's spam and phishing emails are sent out from servers or IP addresses that are not in common use; doing so makes it easier for spammers and cybercriminals to hide their true identities. However, some third-party services will block an IP address if they detect too much traffic coming from a specific server in a short period of time. If you see an Error – Destination Host Blacklisted message while sending an email, there is a very good chance that your IP address is blacklisted with one of these providers.
Your domain could be blacklisted if somebody reports your IP address/Domain as spam, or perhaps someone else registered your IP or Domain by mistake. There are dozens of different reasons why you might find yourself with an erroneous listing on someone's blacklist:
Somebody mistyped your IP Address into their browser bar.
They thought you were a fake version of another legit site.
A competitor somehow hijacked your DNS Record(s).
One or more visitors to your site downloaded malware and thus poisoned your IP's reputation/history with the web host.
Someone reported your site (or IP) for hosting malicious content.
You copied part of somebody else's copyrighted material and posted it on your own site without permission.
Someone found offensive content on your website and did a bulk report against IP Addresses connected to pages containing such content (even if there is no connection).
It is necessary to run a domain blacklist check in the following situations:
When purchasing a new domain name – If you want to buy a new domain at auction or elsewhere, you should look for indicators and key metrics like "is it blacklisted." Don't forget to check whether "this domain is available."
When your website's SEO performance deteriorates – Despite trying your best to fix it, if your ranking does not improve, it means that your website has been blacklisted.
What Happens if my Domain is Blacklisted?
When a website is blacklisted, it means that the search engine has expelled it from its list. This can have a significant impact on the site's revenue, as it will lose around 95% of its organic traffic.
There are several reasons why a website may get blacklisted, but the most common one is because it contains malware which could harm the user.
Other Ways to Check if Google Has Blacklisted You
If you would like to ensure that your website is not blacklisted by Google, you can use the following steps. Being blocklisted will affect your SEO ranking, so it is important to check regularly.
Visit the Google Transparency Report
Enter your website URL into the Check site status search field.
Submit your search to view the report.
If it states there is no unsafe content, Google is not blocking your website and no further action is required.
How to Fix?
If you have an IP or domain blacklisted, there are a few things you can do to get removed from it. You need to contact each Web Host/ISP and ask them why they've put you on their blacklist. Sometimes there's just one site (maybe yours) that was abused by a hacker in some way; if that website is no longer active, then all you need to do is ask them nicely if they could remove your server from their blacklist as well. People are usually more than happy to help take you off a blacklist if you:
Explain what happened.
Give a specific date when your sites were not accessible.
Tell them about any mitigating factors (changes that were made, steps you took so the site won't be compromised again, etc.)
Sending a request to have your IP removed from the anti-spam database is the best approach to get rid of a blacklist. Before sending the request, however, make sure you've fixed all of the errors. You can also look at Google's video guidance for hacked and blacklisted websites down below:

Is your domain blocked? Here are some tips in the FAQ concerning websites blacklist and advice on what to do if my domain is blacklisted.
FAQ
How can I check if my site is blacklisted?
You can use our website blacklist checker: insert the domain, submit the request, and see the results.
What websites have blacklisted search engines?
The websites that are insecure because of hacking attacks or contain spam, malware, or spyware.
How do I fix my blacklisted domain?
Remove the cause and follow the blacklist-removal process of the blacklist providers.
How do you unblock a domain?
Submit an unlock request and follow the instructions or wait if the blacklist has a time-based process.
How do you check if Google has blacklisted you?
Use our Blacklist Checker or check the Google transparency report by entering your site URL and submitting the inquiry.