What is a Domain Blacklist Check?
A blacklist checker is a tool that helps you see if your website or IP address has been blacklisted. Thus, you can take proactive measures to get it whitelisted before facing significant damage.
Key Features of the website blacklist checker
The tool identifies whether a domain or IP address is within the DNSBL database, a compilation formulated based on the Internet's Domain Name System.
This verification can be done using the website's domain name or corresponding IP address.
Our comprehensive SEO checker extends beyond mere blacklisting inspection. It also offers a meticulous SEO evaluation (incorporating both on-page and off-page aspects), position tracking, backlinks tracking, website supervision, and other useful features.
Why is URL Blacklist Checking Important?
A ban list comprises websites or IP addresses reported as origins of spam, viruses, fraud, and various malicious activities. Should your website feature on a blacklist database, you'll probably experience a significant decrease in traffic. It may even lead to a complete halt, especially from users whose email clients and antivirus programs refer to these databases. Why using this tool is crucial? Blacklisting stops visitors from coming to your site, usually as a result of spam complaints associated with other sites that host your domain or IP address.
How to Check if a Domain is Blacklisted?
If your domain or IP address has been flagged as spam, the blacklist lookup will show it. To find out if your website has been blacklisted, complete the following steps:
Step 1: Enter the domain you want to check, then click the "Check blacklists" button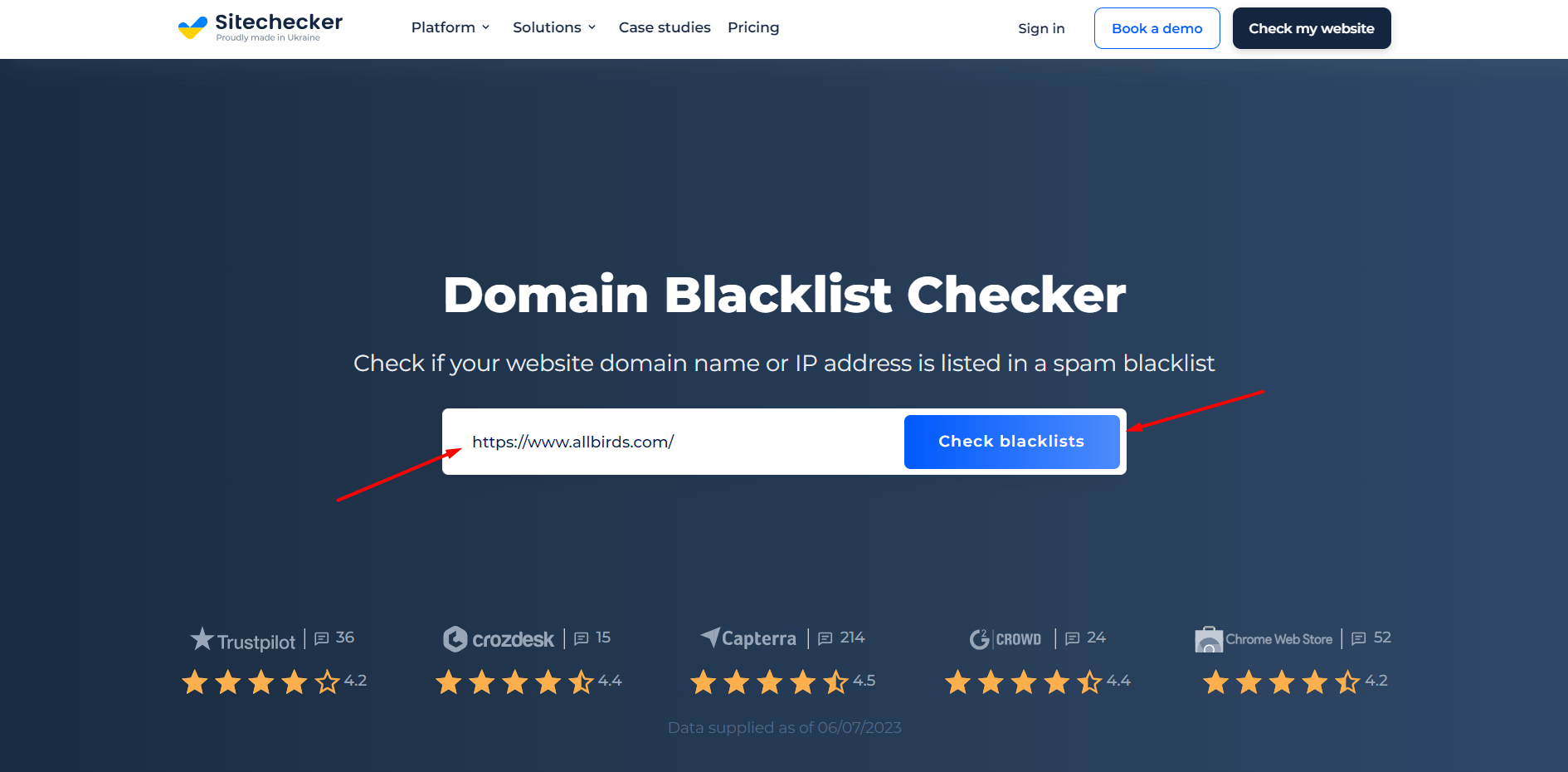 Note: To receive results and access to Sitechecker's features for 14 days, start your FREE trial. Sign-up is easy with your email, Google, or Facebook account. NO credit card is needed.
Step 2: Receive the result
In a matter of seconds, you get all the information regarding your website gathered in one comprehensive report.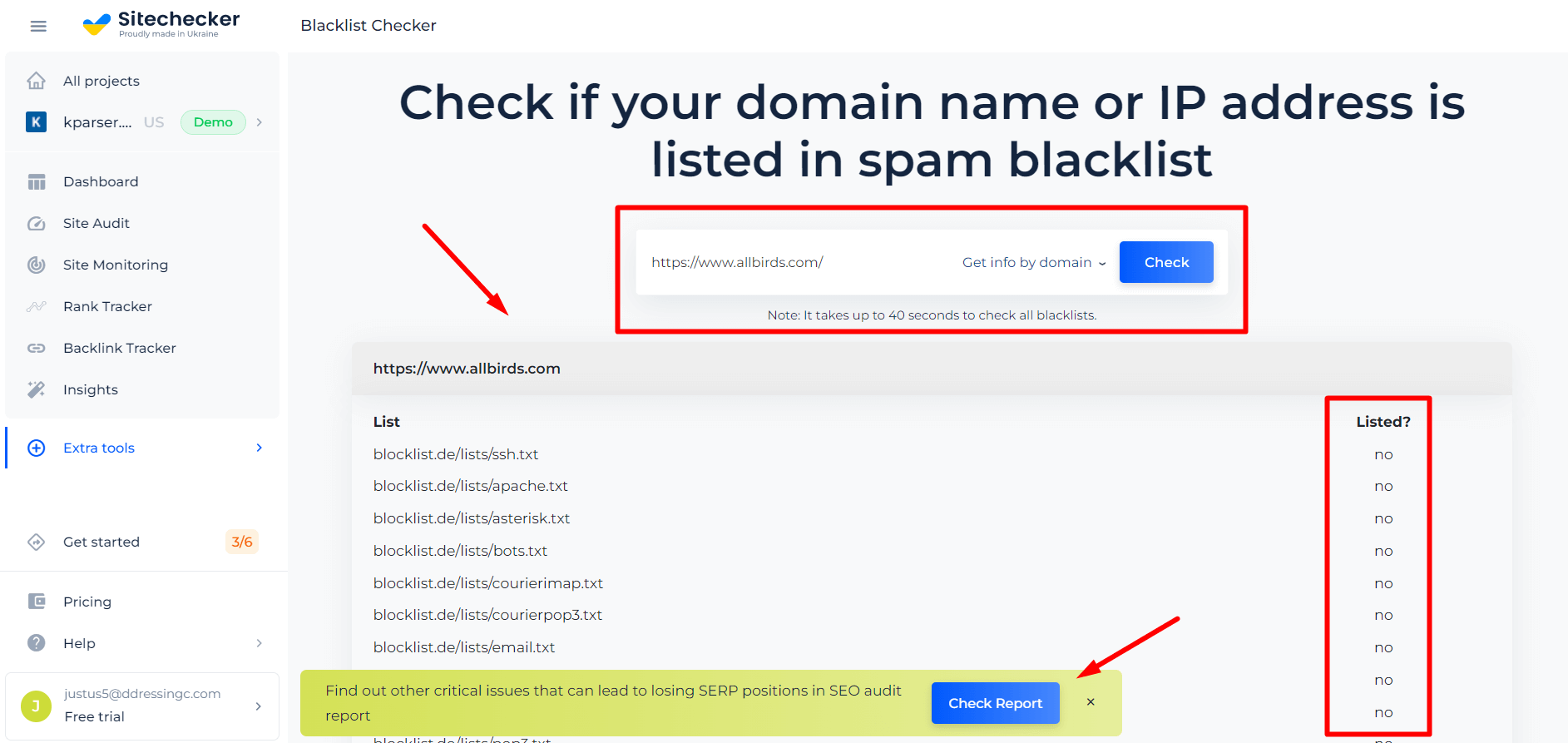 Furthermore, if needed, you can perform a new test using the IP address instead of the domain name.
Additional features of domain spam checker
When scanning your domain for blacklisting, we crawl your site in the background. Thus, by clicking the "Check report" button on the banner, you get a comprehensive website audit report. It helps you identify and address any issues on your site.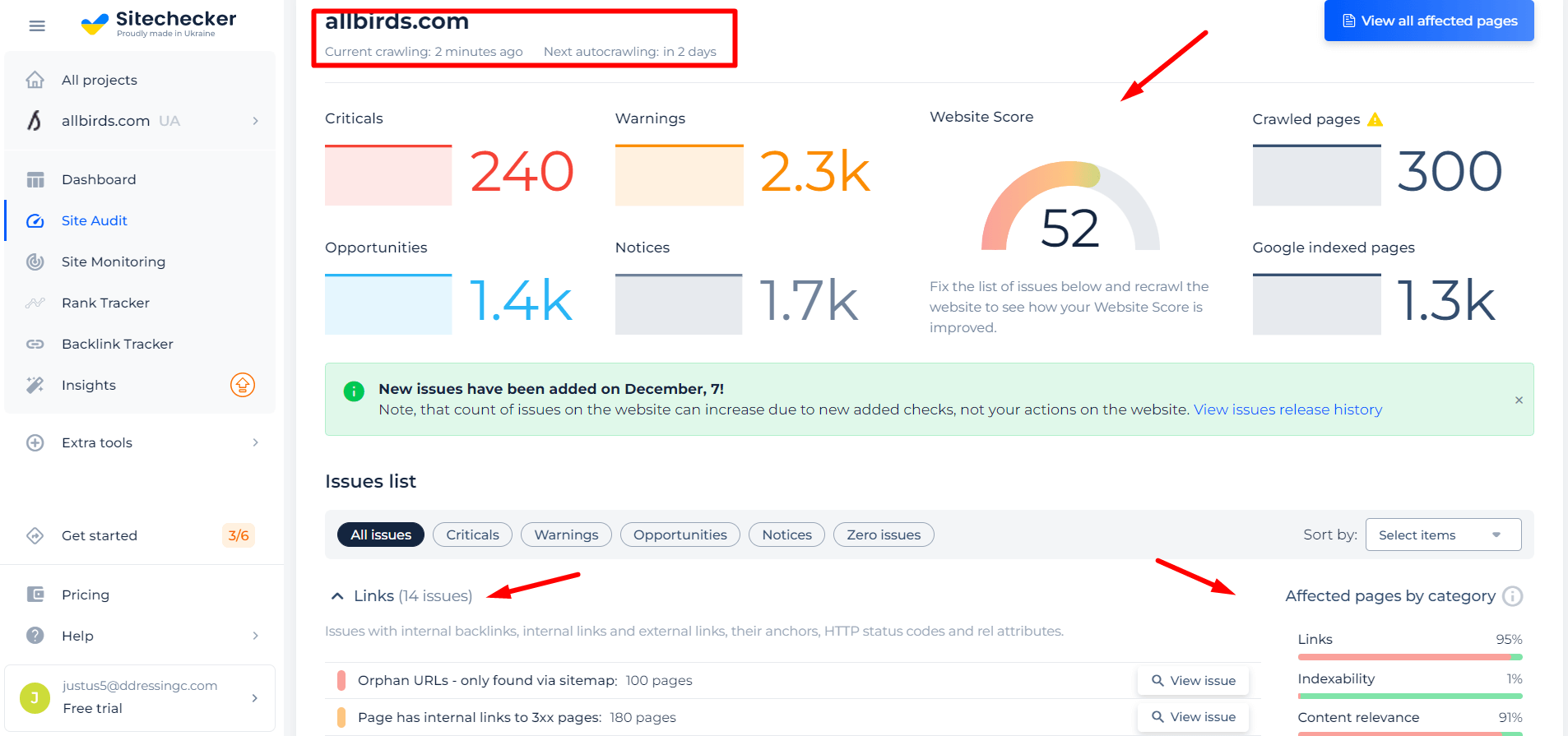 Additionally, we facilitate checks by IP, even if you don't know your website's IP. You can conveniently obtain it by clicking on the domain info on the site audit page — just copy it from there. With this, you are all set for an IP block list check.

Concluding Remarks
Wrapping up, we can say that a blacklist checker is a vital software for safeguarding your website or IP address. It lets you determine if you've been banned, which could significantly impact your traffic. The checker scans the DNSBL database and provides a thorough SEO evaluation and site monitoring. It is simple and fast, delivering a comprehensive report in seconds. Additionally, it offers an IP blacklist checking feature for complete convenience. This tool's importance in maintaining a secure and efficient digital presence cannot be overstated.
FAQ
How to check if my domain is blacklisted?
You can use our website blacklist checker: insert the domain, submit the request, and see the results. It can be done by the domain name or the website IP.
How do you check if Google has blacklisted you?
Use our blacklist checker or check the Google transparency report (transparencyreport.google.com) by entering your site URL and submitting the inquiry.
How do I get off if my website blacklisted?
Should you discover that your IP or domain has been blacklisted, it is advisable to reach out to each DNSBL service and submit a request to remove your listing. Our tool will conveniently generate a list of these services for you. While some services may automatically delist your IP or domain after a certain grace period, others may not. Therefore, it is crucial to identify and eliminate the root cause, then adhere to the delisting procedure stipulated by the block list providers. If you've previously been blacklisted and subsequently delisted due to a mistake, ensure not to repeat the same error.