You have probably noticed that sites on WordPress have different designs. Themes can change your site's design. It includes tweaking your appearance and some aspects of your interface.
The right theme on this platform is the key to success for user experience. Using the best themes of WordPress, any site owner or professional can easily visualize content and structure it for the user experience, even if you don't know how to program or layout a site. You can be inspired by other sites on WordPress and take ideas from them to implement on your site. You have to take care of the maximum comfort of your customers, so a lot depends on the choice of theme.
If you want to find out what theme your competitors use on WordPress, use the free WordPress Theme Detector. You'll find out what theme the site owner has installed and what features it gives to the site's functionality.
What WordPress Theme Is That?
In general terms, a "theme" is the design of a WordPress site. There are many free and paid themes, and you can choose any of them to implement on your site. A WordPress theme is a set of files that help a WP website be interactive, logical, useful to users, and functional. In the past, web admins used to prescribe content manually for every new page. Now you have an interesting opportunity to take advantage of ready-made options to design the visual component of the site.
Use fonts that fit together. Use accent colors and backgrounds. About all this has already taken care of the creators of the themes, and you do not need to worry about the correct setting and display of each element.
WordPress is a platform where you can make your own website. It is perfect for those website owners who are on a tight budget or want to experiment with new projects. Even if you have no experience with the themes of this platform, you can create a beautiful and functional website for free. Yes, small sites may not require paid features.
WordPress Theme Detector Usage: a Step-by-Step Guide
Now you know about themes. Indeed, you can duplicate most WordPress sites very easily. But what if you want to create a site similar to the one you've already seen? You just need to know what theme the site owner is using and what plugins they have plugged in. That's why we created our new and free scanner. It's very simple here.
Use our free WordPress theme discovery tool to look up what design theme your competitor's website uses.
Below we'll look at how you can use the tool to identify themes. Keep in mind that it only works for websites built on WordPress based on the tool's name.
Step 1: Insert your domain and start free trial
Our WordPress theme detector allows you to find out the theme's name used by the WordPress site and its author. Just paste in the URL of the site and start free trial. Starting the trial is easy and free. For our example, we're scanning seochatter.com.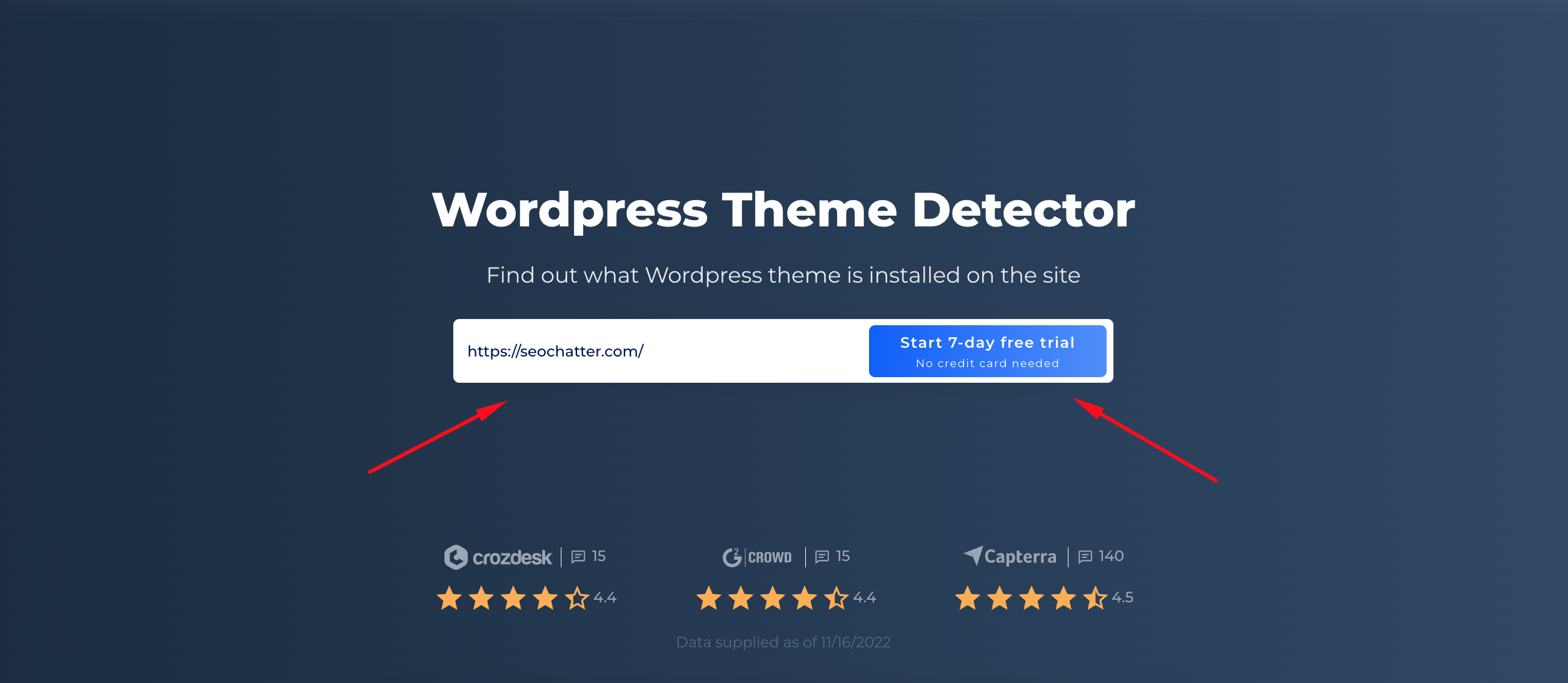 Step 2: Interpreting the WP theme detector results
After scanning, Theme Detector will show the topic name, description (if available), the current version, the providers of the theme, and other useful information.
What is more, with our tool you can check other critical issues that could lead to a loss of SERP positions. To get more details on these issues, you can press the button "Check report". This will give you a detailed report on the problems that were found. This is an additional feature that will be given in more detail in the next paragraph.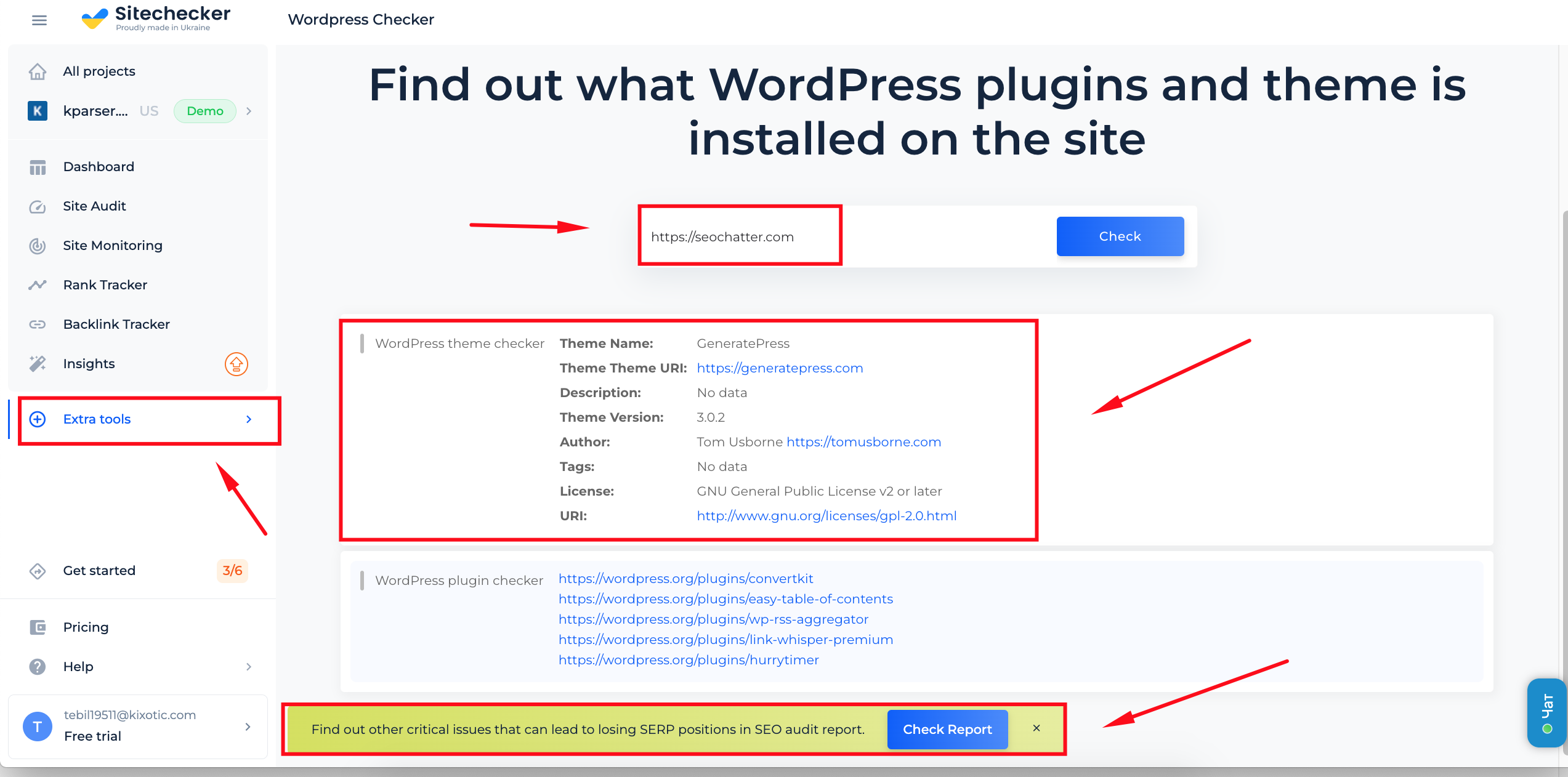 Note that you will only see the name if the site uses WordPress as a builder. If they use a different website platform, you will see a scan error message.

Additional Features of WordPress Theme Detector
WordPress plugin details
As you can see, the tool also provides data about WordPress plugins used on the analyzed website. This gives you additional information about your WordPress site.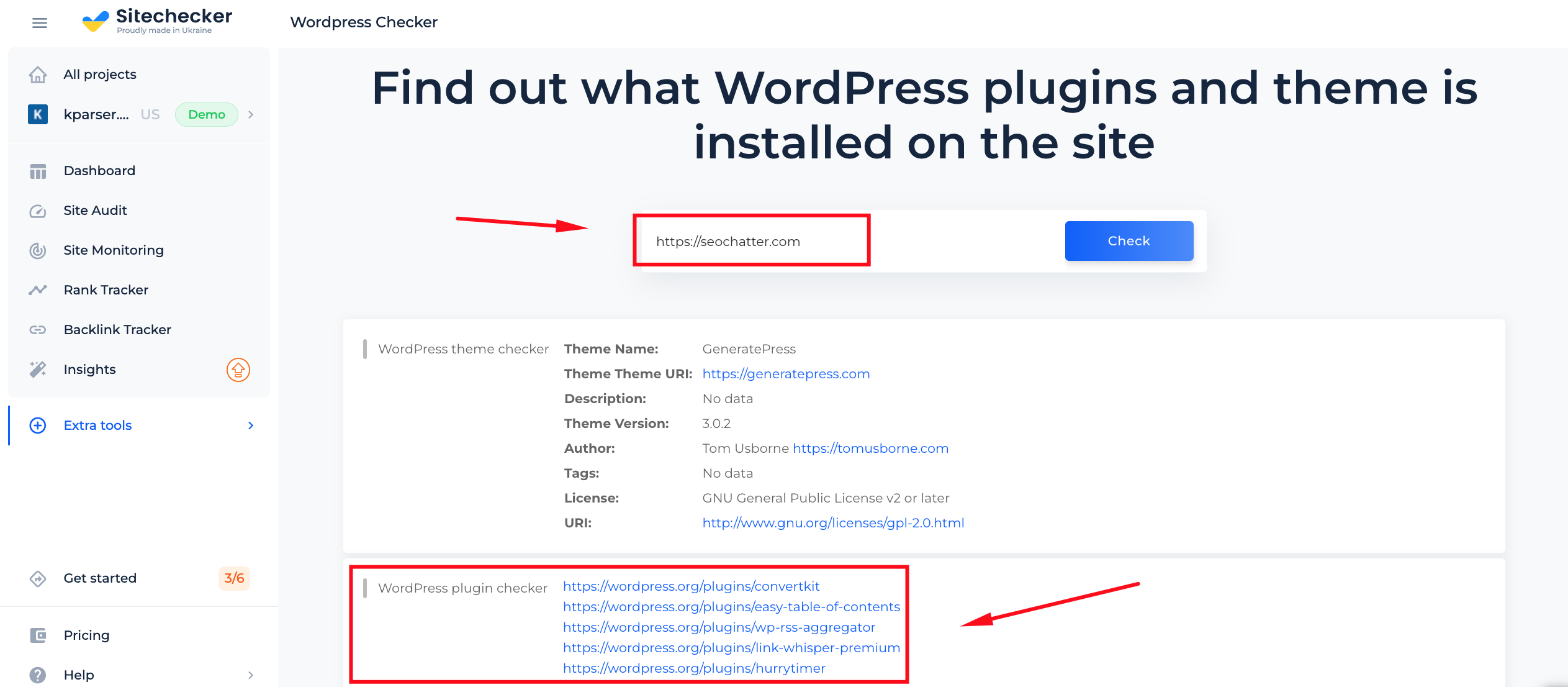 SEO audit report
The tool not only detects WordPress themes and plugins, but it also provides a comprehensive website audit report to help identify any potential problems. This report will not only highlight these issues, but also offer suggestions on how to resolve them. The audit can be broken down by issue type or category, allowing for efficient targeting and resolution of crucial issues affecting your website's success.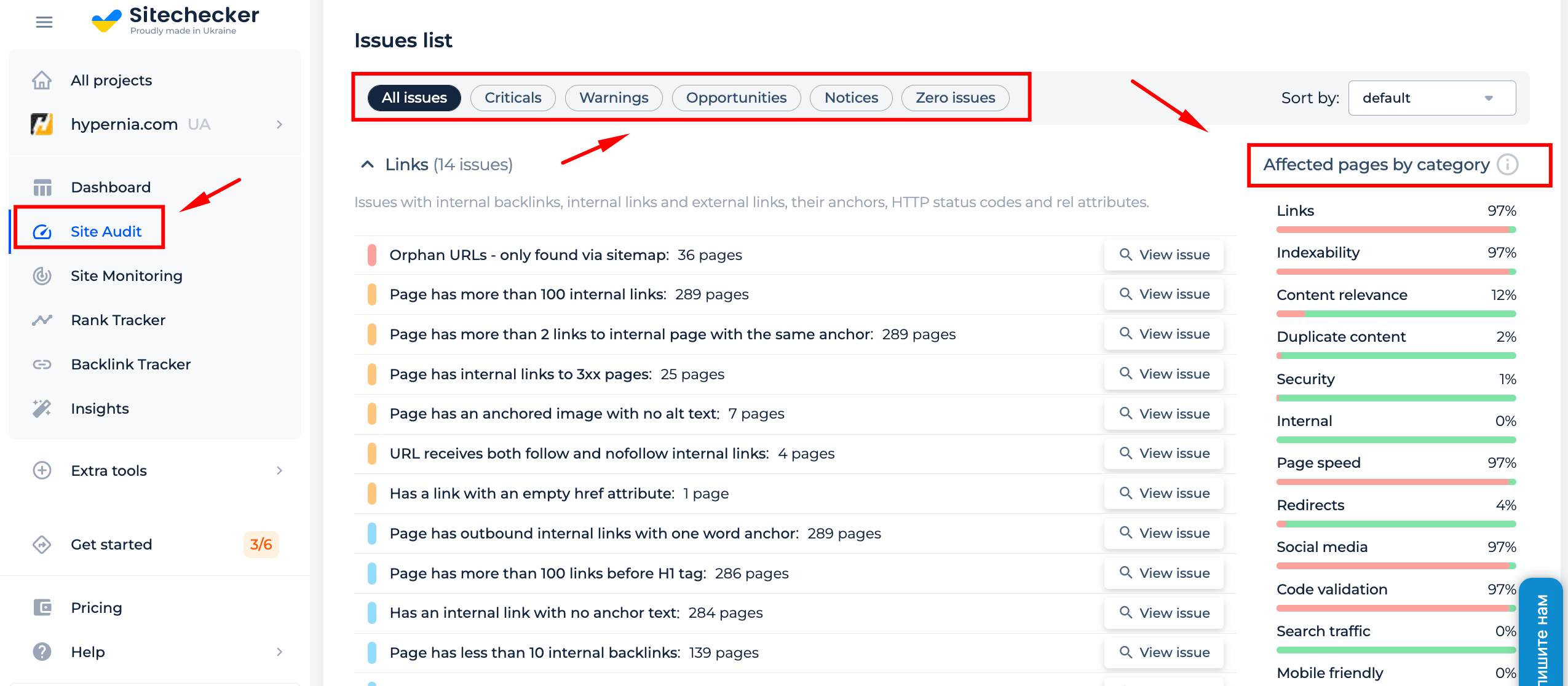 Cases When WordPress Theme Detector Is Needed
So, you may have wondered in what cases you might need our tool. For starters, the most obvious one. You've seen a lovely website, and you want to replicate its design on your own site. If it's a WP site, that means it uses one of the thousands of themes that you can discover. But which one is it? What plugins is this site using? That's what you can do with our tester and get detailed information about what kind of theme it is and whether it's popular or not.
Remember that every WP composition requires a style.css file. Click "View page source code" to find the correct line to detect this full file. It contains the theme header, which tells WordPress the template name, theme author, width, URI, version, etc.
But there's a less obvious reason to use our tool. For example, you are doing a competitor analysis. With our analyzer, you can find out what theme they're using and further analyze what benefits they're getting for their customers.
Either way, it's an interesting tool that's sure to be useful to you. So the easiest way to determine a WordPress theme is to use our tool. It's an online tool that allows you to search for WordPress themes by scanning and analyzing whether a particular site uses the WordPress platform. It will check the visual itself, analyze the data and provide the result.

Check not only WordPress Theme but the entire site!
Make a full audit to find out and fix your technical SEO in order to improve your SERP results.
How To Tell If a Website Is on WordPress
There are several ways to know if a website is WordPress. We will now tell you about the simplest of them.
Normally, WordPress engine sites can be recognized by distinctive directories like wp-content, plugins, themes. Simply open any site in Chrome and right-click on a blank space on the page to select "source page code." Find signs of the page platform in the page code.

You need to connect to your hosting account using your hosting provider's file archive manager or an FTP client. You can also go into your site's WordPress source files or use WordPress version checking tools. It is the easiest method, but it also takes the most time.
Just input the URL in the WordPress identifier search bar, and it will tell you if the website is built using WordPress or not.
By default, the WordPress website has a "Powered by WordPress" logo in the footer. So all you have to do is scroll down until you see the footer.
With these simple steps, you can check in seconds if the site is on WordPress. If yes, its design is most likely the result of using a theme. You can use the same visual if you like it, and it fits the theme of your website.
FAQ
How to use website theme checker correctly?
Just enter the URL of the desired site where you found the theme that suits you. First, our detector scans whether a particular site uses WordPress. Then the tool will check the availability of the theme itself, analyze the data, and give you the result.
How accurate are the plugins and theme results?
The tool provides the most accurate results detection possible if you're scanning a site on WordPress.
How do I know which WordPress plugin is right for me?
The epanel on the plugin page contains useful information in its size. The first section of the sidebar shows the plugin version archives, last update, and active installations. The plugin date was last updated and active installations indicate the plugin popularity.