What is the Yahoo Rank Tracker?
The Yahoo Rank Checker and Tracker by Sitechecker.pro enables observing a website's organic growth across various languages, regions, and devices on the Yahoo Search Engine. With its help, users can assess SERP performance for multiple keywords.
Yahoo Positions Tracker offers daily or monthly evaluations, monitoring, and tracking web page rankings. It delivers critical data for SEO analysis in Yahoo, similar to other search engines like Google and Bing.
Yahoo Website Rank Checker can help you in many ways
Rank Monitoring and Tracking: Displays current keyword standings relative to competitors and tracks targeted queries over time.
Keyword Analysis: Facilitates specific target query examination, offering insights beyond standard search console data.
Keyword Recommendations: Tracks Yahoo rankings and suggests related keywords, including search volumes.
Local SEO Optimization: Includes geolocation features for targeting specific cities or regions, essential for businesses with a local focus.
Mobile vs. Desktop Data: Provides distinct search data for mobile and desktop, recognizing the growing trend of mobile searches.
Check Frequency: Allows regular ranking checks at predetermined intervals to explore performance trends.
Visibility Analysis: Calculates performance metrics for the entire site and individual pages, pinpointing strengths and areas for enhancement.
Competitor Analysis: Enables monitoring of competitors' websites to understand their search ranking patterns.
Detailed SERP Analysis: Offers a comprehensive view of query position changes, aiding in refining SEO strategies.
Key Features of the Yahoo Ranking Checker
Centralized Control Panel: This feature acts as a single point for accessing all SEO metrics and keyword rankings. It simplifies the process of reporting and tracking overall performance.
Intuitive User Interface: Crafted for straightforward operation, this function makes it easy for users to explore and apply various SEO functionalities, even without deep technical expertise.
All-In-One SEO Suite: This extensive array of tools and capabilities encompasses every facet of SEO, from monitoring search engine result pages to conducting competitor analyses. This suite of services provides a well-rounded strategy for enhancing a website's visibility in search engine results.
How to Use Yahoo Position Checker
Step 1: Insert your domain and push the button "Start tracking"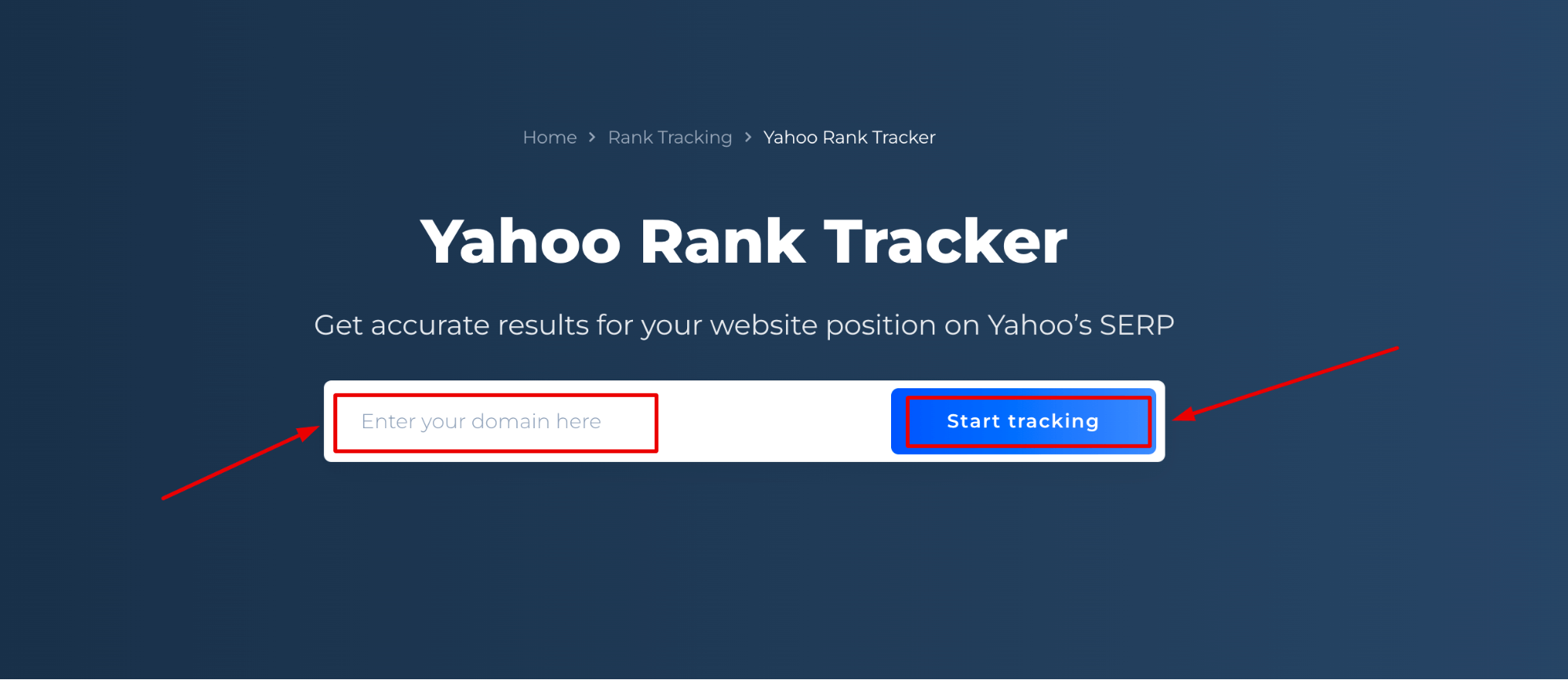 To receive results and access to Sitechecker's features for 14 days, start your FREE trial. Sign-up is easy with your email, Google, or Facebook account. No credit card is needed.
Step 2: Connect Your Google Search Console Account
Optionally, connect your Google account to import search queries from Google Search Console.
While this step is not mandatory, integrating data from the Google Search Console can be beneficial. You can track similar search queries if it has relevant data for search queries and markets where your website ranks.

Step 3: Keyword Entry and Selection of Search Engine, Language, Country, and Device
The Yahoo Rank Checker provides a straightforward interface for adding and managing keywords crucial for SEO monitoring. Users can input search terms directly or import them from Google Search Console or Excel files. The tool enables detailed customization of search settings. Users can tailor and monitor their SEO strategy based on specific countries, languages, and device types (desktop or mobile), enhancing the accuracy and relevance of their SEO tracking.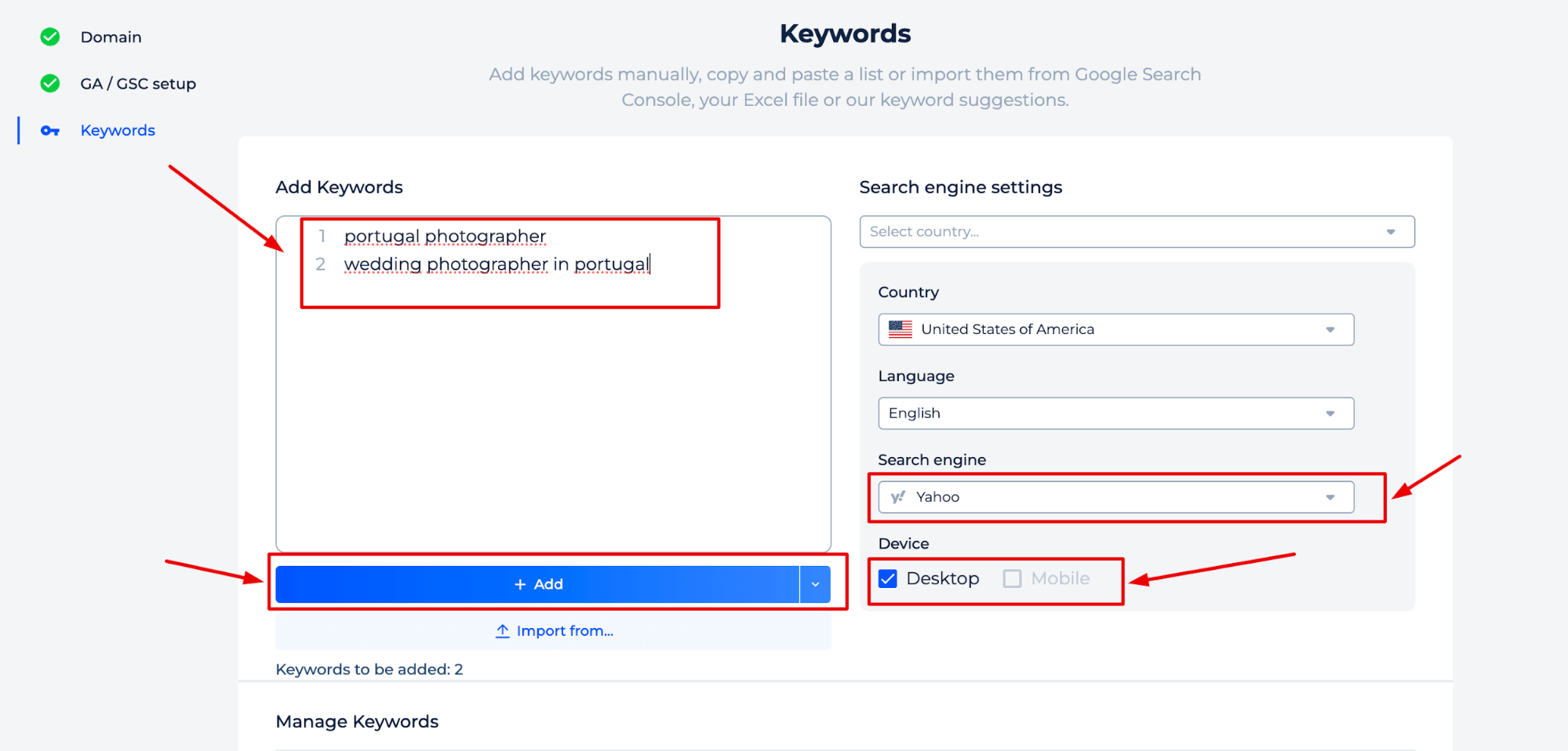 Step 4: Collect Yahoo SERP Data for Targeted Keywords and URLs
Upon entering your keywords, the Yahoo Position Checker gathers data from Yahoo's search results for these terms, setting up a series of tracking requests. At this stage, you can group similar search queries for streamlined tracking and include specific URLs for closer observation.
In addition to these functionalities, the Yahoo Website Rank Checker offers extra metrics like search volume. It indicates whether your queries appear in quick answers or other prominent SERP tracker features.

Step 5: Reporting Outcomes
After completing the setup, you'll receive a detailed report with the precise outcomes of your initial assessment. This report is the basis for ongoing use. With its help, you will regularly monitor and rely on the Yahoo SERP checker as your dependable SEO monitoring solution.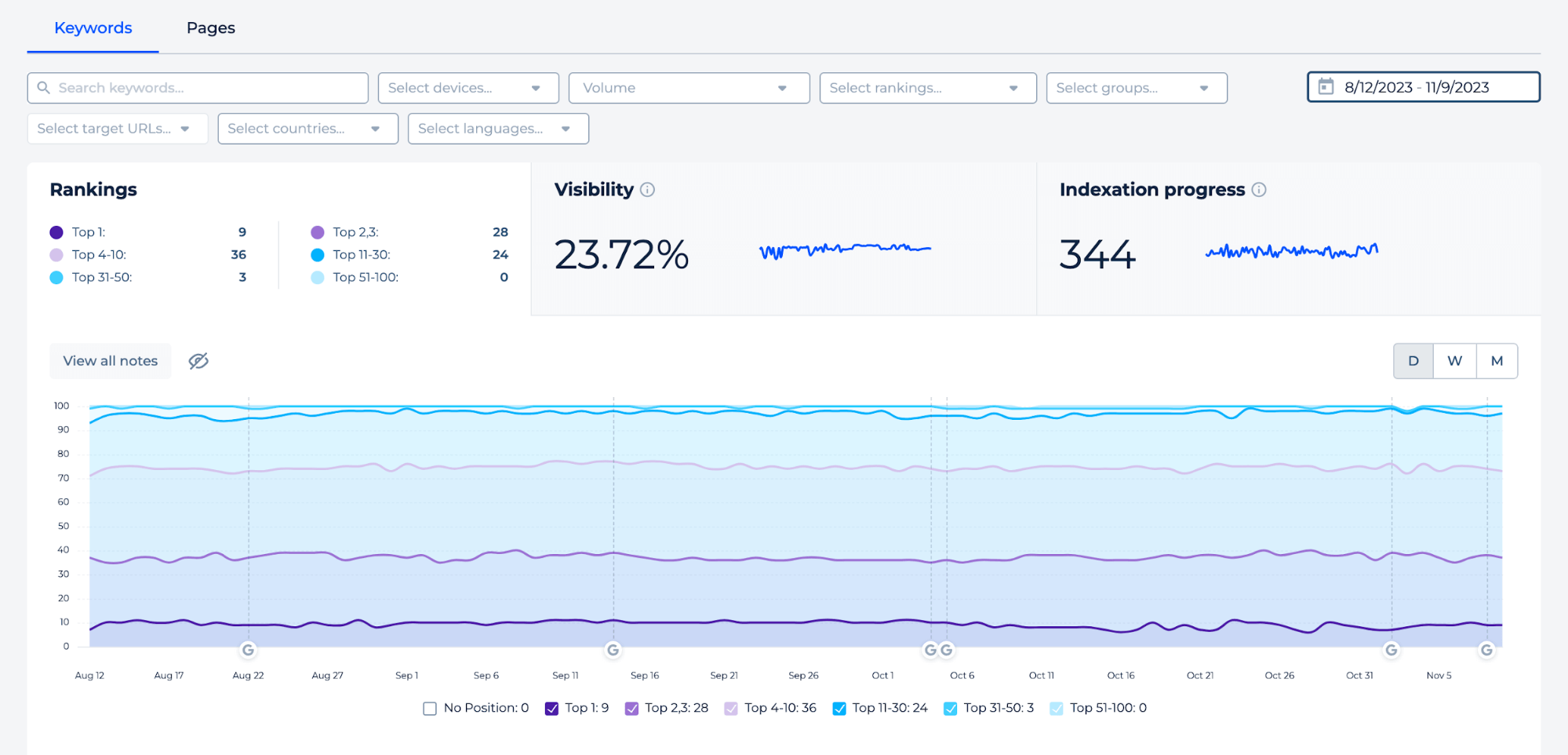 The Yahoo Keyword Checker offers a detailed dashboard for tracking and analyzing your website's traffic and SEO effectiveness. It categorizes Yahoo keyword rankings into different levels, revealing your website's position in search results.
This tool includes a visibility metric that shows if searchers can find a page on your site. Also, it provides the indexation graph displaying how many pages Yahoo recognized over time.
Featuring an interactive timeline, it allows you to review the progress of your website's rankings. You can also modify the display to daily, weekly, or monthly intervals. This functionality delivers valuable insights to enhance your website's online visibility.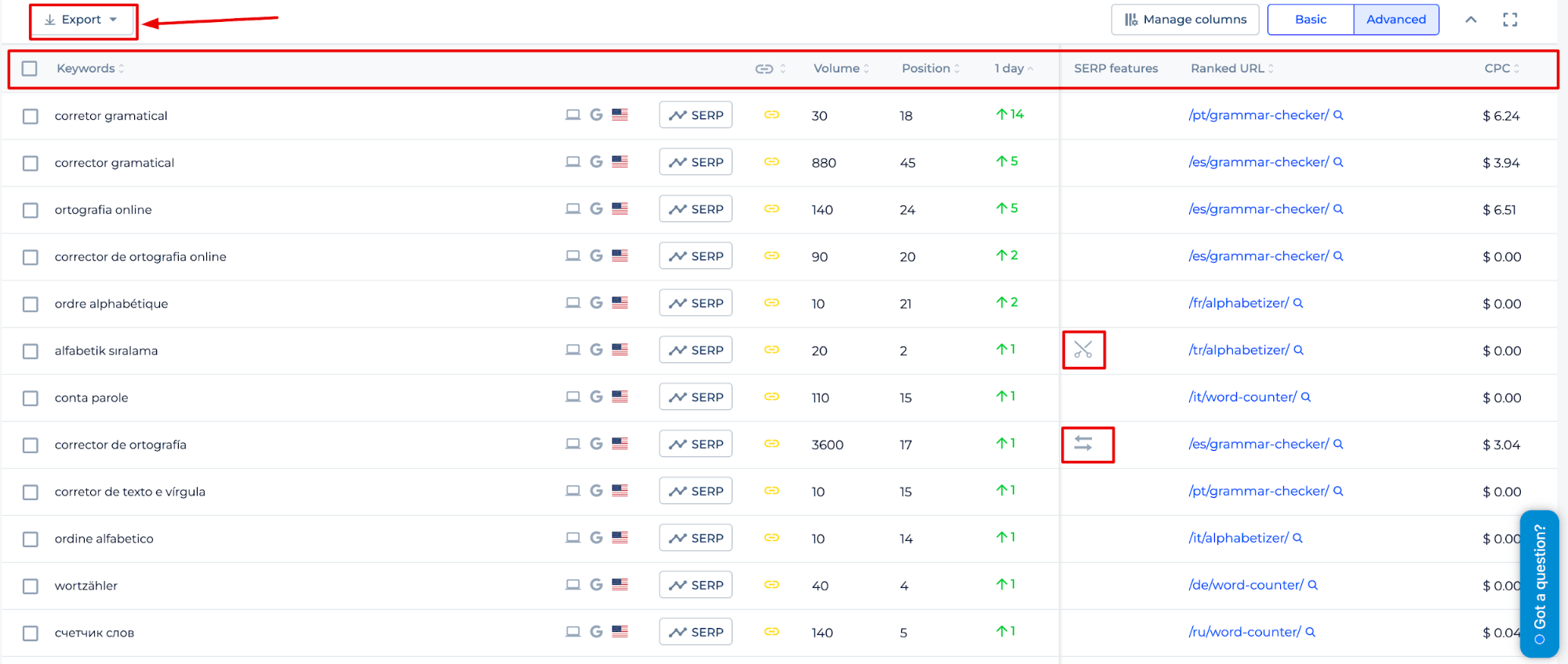 The keyword tracking section of the Yahoo Rank Tracker displays essential information. It includes the URL, specific keyword, search volume, and present rank (indicating how high the website appears in Yahoo's search results). Additionally, this section provides visibility metrics.
Further details include cost-per-click values and an indicator if Yahoo's SERP features the keyword, like quick answers or snippets. This report comprehensively overviews each keyword's performance in Yahoo's search result context.
Additional Features of Yahoo Rank Tracker
Click on the "SERP" button next to a chosen keyword to access its respective graph in the Yahoo Rank Tracker.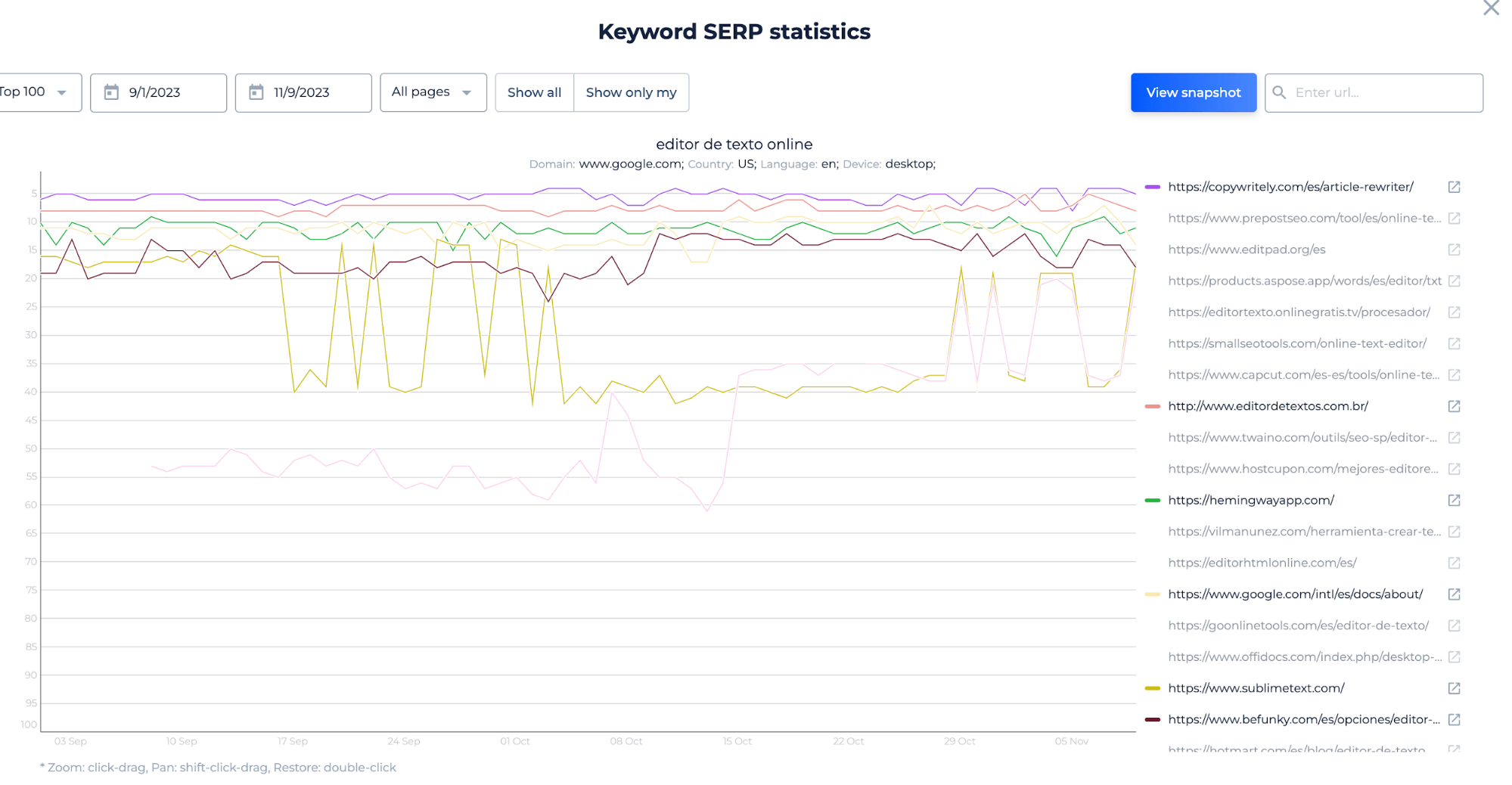 The graph in the Yahoo Rank Analyzer displays the changing positions of different URLs for a specific keyword over a given period. It depicts different web pages with lines in unique colors, depending on the URLs listed on the right side of the interface.
Use this tool to analyze how various sites and pages perform for the same keyword within a chosen timeframe (for example, from September 1st to November 9th). It also offers the functionality to take a snapshot and enter a URL for more in-depth analysis. Features like date range and page selection filters further enhance the capability to track and fine-tune SEO strategies effectively.
Final Idea
The Yahoo Rank Tracker Online Tool from Sitechecker assists website owners in improving their rankings on the Yahoo search engine. With its intuitive interface, this tool streamlines monitoring keywords, assessing competitive standings, and evaluating SEO effectiveness. It offers in-depth SERP analytics and enables rankings tracking across different devices and regions. This tool is essential for fine-tuning your website's SEO strategy, providing vital insights for boosting your site's visibility on Yahoo. Its user-friendly design and comprehensive features make it an indispensable asset for optimizing your online presence on Yahoo.
FAQ
How does the Yahoo Rank Checker handle data privacy and security?
The Yahoo Rank Tracker Tool follows strict data privacy and security protocols to keep user information and tracked data confidential and secure. It employs advanced encryption and security measures to protect against unauthorized access and data breaches.
Can the Yahoo Rank Tracker Tool monitor multiple websites simultaneously?
Yes, the Rank Tracker Tool can track multiple websites at the same time. Add and track numerous domains and their positions. With our tool, you can efficiently monitor several websites within one account.
How do you rank on Yahoo?
To rank on Yahoo, optimize your website with relevant keywords. Ensure high-quality content, build backlinks, improve site speed, and guarantee mobile-friendliness. Finally, regularly update your content and use SEO best practices tailored to Yahoo's search algorithms.