What is Meta Title Tag Checker?
The Sitechecker meta title tag tester is designed to ensure that your tags are effectively crafted. It checks the count, content, and length of your meta tags. The tool ensures your meta tags are optimized with relevant keywords and don't exceed the recommended 60-character or 600-pixel limit. Moreover, it offers a site-wide analysis, pointing out issues related to title tags across all the webpages.
In the following sections, we will elaborate on the key features of this checker, the importance of title tag checking, and give you a step-by-step guide on how to use this valuable tool. Whether you are a SEO beginner or an experienced marketer, Sitechecker will help you boost your website's ranking and visibility.
Key Features of the Google Title Checker
Meta title tag analysis. Sitechecker investigates every page of your website, examining title tags, the number of tags, their content, and their length. This all-encompassing approach provides you with a thorough understanding of the title tags across your website.
Issue identification and guidance. The meta title checker isn't just about detecting problems; it's also about providing solutions. The tool highlights any inconsistencies or issues associated with the title tags on your website. It generates a list of problematic URLs and delivers strategic advice on how to fix them. With this feature, you'll have a roadmap to enhancing your title tags and, by extension, your website's SEO.
Change tracking. With the dynamic nature of websites, keeping tabs on alterations is critical for maintaining SEO health. Our meta title tag checker monitors any modifications made to the meta tags on your web pages. Whether there are significant changes or subtle tweaks to the title tag, you'll be the first to know.
Beyond these capabilities, our SEO checker also integrates with an extensive suite of SEO tools. With features including a detailed website audit, rank tracking, and backlink monitoring, you'll have all the resources for creating a comprehensive SEO strategy.
Importance of Meta Title Tag Checking
There are several reasons to examine the meta title tag on each page and check your website for potential complications.
Search engines use meta title tags to define your website's rank in the Search Engine Results Pages (SERPs). An efficient meta title tag that's filled with relevant keywords can significantly bolster your site's ranking and attract more visitors.
Additionally, a well-crafted meta title tag can considerably amplify your click-through rate (CTR). That way, more users will engage with your link in the SERPs and it will drive more traffic to your site. Furthermore, users encountering a relevant and informative title are more likely to click on your link.
How to Check Meta Title Tag of a Website With Our Testing Tool?
Choose the page or domain to check, add the URL to the provided space, and use the "Check title tag" button to start.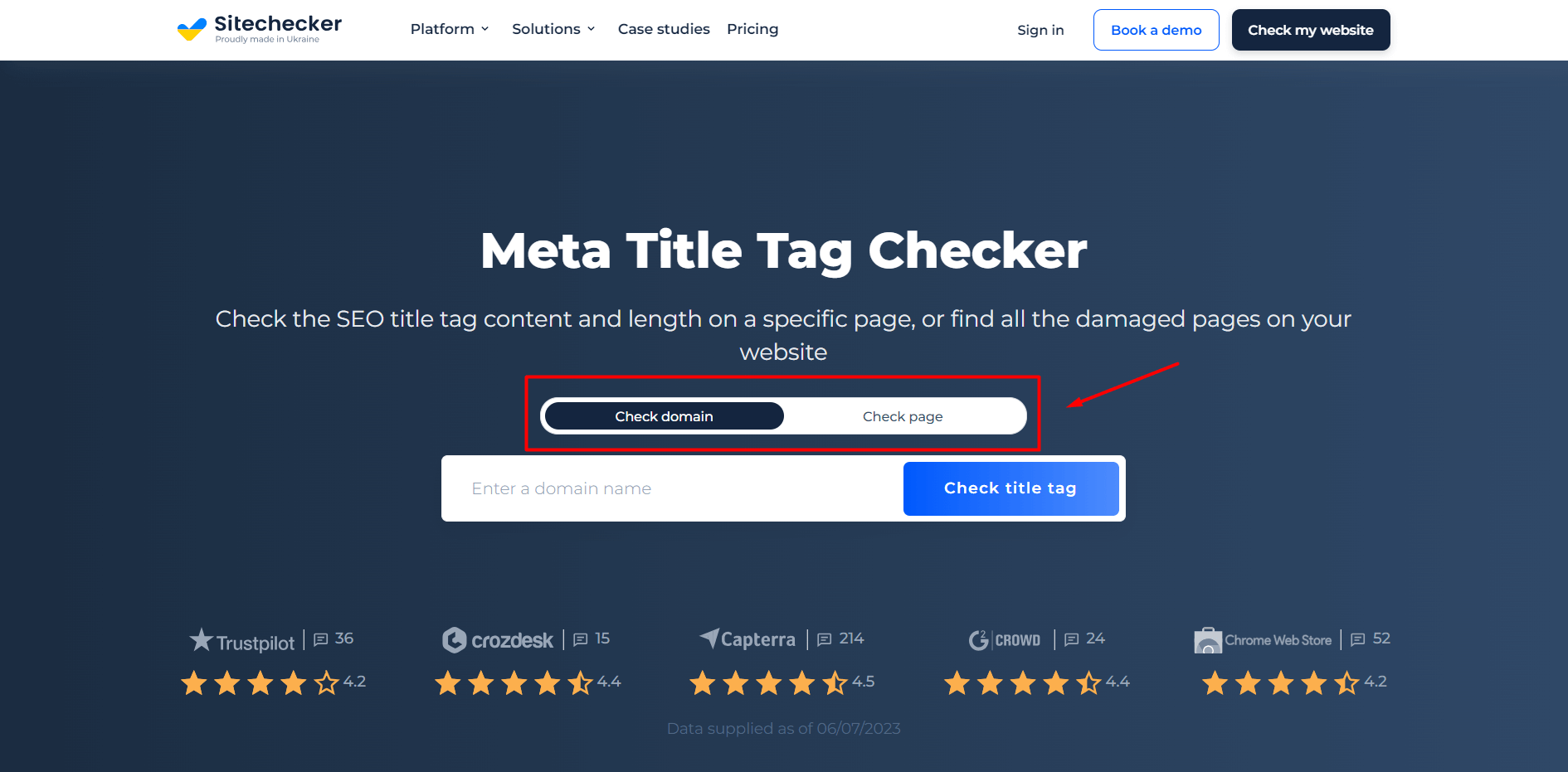 Note: To receive results and access to Sitechecker's features for 14 days, start your FREE trial. Sign-up is easy with your email, Google, or Facebook account. NO credit card is needed.
Domain Check
Step 1: Input the domain name and click the "Check title tag" button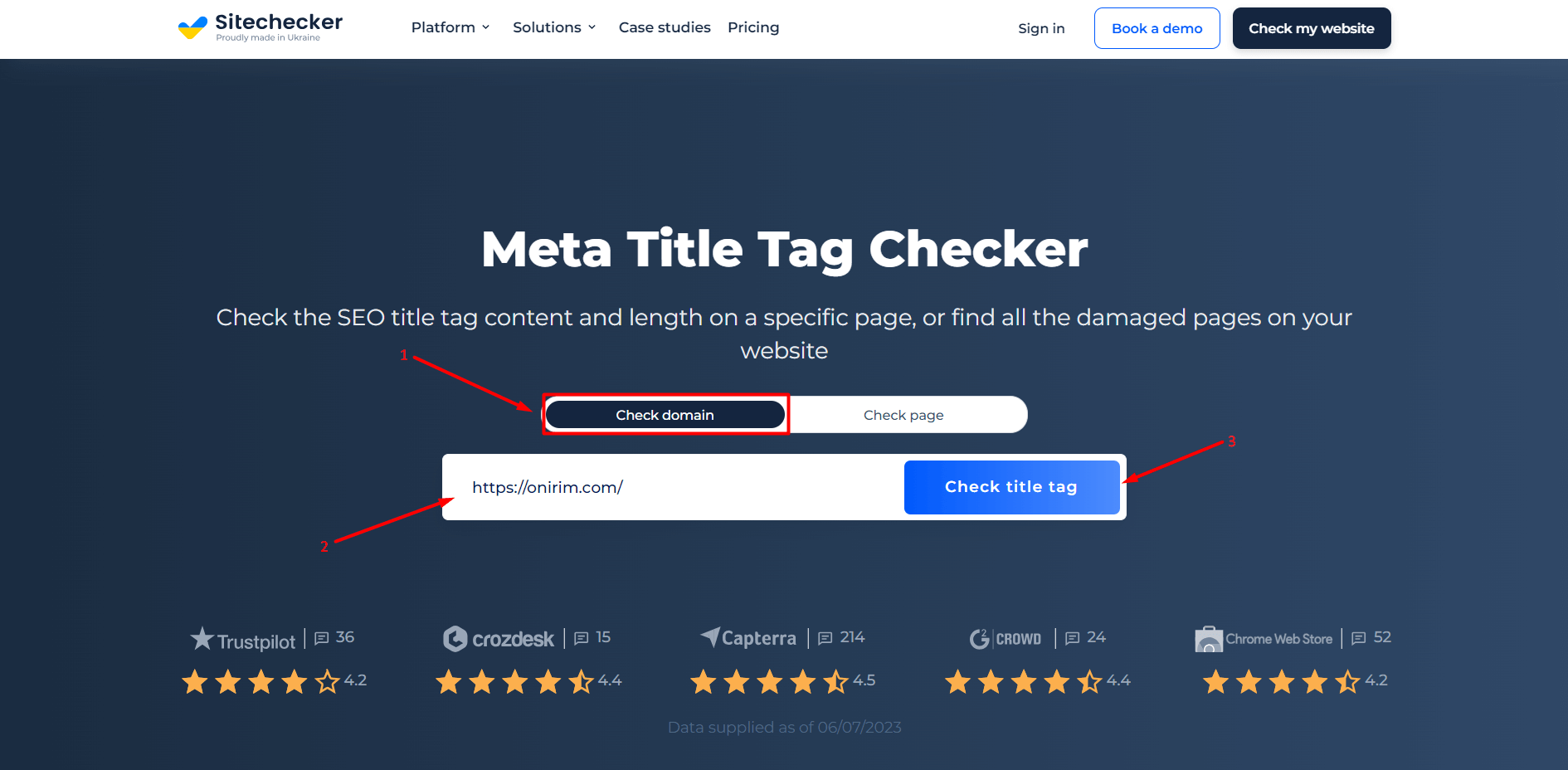 Step 2: Obtain the result of the website title finder
A domain scan with Sitechecker comes with a free full-site audit that will list any URLs with title tag issues. This helps you fix the problem for your entire website and prevents new issues. Click on an issue and get a list of damaged pages along with instructions on how to fix them. This makes Sitechecker an effective tool for bulk title tag checking.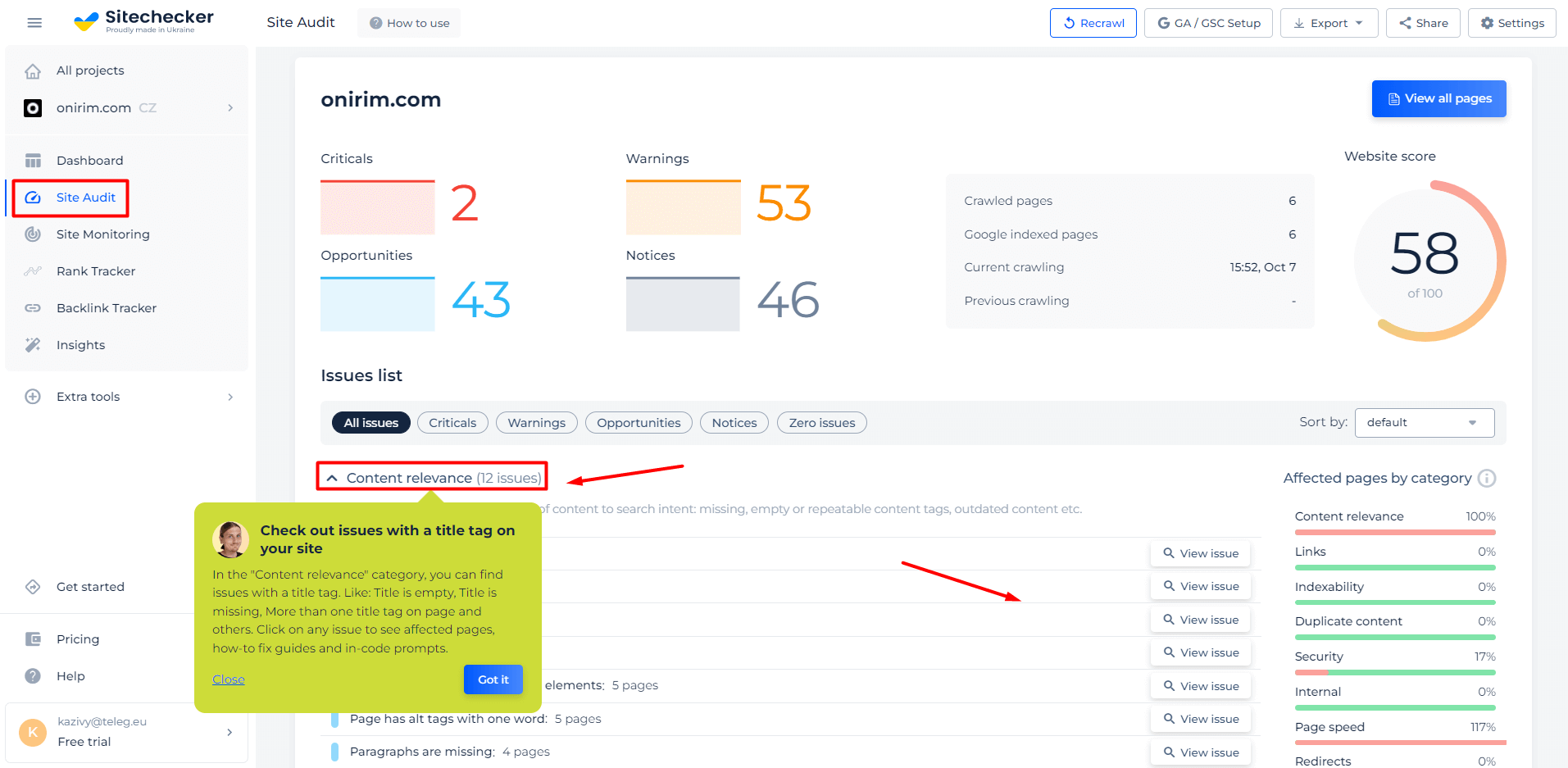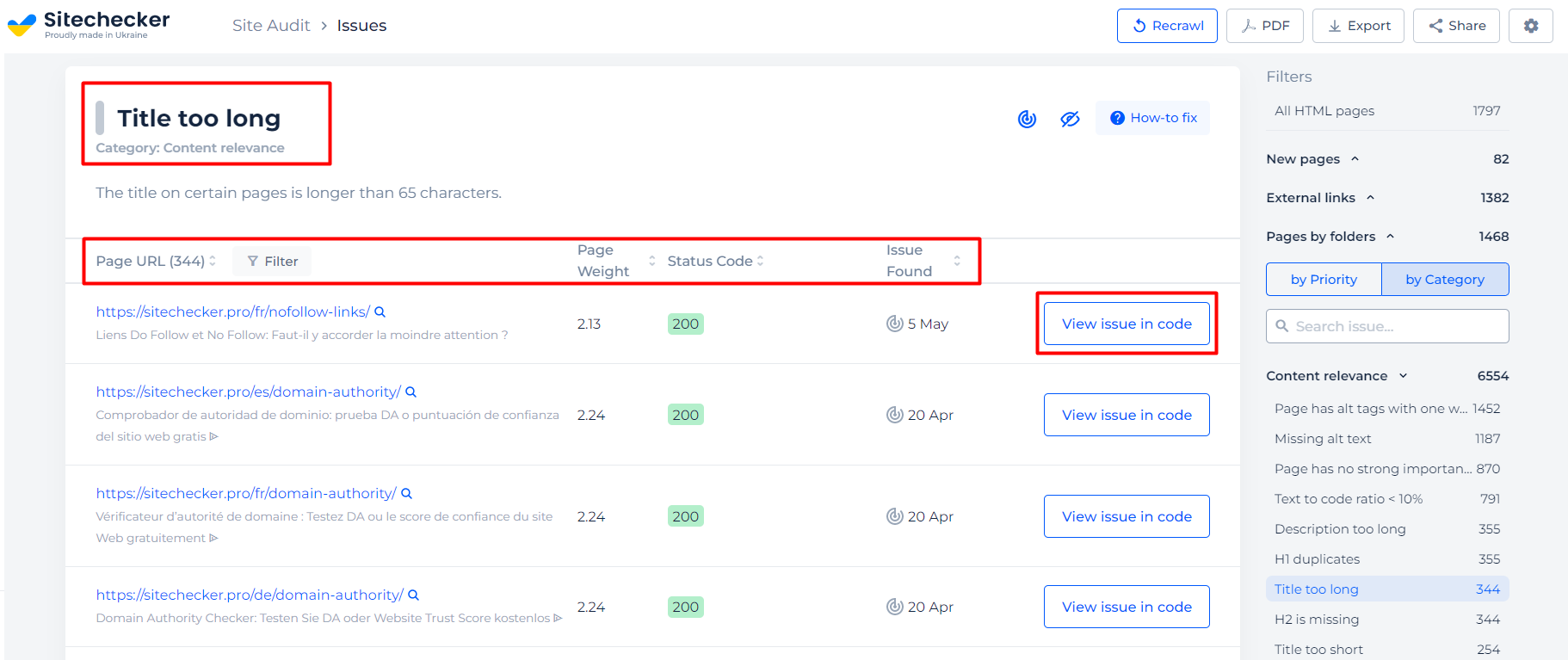 Some of the other features that come with the domain/website title tag scanner
On the Site audit summary page, you'll also find a comprehensive list of internal problems on your website.
You may filter the issues by type, such as Criticals, Warnings, Opportunities, and Notices. Alternatively, you may sort them according to categories, for example, Links, Indexability, or Content Relevance. This makes it much simpler to focus on repairing the problems that will have the most impact on your website's success.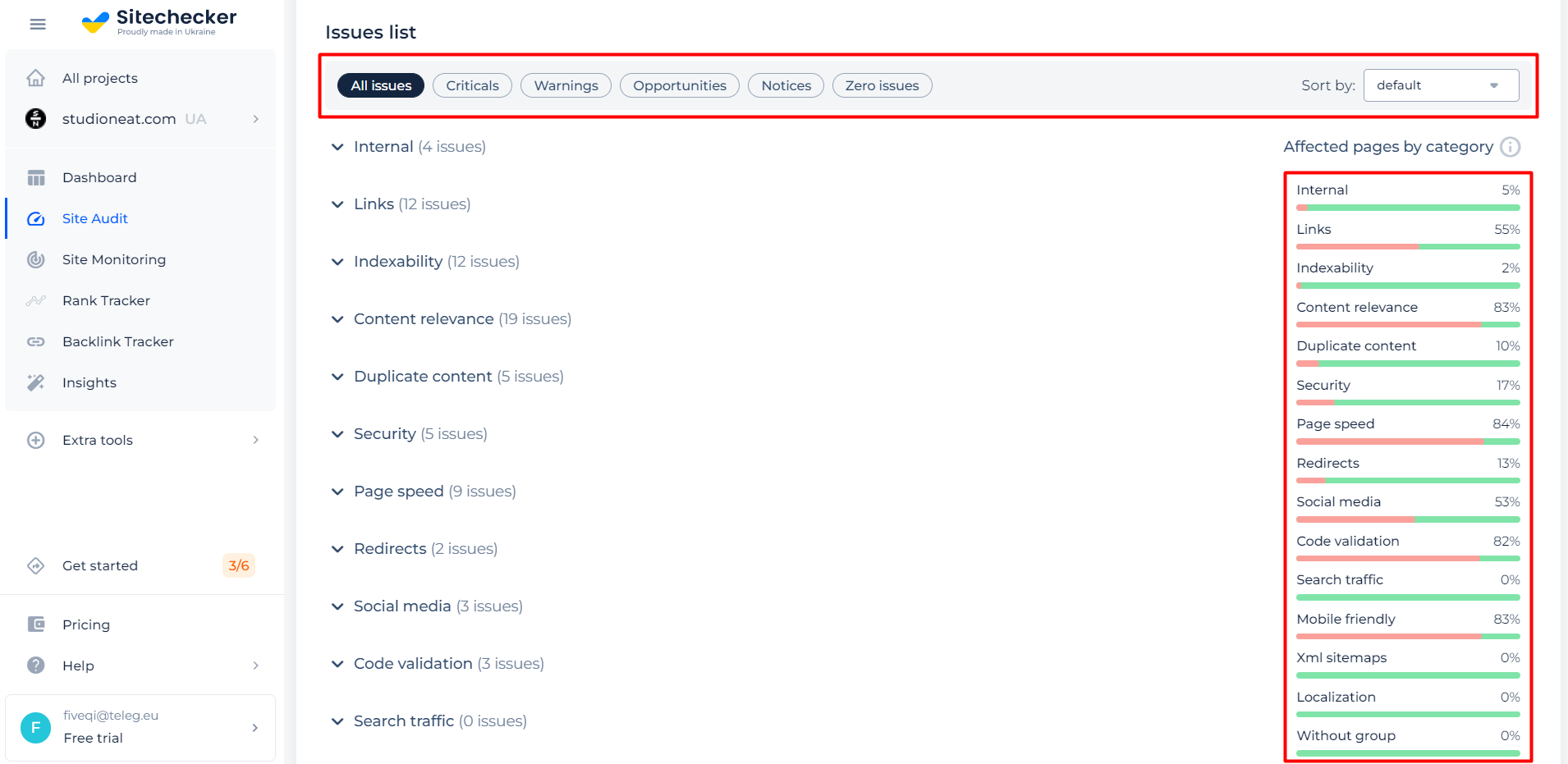 Page Check
Step 1: Fill in your URL and click the "Check title tag" button to begin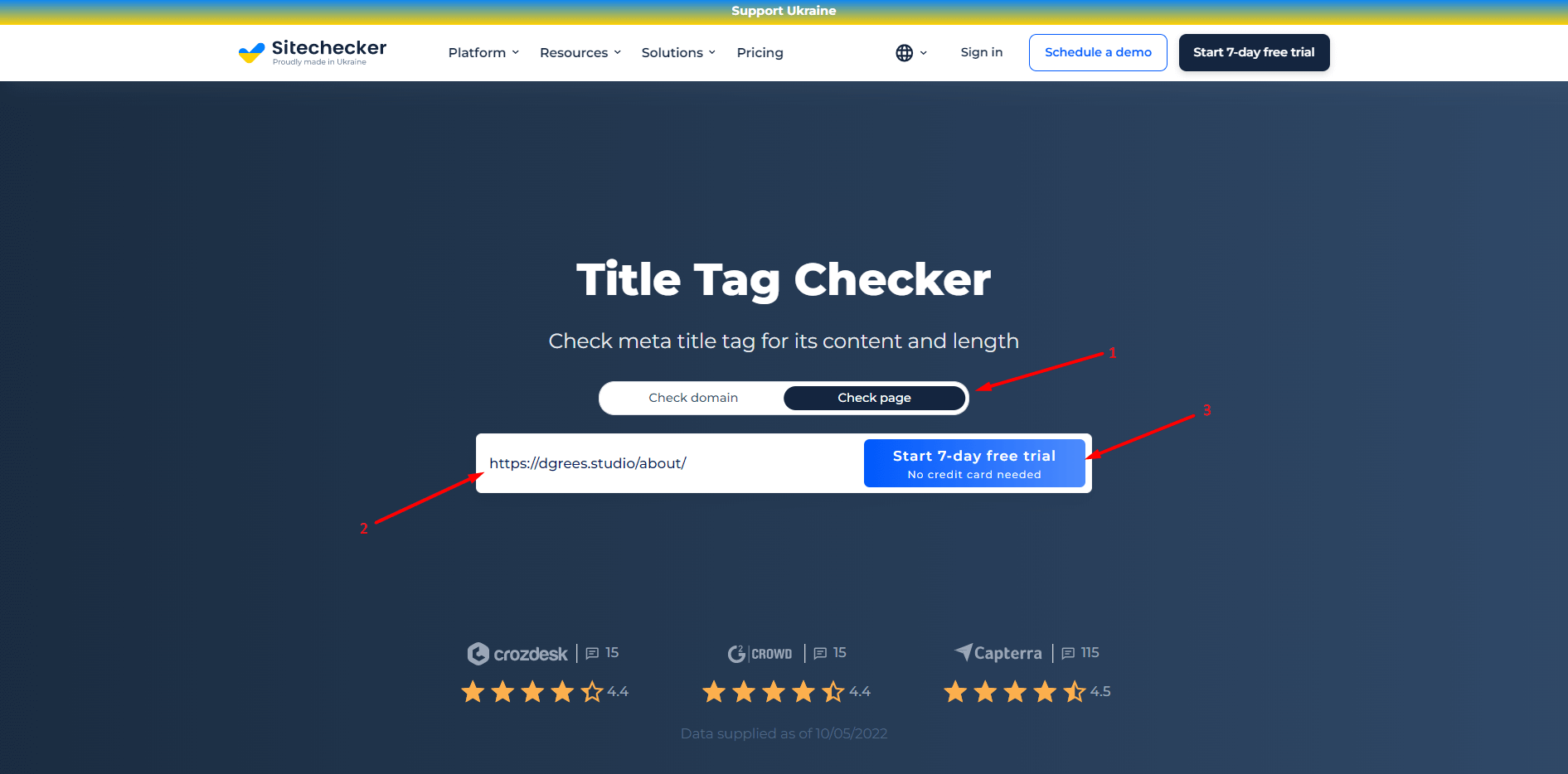 Step 2: Analyzing the results
The URL you entered into our tool will be crawled in order to obtain data. The process takes a few moments. After that, you'll find out the title tag, the number of title tags present on the page, the length of the header, and if the title equals H1.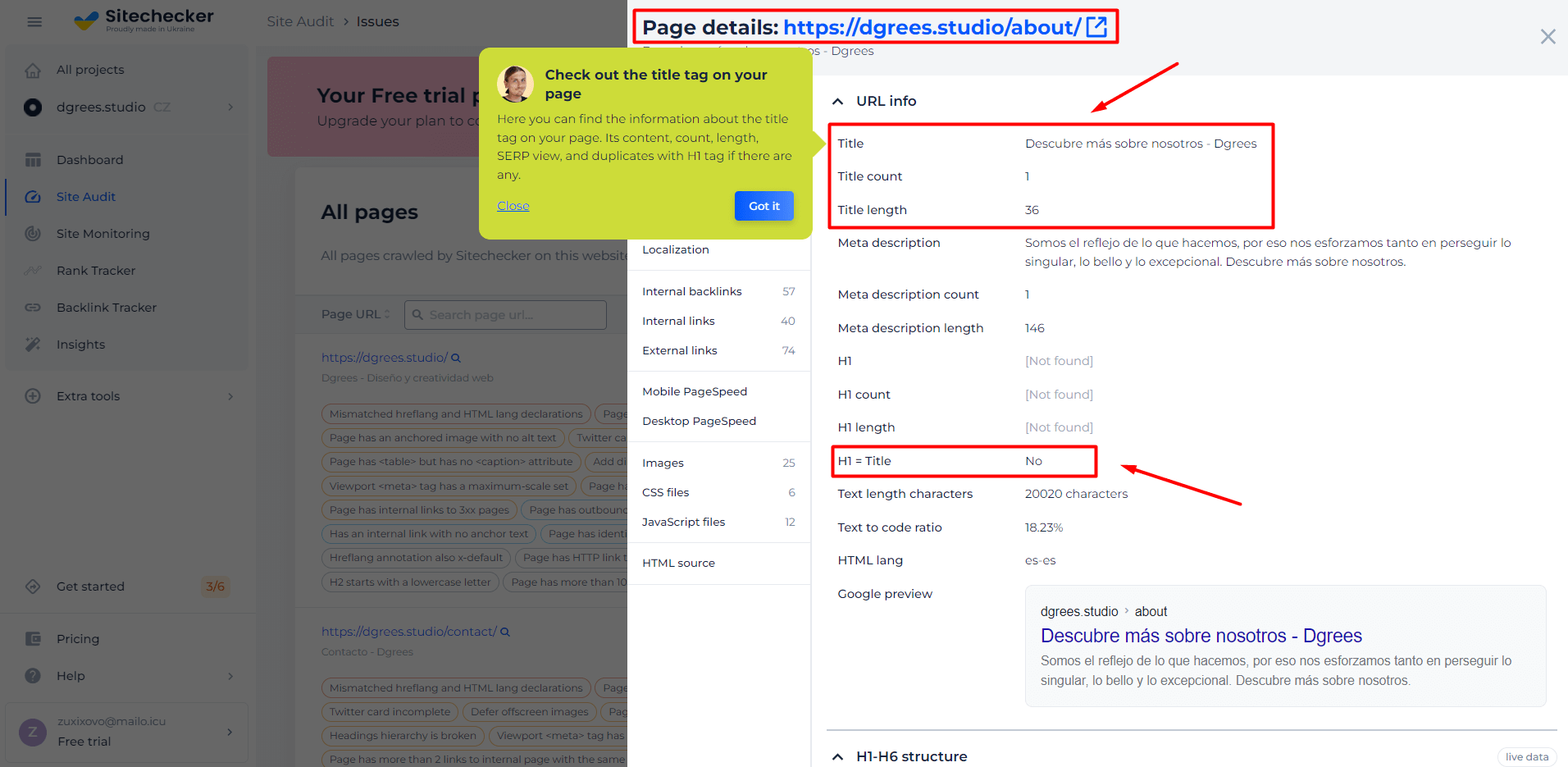 A page title checker allows you to look for additional data of content block like meta description date or find other issues on the page you've entered, such as content, localization, and speed. Identifying these problems can help you improve your website's performance and overall quality.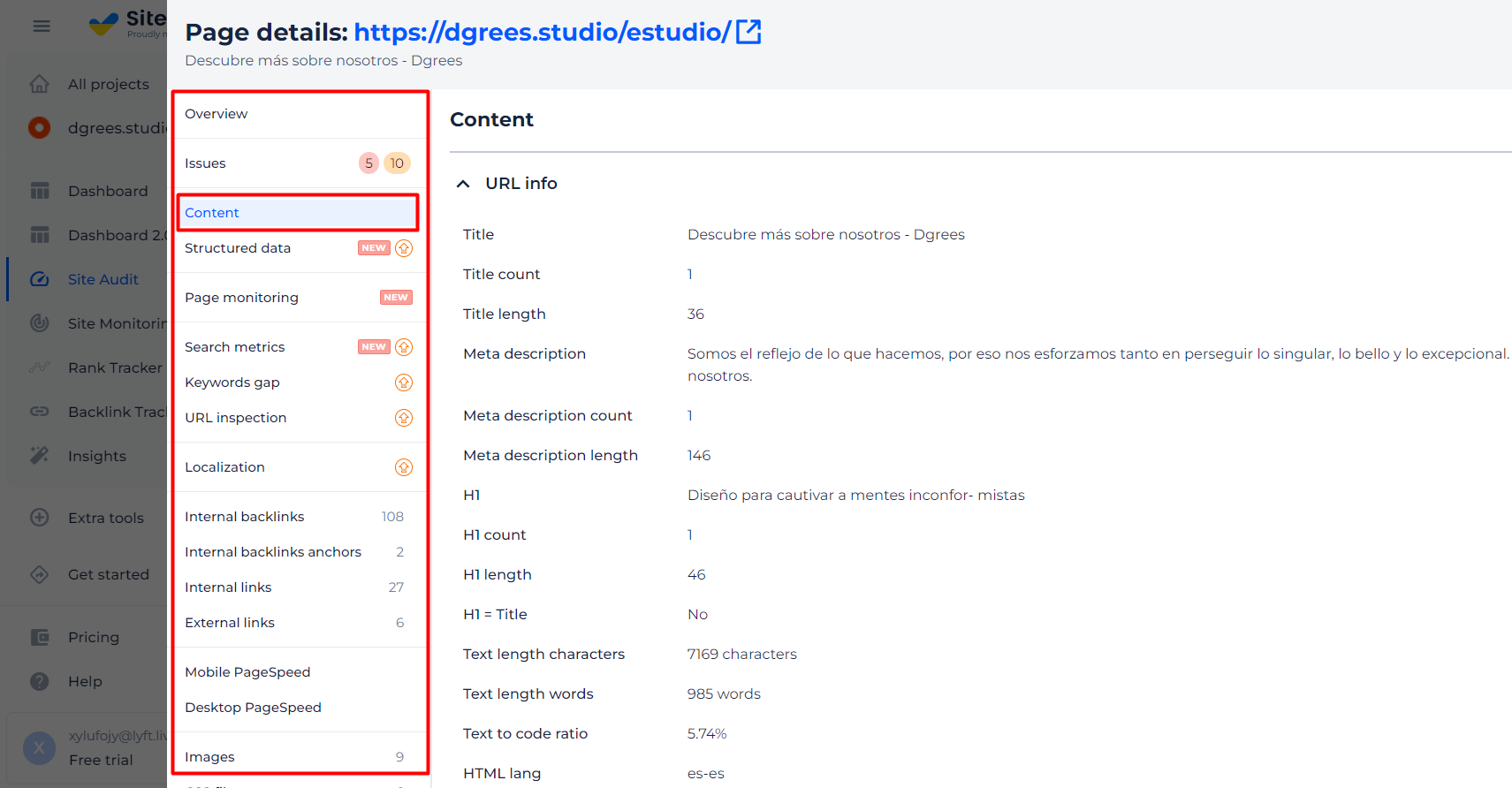 Other features of the title tag analyzer
Sitechecker doesn't just examine a single webpage; it investigates your whole website, gathering data for any URL. To collect SEO meta title tag details for numerous pages on your website, just employ the All HTML pages filter to pinpoint the URL that piques your interest.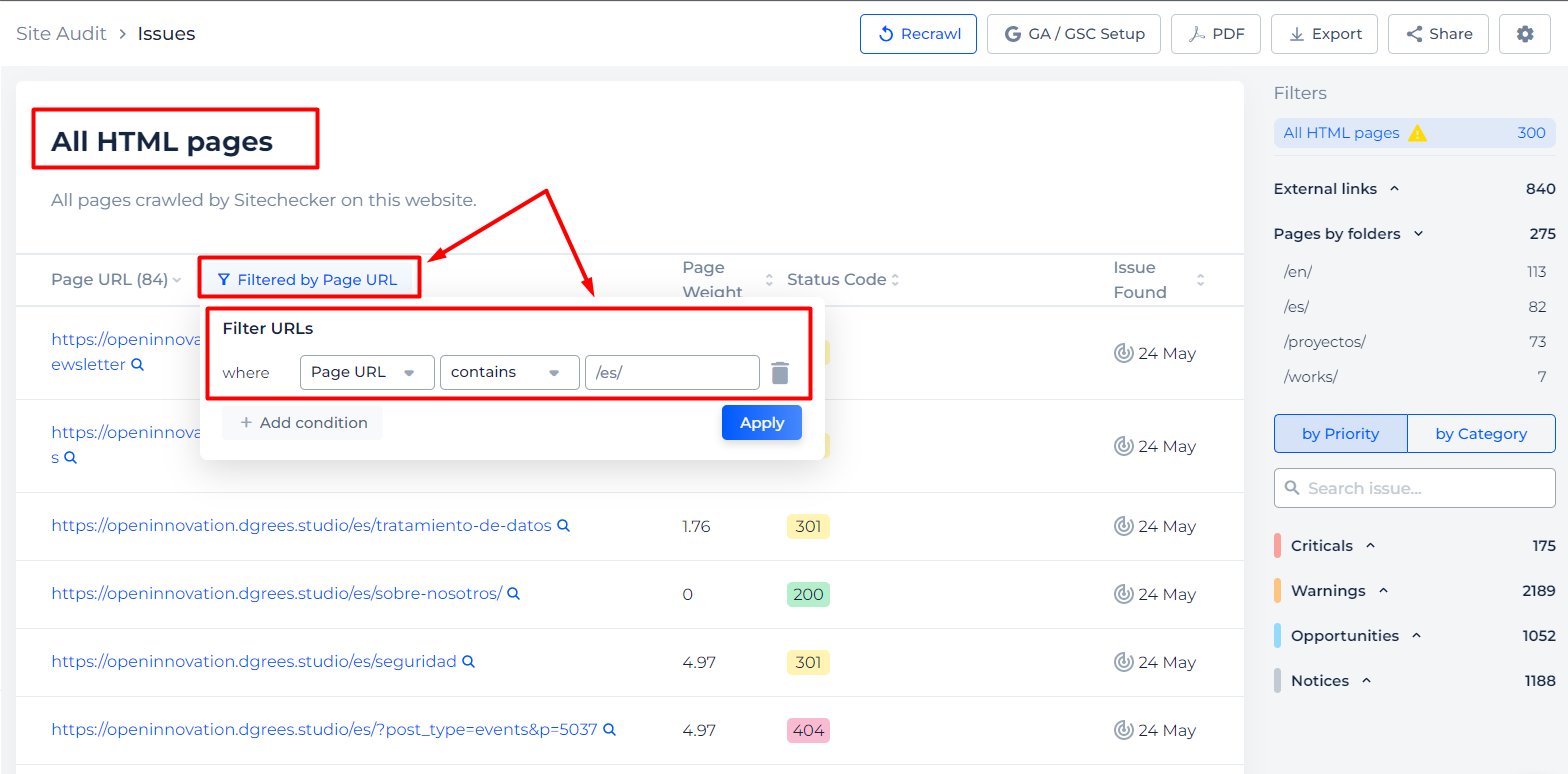 Additionally, you can employ Search by Category function to pinpoint title-related problems impacting several pages on your website. Choose the category tab and put the specific issue you're looking to fix, for instance, "title". The search will then identify relevant issues on your website.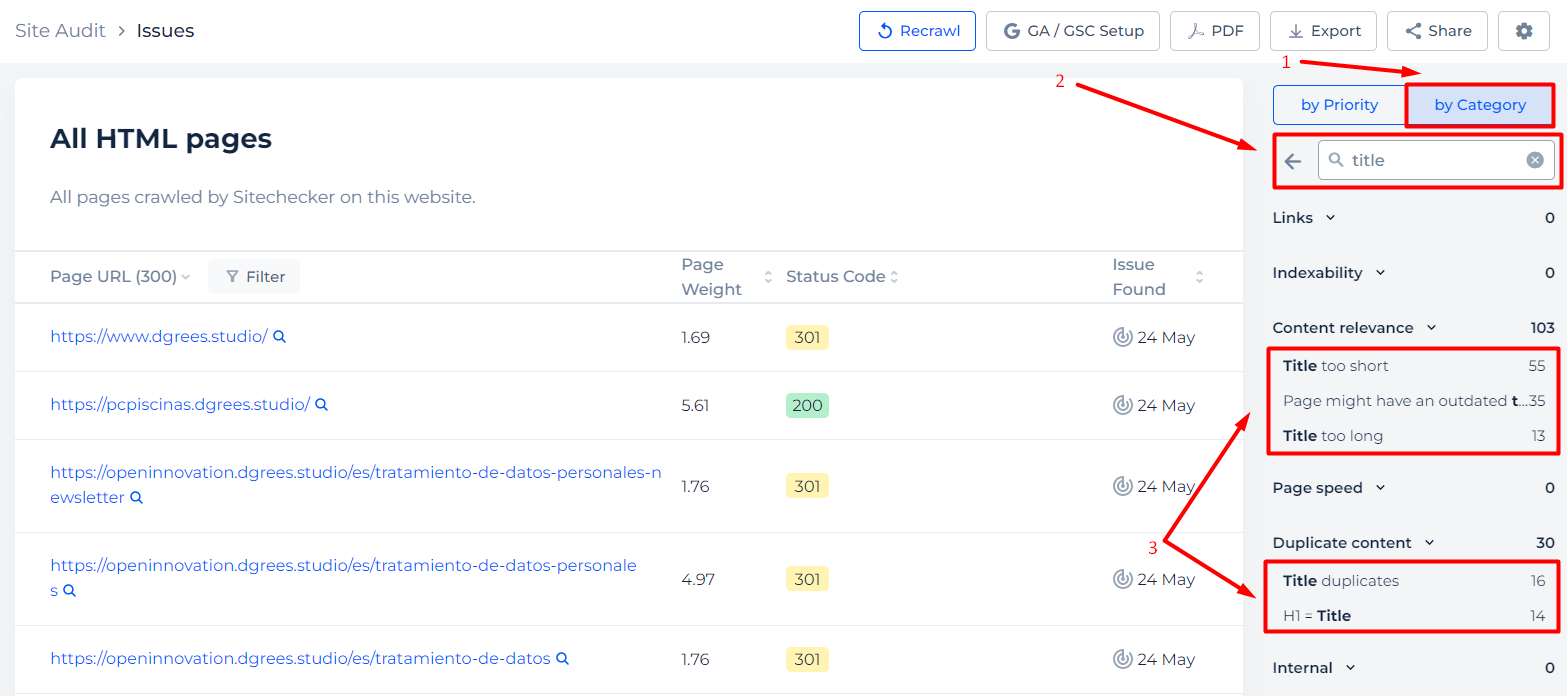 Selecting a particular issue directs you to a dedicated page. It features a color-indicated status: red represents a critical issue, orange represents a warning, and blue – a notice. This page displays instructions on how to remedy the problem, an extensive list of impacted URLs, and the button to inspect the page code or make a complete on-page audit. You can use tools such as the duplicate title checker to identify any issues related to title tags.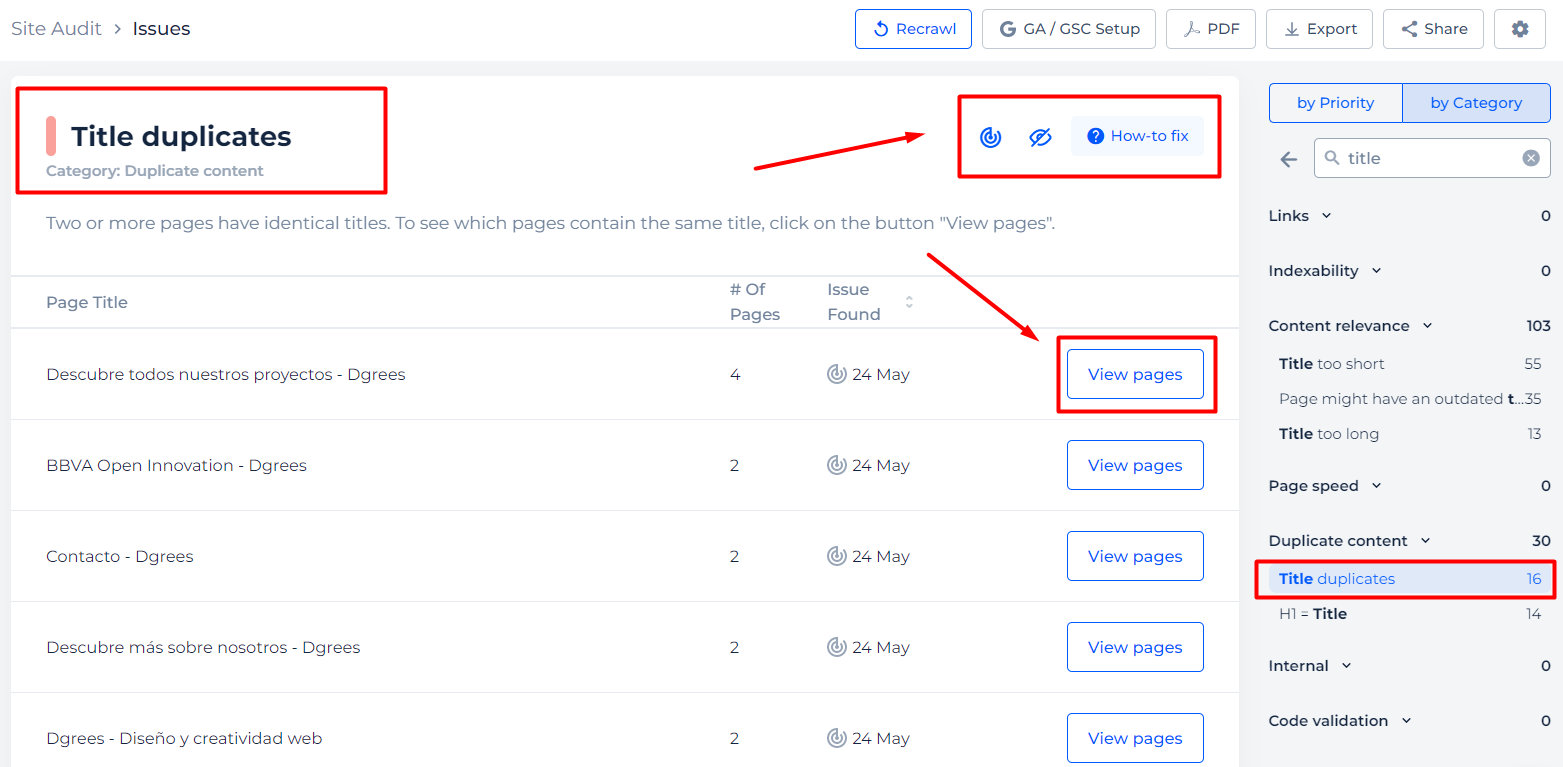 In conclusion, you can download a comprehensive report with the description of problems and affected URLs. This feature will be useful for SEO freelancers (agency professionals) who need to show data to their clients, or internal experts desiring to distribute data to team members. You can also export data for developers. Just put the exported data into the technical task (TT), enabling them to tackle the issues.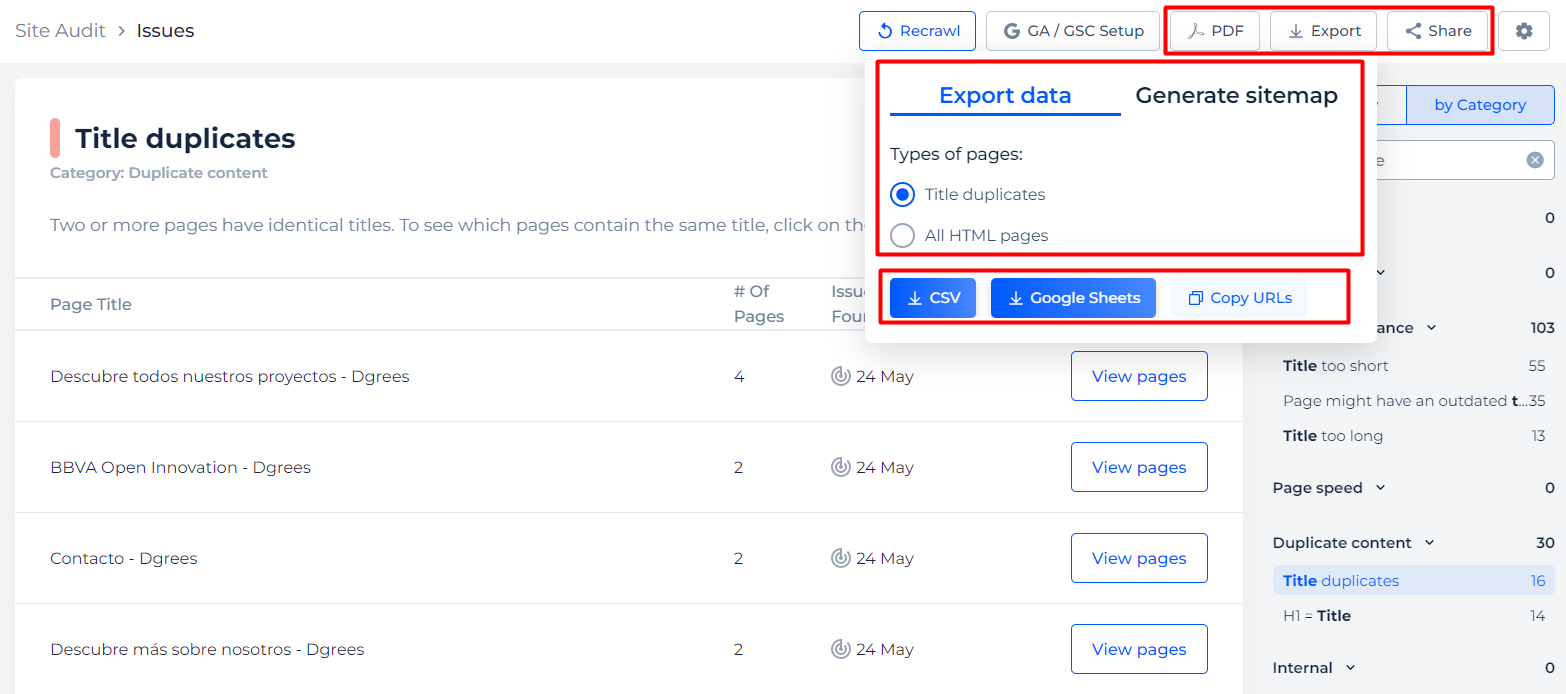 Concluding Remarks
To sum up, website meta title checker is crucial in the modern competitive digital landscape. Its functions extend beyond simply checking the presence and quality of meta title tags. As an essential tool for your website's SEO health, it detects potential issues and provides actionable insights to improve your website's search engine ranking, click-through rate, and user experience.
FAQ
How do I find a title tag?
To utilize the SEO title checker tool, simply choose to scan a specific page or an entire domain; insert their URL in the provided field. The tool will thoroughly analyze the meta title tag of the selected URL, providing you with a detailed report that includes any identified issues and relevant insights.
How many characters (pixels) is a title tag?
As per standard SEO practices, a title tag is typically advised to be between 50-60 characters or approximately 600 pixels in length. This can easily be verified using our SEO title length checker.
What is the use of a title tag checker?
The Sitechecker analyzes the presence of meta tags, their number, content, and length across your website. It plays a crucial role in enhancing your website's SEO health by verifying relevant keywords, confirming the title's compliance with the advised character length, and identifying any issues related to title tags. The end goal is to improve your website's search engine ranking, increase the click-through rate, and enhance the overall user experience.
Does the tool track changes to my meta tags?
Absolutely, the title tag checker is designed to monitor any modifications made to the meta tags on your webpages. This change tracking feature ensures you stay up-to-date with the dynamic nature of your website content and its impact on your SEO performance.
What other SEO tools does the title checker integrate with?
Our title checker is part of a broader suite of the Sitechecker SEO tools. These tools offer a wide range of capabilities, including a detailed website audit, rank tracking, backlink monitoring, and more. This extensive set of features provides a comprehensive solution for your SEO needs.