What Is a Snippet Checker?
A Google snippet checking tool acts as a simulator to show you what your page will look like in search results. The primary benefit of using these tester tools is that they help you see if your metadata (or even content on your website) is formatted correctly when it shows up in search results. Just because something looks good to you doesn't mean it looks good to Google. Ideally, with proper formatting, humans and search engine bots alike should be able to read your site's metadata and content just fine.
To ensure your site is properly formatted, make sure your meta descriptions are no longer than 160 characters (including spaces). For example, if your site sells custom printed shirts for dogs, then you should write about "custom printed shirts for dogs" instead of "awesome custom dog t-shirts"—the latter won't fit. It's best practice to include all relevant keywords here, too; just don't overdo it and stuff every character with synonyms.
If you're running into problems, it might have more to do with your content or site structure than formatting. Google recommends making sure titles are accurate and contain all information needed by users. Furthermore, it is recommended to keep meta descriptions between 70-160 characters long, depending on the screen size. And, most importantly of all: keep your descriptions compelling. These elements are visible in the search results without having to click through to your site; they tell searchers what each result has to offer before clicking through.
Snippets support user decision-making before they ever arrive at your doorstep. They also increase clickthrough rates (CTR), which means they ultimately improve traffic to your business's landing pages.
Using a Snippet Checker
Here is a guide to using Snippet Checker:
Step 1: Fill in your URL and start your free trial
Forget about entering your credit card details – sign up for a free trial with Google or Facebook without having to pay anything! Simply type the URL in the box below and get started.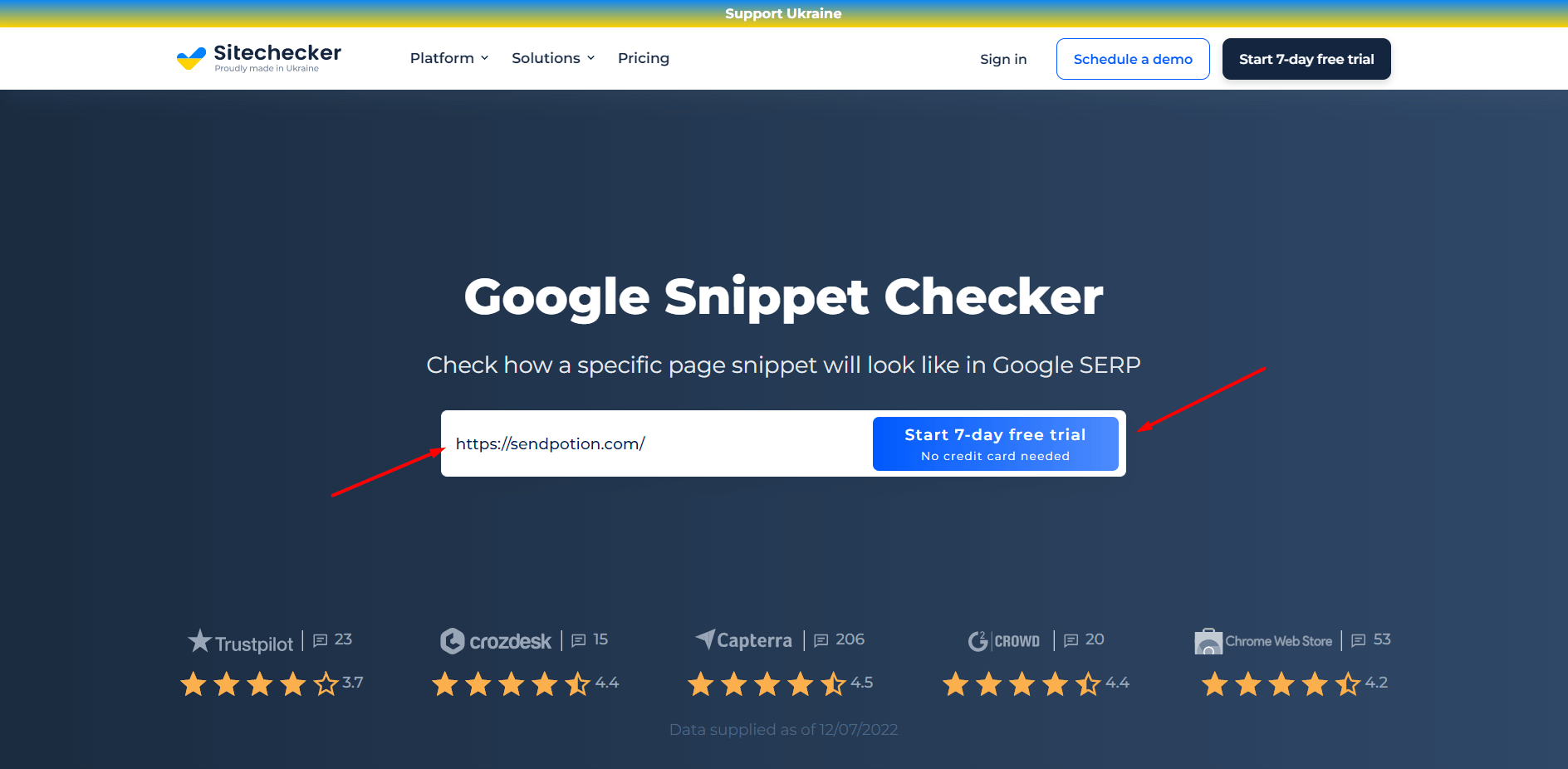 Step 2: Analyzing the results
Our tool will instantly crawl your submitted URL to gather the necessary data. Within a few moments, you'll be taken to the results page and get an idea of how the page snippet will appear on the SERP.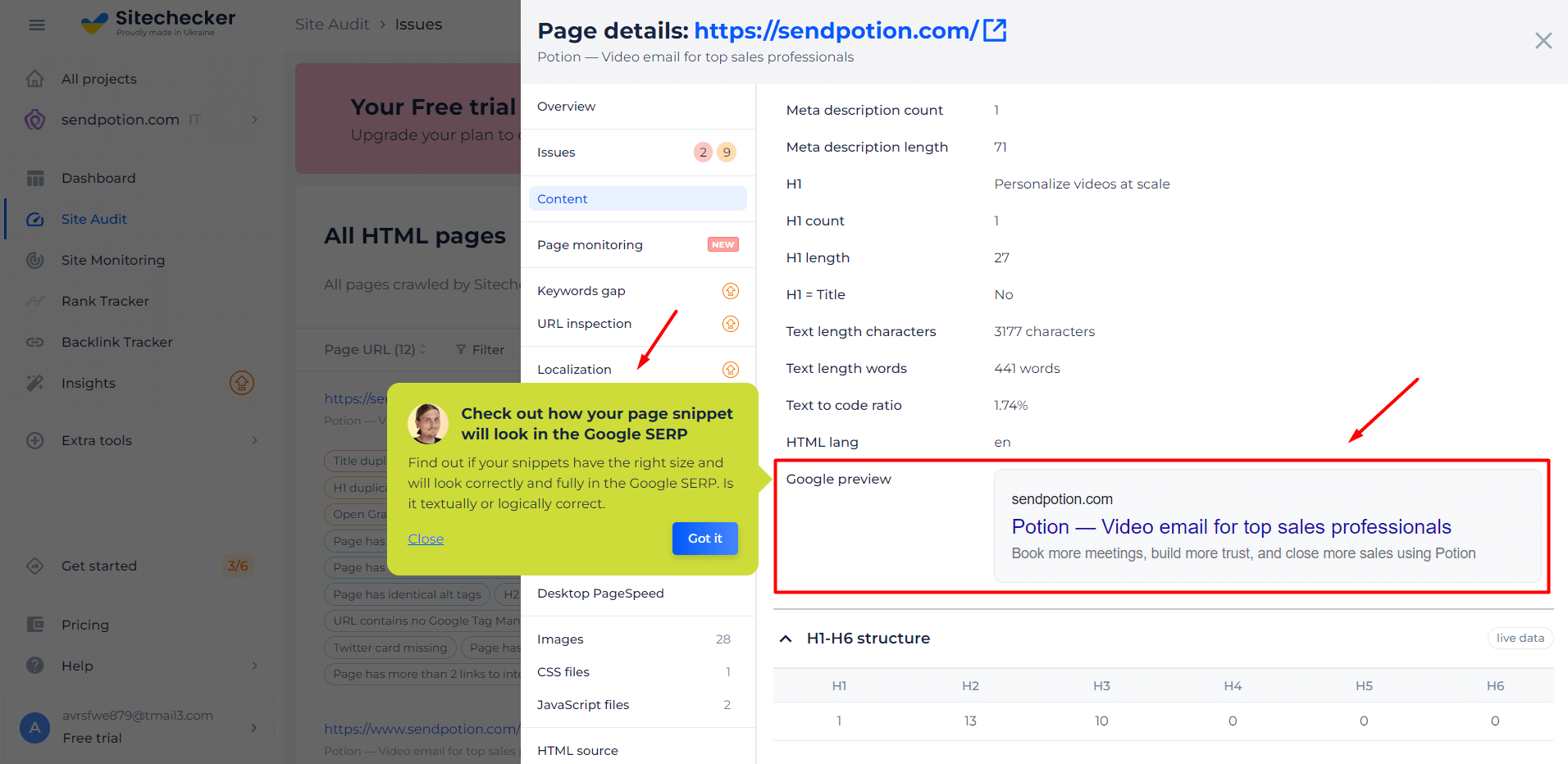 In addition, the snippet checker also offers a variety of capabilities
With a page check, you can ascertain additional issues with the web page such as content creation, localization accuracy, and page speed. These discoveries facilitate increasing website performance and quality to their optimal level.
To explore other pages on your website, simply shut the page details and enter its URL into the search box located at the "All Pages" tab. You can deep-dive further by clicking on it to access additional information about a particular web address.

What Is a Snippet?
The snippet is a preview of your page as it appears in Google Search results. It's important to make sure your snippet is complete, well-written, and accurate because it's what people will see when they search for your business online. If you don't have a consistent presence across all online channels — or if something has changed on one of them — Google will recognize those discrepancies and display an error message at the top of your listing. To know more about snippets, check out the video guide from the Yoast team.
Title in a snippet
A snippet title is a few words that appear under your website URL in Google search results. When people search for something, they'll often see a list of websites along with titles, links, and snippets of text. Most people click on one of these first three results, but if you want to get their attention, make sure that your website title is clear and descriptive. And do a quick check to be sure that it appears correctly when someone searches for it. You can check title tags on Sitechecker's website. Simply enter your website's URL and get a complete SEO audit. Make sure your meta title is between 50-60 characters, so it appears correctly on Google.
Description in a snippet
A snippet description tag is a short piece of text that describes what your website is about. When someone searches for something on Google and clicks on your result, you want to make sure that they are instantly drawn in by clicking through to your site.
So how do you get them to take action? Well, one of the many benefits of using a Google snippet description tag is that it appears under your URL/search term as part of your listing. In fact, if you have done everything correctly, then your search listing will be centered around your title, followed directly by your search snippet. There is definitely power behind placing strategic keywords here because people will know exactly what they're getting before taking any further actions. The purpose of having a meta description is to give searchers some context before they click through. If you want to test your snippet, you can check description tags on Sitechecker.
Snippet check is important but not enough to rank good enough!
Crawl your site and find out all kind of issues that can hart your users or your website SEO.
SEO Importance of a Snippet
When it comes to Google search engine optimization, what you see is not necessarily what you get. A large part of ranking in Google has to do with how many keywords your page contains and how many times they are used. For example, if a user searches "how to bake a cake," then keywords related to baking a cake should be used throughout that page as many times as possible. If someone searches for a coconut cream pie recipe, however, then "coconut cream pie" should appear at least once on each web page listing.
Google goes through these pages and figures out which ones are most likely to contain what users are looking for by using snippets from each page. This allows users to click on other links without having to read through an entire document about something irrelevant or uninteresting to them, which boosts CTR (Click-Through-Rate). It also helps Google rank these documents faster because there's less information overall to sort through. That's why it's so important for website owners and webmasters to keep tabs on their snippets and check them frequently.
What does Google say?
If you find yourself continually running the same code in the Console, consider storing it as a snippet. In the Sources panel, you can create snippets, which are scripts. They have access to the JavaScript context of the page and can be used on any page. Bookmarklets can be replaced with snippets. Google recommends that your snippet title should be 50-60 characters long, and the description tag should be between 120-160 characters.
SEO friendly snippet
An SEO-friendly snippet is created through a process called Structured Data Markup. This allows search engines to pull certain data from your site and display it in search results when someone searches for that specific item or phrase. For example, if you're selling coats, you could insert code into each of your product pages so that a description of each coat shows up in search results, as well as things like size, color, price, etc. So when people are looking for products just like yours on Google Shopping or Google Images, they can find them easily—and then click over to buy them!
SEO featured snippet
Google Featured Snippets are a great opportunity to build brand awareness, generate clicks and increase traffic. With an average clickthrough rate of 10%, it's no wonder that businesses are making changes to their website in hopes of appearing as a featured snippet. Any site can get listed as a featured snippet by ensuring they have all of Google's recommended optimizers. The secret is improving your site so you can rank better for relevant search queries across all devices.
SEO rich snippet
Google puts SEO-rich snippets in two spots: atop SERPs and in-site links. In theory, if you want to be found, then rich snippets are a must—but how do you go about getting them? For starters, make sure you have no errors on your page; otherwise, you could even be penalized by Google. Next, make sure your site is mobile-friendly and that it serves web pages quickly enough; slow load times mean penalty points from Google (and fewer chances of being featured in an answer box).