Google and other popular search engines define cloaking as a negative phenomenon. It is likely to harm your site's search engine ranking. The essence of this trick is that the search engine robot sees optimized content while the site displays a different version of content to users.
It is not a good idea to promote your site. When you want to boost your search engine rankings, you should make content for users first. Most search engines prioritize user interests. Therefore, if you create content only for search engines, don't be surprised that your positions will stay the same.
We have created the best Cloaking Checker tool so that you can check all sites for cloaking. Let's understand the definition of cloaking, how to use our tool effectively, and the dangers of using cloaking.
What is Cloacking in SEO?
Such a phenomenon as cloaking is one of the SEO methods when the search robot and the user see different content on one page. It is considered a violation of Google's Webmaster Guidelines because it supplies users with different results than they predicted.
In this video, Matt Cutts discusses how Google parses the meaning of cloaking.
If your source uses technologies that search engines have difficulty accessing, see Google recommendations for making that content accessible to search engines and users without cloaking.
Cloaked content can be a part of black hat SEO, such as a white hat method. A few examples, when cloaking is a good decision.
Protect contents on your link from stealing. The owners' code against copying is not visible to your clients.
Redirect readers to a specific location version of the website depending on their IP address.
If you apply to SEO-agency for promotion, ask which methods and for what purposes the specialists reserved. If you have doubts about how legally the agent is promoting your site, use our tool to check for the presence of masking versions. This way, you can get ahead of Googlebot and detect these affiliate methods (like Cloaker) before they are indexed and penalized.
Using Cloaking Checker Tool: a Step-by-Step Guide
We've created a pro free tool to check URL cloaking to see if a website is using this technology. You can find out if there is an alternate version of the content shown to the search robot.
We crawl the website page (via Googlebot and Yandexbot) twice and compare two versions of the one page. If their content differs, our Cloaking Checkers labels it as cloaking.
Step 1: Insert your website domain
Start your journey effortlessly with no credit card or hassle at all! You can either enter your URL below or simply sign up for a free trial via Google and Facebook. It's as easy and fast as that!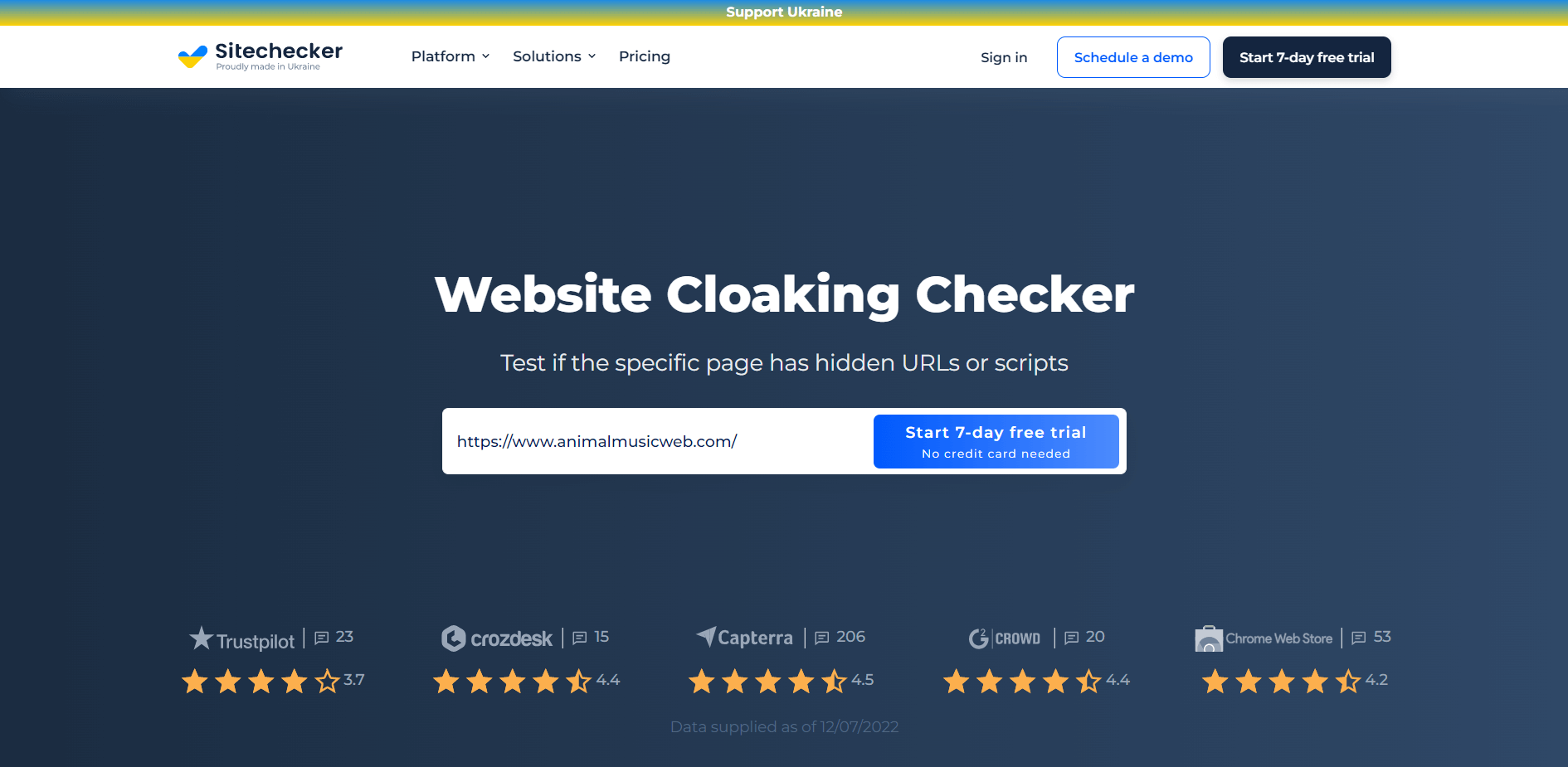 Step 2: Interpreting the SEO cloaking checker results
Once the scan is complete, you will get the results from Google. Check if there is an alternate version of the content on a particular site page.
Nevertheless, don't rush to the conclusion that the use of cloaking on the site is unequivocally negative. Figure out in what format this method is used, and only then take steps to eliminate cloaking.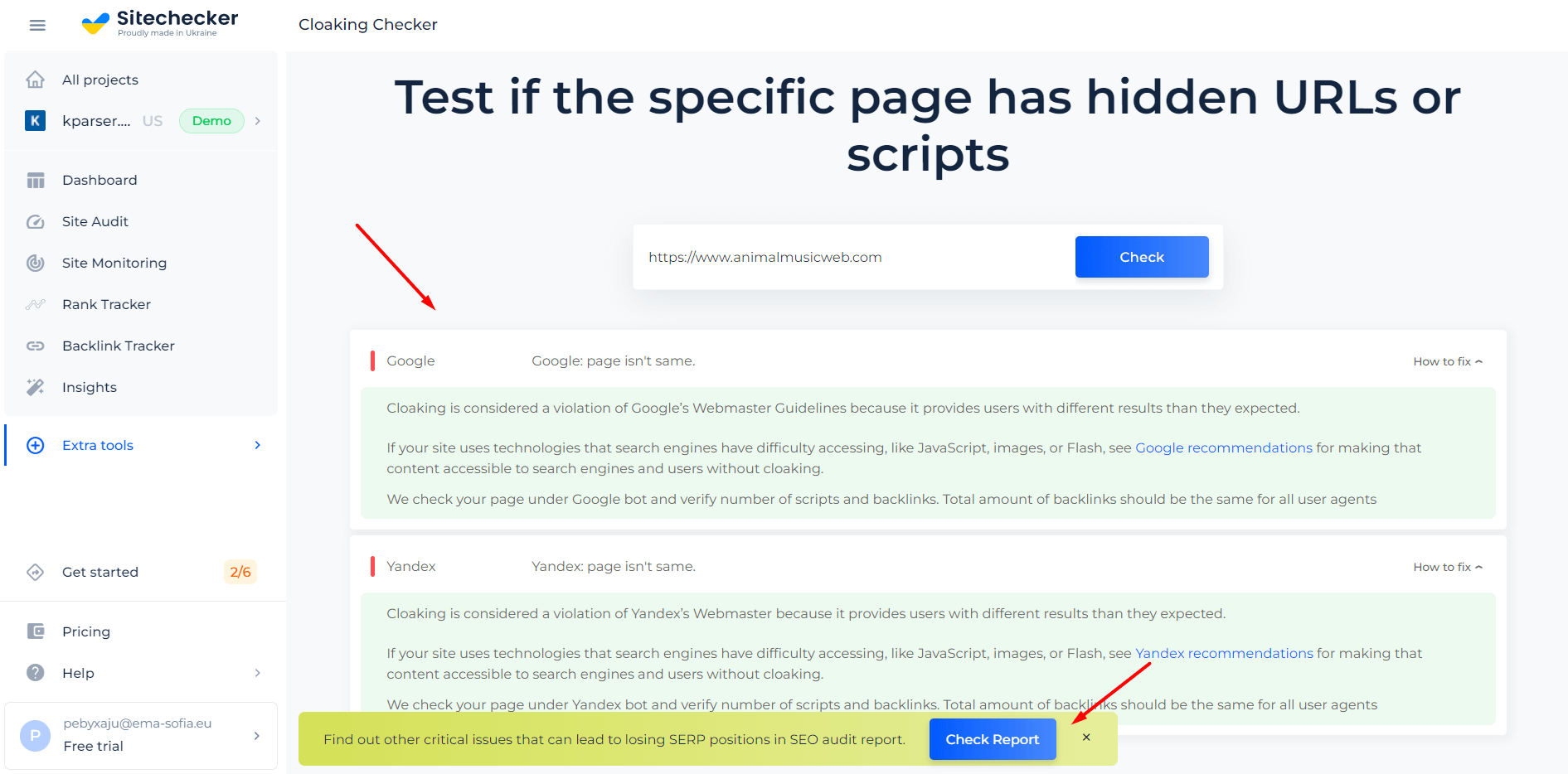 Moreover, by utilizing our tool you can identify various other critical aspects that could potentially influence your SERP rankings. Get a more complete understanding of these problems with the press of a button – the "Check Report" feature will furnish an in-depth report on all issues present.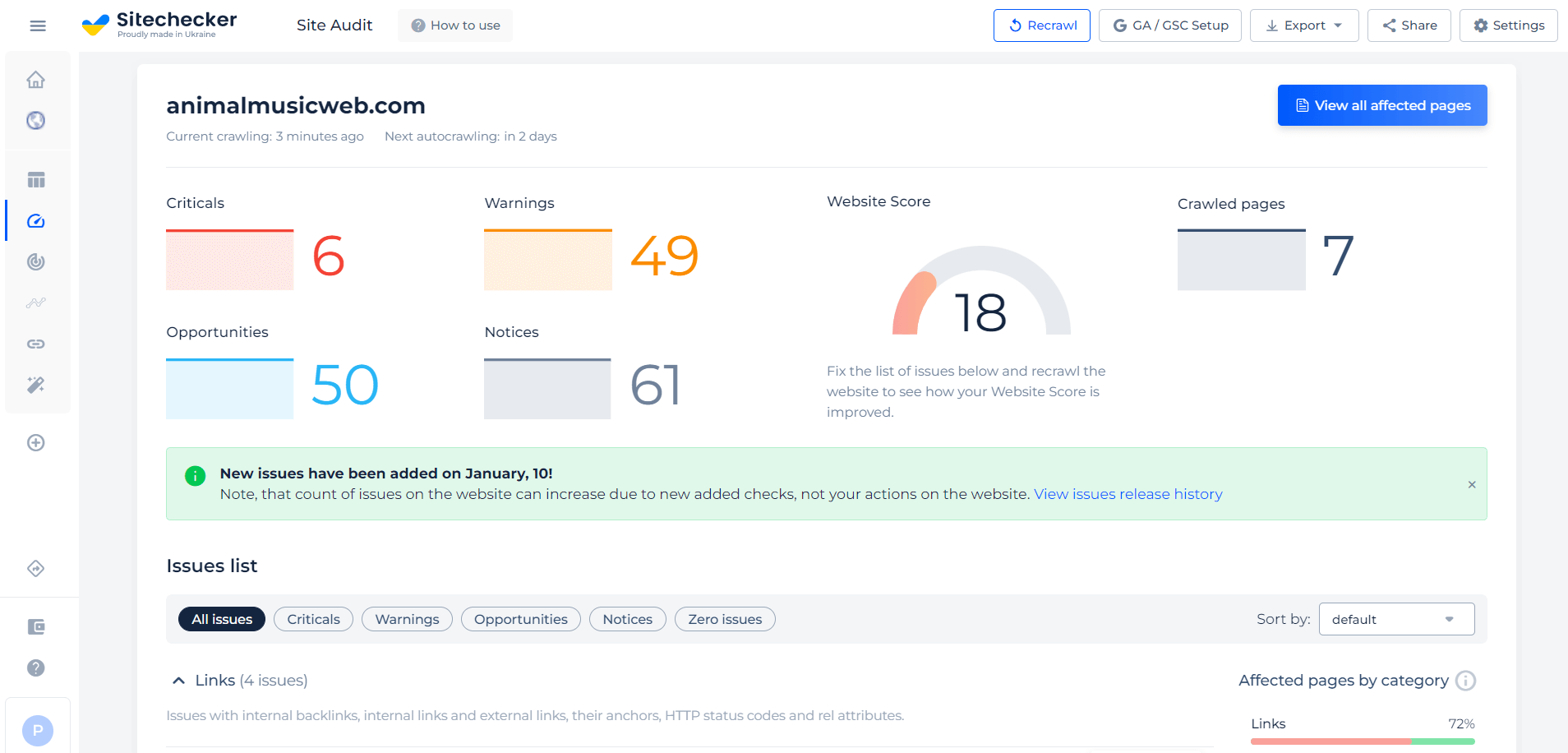 Importance of Using the Tool
Cloaсking for promotion in search engines is often condemned and penalized by algorithms. That's why we don't recommend this method for promotion. Yes, the top results are not achieved by the webmaster immediately. Writing quality content, creating a clear site structure, and improving search engine optimization results are not easy pieces of work. Nevertheless, over time you will get good results and will be able to improve the position of your site in search results.
Analyze not only cloaking but the entire site!
Conduct a full audit to find out and fix all your SEO issues in order to improve your SERP results.
Use the Cloaking Checker to keep track of the appearance of alternate versions on websites. That way, you can decide whether to keep this method rights on the website before the search engine bot scans the page.
FAQ
How do you know if a website is cloaking?
To find out if there is an alternate version of content to display to search engine crawlers, you can use the Cloaking Checker. With this tool, you can find out about any additional versions, if there are any on this website.
What are the standard Cloaking Techniques?
Invisible text is one of the most popular practices in cloaking techniques. It consists of the site owner filling the page with invisible, hidden keywords to optimize content for search engines. In this case, this text will not be displayed to users. The next technique is to hide emails online. You can use this technique when you send emails to multiple recipients at once, and you can hide the sender name. In this case, all the recipients will receive an anonymous email, in which the system will hide the sender name. And lastly, another classic technique. These are HTML-rich websites. A popular SEO practice that allows you to get a high 'text to HTML ratio'. This technique can indicate that your resource should have more text content than HTML tags.
Should I go for the cloaking technique?
We do not recommend using a cloaking technique to promote your search engine rankings. Remember that search algorithms are getting smarter and can now distinguish this trick. If you are interested in promoting for the long term and your site is legit, this is not your promotion method. In an attempt to get quick search engine promotion results, you are drawing a loss of all your efforts just for nothing. Will always be relevant advice, which is that you need to pay attention to site optimization for the requirements of search engines. Publish quality content, optimize the technical side of the site and enjoy the results of your promotion.