What is the Cloaking Checker Tool?
The Cloaking Checker by Sitechecker is designed to identify instances of cloaking, where a different version of the text is displayed when a search engine bot views the website compared to an ordinary visitor. The tool analyzes the content delivered in response to search engine robot requests and contrasts it with what a typical user sees to detect any discrepancies.
How Cloaking Checker tool can help you?
Identifies any instances of cloaking scripts that are exposed to search engine robots but concealed from the human eye.
Evaluates the content's overall quality, pinpointing errors and providing targeted recommendations for their rectification.
Detects duplicate content across the website and pinpoints the specific pages where such content is indexed by search engine robots.
Key features of Website Cloaking Finder
Unified Dashboard: This central platform displays cloaking detection results. It also shows other vital SEO metrics, streamlining the review of your site's search engine transparency.
Intuitive Interface: The Cloaking Checker is built with user accessibility in mind, enabling users to easily investigate and resolve SEO issues without needing extensive technical expertise.
All-encompassing SEO Audit: This tool is part of a broader SEO auditing suite that examines everything from content uniqueness to SERP performance, providing a holistic approach to enhancing your website's search engine visibility.
Using Cloaking Checker Online Tool
We've created a free pro tool to check URL cloaking to see if a website is using this technology. You can detect cloaking if there is an alternate version of the content shown to the search engine robot.
Step 1: Insert your website domain
Start your journey effortlessly! You can either enter your URL below or sign up via Google or Facebook. It's as easy and fast as that!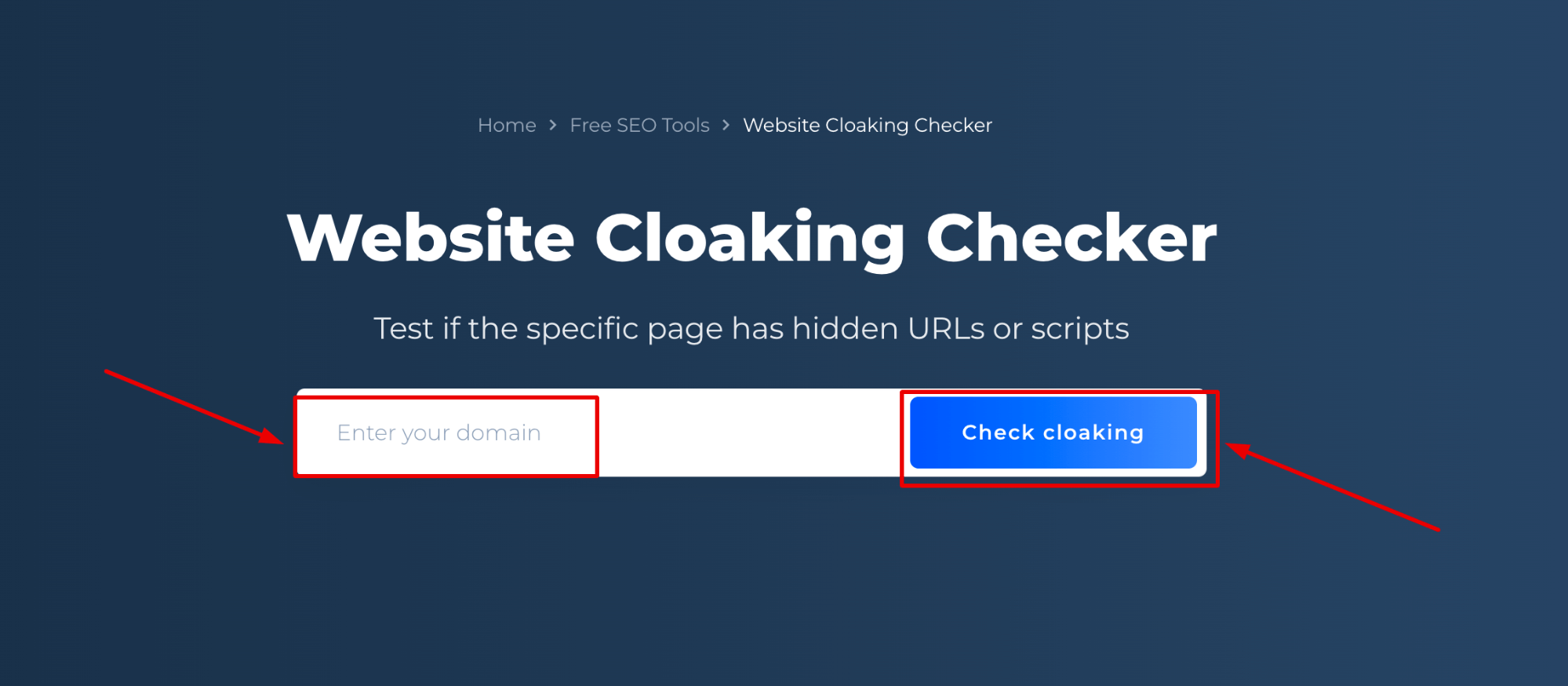 To receive all search results and access to Sitechecker's features for 14 days, start your FREE trial. Sign-up is easy with your email, Google, or Facebook account. No credit card is needed.
Step 2: Interpreting the SEO cloaking checker results in
Once the scan is complete, you will get the results. Check if there is an indexed alternate version of the content on a particular site page.
Nevertheless, don't rush to the conclusion that spamdexing techniques on the site are unequivocally negative. Figure out in what format this method is used, and only then take steps to eliminate cloaking.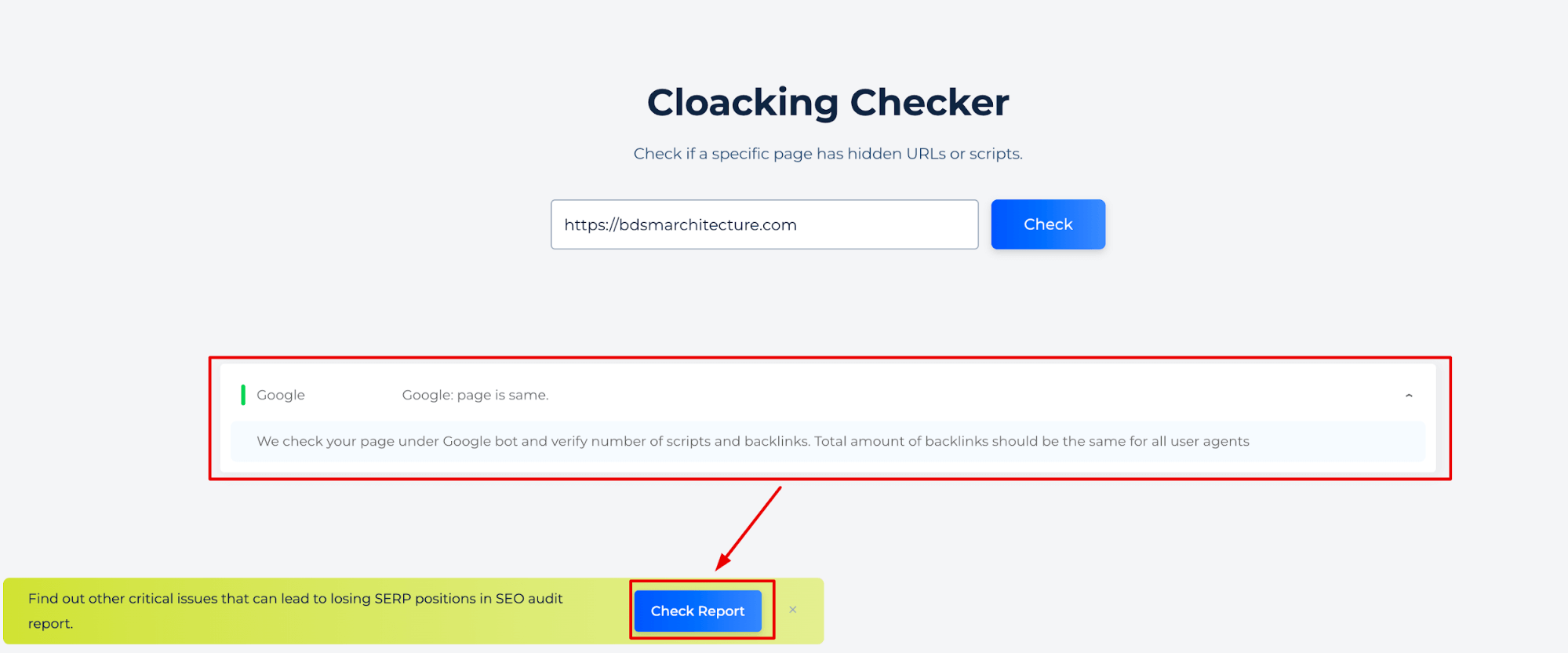 Moreover, by using the Google Cloaking Checker, you can identify various other critical aspects of writing quality content that could potentially influence your SERP rankings. Get a more complete understanding of these problems with the press of a button. The "Check Report" feature will furnish an in-depth report on the content issues present.
Additional Features of Cloaking Technique Checker
This interface is for demonstrating the site's health in terms of SEO and identifies areas needing improvement.
Key elements include
Site Audit Summary: At the top, there's a summary with critical metrics like 'Criticals', 'Warnings', 'Opportunities,' 'Notices,' 'Website Score,' and 'Crawled pages.'
Issues List: Below the summary, there's an 'Issues list' categorized into 'Links,' 'Indexability,' 'Content relevance,' etc., detailing specific problems detected on different versions of the site.
Categories Percentage: On the right, a breakdown of 'Affected pages by category' shows the percentage of pages affected by issues in each category.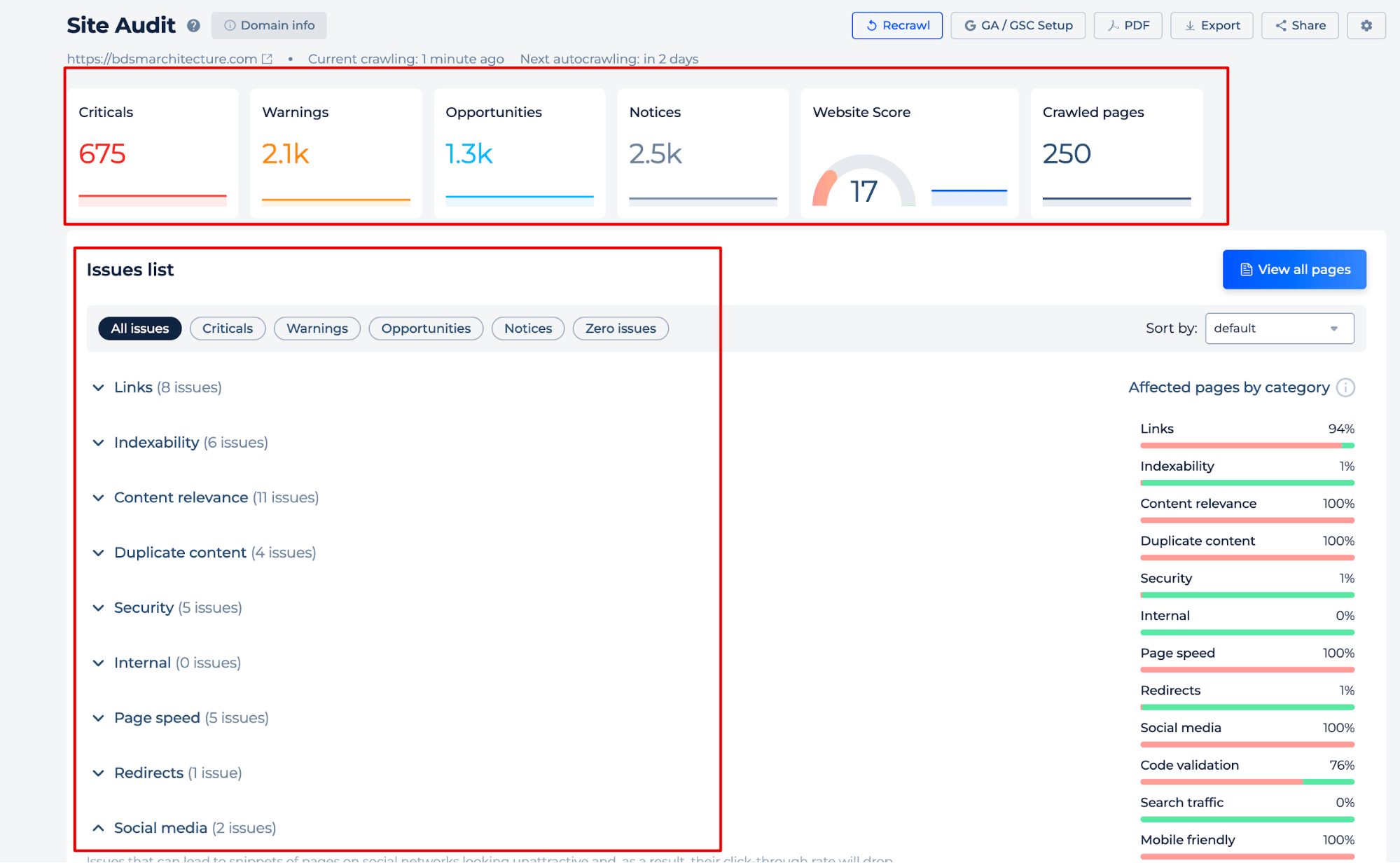 The interface displays a segment of the Site Audit report from the Hidden Text Checker by Sitechecker.pro, focusing on 'Content Relevance.' It lists various SEO issues that could impact the site's performance in other search engines too, such as missing alt text and duplicate descriptions. Each line item specifies the type of issue and the number of affected pages. This section is crucial for human visitors to pinpoint specific content-related problems that need addressing to improve their website's search engine optimization.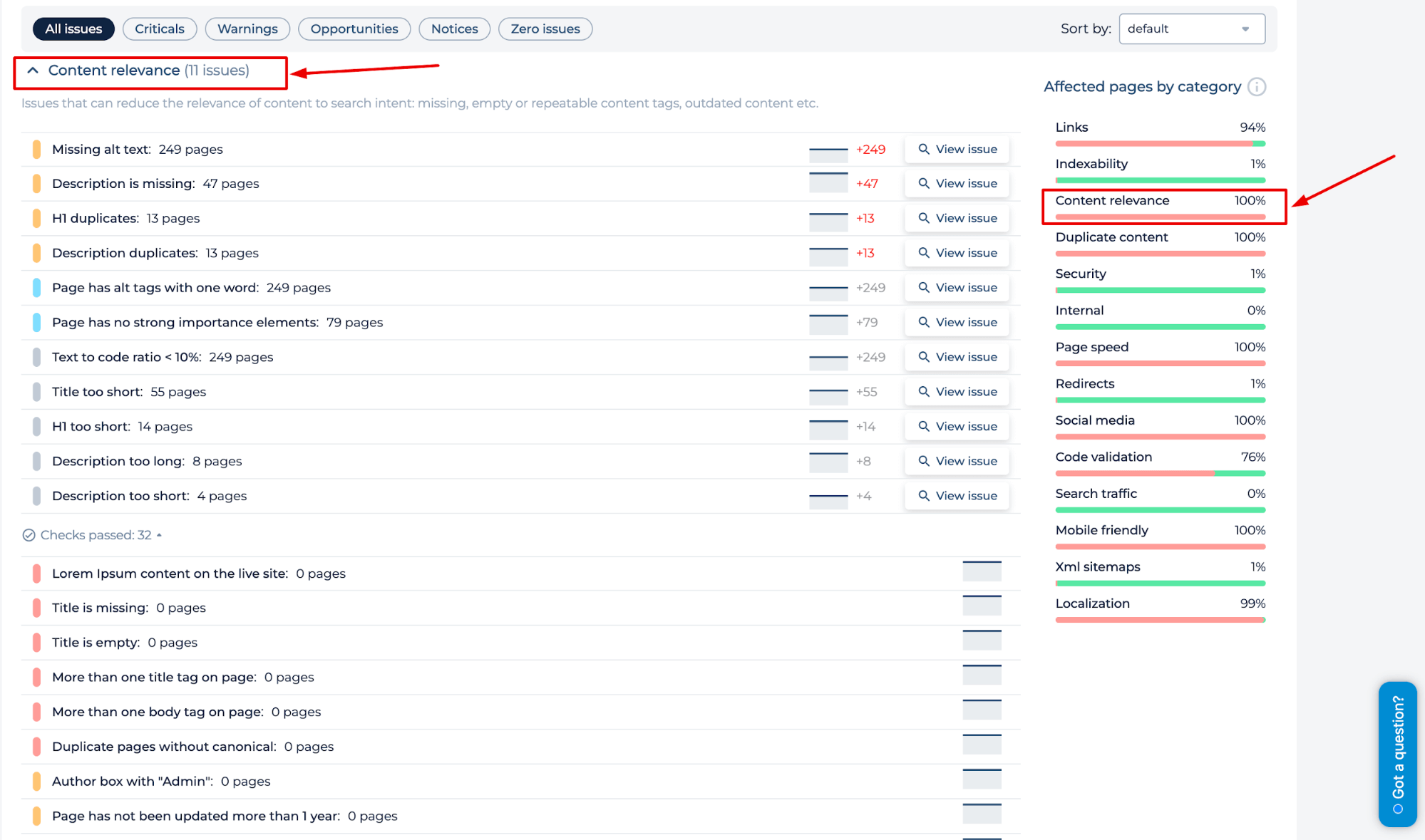 The Invisible Text Checker Tool demonstrates the 'Duplicate Content' section of the Site Audit tool, indicating the SEO health of a website. It showcases specific issues that could cause duplicate content in the eyes of search engine crawlers, which is a critical factor for maintaining organic search visibility and ranking.
The list serves as a diagnostic instrument for website owners and administrators to address and resolve these issues, thereby optimizing their site for better performance in search engine results pages (SERPs).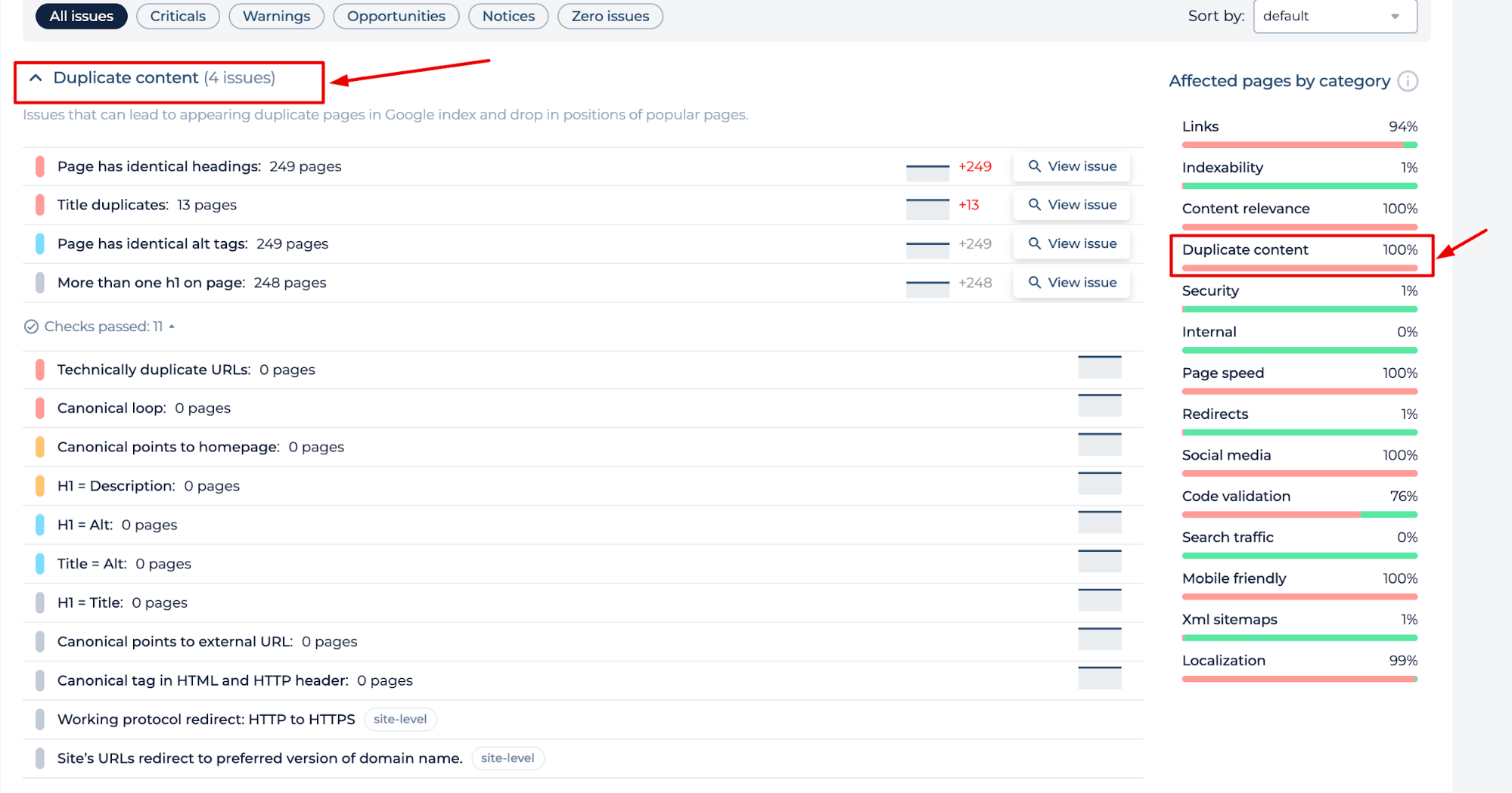 Final Idea
The Website Cloaking Detector by Sitechecker is a robust SEO diagnostic tool. It reveals various cloaking techniques (as part of black hat SEO)—where websites present different content to search engine bots than to users, which could harm SEO and search engine rankings. The tool identifies cloaking scripts, assesses quality content, detects duplicate content, and offers improvement recommendations. Users can easily start a free trial, enter their domain, and interpret results with detailed reports highlighting critical SEO metrics and issues needing attention, optimizing their site for better search engine visibility and performance.
FAQ
Can I use the Cloaking Checker on any type of website?
Yes, the Cloaking Checker is designed to be used on any type of website to detect cloaking issues and ensure SEO compliance.
Is technical expertise required to use the Cloaking Checker tool?
No, the tool is user-friendly and requires no technical expertise. Users can simply enter their website domain to start the audit.
How often should I use the Cloaking Checker for my website?
It's recommended to use the Cloaking Checker regularly, especially after making significant changes to your website, to ensure ongoing SEO health and better ranking in search engines.