Definition of schema markup
Frankly, this is simply a code that you have to put on your site in order for search engines to provide more info for your users. If you are aware of rich snippets or even have used them before, then this tool is not new for you. Here you can find a sample of a webpage, where a markup for a schedule is used. The Google SERP displays it this way: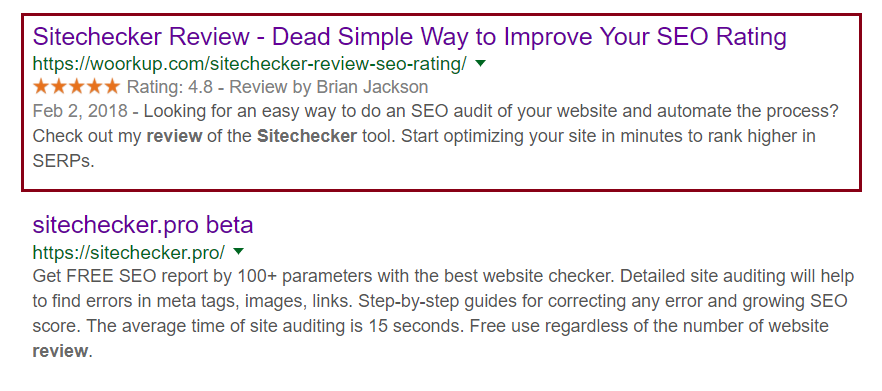 Structured data markup tells SE what certain data exactly means
As you know, all the data on your site is indexed and then returns in search results. However, if you use in-page microdata, this process is a bit different. This happens because structured data markup explains to SE what this data means. How? Let's take the name "Steve Smith", which was used in a text. Once a SE finds this name, it creates a SERP entry with this name. Nevertheless, if you use the appropriate structured data with this name, alternate search engines will know that this is a writer of this very article, not an ordinary name mentioned in the text. This will lead to more profound results that the SE will show when a user will search for "Steve Smith".
Here is an explanation from schema.org on this issue:
Many website administrators are aware of HTML meta tags used on their web pages, these tags explain to a browser how to show the data which the tag consists of. For instance, content "star wars" included in a h2 tag explains to the browser that "Star Wars" is a heading of the 2nd format, but there is no info here about what "Star Wars" is. It can be a movie, a game or just an image, thus SE can't choose the relevant filling.
It uses a unique morphologic vocabulary that is in microdata form
There is no need to become a programmer in order to use markup, because HTML format can support this coding. You just need to add schema.org vocabulary.
By the way, did you know that the site schema.org which can help you with schema mark ups, was created by Yahoo, Google and Bing?
It really happens once in a blue moon, when rivals create something together, but this website is an exception. What is schema.org and what tools does it provide? This website contains a set of markups, which you can use in order to tell a SE what the content on your site means.
Users are the main target for the structured data
If a markup schema is used, you can easily see in the various SERPs what the site is about, some additional info as well as price, the service they provide etc. This is a very user-oriented tool that helps to facilitate the search process for users.
Does it really have value?
This tool helps to get better site ranking results in all types of content. You can find a special one for:
Texts
TV series
Cafes
Small regional companies
Apps
Products
Reviews of different books
Films
Events
There are thousands of markup types available, thus if you have a thematic website, you can find the one that will suit you. It is proven that businesses that used schema markups for their websites have a better ranking status in the SERPs. If you have used open graph before, you wouldn`t have any difficulties with schema. According to the latest research, a site with markups will be placed 4 positions higher, than the one without them. Not only this factor may lead to such a result, but, apparently, there are more parallels. The statistics shows that 1/3 of Google search results use rich snippets together with schema markup, but Searchmetrics states that only 0.3% of sites incorporate these markups. What's more, is that there are still hundreds of sites that underestimate the SEO potential of this tool, thus if you do use it, you are five steps ahead of your rivals.
How to use it?
Let's find out how to use it. You want to improve your PageRank, appearance and performance in SERPs. Everything you need to do is just follow these steps.
1. Visit Structured Data Markup Helper offered by Google.
Here is how this Google Structured Data Markup Helper looks like:
2. Choose the data
Here you have a few options. Although the list of the items is not complete, we will use "Articles" as an example because this type of content is very popular.
3. Next step is pasting the URL of the article, which you wish to markup
Of course, if HTML is what you have, you can add it instead of the Uniform Resource Locator. Once you are done, click "Start Tagging" button.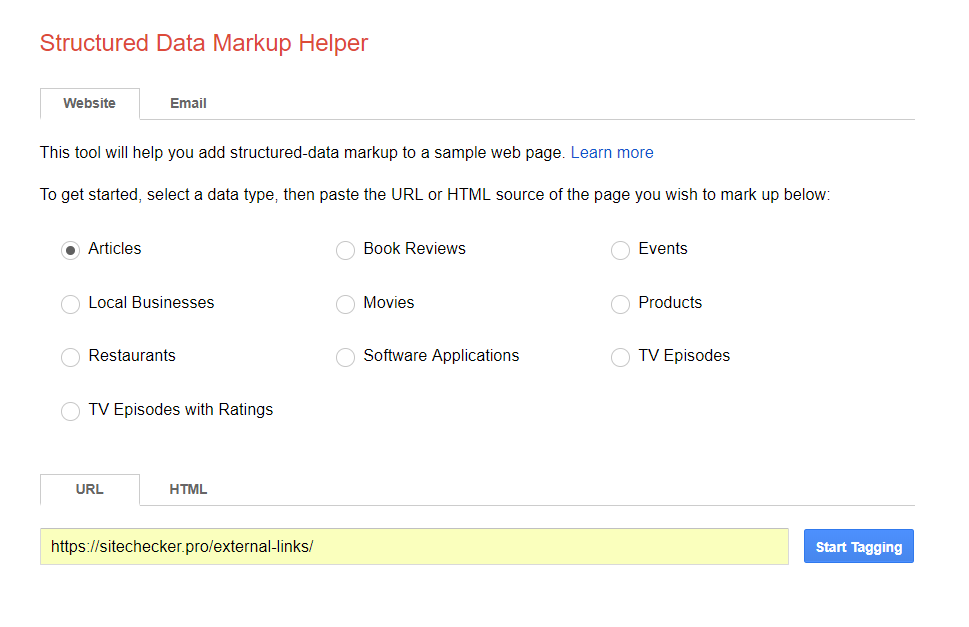 Then your web page will be loaded into this tool, your next step is tagging your items. You will see two panes; the left one will show you your page and the right one – the data.
4. Choose and highlight the items you want to mark up
In our example, we will highlight the title of the article, thus the markup "Name" will appear. Once we are done with it, we will choose "Name".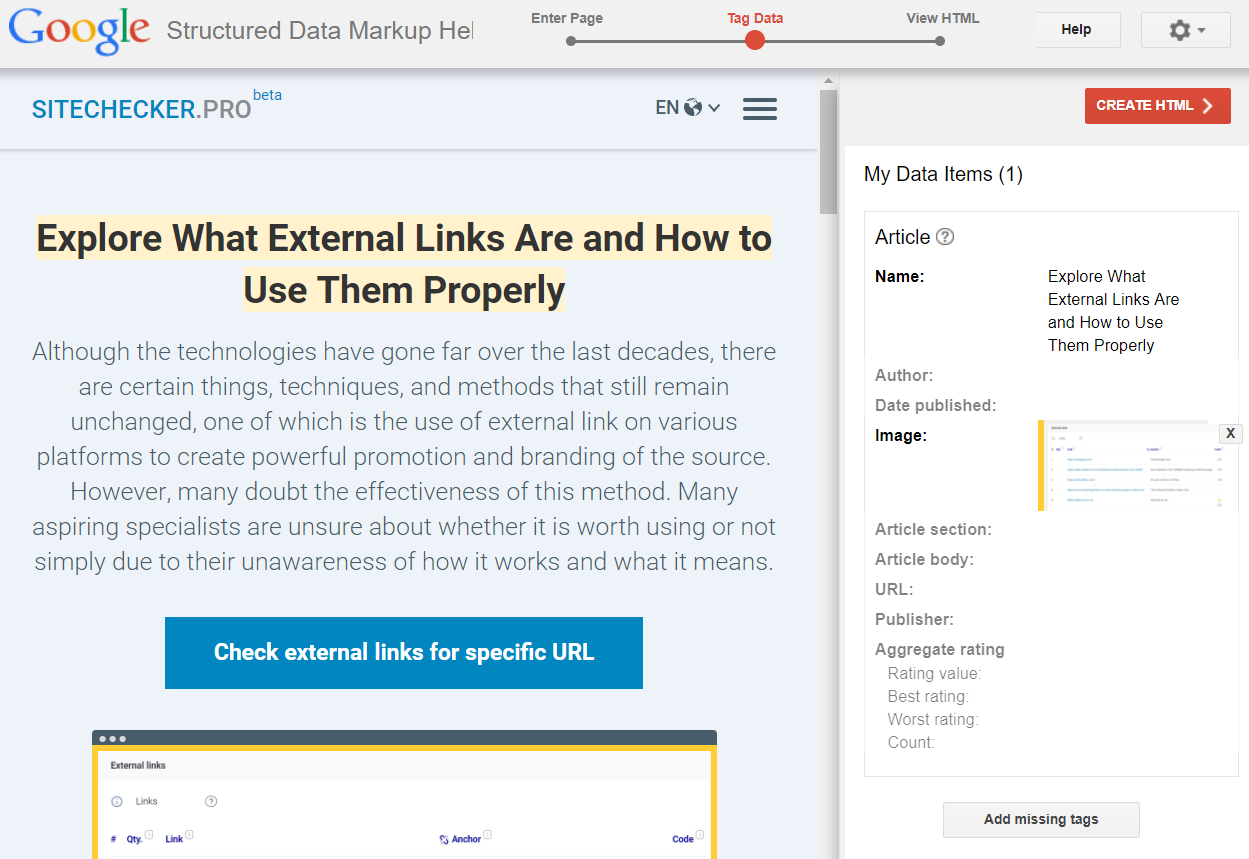 Once we select the "Name" option, this program will add it to "Data Items", which you may see on the right.
5. Don't stop adding
You can use a catalog of items as a sample, and then select the other elements of your text for markup. Although, you might not be able to pin every item in the listing, but you may try.
6. HTML
Your next step is clicking "Create HTML."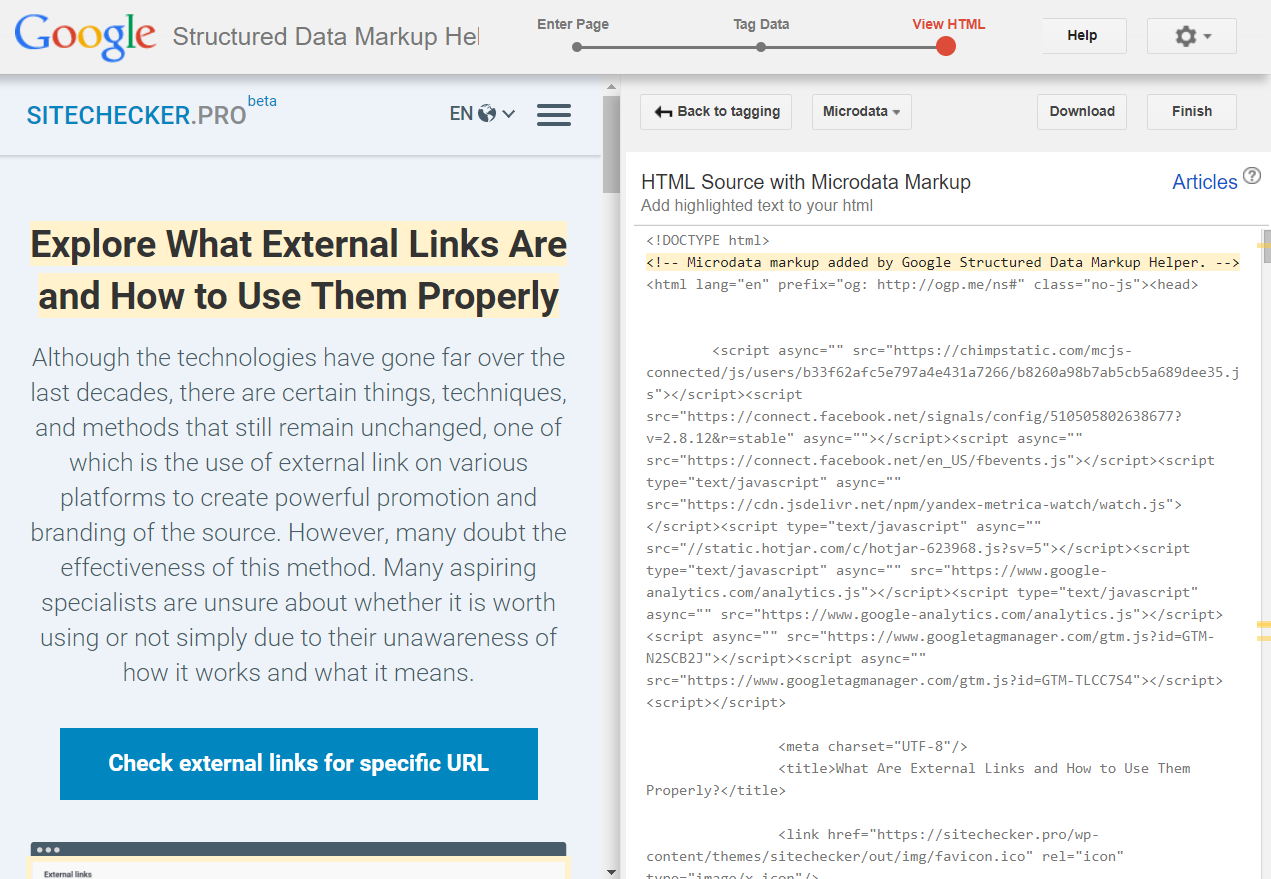 Here you can see the HTML website coding with all the microdata added to the items you selected.
7. Now add this microdata to your page
Now it is time to return to your CMS website or source code and add these snippets where it is appropriate. If you don't know what is your website build with, use free cms checker. Yellow dots on the scrollbar will help you to find them.
"Next Steps" will appear once you have clicked "Finish" button.
8. You can use Google Structured Data Testing Tool in order to test how your page will look like after adding structured data
What is more, we can examine each of the markups added. This is a special schema check tool from Google. It`s made to validate your schema markup and check if there are no mistakes.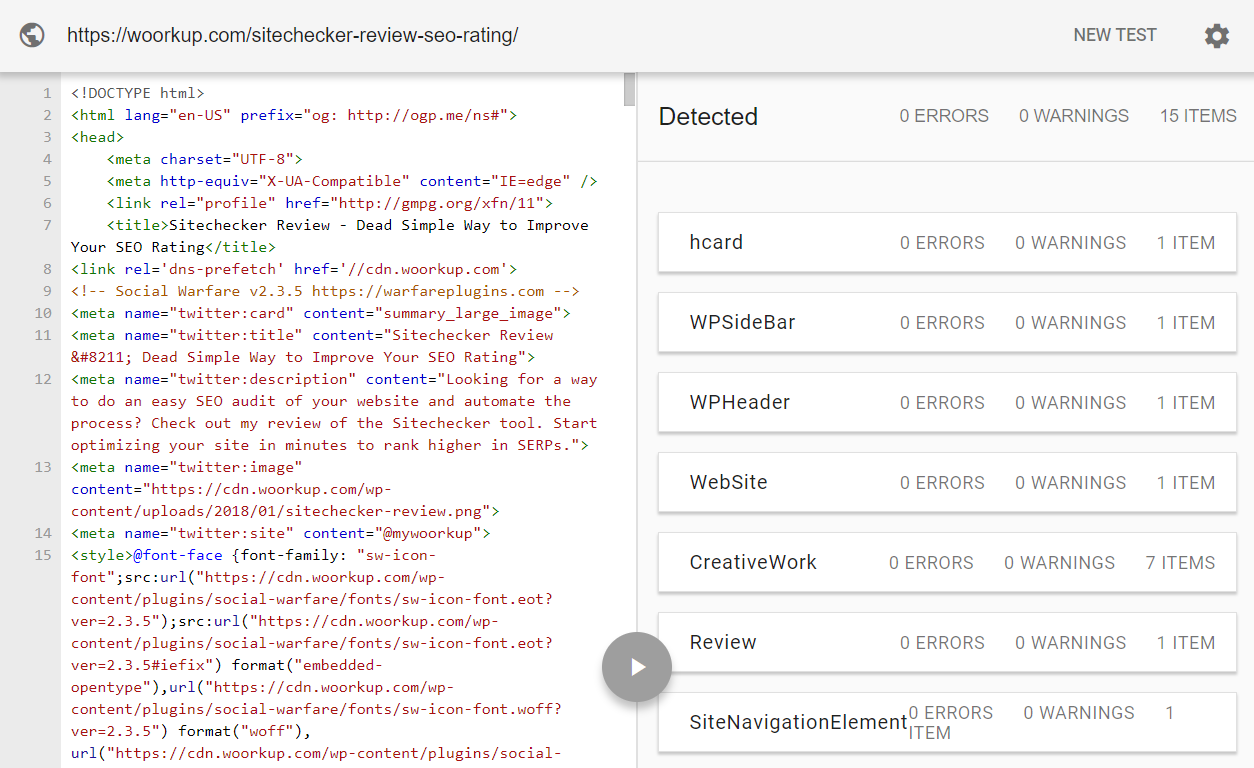 We can also edit coding when testing it in the tool, and then recheck it once more.
Few tricks on using markups
The main aim of this article is to give you a general view of schema markup, but our next tricks will give you more profound knowledge in order to get better outcomes.
The quantity matters
The instruction, which you can find on Schema.org says that the more data you tag, the better outcome you will have. Once you understand the value of item types, you will clearly see what elements of your page you can mark up. However, do not forget that you can tag only the filling that other users can see, therefore do not waste your time and mark up the hidden ones.
The future of structured data
This tool is very easy to use, though many companies and business still do not see the benefits it can provide your site. This SEO technique is one with a great future, for sure. Moreover, today is that very moment for you to start using it and give your website a fresh look. This microdata will really give you a huge head start in this pool full of sharks.
Use schema markup checker
After implementing schema markup, it is necessary to verify structured data. Schema checker tool will help you to find errors and missing lines that have to be added. Enter the domain and press "start" button.