If you know what people usually look for on the internet, you can use this information for marketing purposes. You deal with keywords, an essential part of content creation and SEO. Defining them correctly guarantees recognition by both search robots and users. So how to do keyword research effectively if you haven't done it before? Here's a short guide.
What is keyword research?
Before we can answer the question of what keyword research is, we need to understand what is a keyword itself. The keyword is a single word or phrase, which shows what people look for and describes a topic you write about.
Keyword research is a process of finding those queries. Sometimes it reminds reading thoughts of potential clients. You learn what the audience wants to find, then optimize content to provide answers people need. So you must understand what content users want to see visiting the exact page. Search queries of users looking for information about products, services, events, things, etc. define the entire niches, identifying them according to their needs or interests. Every website should comply with particular queries to get featured among search results. Relevant SEO keywords always attract organic traffic. It is really important for SEO copywriting to include relevant keywords in the text.
None of SEO specialist would start website optimization without knowing what keywords should be used for a specific page. It is called semantic core building process and further clustering.  
How additional keywords helped to gain more traffic to our blog
Why are additional search queries important? There are tons of articles on "How to make keyword research" but there is so little information about how to expand your keywords and gain additional traffic.
We have launched a little experiment which shows you what the deal is. As you might know at our blog we have an article "Top Level Domain: Meaning and Examples". Our article is based around the keyword "top level domain" which has high volume and keyword difficulty rate. While writing this blog post we knew that the competition is high and we would have to fight for positions with hosting companies and high authority websites.

To make the experiment clearly we posted an article about the meaning of top level domain, its usage, and purpose. The result was not exciting. Among several weeks the page was visited by 4 people. GWT was shown a few expressions and position of the main keyword was around 100th place.

We decided that it was time for additional keywords! It's a great chance to expand the keywords research and gain more traffic. But what are these additional keywords? Let's see.
REMEMBER: High competition of keyword is not the reason to step out! It's a reason to think a little wider.
Every time you type something in Google, you see a list of relevant suggestions. These are additional queries. If you want to learn how to search for keywords on Google, it is a simple and effective way. Autofill forms usually show tails of phrases. For specifying any other part, use a single underscore between words.
Optimizing pages for these words combinations allows reaching high-ranking positions on chosen topics, meanwhile avoiding high competition. Popular keywords can help to come up with ideas for SEO content or even for business. This feature doesn't work only in case of a slow connection or absence of similar requests.
How to find additional queries? You may ask. It is simple enough. Enter Google, type the keyword and explore what is suggested below.

But the easiest way to use specific tools like Kparser. Just enter the needed keyword and get the full report of additional queries parsed from Google, Youtube, Amazon, and many others. Besides, all the queries are divided into categories and grouped for comfortable using.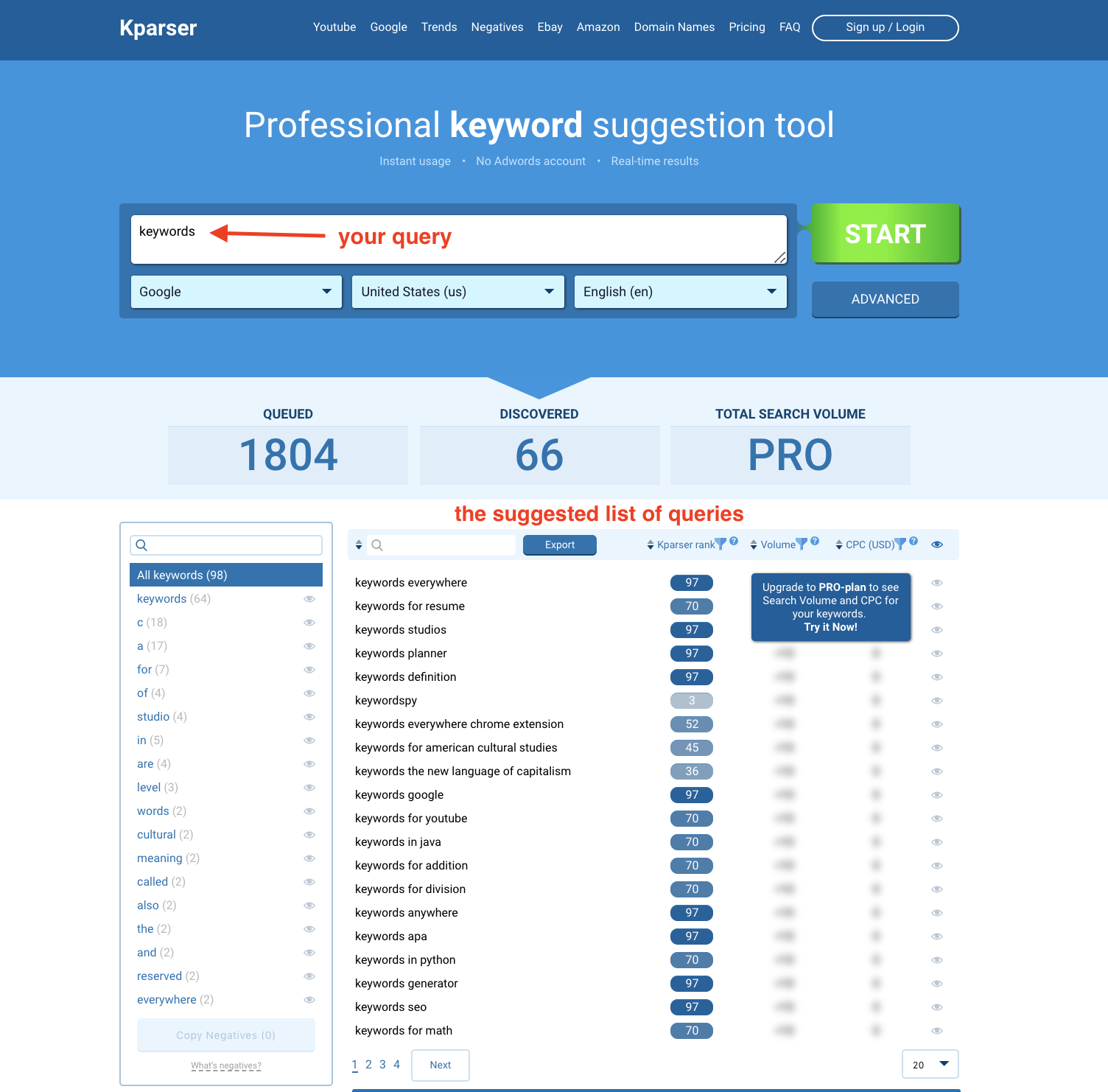 So what we have done exactly. We used kparser tool to find more relevant keywords for our page.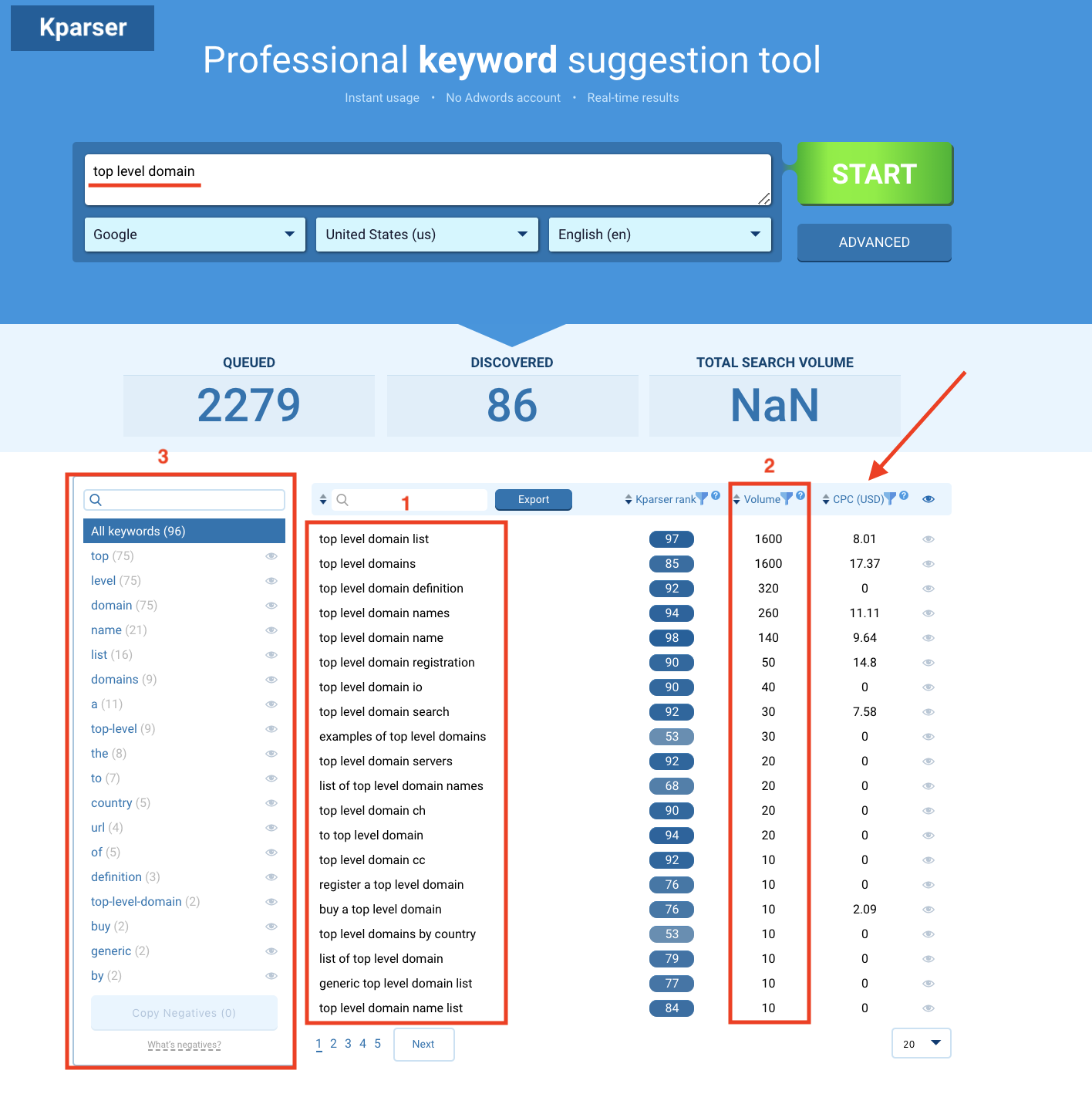 We received more than 2 thousand of queries which are connected to our main keyword

We found out its volume. These keywords were low searched so they had low competition rate.

All these keywords were grouped together, which made our work as easy as possible.
HELPFUL TIPS: The column "CPC" stands for Cost Per Click. This data is provided by GoogleAd, so the higher the CPC rate, the more likely this keyword will bring you traffic and potential customers.
After a little research of additional queries, we have optimized our page and added the needed keywords. What was the result? We received more impressions, more clicks, and more new users. Moreover, the average position of the main keyword has grown too!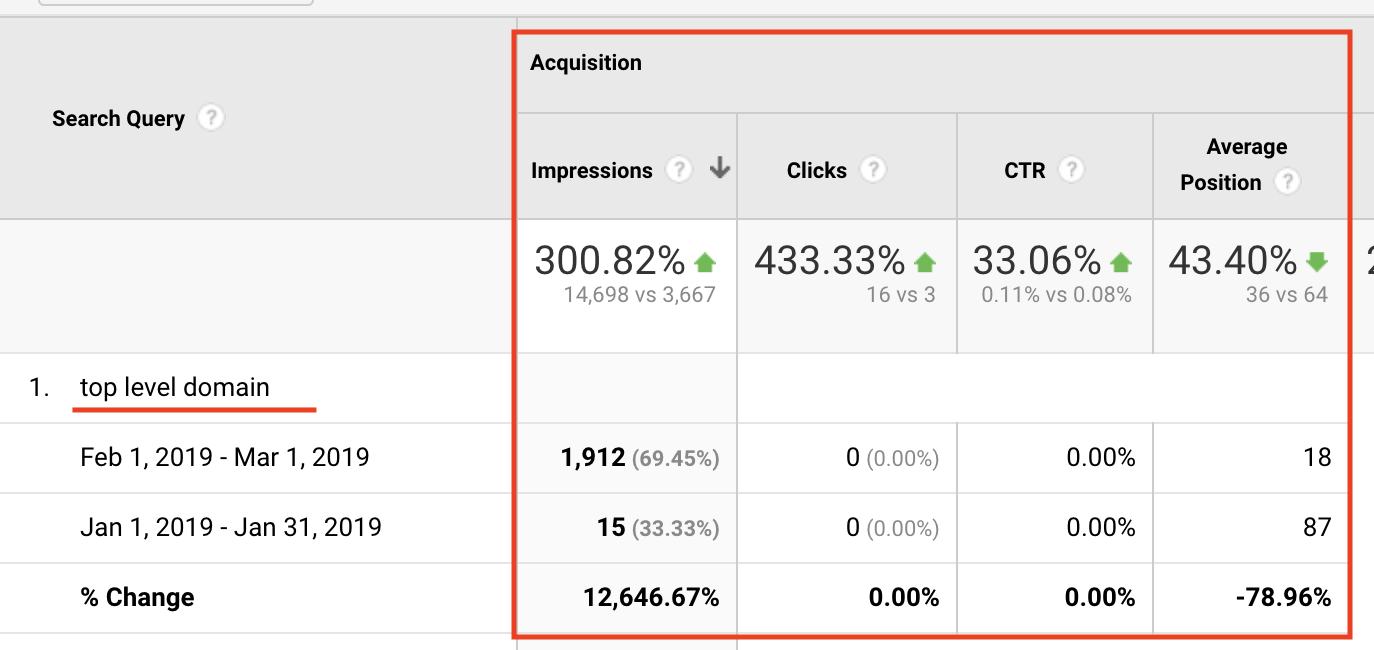 Guide on how to research keywords for your SEO strategy
STEP 1. Niche analysis. The first step of your SEO website strategy is analyzing the field. Learn about some latest trends, upcoming changes, and future perspectives. Collect as much information as possible to detect the gaps.
There are different types of target market dynamics, short-term changes, most often due to seasonality, and medium-term changes from year to year. The easiest and most visible tool for this is Google Trends. Through it, it is possible in relative numbers to find out the seasonality and the general trend of changes in demand for a particular topic, as well as to compare several queries among themselves.
You can simply analyze the seasonality of search term, find related keywords using queries and region suggestions.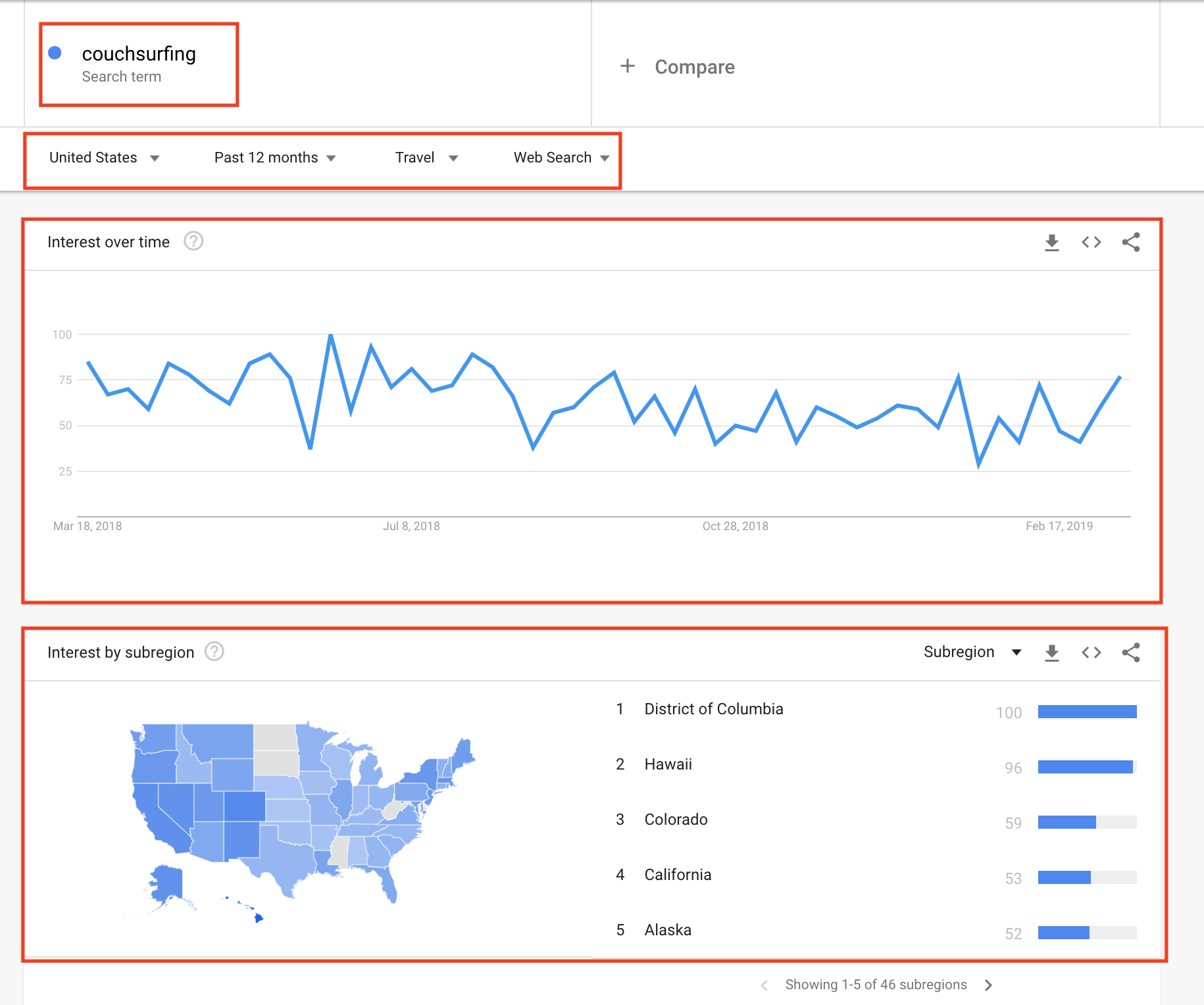 STEP 2. Competitors analysis. Competitors analysis. In a few words, it can be described as a short step-by-step guide: analyze websites featured in the top results; find out what semantic units they use for promotion; pay attention to your competitors' strategies; try to understand what makes them different. You can use both positive and negative experience for the benefit – to strengthen ranking positions or outsmart the competitors. How to find keywords on a website? There are services that help to deal with this task.
Let's take a deep breath, put our minds up and start our journey. In our recent article "How to Conduct SEO Content Analysis Properly?" we explored how to make a proper content analysis, now we start from competitors analysis.
For example, we analyze the keyword "how to start a blog". This keyword has a high search volume and competition rate.
Firstly, we need to explore what keywords our competitors have. The easiest way is using Ahrefs keywords explorer.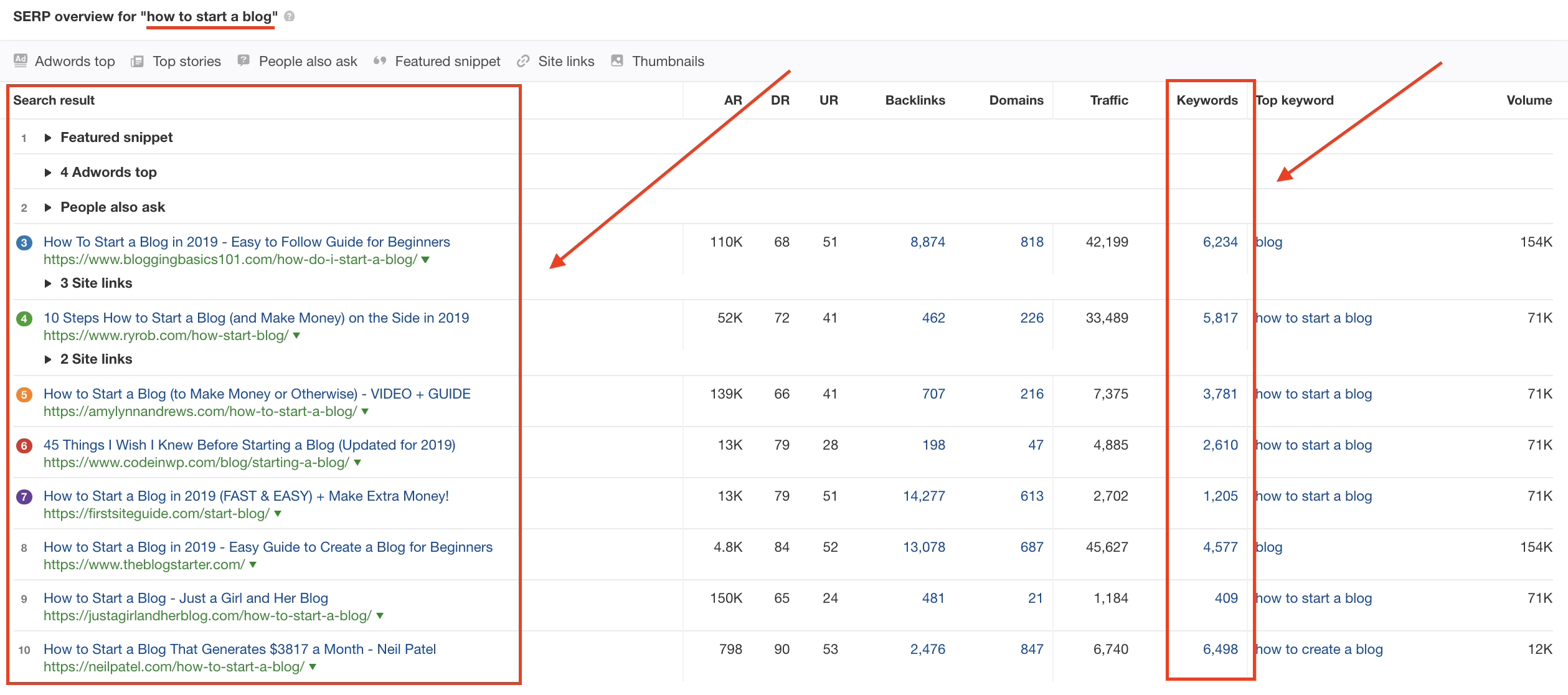 Now we can easily open each keyword profile and add more keywords to our semantics.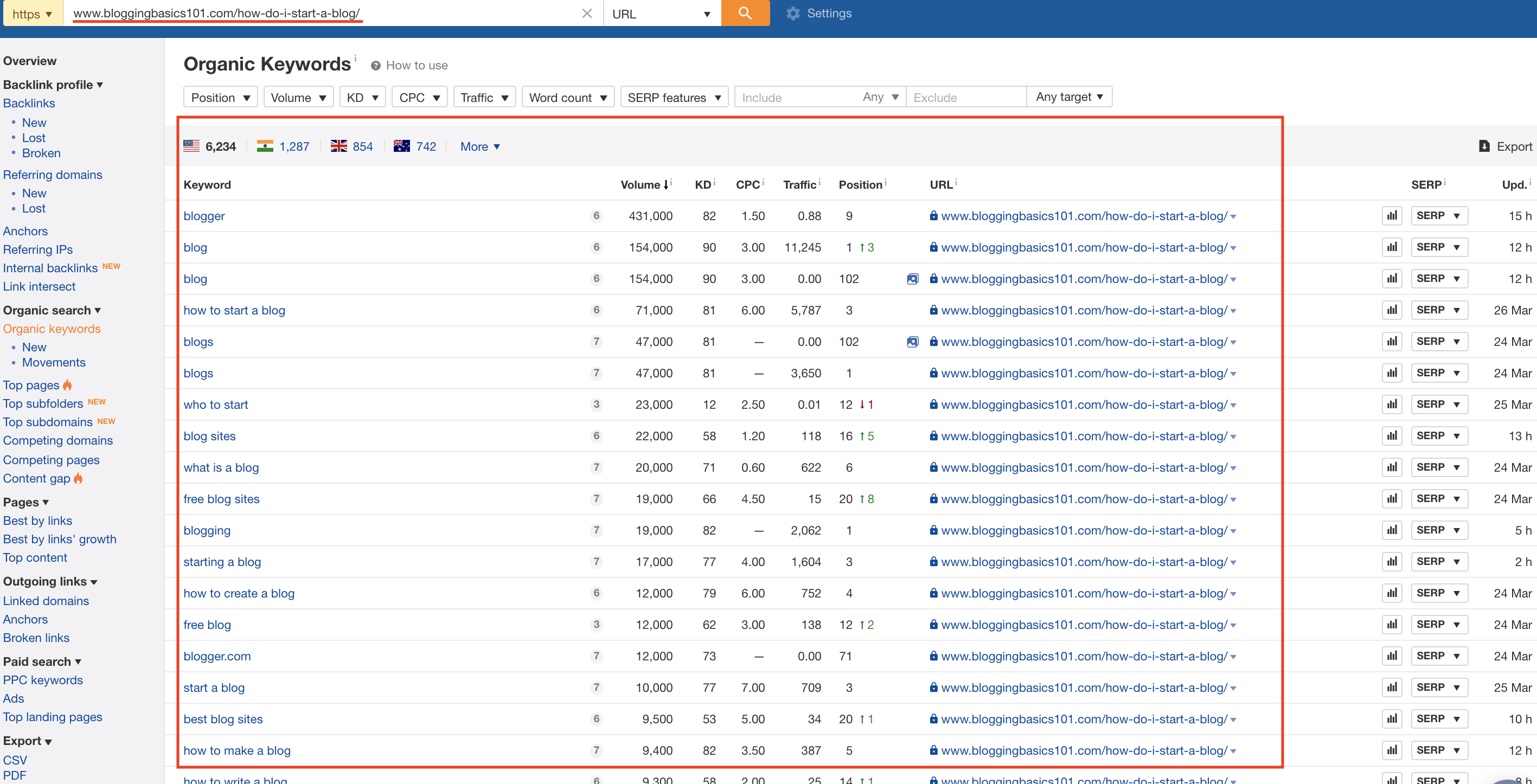 This procedure you can repeat with each of the competitors and maximize your keywords research.
The other tool can be used is Copywritely. It helps to find keywords by analyzing the top 10 competitors from SERP.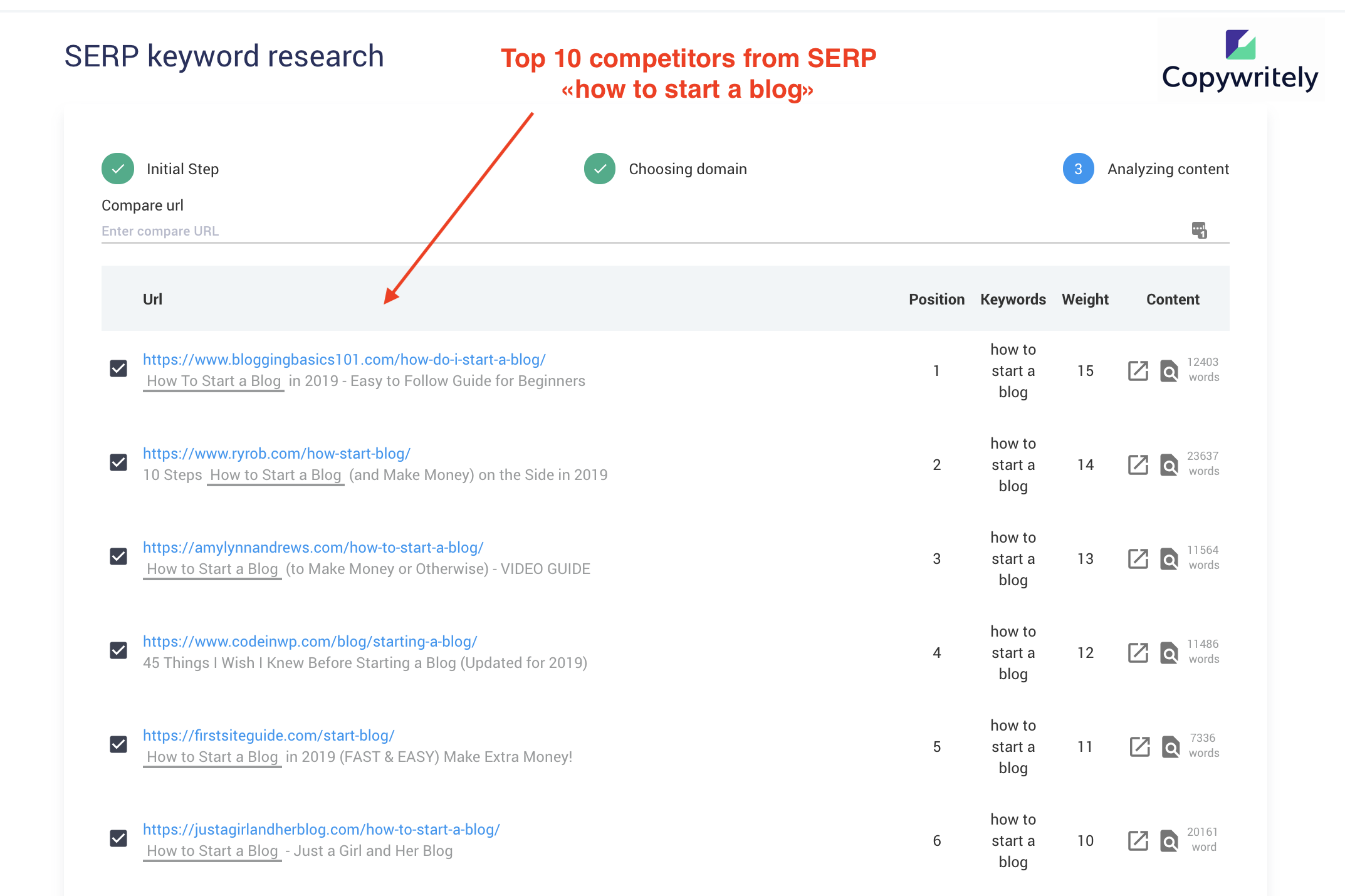 This tool is concentrated on content analysis, the density of keywords, presence of additional keywords and LSI. As a result, you will get the comprehensive analysis of content, meta tags keywords of your competitors which are divided by parameters. Basically, the instrument shows the average value from the top keyword on SERP, which helps to receive more view of the SEO content.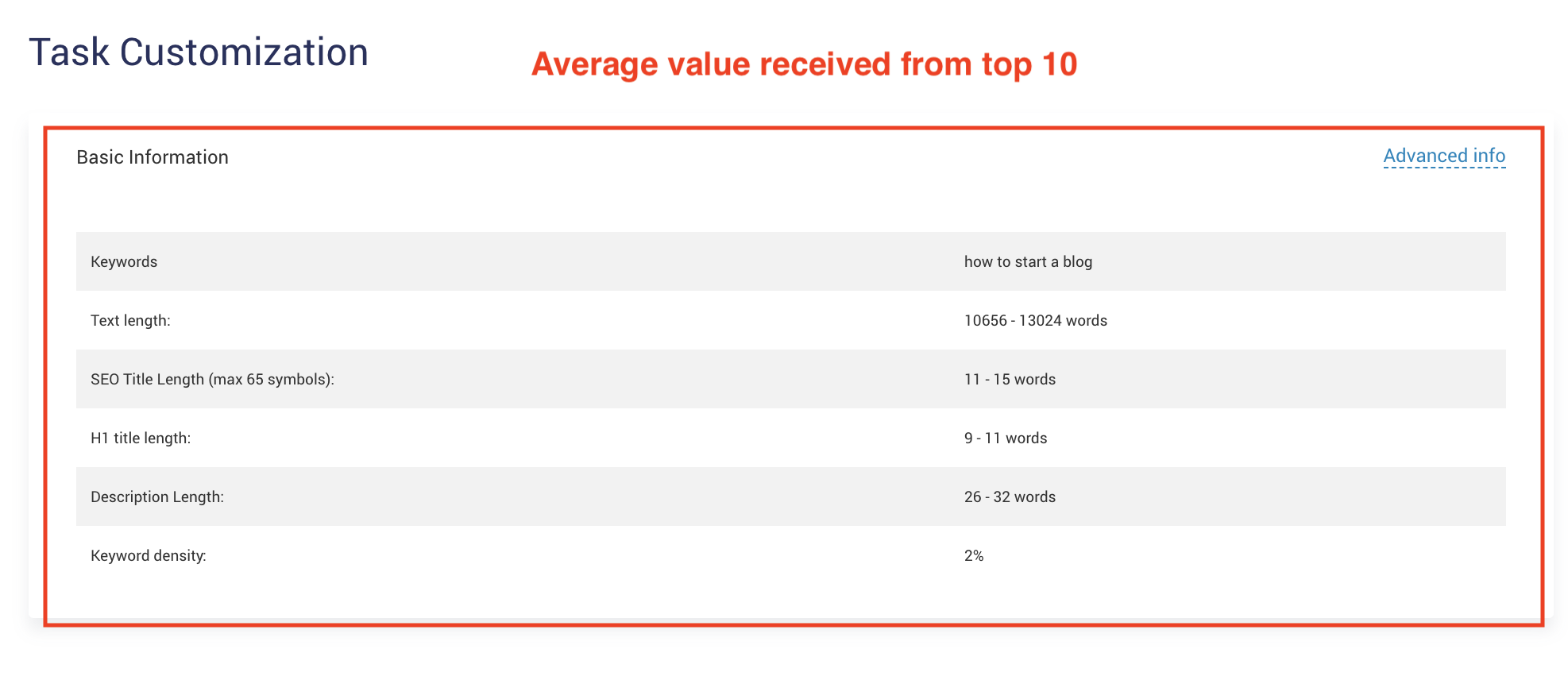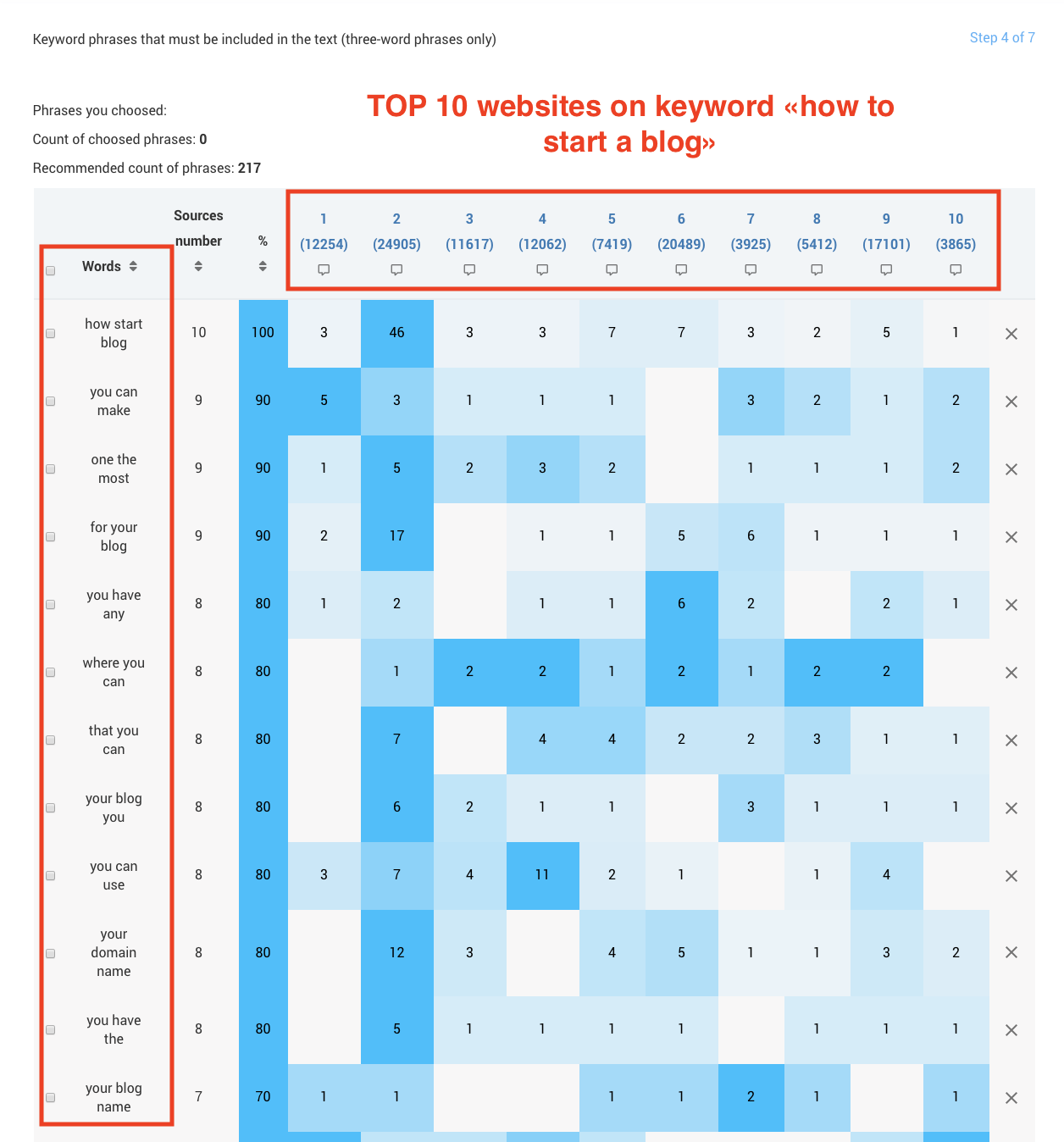 STEP 3. Creating semantic core – a list of words, phrases, sentences, terms, etc. that fully describe the field. It is the base of all words that correspond to users' vision of a relevant web resource. This is the documented result of your previous analysis.
STEP 4. Adding additional keywords. Move to related queries in Google, YouTube, Instagram. Also known as latent semantic indexing, it helps search engines to display the most relevant results for different contexts. The topic of additional keywords is covered on top.
STEP 5. Clustering. By this moment, you have finished keyword analysis. Turn this chaotic collection into a well-structured one. Clustering is a fully automated process of words segmentation, during which SEO specialists divide keywords into groups that are relevant for a particular webpage. The process can be easy using a simple Google Sheet document:
add all your keywords by column;
choose "filters";
add a filtering word and sort all the keywords which have this word or phrase in it.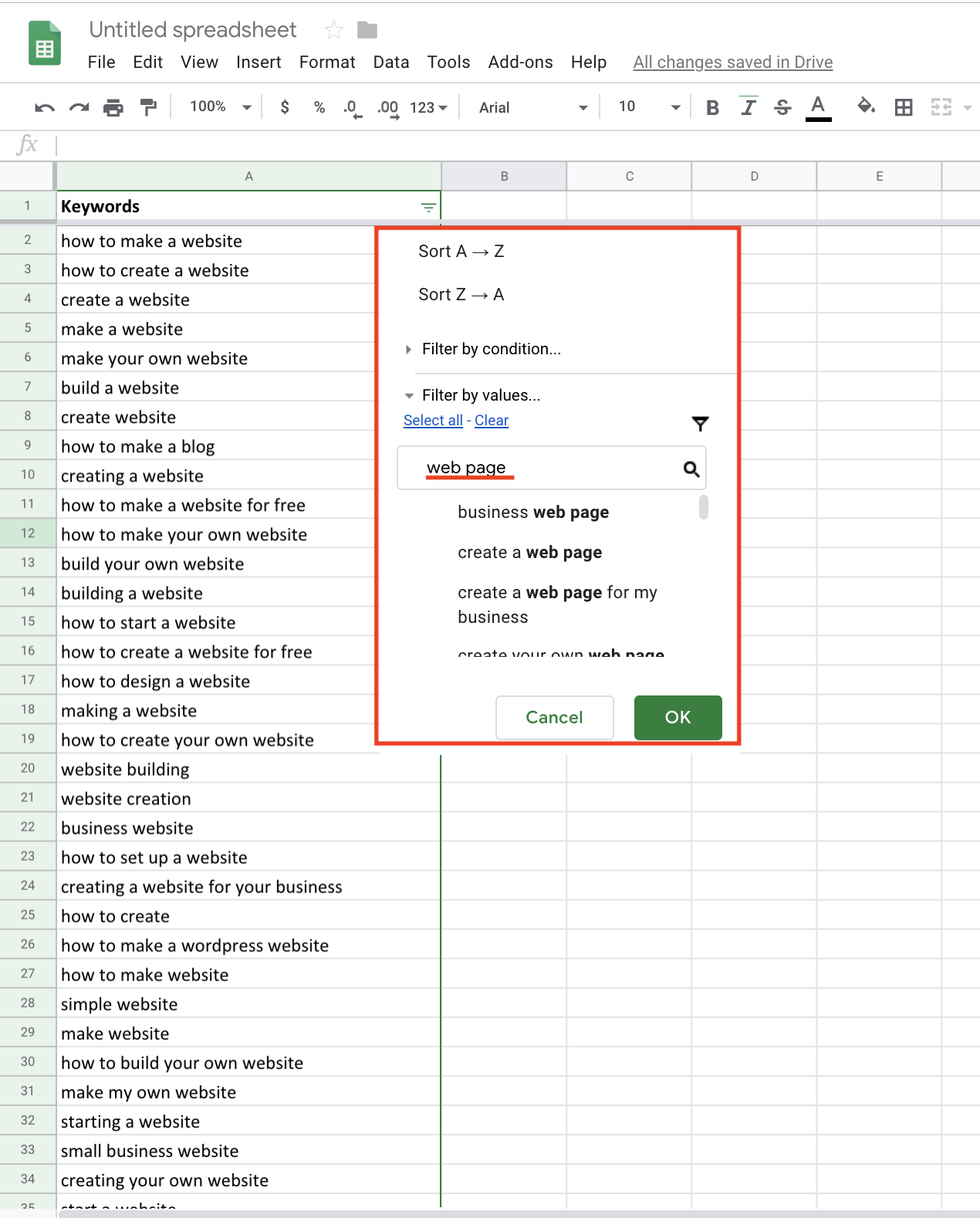 STEP 6. Tools and final check. For the majority of SEO specialists, Google AdWords is a starting point of the search. Among other things, this tool estimates traffic they can bring helps to predict promotion prices. Diverse services can show search volume, ranking complexity, the value of every word, and much more. You can use the following alternatives of tools for these purposes:
To find more information about SEO optimization, read our on page SEO guide. You will find a lot of useful information about factors that impact SEO, read our checklist and many more.
Keywords classification
To figure out the peculiarities of search traffic and come up with an effective optimization scenario, it is necessary to distinguish keyword types. Requests are divided into several categories based on their frequency, competitiveness, value, and geolocation.
Frequency
High-frequency – the most popular ones, usually consist of one or two words, are highly competitive and difficult to use for promotion.
Medium-frequency – help to increase the number of visits in case of proper content optimization; keyword competition is not high here so any small website can get to the top easily.
Low-frequency – rare requests that play an important part in optimization by increasing target traffic; bring those who look for particular things, services, information.
Zero-frequency – researched once or twice a month, not used for promotion.
Competitiveness
There are low-, medium-, and highly-competitive requests. For defining the level of competitiveness, analyze the content relevance of pages that hold top positions among search results. The higher the popularity is, the more you are to invest in promotion.
Geolocation
Geo-targeted. When you type "food delivery," search engines try to detect your location and show relevant results. Thus, results for people from diverse regions differ significantly.
Independent. The performance of these queries doesn't depend on a region.
Value
Navigational – the purpose is to find a particular resource, for example, when users remember the brand's name but not the web address.
Informational – long tail keywords that contain questions (what gift to buy, how to do keyword research, etc.).
Commercial – looking for information that occasionally leads to a purchase, for instance, requests about features, comments, reviews.
Transactional – another type of long tail words that describes a particular action, like "buy a car."
Multimedia – keyword searches meant to access multimedia content, like songs, images, videos.
General words and phrases – the rest of requests that don't belong to any of the categories above. It is difficult to say what exactly people are looking for when entering those words.
Guide on how to do keyword research with Google Ad
Google Ads is the most popular context advertising service. It allows for creating promo messages based on Google queries. The service features a useful tool –adwords keyword planner (read our full guide on how to use it). It provides necessary data in case you have an active promo campaign. If you don't, it is still possible to view the estimated range instead of the precise monthly keyword frequency.
To start using AdWords keyword planner, do the following:
Register in Google Ads.
Open https://ads.google.com/ and choose "Start."
On the next page, choose "Skip the guided setup."
Fill in the form.
Click on "Save and continue."
Click on "All campaigns."
Choose Tools > Keyword Planner.
Now, you can start working. Users have two options:
Find words. This section will answer the central question – how to find keywords – and help to come up with good ideas. Use several phrases for research or simply insert an URL address. The planner will display diverse queries that match your requirements. You may download a final file for convenience.
Get data on requests and forecasts. Here you get the chance to learn more details about each query. Choose the queries you want to use to view their specifications. Always pay attention to the region – the frequency often depends on location.