What is a Meta Description Length Checker?
A meta description checker is a tool that reviews your meta tags. It determines whether they are present and gathers information on their count, content, and length. In addition, it assesses tag optimization to ensure the page has no issues, confirms keyword inclusion, and verifies that descriptions fall within the recommended 120–158 characters (or 920 pixels) length.
Key Features of the Meta Description Validator
What can this tool do?
Obtain data for the meta description tag, such as its presence on each page, tag count, content, and length for every URL on your website.
Identify all issues related to the description tag on your website and receive guidance on resolving them.
Track and monitor any changes on your website, including modifications to the meta tags on a page.
Gain access to a comprehensive SEO checker with full functionality, including a thorough website audit that covers every page, rank tracking, backlink monitoring, and more.
Cases When You Need a Meta Description Length Checker
Meta descriptions are crucial for the snippet displayed on the Search Engine Results Page (SERP). They describe your webpage and can significantly impact your Click-Through Rate (CTR), either increasing or decreasing it. Consequently, it's essential to craft compelling descriptions of the appropriate length. A meta description length checker tool ensures all your pages have accurate meta before submitting them to search engines.
Another critical reason to use a meta description character limit checker involves paid advertising. If you pay Google to promote your site, your snippet will be at the top and should be appropriately formatted to save your budget and increase the clicks.
How to Use a Description Analyzer?
Step 1: Enter your URL and click the "Check description tag" button to initiate the check
Note: To receive results and access to Sitechecker's features for 14 days, start your FREE trial. Sign-up is easy with your email, Google, or Facebook account. NO credit card is needed.
Step 2: Results analysis
The tool crawls your website and extracts the data from your URL's meta-descriptive tag. This process only takes a few seconds, and you will be able to see the results, including the page description count, meta-text, and length.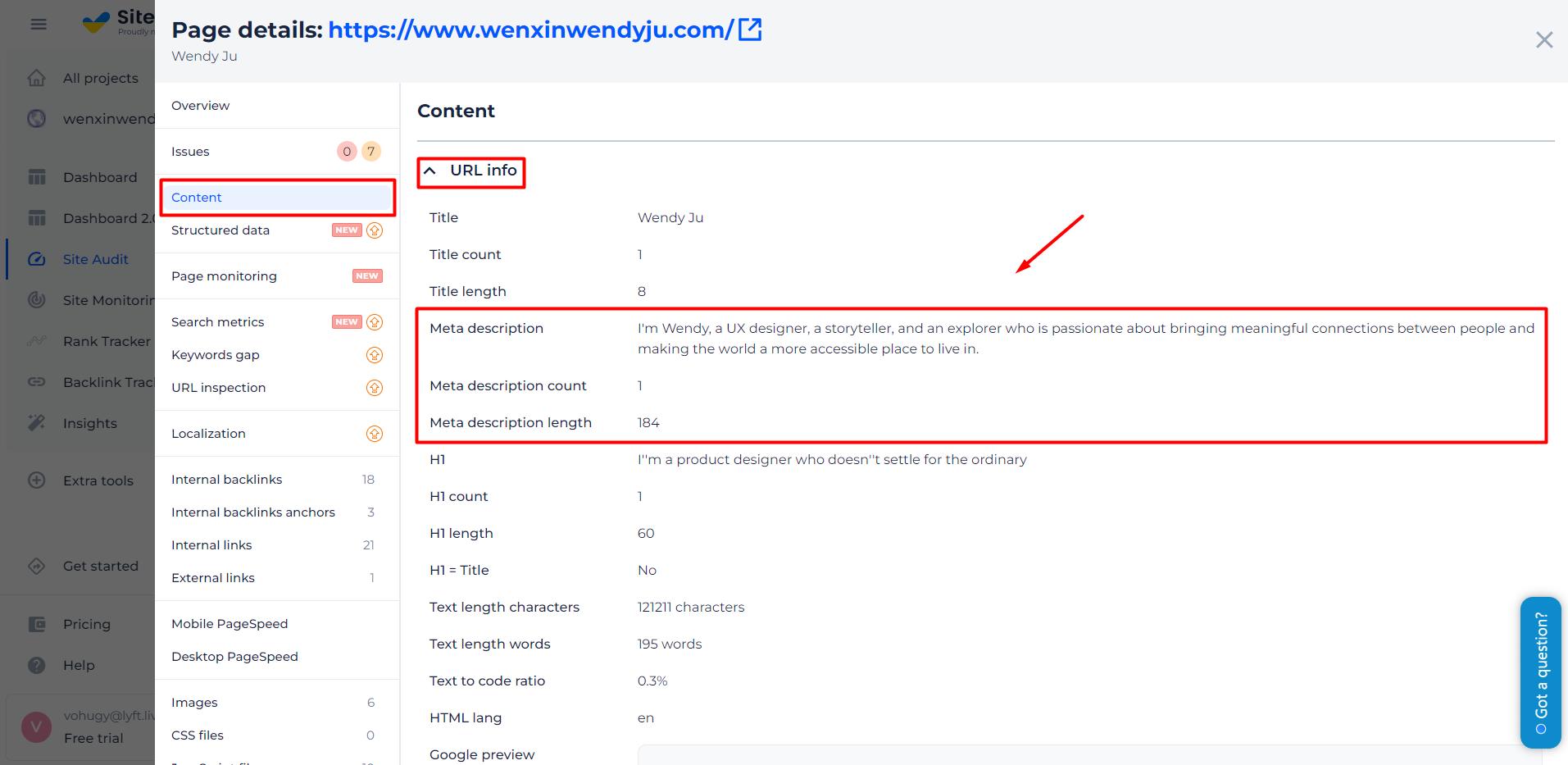 Besides, you can check additional data from the content category, like meta titles (h1–h6), or view other on-page data categories.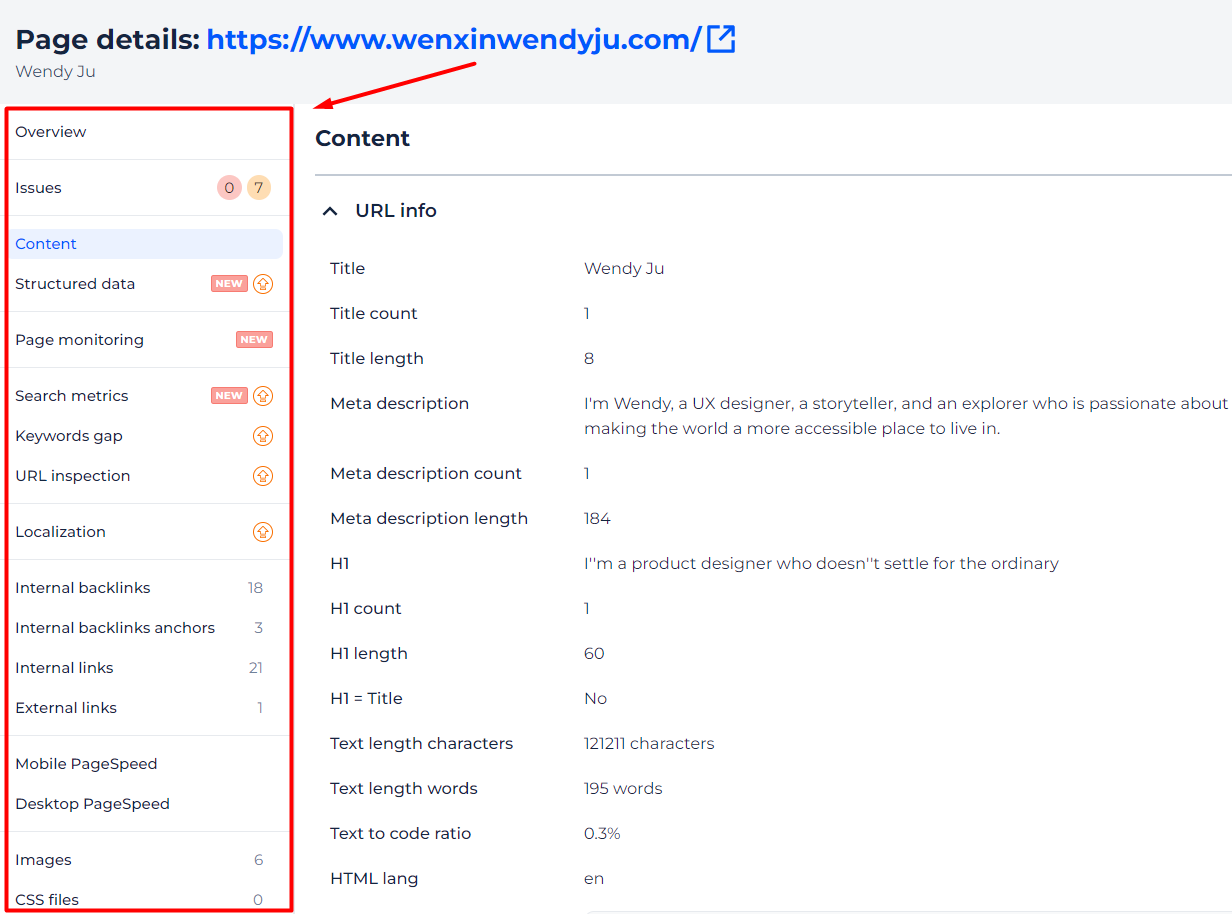 Additional Features of a Meta Description Tester
Sitechecker crawls not just a single page but your entire website. Thus, you get data for any URL. To retrieve SEO meta description tag data for another page on your site, simply close the results page and use the 'All HTML pages' filters to find the URL you're interested in.

Moreover, benefit from another search feature to identify issues with descriptions that may affect numerous pages on your website. To do this, use the 'Search by Category' feature. Select the category tab and enter the issue you're looking for — in this case, 'description.' The search will then identify relevant issues for your website. For example, our tool can serve as a duplicate meta description checker or check other error types.

Clicking on a specific issue opens a page dedicated to that problem. It helps you with its color-coded severity marker: red for critical, orange for a warning, and blue for a notice. This page guides how to rectify the issue, gives you a comprehensive list of affected URLs, and the option to view the page code or conduct a full on-page audit by clicking on a URL.
Finally, you can download a report detailing the description issues and impacted URLs. This is particularly useful for SEO freelancers needing to share data with clients or in-house specialists who must provide insights to colleagues. It's also straightforward to export data for developers to fix the issues. Simply add the exported data to the task tracker (TT) for developers to address.

End Notes
The meta description viewer is a comprehensive and invaluable tool for any SEO specialist, website owner, or developer. Providing crucial insights on the presence, count, content, and length of meta description tags across your website allows for precise optimization and streamlined management of these critical SEO elements. This tool doesn't limit its scope to individual pages. Instead, it encompasses your entire website, extending its utility to any URL you need to scrutinize.
FAQ
How to check the meta description?
Enter your URL into the tool, which then crawls your website and extracts data related to the meta description tag on your site, including its presence, count, content, and length. It can also identify and provide solutions for any issues related to the description tag. Also, you can do it manually, select the web page with a right-click and pick 'view page source' to see the original HTML or opt for 'inspect' to examine the processed HTML.
How long should a meta description be?
Ideally, It should be between 120–158 characters or approximately 920 pixels.
What is the best tool for meta description?
The website meta description checker is among the best tools due to its all-in-one functionality. It includes reviewing meta tags for presence, count, content, and length, providing insights, identifying and resolving issues, and tracking changes across your website.