Meta descriptions are critical to ensure that your visitors end up on the correct page of your website. In some cases, meta descriptions even affect search rankings, so it's important to make sure you write them properly — too short or too long, and they could ruin your overall search engine optimization efforts.
That's why you need to use a meta description length checker tool like the one in this guide; it will help you make sure every single one of your pages has accurate meta descriptions before you submit them to search engines.
What Is a Meta Description Length Checker?
A meta description length checker provides a quick overview of whether or not your meta descriptions are optimized so you can be sure they're hitting all the important keywords while being the appropriate length. The meta description is a short, 160-character (or less) summary of your page's content. It's what shows up under your page title in search results.
According to a few reputable studies, Google uses these descriptions as click-through rates when users are searching for something related to your website's content. So it makes sense that you should write compelling meta descriptions if you want more traffic and clicks to your site! To test your meta description, you can use a meta description length checker tool. Another important reason why you should use a meta description length checker is that if you pay Google to advertise your site, it will position your description at the top of search results. Thus, it should be formatted appropriately.
How to Use a Description Checker?
Step 1: Insert Your URL
Simply enter your web page URL and click on the arrow to generate results.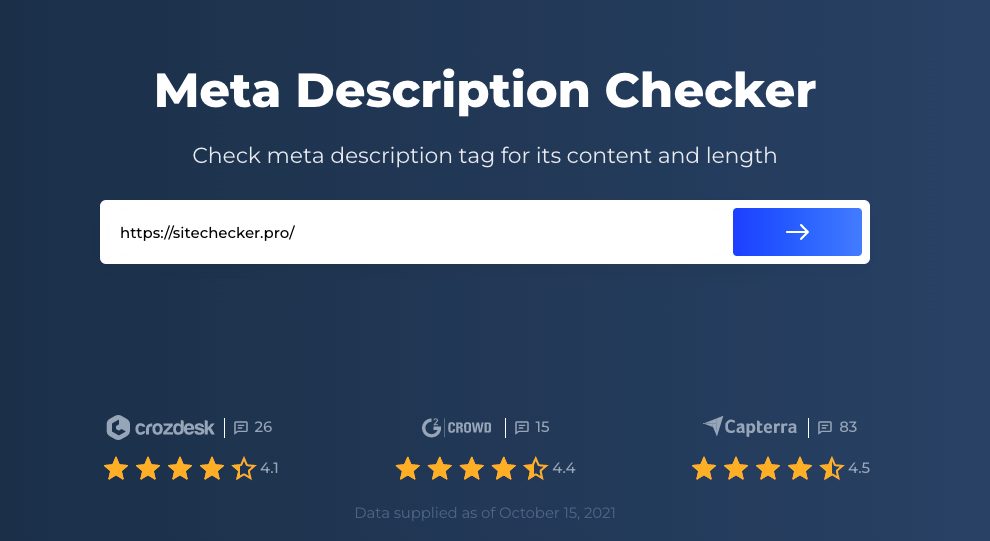 Step 2: Description Checker Results Analysis

In the results section, you will see that SiteChecker not only shows you the length but also the text of the description.
What Is a Meta Description?
A meta description is the short text snippet that appears in Google search results, Facebook posts, and as blurbs on other sites. Meta descriptions are not the same as content descriptions, however. Meta descriptions appear on different types of sites; content descriptions appear on commercial products such as books, DVDs, music albums, and video games. You can create unique meta descriptions for each page based on which keywords you want to rank for in search engines.
The description of the meta tag can have an impact on the site's ranking in the results of search engines that use it (in particular, Google). Visitors also read the descriptions of the suggested pages when seeing the sickle. The snippet, which is created using the information specified in the meta tag description, assists the user in making a final decision about whether or not to visit the search engine's site.
SEO Importance of Meta Descriptions
Meta descriptions are essential for your page and site because it is used by search engines like Google, Bing, and Yahoo to understand your webpage's content. Having a meta description in place also helps you boost the click-through rate, which leads to higher traffic.
What Does Google Say?
Danny Sullivan, a former analyst and journalist who now works for Google, says that there is no defined duration for snippets when the Google algorithm changes. In a Tweet in 2018, Sullivan said that Google's search snippets are now shorter on average as compared to recent weeks, though slightly longer than before a change made last December. There is no fixed length for snippets; it varies based on what Google's systems deem to be most useful. With that being said, the ideal length of meta descriptions is a minimum of 70 characters and up to a maximum of 320 characters.
Is It a Critical Issue If a Meta Description Is Empty Or Too Long?
An excessively long meta description can be deemed irrelevant to end users if they see what appears to be endless text that doesn't make sense. However, if your page's description is missing, it may cause a usability issue for both visitors and search engines—especially if your website has multiple pages of content and each is missing its own SEO keywords.
The key is to make sure your website is providing the information most relevant to potential customers, but if you still struggle to keep people on your site, it could be related directly to on-page optimization in SEO. Your meta descriptions should provide just enough information so that users know whether they will find value in your content.
The bottom line is that it is better to curate an SEO meta description, but even if you don't, Google will create one for you, so it is not a critical issue. If you want a detailed overview on how to fix a missing description, watch this guide below:
SEO-Friendly Description
While meta descriptions may not be mandatory to create, they are an opportunity to optimize your page and attract visitors to your site (granted, you do it right). If you test your meta description and it does not appear SEO friendly, here's what you might be doing wrong:
If the length of the meta description exceeds Google's limit, it will not appear in the snippet. You can use our snippet checker to find out what it will look like.
If there are no keywords in the meta description, Google's algorithm will not pick up your snippet and rank it, thus reducing the chances of search engine visibility. At the same time, one word/phrase should only be used up to 5-7 times; otherwise, you can be penalized by Google. You should use the relevant for your topic keys from your keyword research that you're done for a page.
It is not suggested to use general language in the content.
Copying a portion of the page's text to fill the tag is not advised.
The title tag and the h1 meta tag should not be confused with the description tag; i.e., if your titles and meta descriptions are the same, you're doing it wrong.
Last but not least, focus on the actual content. You could get every aspect right, but if your content is boring, viewers will not end up clicking on it. Test it out on potential users and see how they respond.
How To Fix It?
To ensure your meta description is SEO friendly, here's what you can do:
The meta description should be between 150 to 160 characters in length on average. This is how much text is included in the output (under the link to the page).
Keywords that optimize this page should be included in the correct description. The most frequently asked questions should be listed first in the description. In the tag, no more than 3-4 essential phrases should be used.
The tag should be used to describe the content of a certain page. Make sure it is specific and to the point.
Meta tag descriptions should be unique across all pages of the site.
Make sure your URL title tag and meta description are not the same; otherwise, they will not appear correctly on Google search results.
Viewers should be enticed by the description, which should offer them an indication of what information they will discover on the described page and highlight the benefits of the product or service. A more engaging description will lead to higher click-through rates.
If your web page's description is empty, simply fill it out.
Analyze not only descriptions but the entire site!
Make a full audit to find out and fix your technical SEO. Make traffic growth possible.
FAQ
What is a meta description example?
A meta description length checker tool allows you to see if your description is formatted correctly, SEO friendly, and stays within the character limit.
How do I create a meta description?
Include high-ranking keywords in your meta description. Use unique wording, but make sure to avoid keyword stuffing as well. Try to keep sentences between 50-70 characters long, so they don't end up getting cut off.
What should be in the meta description?
Think about what would entice someone to click on your result. A good meta description is concise and relevant to your web page rather than general.
What is a meta description for a website?
A meta description is a small snippet of text that usually appears in search engine results underneath your page title. It's used to briefly tell searchers what your page or site is about.