A strong online presence is a must for any modern business. You need to look for the best hosting sites to give your website a sure footing. But the variety of options and offers may be overwhelming.
Which hosting is dedicated? How long will it take for the support to fix an issue? Will your website load fast? How much should you pay?
So, how to find top web hosting? Let's be frank: there is no one-size-fits-all-option. The answer depends on your needs and goals. Here are some recommendations though on choosing a suitable solution.
Even more than that, we've researched numerous web hosting providers and singled out the best web hosting services. Have a look at our instructions and web hosting reviews — and you are likely to find the best hosting plans, which will suit you.
The Top 7 Web Hosting Reviews
The Best Web Hosting Companies Reviews
#1 – Bluehost — Best for WordPress Hosting
Bluehost, founded in 2003, is among the largest web hosting companies in the world. The number of its customers amounts to 2 mln. This provider was listed among the best hosting providers by WordPress. It is currently the most popular content management system, utilized by more than 1/3 of websites in the world.
Bluehost plans include WordPress instant installation. Some of them have an array of tools to facilitate building a WordPress website. Besides, an in-house team can review and transfer your WordPress site to Bluehost for free.

The pricing ranges from $2.65 a month for basic shared hosting to $39.95 for WP-option with up to 200,000 monthly visitors.
24/7 support is available via live chat, which is quite responsive. Free automated backup comes with some of the more expensive plans.

#2 – Dreamhost – Best web host with month-to-month plans
It is one of the oldest hosting services, founded in 1996. Nonetheless, Dreamhost proves that it can adapt quickly to new trends. Over 1.5 million customers trust Dreamhost with their websites.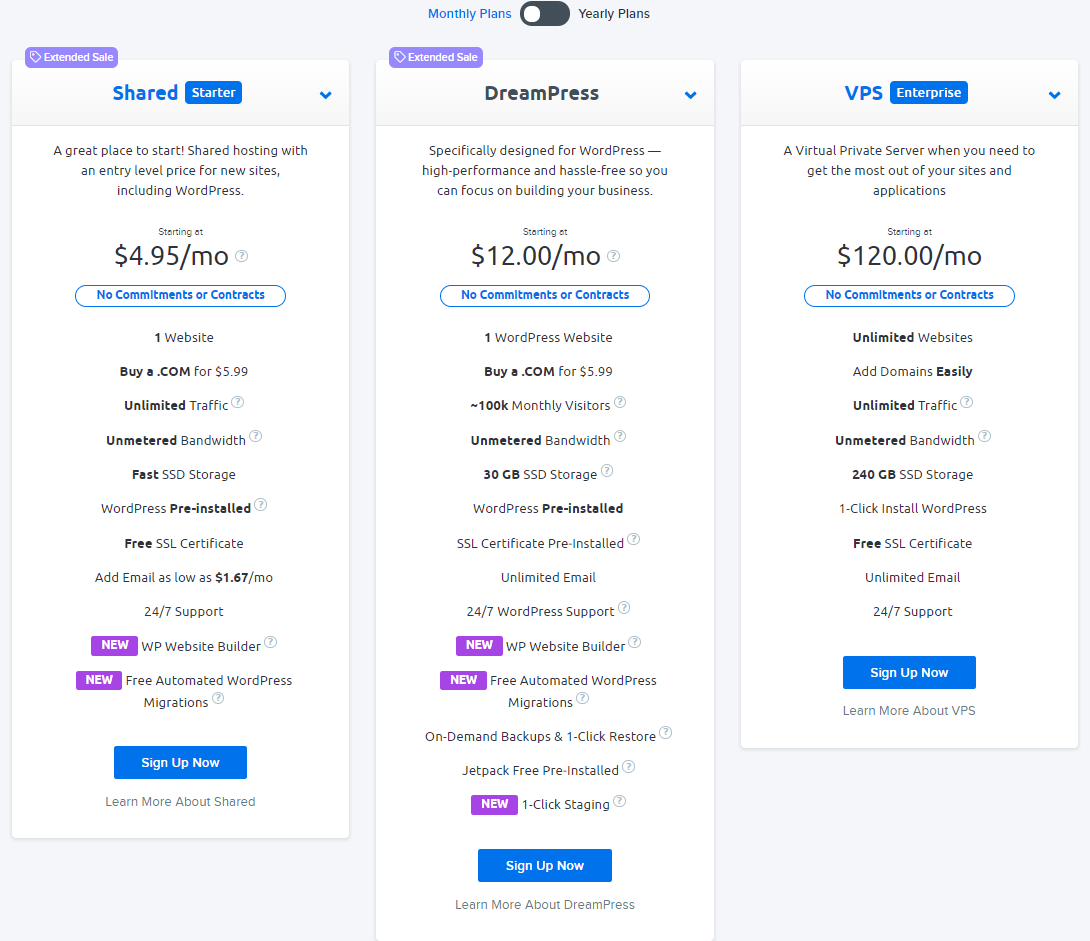 Shared hosting and WordPress hosting prices start at $2.59 a month for a 3-year plan, while dedicated hosting will cost you at least $169. Note that if you don't feel like committing yourself to such a lengthy contract, you can choose a monthly plan. Such options are more expensive but are still relatively affordable, starting at $4.95/month.
Some advantages and features of Dreamhost include:
a free domain;
unlimited traffic;
easy WordPress install;
97-day money-back guarantee on shared hosting, a 30-day warranty for other hosting types;
email hosting with 25GB of storage by default and email sync between desktop and mobile;
24/7 support.
Ready to choose your plan? — Go to
Dreamhost hosting
Want to read some more information — Go to Dreamhost review
#3 – HostGator – Best for Lean/Minimal Needs
Hostgator is quite popular with bloggers and start-ups. It offers one of the most affordable ways to get your blog or website up and running. The cheapest hosting plan will cost you just $2.75/month. The list of offered features may seem relatively modest, but it is more than adequate for a beginner.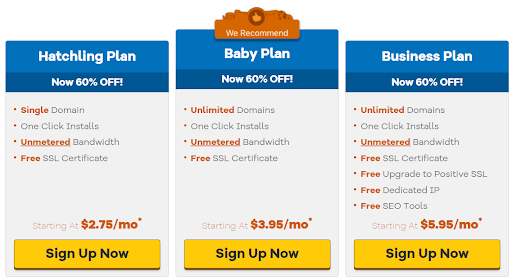 All packages offer unlimited bandwidth, a 99.99% uptime guarantee, and 24/7 support via telephone line or a live chat. Should the customers face problems with uptime, they get a month of credit.
The inexperienced users can use an immense database to answer their questions. Step-by-step instructions ensure that you can do everything on your own.

Ready to choose your plan? — Go to
Hostgator hosting
Want to read some more information — Go to Hostgator review
#4 – Hostinger – Best Cheap Hosting Plans
Hostinger, with its astounding 29 mln users, is among the most prominent free website host providers. Its paid plans start as low as $0.99/month. Surely, you get some basic features for that price. Still, it might be sufficient for some small projects. If that's not enough — the other packages are also relatively inexpensive.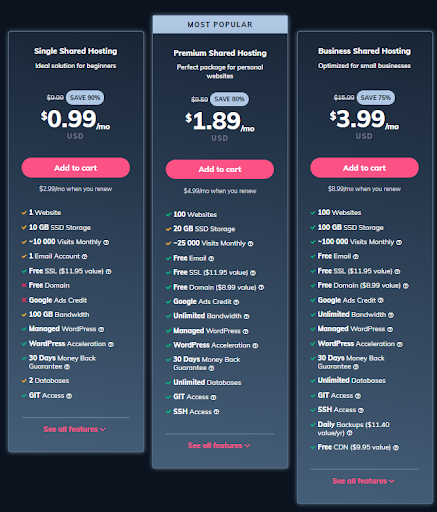 The provider doesn't offer dedicated hosting. Nonetheless, its top VPS plans are advanced enough to satisfy any business with small to medium-sized sites. Besides, Hostinger has some cloud hosting plans, starting from $9.99 a month.
The professional support is available 24/7. All packages include daily back-ups, which means you always have a plan B.

Ready to choose your plan? — Go to Hostinger hosting
Want to read some more information — Go to
Hostinger review
#5 – A2 Hosting– Best Hosting Services for Speed
A2 Hosting is renowned for its load time. The latest test reveals that it is slightly more than 300 ms, which is a great result. The web hosting company offers a Turbo Boost feature, which promises up to 20x faster loads.
That speed comes with reliability. The average uptime is 99.98%, which exceeds industry standards.
The provider offers Windows and Linux shared hosting. The latter is more common, especially for simple web solutions. The clients get a free site migration. A customer can install WordPress can in one click.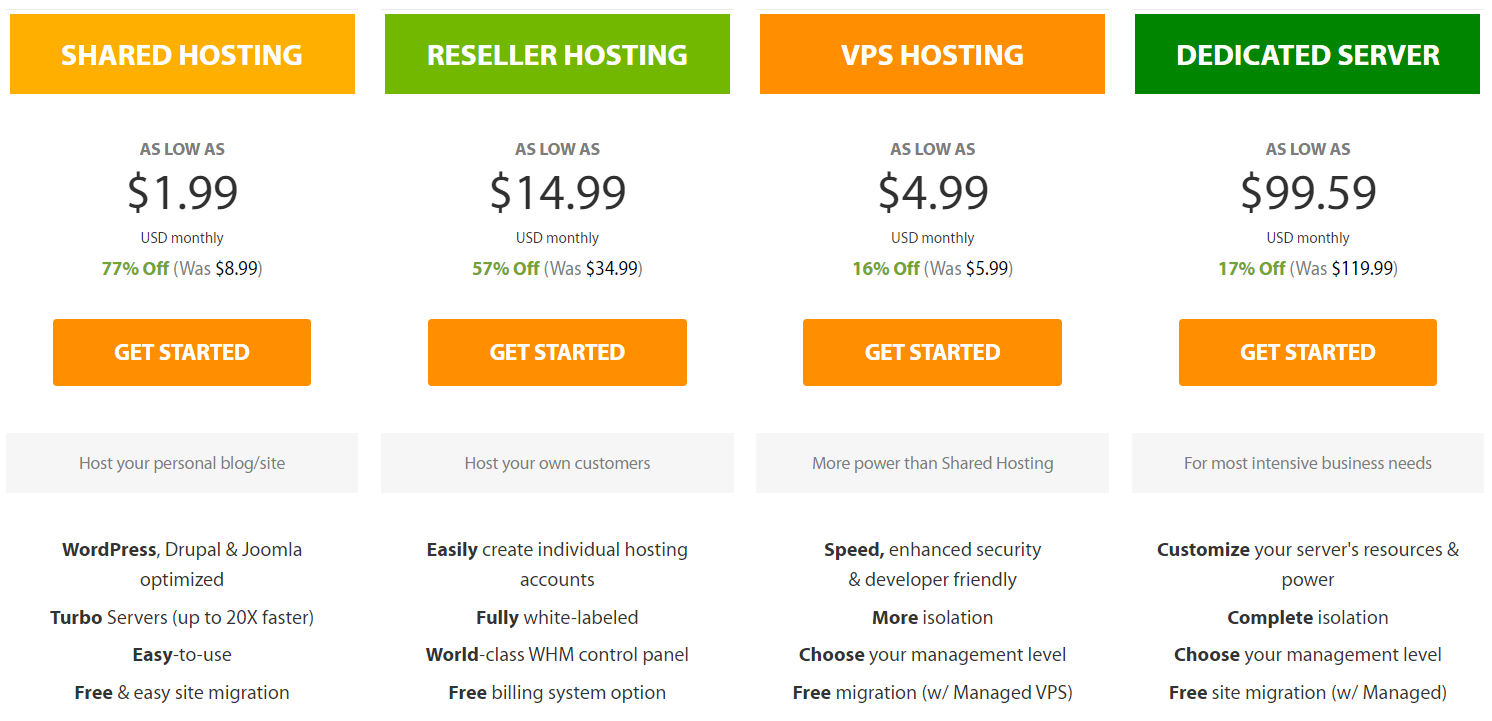 Current prices start as low as $1.99 a month for shared hosting. One can reach the support at any time. Besides, all dedicated server plans include priority support. You also get an anytime money-back guarantee.

#6 – SiteGround – Best Customer Service
SiteGround designs its plans to suit businesses of any size. Among its distinguishing features is the auto-scale tool. It allows you to add more resources during traffic spikes automatically.
SiteGround lets you transfer from your current provider on any of its plans for free. Automated daily backups will also come in handy in case of an emergency.
The provider proves to be reliable; its uptime is close to 99.99%. Besides, it is among the best website hosting companies by loading speed.
But the most remarkable is SiteGround's customer care. That is what makes it one of the best hosting services. Their support aims for 90% resolution at first contact. In other words, nine times out of ten, your issue will be resolved almost immediately.

#7 – InMotion – Best VPS Hosting
Your ambitious plans require your website to be scalable? InMotion is an excellent choice for you. Its VPS hosting plans include at least 75GB of disk space and 4TB monthly traffic, which is quite remarkable.
The cheapest shared hosting package will cost you at least $2.49 a month. VPS hosting prices start from $17.99. Many packages have a 90-day money-back guarantee. It provides you with enough time to decide if the provider suits you.

InMotion is very careful about its customer support, which is available 24/7. Employees are allowed to work with customers only after 160+ hours of internal training.

Web Hosting
Server location
Customers
Storage
Control
Pricing / mo
(starting at)
Trial
Bluehost.com
Review
USA
2,000,000
50 GB
cPanel, Custom built
$3.95
30 Days
Whc.ca
Review
Canada
25000
Unlimited
cPanel
$3.89
30 Days
Tmdhosting.com
Review
USA, United Kingdom, Netherlands, Singapore, Japan
12000
Unlimited
cpanel
$5.95
60 Days
Siteground.com
Review
USA, United Kingdom, Netherlands, Singapore
1700000
20 GB
custom
$3.95
30 Days
Justhost.com
Review
USA
1,000,000
Unlimited
cPanel
$3.38
30 Days
Liquidweb.com
Review
USA, Europe, Netherlands
30,000
50 GB SSD
custom
$15
–
Interserver.net
Review
USA
50,000
Unlimited
cPanel, Direct Admin, Plesk, Custom panel
$4.20
30 Days
A2hosting.com
Review
USA, Netherlands, Singapore
200,000
Unlimited
cPanel
$4.90
30 Days
Inmotionhosting.com
Review
USA
320,000
Unlimited
cPanel
$4.99
90 days
Hostmonster.com
Review
USA
1,700,000
Unlimited
cPanel
$8.45
30 Days
Netim.com
Review
Europe
30000
Unlimited
Parallels Plesk
$7.45
–
Domain.com
Review
USA
10000
Unlimited
cPanel
$3.75
–
Hostpapa.com
Review
Canada
150,000
Unlimited
cPanel
$4.95
30 Days
Canadianwebhosting.com
Review
Canada
100000
1 GB
cPanel
$3.95
60 days
Servermania.com
Review
USA, Canada, Netherlands
8000
250 GB
cPanel
$5
–
Hostupon.com
Review
Canada
10,000
Unlimited
cPanel
$9.95
30 Days
Milesweb.com
Review
USA, India, United Kingdom
10000
1 GB
cPanel, Plesk
$0.60
–
Greengeeks.com
Review
USA, Canada, Netherlands
40000
Unlimited
cPanel
$3.95
30 Days
Fastwebhost.com
Review
USA, Germany, India, Netherlands, China
30,000
20 GB
cPanel
$2.95
30 Days
Resellerclub.com
Reviews
USA, India, United Kingdom
200000
Unlimited
cPanel, Plesk, WHM
$1.35
–
Ipage.com
Review
USA
1,000,000
Unlimited
vdeck, cPanel
$2.49
30 Days
Exabytes.com
Review
USA, Singapore, Asia
100000
1 GB
cPanel,Plesk
$1
–
Mochahost.com
Review
USA
500000
Unlimited
cPanel
$1.95
180 days
Webhostingpad.com
Review
USA
100000
Unlimited
cPanel
$3.99
–
Scalahosting.com
Review
USA, Europe
50000
Unlimited
cPanel, SPanel
$3.95
–
Webhostinghub.com
Review
USA
40,000
Unlimited
cPanel
$4.99
90 Days
Cloudways.com
Review
USA, Germany, Singapore
12500
xx
in-house
$10
3 days
One.com
Review
USA, Sweden
1500000
25 GB
cPanel
$2.45
–
Hostinger.com
Review
USA, Europe, United Kingdom, Netherlands, Singapore, Brazil
29,000,000
Unlimited
hPanel, Custom-built
$3.99
30 Days
Godaddy.com
Review
USA, Canada, Australia, India
17,000,000
Unlimited
cPanel, Plesk 12, Custom-built
$9.39
30 Days
Eukhost.com
Review
Europe, United Kingdom
35000
Unlimited
cPanel, Plesk
$4.44
–
Ovh.com
Review
Poland, USA, Germany, France, Canada, Australia, United Kingdom, Singapore
1,300,000
Unlimited
cPanel, Plesk
–
–
Gandi.net
Review
France, Europe
30000
Unlimited
cPanel
$4
–
Scaleway.com
Review
USA
10000
Unlimited
cPanel
–
–
Iweb.com
Review
USA, Canada, United Kingdom, Netherlands, Singapore, China
100000
1000 GB
Parallels Plesk, cPanel
$105
–
Ionos.com
Review
Spain, USA, France, Europe, United Kingdom, Netherlands
15000000
100 GB
Custom built
$1
–
Webhosting.uk.com
Review
United Kingdom
25000
5 GB
Plesk, cPanel
$3.32
–
Easyspace.com
Review
United Kingdom
300000
10 GB
Plesk, cPanel
$4.8
–
Netfirms.com
Review
USA
1200000
Unlimited
Custom built
$4.45
–
Namecheap.com
Review
Europe, United Kingdom
3,000,000
Unlimited
cPanel
$2.88
14 Days
Midphase.com
Review
USA
120,000
Unlimited
cPanel
$3.48
30 Days
Mediatemple.net
Review
USA
125000
20 GB
Custom-built
$20
–
Fatcow.com
Review
USA
100,000
Unlimited
vdeck, Custom built
$4.08
30 Days
Startlogic.com
Review
USA
50,000
Unlimited
cPanel
$5.99
30 Days
Server4you.com
Review
Germany
10000
20 GB
cPanel
–
–
Selectel.ru
Review
Russia
10000
Unlimited
ISP Manager, Custom-built
–
–
How To Choose The Best Website Hosting Service?
There are several crucial characteristics you should consider before making up your mind. Best web hosting providers have incredibly few issues with uptime or the website loading speed.
Moreover, top hosting companies provide excellent customer support, and handle traffic spikes efficiently. Besides, all that comes for a reasonable price. Let's have a closer look at each of those aspects.
Hosting factor #1 – Uptime reliability
There is no good having a website that is often down. Users facing a blank screen, 500-error, or hang-ups, will get frustrated. Also, the website ranking will suffer. As the competition is indeed challenging, 99.5% uptime should be your goal.
Luckily, in 2020 best web hosting companies guarantee that such occasions are infrequent. And if something happens, you are in for compensation from your provider.
Useful tip: if you are not sure a website is down, use our Website Down tool.
Hosting factor #2 – Loading Speed
A website loading at a snail's pace will surely drive your customers mad. Undoubtedly, the ranking suffers too. Whatever website host providers you choose, they should guarantee a good website loading speed.
The definition of "good" may vary, depending on the needs of your business. As your enterprise grows, its website may become more complex. So it will need even better speed results.
To check the speed of your site, use our Website Speed Test.
Hosting factor #3 – Customer service
No matter how reliable your provider is, at some point, you'll face problems. They may be even of your own making. That is the moment when a nimble 24/7 customer service is a blessing. The best hosting providers provide support via different channels, including a live chat or a telephone.
A reliable support team will probably have a full backup of your website to save you in the most desperate situations.
Hosting factor #4 – Price
As the websites come in all shapes and sizes, the prices of web hosting may vary. Indeed, there are some free options. But "free" offers always come with strict limitations. Some basic web hosting plans may start as low as $1 or even less.
It's up to you to decide whether your business needs to pay $1, $10, or $100 a month for web hosting. But remember: higher prices do not always mean better quality. Perhaps, your site doesn't need a fancy hosting services package with numerous options you'll never use.
If you are looking for some simple and inexpensive options, check out the Best cheap hosting providers
Hosting factor #5 – Traffic Volume
Hosting a site with 300 visitors a month is one thing — but 30,000 visitors is quite another. Viewing large media files also boosts the amount of traffic passing through your platform.
Small businesses may be content with 10 GB monthly. But for some organizations, expecting many visitors and multimedia on their sites, 150 GB would be a preferable option.
Note that you can get the traffic stats with the help of the Website Traffic Checker
Which Type of Hosting Is Right for You?
The variety of such services may seem daunting. Nonetheless, there are several most common types of web hosting. The main difference between them is allocating resources for your site, flexibility, scalability, and cost. Each of those types has its pros and cons.
Shared hosting
As the name suggests, in this case, your website shares the same server with many other sites. It is a suitable solution for beginners with not more than 1,500 daily visitors and basic requirements. An obvious advantage of shared hosting is a lower price.
You can get your website up and running in no time. But those pros come with shared resources, which limits loading speed and space. And when some site on the servers gets a sudden traffic spike, its "neighbors" may suffer for a while until the provider solves it.
Check out the Best shared website host providers.
VPS Hosting
That's a level up from shared hosting. Several websites share the same space, but each of them has an allocated section. Up to 15,000 daily users may visit your site without damaging its performance. It's a more scalable and flexible type of web hosting.
However, if you need a large, complex website or plan some ambitious marketing campaigns, VPS is not a long-term option.
Have a look at the Best VPS web hosting companies.
Dedicated Hosting
Your website gets an entire physical server. As you don't share resources, there are no speed or storage limitations. You may develop your site and configure the server in whatever way you like.
That is the most reliable option for top solutions — but also the most expensive one. Besides, you need a professional to maintain and manage the server.
Here are some suggestions for Cheap dedicated web hosting.
Web Hosting Comparisons
We hope our best web hosting companies reviews will help you to make up your mind. But what if you are at a stalemate, trying to choose between two options? We might have just the right analytics to save you from the tortures of indecision.
Our experts run comparisons of two or more hosting providers against each other. Then we describe the results in an article. We point out each provider's pros and cons, considering key aspects. In the end, we suggest the top hosting companies for specific types of websites. Have a look at some web hosting comparisons we've already performed:
Useful Hosting and SEO Tools
Check out some instruments you can use to find the best website hosting or for search engine optimization:
Hosting Checker – Find out the host of the website and where is it hosted;
Website Down – Check if a website is really down for everyone or it's just you having trouble with loading it;
Speed Test – Find out a loading speed of a specific page and get suggestions on how to improve it;
Expired domain checker – Check if a domain is expired and available for sale;
Website Safety – Check if the website is listed as suspicious;
Domain Availability – Search for available domain names.
Best web hosting FAQ

How to find website hosting?

Find out about the types of web hosting and hosting factors from this article. Then evaluate your business's needs. You can find the list of the top 7 web hosting providers above. Besides, taking into account the popularity of WordPress, we've researched the Best WordPress Hosting Providers. Thus, you'll be able to find the best hosting for this content management system.

How much does web hosting cost?

The price of hosting depends on your web site requirements. Basic shared hosting plans may cost as little as $0.5 a month. Simultaneously, a monthly fee for some premium packages may reach a couple of hundred USD and more.

What is bandwidth in web hosting?

Bandwidth is the monthly amount of data that can be transferred to and from your web server. The bandwidth you need depends on your web page size, the expected number of visitors, and the number of pages they visit.