Serving more than 1.2 million websites worldwide, Netfirms hosting is the trusted provider for any online business. Here you can solve your business needs with affordable domains, web hosting, SSL certificates, and online marketing services.
Of course, there is no dedicated or virtual server here. However, the features offered are enough to meet the needs of a small or medium-sized business.
Let's take a closer look at whether you should pay attention to this hosting service.
Netfirms Pros & Cons
There are many netfirms reviews, and users' opinions are divided. Hosting is known for its simplicity, and if you do not have enough time to read the entire review, we have prepared for you a summary of the key advantages and disadvantages of hosting.
Let's quickly go over the key pros and cons.
Pros
Cons

Good Uptime

Unlimited Email Accounts

Live Chat Support

30-day money-back guarantee

Limited Hosting Plans

Shared Hosting Only
Netfirms in Brief
| Characteristic | Information |
| --- | --- |
| Uptime guarantee | 99.9% |
| Support options | email, chat, and phone |
| Hosting plans | Shared hosting |
| CMSs | WordPress, Joomla, and Drupal |
| Features | Scalable Bandwidth, Dedicated SSL certificate, Spam filter, E-commerce-ready, cPanel |
| Starting price | $3.49 a month |
When to Use Netfirms
Hosting presents its customers with simple pricing plans, so you can easily put your business' first website online with its help. Low prices, high speed, and good customer service make Netfirms a great option to use for your business.
Keep in mind that there are resource solutions for e-commerce sites here. If you have a small store and would like to promote it online, then take advantage of Netfirms. You will have 30 days to get your money back if you don't like the service's quality. We recommend buying a subscription for three years at a time to get the maximum savings.
When Not to Use Netfirms
If you run a large business or an e-commerce site, then you should look for other alternatives. There is no dedicated or virtual server here, so netfirms basic web hosting simply can't provide resources for your online business. We recommend that you look for other hosting companies that will allow you to buy a dedicated server.
This doesn't mean that Netfirms is a bad hosting service. No! It's just that its target audience is small businesses and solves their problems. For large businesses and large sites, there are other providers.
Netfirms Performance
The following software and programs are available on most shared hosting accounts and are subject to change occasionally. Let's take a look at what hosting currently supports.
MySQL – 5.6.x

GD2 Library – 2.1.0

Perl – 5.8.8

Python – 2.7

Ruby – 1.8.7

PHP – 5.3 / 5.5 / 5.6 / 7.0 / 7.1 / 7.2 / 7.3 / 7.4
If you need more information about the hosting features, you can contact the support team and answer your questions. If you request a certain server capacity, you can solve it with the company's specialists.
Netfirms Speed Test Results
The loading speed of content on a site is critical to search engine rankings. For your site to attract more visitors and traffic, you need to take care of its high speed. Many factors influence the speed, but one of the most significant is the speed at which your web hosting works. Well, it's time to put performance to the test!
Here are the results:
| Test | Average Loading Time |
| --- | --- |
| GTmetrix test | 2.5 s |
| Pingdom test | 3.22 s |
| PageSpeed Insights (Google) | 3.1 s |
The results are quite good! Rest assured that your websites on this hosting will load fast.
Netfirms Uptime Guarantees
The accessibility of the site to users is another factor that directly affects SEO. If your site is unavailable at some point in time, then you could lose customers, money, and your search engine ranking. This is quite unpleasant and will nullify all your efforts and work on the site.
Uptime should aim for 100%, but few providers provide such a high result. There are always factors that can affect the availability of the site for users.
Uptime Guarantees from Netfirms is 99.9%. It is excellent! There are hosting companies that offer higher guarantees, but it's a nice result for this price. Netfirms web hosting understands that something unforeseen can happen, but they will always be ready to fix any problem in a short time.
Netfirms Server Response Time
We have already checked the content loading time, uptime and made sure that this service has good performance. So go on, and now it's time to review the first-byte loading speed.
To do this, we used the Bitchata service. This service evaluates sites that, according to Google's recommendation, load in less than 200 ms.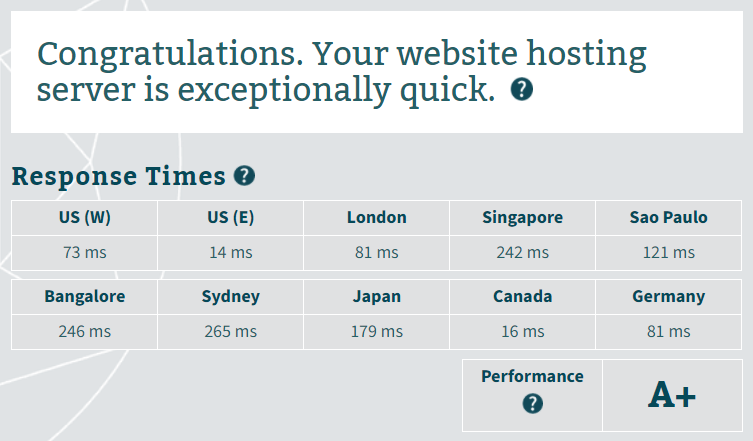 Great result!
The service was rated
A+
. Congratulations!
Netfirms Site Migration
If you need to transfer your website, then it's very easy, according to netfirms reviews. Netfirms domain transfer process is highly automated and designed to ensure that transferring a domain name while causing no downtime to your website.
The support team is always available to assist with anything related to your Netfirms account, including your site migration.
Netfirms Features and Pricing
Right now, netfirms hosting plans are limited to a simple Shared Hosting plan, a graphical website builder, and related value-added services. On the one hand, it's easy enough for you to choose because there's only Shared Hosting.
On the other hand, if you have a large website, you may need large resources and a dedicated server. You won't have that option here.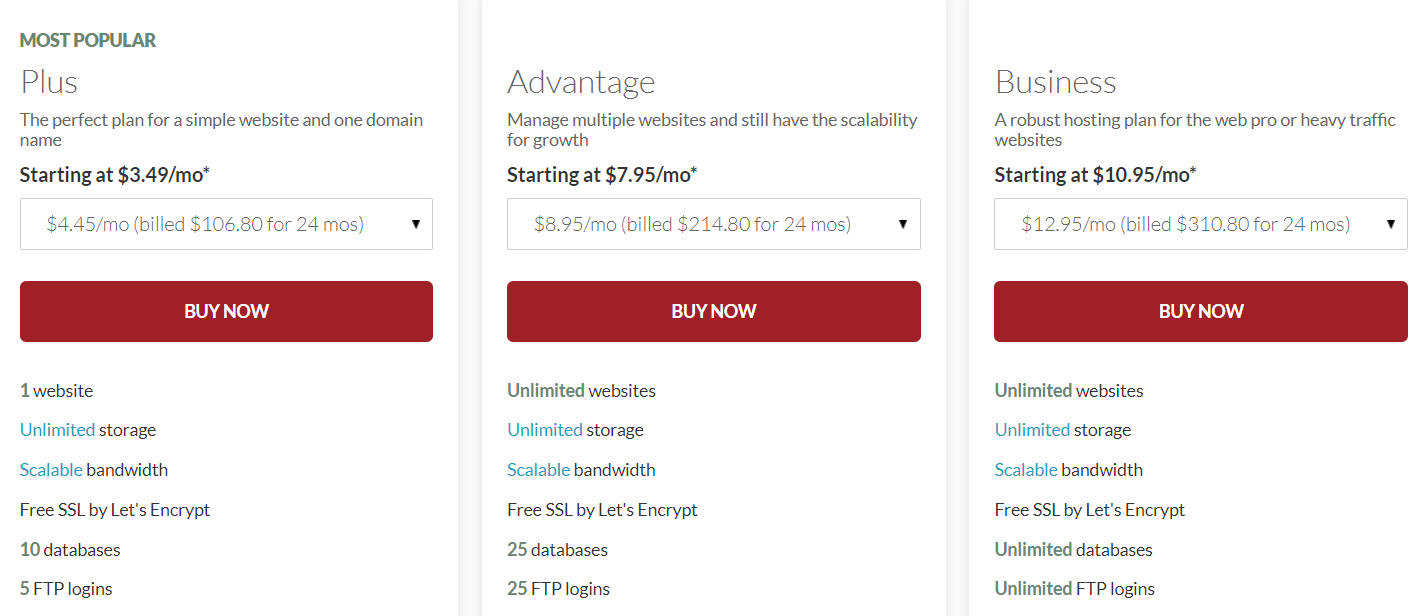 Let's take a closer look at what features are included in Web Hosting.
Web Hosting
Well, a single-site Plus plan with unlimited storage costs $3.49 a month if you subscribe for three years. In each plan, you are presented by default:
The free domain name for a year

eCommerce solutions

Marketing tools

Unlimited disk space

Create subdomains

Scalable bandwidth
Web hosting by netfirms supports WordPress, and you can also register domain names on their website. The features of each plan increase depending on the option you choose. Evaluate all the tasks of your site and choose a plan based on that. MySQL's databases are limited to 5 on the cheapest plan, and FTP accounts are limited to 50, although that might be enough for a medium-sized small business site.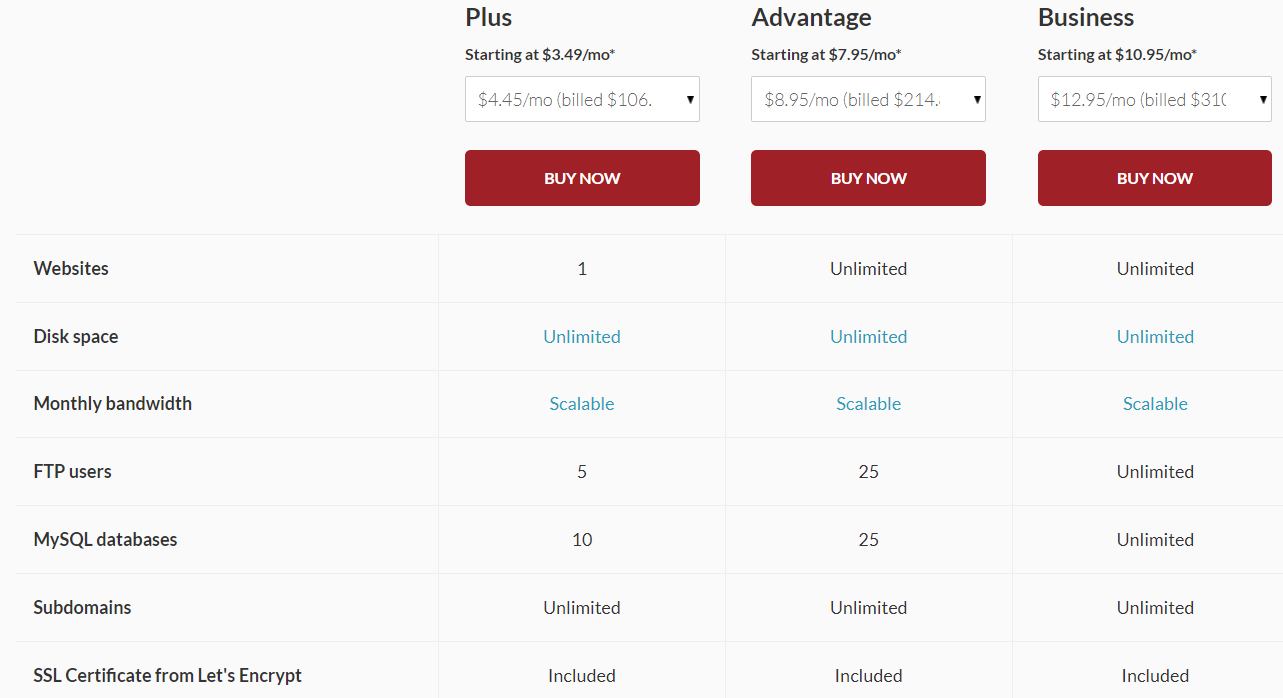 If you have trouble choosing a plan, contact support to resolve your problem.
Security Features
Two potential warnings to your site and domain are hackers and human mistakes. The reputation of your business also depends on how well your customers' data is protected. Agree that leaking users' personal data can ruin your business's reputation and lead to a downgrade in search engines.
Any site should be as secure as possible against unauthorized access and leakage of personal data. With malware scanning and blacklist prevention provided by SiteLock, you can limit your site from being hacked.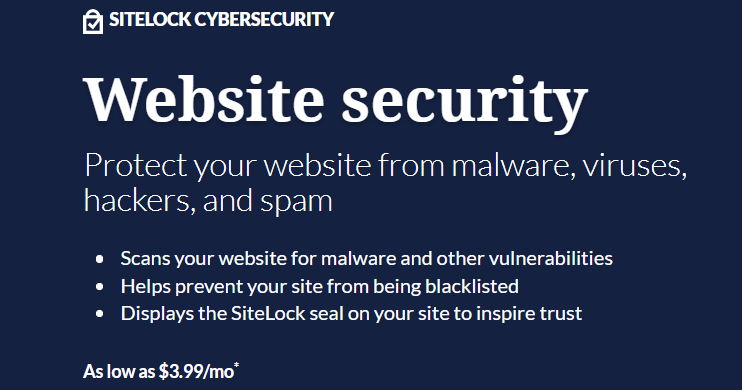 Well, let's take a look at what security measures Netfirms provides. With Domain Privacy of Netfirms, you maintain full control and ownership of your domain name, and your personal information won't be made public.
Netfirms Domain Security Alerts let you know if someone was making unauthorized changes to your account or domain. These are paid add-ons that you can add to your plan.
By default, a security certificate is provided for each site. Starting at $3.99 a month, you can get Google blacklist monitoring, File-level scanning, SiteLock Seal, and Automatic malware removal. More expensive protection plans have advanced protection features, and if your site needs it, you can activate it.
Netfirms Support Functions
Now it's time to talk about the level of customer service. You probably know that how well a company communicates with customers shows its level of interest in retaining existing users. A provider's reputation is based on the level of support.
As far as Netfirms Support Functions are concerned, they are not limited to just talking to the company's specialists. Here you will find an extensive knowledge base with popular user questions.
For inexperienced users, this database can be a great help when getting started with hosting. If you still have questions, then you can contact the support team in one of the convenient ways for you. Note that both existing customers and potential users can take advantage of the help.
It is a great opportunity to get acquainted with the service in detail before deciding whether it suits you.


To summarize, you can take advantage of these customer support options:
Knowledge Base

Phone support

Live-chat
Netfirms Quick Facts
| Fact | Information |
| --- | --- |
| eCommerce solutions | Included |
| Bandwidth | Scalable |
| SSL Certificate from Let's Encrypt | Included |
| Disk space | Unlimited |
| Subdomains | Unlimited |
| Free domain name | Included |
Netfirms Review: Do We Recommend It?
In general, the service copes well with the promises made. You should not expect to see dedicated or shared hosting here any time soon. Therefore, if you are an individual or a small business representative, this may be suitable.
However, if you are a large corporation with huge needs, another provider will likely be a better option for you. You can find a service with other features that will be right for your business. Don't expect this service to solve big business problems, as we said in our netfirms hosting review.
Netfirms Alternatives
Here are some attractive alternatives for you:
Bluehost – reliable and cheap provider for most users in the world.
Hostwinds – a great option for dedicated hostings.
Liquid Web – popular managed web hosting.
FAQs on Netfirms
Which Netfirms plan should I get?
We recommend you start with the cheapest plan for your project, and if you like the service, you can easily upgrade to a more expensive plan. This provider understands that your business is growing, so he'll meet you halfway when he changes the plan.
Can I get my money back if I am dissatisfied with the service?
Yes, there is a 30-day money-back guarantee.
Does Netfirms have a free plan for new users?
No, Netfirms offers paid plans. There is no free plan.
Can I contact support if I'm not a customer of the service?