Today you don't have to be a business tycoon to create your own website. Anyone can do it. A student may build a site for an online portfolio, a business, as part of a course or a side-project. The question is how to do it. And finding the best web hosting for students is part of the challenge.
The diversity of options may give you a headache. Is free web hosting for students good enough? Which providers offer the lowest prices? How to choose the best deal? We've tried to make the task easier for you, pointing out some things you should pay attention to. Besides, we've already picked the best options you can find. Let's have a look at them.
The Best 5 Web Hosting Providers for Students
How to Choose the Best Website Hosting for Students?
Factor 1. Price
A tight budget is one of the main constraints for a student. That's why free hosting for students seems so enticing. You can expect the basic features to come with free plans. It will do for some tasks — but don't build your hopes too high. Such offers rarely come with unlimited possibilities. If you have something serious in mind, it is better to choose a discounted plan. 1 or 2 extra bucks a month for web hosting won't strain your finances too much but will get you quite a decent hosting package.
Factor 2. Uptime
Even if you choose a free website hosting for students, you should expect your website to be accessible most of the time. There is little point in building something that no one will be able to see. So don't forget to check your provider's uptime guarantee. 99.5% uptime is what you should strive for. To make sure that your internet is OK and the website is down, you can use our Website Down-tool.
Factor 3. Easy-to-use CMS
A user-friendly content management system will make building and managing your website much simpler. Some hosting companies include CMSs in their packages. WordPress is the most popular such system, utilized by more than 1/3 of websites globally. It allows you to make any websites using numerous media types. WordPress is easy to learn and has a huge community to support you.
The Different Types of Best Web Hosts For Students
Web hosting providers come in all shapes and sizes, but student web hosting should offer some cheap and user-friendly solutions. Here are the most suitable options.
Shared hosting
Your website shares the same server with other sites. Free student web hosting is likely to use that type. It is a suitable solution for beginners with basic requirements and up to 1,500 daily visitors. You can get your website up and running in no time for a low price. But if some site on the server gets a sudden traffic spike, the other sites' performance may suffer until the provider solves the issue. You can check out our list of the Best shared website host providers.
Cloud hosting
Using cloud services is becoming a trend. Cloud hosting users pay only for the resources (space, memory, bandwidth) they consume, and the projects are easily scalable. Microsoft Azure, Amazon AWS, and Google Cloud offer dedicated student packages. Google, for example, provides a great tool-set with a relatively smooth learning curve. The company offers free web hosting for student projects (The Student Plan). Besides, you get $50 worth of credits to use with any Google Cloud product.
Managed WordPress Hosting
As WordPress becomes more and more popular for web building, many companies offer so-called 'Managed WordPress Hosting'. The provider will keep your WordPress installation up-to-date, thus protecting your site from security threats. Note that it isn't as inexpensive as shared web hosting and usually is not offered for free student web hosting. But if you plan to use the WordPress platform for a long time, you may consider this option.
Top-5 Web Hosting Providers for Students
#1 — InterServer — The Best Web Hosting with a Free Package for Students
InterServer offers a year of free server hosting for students. You sign up using your student email address with .edu at the end or contact the company directly.
A free plan for students includes quite a generous package: unlimited bandwidth, number of websites, storage, and email. Besides, you also get free backups and a free SSL certificate. SSD storage is utilized for better performance.
After a year, the renewal will cost a student $4 a month. For other users, the monthly fee will be $2.50 from the very beginning.


Other features include:
460+ cloud apps
Global content caching
SitePad website builder
Free website migration
#2 — Namecheap – The Best Host for Students with a Free Domain
The company, founded as a domain registrar, declares its support for education web hosting. By visiting nc.me students and educators can claim a free domain. Besides, users with active .edu emails are eligible to receive access to GitHub Pages and a .me website for a year.
GitHub Pages makes it easy to create a website, the pages are hosted on the user's GitHub repository. Beginners can use a library of how-tos.
Namecheap offers its users Softaculous-installer. Therefore, you can easily install content management systems (WordPress) or forums (MyBB) in one click.
Shared hosting Stellar plan starts at $1.44 a month for a 2-year contract. Note, that managed WordPress hosting is available for $0.01 for one month. Such an option looks as close as possible to free website hosting students can use. The renewal will cost $1.24 a month for a yearly contract (EasyWP Starter).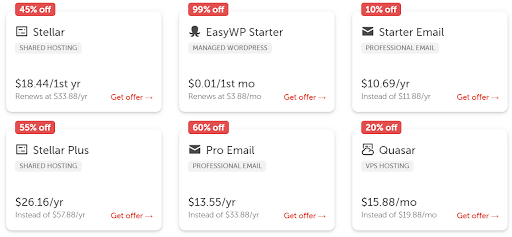 Some features of Stellar plans include:
At least 20 GB SSD;
At least 3 Websites;
Unmetered bandwidth;
Free website builder;
Free automatic SSL installation;
30-day money-back guarantee
Ready to choose your plan? — Go to Namecheap hosting
Want to read some more information — Go to
Namecheap review
#3 — InMotion — The Best Web Hosting with a Student Discount
InMotion offers discounted plans for students and educators. You can provide your .edu address or a valid student ID to get a shared web hosting account (Power Plan) at up to 50% off. As the company suggests, it's over $50 in savings. Without the discount, the cost of such a package starts at $4.99 for a 3-year contract.
Like some other web hosts, InMotion Hosting facilitates building web applications, supporting Pearl, Python, and Ruby programming languages. However, their student deal also includes Ruby on Rails, which, combined with other tools, arms a user with the most options of any shared hosting package.
Student plan includes Linux-based web hosting. The US-based team can be reached 24/7 to answer any questions.
Other options of a Power Plan include:
Free domain;
Up to 50 websites;
Unlimited bandwidth;
100GB disk storage;
50 email addresses;
Free SSL
#4 — A2 Hosting — The Best Student Web Hosting for Speed
A2 Hosting features 20 eLearning software options. Among them are Omeka (a platform for displaying exhibits, library, and museum content), Chamilo (Course management system), and Claroline (a collaborative eLearning solution).
The provider often emphasizes its advantages in loading speed. Its Turbo plans promise to make your website up to 20 times faster. And even the cheapest Startup-package features free CloudFlare CDN (Content Delivery Network). Thus, the website's resources are held by different servers, which may boost loading speed. According to the tests, A2 Hosting's average loading time is around 300 ms, which is a great result.
That speed is available for a relatively modest starting price of $2.99 a month. But the cost comes only with a 3-year contract.


Among other options there are:
At least 100 GB SSD Storage;
Free Site Migration;
Free SSL certificate;
Unlimited email accounts;
Free website builder
#5 — Wix.com – The Best Student Web Hosting with a Website Builder
Many web hosts offer basic website builders for free. But Wix is one of the leading platforms to handle both hosting and drag-and-drop design.
It's an ideal option for those who don't want to be encumbered with technical challenges. Wix allows you to build great student blogs or portfolios. Hundreds of industry-specific templates, a knowledge base of articles and a large App Market are at your disposal. Without the need to worry about the back-end, you can focus on the content.
The prices are relatively high, starting from $4.50 a month. But students are offered a 50% discount on all yearly plans.


The features of Wix's most basic plan include:
1GB Bandwidth;
500MB Storage;
Connecting client's custom domain.
Ready to choose your plan? — Go to Wix hosting
Want to read some more information — Go to Wix review
Web Hosting Comparisons
Hopefully, reviews of the best student hosting providers will help you to make your choice. But if you are hesitating between two options, have a look at our web hosting comparisons. Two or more hosting providers are scrutinized in one article. Key aspects are considered to point out each one's pros and cons. We conclude with the top pick for specific websites. There are some comparisons we've already done for you:
You can also use this table to compare the key features of the providers:
Useful Hosting and SEO Tools
Here are some free instruments you can use to find the best hosting for students and for SEO:
Hosting Checker — Find out who hosts the website;
Website Down — Check if a website is really down;
Speed Test — Test a loading speed of the page, get suggestions to improve it;

Expired domain checker (coming soon)

— Check if a domain has expired;
Website Safety — Check if the website is listed as 'suspicious';
Domain Availability — Look for available domain names.
Best Web Hosting for Students: FAQ
Which hosting provider is the cheapest overall?
InterServer offers one year of free web hosting for college students. But in the long run, Namecheap with its $1.44 a month for a 2-year contract may be even cheaper.
Is it a good idea to search for free web hosting for students?
Free web hosting may meet some of the most basic demands. Nonetheless, you can find discounted plans featuring much more options for a very low price.
What is the cheapest type of hosting?
Shared hosting is the cheapest type of web hosting. The prices for such packages may start as low as $1-2 a month.