What is shared web hosting and why do most people prefer it for their online projects? Primarily, this is the cheapest type of hosting. The server is divided into a large number of accounts sharing the same IP addresses.
Server hardware capacity is shared among all users. There is no customization, but there are specific limitations – everyone uses the same software installed by the provider. Nevertheless, if you have a small site, an online resource with low traffic, then the best shared hosting providers will suit you very well.
The only thing left to do is to decide on the best shared hosting for today. We've presented top shared hosting providers you can choose from.
5 Best Shared Hosting Providers
How to Choose the Best Shared Hosting Company?
It may really be hard to determine what is needed for the normal operation of your site. But you can quite safely start with one of the best shared hosting plans. So what should you look out for first in top shared hosting providers?
Uptime
This criterion is one of the most important in the work of servers. It is measured as a percentage to show how long the provider's servers have been running smoothly. Based on the uptime, you can easily understand how reliable the services are, how often various hardware problems occur, and how quickly they are fixed by the company.
Bandwidth
This is the characteristic that largely determines the speed and loading speed of the entire resource. In its turn, it affects the number of site users. Mind that using free shared hosting, it is difficult to provide sufficient bandwidth for a large resource. If you don't expect high traffic to the site, then you can choose very cheap hosting options.
Speed
The speed directly depends on the load created by the site itself and the ability of servers to withstand it. Unfortunately, free shared hosting isn't a good option for highly loaded projects. The client with the increased number of visits takes away the free resources of other clients on this server. But monitoring systems of reliable service providers easily detect such customers and quickly fix such problems.
Traffic
The load on the web resource directly depends on the amount of information transmitted between your site visitors and the server, i.e. traffic. You need to find out the size of one page (together with images and other additional files) and multiply it by the monthly number of views. With an average page size of 1.0 MB, shared hosting can efficiently handle 10.000 daily traffic.
Limitations
The main problem, of course, is the desire of providers to convince the client that only here they will receive the best service and unlimited opportunities "almost" for nothing. But shared hosting still has its own limitations in speed, traffic, etc. And this is understandable because all server resources are distributed among all users.
Different Types of Best Shared Web Hosting
The final choice of the best shared web hosting can be based on the operating system installed on the servers and tools you prefer or plan to work with. It is worth taking a closer look at Windows and Linux shared hosting to understand the differences and benefits of the services.
Linux Shared Hosting
This is the most popular in the world today due to its affordability and flexibility. All major hosting providers are Linux-based. This is a particularly good option for anyone considering using PHP, Perl, Python, Ruby, or MySQL. It's worth noting that Linux shared hosting is much cheaper than Windows one.
Why is this so? Linux is a free and open-source system. This way, providers do not need to pay license fees to use Linux as the operating system of their servers. So, if you're looking to save some money, Linux is arguably the best option, although its support and technical expertise in this area tend to cost money.
Windows Shared Hosting
For the site built with ASP.NET technology or other Windows-specific technologies and products, Windows shared hosting is the only solution. Windows is a paid operating system, which makes the tariff plans for such hosting more expensive.
A service provider must purchase a license from Microsoft and enter into a special SPLA (Services Provider License Agreement), according to which providers deduct an appropriate fee for its use.
WordPress Shared Hosting
This is a WordPress-optimized plan that providers offer for better performance of this CMS. These plans have full accessibility and functionality for WordPress. If you are thinking of starting an online store in WordPress, then you have no choice but to take advantage of a hosting service that specializes in WordPress websites.
By using WordPress hosting, you can ensure that your website is much more professional, as it has more optimized loading speeds and many other useful tools.
Other Types of Web Hosting
Outside all the above-mentioned types of shared hosting, you can try using others that also offer many benefits.
Dedicated Hosting
The dedicated server is a service that gives the client the ability to store their data on a separate server. This assumes that you choose the hardware, calculating the possible loads in the future, and the vendor keeps the server in their data center.
They ensure an uninterrupted supply of electricity and the Internet to your hardware. They maintain the vital activity of the server itself, that is, constantly monitoring its technical condition.
More details about cheap dedicated hosting.
Cloud Hosting
This provides access to applications and websites through cloud resources. Unlike all other types, web projects kept on the cloud are not deployed on a single server. Instead, the application or site is hosted on a network of interconnected virtual and physical cloud servers. They focus on increased uptime, dedicated resources, easy scalability, and a dedicated IP address.
VPS Hosting
A VPS (virtual private server) is an isolated part of a physical server that operates independently of others on the same server. This means that the failure of one server does not affect the functioning of the neighbors.
Each virtual server has its own processes, resources, and separate administration. Unlike shared hosting, VPS has a minimum of technical restrictions and more configurations.
Get familiar with best VPS hosting to choose the working solution!
#1 Hostinger — Best Cheap Shared Hosting Plans
Hostinger provides shared hosting services to over 30 million users from 170 countries around the world. It is currently the most affordable service on the market with prices starting at $ 0.99 / month (best deal up to 90% on a 4-year subscription). Its pricing plans contain everything you need to get started, from ample resources to tools to increase efficiency.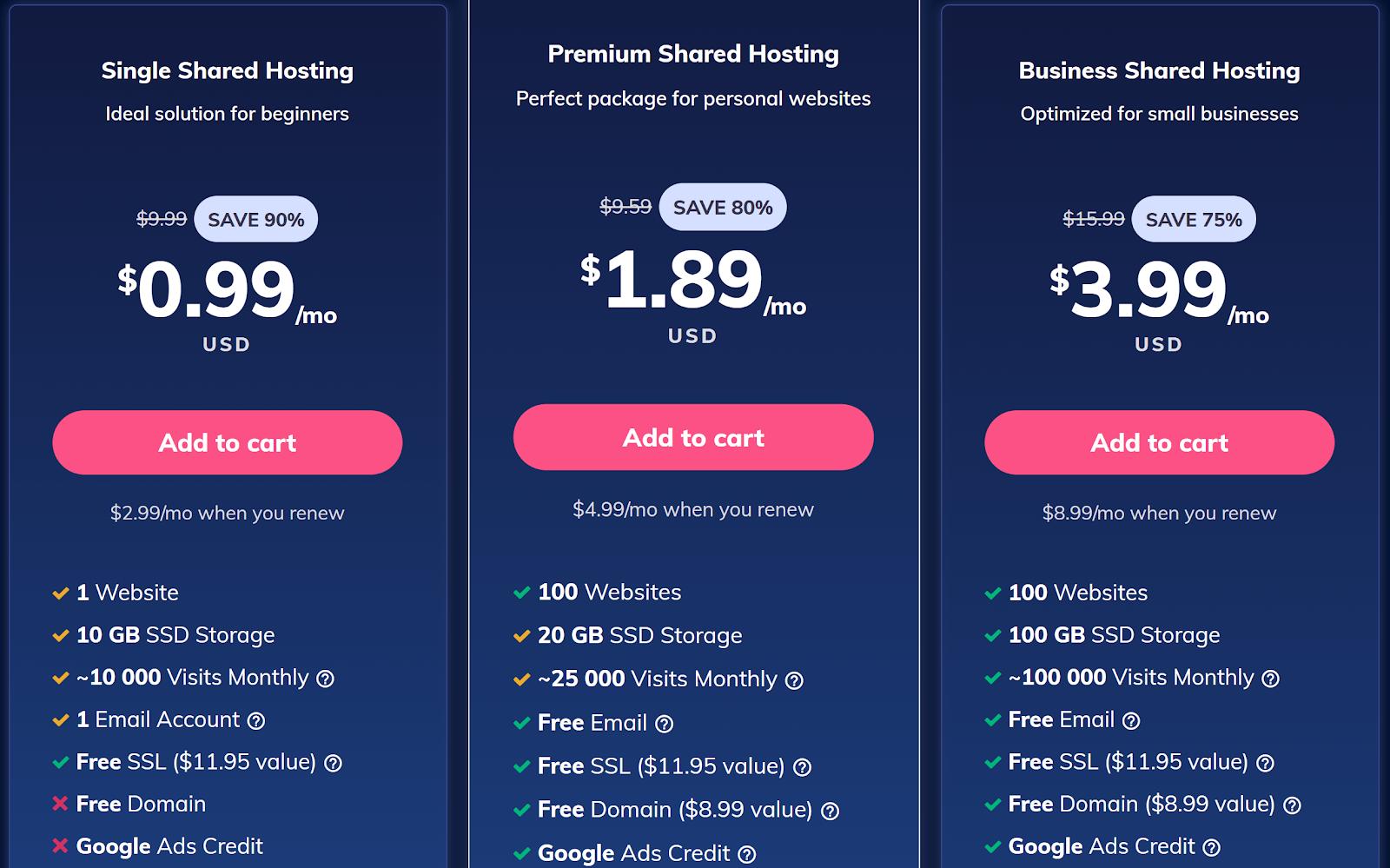 The basic features:
Free private SSL & domain name
User-friendly control panel instead of common cPanel,
Optimization for the best WordPress performance
Server location: USA, Europe

#2 Mochahost – The Best Linux Shared Web Hosting
This is a 100% environmentally friendly company founded in 2002. The team manages to create a balance between affordable prices and professional services. Mochahost features great package options to provide their customers with everything they need – 100% uptime guarantee, 24/7 professional tech support, ultra-fast green servers, etc. Their plans start at €1.62/mo and will grow depending on your needs.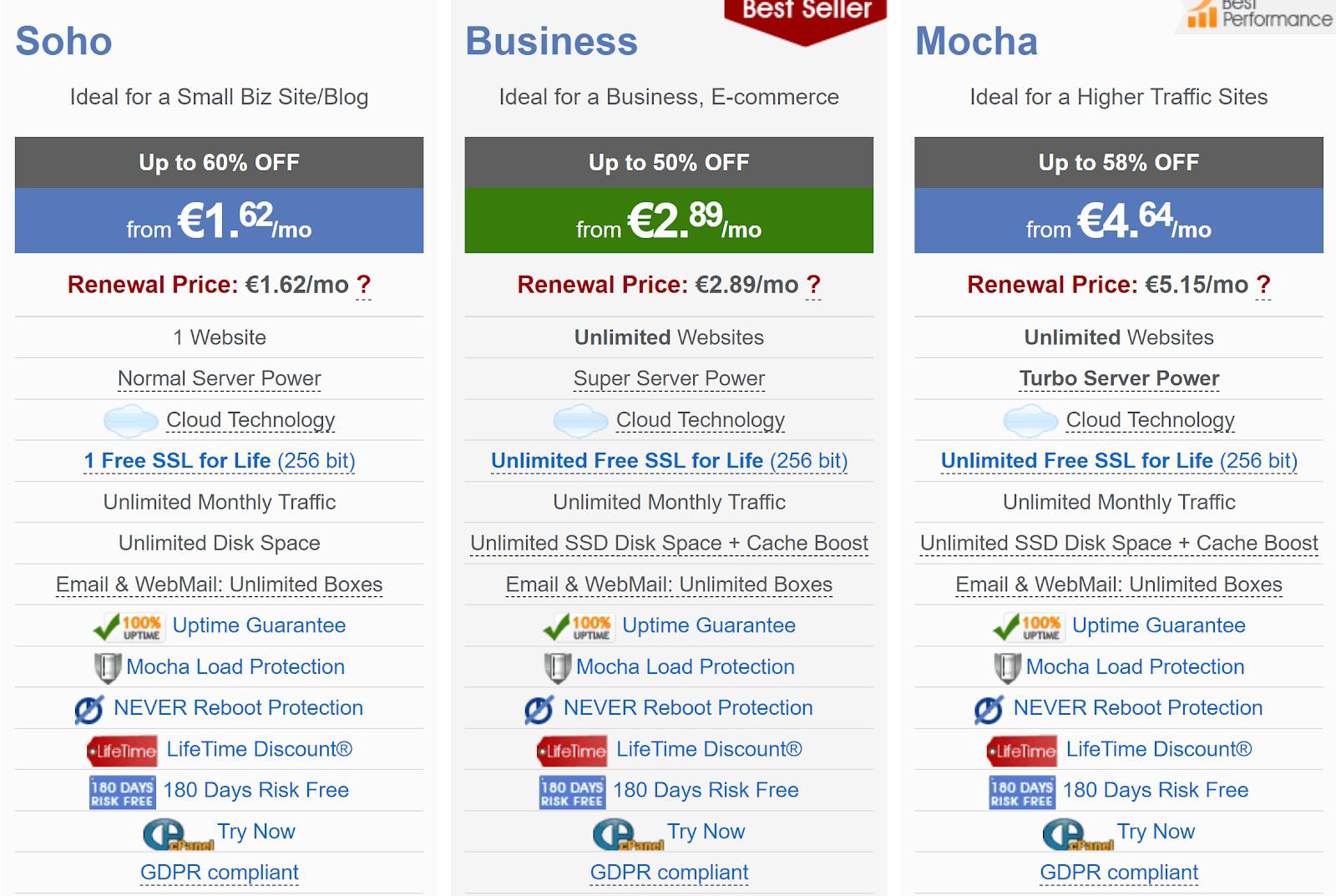 This full service company offering all types of services including:
SSD-based shared WordPress optimized services on Linux and Windows platforms,
Website Builder packages,
Popular control panels (cPanel, WebSitePanel & Plesk)
Server location: USA

#3 A2 Hosting – The Best Windows Shared Hosting Provider
A2 Hosting is a famous eco-friendly company with a wide audience around the world. The company provides inexpensive shared hosting with the Windows operating system. Almost all plans (except Startup) have unlimited disk space, traffic, as well as the number of domains, mailboxes, and databases. Their set of features offered for each plan makes up for their relatively affordable prices (starting at €2.47).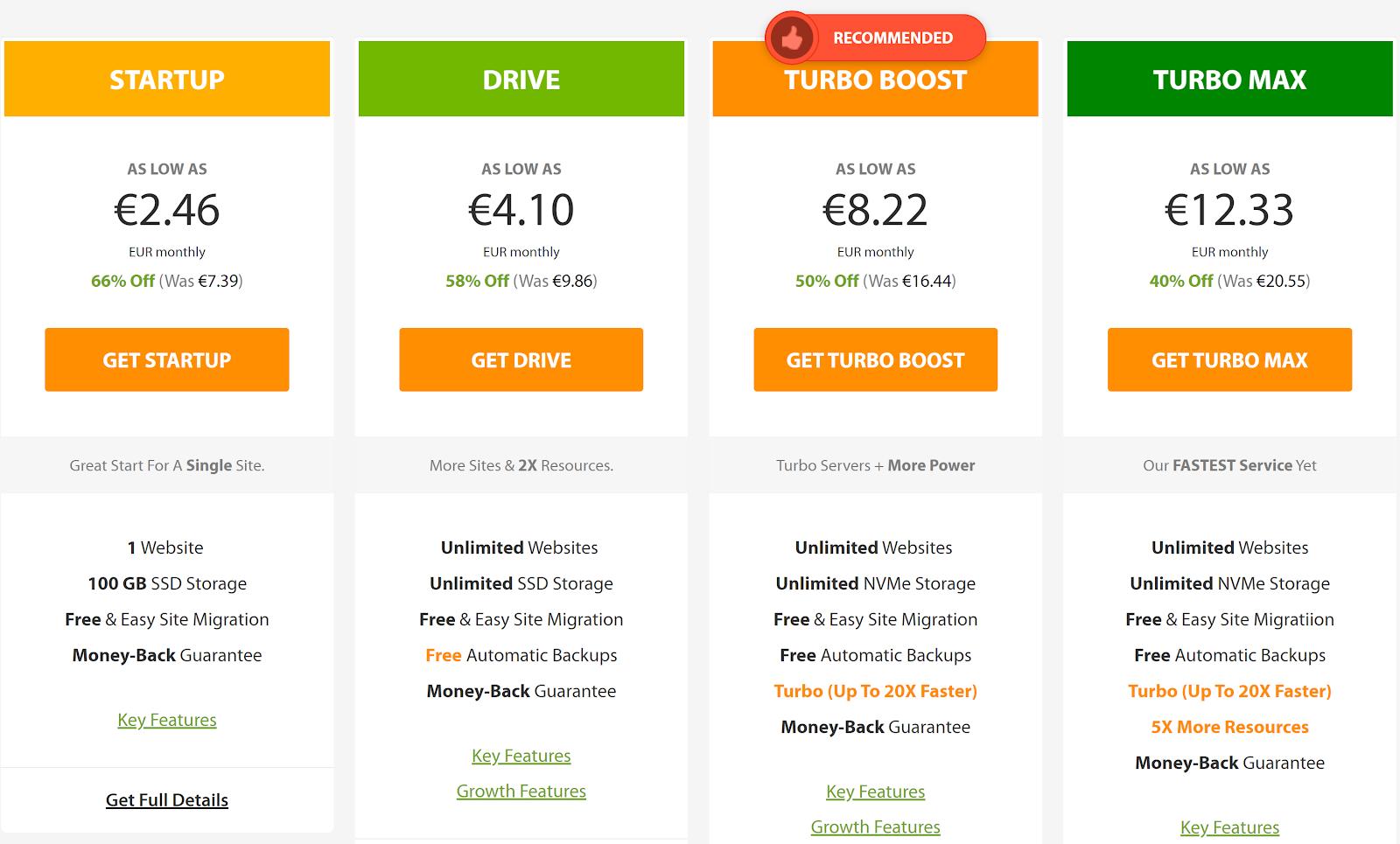 A wide range of benefits:
Servers up to 20x faster,
99.9% uptime guarantee,
Free site migration,
Automatic backups, etc.
Server location: USA, Europe & Asia

#4 InMotion – The Fastest Shared Hosting
InMotion is a company since 2001 with an excellent market position due to the quality of services and the variety of tariff plans. These include a great WordPress service, an easy-to-use cPanel and proper functioning of shared servers in all plans.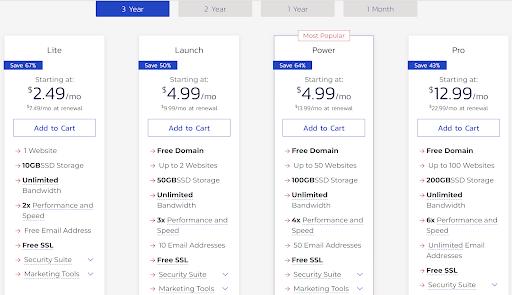 With 4 packages, you'll immediately notice that InMotion's services are more expensive than its competitors. But along with the high price, there are the following advantages:
99.9% uptime,
Unlimited bandwidth,
24/7 security and protection,
High speed powered by UltraStack Infrastructure
Free website transfer with no downtime
Server location: USA

#5 DreamHost – Shared Hosting Providers Recommended by WordPress.org
DreamHost is one of the oldest service providers on the market today (since 1996) with over 400,000 satisfied customers in 100 countries. The company is also renowned for its generous and industry-leading 97-day money-back guarantee, cheap monthly billed prices (starting at $2.59/mo), performance, speed, and security.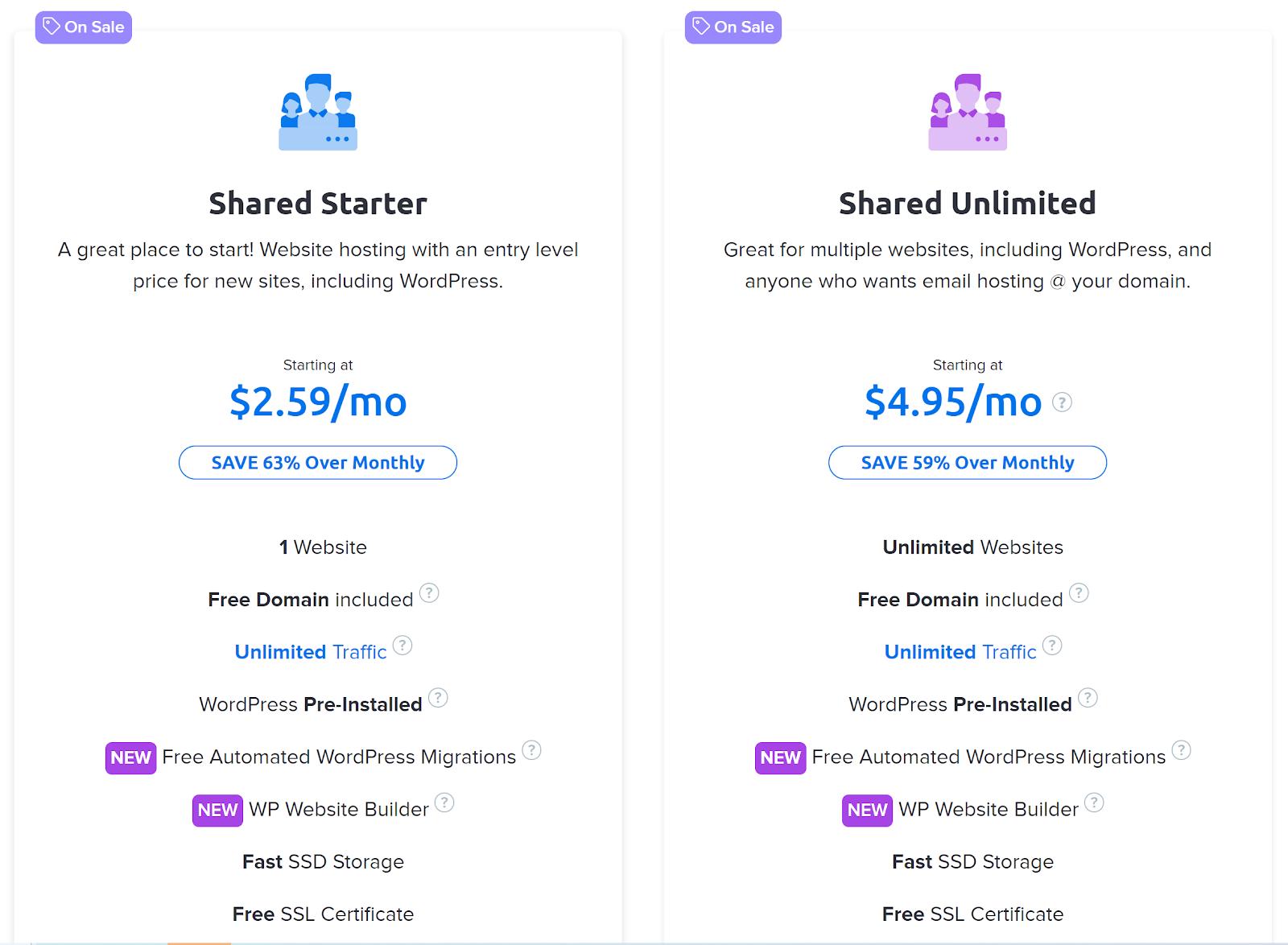 The plans offer:
One-click instant WordPress installation,
One free domain, unlimited traffic,
Fast SSD storage,
Free SSL certificate, etc.
Server location: USA

Server location

Server location is the location of the data centre where your website is hosted. This location can be anywhere in the world irrespective of where you are based.

Hosting plans

Different types of website need different types of hosting, so we've shown you which web hosting services provide which types.

Storage

Storage is to do with how much content your website needs to hold.

Control

Dashboard used by hosting providers. You can manage your site's hosting through the type of dashboard.

Pricing / mo (starting at)

A2hosting.com Review
USA, Netherlands, Singapore
Shared, WordPress, Reseller, VPS, cloud, Dedicated server, Email200.000
200.000
Unlimited
cPanel
$4.90
30 Days
Mochahost.com Review
USA
Shared, WordPress, VPS, dedicated, reseller
500.000
Unlimited
cPanel
$1.95
180 days
Dreamhost.com Review
USA
Shared, WordPress, VPS, cloud, dedicated, managed
No data
Unlimited
Custom
$2.59
14 days
Bluehost.com Review
USA
Shared, WordPress, VPS, Dedicated, Managed WordPress
2.000.000
50 GB
cPanel, Custom built
$3.95
30 Days
Siteground.com Review
USA, United Kingdom, Netherlands, Singapore
Shared, VPS, Dedicated, Green, Reseller, WordPress, Web, WordPress, WooCommerce, Cloud
1.700.000
20 GB
Custom
$3.95
30 Days
Justhost.com Review
USA
Shared, VPS, Dedicated server
1.000.000
Unlimited
cPanel
$3.38
30 Days
Interserver.net Review
USA
VPS, Dedicated, WordPress
50.000
Unlimited
cPanel, Direct Admin, Plesk, Custom panel
$4.20
30 Days
Hostmonster.com Review
USA
Shared, VPS, and Dedicated Hosting
1.700.000
Unlimited
cPanel
$8.45
30 Days
Netim.com Review
Europe
Web, Email-oriented, WordPress, PrestaShop
30.000
Unlimited
Parallels Plesk
$7.45
-
Domain.com Review
USA
Web hosting plans, WordPress, Shared, Dedicated, Email
10.000
Unlimited
cPanel
$3.75
-
Canadianwebhosting.com Review
Canada
Shared Hosting, Cloud Hosting, Managed WordPress, VPS Hosting, Dedicated Servers
100.000
1 GB
cPanel
$3.95
60 days
Hostupon.com Review
Canada
Shared, WordPress, VPS, dedicated servers, reseller, cloud
10.000
Unlimited
cPanel
$9.95
30 Days
Milesweb.com Review
USA, India, United Kingdom
Shared, WordPress, Reseller, VPS, Dedicated server, Cloud
10.000
1 GB
cPanel, Plesk
$0.60
-
Greengeeks.com Review
USA, Canada, Netherlands
Shared, VPS, Dedicated, Green, Reseller, WordPress
40.000
Unlimited
cPanel
$3.95
30 Days
Fastwebhost.com Review
USA, Germany, India, Netherlands, China
Web hosting, VPS, Dedicated servers, Domains
30.000
20 GB
cPanel
$2.95
30 Days
Exabytes.com Review
USA, Singapore, Asia
Web hosting, Email, WordPress, Cloud SSD VPS
100.000
1 GB
cPanel,Plesk
$1
-
Cloudways.comCloudways.com Review
USA, Germany, Singapore
Digital Ocean, Linode, Vultr, AWS, Google Cloud
12.500
xx
in-house
$10
3 days
Eukhost.com Review
Europe, United Kingdom
Web hosting, Email, VPS, Cloud, Dedicated
35.000
Unlimited
cPanel, Plesk
$4.44
-
Netfirms.com Review
USA
Shared hosting
1.200.000
Unlimited
Custom built
$4.45
-
Namecheap.com Review
Europe, United Kingdom
Shared, WordPress, Reseller, VPS, Dedicated
3.000.000
Unlimited
cPanel
$2.88
14 Days
KnownHost.com Review
USA, Europe
Web Hosting, WordPress Hosting, VPS Hosting, Dedicated Server Hosting
No data
Up to 300 GB
cPanel
$3.47
30 day
Hostwinds.com Review
Seattle, Amsterdam, Dallas
Shared, Business, Reseller, White label
No data
Unlimited
Custom
$5.24
-
Hostgator.com Review
USA
Shared hosting, Website builder, WordPress hosting, VPS hosting, Dedicated hosting
No data
Unlimited
CPanel
$2.75
45 days
Gameservers.com Review
Worldwide
Ventrilo, Teamspeak 3, and Mumble
500.000
10 TB
Custom
$69.99
No data
Gandi.netReview
France, Europe
Dedicated, WordPress, PrestaShop, Cloud Servers
30.000
Unlimited
cPanel
$4
-
Easyspace.comReview
United Kingdom
Dedicated WordPress Hosting, Shared hosting, VPS
300.000
10 GB
Plesk, cPanel
$4.8
-
Midphase.comReview
USA
Shared, VPS, Cloud, and Dedicated
120.000
Unlimited
cPanel
$3.48
30 Days
Fatcow.comReview
USA
Shared, WordPress, VPS, dedicated
100.000
Unlimited
vdeck, Custom built
$4.08
30 Days
Startlogic.comReview
USA
Shared Web Hosting
50.000
Unlimited
cPanel
$5.99
30 Days
Server4you.comReview
Germany
Dedicated, Virtual Dedicated, Virtual
10.000
20 GB
cPanel
$5
-
Servermania.com Review
USA, Canada, Netherlands
Dedicated, Hybrid, Cloud
8000
250 GB
cPanel
$5
-
Hostpapa.comReview
Canada
Web hosting, Online store, WordPress hosting, VPS hosting, Reseller hosting, PapaCare+
150.000
Unlimited
cPanel
$4.95
30 Days
UltaHost.comReview
Frankfurt (Germany), Dallas (USA), New York (USA), Los Angeles (USA) Toronto (CA), Amsterdam (NL)
Shared, WordPress, VPS, Windows, Dedicated, Managed WordPress
49K
50Gb NVME
cPanel
$2.90
30 Days
LWS.fr
France
Shared, VPS, Dedicated, Reseller, WordPress, Web, WordPress, WooCommerce, Cloud
1.000.00
100 Gb
cPanel, Custrom built
$1,99
30 Days
Kinsta.com
35 locations, across USA, Canada, South America, Europe, Asia, Australia
Managed WordPress
25,400+ companies
Varies per plan, starting from 10 GB
Custom-built (MyKinsta)
$35
30 days
No matches
Web Hosting Comparisons
After doing our own thorough research and testing, we've put together our own reviews of two or more of the very best hosting providers that you can dive into right now. We will analyze all the pros and cons of each. This will allow you to narrow down the choices and make the final decision.
Useful Hosting and Seo Tools
Best Shared Hosting FAQ
What is shared web hosting?
This is a popular, low-cost entry-level web hosting service often appealing to small and medium businesses, blogs, portfolios, and moderate traffic websites. When using shared hosting, multiple websites share a large server and resources, including storage, bandwidth, and disk space. A service provider is fully responsible for all server maintenance and upkeep.
Which of the listed are cheap shared hostings?
Based on the tariff plans, we can name Hostinger, DreamHost, and Mochahost as cheap shared hosting providers. Moreover, with DreamHost, you can save up to 50% by ordering a service per year or more. For example, Shared Unlimited will cost you $4.95/mo per 3 years instead of the monthly rate of $10.95/mo.