If you are looking for eco-friendly web hosting solutions for your business, GreenGeeks is an option. Let's get down to the nuts and bolts to learn more about it in our GreenGeeks web hosting review.
The story began 13 years ago when Trey Gardner, an expert in the web hosting business, found an affordable and environmentally-friendly company before green became a trend.
GreenGeeks Pros & Cons
As with any web hosting services, GreenGeeks goes over the prime benefits and some minor drawbacks. What are they? Have a look at the table to check them out before making your final decision.
Pros
Cons

No carbon footprint

300% green hosting platform

SSD storage for all plans

Fast servers with 99.9% uptime

Free domain registration

Automated backups

Top-notch security

Eco-friendly data centers

No hidden fees

Fixed pricing

Unlimited number of hosted domains

Free access to website builder

No website stages

Price manipulation

Lack of free backups

Datacenters only in Europe, Canada, and the US

No 24/7 support

No refund for domain registration fee
GreenGeeks Features in Details
Let's find out what other features let GreenGeeks stand out.
| Characteristic | Information |
| --- | --- |
| Uptime guarantee | 99.9% |
| Server response time | 119.7 ms |
| Support options | 24/7/365 support via telephone, live chat, email tickets or knowledge base |
| Hosting plans | Shared, VPS, Dedicated, Green, Reseller, WordPress |
| CMSs | WordPress, Joomla, PrestaShop, and WHMCS |
| Features | Unlimited bandwidth, storage, and email accounts, free domain 1st year, backups, free SSL |
| Service locations | Chicago (USA), Phoenix (USA), Montreal (Canada), Amsterdam (Netherlands) |
| Starting price | $2.49 a month and renews at $10.95 a month |
Go to GreenGeeks hosting
Reasons to Use GreenGeeks
If you're concerned about the planet's future and want to minimize adverse impacts on the environment, you should opt for GreenGeeks.
Moreover, you'll also get reliable and high-quality hosting at a reasonable price. You can build a new website or transfer the old one avoiding any possible risks. GreenGeeks offers a robust set of features and business solutions to support your company's development and gain planned performance.
Why Not Using GreenGeeks
Based on the pros and cons we've discussed in GreenGeeks review above, your location may be the only and fundamental reason to give up an idea of applying this hosting. Only North American and European companies can create their websites on GreenGeeks. Otherwise, you can lose dozens of users.
Secondly, you should consider prices since they may change and differ depending on the service. You can always consult a support team, but keep time zones in mind as GreenGeeks' support team is US-based.
GreenGeeks Performance
Understanding that speed is paramount for all users, GreenGeeks invest in superior hardware and high-quality equipment. Their servers are based on Supermicro rack-mountable servers that get power from the most power-efficient Intel processors. They allow delivering content to your clients up to 50 times faster.
The company stores your databases and files in SSD hard drives instead of less robust HHD. They also use in-built caching technology. Based on CDN services and customized settings, content is cached and delivered to the site's users faster.
Besides, GreenGeeks improves client-server interaction and uses HTTP/2 to minimize page load time in browsers.
GreenGeeks' Speed Test Results
Speed test result is an essential component of any review, so GreenGeeks hosting review isn't an exception.
Let's find out what speed we've detected after testing:
| Test | Average Loading Time |
| --- | --- |
| GTmetrix test | 3.8s |
| Pingdom test | 1.94s |
| PageSpeed Insights (Google) | 5.03s |
As a result, we can see that GreenGeeks isn't a leader who takes a race, but it still shows decent results. If this loading speed meets your expectations, then why not trying out GreenGeeks web hosting.
GreenGeeks Uptime Guarantees
GreenGeeks showcases a 99.9% uptime guarantee. The company states that users can get account credit for any downtime that exceeds 0.1%. However, there are some stipulations. So what are they?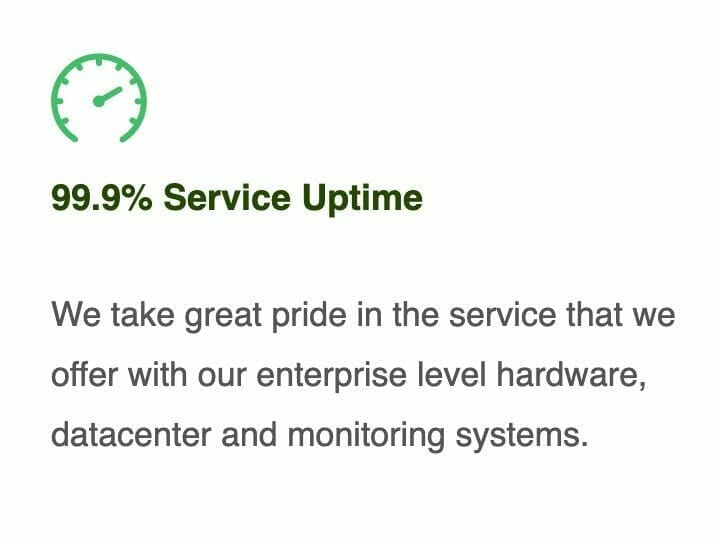 Let's have a look at cases when GreenGeeks doesn't ensure uptime:
vendor hardware or network malfunction that is outside GreenGeeks' control

downtime caused by client error, including spamming activity

downtime caused by cyberattacks
Response Time: How Fast is GreenGeeks?
We need a precise checker to test the server response time. Bitcatcha always comes in handy when you need to measure the speed on your site without the content. This tool allows us to estimate a server response time in different spots around the globe.
We'll get information from ten locations: West and East US coasts, London, Singapore, São Paulo, Bangalore, Sydney, Japan, Canada, Germany. The speed is checked three times in each spot and then averaged.
Based on the provided data, Bitcatcha Server Speed Checker shows the following results: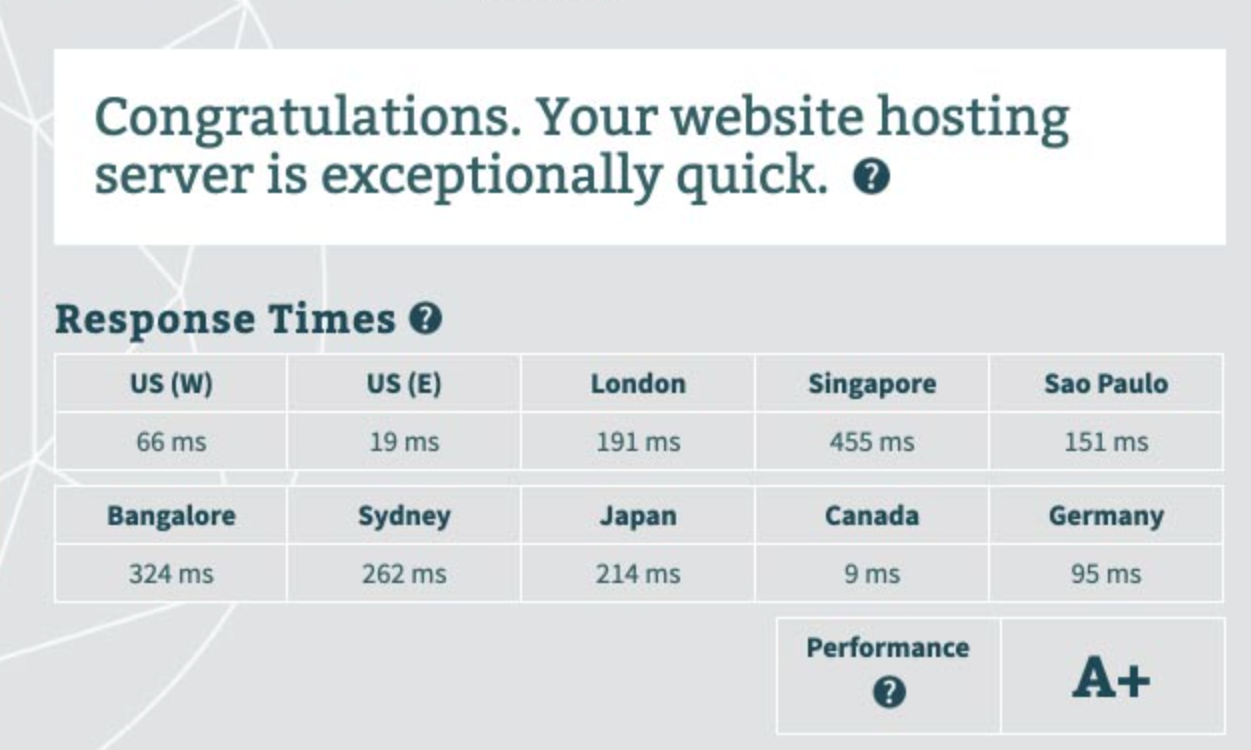 So, what have we got here? It's evident that response time is different in locations distant from North America. This rate is considerably higher in Singapore and Bangalore. Yet, hosting got an A+ score.
Before choosing a suitable hosting, figure out where your target audience is. If you are satisfied with the server speed time test, go ahead and place your website at GreenGeeks.
GreenGeek Site Migration
GreenGeek is determined to make switching web hosting easy, offering free site transfer. The first step is to set up your new account. Then you fill in the Migration Request Form. From this moment, the site migration team will handle your website transfer.
Moving your website can take as little as 1 hour, but in some cases, you may have to wait up to 48 hours. The time depends on your previous web host and the size of your account. Note that you can also transfer your domain from your existing registrar for free.
GreenGeeks Plans, Features, and Pricing
GreenGeeks provides a wide range of fully-packaged service. Based on your hosting requirements, you can choose the best of Web, WordPress, WooCommerce, VPS, Reseller, and virtual private services. Each of them consists of three packages: Lite, Pro, Premium.
Web Hosting
Web hosting plans are all-inclusive. You get unlimited webspace, data transfers, and a free domain name. GreenGeeks' plans can also include free marketing tools and domain transfers. Each of them provides you with a 300% green energy match and a 30-day money-back guarantee.

It's one of the cheapest hosting plans that starts at
$2.49 per month
.
WordPress Hosting
The WordPress hosting plans include unlimited email accounts, databases, webspace, and websites for every package. Whatever plan you choose, you can also get free nightly backups, CDN, and domain names. Lite and Pro packages provide free SSL certificate, and premium SSL is free of charge for premium users.

Many users can afford it, as it costs only
$2.49 per month
.
Managed VPS Hosting
This package provides fast, reliable, and scalable conditions for quick and affordable managed VPS, best-selling VPS, and high-powered managed VPS plans. They are available only in the USA, Canada, and Europe.

All the plans include cPanel, managed support, SSL certificate, website transfer, and softaculous license. However, they differ in the size of Ram, disk space, and vCPU.
The cheapest plan is $39.95 a month.
Reseller Hosting
The Reseller Hosting Plans include cPanel and WHM, and the cheapest starts at $19.95.

They differ in SSD disk space, the number of cPanel accounts, and the data size available for transfer.
Security
GreenGeeks web hosting reviews can't buses include security information. This company uses up-to-date technologies, including innovative hardware, power, and host account isolation to minimize hack incidents or violations of users' data, both physical and digital.
Along with account isolation technology, the platform also offers its own Secured virtualized File System. It protects customers' accounts from malicious activity.
The company also monitors operations on all servers and scans them around the clock for any signs of spiteful acts. Users can set auto-update for their applications to sustain plugin functionality and integrity.
GreenGeeks makes free nightly backups to keep your website with all data there safe and sound. Besides, you receive a free backup restore once a month to solve any issues. The service charges you $5 for every next backup restore from cPanel. As for dedicated and VPS server users, they have to make backups by applying the cPanel backup tool free of charge.
Support
Last but not least, we're completing our GreenGeeks reviews with an estimation of the customer support quality. The hosting service can help you via phone calls or live chats 24/7 between the hours of 9 AM to 12 AM EST (Monday to Friday) and 9 AM to 8 PM EST (Saturday and Sunday).
However, you should remember that a support team is US-based. You need to wait for a reply within several hours if you are in Europe or Australia. Luckily, GreenGeeks offer their customers tickets, so you can get in touch and solve your problem faster.
Additionally, you can find helpful tips and overviews in the knowledge base. It covers plenty of basic issues, such as 'Sales Questions,' 'General Hosting Questions,' and 'Getting Started' with shared, VPS, or dedicated server hosting'. When looking for something specific, you can use search, tutorials from Resources, and Blog posts.
VPS and dedicated server customers can use a server administrator to get extra server management support. Admins can assist in installing packages or other software from cPanel and clearing up hardware and network issues.
GreenGeeks Quick Facts
Before drawing a conclusion from greengeeks.com reviews, the following list spotlights vital features, which this hosting service provides customers.
| Fact | Information |
| --- | --- |
| Hard Drive | RAID-10 SSD |
| Web Server | Litespeed |
| Caching | POWERCACHER |
| HTTP version | HTTP/3 / QUIC enabled |
| PHP version | PHP7 enabled |
| Free CDN | Cloudflare |
Go to Greengeeks hosting
GreenGeeks Review: Do We Recommend It?
Yes, we do. Based on our GreenGeeks reviews, we can assume this platform is a leading hosting provider worldwide. Primarily, the company's functions aim to ensure a blazing web experience for its users.
Moreover, its commitment to environmental protection and carbon waste reduction cannot but reinforce GreenGeeks' good name on the market and set a company apart from its competitors.
However, the GreenGeeks team realizes that some customers may be dissatisfied with their services. They provide a full refund of your hosting subscription within 30 days.
Any user can find the best options and select a suitable hosting package. The company also takes care of safety and provide top-notch solutions to digital and physical harm. As a PCI-compliant hosting provider, GreenGeeks enables you to receive payments on your website securely.
With a site builder and site migration functions, you can create a new website from scratch or move the old website to this hosting platform without using precious data.
Feasible Options
If you still hesitate whether to choose GreenGeeks, let's drop a glance at other alternatives.
FAQs: Get to Know More About GreenGeeks
Is A2 hosting good for beginners?
GreenGeeks provide a range of features that perfectly match beginners' and small-to-medium sites' needs.
What are support tickets?
After signing up, you get access to support tickets in your account. It helps you find answers to your questions straightforward.
Is the customer support multilingual?
The company doesn't mention this information on its site, but you can always get answers in English.
Can I get access to a GreenGeeks' free website builder?
The hosting service offers a drag and drop builder free of charge. So, you can quickly migrate an old website on your GreenGeeks account. Also, you can create a new one by using a website builder platform to launch the site.
Where are GreenGeeks' servers located?
GreenGeeks is a US-based company with data centers located in Chicago, Phoenix, Toronto, and Amsterdam.
How to register a domain name?
You can register your domain name after opening your hosting account during the registration process. A domain name is free.