Good hosting is the key to the success of any site!
If you are starting search hosting for your site, you will probably be looking for an inexpensive option. This is the right solution, because not always expensive means good.
We have found and compared for you five cheap hostings, which are ideal for both professionals and beginners. We hope that you will find the perfect cheap hosting!
5 Best Cheap VPS Hosting Services
Hosting a Virtual Private Server (VPS) means getting a dedicated server that you can use for any Internet business. In contrast to shared hosting, in which one server offers its space for several sites simultaneously, VPS offers you a separate virtual space with more resources and features for individual configuration. Besides, cheap VPS allows you to install your own server software, which is usually impossible on a shared server.
But when choosing a virtual private server, you may face a critical problem, i.e., the price. Even if the site is ready to expand its capabilities, the budget can put its limitations. Cheap Windows VPS hosting is usually much more expensive than shared servers, which becomes an obstacle for small businesses. However, there is a way out of this situation.
We have studied several cheap VPS hostings and chosen the seven best options that offer the same features but at a reasonable price. Among them, you can find the one that suits your business best.
How to choose a Cheap VPS Hosting Provider?
But before making a final choice, there are a few crucial points to pay attention to. You need to remember that a low price does not always come with quality. A selection of the cheapest VPS hosting may not bring you the best cheap VPS. To make a choice right, you should study each of the proposed options by several criteria. Let's consider them in detail.
Hosting factor #1 – Uptime
First, you should pay attention to uptime. The budget VPS options with this indicator can have serious problems. In this case, you can save good money. But if the site stops working, the budget will go to waste.
Hosting factor #2 – Bandwidth
Secondly, you need to study bandwidth. The latter is especially important for sites that expect a large influx of users, that is, about a few thousand per week. Insufficient bandwidth can harm the site load speed, possibly leading to the loss of a significant amount of traffic.
Hosting factor #3 – Storage Space
Thirdly, you need to understand how much space your site needs on the server. If it is loaded with large amounts of multimedia or has many pages, you need to get sufficient volumes. Otherwise, the site will not fit on the server.
Hosting factor #4 – Purpose of Website
Fourthly, you need to understand what goals your business pursues. It may seem obvious, but when choosing a reliable VPS, you need to align with the functions it offers.
These factors can slightly complicate the choice of a virtual private server. But do not worry if you suddenly choose the wrong server for you. All VPS in our list can give you a refund within a month of active use. If you are not sure that the chosen server will suit you, you should give it a try.
The Different Types of Cheap VPS Web Hosting
Cheap Managed VPS
When choosing a managed virtual private server, all work on its configuration and support does not take the provider. Thus, you can significantly simplify your work with the server since the technical aspects of individual experts' responsibilities. However, you need to be ready for additional costs. Managed VPS are usually more expensive.
Cheap Unmanaged VPS
An unmanaged virtual private server can save part of the budget, but it will take much more time to work with it. In this case, the site owner takes over the installation of all necessary software and technical support. If the site has fallen, you will have to solve this problem yourself. Therefore, when choosing an unmanaged affordable VPS hosting, you should pay attention to its administrator panel. It should be simple and have all the necessary features for your site.
Cheap Linux VPS
Linux is the choice of professionals. At least, this is what experts say about cheap Linux VPS. The reason for it is that this OS requires extensive skills with servers. But in fact, the experience here is not so important because you can install a control panel that will simplify the work with the OS. The main advantage of cheap VPS Linux is the price.
Cheap Windows VPS
Cheap VPS Windows have problems saving money. Using a licensed operating system from Microsoft will be expensive. Separately, you will have to pay extra for additional components. This can be a problem for a small budget. Another disadvantage of the cheapest Windows VPS is its size, according to cheap Windows VPS reviews. This OS weighs a lot more than Linux, so the VPS has to be more spacious and expensive. However, instead, Windows Server offers a broader range of features and a simple control panel, which is not very different from the desktop version.
#1 – Exabytes: $2.99 per month
This is one of the oldest companies that provides servers for sites. Exabytes has an outstanding reputation due to the large number of customers around the world. Its name also reflects on its price. This VPS is the most expensive on the list, but for a minimum fee of $2.99 per month, you get 2 GB RAM, 60 GB of free space, and unlimited bandwidth! For an additional fee, you can have:
4 GB RAM
240 GB free space
Unlimited bandwidth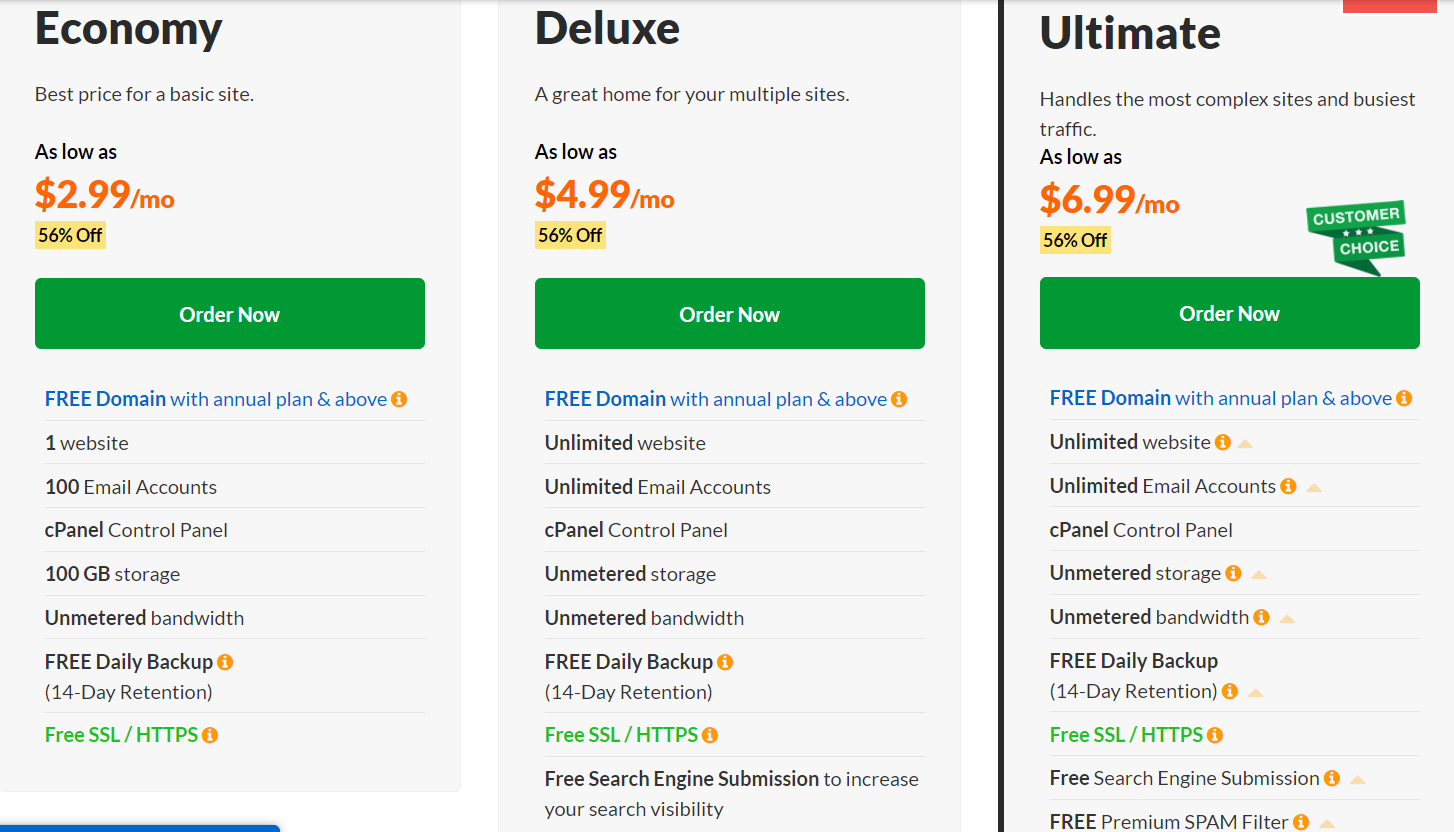 Also, Exabytes offers other services that can be useful for creating websites of any complexity. It is also worth noting the high speed and very user-friendly interface, which can simplify the work with the server.
Nevertheless, the price is still the main disadvantage of Exabytes. There are inexpensive VPS solutions that offer similar opportunities. Except, of course, unlimited bandwidth.

#2 – Hostinger: $3.95 per month
Here is the cheapest option among all the VPSs on the list. The most affordable monthly subscription will cost only $3.95. For this, you will get 1 GB RAM, 20 GB of free space, and 1 TB of bandwidth. This configuration will be enough for a small site. If your site requires more resources, you can choose a more expensive plan. Maximum Hostinger capabilities look like this:
8 GB RAM
160 GB free space
8 TB bandwidth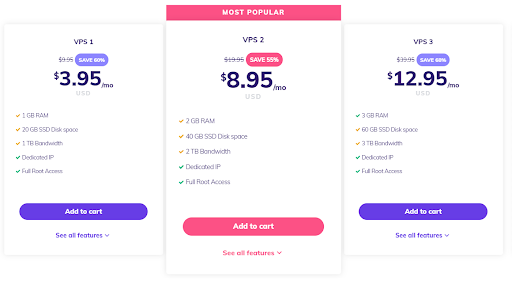 Cheap yearly VPS Hostinger also offers savings on subscription if you are ready to become a long-term customer and choose a four-year subscription. However, there is no particular need for this, as a standard subscription for two years is still the cheapest option.
Also, Hostinger offers its customers to choose an operating system on which it is more comfortable for them to work. If you are already using Windows, then many other VPS can cause problems since most servers are running on Linux. Hostinger does not have this problem.
However, this cheap VPS web hosting has one major disadvantage. The Hostinger support team is not working in phone mode. The clients can still communicate with consultants in chat rooms and by mail, but it is impossible to call them.

Ready to choose your plan? — Go to Hostinger hosting
Want to read some more information — Go to
Hostinger review
#3 – Midphase: $3.95 per month
The cost of Midphase may seem very tempting. However, there is one important nuance to consider: the cost of the first month. Subsequent ones will cost $6.95. The basic features that work on the principle of "all-inclusive" can also be attractive.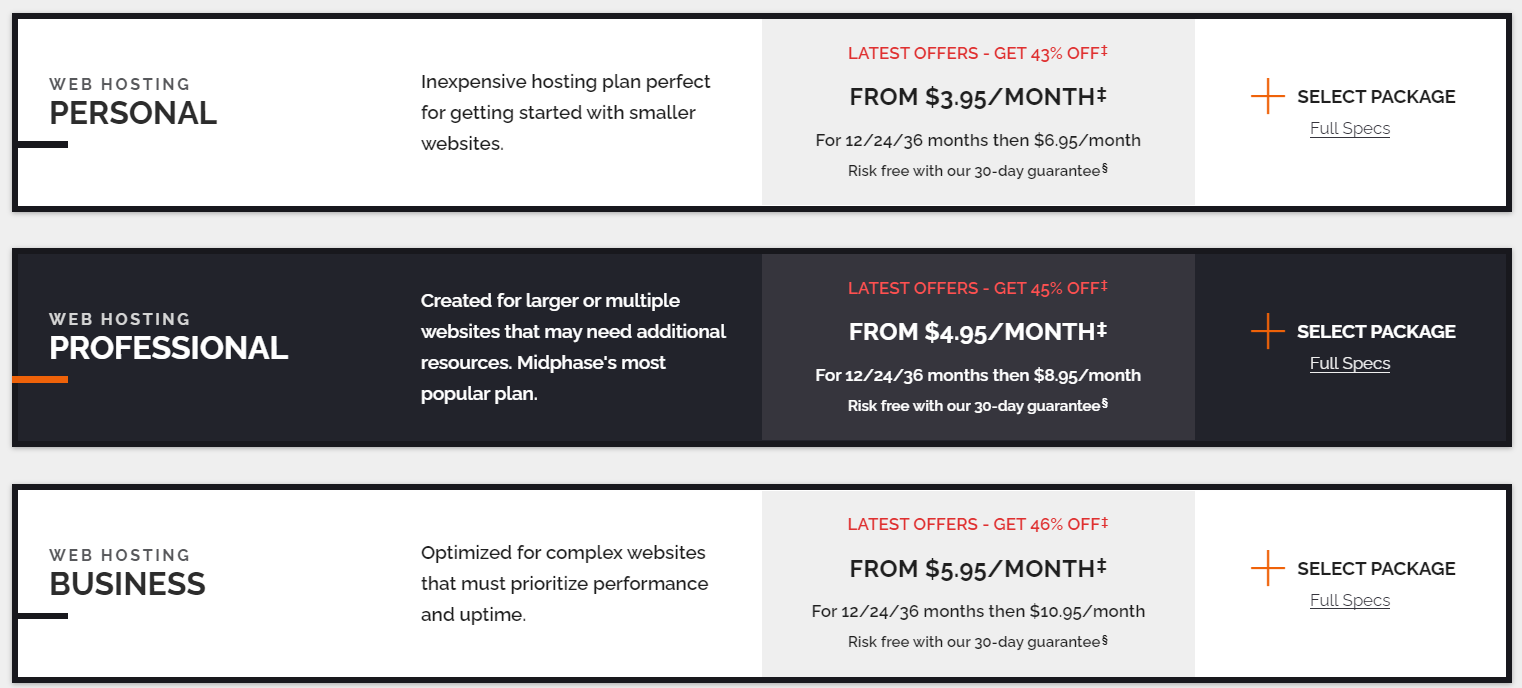 For this money, you will get an unlimited amount of free space and unlimited bandwidth. This option seems to be an ideal solution, but it is essential to consider a few nuances.
First, a basic subscription requires only one MySQL database and one subdomain. The professional package already includes five databases, but it is still not enough for a big website. Besides, Midphase has no website builder, which can complicate the work. You can purchase any missing feature for an extra fee, but in this case, the price of the entire package will increase significantly.
Nevertheless, there are several crucial advantages of Midphase. This VPS has a good support service, which is available both by phone and in chat rooms. Besides, Midphase has an extensive database where you can find answers to the most frequently asked questions.

Ready to choose your plan? — Go to Midphase hosting
Want to read some more information — Go to
Midphase review
#4 – HostPapa: $3.95 per month
This VPS is not the most expensive on this list. You can get 2 GB RAM, 60 GB of free space, and 1 TB of bandwidth, which is not bad for this price. However, one single fact makes HostPapa the worst VPS on this list: the next months cost $49.99 per month.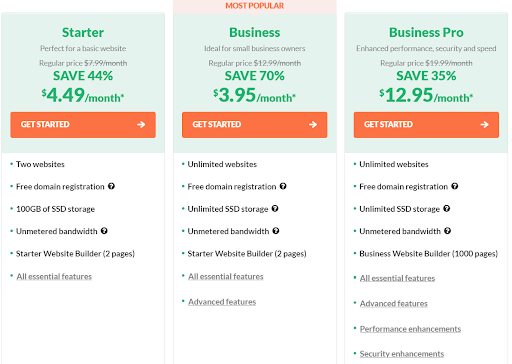 Even though you get an unlimited number of domains and email addresses for this money, this VPS still doesn't look profitable compared to others. And with a backup cost of $35.88, it remains at the last place in this list.

#5 – Fatcow: $19.99 per month
This VPS is much more expensive than the previous version. The minimum subscription cost will be $19.99. You will get 1 GB RAM, 40 GB of free space, and 1 TB of bandwidth for this money. This option looks less attractive than the alternative from Hostinger, but for the same money, you get daily backup and longer uptime. Maximum Fatcow features are like this:
8 GB RAM
120 GB free space
4 TB bandwidth

However, this VPS has some serious coins. First, there are a lot of restrictions and rules, violation of which will lead to blocking. Secondly, VPS is available only in North America, which can be unpleasant for international sites. Thirdly, it is a cost. Fatcow is considered to be a cheap managed VPS, but other hosting offers similar services for the same money.

Ready to choose your plan? — Go to Fatcow hosting
Want to read some more information — Go to
Fatcow review
Web Hosting Comparisons
To make it easier for you to understand which hosting is better, our experts have analyzed the providers and prepared the results in the format of articles. Here you will find all the pros and cons and a detailed comparison of hosting:
Useful Hosting and SEO Tools
For more convenient work with any cheap VPS providers, you can use additional tools. There are such useful options:
Hosting Checker – Find who is hosting this website.
Website Down – This tool helps to analyze if a website is down.
Speed Test – Get some advice to speed up your website.
Expired domain checker – The tool will help you to check if a domain is expired and available for sale.
Website Safety – With the help of this service, you can check if the website is safe.
Domain Availability – Check and find available domains.
Web Hosting
Server location
Customers
Storage
Control
Pricing / mo
Trial
Webhostinghub.com
Review
USA
40,000
Unlimited
cPanel
$4.99/mo
90 Days
Tmdhosting.com
Review
USA, United Kingdom, Netherlands, Singapore, Japan
12000
Unlimited
cpanel
$5.95/mo
60 Days
Exabytes.com
Review
USA, Singapore, Asia
100000
1 GB
cPanel,Plesk
$1/mo
–
Hostpapa.com
Review
Canada
150,000
Unlimited
cPanel
$4.95/mo
30 Days
Ipage.com
Review
USA
1,000,000
Unlimited
vdeck, cPanel
$2.49/mo
30 Days
Interserver.net
Review
USA
50,000
Unlimited
cPanel, Direct Admin, Plesk, Custom panel
$4.25/mo
30 Days
A2hosting.com
Review
USA, Netherlands, Singapore
200,000
Unlimited
cPanel
$4.90/mo
30 Days
Liquidweb.com
Review
USA, Europe, Netherlands
30,000
50 GB SSD
custom
$66.33/mo
–
Hostupon.com
Review
Canada
10,000
Unlimited
cPanel
$9.95/mo
30 Days
Greengeeks.com
Review
USA, Canada, Netherlands
40000
Unlimited
cPanel
$3.95/mo
30 Days
Hostinger.com
Review
USA, Europe, United Kingdom, Netherlands, Singapore, Brazil
29,000,000
Unlimited
hPanel, Custom-built
$3.99/mo
30 Days
Startlogic.com
Review
USA
50,000
Unlimited
cPanel
$5.99/mo
30 Days
Godaddy.com
Review
USA, Canada, Australia, India
17,000,000
Unlimited
cPanel, Plesk 12, Custom-built
$9.39/mo
30 Days
Fatcow.com
Review
USA
100,000
Unlimited
vdeck, Custom built
$4.08/mo
30 Days
Justhost.com
Review
USA
1,000,000
Unlimited
cPanel
$3.38/mo
30 Days
Hostmonster.com
Review
USA
1,700,000
Unlimited
cPanel
$8.45/mo
30 Days
Bluehost.com
Review
USA
2,000,000
50 GB
cPanel, Custom built
$3.95/mo
30 Days
Midphase.com
Review
USA
120,000
Unlimited
cPanel
$3.48/mo
30 Days
Best Cheap VPS Hosting FAQ
What does VPS hosting mean?
A VPS or virtual private server is a hosting service that includes renting a dedicated server. In this case, one server has only one site, so other sites on the hosting can not affect its operation.
How much does VPS hosting cost?
VPS hosting costs can be different. In our list, the cheapest server will cost $3.95. The cost of the best cheap VPS hosting can reach up to $300 per month. The average price can be $20-30, depending on the possibilities.
What is the best cheap VPS for windows?
A cheap virtual private server works exclusively with Linux. However, the Hostinger that is on our list offers the client to choose their own operating system. Given the price and features that this VPS provides, it can be considered the best for Windows.