If you're looking for hosting that provides shared hosting, WordPress hosting, VPS, and dedicated servers to scale your business, this blog post will help you make the right choice. In this Ultahost review, you'll learn about the features, types, and pricing of Ultahost hosting, as well as find out whether it's worth buying.
Ultahost Features and Ease of Use
Let's start with the set of features Ultahost provides. You can choose between three shared hosting plans that include the following features:
Unlimited websites
Free migration with annual plans
SSD storage
99.9% uptime guarantee
CloudLinux OS
cPanel control panel
Unlimited web space
Unmetered bandwidth
Unlimited email accounts
Ultahost provides free migration, so if you want to transfer your existing server to UltaHost, it won't take a lot of time and effort. Believe it or not, Ultahost takes no additional charges to set up or install your Operating System (OS). Ultahost also allows you to get your money back within 30 days if you are not satisfied with their service. So, you lose nothing by trying this hosting provider.
When to Use Ultahost
First of all, it all depends on user business requirements and main goals. For example, Ultahost shared hosting works best for bloggers, small-business owners, web designers, or developers. It's based on the NVMe storage and the last generation of AMD EPYC CPU — that's why it boasts its speed, security, and reliability. Moreover, it's very cheap, which makes it one of the best budget-friendly hosting providers.
In case you have a WordPress website, Ultahost provides many options, depending on the number of websites you want to host. With Ultahost, you get a comprehensive WordPress performance with powerful caching, PHP version control, daily backups, and unlimited bandwidth.
If you want to build a scalable IT platform for a small business or grow a large-scale infrastructure, UltaHost has dedicated and virtual dedicated server solutions that will meet your business requirements.
As you can see, Ultahost has solutions for any budget and use case. All you need is to focus on your requirements and understand how you're going to grow your website in the future.
Ultahost Types, Features, and Pricing
Now let's get into more details and review the features, packages, and pricing of the Ultahost hosting provider.
VPS Hosting
First of all, this VPS hosting is very budget-friendly. You get high performance at very affordable prices and save hundreds of dollars per month compared to other competitors' pricing plans. All plans come with the following features:
24/7/365 Support
Team Management
BitNinja Security
Staging Environment
SSH and SFTP Access
Unlimited Bandwidth
Free Daily Backups
Free Domain Transfer
Free SSL Certificate(s)
Free 30-Days Money-Back
Dedicated Firewalls
Auto Healing
Optimized With Advanced Caches
CDN Add-on
24/7 Real-time Monitoring
Regular Security Patching
Unlimited Application Installation
Free Migration
Automated Backups
HTTP/2 Enabled Servers
If you need a specific operating system, you can install any .iso file using the dedicated ILO/KVM interface from Ultahost servers. Available operating systems include Debian, Ubuntu, CentOS, Fedora, Red Hat, Alma Linux, and Windows server.
By choosing any VPS package, you get:
It gives you the power to fully control your hosting environment and install custom features and configurations using virtual private server hosting.
Ultahost provides one of the best uptime guarantees in the industry to make sure your business will always be on the float.
You start with 1GB of RAM, but you can easily scale up using your personal VPS custom panel as your business grows.
UltaHost Cheap VPS hosting gives you more stability, performance, and quality of your website, applications, and email. Also, as you do not share the operating system with other users, your website files are fully secure. Check out the packages for VPS hosting by Ultahost: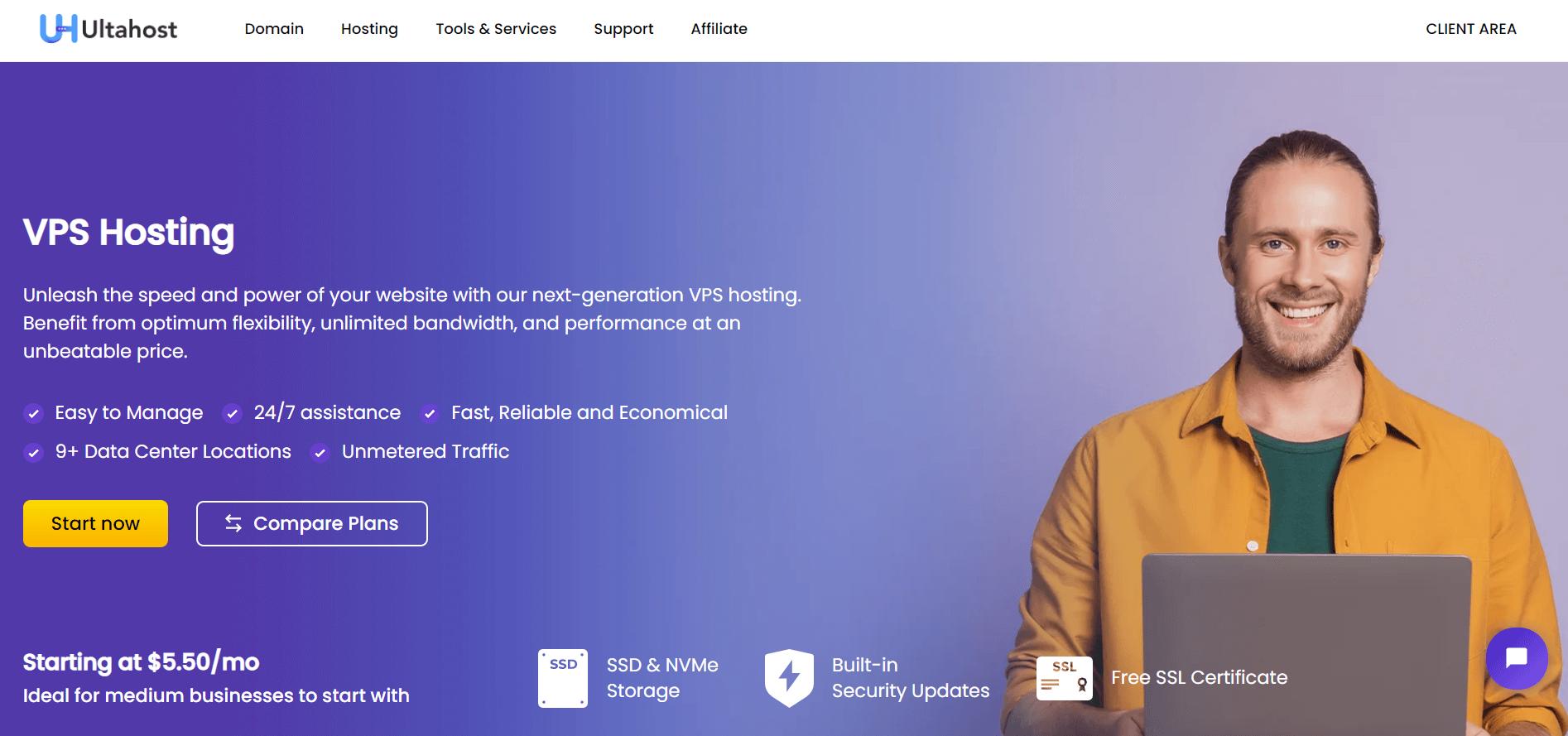 Web Hosting
Shared web hosting includes the following features:
Unlimited bandwidth
Free daily backups
Free SSL certificate
Free 30-days money-back guarantee.
The number of domains, monthly visitors, and NVme SSD depends on the package you'll choose.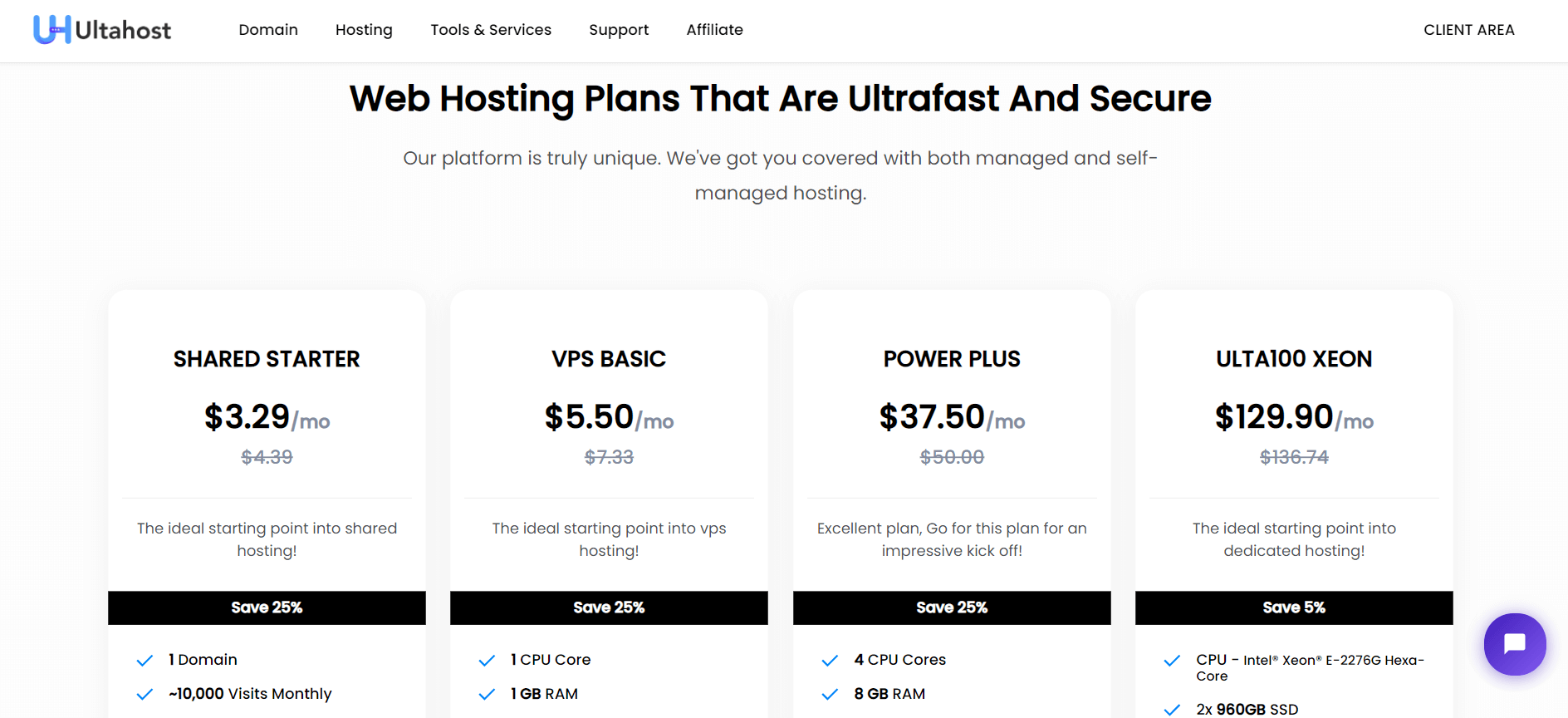 WordPress hosting packages pros include reliable, lightning-fast hosting solutions specifically optimized for WordPress with a tech stack that can handle a 10X boost in visitors, leading your business to higher sales and conversions.
All WordPress packages include:
Free SSL
100 GB Bandwidth
Managed WordPress
WordPress Acceleration
WP-CLI
30-Days Money-Back
2 Databases
C Panel
Free WordPress Manager
Also, Ultahost installs WordPress for you, so there is no need to bother. Just enjoy the automated WordPress installation with the fast and powerful servers.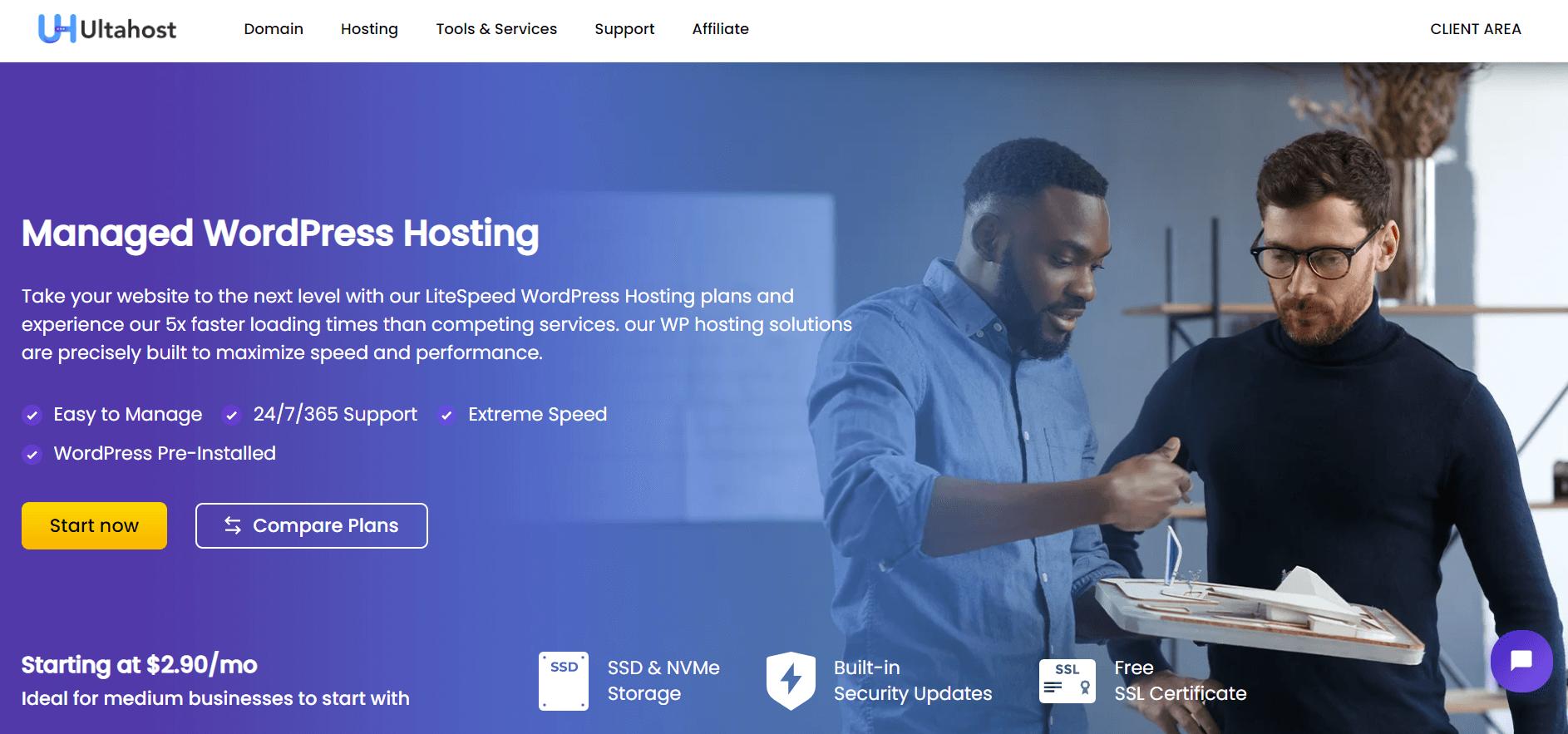 Dedicated Hosting
Dedicated hosting is Internet hosting in which a physical server (or servers) is dedicated to a single business customer, so you don't share your space with anyone, and it'is you who control all the processes.
Dedicated servers from UltaHost include SSD or NVme Only hard drives for lightning-fast loading times and root-level access for complete management control of the server environment. The amount of traffic is different for various sites and server network bandwidth. Servers at 1 Gbps come in Dallas (Texas, USA), Amsterdam (Netherlands), and Frankfurt has Unlimted bandwith of non-tariff traffic per month.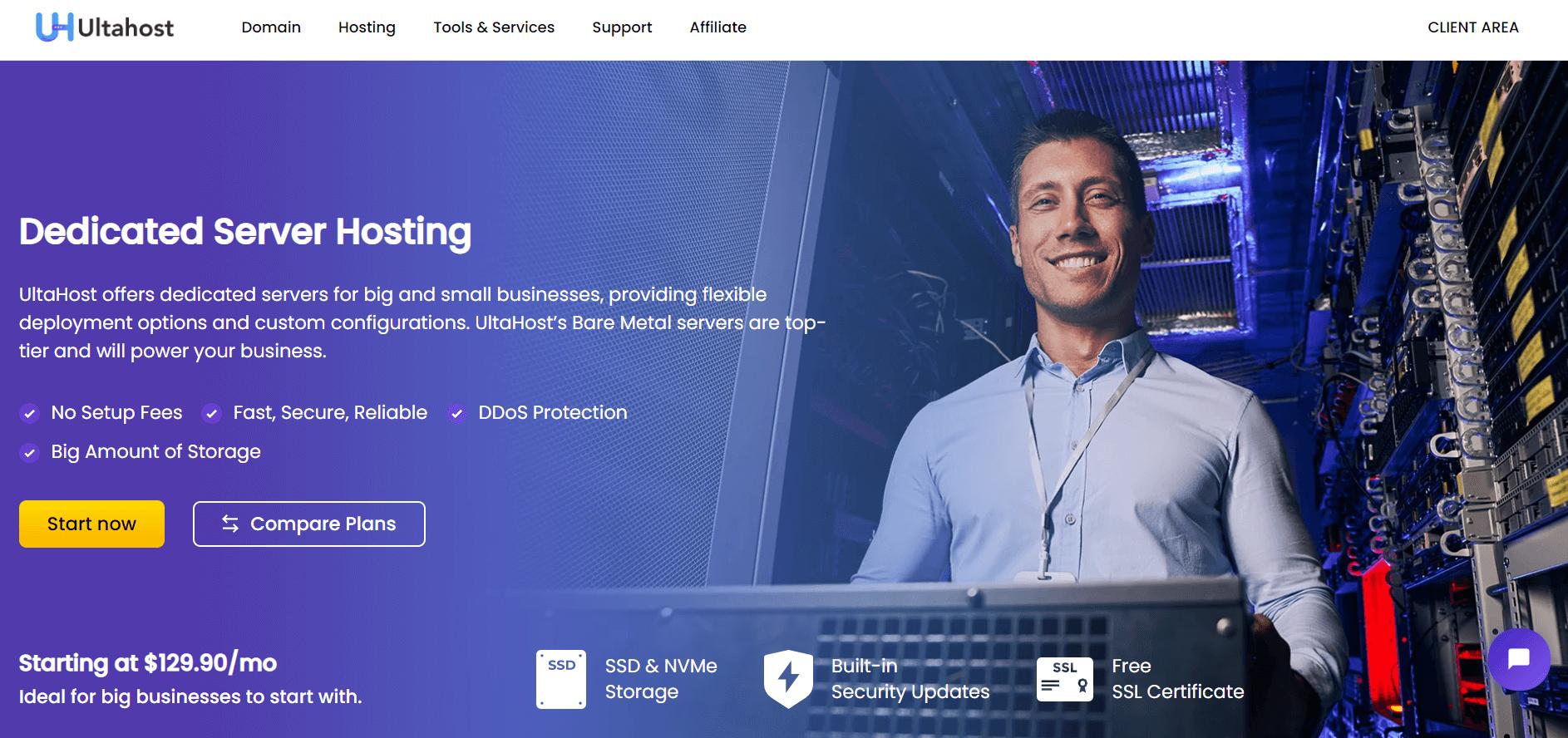 Ultahost server locations
With Ultahost, you can choose where you want to locate your server. It provides the following locations: Frankfurt (Germany), Dallas (USA), New York (USA), Los Angels (USA), Toronto (CA), and Amsterdam (NL). All data centers are equipped with raised floors, climate control, 24/7 security, fire suppression systems, water detection systems, UPS & generators to keep your data safe. Ultahost also boasts the latest generation processors from Intel and uses Juniper and Cisco for network switching/routing.
Ultahost Uptime Guarantees
Ultahost stands out among its competitors when it comes to its performance, support, and uptime. In fact, they offer a 99.9% uptime guarantee for all their hosting packages.
We have tested Ultahost for 90 days and weren't disappointed as we got 100% uptime over the entire span of 90 days.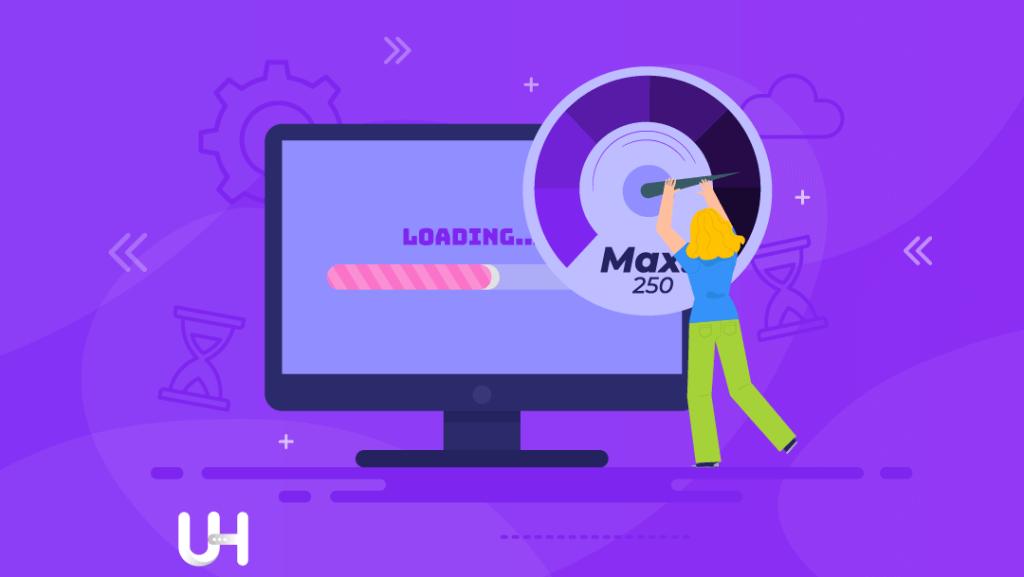 Ultahost Server Response Time
Let's use the tool Bitcatcha and see the server response time of Ultahost in different locations.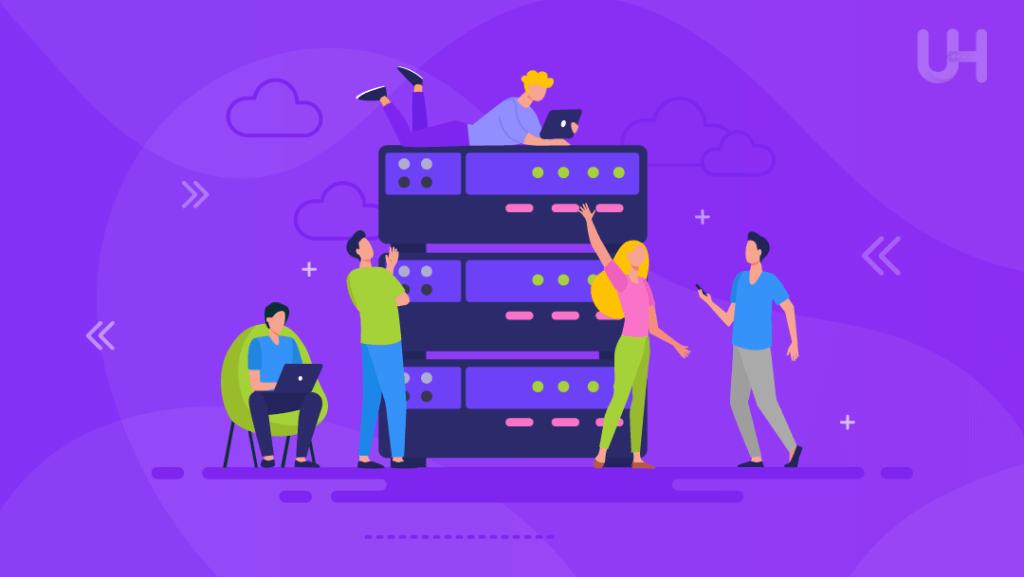 As you can see Ultahost server in the US performed under a fraction of 1 seconds. If you provide services for your target audience in the United States, it's a good choice. However, if most users are in other parts of the world, it's better to change your server location.
Security
Ultahost provides many add-ons to elevate your sites' cyber security, such as CodeGuard, SpamExperts, SiteLock, and BitNinja. Also, it has collaboration features with SSL certificate providers like RapidSSL, GeoTrust, and DigiCert.
Support
UltaHost provides 24/7 customer support via live chat, phone, and email. Its help desk is available around the clock. Besides, its knowledge base includes over 312 entries and has helpful FAQ sections on many of its main web pages.
Also, Ultahost runs a blog with a number of useful resources, including video tutorials.
Ultahost Review: Do We Recommend It?
Ultahost is one of the most budget-friendly hosting providers in the market. If you want easy to install and simple hosting, Ultahost is just for you. Furthermore, a company provides free data migration. However, keep in mind that this hosting lacks a free hosting package, but you may be able to refund your money if you're not satisfied, so it's not a big deal.
Overall, Ultahost offers one of the most diverse selections of hosting solutions for an affordable price.

Ultahost Alternatives
Check out the following alternatives if you haven't found what you need in our review for Ultahost hosting.
FAQs on Ultahost
Can I buy a domain through Ultahost?
Yes, UltaHost offers cheap domain names with popular TLDs. Register your domain with our domain checker tool, Free domains with web hosting plans, products, and Free SSL.
Is Ultahost Good for Beginners?
For sure! UltaHost includes a variety of affordable plans and solutions for all your hosting needs. Its shared, VPS, and dedicated servers run on enterprise-grade hardware. Moreover, the services have excellent uptime backed by 24/7 customer support.
Is the customer support multilingual?
The support speaks English, Turkish, Arabic, French, Russian, Georgian, and Spanish.
Which is best, Hostinger or UltaHost?
Overall, we give the slight edge to UltaHost for its superior performance, support, and user experience. UltaHost might be also a better option if you're looking for the cheapest hosting possible.
Does UltaHost offer Windows-based plans?
Yes, UltaHost provides wallet-friendly Windows VPS hosting plans. Windows servers for ASP.NET, ASP, .Net Core, and SQL server users and Remote Desktop RDP servers.