If you're looking for fast servers and low prices– you're in the right place. In this Hostwinds review, you'll learn about the products Hostwinds hosting provides, its main features, pricing packages, performance, and main characteristics.
Hostwinds web hosting was founded in 2010, and since then, the platform has received a lot of awards for its customer service and quality of products. Inc.Magazine has recognized Hostwinds as one of the 500 fastest-growing private companies, and PC Magazine selected Hostwinds as one of the best overall tech products of 2018.
Already want to explore the ins and outs of this hosting provider? Then keep reading our Hostwinds hosting review.
Hostwinds Hosting Pros & Cons
Before choosing a hosting provider, make sure to study its reviews and characteristics thoroughly. Let's take a look at the main advantages and disadvantages of Hostwinds hosting.
Pros
Cons

99.9% uptime guarantee

60-days money-back guarantee

24/7 customer support

Free SSL certificates

Data server options are limited

Refund is not so simple as it seems to be

No managed WordPress features
Hostwinds Hosting In Brief
| Characteristic | Information |
| --- | --- |
| Uptime guarantee | 99,9% |
| Server response time | 285ms |
| Support options | Live chat, tickets, email, knowledge base |
| Hosting plans | Shared, business, reseller, white label |
| CMSs | WordPress, Joomla, Magento, Media Wiki, PHP Stack, Prestashop |
| Features | Website building, cloud hosting upgrade opportunity, WordPress hosting, domain name, advanced security |
| Server locations | Seattle, Amsterdam, Dallas |
| Starting price | $5,24/month |
Go to Hostwinds hosting
When to Use Hostwinds Hosting
Use Hostwinds hosting when you need a reliable hosting service for a reasonable price. Hostwinds provides a lot of operating systems and server configurations to help you built a strong online presence.
It also offers a lot of flexibility in terms of payment. For example, you can choose to pay for 1, 3, 6, 12, 24, or 36 months at a time. Also, Hostwinds accepts crypto, which is another pleasant bonus. If you are not very tech-savvy, no worries, Hostwinds includes a modern and straightforward dashboard with quick shortcuts and email account creation tools.
One of the features that make Hostwinds different from its competitors is excellent customer support. According to the Hostwinds reviews, all the issues are resolved quickly and sends notices about the maintenance works in advance.

When Not to Use Hostwinds
As with any hosting provider, you have to pay for any add-ons and extra features you'd like to add. Another thing to remember is that Hostwinds doesn't offer a choice of the number of sites and pages that you can host on the dedicated server.
Hostwinds also doesn't provide free search engine optimization, so if you want your website to rank well, you have to pay for it additionally. Also, there is no money-back guarantee for VPS hosting package.
Hostwinds Hosting Performance
Hostwinds VPS review provides the following technologies that make your website perform faster:
LiteSpeed web servers
"Performance-optimized" MySQL databases
More PHP memory
SSDs (solid-state drives)
Each of their services is provisioned with a 1Gbps redundant network connection, connected through several Tier 1 upstream providers. Hostwinds also partners with Cloudflare to provide all of their clients easy access to Cloudflare's CDN. It decreases the distance between your visitors and your server, which leads to faster load times.
Also, Hostwinds regularly scans their outbound network paths and chooses the best upstream path to route their users' traffic. They continuously track and monitor their network and resolve any performance issues with lightning speed.
To conclude, Hostwinds provides all their users with excellent stability, fast transfer speed, no delays, and increased security. So don't worry about the performance of your website. You'll get a breakneck network speed.
Hostwinds Hosting Speed Test Results
Let's talk numbers now. Check out the table below to learn about the speed test results of Hostwinds with different tools.
| Test | Average Loading Time |
| --- | --- |
| GTmetrix test | 0,9 s |
| Pingdom test | 289 ms |
| PageSpeed Insights (Google) | 0,8 s |
As you can see, Hostwinds performance is good. All their environments have access to the latest PHP versions and use Litespeed that utilizes fewer resources and offers incredible speed.
Hostwinds Hosting Uptime Guarantees
Hostwinds promises a 99.9999% Uptime Guarantee. If your website is down for more than 31.6 seconds in a year, you'll get a Hostwinds Account Credit for the cost of the whole day(s) affected by that downtime. You can request that credit by submitting a ticket on their support page.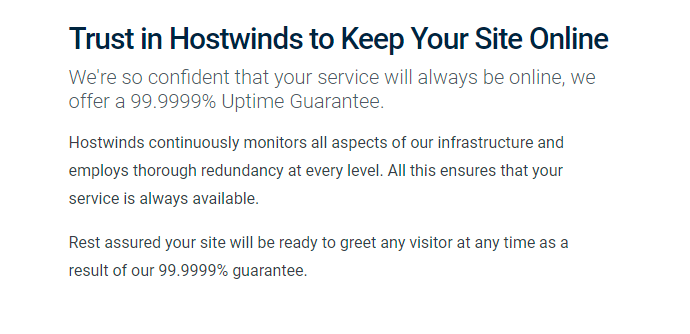 Their team uses a redundant array of independent enterprise disks to safely store the important data and employs cooling systems to regularly keep a smooth machine functionality.
Hostwinds Server Response Time
Let's use the tool Bitcatcha and see the server response time of Hostwinds in different locations.


Hostwinds
response time is average-better than average consistently, and the uptime SLA is super high —so it is a good start.
Hostwinds Server Website Migration
Hostwinds offers a free website migration service, so you don't have to bother. Their migration experts will do everything for you. Hostwinds will manage all the processes from file uploading to database transfers. They transfer all your files – regardless of their size.
Hostwinds team will also ensure that your website is working correctly with no performance issues during migration. Hostwinds also transfers all your databases, so the information you need will stay on your site.
Hostwinds Hosting Types, Features, and Pricing
When it comes to pricing, Hostwinds prices are low. However, you have to pay extra for add-ons like monitoring and even back-ups. But, anyway, their prices are extremely low. Although their packages are not filled with free additional features, you get an excellent deal regarding resources.
We mean that all packages include unlimited subdomains, unlimited email accounts, unlimited databases, SSD storage, and unlimited storage. Let's take a closer look at their hosting types and pricing plans.
If you're looking for the cheapest way to get online, check out:
Shared Hosting
Shared hosting includes the following features: solid-state drives, free website migrations, unlimited email accounts, auto-install, unlimited databases, free dedicated IP, unlimited subdomains, and site builder. All shared hosting plans also come with the option to use their nightly cloud backup add-on service. So you don't have to bother about your data and backups.
Besides, their team will monitor your website 24/7, and if any issue arises, the ticket will automatically go to their engineers. Hostwinds team will also assist you with any technical problems or questions, so your website is in good hands.
Business Hosting
The Hostwinds business hosting is famous for its fantastic performance. Why? Because their business package includes all the features of premium website hosting at no cost. The server comprises fewer sites, so your website will be able to use even more resources.

Business plans also include higher PHP Memory Limits, higher inode limits, and an increased limit on outbound emails (you can read more about them in Hostwinds email review). Their business web hosting also comes with more assistance than users would receive with a web hosting account.
Hostwinds reseller review
Hostwinds provides its users with all the tools they need to start their hosting business: full management, instant setup, nightly backups, and 24/7 support. Their team will handle all the technical details for you, so all you have to do is grow your hosting business.

You can always upgrade your account and increase the number of domains being hosted. Also, the more accounts you order, the more money you save. A win-win situation for both you and your clients!
White Label Hosting
With Hostwinds white label hosting, you can set your pricing and create your brand and products. It requires no server management or maintenance experience, so you can quickly sell Hostwinds' services under your brand name.

It works in the following way: the customers make an order on your website, Hostwinds automatically deploys your customer service, and your customer gets an automated email with all the credentials needed. Easy as a pie.
Security
Hostwinds protects e-commerce and business sites by running advanced security measures and providing features such as the Nightly backups that automatically backs up your service at night to the cloud storage drive.
They also protect their data centers with armed security, check-in stations, and video surveillance. Hostwinds provides their users with a unique, randomly generated username, so your account will be protected from brute-force attempts.
cPanel is also secure and uses an encrypted connection. An encrypted connection does not transmit your username and password during sign-in.
Hostwinds Hosting Quick Facts
Website migration: Free
Free features: SSL certificates, free migration, no lock-in, unlimited applications
Control panel: Custom
Email accounts: Unlimited
Bandwidth: Unlimited
CDN: Cloudways
Hidden fees: No
Hostwinds WordPress Review: Do We Recommend It?
Yes, Hostwinds is not above the budget and provides various features for any type of business. Their performance is outstanding, and customer support is responsive. Hostwinds customer service review gets a lot of points from us.
If you want easy to install and simple hosting, Hostwinds is just for you. The primary users of Hostwinds are personal bloggers, eCommerce sites, and small businesses, so if you fall under one of these categories, consider Hostwinds for your website.
Our Hostwinds review for WordPress hosting recommends it. It has customized hosting plans for e-commerce site owners and business people to choose the features they need for running their business.
Hostwinds Hosting Alternatives
Check out the following alternatives if you haven't found what you need in our review for Hostwinds hosting.
Liquid Web — premium hosting with a lot of customization
A2 Hosting — cheap and developer-friendly hosting
HostGator — budget-friendly and reliable hosting with excellent customer support
FAQs on Hostwinds Hosting
Can I easily upgrade my packages
Yes, you can always upgrade your package in your Hostwinds Client Area. It is a quick process, and there is no downtime.
Do they offer cloud hosting?
Yes, Hostwinds also offers cloud hosting that spreads CPU, RAM, and other resources across multiple servers.
How long should I wait for the refund?
You should have your refunds requested within 72 hours of order purchase.
Does Hostwinds offer Windows-based plans?
No, unfortunately, it doesn't offer them. Instead, they provide wallet-friendly Linux-based shared hosting plans.
Is it difficult to cancel the Hostwinds account?
No, you can cancel the account in your dashboard in one click.